Baked Paprika Chicken with Israeli Couscous Chickpea Salad | If you're like me, sometimes you get in a dinner time rut. Especially when it comes to chicken dinners.
You probably have your favorites you come back to again and again when staring down the empty refrigerator wondering what to make. Or wandering down the grocery aisles wishing cooked dinners could appear out of thin air. Wouldn't that be amazing?
I'm guessing you have a good fried chicken recipe, some go-to Latin, Italian, and Asian favorites. There's nothing wrong with that. They are tried and true and tasty.
But sometimes a recipe comes out of nowhere and kicks you in the teeth with how good it tastes. These kind of dishes are my favorite! I love it when I make a dish on a whim and end up with a winner.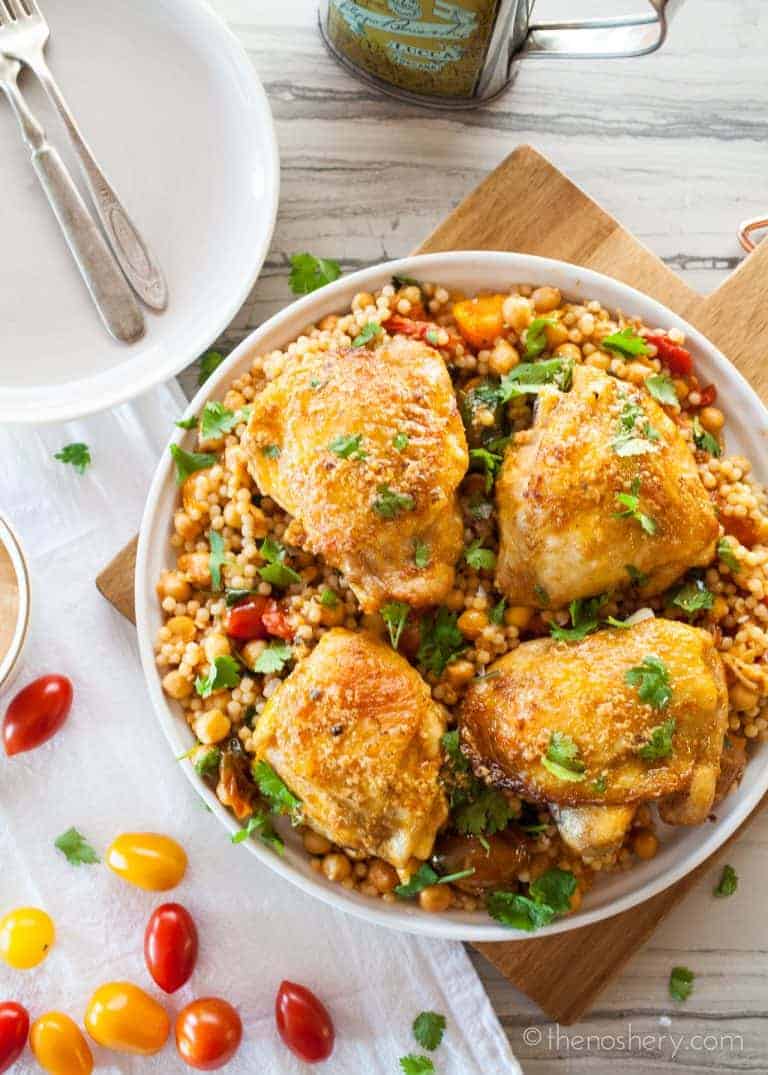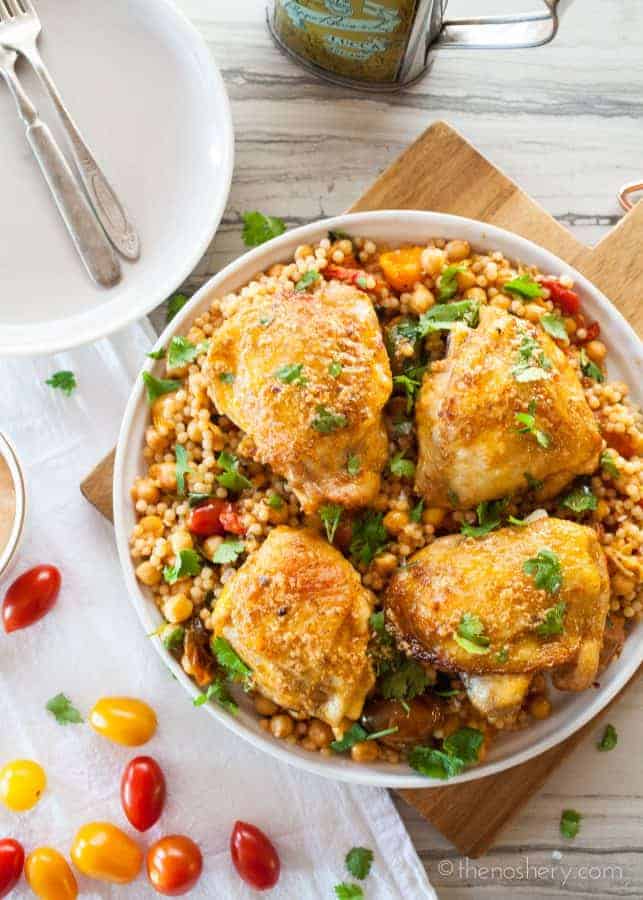 So today I'm inviting you to branch out and expand your flavor horizons. Or return to the tasty and comforting spices you know and love if you're familiar with them. I didn't even make this with the intention of posting it. But it turned out so tasty and pretty that I had to share it.
This baked paprika chicken recipe is served on a bed of chickpeas and tomatoes mixed into a flavorful salad with one of my favorite ingredients: Israeli couscous!
What is Israeli couscous?
Have you ever tried couscous? I'm not going to lie, the first time I heard the word couscous I thought someone was calling me a name. Someone: "Want some couscous?" Me: "What did you just call me?"
If you have heard of couscous but never tried it, it's a dish of small steamed balls of semolina. It can come in very small balls that almost look like rice, or in larger balls which are called Israeli or pearl couscous.
I love Israeli couscous. Sometimes I buy couscous and then plan the main course around it. If that's wrong, then I don't want to be right.
It has more texture and is slightly chewy like pasta. Which actually makes a lot of sense. While many think couscous is a whole grain, it's actually more of a pasta, made from semolina or wheat flour.
A great substitute for rice or quinoa, Israeli couscous is simple to make and put on your table in no time. It can easily be adapted to suit pretty much any main course, too. Consider it a perfect blank canvas to create a flavor masterpiece. But let's start with this baked paprika chicken!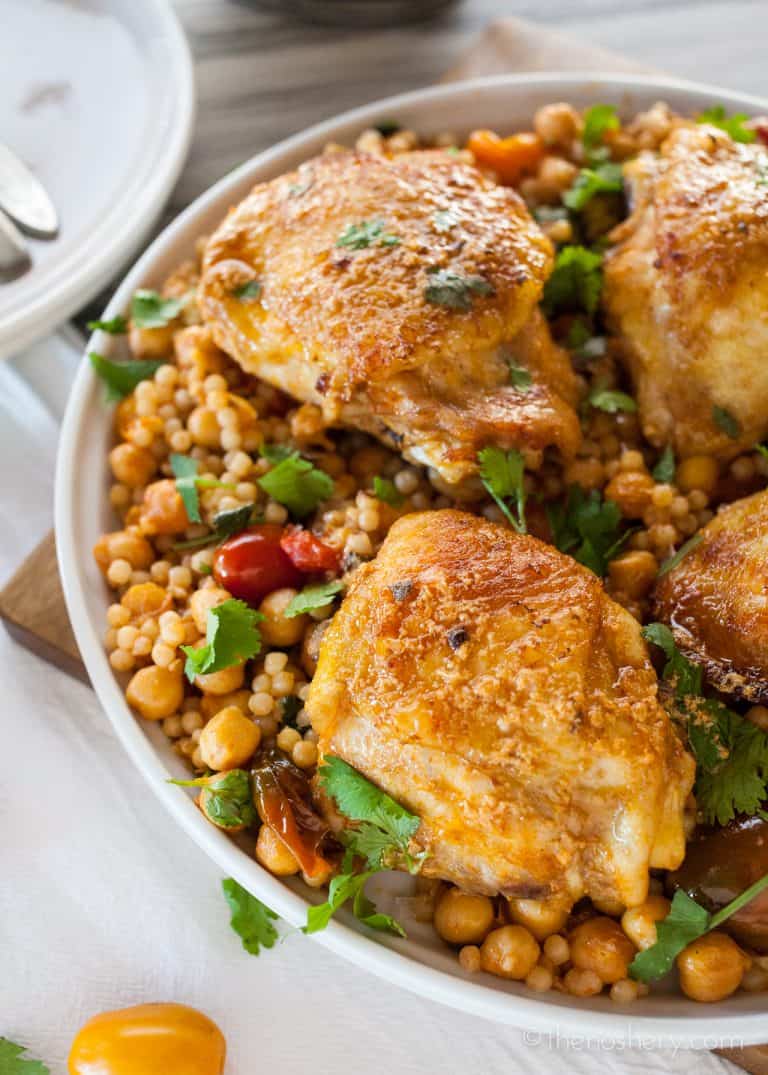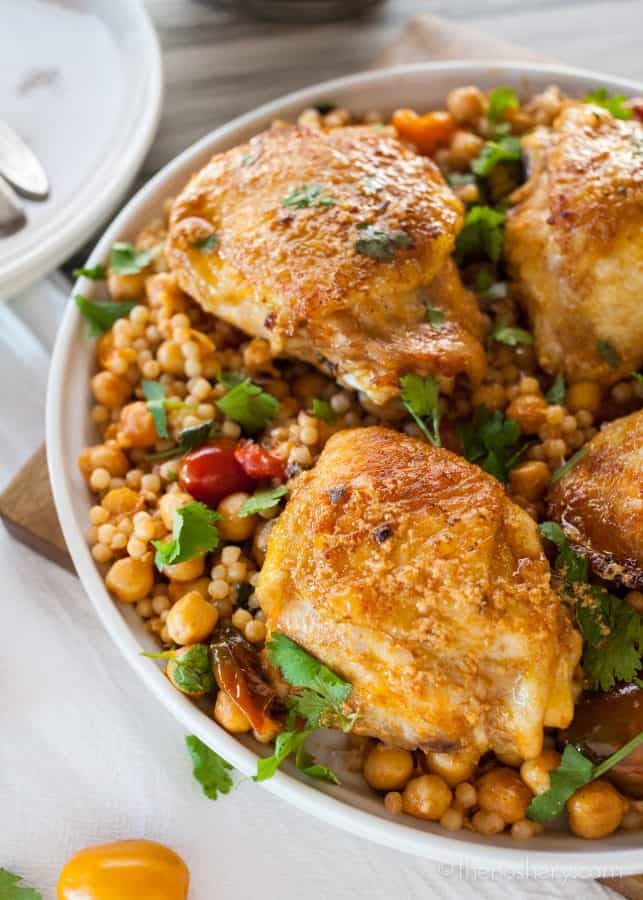 What's in baked paprika chicken?
extra-virgin olive oil
garlic or garlic powder
smoked paprika (or regular paprika)
ground cumin
Greek yogurt
lemon juice
chicken thighs
garbanzo beans (chickpeas)
cherry tomatoes
cilantro
Israeli couscous
If all you have is chicken breasts, feel free to use those. But bone-in and skin-on will be the most tender and flavorful baked paprika chicken.
How to make baked paprika chicken
Start by preheating the oven to 450 degrees. While that's heating up, mix your oil, garlic, spices, lemon juice, and yogurt in the bottom of a large bowl. Make sure it's big enough to hold your chicken.
Once those ingredients are well-combined, add your chicken, garbanzo beans, tomatoes, and some of your fresh herbs to the bowl. Toss them until everything is coated in the fragrant yogurt mixture.
On a large rimmed baking sheet, make a bed for the chicken by spreading the tomato and garbanzo beans. Then place the chicken thighs on top.
Now generously season with salt and pepper and let it bake. After around 35 minutes of cooking time, the chicken should be cooked through. Meanwhile, prepare the couscous according to the package directions. (See below for more instructions.)
For a little extra flavor and that crispy skin, place the baking dish under the broiler. It will only take about 3-4 minutes, so watch it carefully to make sure the chicken doesn't burn.
To assemble, first set the chicken aside to rest. In the meantime, combine the garbanzo beans and tomatoes with ¼ cup of cilantro and your cooked couscous. Serve the couscous salad alongside the chicken thighs and presto! With this cumin, garlic, paprika chicken, your dinner rotation will never be the same.
The baked paprika chicken can also be browned in a skillet and finished in the oven. I will turn anything into a skillet dinner if I can. (See this Italian chicken skillet, skillet mushroom chicken, this easy shrimp harissa skillet, and these poblano chicken enchiladas, for example.) Less mess makes dinner time even easier!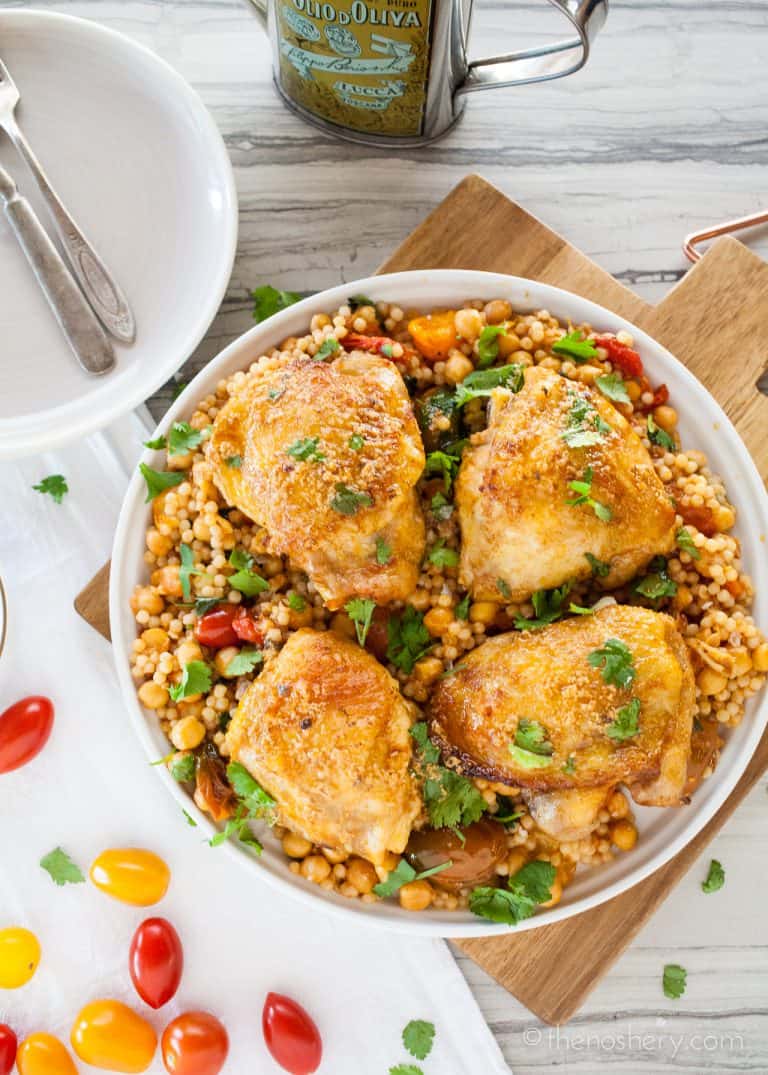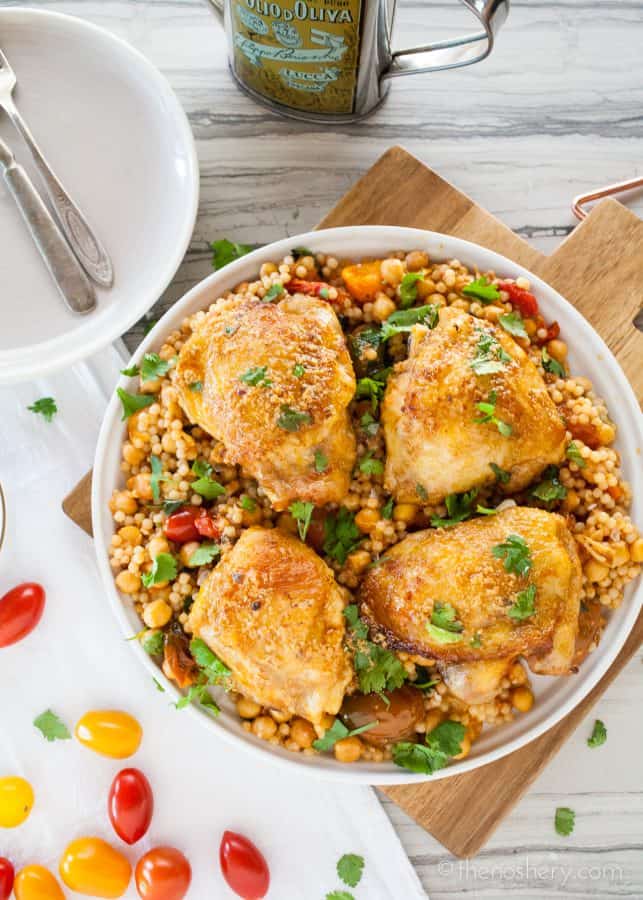 A new weeknight dinner staple
This baked paprika chicken and Israeli couscous salad is a great weeknight dinner option when you are looking for something different. It's one of those toss-everything-together-spread-on-a-pan-and-roast-recipes. Yup, so easy I tried to make it one big word.
I'm telling you. You can't go wrong with this winner of a chicken dinner. The couscous salad that goes with the baked paprika chicken is light, bright, and wonderfully satisfying. And there's nothing I love more than unique and interesting recipes that are ridiculously easy to make in one baking pan.
If you're looking for more weeknight dinner recipes with exciting flavors, you should try chicken shawarma wraps, the Mediterranean Dish's Chickpea Salad with Za'atar Fried Eggplant, or Mediterranean sea bass on a busy weeknight. Shakshuka will become your new favorite breakfast for dinner. This Moroccan lamb stew is super comforting on a rainy night. And this cucumber salad with marinated feta is the perfect side dish to lighten up a spicy or filling meal.
Minimal effort and maximum flavor. Can we all make that our new motto?
more chicken and salads
Yield: 4
Paprika Chicken with Israeli Couscous Chickpea Salad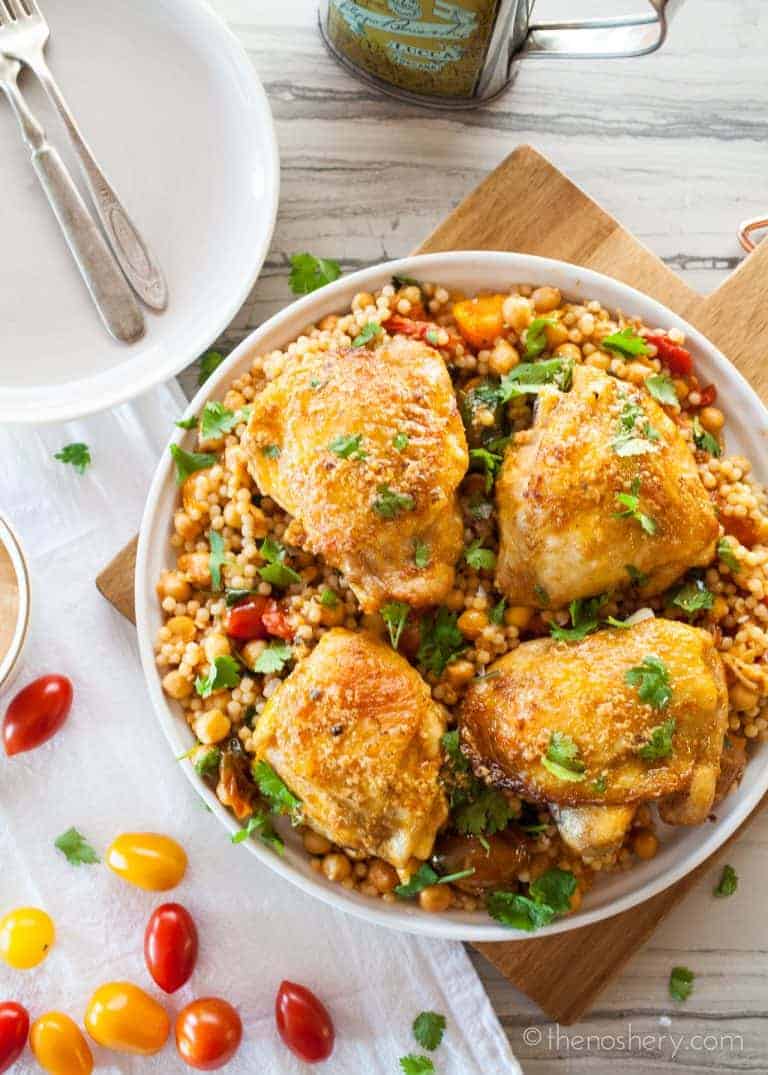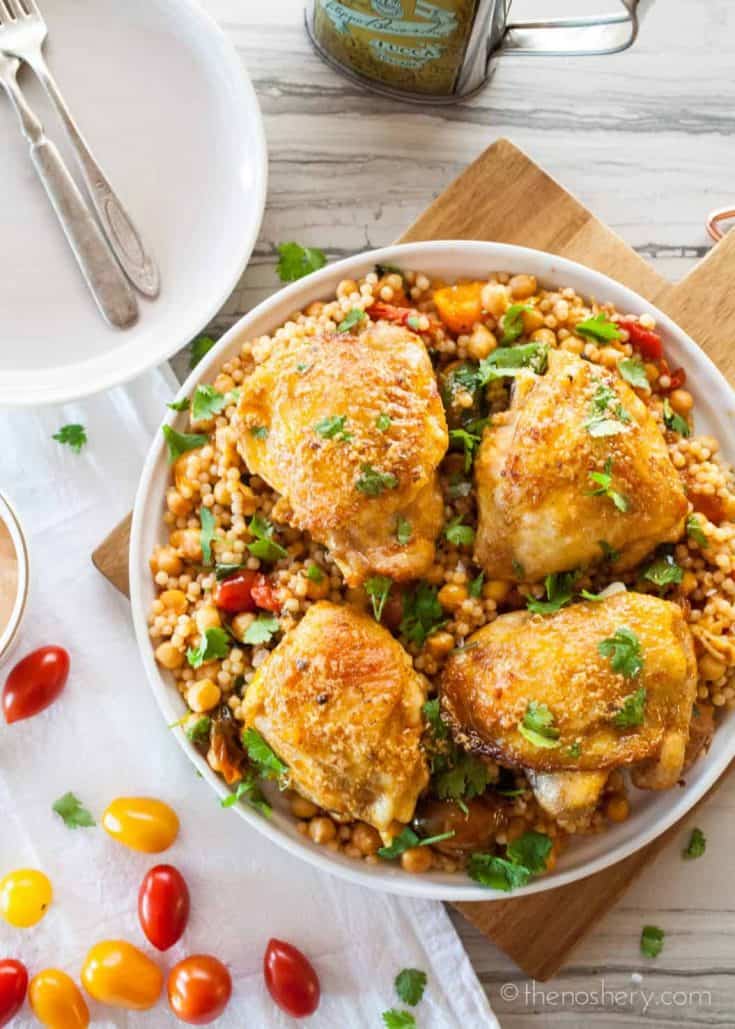 Seasoned chicken roasts over a bed of chickpeas and tomatoes. Then chickpea mixture is then tossed with Israeli couscous making a delicious complete meal.
Ingredients
1/4 cup extra-virgin olive oil
3 garlic cloves, pressed
1 tablespoon smoked paprika
2 teaspoon ground cumin
2 tablespoons greek yogurt
2 tablespoons fresh lemon juice
4 chicken thighs
1 15-ounce can garbanzo beans (chickpeas), drained
1 12-ounce container cherry tomatoes
1/2 cup chopped fresh cilantro, divided
Instructions
Preheat oven to 450°.
In a large bowl combine olive oil, garlic, spices, lemon juice, and yogurt. Whisk until well combined. Add chicken, garbanzo beans, cherry tomatoes, 1/4 cup chopped cilantro. Toss until evenly coated.
Spread tomato and garbanzo beans on a large rimmed baking sheet. Place the chicken thighs on top of garbanzo beans and tomatoes. Sprinkle everything generously with salt and pepper.
Roast for 35 minutes or until chicken is cooked through. Place under broiler for 3 - 4 minutes to brown and crisp the chicken skin.
While chicken is in the oven prepare couscous according to package directions. Transfer chicken to plates. Combine bean mixture, 1/4 cup cilantro, and couscous, stir until well combined. Serve with chicken thighs.
Recommended Products
As an Amazon Associate and member of other affiliate programs, I earn from qualifying purchases.
Nutrition Information:
Yield:
4
Serving Size:
1
Amount Per Serving:
Calories:

597
Total Fat:

35g
Saturated Fat:

8g
Trans Fat:

0g
Unsaturated Fat:

26g
Cholesterol:

167mg
Sodium:

499mg
Carbohydrates:

34g
Fiber:

9g
Sugar:

7g
Protein:

41g