Have you ever tried couscous? I'm not going to lie the first time I heard the word couscous I thought someone was calling me a name. Someone, "Want some couscous?" Me, "What did you just call me?"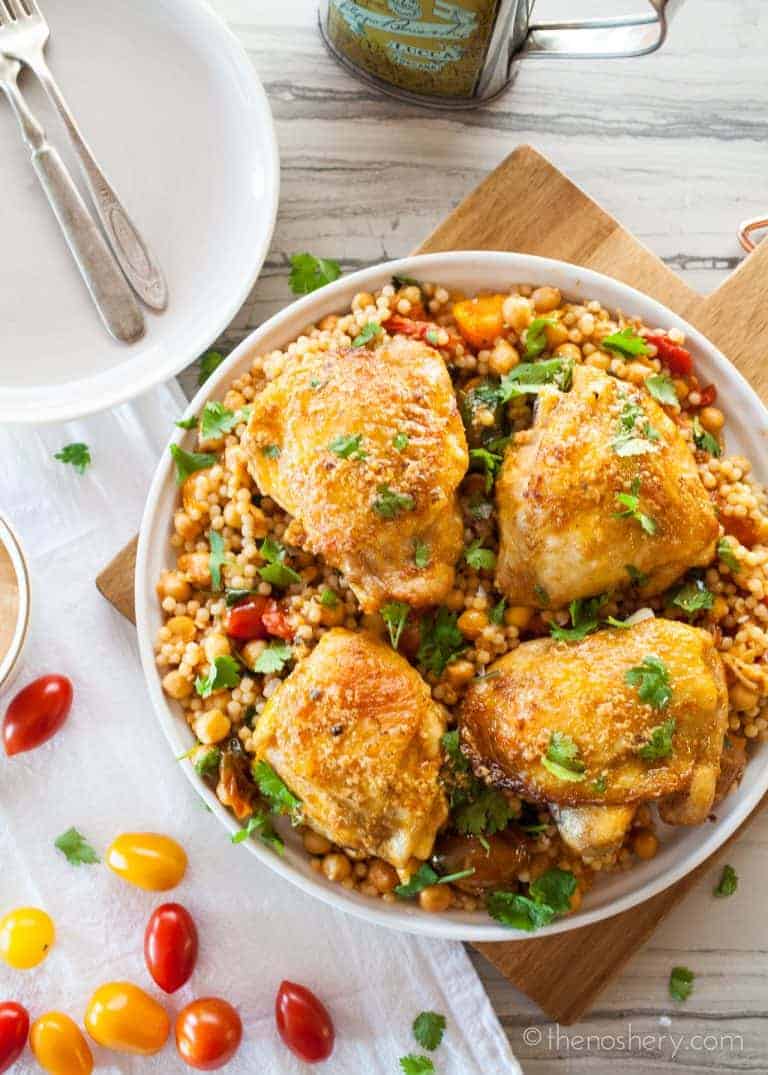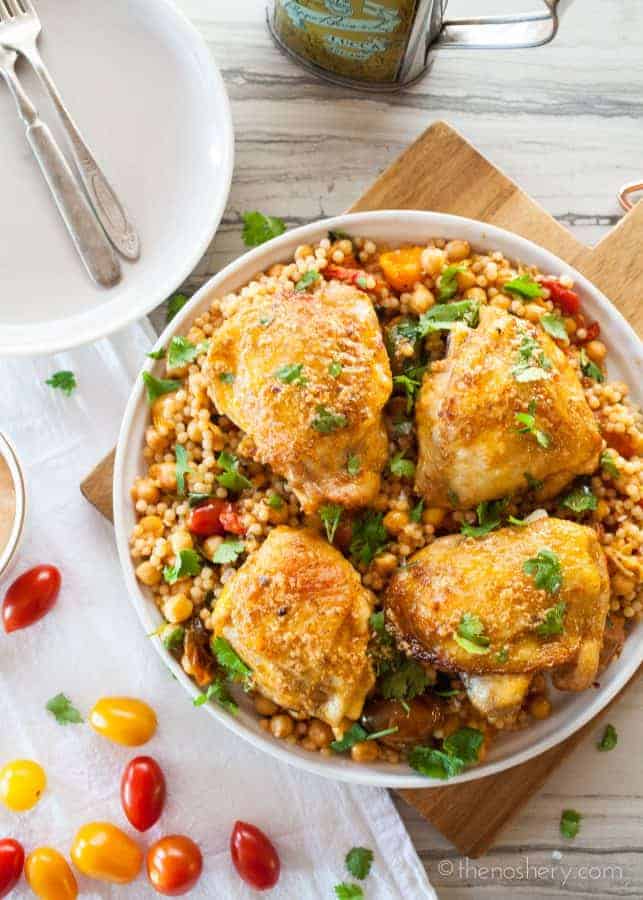 What is couscous?
If you have heard of couscous but never tried it's a dish of small steamed balls of semolina. It can come in very small balls that almost look like rice, or in larger balls which are called Israeli or pearl couscous. I love Israeli couscous, it has more texture and is slightly chewy like pasta. For this recipe, I decided to use Israeli couscous.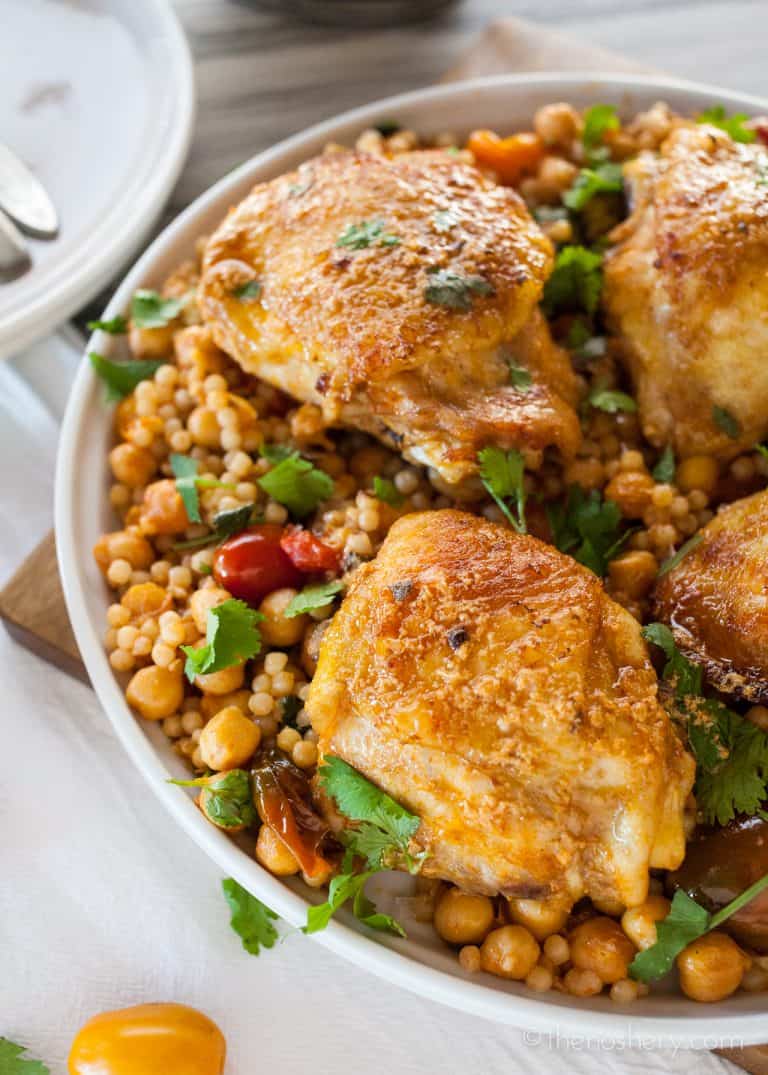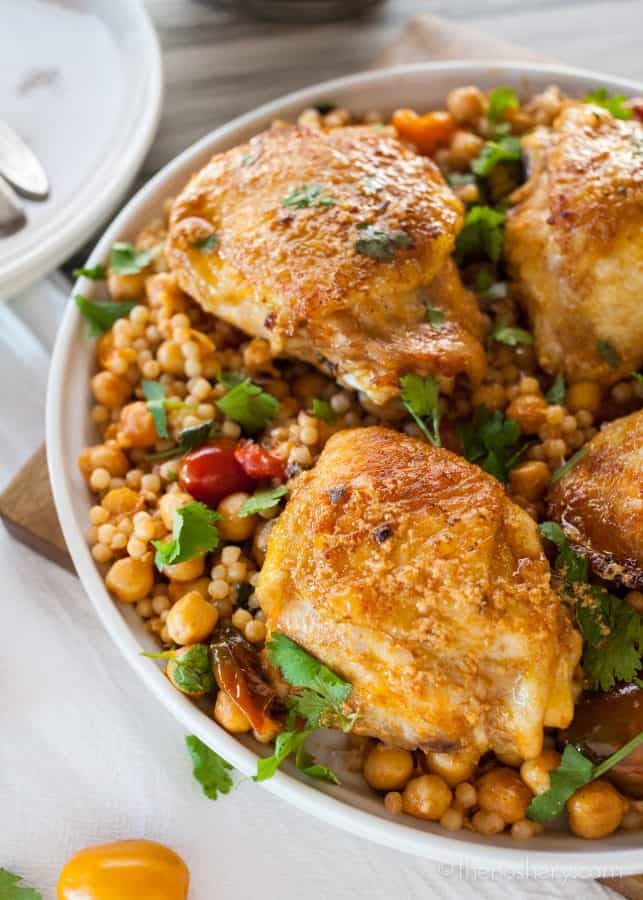 These kind of dishes are my favorite! I love it when I make a dish on a whim and end up with a winner. I didn't even make this with the intention of posting it but it turned out so tasty and pretty I had to share it. I love unique and interesting recipes that are ridiculously easy to make. Minimal effort and maximum flavor, I should make it my motto. This dish is light, bright, and wonderfully satisfying.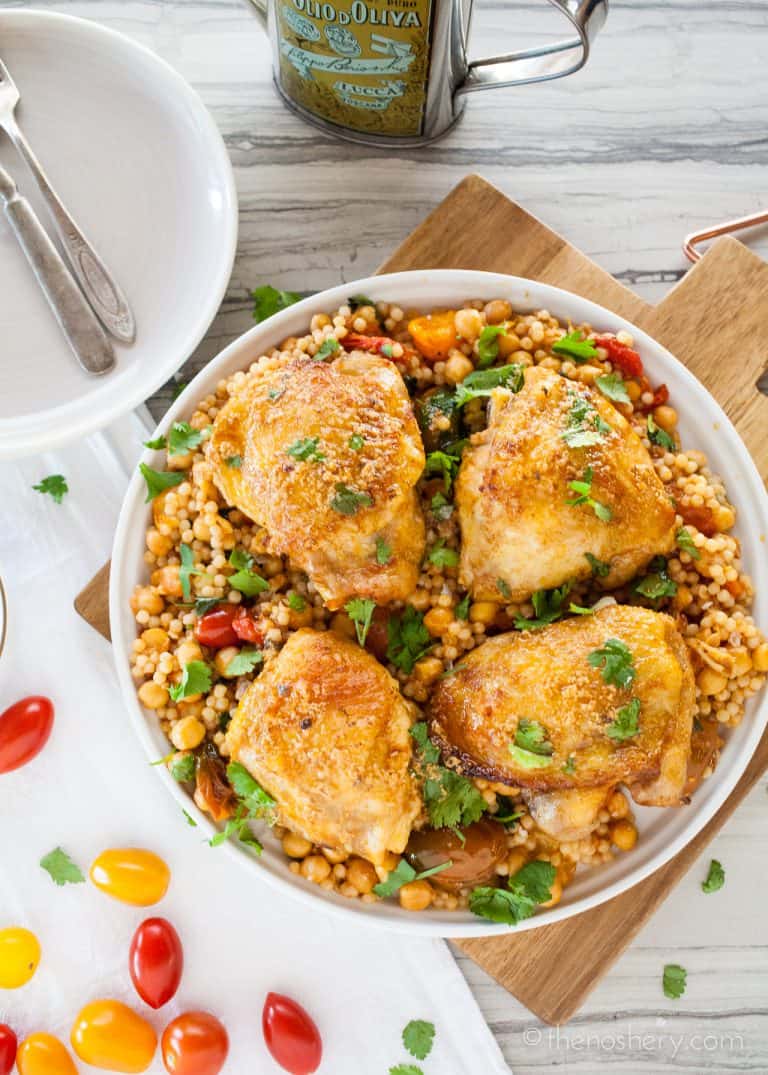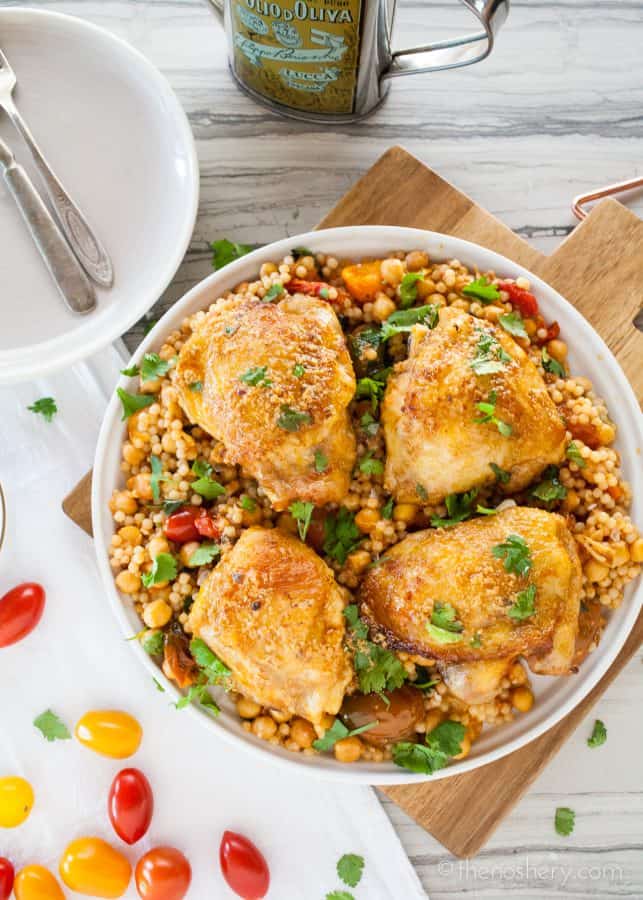 This recipe is a great weeknight dinner option when you are looking for something different. It one of those toss-everything-together-spread-on-a-pan-and-roast-recipes. Yup, so easy I tried to make it one big word.
more chicken and salads
items used in this recipe
Yield: 4
Roasted Paprika Chicken with Israeli Couscous Chickpea Salad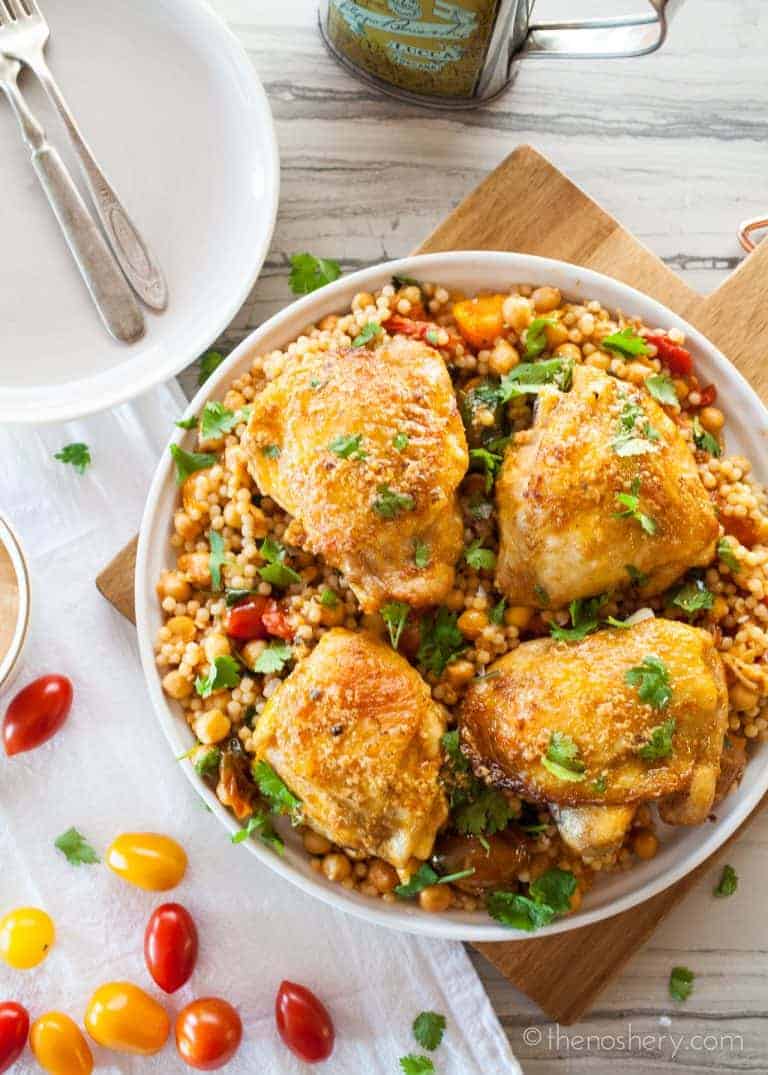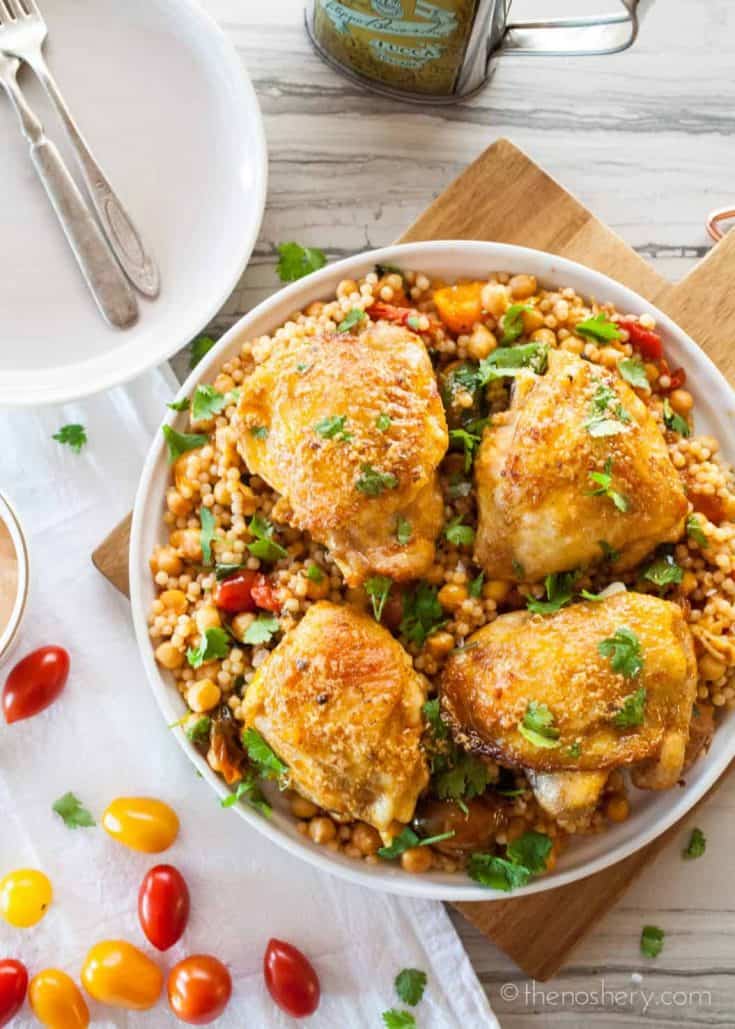 Seasoned chicken roasts over a bed of chickpeas and tomatoes. Then chickpea mixture is then tossed with Israeli couscous making a delicious complete meal.
Ingredients
1/4 cup extra-virgin olive oil
3 garlic cloves, pressed
1 tablespoon smoked paprika
2 teaspoon ground cumin
2 tablespoons greek yogurt
2 tablespoons fresh lemon juice
4 chicken thighs
1 15-ounce can garbanzo beans (chickpeas), drained
1 12-ounce container cherry tomatoes
1/2 cup chopped fresh cilantro, divided
Instructions
Preheat oven to 450°.
In a large bowl combine olive oil, garlic, spices, lemon juice, and yogurt. Whisk until well combined. Add chicken, garbanzo beans, cherry tomatoes, 1/4 cup chopped cilantro. Toss until evenly coated.
Spread tomato and garbanzo beans on a large rimmed baking sheet. Place the chicken thighs on top of garbanzo beans and tomatoes. Sprinkle everything generously with salt and pepper.
Roast for 35 minutes or until chicken is cooked through. Place under broiler for 3 - 4 minutes to brown and crisp the chicken skin.
While chicken is in the oven prepare couscous according to package directions. Transfer chicken to plates. Combine bean mixture, 1/4 cup cilantro, and couscous, stir until well combined. Serve with chicken thighs.
Nutrition Information:
Amount Per Serving:
Calories:

621
Carbohydrates:

39g
Protein:

38g