Greek Feta and Cucumber Salad | It's time to gear up for summer cookouts, picnics, and holidays. This time of year, I like to have a few easy refreshing salad recipes on hand. It's great in case you are invited to a spontaneous cookout or decided to host one yourself. And it doesn't get easier than a cucumber salad. So, sun's out, cucumbers out.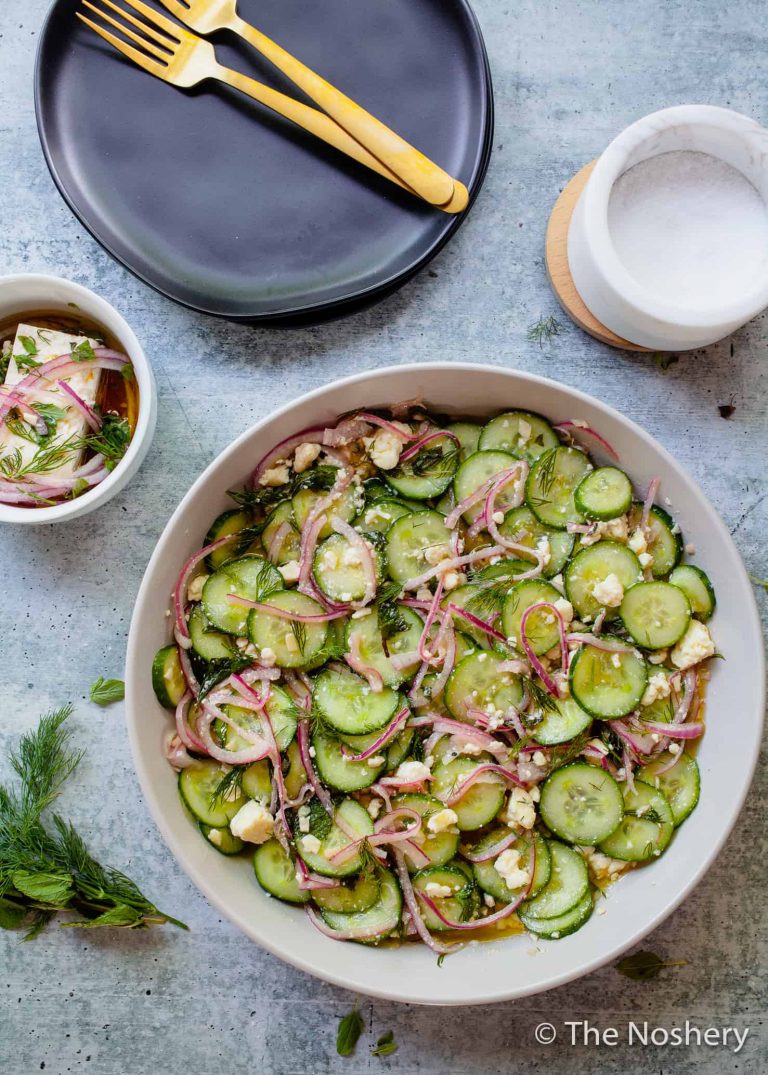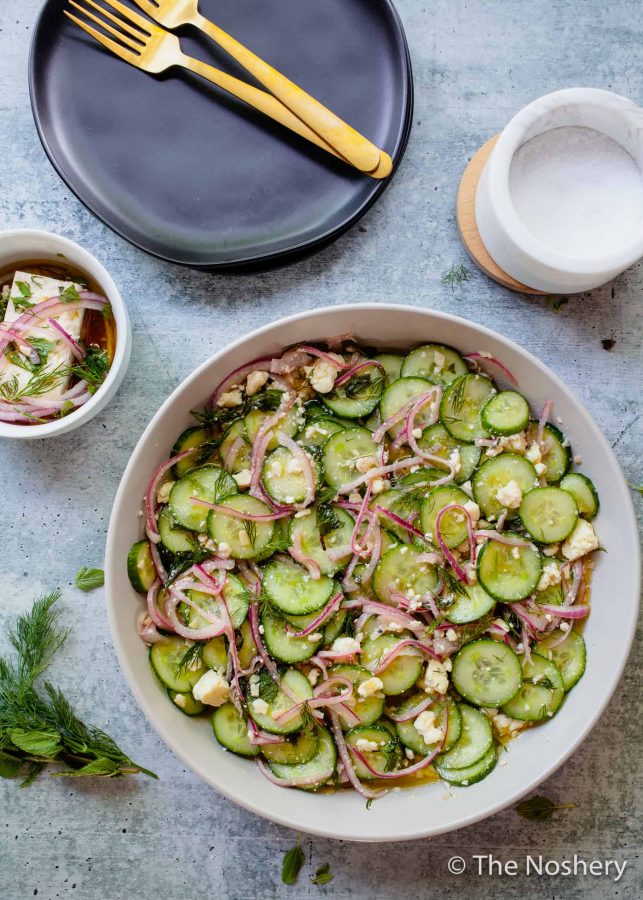 I love Greek salads and don't know anyone that won't eat a cucumber salad. Cucumbers are basically the chicken of vegetables in that everyone will eat a cucumber. Cucumbers have a clear cucumber taste, but they are very versatile because they take on the flavors of the sauce they're in.
I know the knee jerk reaction may be that cucumbers aren't that interesting. They are basically a water vegetable log. But if you think about it, cucumbers are used in cuisines throughout the world like Asian noodle salad, dainty cucumber sandwiches, refrigerator pickles, and tzatziki.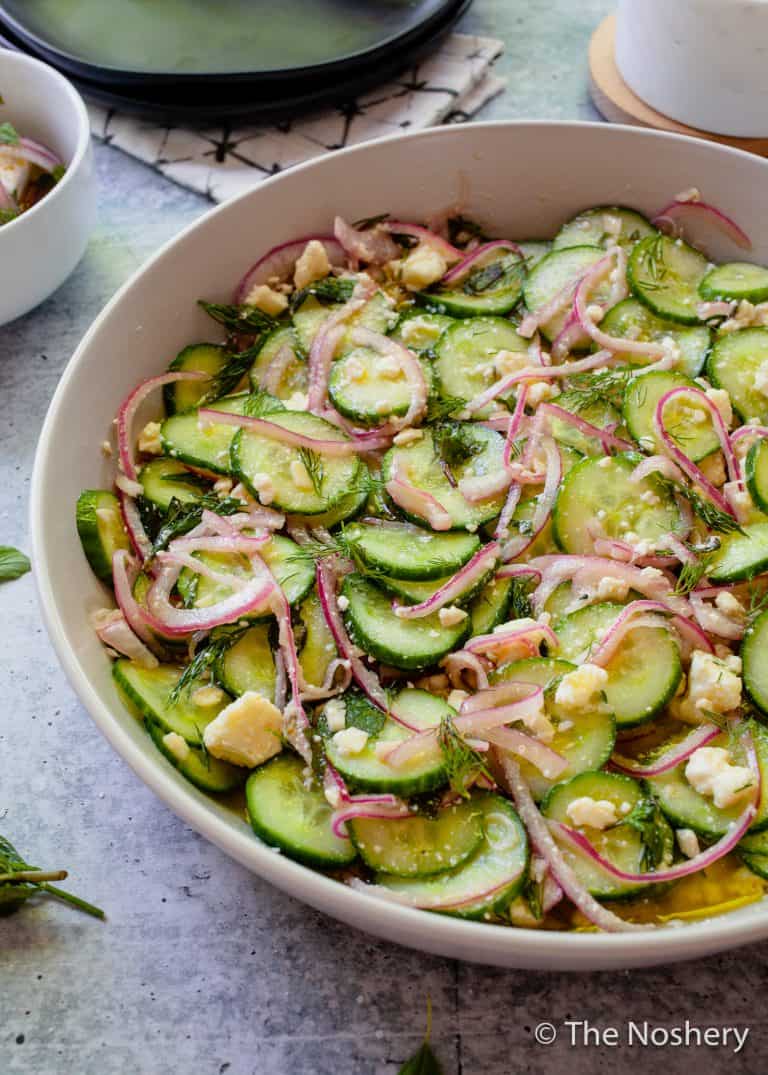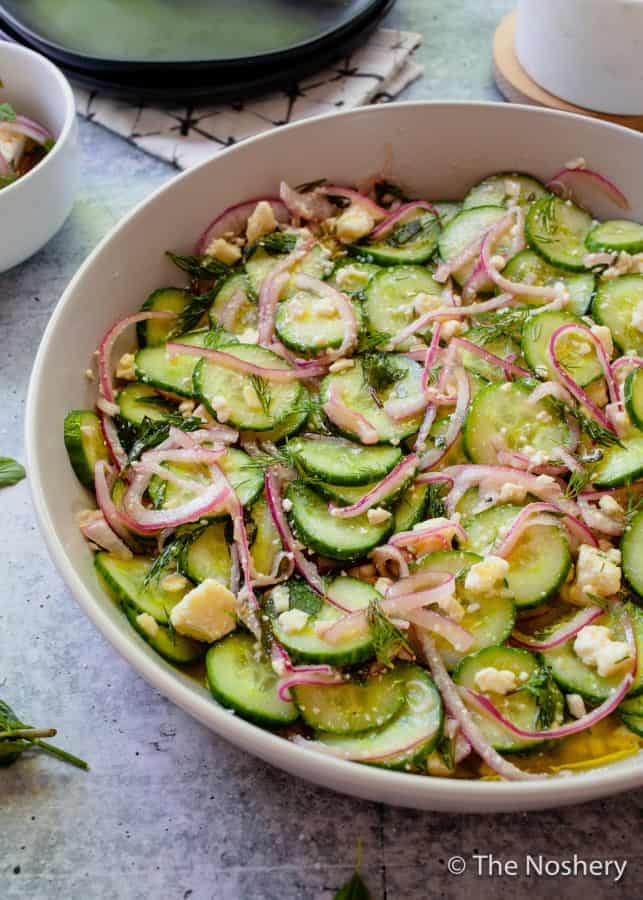 How to cut the cucumber for this salad?
In this Greek Feta and Cucumber Salad, I like to slice the cucumbers about a 1/4 inch thick. I do not remove the core but I do sweat the cucumbers to prevent the salad from getting watery.
If I were to combine this salad with, say, some cherry tomatoes (which that's a pretty awesome idea because cucumbers and tomatoes go together like peanut butter and jelly), I would remove the core of the cucumber and sweat them as the tomatoes also release a lot of water.
To remove the core, cut the cucumber in half, spoon out the core, and slice the cucumber halves.
How to Sweat Cucumbers
No, I am not talking about taking your cucumbers out for a jog or strapping them to an elliptical. As I mentioned before, cucumbers are a water vegetable, and when used in salads, they give off a lot of water. The best way to avoid a soggy, wet Greek Feta and Cucumber Salad is to sweat your cucumbers first. Sweating cucumbers simply means to draw out the water from the cucumber.
To sweat the cucumbers, put the sliced or chopped cucumbers in a large colander over a large bowl. Toss the cucumbers with a large pinch of salt and let them sit for 20 minutes. Then gently pat them dry with a paper towel. The cucumbers will remain crisp and give off only a small amount of water in salads.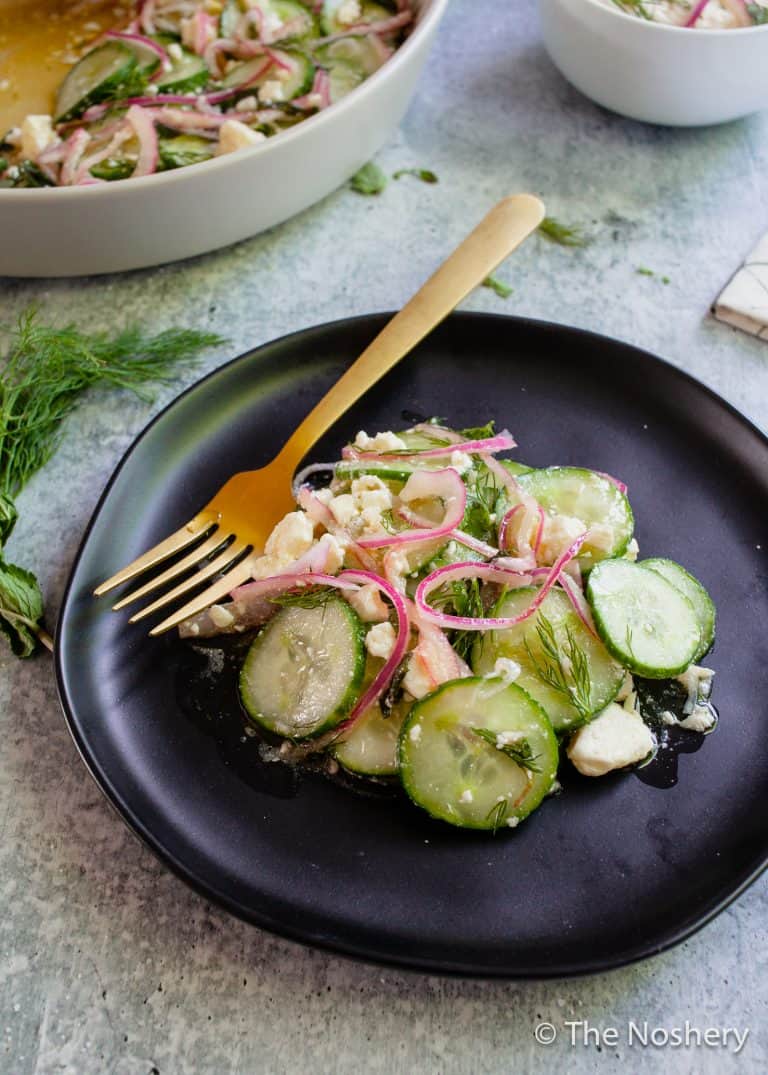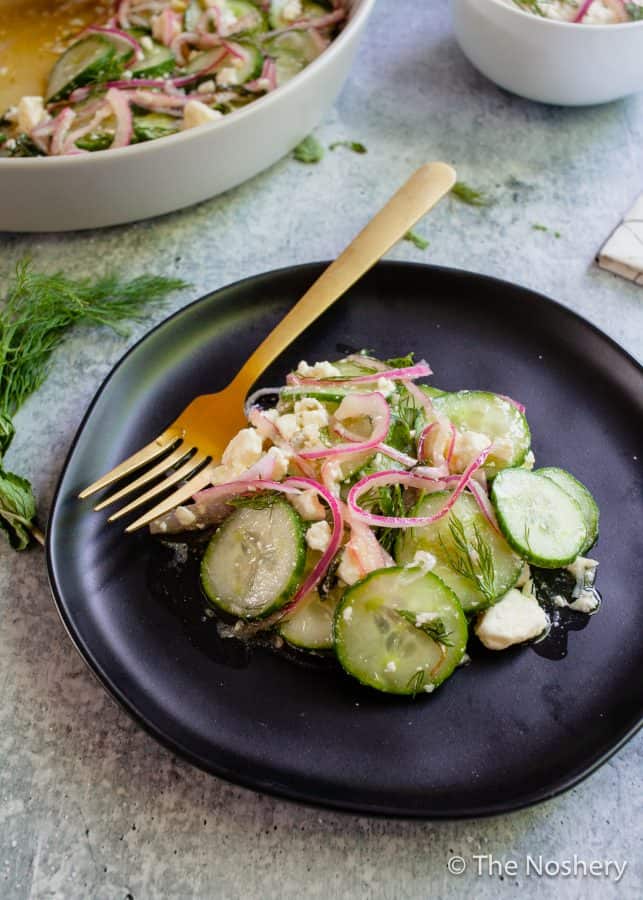 Greek Feta and Cucumber Salad Recipe Ingredients
2 English cucumbers
1 red onion
1 sprig dill
1 sprig mint
1 sprig fresh oregano
2 cloves garlic
1/2 cup olive oil
1/4 cup red wine vinegar
4 oz block feta cheese
kosher salt
For this recipe, I decided to add in some quickly marinated feta cheese. While I was sweating the cucumbers, I also placed a half a block of feta cheese in the dressing to marinade. This gives the dressing a touch of creaminess and infused the flavor of the feta cheese into the dressing. Some kalamata olives would also go fabulously with these ingredients.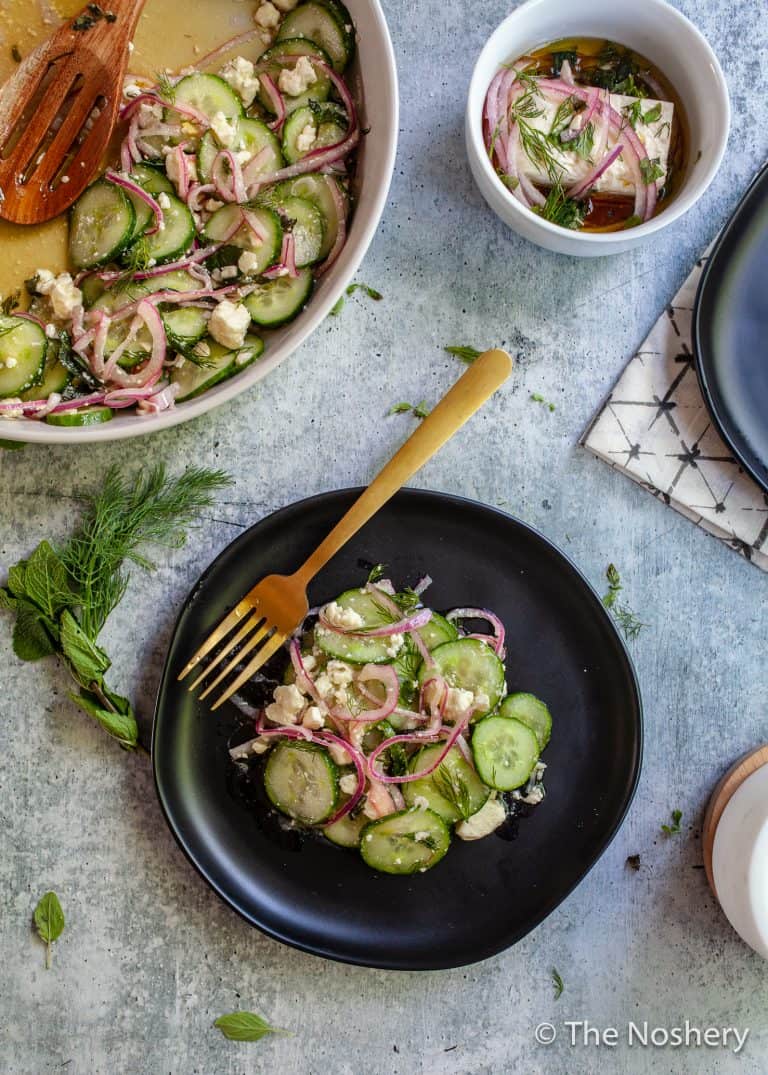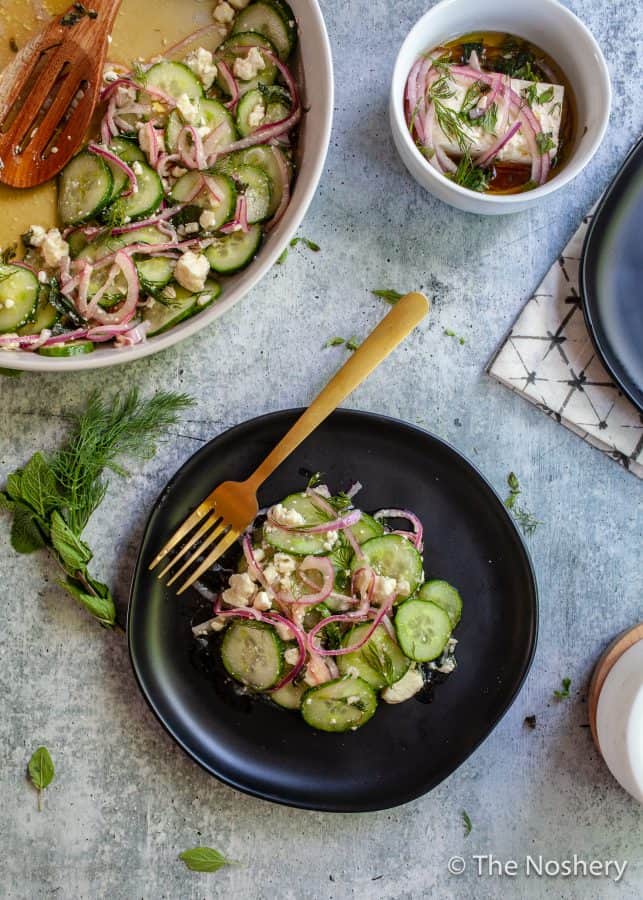 How to make cucumber salad
First, marinate your feta cheese so the deliciousness can set in while you're preparing the rest of the salad. Combine the sliced onion, dill, mint, oregano, garlic, olive oil, salt, and the red wine vinegar in a small bowl that's deep enough for your ingredients to be submerged in the liquid.
Then add the whole block of feta and make sure it's thoroughly coated. This will need to marinate about 20 minutes.
In the meantime, thinly slice your cucumbers with a knife or vegetable slicer and sweat them how we discussed above. Add them to a colander that's been placed over a larger bowl, and toss them with some salt to draw out the moisture. Set those aside while the feta finishes marinating.
When about 15-20 minutes has passed, spread the cucumber slices on a layer of paper towels. Pat them dry to remove as much moisture as possible. Add them to a large clean bowl and pour in the feta marinade. Crumble the feta cheese on top of the cucumber mixture and toss until everything's well distributed.
Now you have a fresh, tangy, crunchy Greek cucumber salad and you didn't even have to cook anything!
Can I freeze Greek Feta and Cucumber Salad?
No, pretty much end of story. Freezing will significantly effect the texture of the cucumber since it has such a high water content. Enjoy this salad fresh and crunchy because nobody likes soggy, mushy vegetables.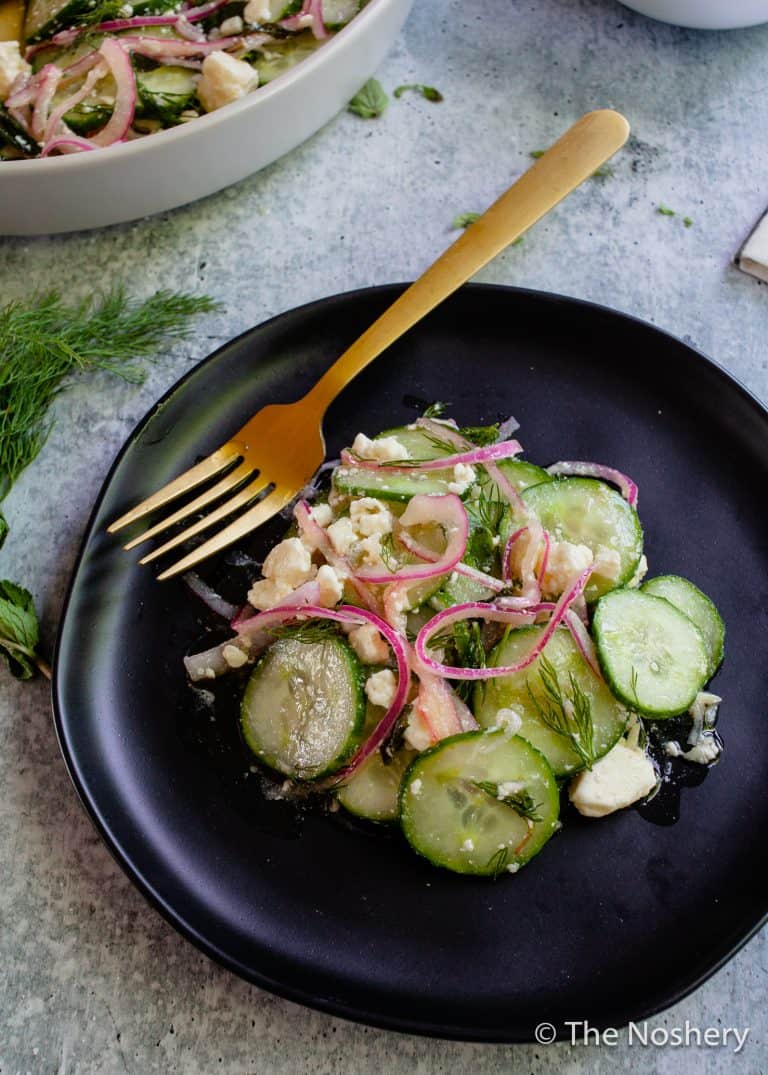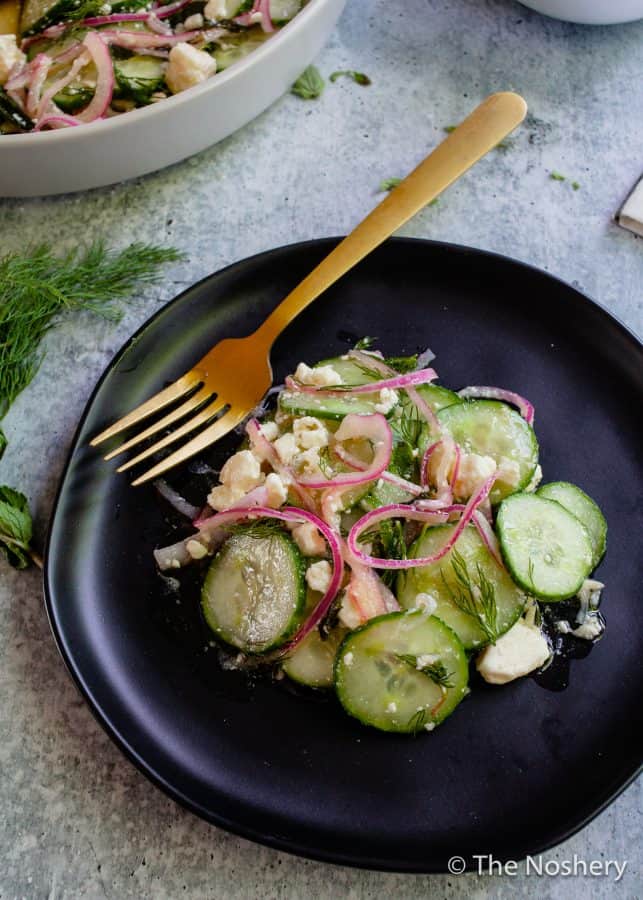 What to serve with Greek Feta and Cucumber Salad
This is a great salad to serve with any summer dinner. I like to grill up some chicken while the ingredients are marinating or serve it as a fresh side dish to pair with a roasted lamb or beef.
It's also great with my chicken shawarma wraps and with my All the Herbs Roast Chicken Breast or Crispy Za'taar Chicken thighs in my soon to be released cookbook, Weeknight Gourmet Dinners. (Plug, plug!)
Give me all the salads
Greek Feta and Cucumber Salad is a great summer salad but with the abundance of produce during the summer, the salad possibilities are endless. If you are a fan of fruit, try my Summer Fruit Dinner Salad, my Candied Lemon Peach and Tomato Salad, or this Grilled Peach and Bacon Pasta Salad. If you love summer tomatoes, you will love my Blistered Tomato Mozzarella and Arugula Salad.
I also love both hearty dinner salads like my Pollo Asada with Kale Salad or a flavorful Thai Chicken Salad. But sometimes when you've had a few big meals in a row, you need something like this Chicken Salad with Blueberries and Pecans.
Told you the options are pretty much endless! Check out my salad recipe collection. Because I got all the salads.
more salad love
Yield: 4 - 6
Cucumber Salad with Feta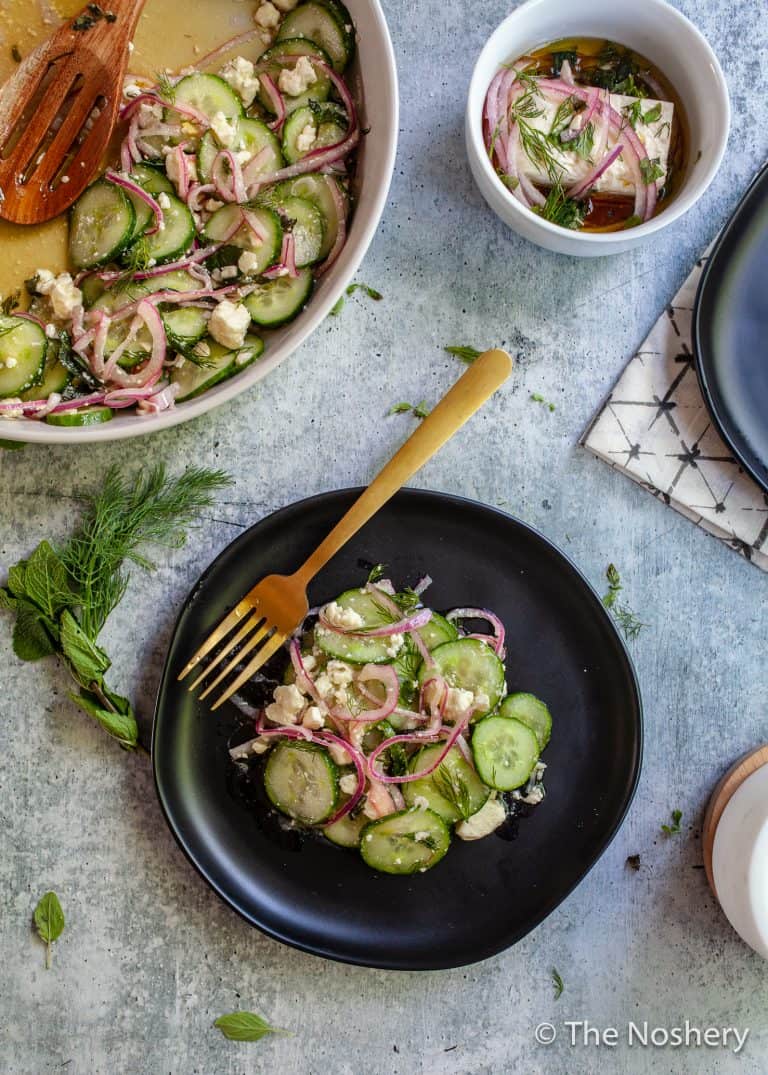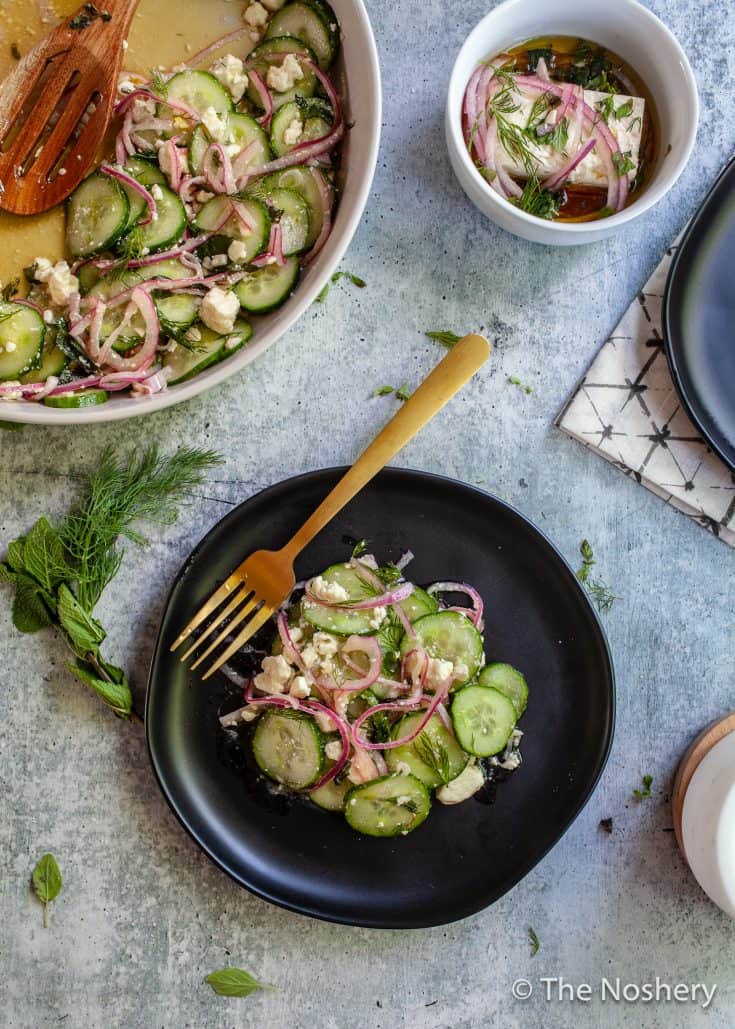 Cucumber Salad with Feta Cheese | This refreshing cucumber salad with feta cheese marinated in tangy vinegar and fresh herbs makes a tasty and refreshing side dish. Perfect for summer!
Ingredients
2 English cucumbers, thinly sliced
1/2 cup thinly sliced red onion
1 sprig dill, leaves torn
1 sprig mint, leaves torn
1 sprig fresh oregano, leaves torn
2 cloves garlic, minced
1/2 cup olive oil
1/4 cup red wine vinegar
4 oz block feta cheese
kosher salt
Instructions
In a small bowl combine, red onion, fresh herbs, garlic, olive oil, 1/2 teaspoon kosher salt, and vinegar. Toss until evenly combined. Add feta cheese block and coat with marinade. Set aside for 20 minutes to marinade.
Place sliced cucumbers in a colander over a bowl, sprinkle the cucumbers with salt and toss. Set aside while feta marinades to allow water to drain.
Spread cucumbers out on a layer of clean paper towels. Pat the cucumber dry. Remove feta from marinade. In a large bowl combine cucumbers and feta marinade. Toss until well combined.
Crumble feta cheese over cucumber salad and garnish with fresh herbs if desired.
Recommended Products
As an Amazon Associate and member of other affiliate programs, I earn from qualifying purchases.