I've been making versions of this chicken skillet for some time now. It's one of those recipes that I just tossed together one day when I had no desire to cook but I needed to get dinner on the table. I don't know why I haven't shared this recipe sooner. Probably, because I prepare it when things are nuts and I am exhausted.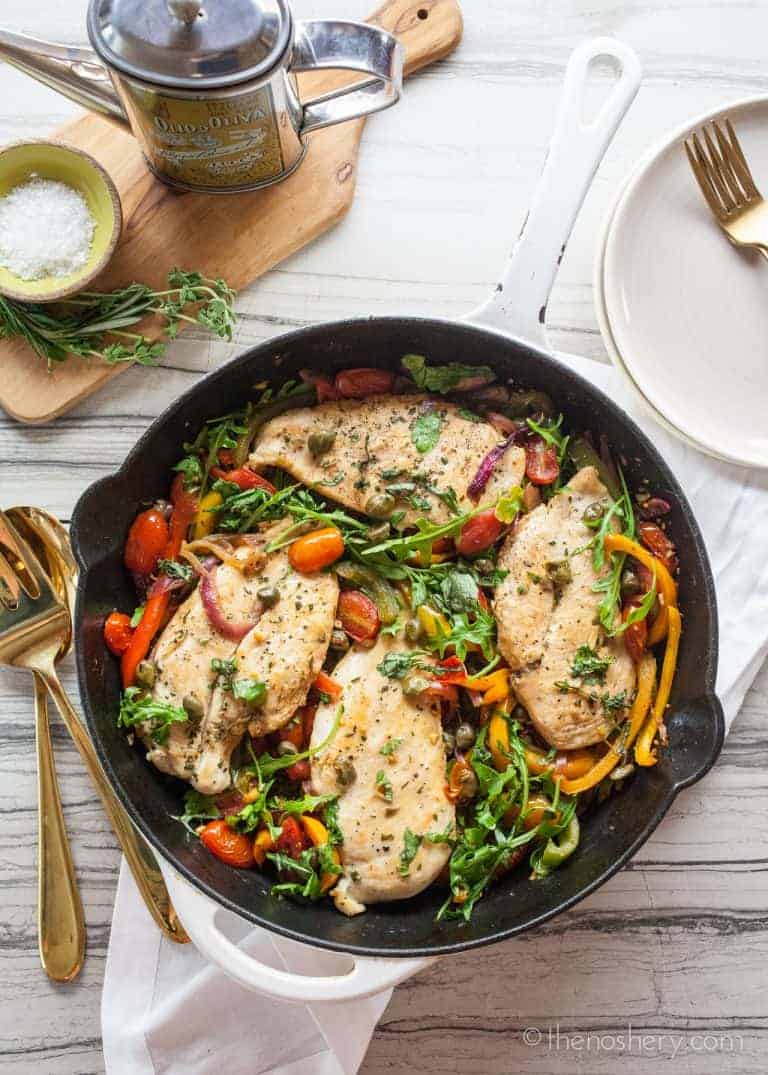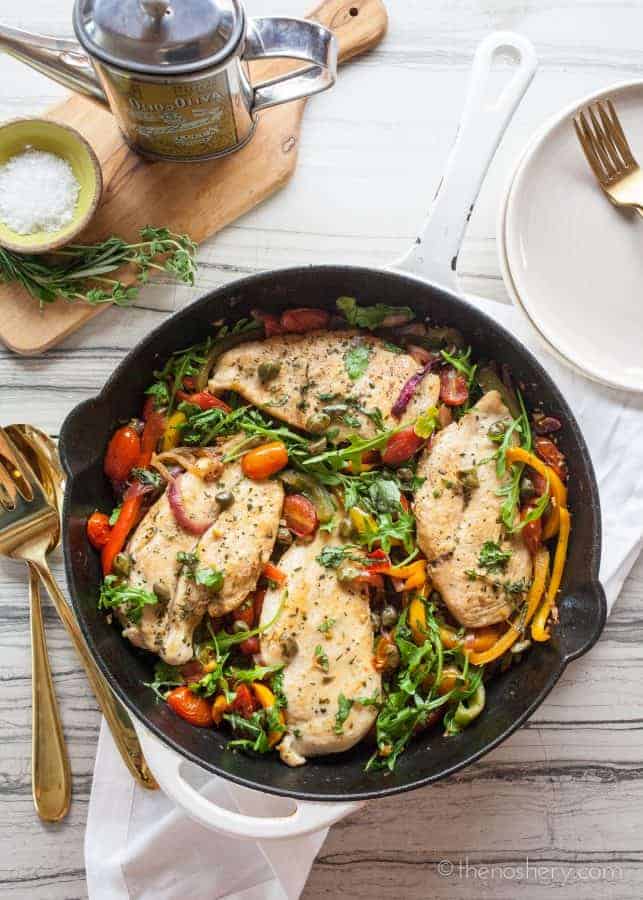 I love recipes like this because they are easy to prepare, flavorful, and healthy. Chicken skillets make the perfect weeknight dinner option. I also, like to double the recipe to have for lunch the following day. I will usually reheat the chicken and vegetables and toss them with a fresh bed of salad green. Drizzle with a little olive oil and balsamic vinegar and lunch is ready.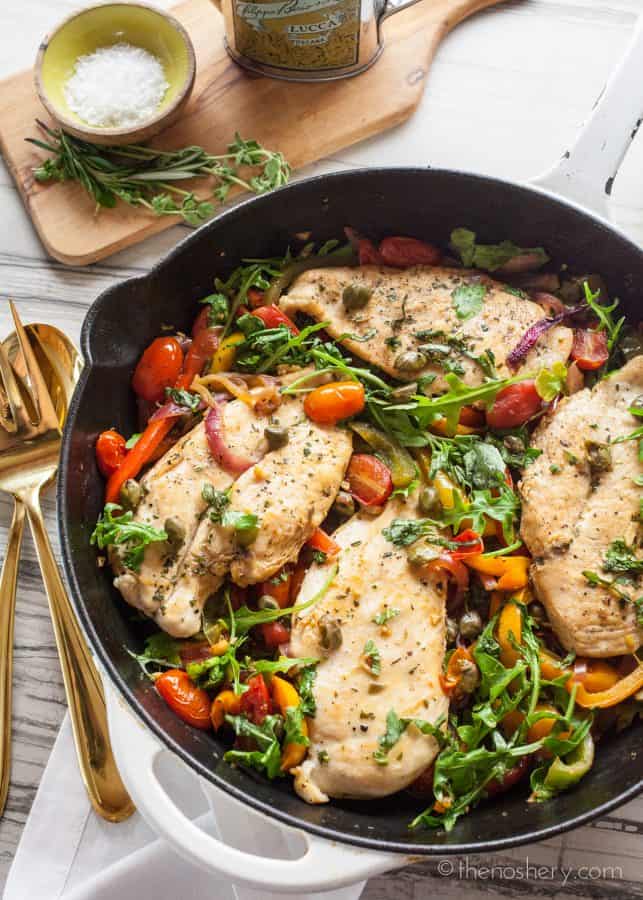 If salad greens aren't your thing and you are in desperate need of carbs serve the chicken with crusty bread or over pasta with some parmesan cheese. This recipe has a great amount of versatility. If you are missing any of these vegetables or maybe aren't a fan of them feel free to switch them out. I think mushrooms, zucchini, or asparagus would be some great ways to change this chicken skillet up.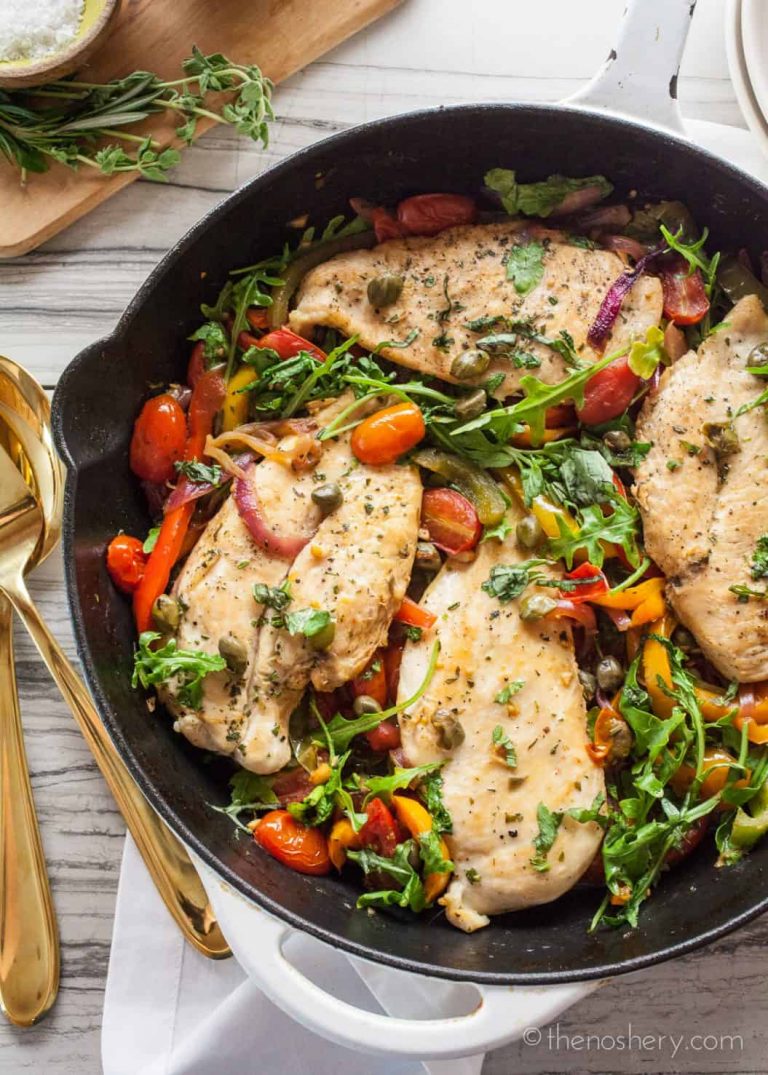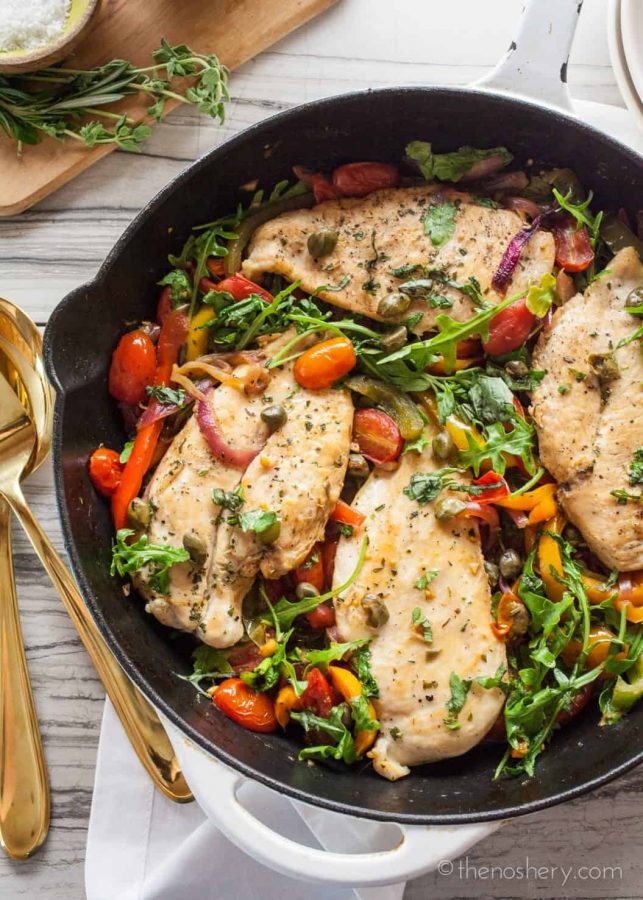 more chicken dinner love
items used in this recipe
Yield: 4
Italian Chicken Skillet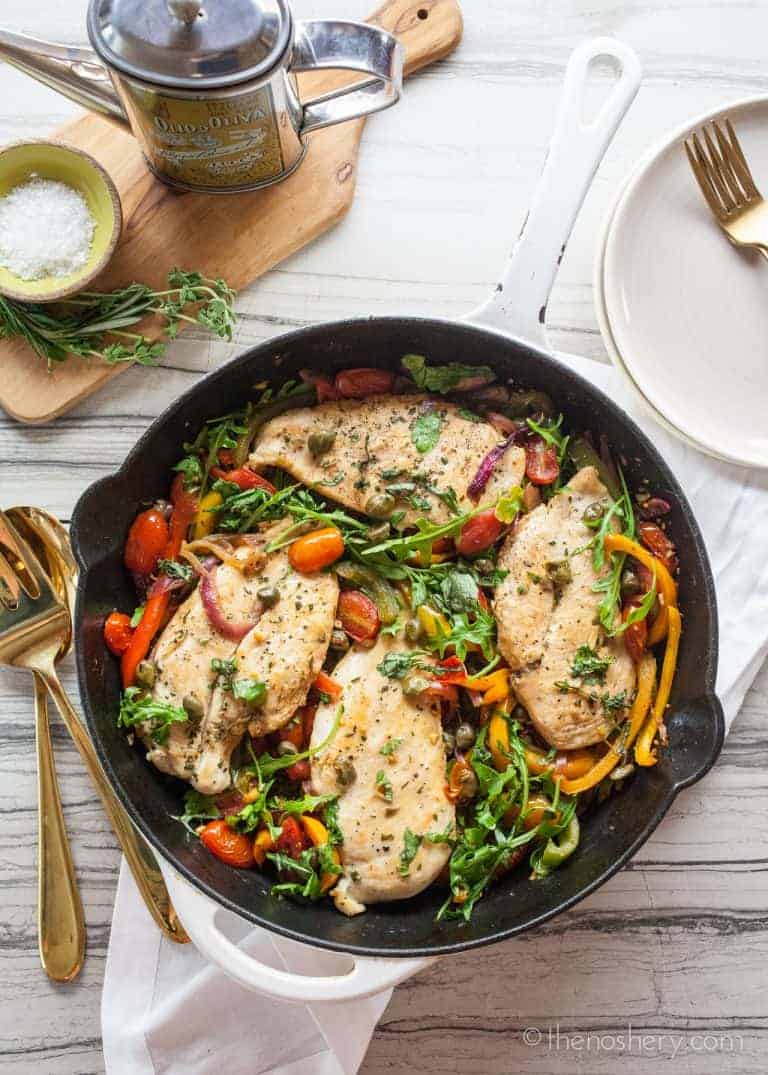 Make weeknight dinner easy with this Italian Chicken Skillet. A complete meal loaded with vegetables and chicken all in one skillet.
Ingredients
2 large boneless skinless chicken breasts, cut into 1/4-inch thin cutlets
2 tbsp minced fresh oregano
1 tablespoon olive oil
1 cup sliced bell pepper
1/2 medium red onion, sliced
14 oz grape tomatoes, halved
2 tbsp chopped fresh garlic
3.5 oz jar capote capers, drained
1/4 cup white wine
1 tbsp freshly squeezed lemon juice (juice of 1/2 lemon)
3/4 cup chicken bone broth
2 cups arugula
Instructions
Pat chicken cutlets dry and season on both sides with salt, pepper, and 1 tablespoon fresh oregano. Set aside.
Heat 2 tbsp olive oil in a large cast iron skillet. Brown the chicken cutlets on both sides, about 3 minutes on each side. Transfer
the chicken cutlets to a plate.
In the same skillet, add peppers and onions, sauté on medium-high for 5 minutes. Then add the tomatoes, garlic, the remaining oregano, salt, and pepper. Cook for another 10 minutes, stirring occasionally.
Add white wine and capers, bring to a simmer and let reduce. Add the lemon juice and chicken broth.
Bring the liquid to a boil and lower to a simmer. Return the chicken back into the skillet. Cook uncovered for another 10 minutes or until the chicken is fully cooked.
Stir in arugula just before serving.


Nutrition Information:
Amount Per Serving:
Calories:

200
Carbohydrates:

9g
Protein:

25g