Moroccan lamb stew is sweet, spicy, and fragrant.  It's a hearty and filling stew loaded with tender lamb in a harissa spiced sauce. It's the perfect stew to curl up with on a cold day. If lamb isn't your thing you can substitute beef or chicken.
Cold weather is all about sweaters, hot chocolate, scarves, fires, and my personal favorite stew. There is something wonderful about a big pot of stew. It simmers on the stove top for hours letting the meat to become tender, the sauce thickens, and the flavors develop.  Moroccan lamb stew warms my heart and my belly, it's a thing of beauty.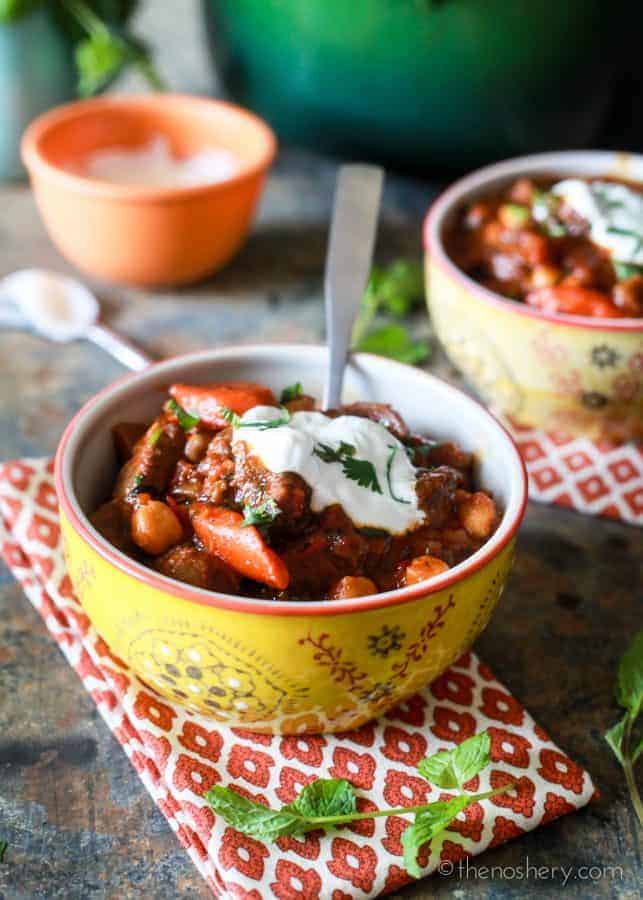 What's in Moroccan Lamb Stew?
The great thing about this Moroccan lamb stew is that although it looks and sounds heavy the flavor profile gives it the illusion of lightness. It's full of bright flavors like white wine, mint, cilantro, lemon zest and figs that trick your brain to think you're eating something light. But, it's still a stew! A stew full of lamb, carrots, and garbanzos in a tomato sauce. It's kind of the perfect stew to comfort you during cold weather and provide an escape to a warmer day.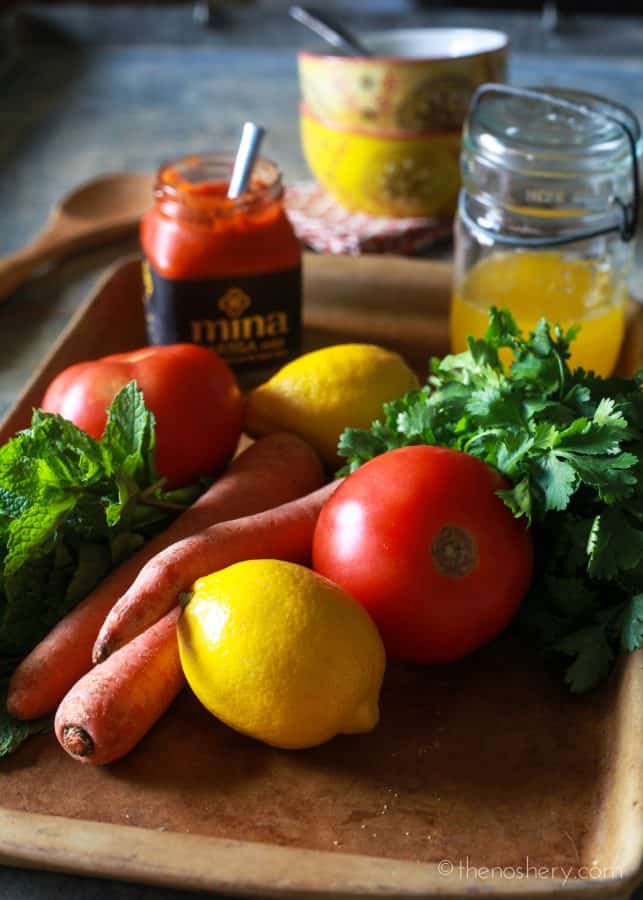 What is Harissa?
One of the special ingredients in this Moroccan lamb stew is the harissa. Harissa
is a Middle Eastern chili paste made up of roasted red peppers,  hot chili peppers and spices, and herbs such as garlic paste, coriander seed or caraway. The combination of the roasted red peppers and hot chili gives it a great sweet and spicy quality. If you have an appreciation for sweet and spicy flavors, then you will love harissa.  Harissa can be found in specialty food stores like Whole Foods or sometimes in the international food aisle of your local grocery store.
If lamb isn't your game or you want a less expensive protein, you can use beef or chicken instead.  If using chicken, cut the cooking time in half. But, if you can make it with the lamb I highly recommend it, even if you have never had lamb!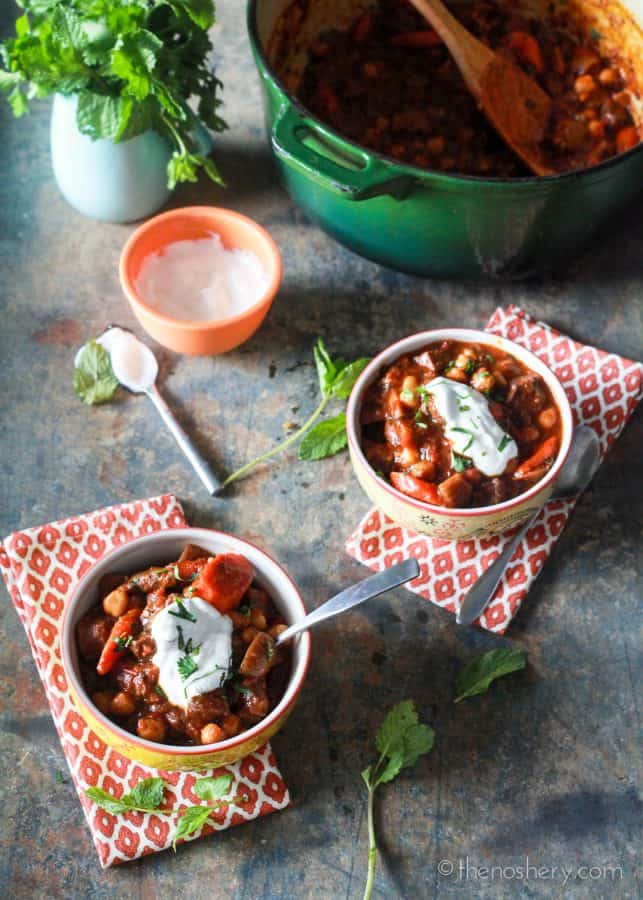 This is also a great dish to make ahead or freeze and serve later in the week. And, to be honest, it makes it even better because it gives the flavor more time to meld and become even more awesome. If you are looking for more soup or recipes ideas see my collection of soups and stews.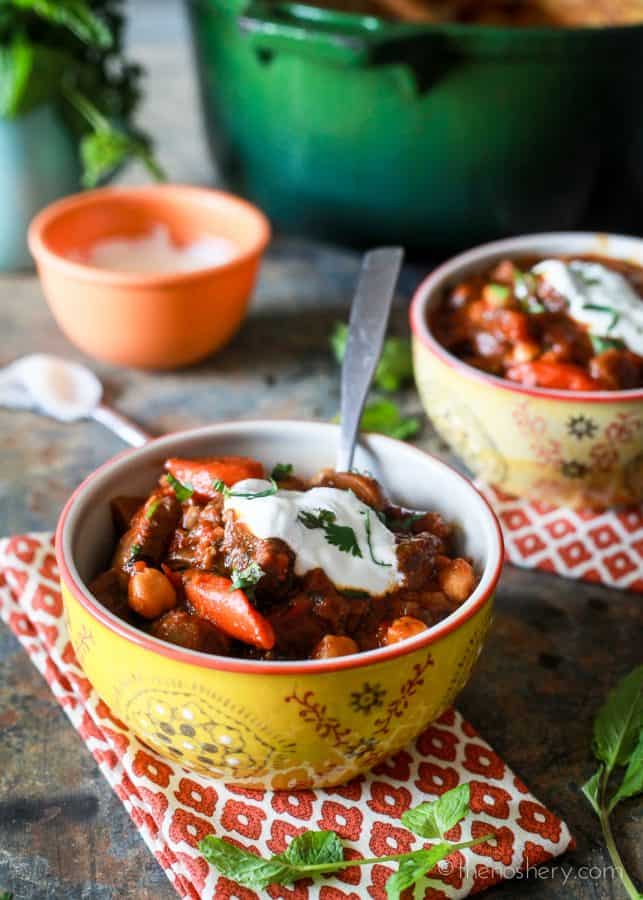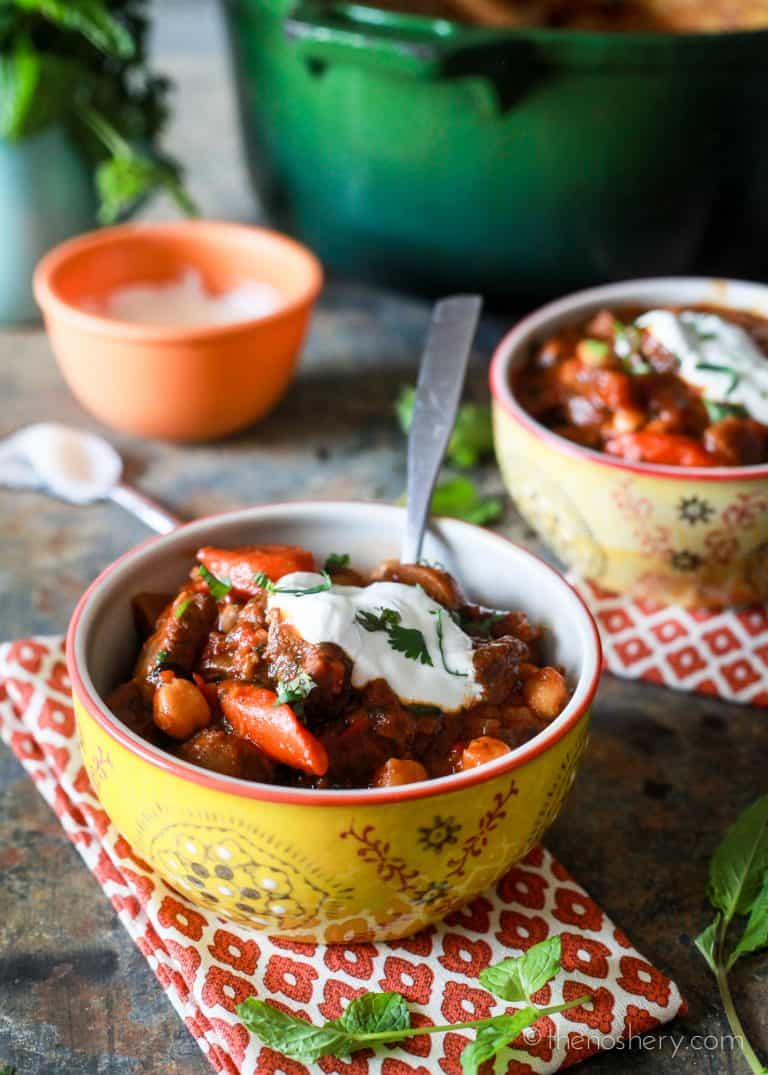 If you are craving something a little lighter try this chunky roasted tomato soup. But, of course, everyone loves a classic sopa de fideo con pollo (chicken noodle soup).  If you want something hearty and loaded with aromatics and spices you need to try this curried beef stew.
If you are looking for more soup or stew recipes ideas see my collection of soups and stews.
More Stew Love:
Items Used in this Recipe:
Moroccan Lamb Stew
Sweet, spicy, and fragrant Moroccan lamb stew. A hearty and filling stew fit for fall with the bright flavors of summer.
Ingredients
2 whole carrots, peeled and sliced
½ cup clarified butter or ghee, divided
1½ cup flour
½ teaspoon paprika
½ teaspoon ground coriander
½ teaspoon ground cumin
2 teaspoons kosher salt
1½ lb boneless lamb leg, ½ inch cubes
1 medium onion, diced
1 tablespoon fresh minced ginger
1 cup white wine
1½ cup chicken broth
½ cup harissa
3 strips of lemon peel, minced*
8 dried figs, chopped
2 whole tomatoes, diced
1 15 oz can garbanzo beans, drained and rinsed
¼ cup chopped mint, plus more for garnish
¼ cup chopped cilantro, plus more for garnish
1 cup plain greek yogurt
Instructions
Heat a dutch oven or a large heavy bottom pot over medium-high heat. Drizzle with 2 tablespoons clarified butter, allow the butter to get hot, about 3 minutes. Add carrots, sprinkle with a pinch of salt. Cook until brown and caramelized, stirring occasionally, about 8 - 10 minutes. Transfer carrots to a plate.


Combine flour, paprika, coriander, cumin, and salt. Stir until well combined. Toss diced lamb in flour mixture. Drizzle pot with 2 tablespoons of clarified butter. Working in batches brown the lamb and transfer to plate with carrots.


Drizzle another 2 tablespoons of clarified butter to pot, add diced onions and ginger. Cook until fragrant, about 3 minutes. Pour in white wine to deglaze the pot, scraping up all the browned bits at the bottom of the pot. Add lamb, carrots, broth, harissa, lemon peel, figs, and tomatoes. Make sure there is enough liquid to cover the lamb. Stir and bring to a boil. Once it comes to a boil, lower to a simmer, cover and cook for 1½ hours. (Stirring once or twice to make sure it doesn't stick to the bottom or dry out.) Add garbanzos, mint, and cilantro. Cover and simmer another 20 minutes.


Remove cover and simmer until juices thicken about 10 minutes. If you want it thicker let it simmer longer. If too thick add a bit of water.


Serve in a bowl with a dollop of yogurt and garnished with chopped cilantro and mint.
Notes
Substitute
- Lamb can be substituted with beef or chicken. If prepared with chicken cut cook time in half. Also, figs can be substituted with raisins.
Lemon peel
- Using a vegetable peeler peel off 3 strips. You do not want the pith (white) of the lemon.
Harissa
-
Moroccan chili pepper paste
. It can be found in specialty food stores and some international food aisle at your local grocery store.
19