Mushroom chicken is a classic dish. But a one-skillet dish of chicken, mushrooms, and potatoes in a creamy wine sauce makes this a complete meal.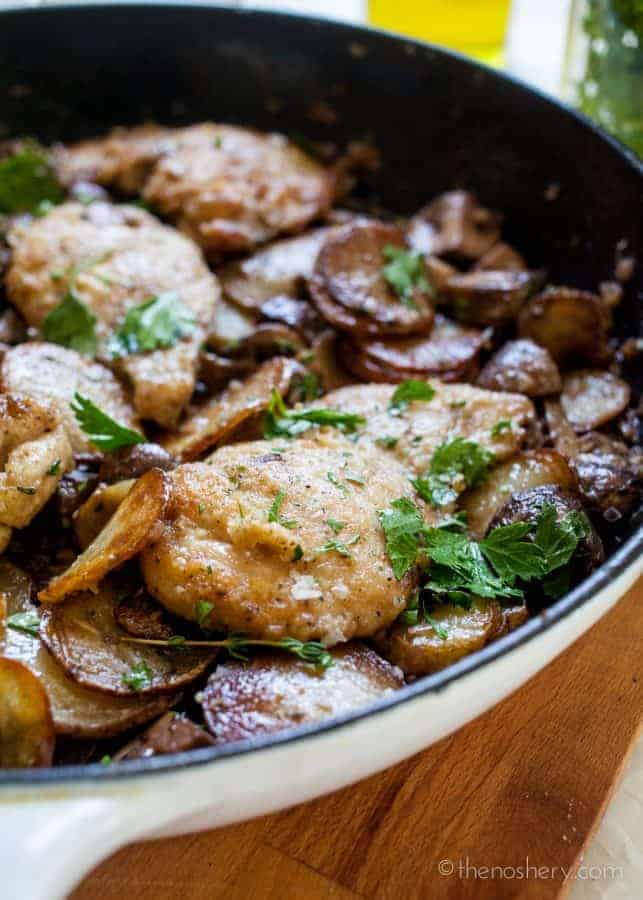 I love mushroom chicken! I don't know what it is about mushroom chicken. Maybe it's the simplicity of a dish that packs so much flavor. Also, I love meaty mushrooms that soak in a savory sauce.
Lately, it's been really hot and to keep things inside the camper cool we normally opt to grill. But, some days it too hot to grill outside. The other day I looked like I had run a marathon instead of cooked dinner and it wasn't a cute look. Turning on the stovetop is out of the question so I invested in a
portable induction burner
. I love this thing because it heats evenly and is much cooler than the stovetop.  The only problem is that I only have one burner. Which means I have been getting creative with one-pot or one-skillet meals.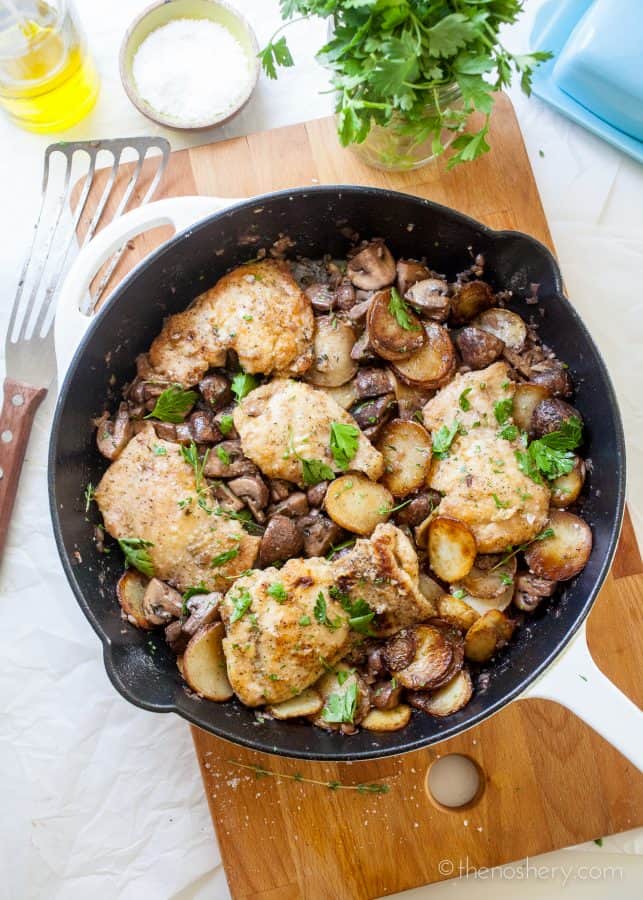 I thought I was a fan of mushroom chicken but this dish may have made me a full blown fanatic! It's full of tender juicy mushrooms, buttery potatoes, and perfectly browned chicken in a savory wine sauce. It's a full hearty meal and it only requires one skillet!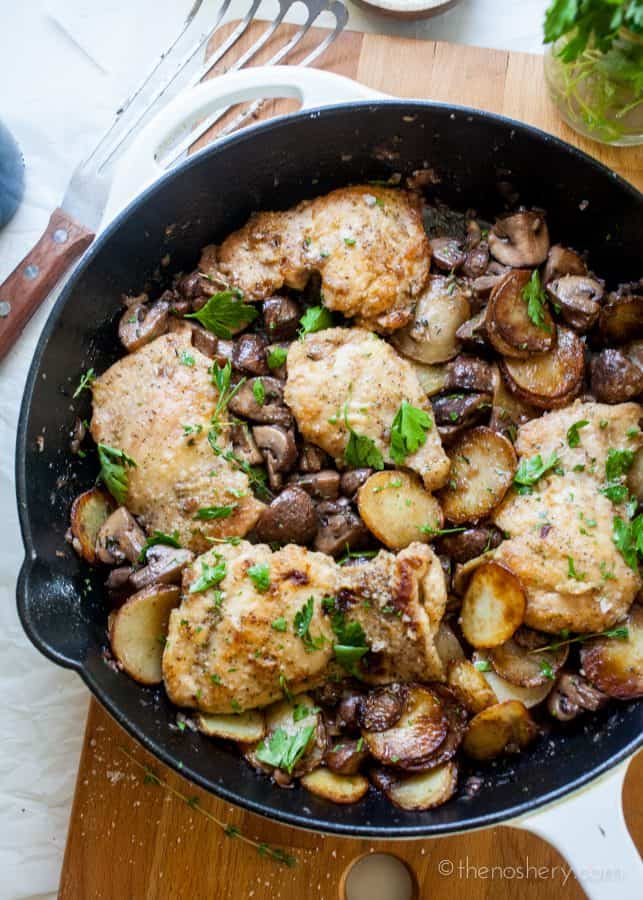 This dish is substantial enough to enjoy on it own but I love it over salad greens. Also, to get the potatoes perfectly golden and brown it's important to soak the potatoes for a least 1 hour. Soaking the potatoes reduces the starches in the potatoes and helps them brown instead of burn. If you want to get ahead of the game you can soak the potatoes overnight so they are ready when it's time to make dinner.

Skillet Mushroom Chicken
Mushroom chicken is a classic dish. But a one-skillet dish of chicken, mushrooms, and potatoes in a creamy wine sauce makes this a complete meal.
Ingredients
4 cups thinly sliced baby potatoes
4 tablespoons butter
2 tablespoons olive oil
5 - 6 boneless skinless chicken thighs
1 cup flour
16 oz baby portobello mushrooms, quartered
¼ cup red wine
2 tablespoons heavy cream
1 shallot, minced
1 tablespoon minced fresh thyme
2 cloves garlic, minced
parsley for garnish
Instructions
Soak potatoes in water for at least 1 hour or more.


Drain potatoes and spread on a kitchen town to pat dry. Heat a cast iron skillet or heavy bottom skillet over medium heat. Add 2 tablespoons of butter and olive oil to the skillet. Add potatoes to skillet and toss in butter. Cook potatoes for 10 - 15 minutes, stirring occasionally until potatoes are golden brown. Transfer potatoes to a plate and set aside.


Pour flour into a bowl. Raise heat to medium-high heat. Season chicken with salt and pepper. Coat chicken lightly with flour, shaking off any excess. Add chicken to the skillet, cook on each side for 3 minutes or until cooked through and golden brown. Transfer to plate with potatoes.


Add 2 tablespoons of butter to the skillet. Add mushrooms to the skillet and cook for 5 - 7 minutes. Add red wine to deglaze the pan, scraping the brown bits from the bottom of the skillet. Add heavy cream, garlic, shallots, and thyme. Bring to a simmer and let reduce by half.


Add potatoes to the skillet and toss with the mushrooms. Return chicken to the skillet to reheat. Garnish with chopped parsley and season with salt. Serve.
1