Shakshuka | I can't remember the first time I saw, heard, or read about shakshuka, but I knew I had to try it! I filed it away in my "need to try" file and there it sat for years. Which is baffling because I love eggs! I love eggs and any kind of egg-centric dish.
I think I was hesitant because it's a traditional dish and I've never tried it, so I had nothing for comparison. Living here in Dallas, I haven't found a place to try it and I didn't want to do it an injustice.
Well, it's been on my "to make" list for long enough. So I figured it was time that I experience shakshuka. I can't say it tastes just like the real thing, but I can say that this dish is amazing and super easy.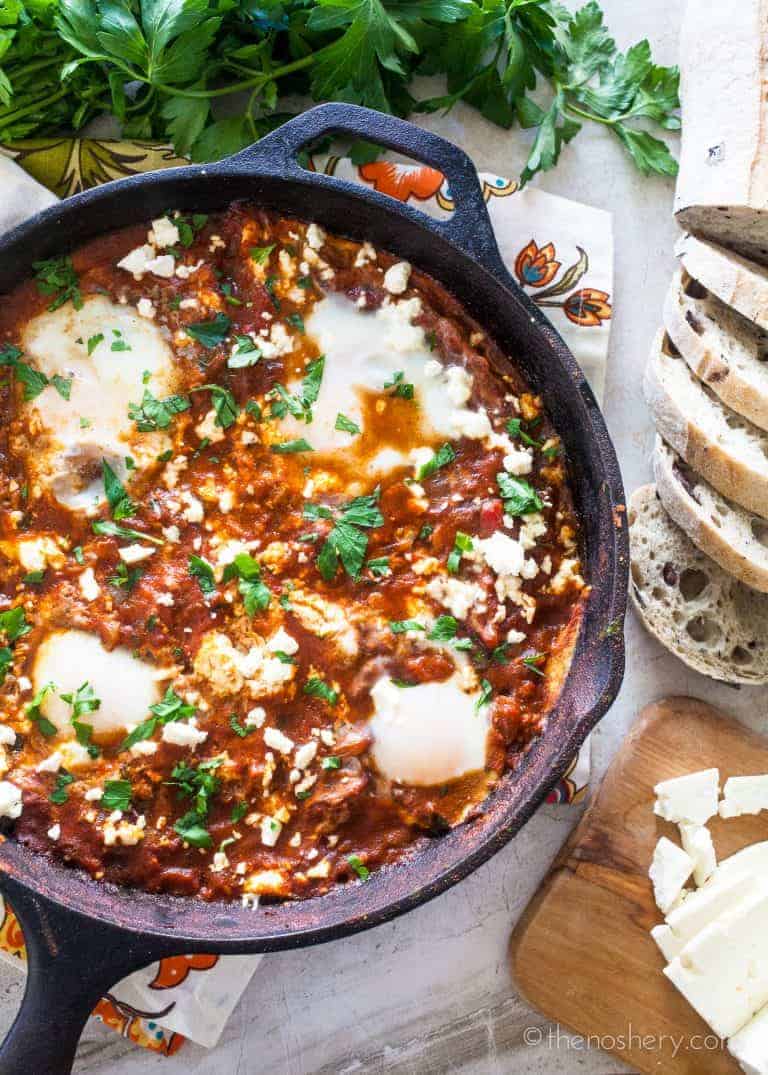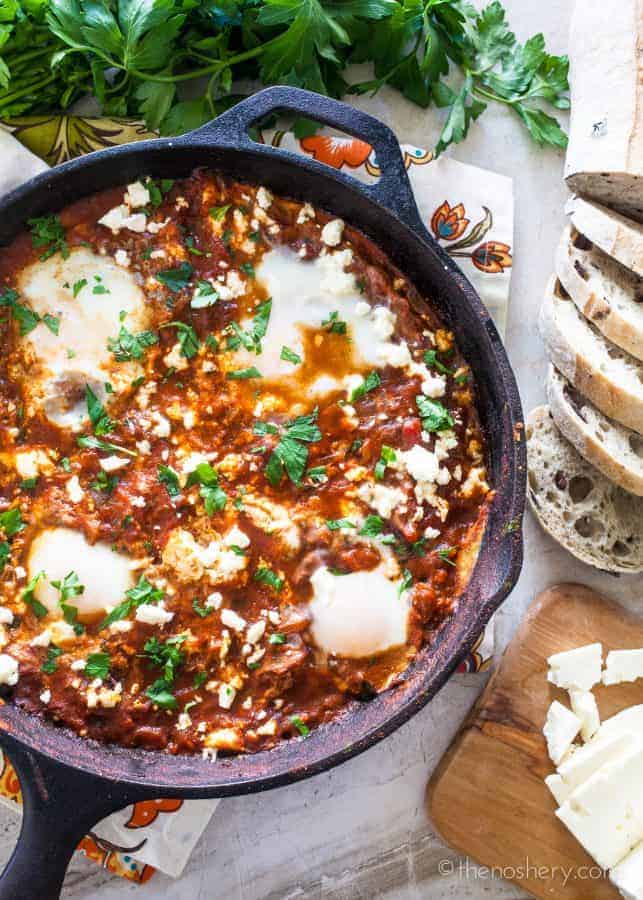 What is Shakshuka?
Mediterranean culture has so many drool-worthy dishes to offer, and you know I'm here for it. My Mediterranean spin on Panzanella, shawarma in wrap AND skillet form, Moroccan lamb stew, curried roasted chickpeas, and shrimp harissa skillet are all regulars in our rotation.
And I'm so happy to have a new one to add to the lineup. I have a feeling we will be eating it a lot! The dish's name, shakshuka, essentially means "all mixed up."
Tomato-based stews were common throughout the Mediterranean and Middle East. These stews were called shakshouka, meaning "a mixture."
And that's exactly what it is. It's eggs poached in a thick tomato sauce layered with olive oil, red bell pepper, onions, and garlic. All of that is infused with warm cumin, smoky paprika, a hint of heat from cayenne pepper, and a touch of coriander to round things out.
What country is shakshuka from?
The specific origins of shakshuka are disputed. Some food historians believe the dish originated in Morocco, some think it spread to Spain and the Middle East from Ottoman Turkey, while others believe it originated in Yemen.
What I do know is that shakshuka is a dish enjoyed throughout the Mediterranean and the Middle East. In Israel, it is served for breakfast with bread. The dish came to Israel from the Lybian-Tunisian region of northeast Africa.
What is in shakshuka?
olive oil
onion
garlic
cumin
smoked paprika
coriander
whole, peeled tomatoes
roasted red peppers
feta cheese
eggs
parsley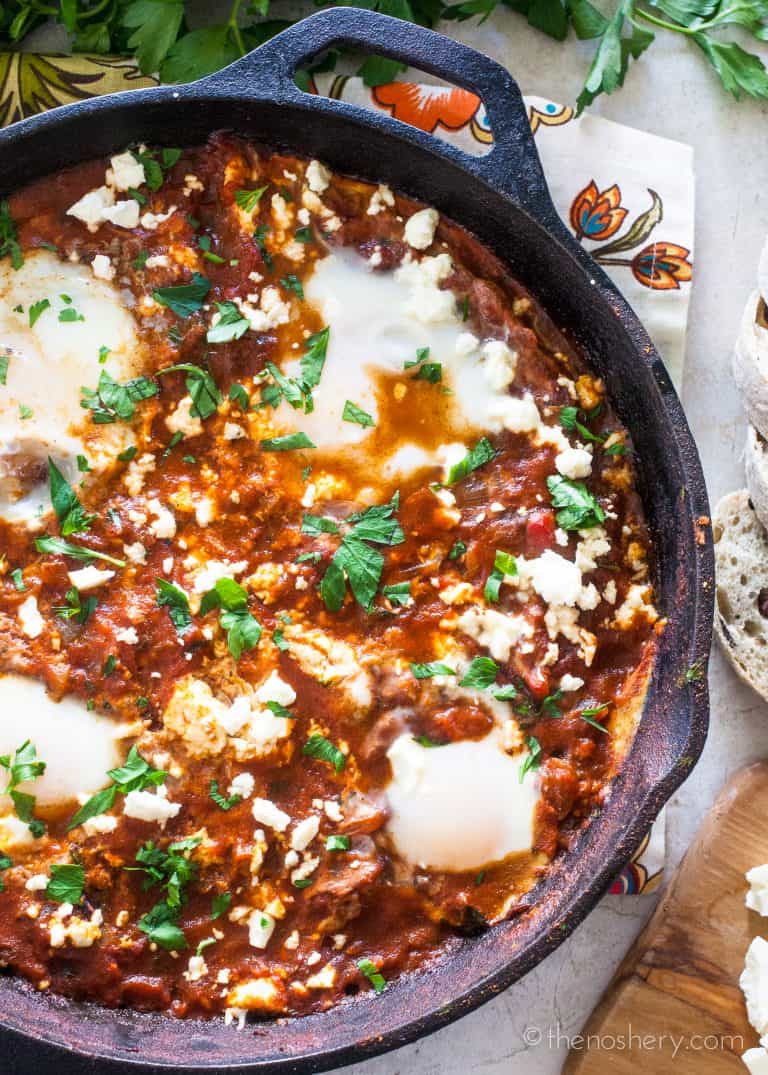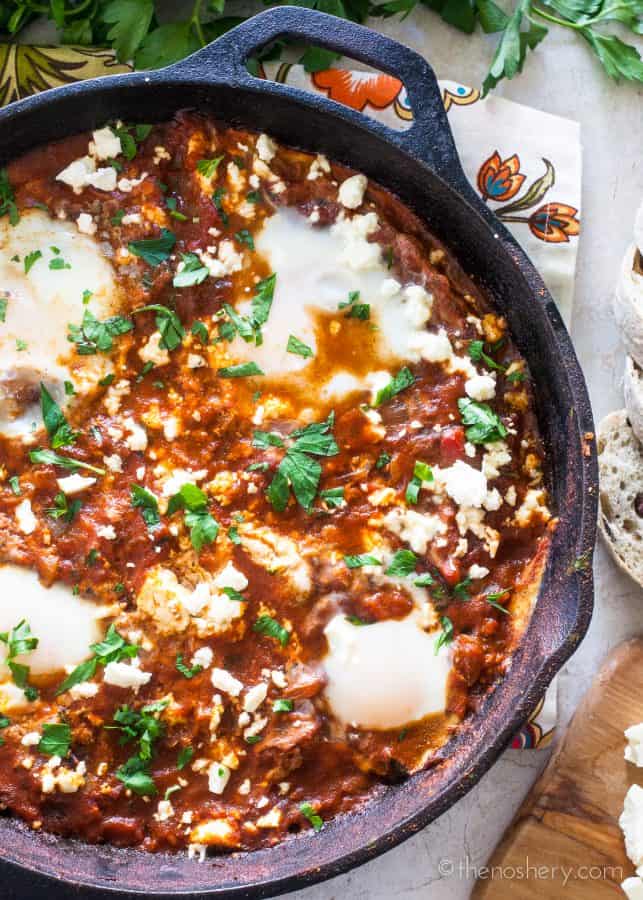 How to make shakshuka
First, preheat your oven and add olive oil in a large cast-iron pan or another oven-safe skillet that's already nice and toasty over medium-high heat. When the olive oil is shimmering, add the onion and garlic and sauté for about 3 minutes.
When your onion and garlic are translucent, sprinkle in the spices and toast the cumin, paprika, and coriander. If you like things really spicy, you can also add some red pepper flakes here.
Toasting spices really brings out their flavor and makes a difference in the dish. Trust me! It will only take about a minute before your kitchen smells even more amazing.
Next, in go your tomatoes and red peppers. It's a little-known fact that, in terms of canned tomatoes, whole tomatoes are much more flavorful than those that come already crushed or diced. They will break up easily with the back of a spoon.
Now let the mixture simmer for 10 minutes. Go put some wine in to chill or unload the dishwasher.
When the tomatoes have thickened, sprinkle a generous amount of feta cheese over the top of the skillet. If you don't have an oven-safe skillet, you can transfer the mixture to a baking dish at this point. Make little craters in the mixture with the back of your spoon, the perfect size to crack the eggs into.
Bake the skillet in the oven for 7-10 minutes until the whites are set. With a sprinkle of parsley, your new favorite savory breakfast, brunch, or breakfast-for-dinner is ready.
What to serve with this easy shakshuka recipe?
It is traditionally served for breakfast with warm pita bread, challah, or naan. Also pairs well with hummus, grits, roasted potatoes, herb salad, cucumber salad, or Greek salad.
But my favorite thing is tearing off a piece of crusty bread and then using it to mix up the runny yolk and tomato sauce. This easy shakshuka recipe makes for so many wonderful flavors in one bite!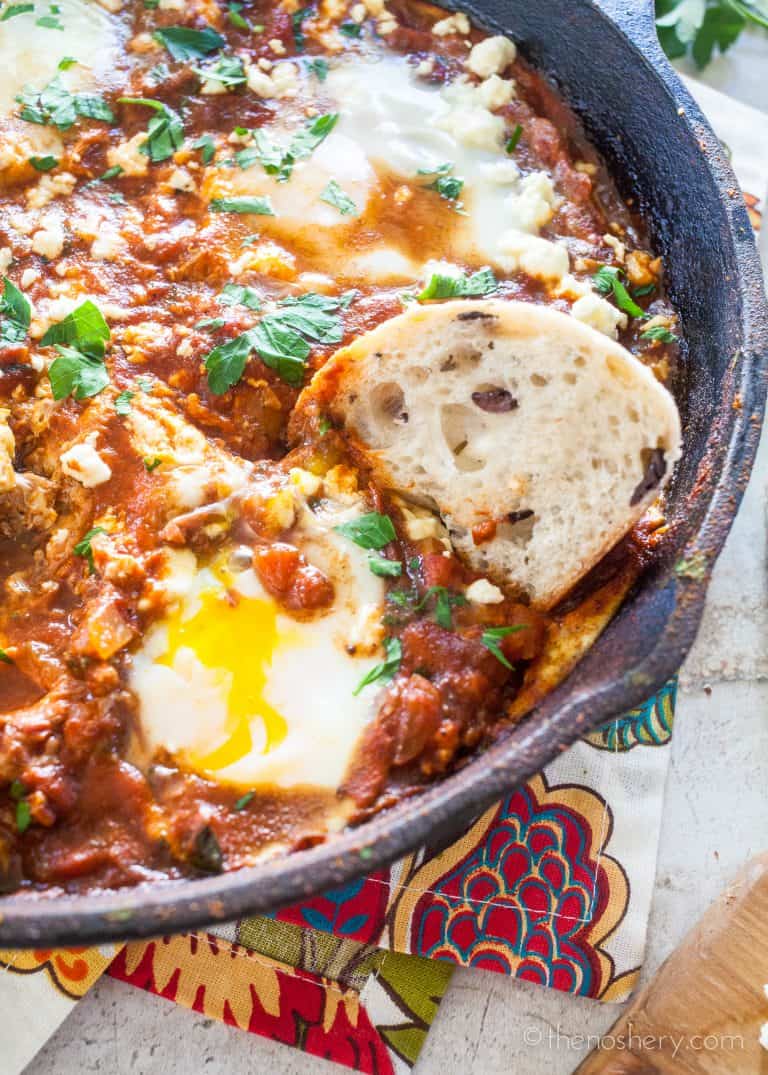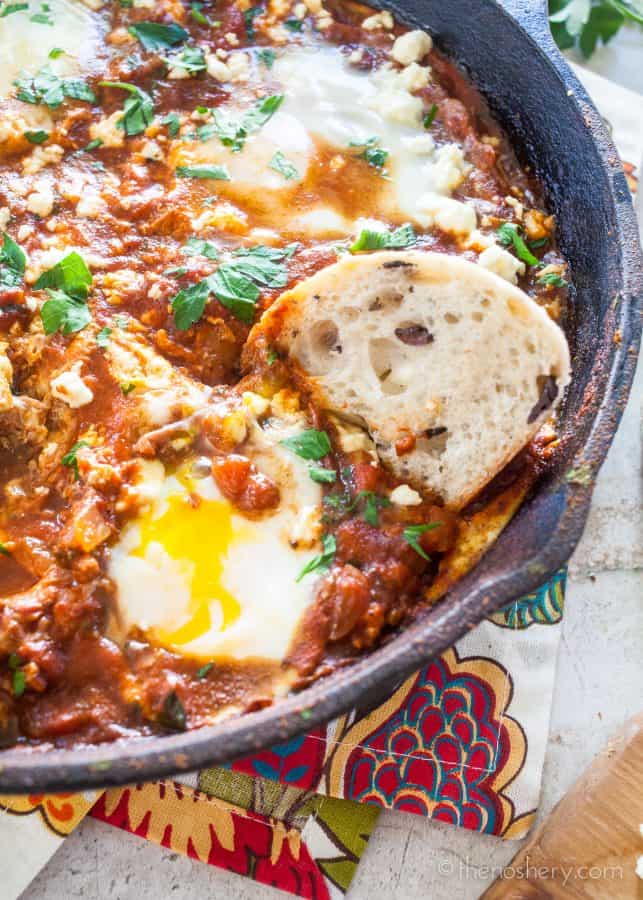 Tips for shakshuka
Toasting the spices may be a tempting step to skip but it's an important step to bring out the oils and aromas of the spices, which enhances the flavor.
Use quality canned tomatoes that have a sweetness, tomato-ey, and have a delicate acidity. My personal favorites are Muir Glen San Marzano Style Whole Peeled Tomatoes and Redpack Whole Peeled Potatoes.
You want the white of the eggs to be fully cooked and the yolks to be creamy, not runny. If your oven has hot spots I recommend rotating the pan halfway through the baking time.
Serve this dish hot, because of the eggs it's not the best dish to eat reheated. If you all the eggs are eaten but you still have some of the tomato sauce left, store the sauce in an airtight container in the refrigerator for up to 1 week. Reheat the sauce and serve on toast topped with a fried egg.
Cheers for savory breakfasts!
I love a good pancake stack or French toast as much as the next person, but savory breakfasts are seriously underrated. You don't know what your brunch spread is missing if it doesn't also include something savory like this smoked salmon and egg toast or Camille Styles' Mediterranean breakfast salad.
And egg lovers of the world, I cannot say it enough. If you haven't had shakshuka eggs, you must! This dish is sweet, tart, spicy, smoky, and, well, just freaking awesome.
more baked egg love:
Yield: 2
Shakshuka | Baked Eggs in Spiced Tomato Sauce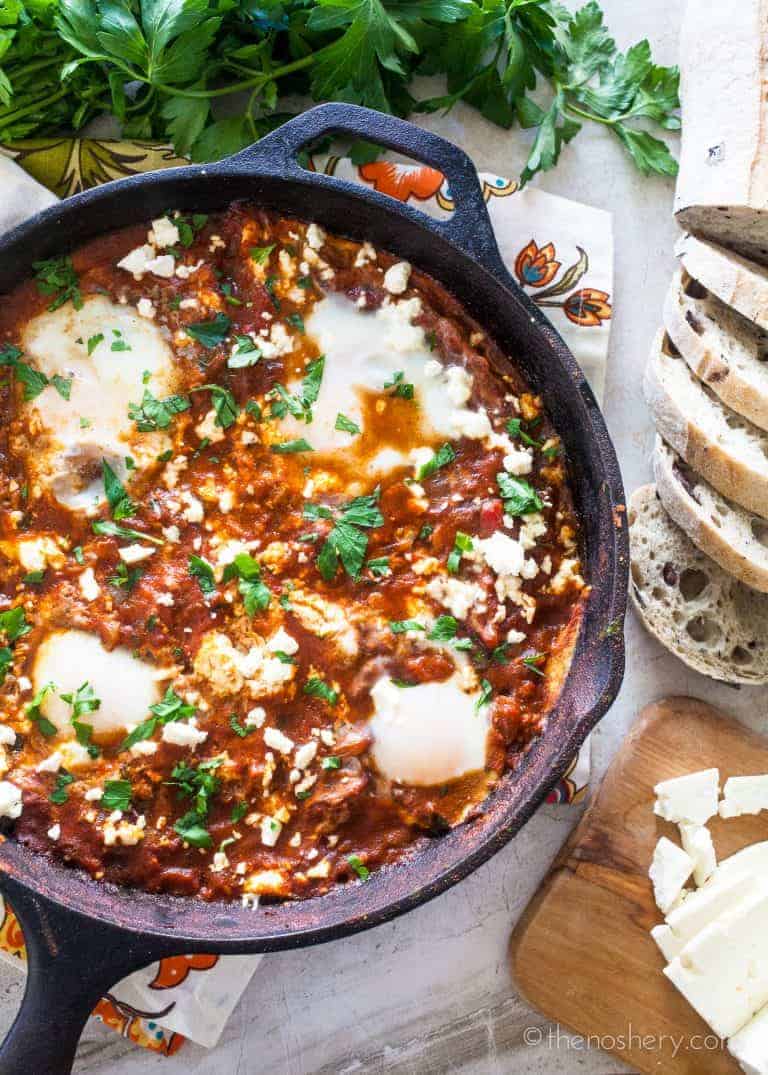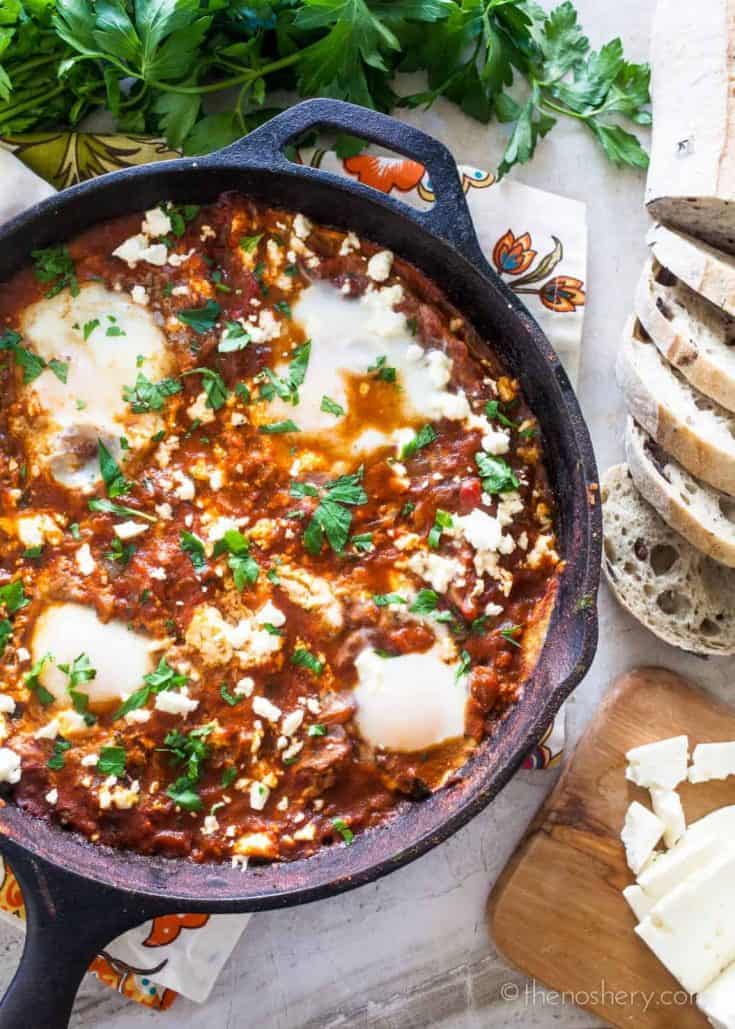 Shakshuka a dish enjoyed throughout the Mediterranean and Middle Eastern countries. It's a dish of eggs baked in a flavorful spiced tomato sauce and served with crusty bread. So, tear off a piece of bread and dive in!
Ingredients
2 tablespoons olive oil
1 small onion, diced
3 cloves garlic, minced
2 teaspoons cumin
1 teaspoon smoked paprika
1 teaspoon coriander
1 28 oz can whole peeled tomatoes
1 12 oz jar roasted red peppers, diced
1/4 cup crumbled feta
4 eggs
parsley
Instructions
Heat oven to 375 degrees.
Heat a 12-inch cast-iron or oven-safe skillet over medium-high heat. Add olive oil to skillet and heat for 1 minute. Add onions and garlic, sauté until translucent, about 3 minutes.
Add cumin, paprika, coriander, and cook for 1 minute.
Add tomatoes and red peppers. Crush the tomatoes using the back of a spoon. Stir until well combined, simmer for 10 minutes giving the tomatoes time to thicken.
Sprinkle tomatoes with feta cheese. Using the back of the spoon press dimples into the tomato mixture. Crack the eggs into the dimples.
Transfer the skillet to the oven and bake for 7 to 10 minutes, or until egg whites have set.
Sprinkle with chopped parsley and serve hot with crusty bread.
Recommended Products
As an Amazon Associate and member of other affiliate programs, I earn from qualifying purchases.
Nutrition Information:
Yield:
2
Serving Size:
2 eggs with sauce
Amount Per Serving:
Calories:

465
Total Fat:

28g
Saturated Fat:

8g
Trans Fat:

0g
Carbohydrates:

33g
Protein:

21g