Eggs poached in a flavorful spiced tomato sauce and served with crusty bread. Tear off a piece of bread and dive in!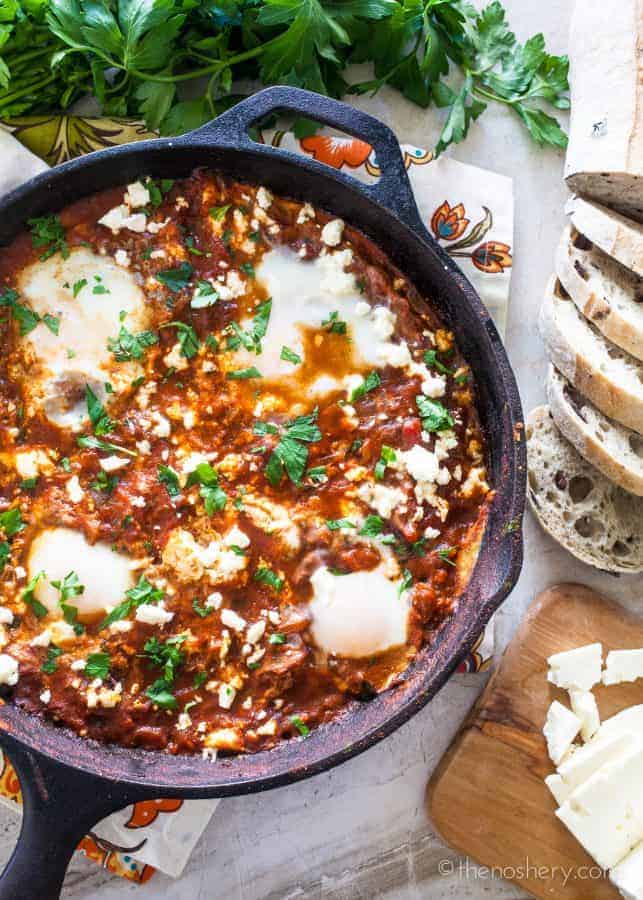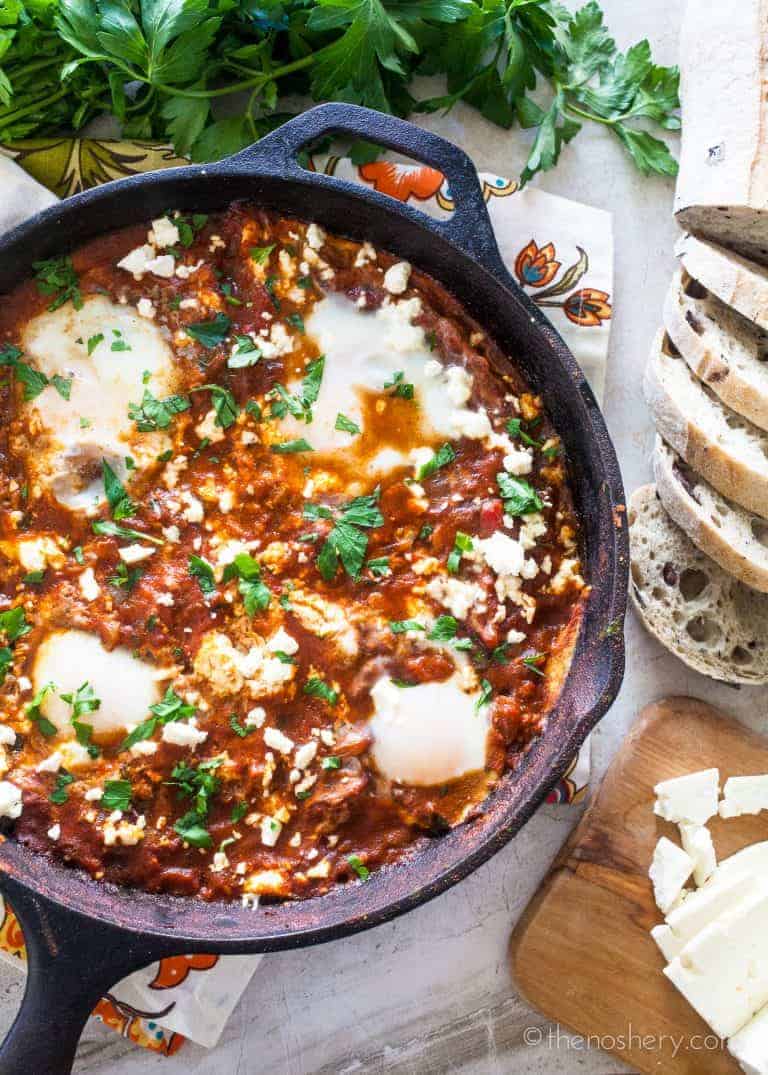 I can't remember the first time I saw, heard, or read about shakshuka but I knew I had to try it! I filed it away in my "need to try" file and there is sat for years. Which is baffling because I love eggs! I love eggs and any kind of egg centric dish.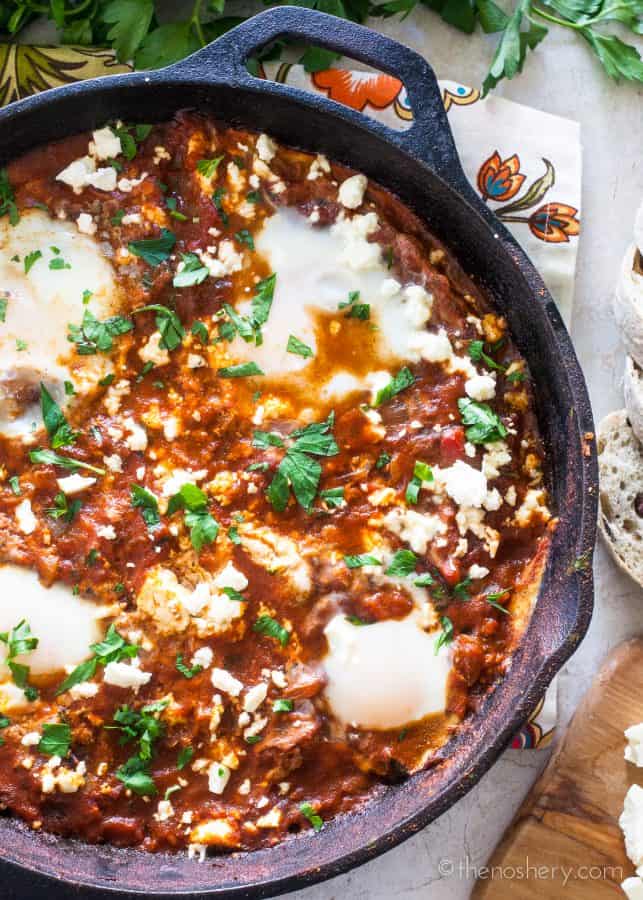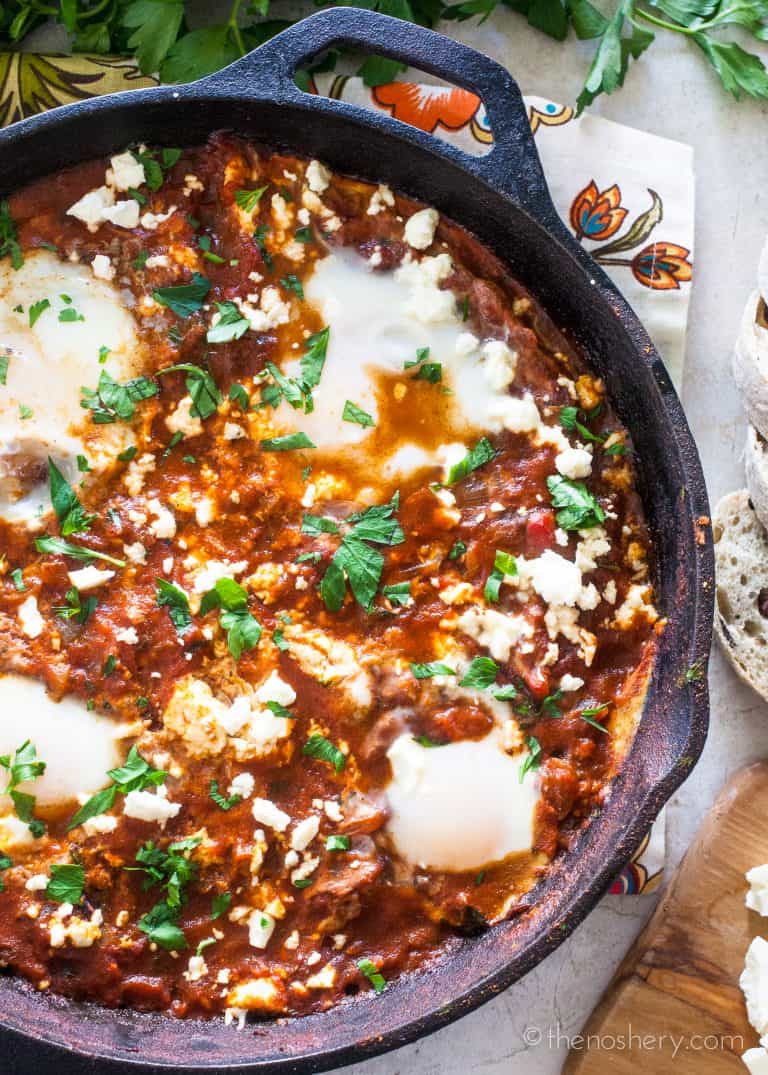 I think I was hesitant because it's a traditional dish and I've never tried it so I had nothing for comparison. Living here in DFW I haven't found a place to try shakshuka and I didn't want to do it an injustice. However, it's been on my list for years. Enough time has passed I needed shakshuka. I can't say it tastes just like the real thing but I can say that it's amazing.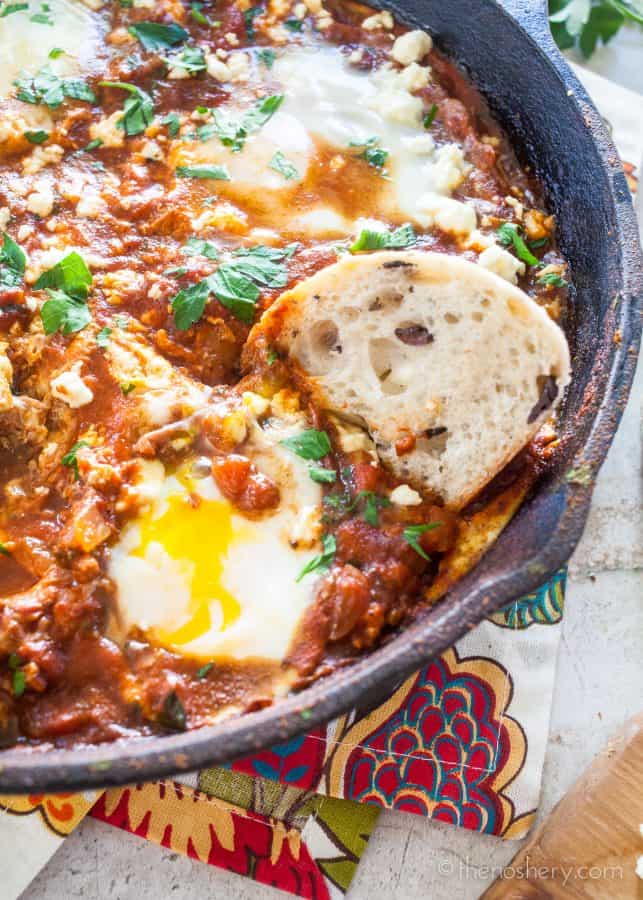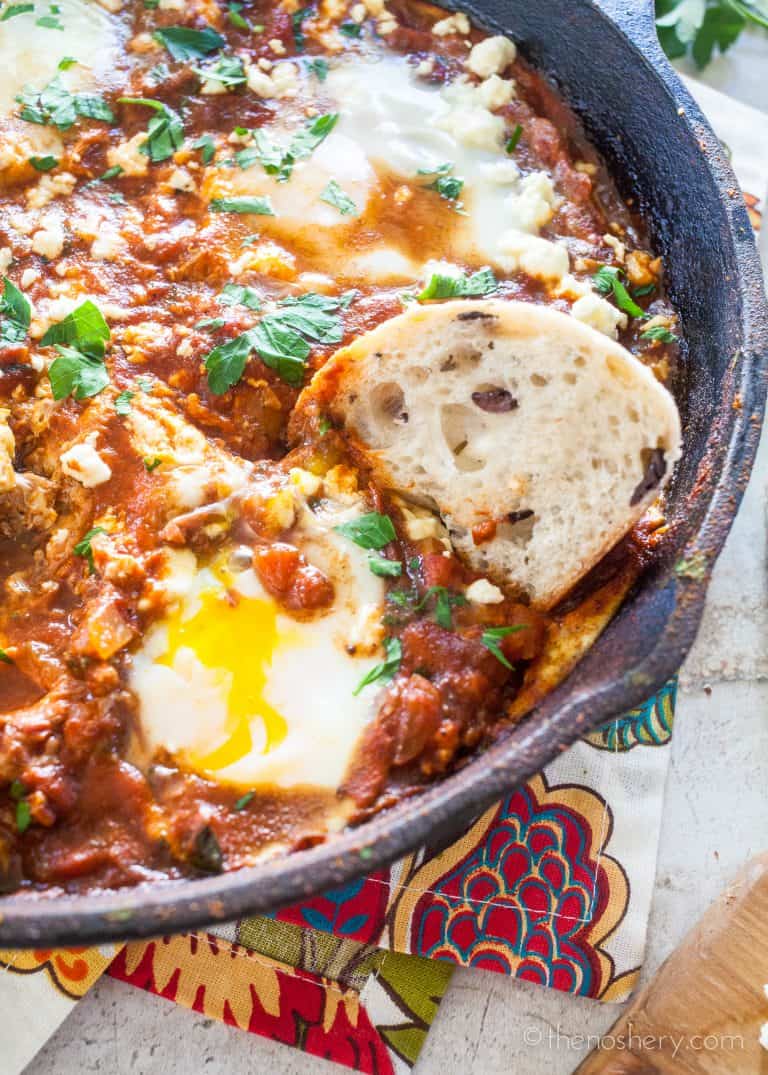 The eggs are poached in a fragrant spiced tomato sauce. Serve it with crusty bread to mop up the tomato sauce and runny egg yolk. Egg lovers of the world if you haven't had shakshuka you must! It's sweet, tart, spicy, smokey, and well just freaking awesome.
More Baked Egg Love:
Items Used in this Recipe:
Shakshuka
Eggs poached in a flavorful spiced tomato sauce and served with crusty bread.
Ingredients
2 tablespoons olive oil
1 small onion, diced
3 cloves garlic, minced
2 teaspoons cumin
1 teaspoon smoked paprika
1 teaspoon coriander
1 28 oz can whole peeled tomatoes
1 12 oz jar roasted red peppers, diced
¼ cup crumbled feta
4 eggs
parsley
Instructions
Heat oven to 375 degrees.


Heat a 12-inch cast-iron or oven-safe skillet over medium-high heat. Add olive oil to skillet and heat for 1 minute. Add onions and garlic, sautee until translucent, about 3 minutes. Add cumin, paprika, coriander, and cook for 1 minutes. Add tomatoes and red peppers. Crush the tomatoes using the back of a spoon. Stir until will combined, simmer for 10 minutes giving the tomatoes time to thicken.


Sprinkle tomatoes with feta cheese. Using the back of the spoon press dimples into the tomato mixture. Crack the eggs into the dimples. Transfer the skillet to the oven and bake for 7 to 10 minutes, or until egg whites have set.


Sprinkle with chopped parsley and serve hot with crusty bread.
Nutrition Information
Calories:
522
Fat:
26
Carbohydrates:
29
Protein:
28
2