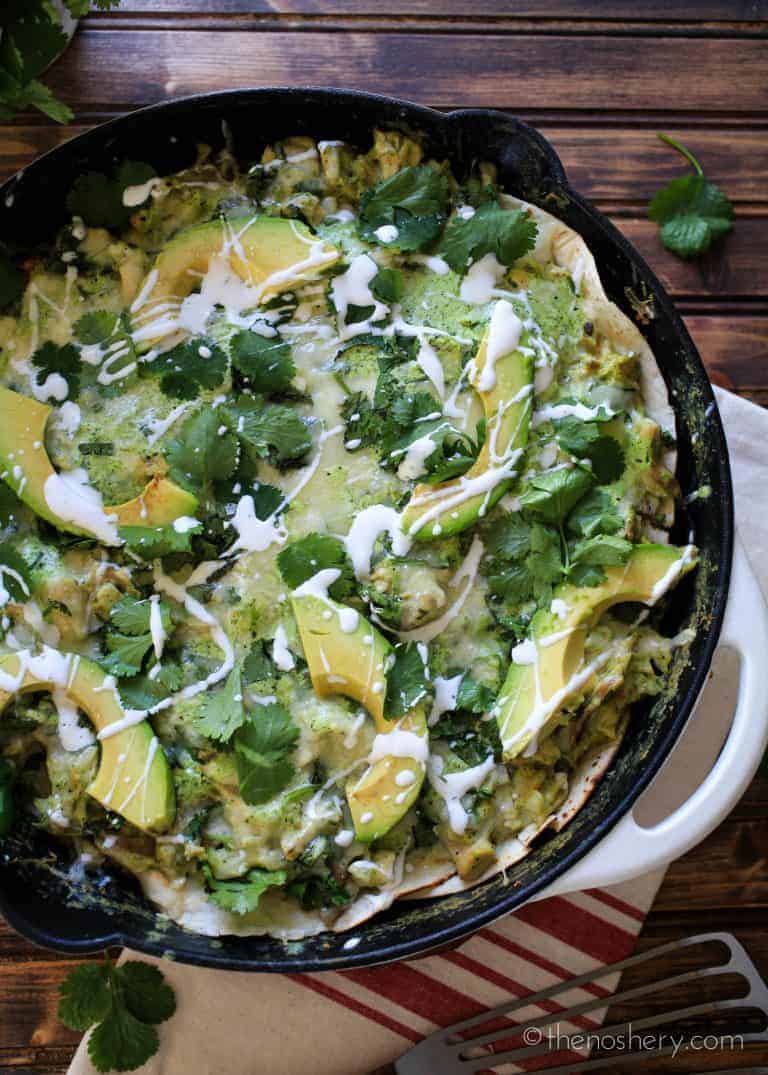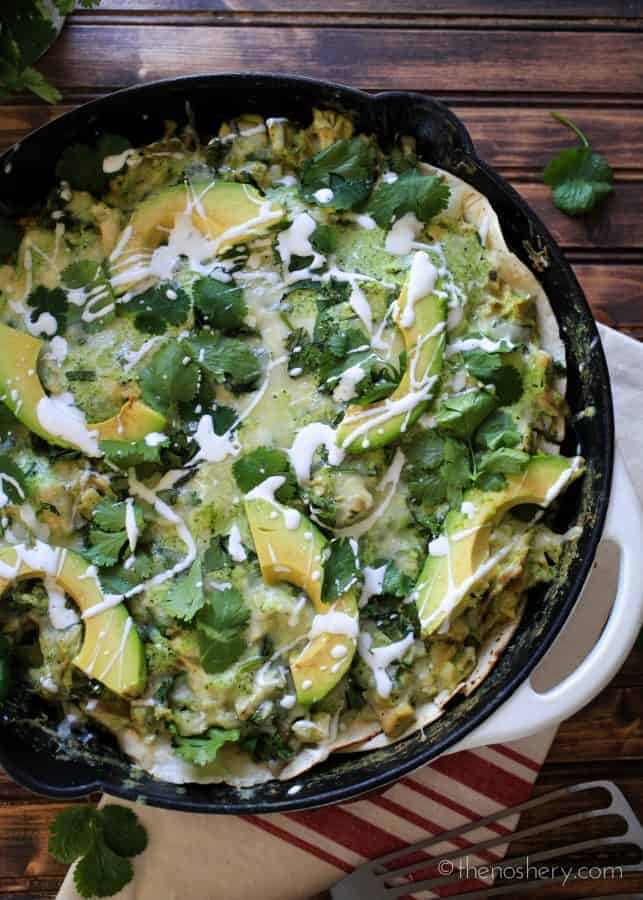 We've been living in Texas for just over two years. One of the many benefits of living in Texas, besides the fact that everything is bigger in Texas, is access to great Mexican food. It's even more awesome when heavenly chicken enchiladas appear at your door.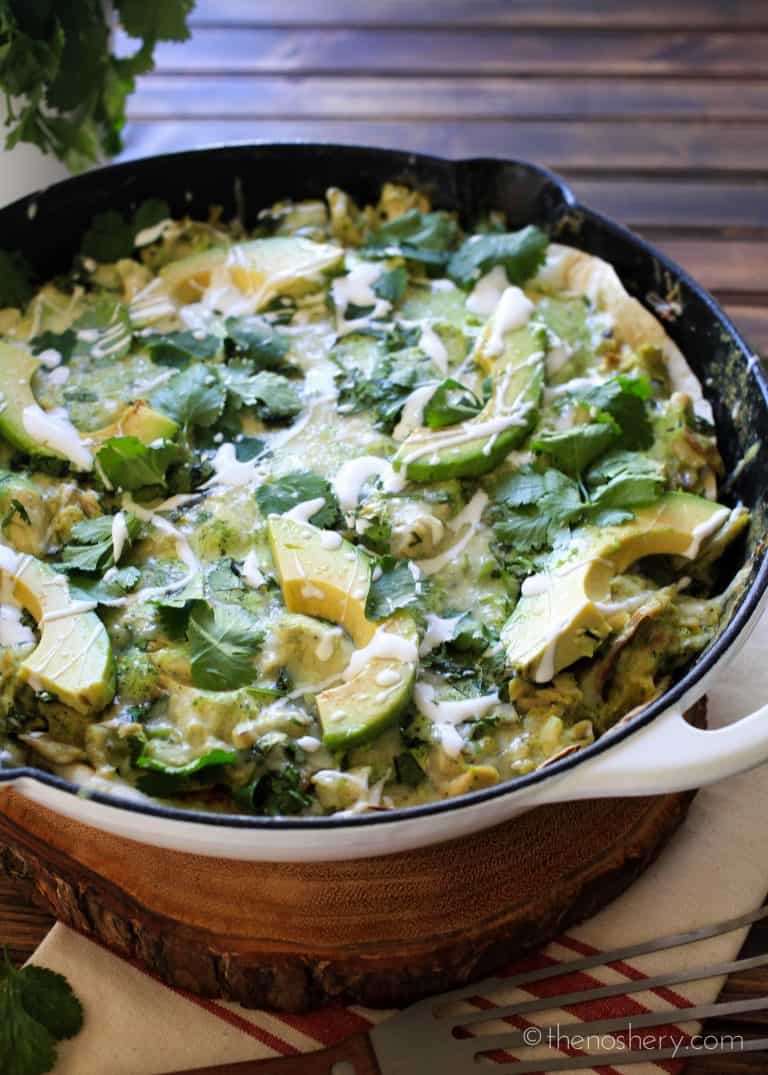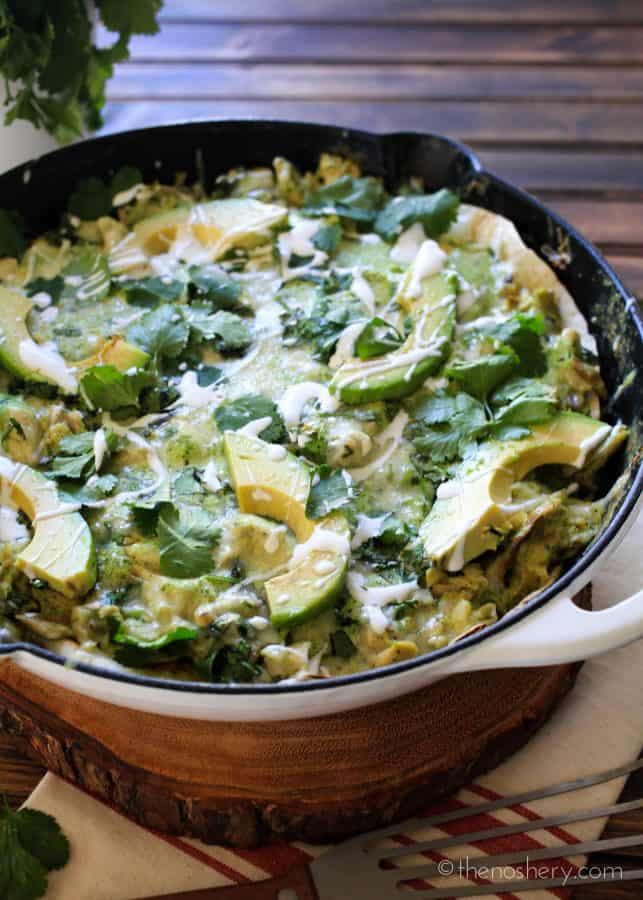 No, I am not talking about Mexican food delivery. Unfortunately, that isn't a thing here. But, my husband does work with a sweet Mexican lady and one day as a thank you, she made him poblano chicken enchiladas. What I now refer to as Nelly's Amazing Chicken Enchiladas. Seriously, her enchiladas kind of made me swoon. After regained my footing I hounded Nelly for the recipe.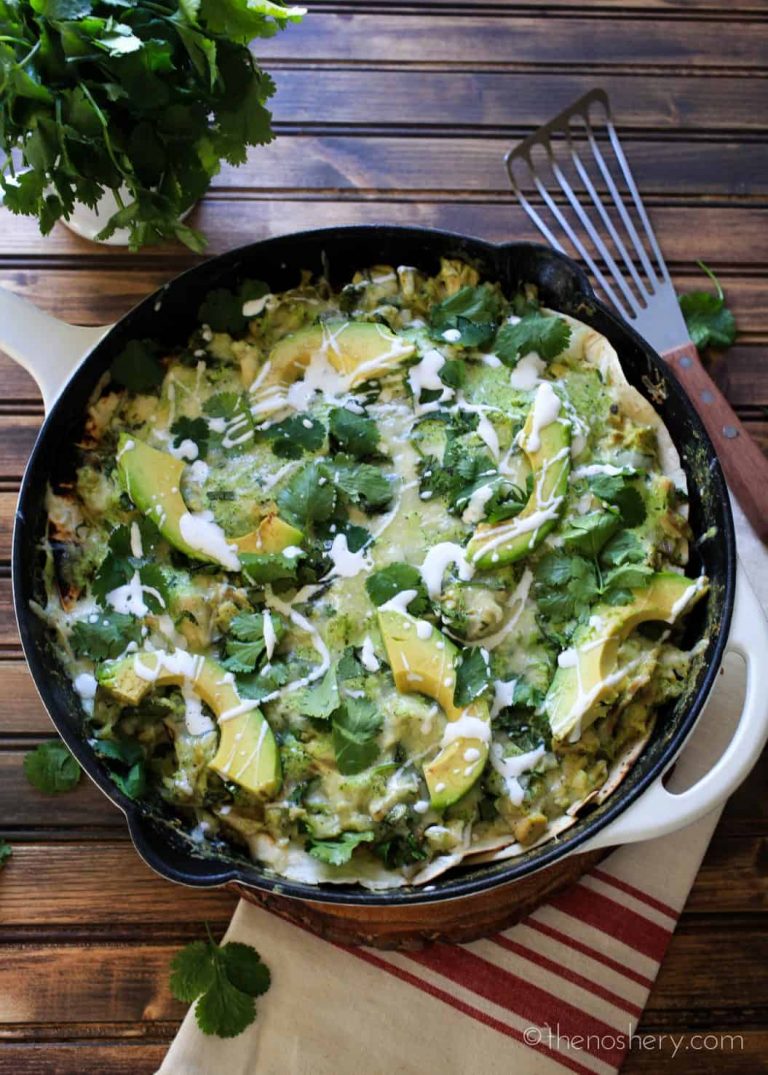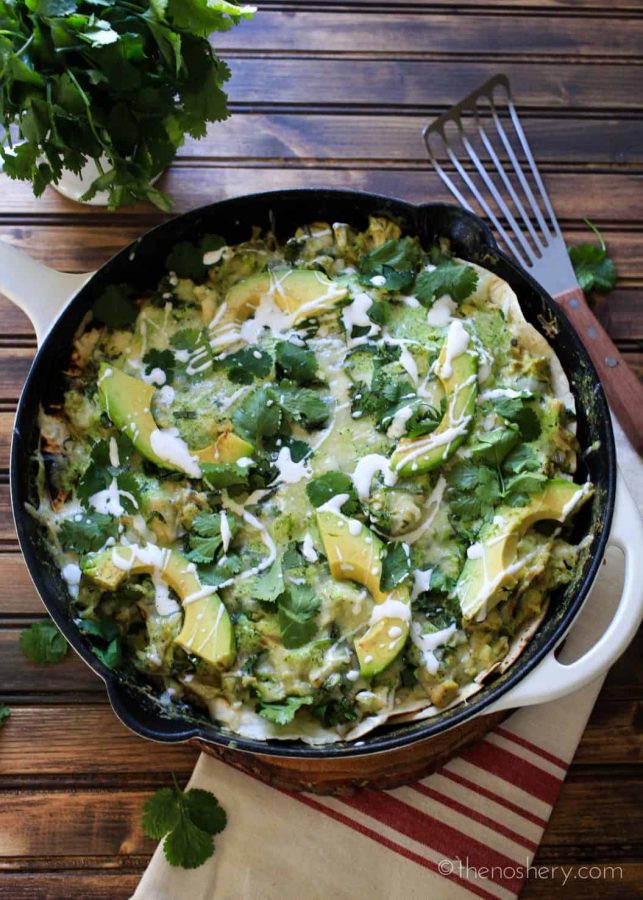 This recipe is inspired by her mouthwatering recipe. Everyone say thank you to Nelly otherwise I don't know if this recipe would have made it on The Noshery. It's basically the same recipe except instead of rolling the enchiladas I decided to layer the ingredients in a skillet. I also fire roasted the poblano peppers and toasted the tortillas because I wanted to add a little smokiness. But, Nelly's chicken enchiladas were perfect without the fire roasting.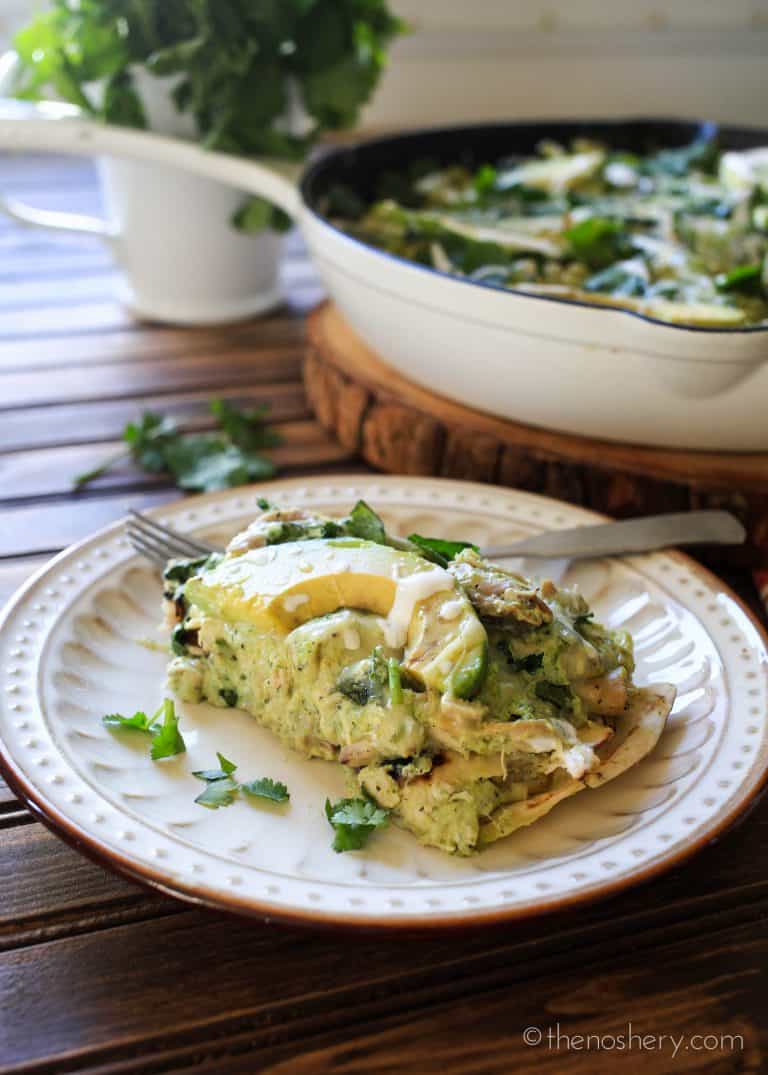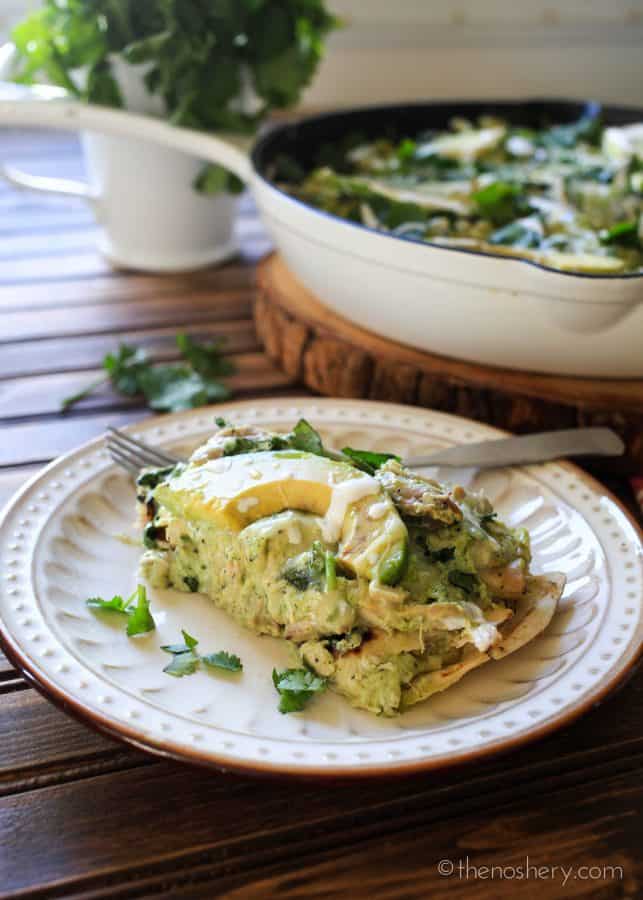 This roasted poblano chicken enchilada skillet is a great and easy weeknight meal. It's creamy, cheesy and has just a touch of heat.
Excuse me…I need to get me some more!
Are you as big a fan of Mexican dishes as I am? Check out these recipes!
Yield: 6 - 8
Skillet Poblano Chicken Enchilada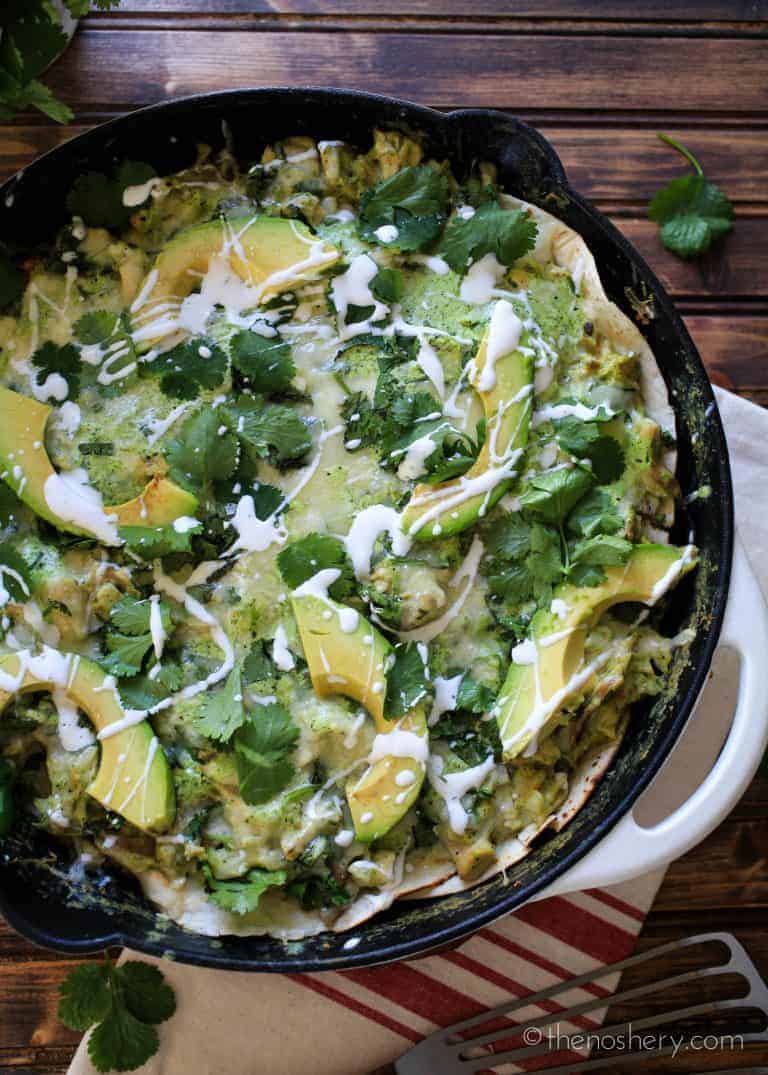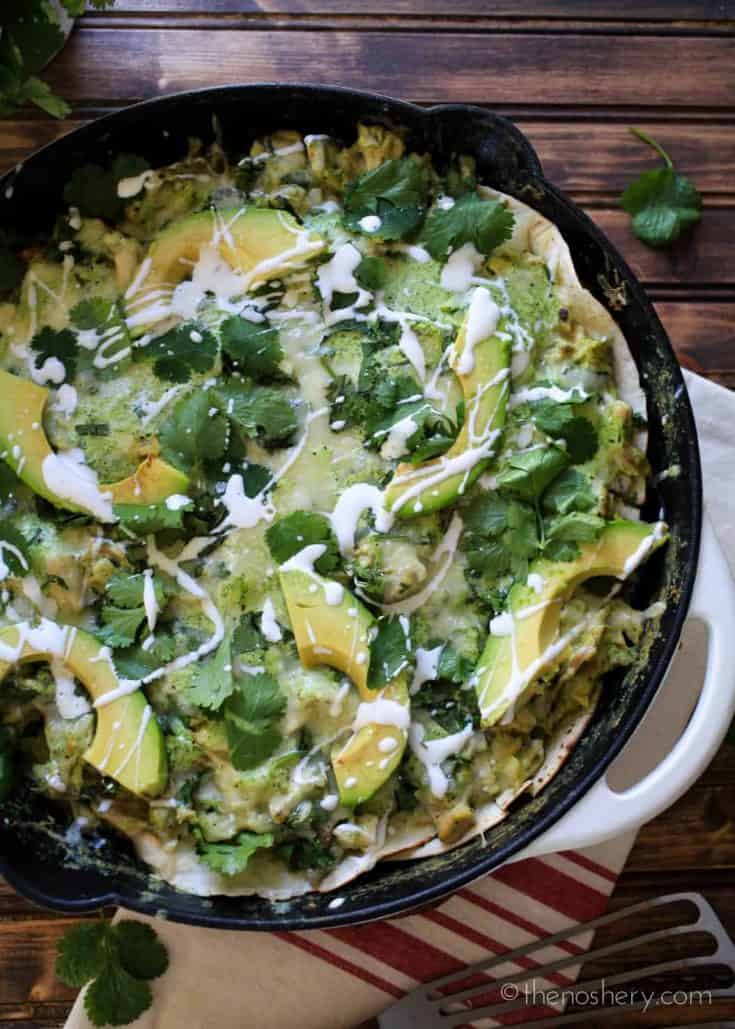 Ingredients
1 rotisserie chicken, pulled
6 flour tortillas
2 poblano peppers
15 oz crema Mexicana
1 chicken bouillon cube
1 tablespoon olive oil
3 cloves garlic, minced
2 cups shredded Monterey Jack cheese
1/2 cup chopped cilantro
Instructions
Heat oven to 375 degrees.
Over a gas burner (or in the oven set to broil) toast the flour tortillas and set aside. On the stove top roast the poblano peppers, turning as needed, until skin is evenly blistered and blackened, set aside.
Once the peppers are cool enough to handle cut in half and remove the stems and seeds. In a blender combine peppers, crema Mexicana and bouillon cube. Blend until smooth. Reserve 1 cup of the poblano sauce.
Heat a heavy oven safe 12-inch skillet over medium-high heat. Add olive oil and garlic. Saute garlic until fragrant, about 1 minute. Add pulled chicken and poblano pepper sauce, cook for 5 - 8 minutes, stirring occasionally. Transfer chicken to a plate and remove skillet from heat.
In the skillet layer the ingredients, starting with half of the reserved sauce, 3 tortillas, half of the chicken, half of the cheese and a sprinkle of cilantro. Repeat for the second layer with the remaining ingredients.
Bake uncovered for 20 to 30 minutes or until bubbly and brown.
Garnish with cilantro and avocado.
Notes
Toasting the tortillas is optional. I like to toast them because they hold up to the sauce better and keep them from getting soggy.

Crema Mexicana can be substituted with sour cream. If using sour cream, you may need to add some water 1 tablespoon at a time to thin the sauce to desired consistency.