I'm proud to announce that my first cookbook! Weeknight Gourmet Dinners | Exciting, Elevated Meals Made Easy is now available for pre-order! The cookbook hit shelves on July 21st, 2020!!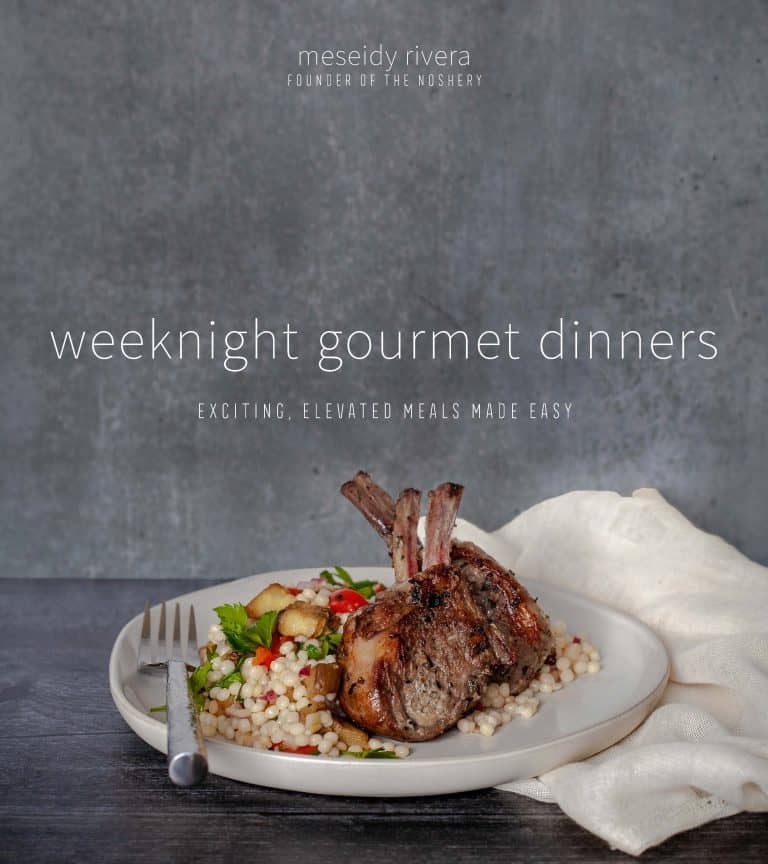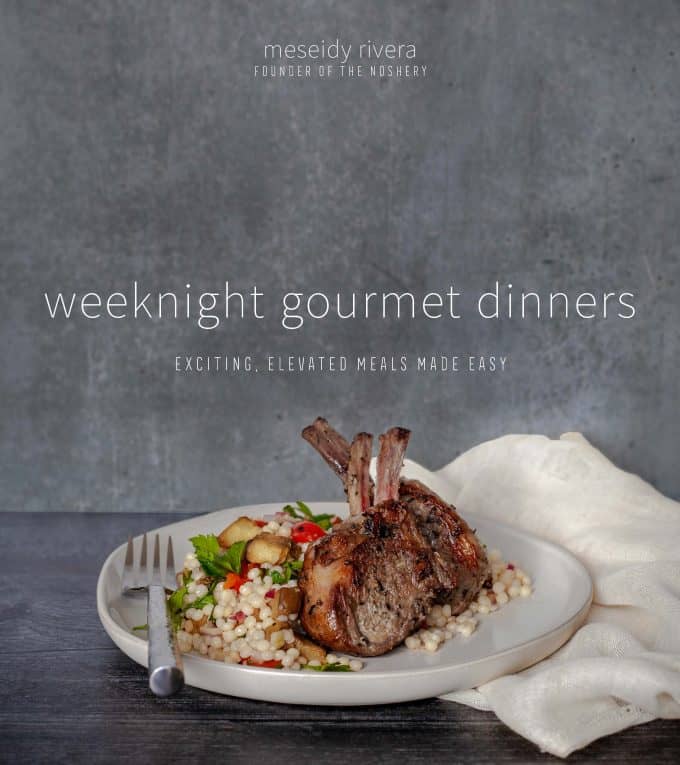 Where to Buy: Amazon | Barnes & Noble | Indiebound | Books-a-Million | Book Depository
What's in The Book?

Weeknight Gourmet Dinners debunks the myth that cooking thought-out, exquisite meals are only reserved for the weekends when you have hours of prep time. Meseidy Rivera, the founder of The Noshery, shows readers how making gourmet-level meals with unique ingredients and delicious flavors are attainable any night of the week.
Meseidy revamps the boring pasta-and-bottled-sauce dishes that fill most people's plates during the week while keeping the cooking process efficient with sheet-pan methods, instant pots, and slow cookers. Foodies with busy work weeks who still crave inspired, exciting dishes will be able to turn to this book to help get those sophisticated meals on the tables, without spending a lot of time in the kitchen. Meseidy pairs high-quality ingredients with simple-prep style mains, such as the Sheet Pan Miso Butter Rubbed Roast Chicken, or the Slow-Cooker Mulled Wine Braised Short Ribs, to get epic dinners on the table in a flash. These speedy recipes even leave time for desserts like Upside-Down Cherry Amaretto Microwave Cake or Red Wine Poached Figs with Whipped Mascarpone. With Weeknight Gourmet Dinners even the busiest of chefs will finally be able to come home from work and make a delicious, elegant dinner in minutes, then spend the rest of the night relaxing with loved ones.
Where to Buy: Amazon | Barnes & Noble | Indiebound | Books-a-Million | Book Depository
Sneak Peak
Whole Roasted Red Snapper with Chimichurri
Grapefruit and Pink Peppercorn Cream Chicken Thighs
Fontina Cheese Waffles with Cremini Mushroom Sauce
Brown Butter Apple Tarte Tatin
Spiced Lamb Meatballs & Harissa Spiced Yogurt Sauce
Sheet Pan Miso Butter Rubbed Roast Chicken
Where to Buy: Amazon | Barnes & Noble | Indiebound | Book-a-Million