Better Than Takeout Chicken Fried Rice | There are three kinds of chicken fried rice recipes in this world. The first is the one you get at some food court counters, the freezer section of the grocery store, or a random buffet that doesn't know what it's doing.
It's a little greasy and bland with the tiny carrot squares and peas, especially wrong if they didn't add egg. The second kind tastes like sad water and soggy white rice. Don't eat sad water rice.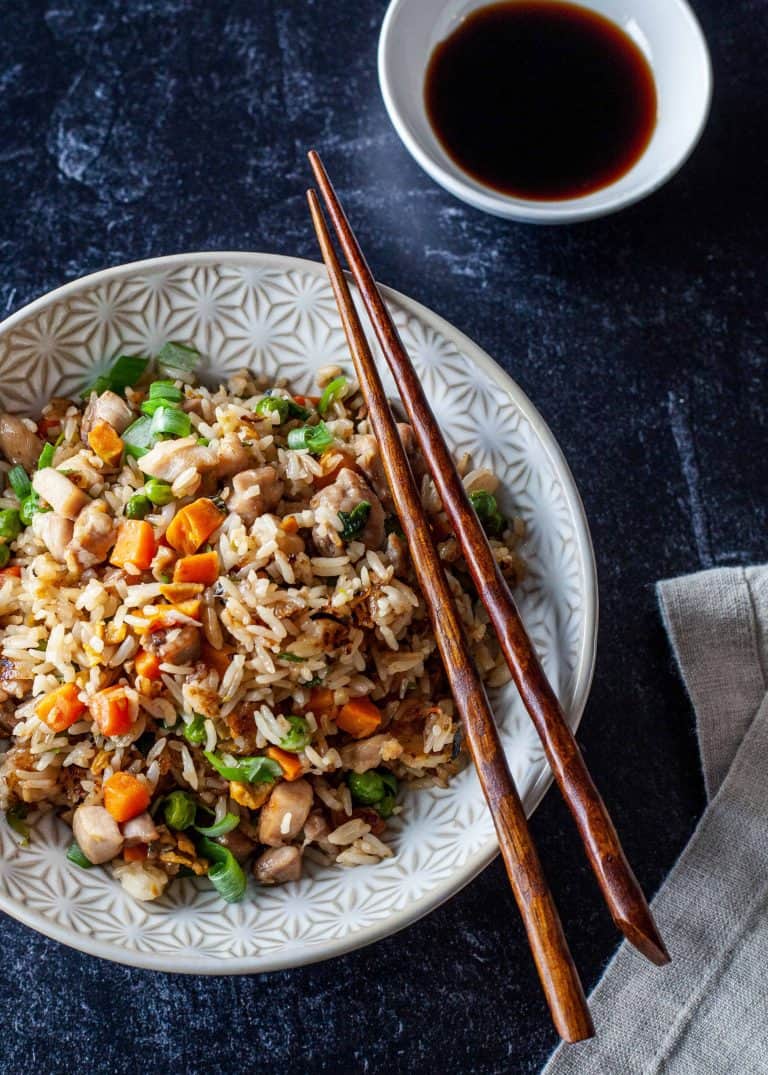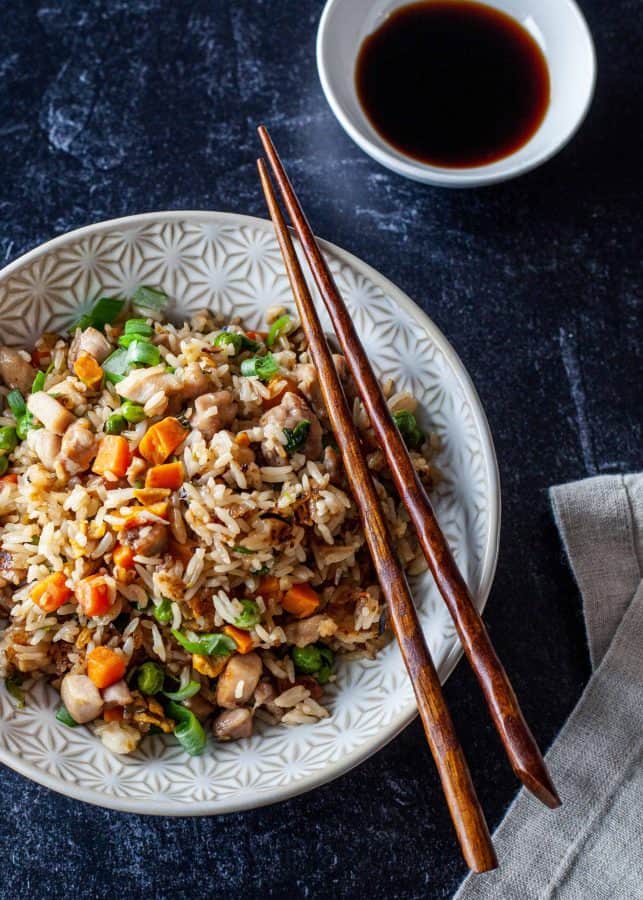 Then there's the third kind—a masterpiece. Perfectly cooked rice that has layers of flavor from aromatic oils, garlic, onion, and ginger, plus the browned bits you get when it's cooked for a second time.
It has the different textures of soft scrambled eggs, fresh green onions, tender pieces of chicken, and flavorful veggies. Glossy from the sesame oil and soy sauce but not too heavy.
Chicken fried rice might be the best indicator of what you can expect from an Asian restaurant. If they can do this family loved chicken fried rice well, then you can probably trust them with the rest of your favorites.
But why wait 30 minutes for delivery or get in your car and drive to your favorite Chinese restaurant when you can make Better than Takeout Chicken Fried Rice in your pajamas if you want to?
What is Fried Rice?
Let's start with the basics. Believed to have been created during the Sui Dynasty in China, this dish consists of leftover cooked rice stir fried in a screaming hot pan, or preferably a wok. Combined with the rice is some kind of meat or seafood, colorful vegetables, and layers of flavor like garlic and sesame oil.
It's usually served as a standalone dish, the perfect way to not let leftover rice go to waste.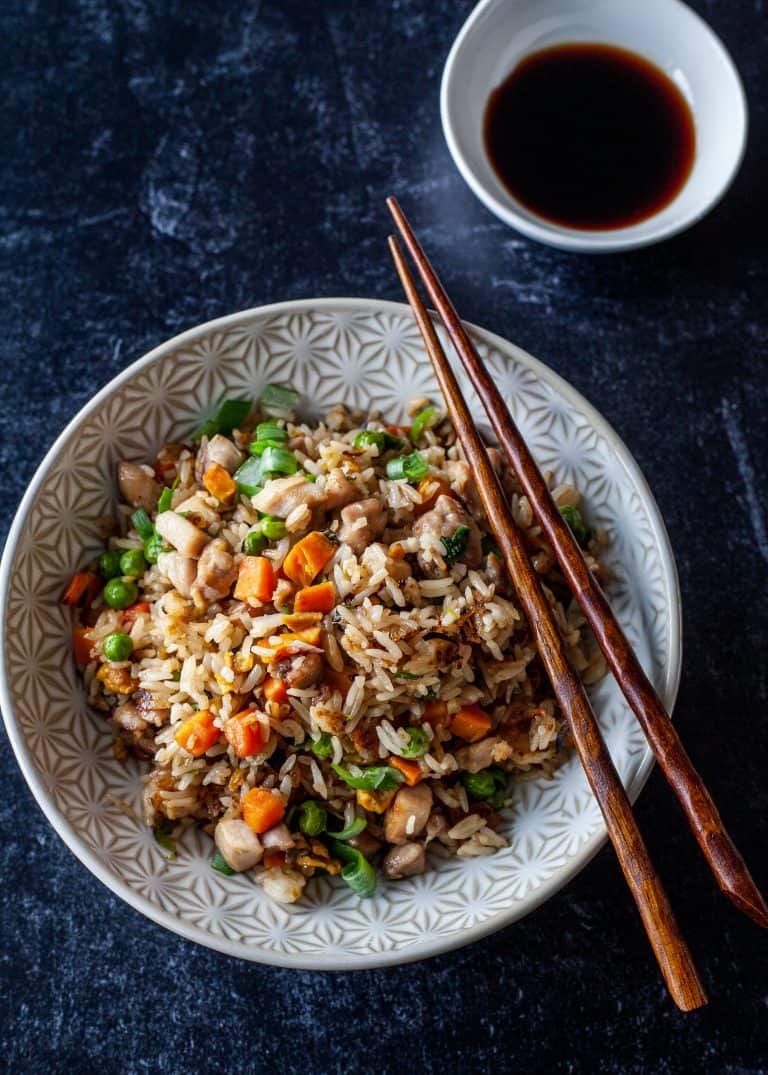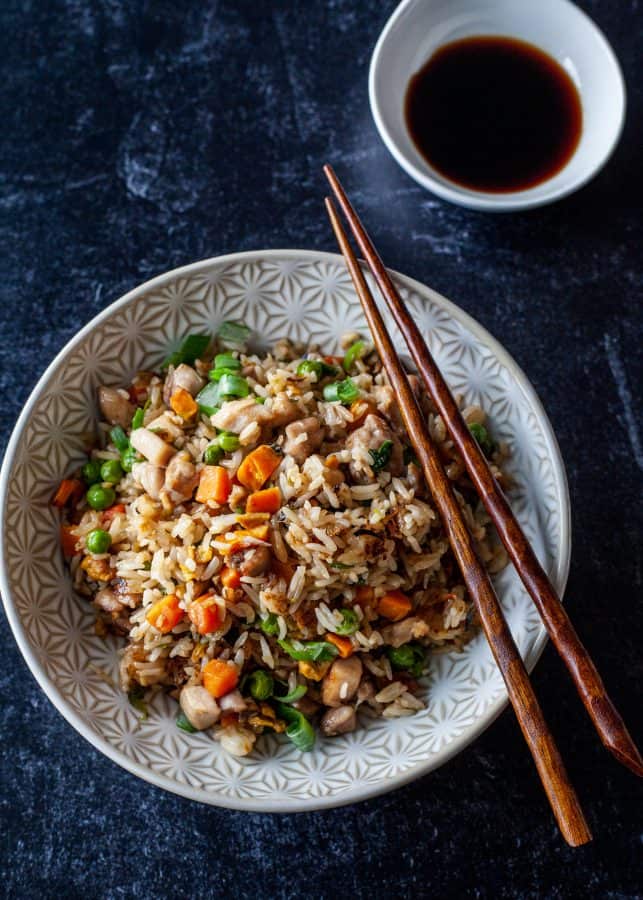 What rice is best to use for chicken fried rice?
You can use almost any long grain rice as long as it has completely cooled or preferably been in the refrigerator overnight. Day-old rice is what you're going for.
Using freshly cooked rice will result in a mushy final product. It does not matter if you rice the rice of it's starches before cooking. It will basically be the sad water rice we talked about earlier, and nobody wants that!
I also prefer white rice over brown. But, if a long-grain brown is what you have on hand, I say go for it! In this recipe, I used day-old jasmine rice, and it turned out perfectly. Basmati rice would be another tasty option.
What ingredients go into Chicken Fried Rice?
scrambled egg
sesame oil
soy sauce
canola oil
garlic
ginger
boneless skinless chicken thighs
yellow onion
peas and carrots
cooked jasmine (or other long-grain) rice
green onions
The good news is that, once you realize you have leftover rice, the lightbulb switches on, and you remember to make this recipe. You'll likely have most of these ingredients already on hand. Nothing fancy to see here, just a variety of flavors strategically combined to make magic in a bowl.
You don't even need to season with salt and pepper because the soy sauce and aromatics amp up the flavors on their own. But you should go ahead and keep a bag of frozen peas and carrots on hand at all times for this specific purpose. That way you'll always be ready.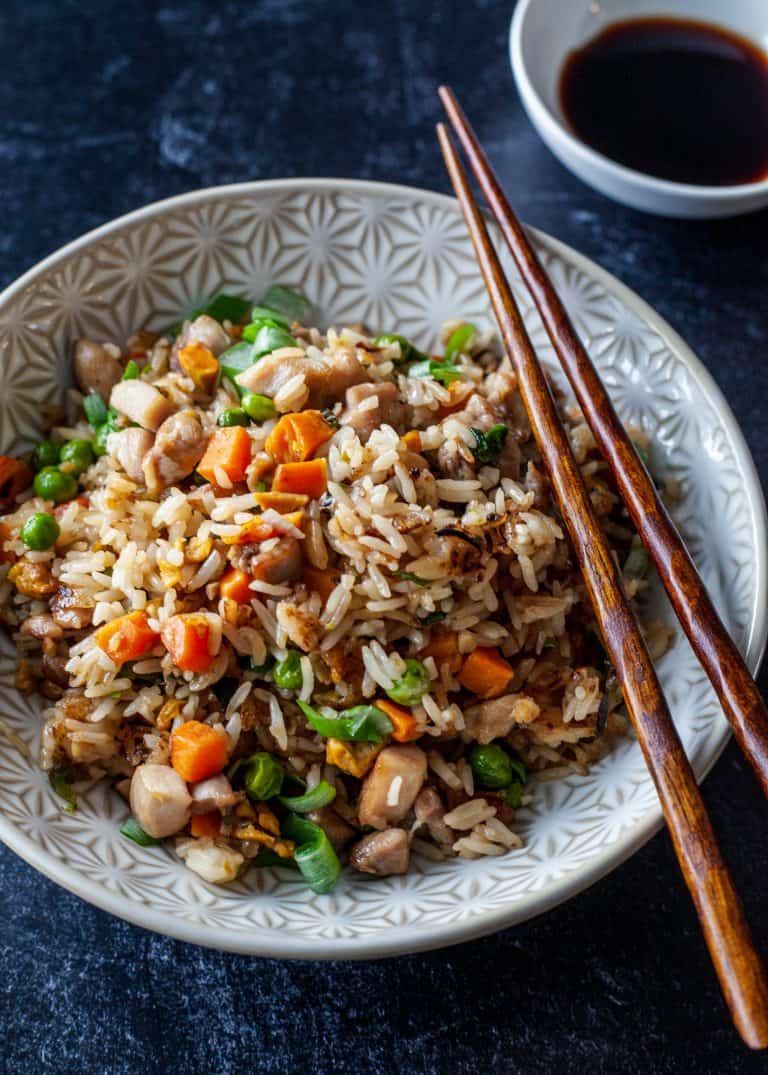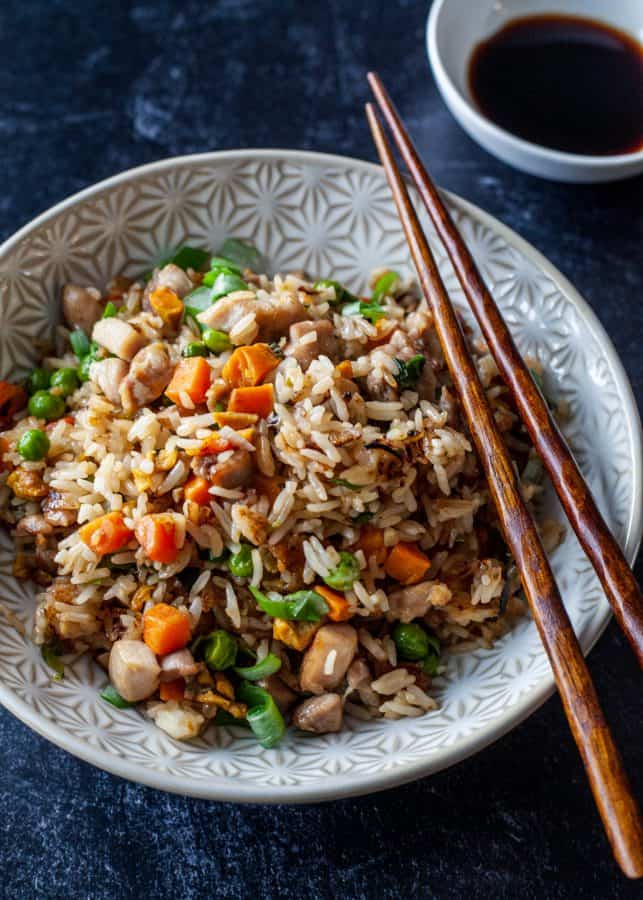 Can I use chicken breast instead of chicken thigh?
Yes, but only if you must. (Just kidding… Mostly.) I prefer to use chicken thighs because they add more flavor to the fried rice and don't dry out as easily. But if what you have on hand is chicken breast or you prefer white meat, it is A-okay to use chicken breast.
What if I don't want to use chicken?
If you've been cooking a lot of chicken lately and can use a change of scenery, this dish is also delicious with shrimp. Some well-seasoned and thinly sliced beef or pork would also be fantastic.
If you want to stay meatless and beef it up a little (okay, bad pun there), you can also go the vegetable of the hour, cauliflower. The hearty florets soak up the flavors nicely.
Why not jazz up some leftovers? Make Foodie with Family's Asian Turkey Meatballs and sub the leftovers in this fried rice the next day. And you know I'm not going to go without recommending some pork.
The pork in my Slow Cooker Pork Ramen would be a great recipe to add a tender, pulled pork consistency to the dish or my Asian Pork Skewers would lead to more of a diced pork situation. The possibilities are endless, really.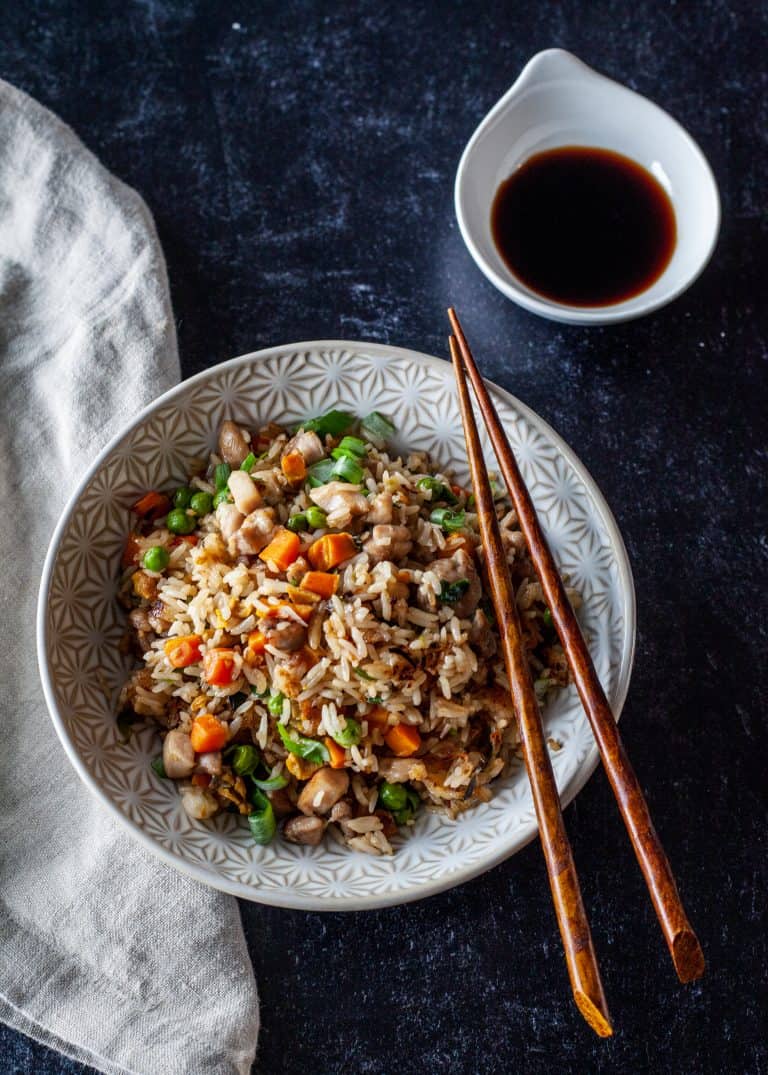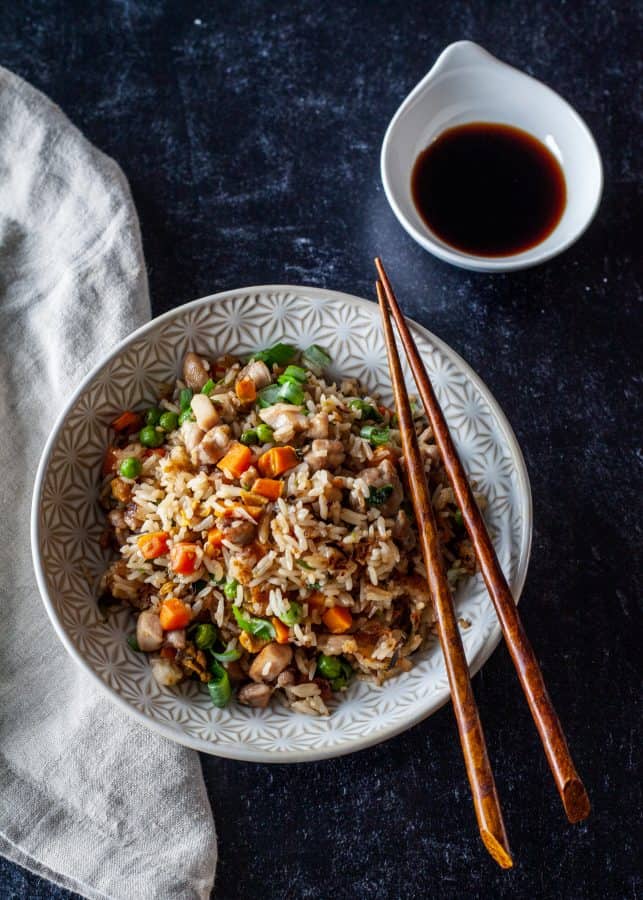 How to make Better Than Takeout Chicken Fried Rice
This recipe rivals your favorite takeout joint and is quick and easy to achieve.
The first step of chicken fried rice is to start with soy sauce, sesame oil, and canola oil in a pan over medium-high heat.
Once this mixture is heated up, add beaten eggs and monitor them until they are set and have formed an omelet. Then do a light scramble to produce large chunky egg pieces. I do it this way instead of a quick scramble because it makes for more substantial egg pieces.
The second layer of flavor starts with garlic and ginger cooked in a little more canola oil. In this infused oil, you cook your chicken through and then set it aside.
Next, you'll wipe down the pan and add your onion, peas, and carrots.
It's only STARTING to get delicious, though. In the last step, you add in the cooked rice, more soy sauce, scrambled egg, chicken, and some chopped green onions.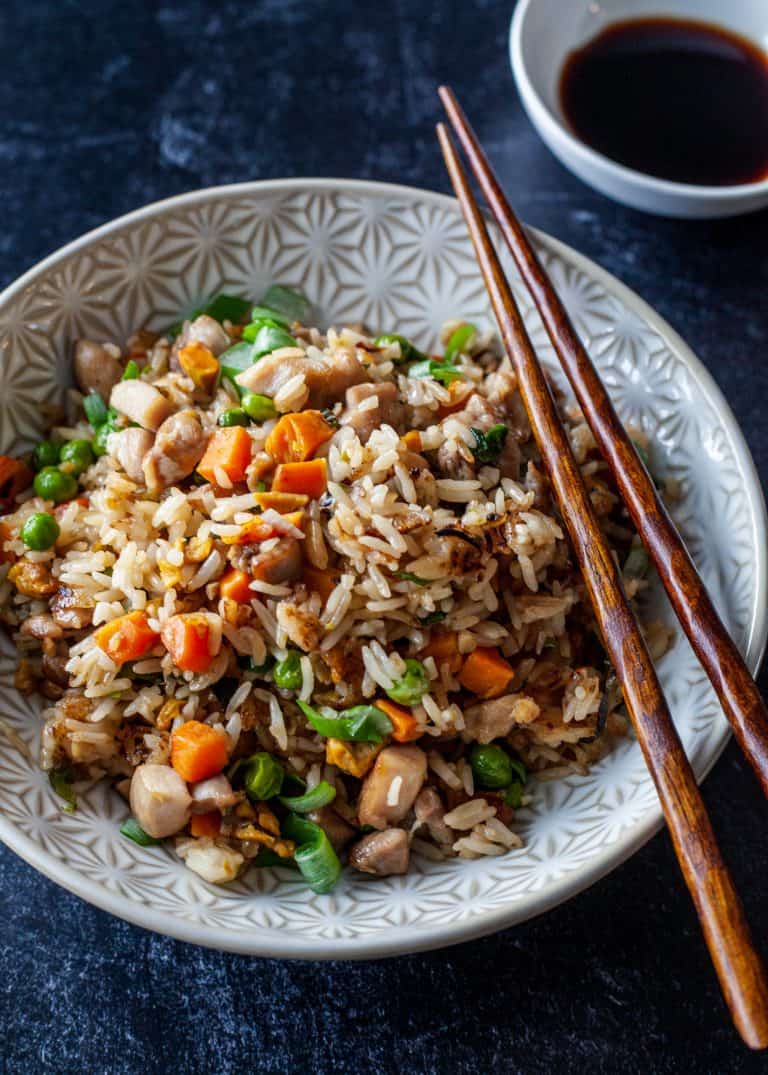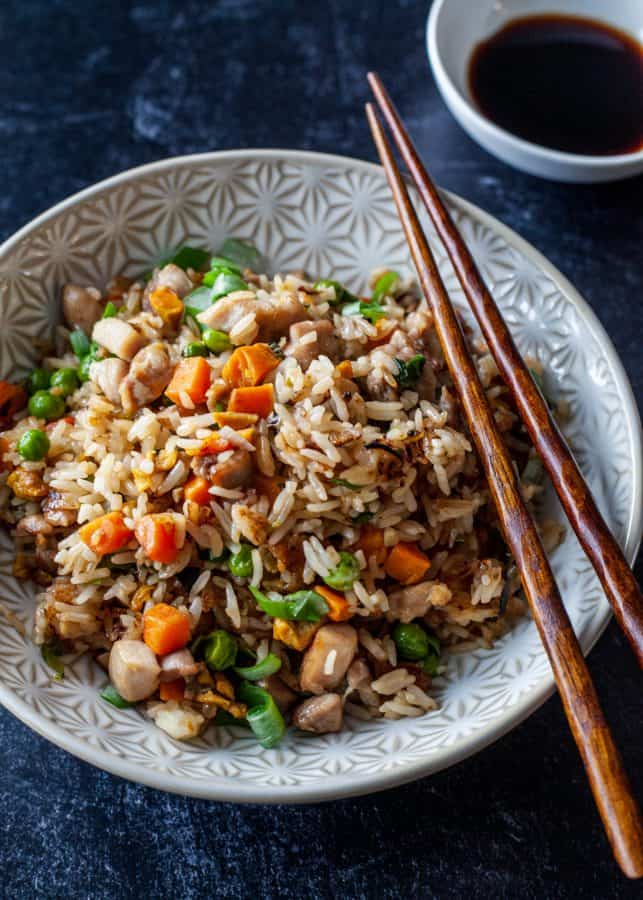 Pro-Tip
If you like your rice crunchy—not from being undercooked but from those perfect browned bits—spread it in an even layer and let it sit for a minute or so on that heat before you stir to combine. Yummmm!
Think of it as toasting the rice.
When everything is nice and sizzling, lunch or dinner is ready to put on the table. And, you didn't even have to walk bout the door or pick up the phone.
Make it a feast
This dish can be enjoyed warm and comforting by itself on a busy weeknight, in front of your TV or cold from the refrigerator the next day.
But, why not invite friends over and make it a takeout inspired feast? You can add these EASY recipes to your takeout inspired feast. My favorite orange chicken, some Korean pancakes, the most delicious pork belly buns, or this Asian spin on a deviled egg.
Who needs takeout when you can make it even tastier at home?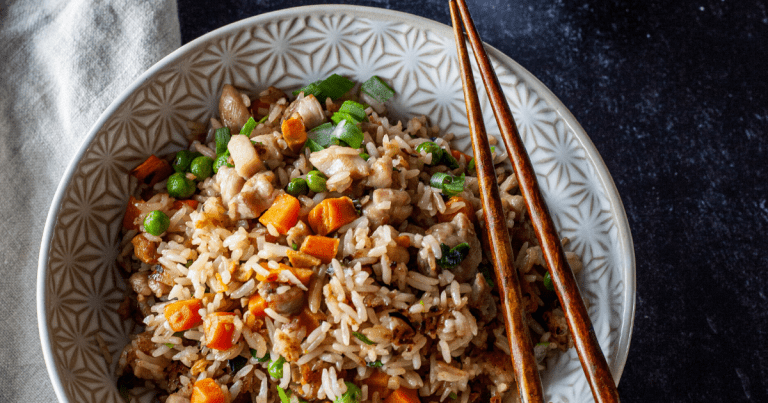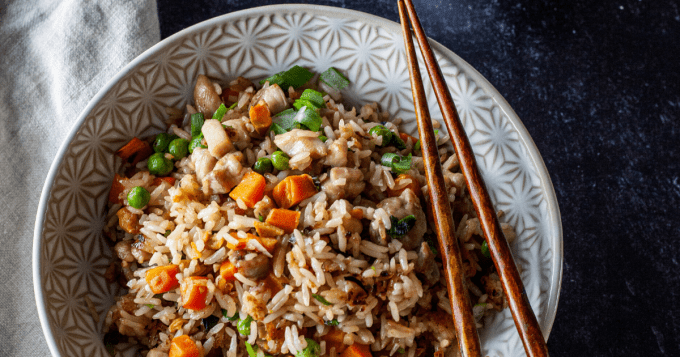 Cook's Notes
Always start with cold leftover rice. If you don't have leftover rice use rice from a microwavable rice pouch straight out of the pouch. No need to microwave.
Cooking the eggs before or separate from the rice will keep it from binding to the rice and produce large substantial egg pieces.
Chicken thighs can be substituted with chicken breast, but be careful not to over cook the chicken breast and dry it out.
Chicken can also be substituted with shrimp, beef, pork, or tofu.
To create a crispy texture to the rice, spread the rice out in a single layer and let it sit it the skillet over medium-high heat undisturbed before tossing.
The soy sauce should sufficiently season this dish. But, if you do decide to salt this dish wait until the end to the season to taste to prevent over seasoning.
more Asian comfort in a bowl
Yield: 6
Better Than Takeout Chicken Fried Rice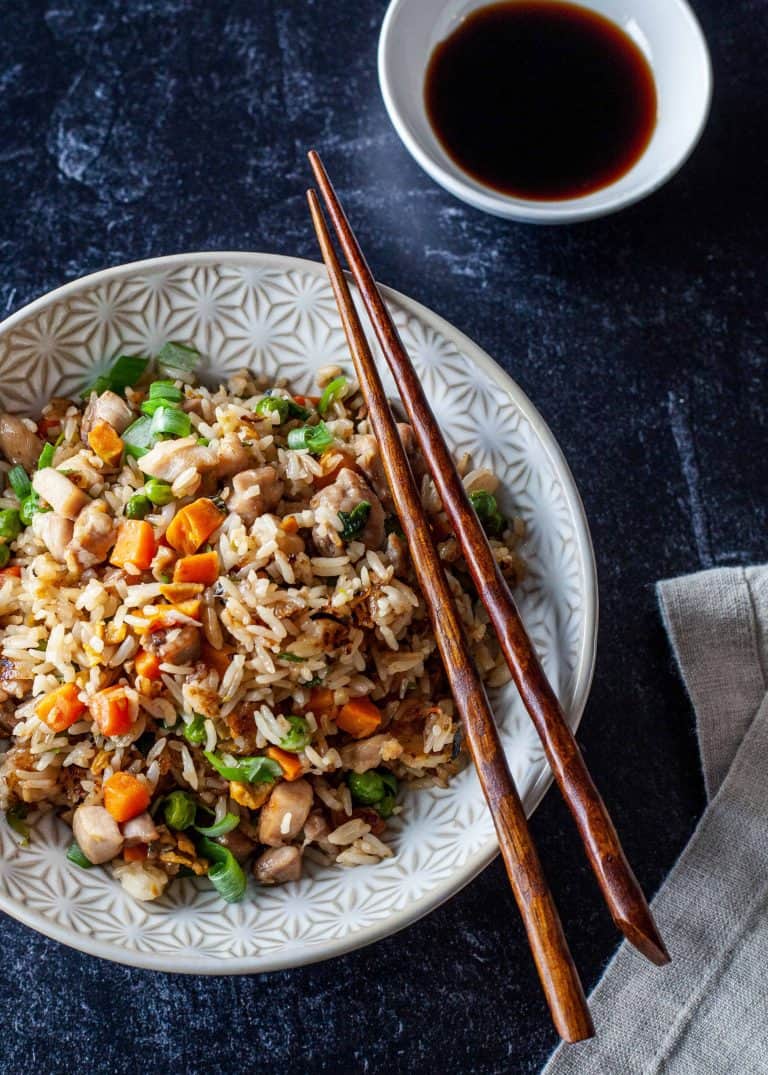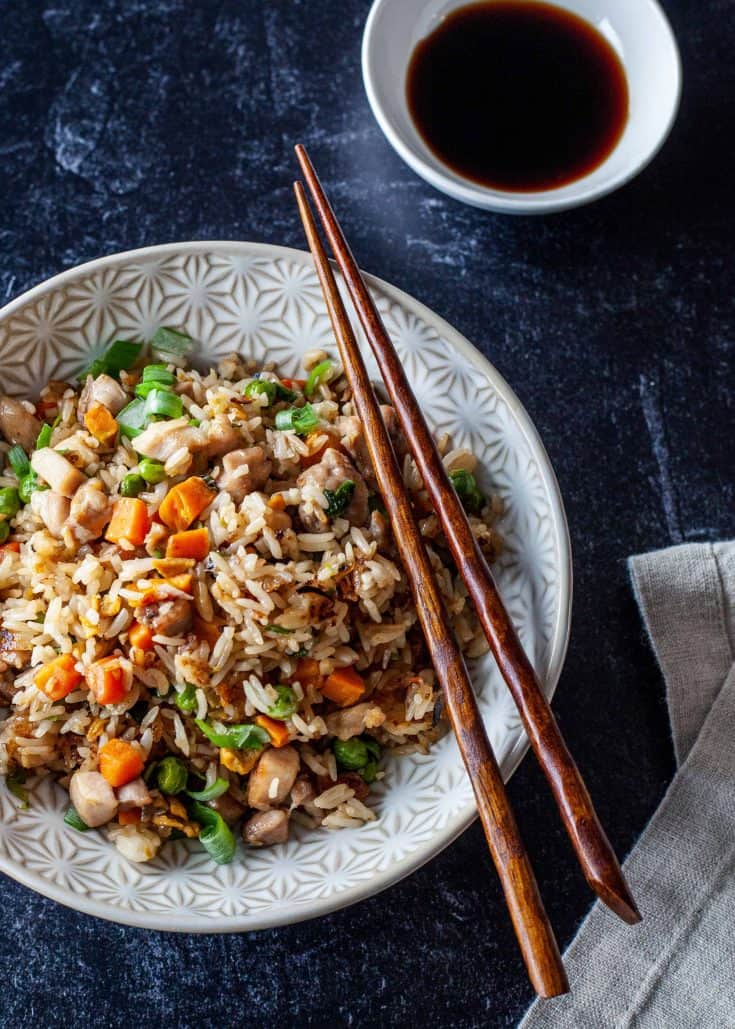 Don't wait for delivery or drive to your favorite restaurant when you can make this delicious Better than Takeout Chicken Fried Rice in your own kitchen.
Ingredients
1 egg beaten
1 teaspoon sesame oil
2 tablespoons soy sauce
2 1/2 tablespoons canola oil
2 cloves garlic, minced
2 teaspoons minced ginger
3/4 lb boneless skinless chicken thighs, cubed 1/4 inch
1/3 cup diced yellow onion
1 cup frozen peas and carrots
3 cups cooked jasmine rice
1/4 cup scallions
Instructions
In a small bowl whisk together egg, 1 tablespoon of soy sauce, and sesame oil.
Heat 1 tablespoon of oil in a skillet over medium heat. Add the beaten eggs to the skillet and cook the eggs into chunky scrambles. Then transfer to a plate and set aside
Wipe the skillet clean and add 1 tablespoon of oil. Sauté garlic and ginger for 1 minute or until fragrant.
Add chicken to the skillet and saute until cooked through about 5 minutes.
Transfer the chicken to the plate with the eggs, and set aside.
Heat a large skillet over medium-high heat and add 1 tablespoon of oil to the skillet.
Add onion, peas, and carrots to the skillet and sauté until the onions are tender about 3 minutes.
Add rice, remaining soy, chicken, egg, and chopped scallions to the skillet. Stir-fry in the skillet until well incorporated and the rice is heated through, about 3 minutes.
Serve hot garnished with scallions.

Recommended Products
As an Amazon Associate and member of other affiliate programs, I earn from qualifying purchases.
Nutrition Information:
Yield:
6
Serving Size:
1
Amount Per Serving:
Calories:

289
Total Fat:

12g
Saturated Fat:

2g
Trans Fat:

0g
Unsaturated Fat:

10g
Cholesterol:

100mg
Sodium:

424mg
Carbohydrates:

27g
Fiber:

2g
Sugar:

2g
Protein:

18g