Elote Corn | Corn season is here! Corn is never better than right now. I love sweet, fresh corn on the grill with charred crispy kernels. I especially love the versatility of corn.
Grill it, shuck it for salads or dips, or toss it into your favorite cornbread recipe. And don't get me started about cornbread. I know it's a huge debate, but I like my cornbread sweet and will fight you about it. Give me all the cornbread.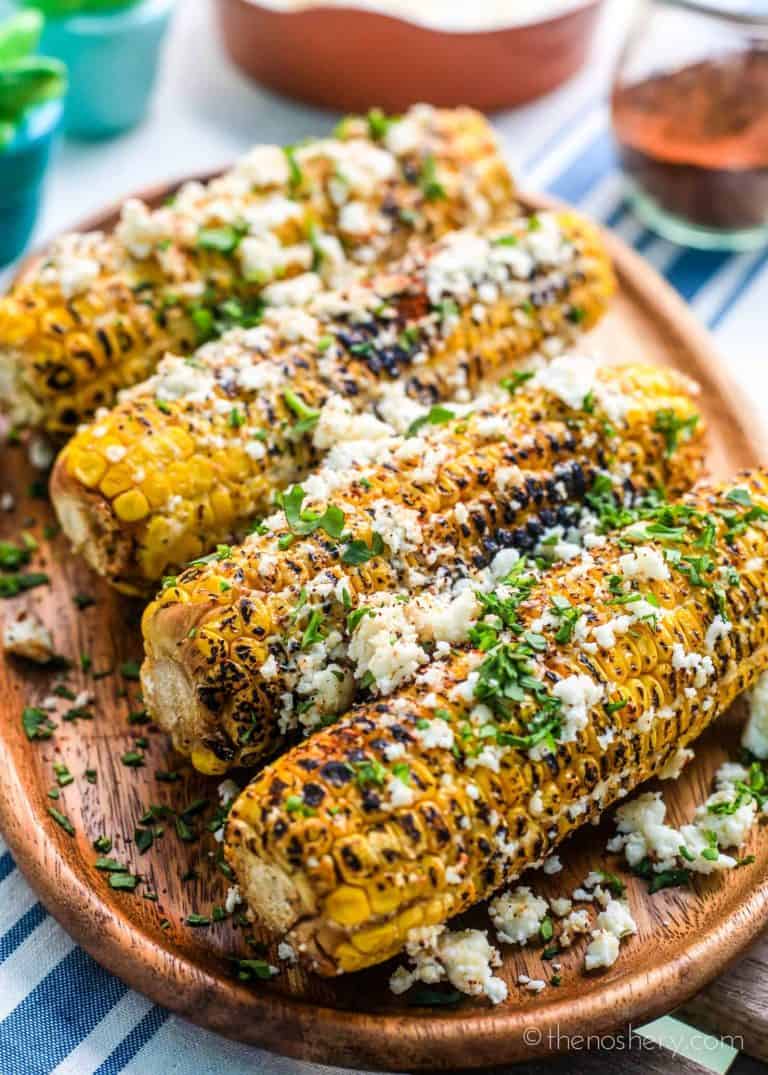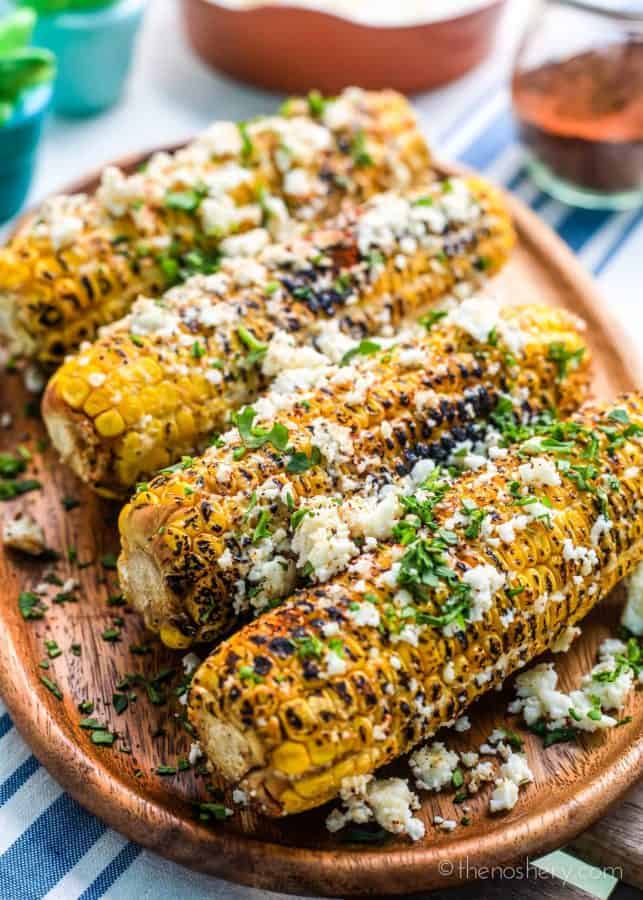 What is Elote and how is it served?
A classic way to enjoy corn on the cob is Mexican street corn, elote. Roasted over an open grill, it's then coated with salt, chile powder, butter, cotija cheese, lime juice, and mayonnaise or crema fresca. Such a treat and perfect to accompany any barbecue spread or as a summer snack.
It's also sometimes roasted on the cob, shucked, and served in a cup with all the fixings. Even though it's a little messy, I like mine straight off the cob. It might be neater to eat it in a cup, but it isn't nearly as fun.
Every delicious bite of elote has the essence of a warm, carefree summer night in a busy city. Whether it's the middle of July or December, it's perfect when you need a little sunshine in your life.
Where does elote come from?
The word "elote" evolved from the Nahuatl word elotitutl, which translates to "tender cob." Corn has been a staple in Latin American culture dating back to indigenous peoples' staple crop and maintaining its popularity as its portability made it easier to eat for a people becoming increasingly on-the-go.
It's rumored that, at the end of harvest season, people in Central America will sell cobs of corn with fresh lime juice right outside of the corn fields to celebrate the abundant crop.
The creamy, savory treat as we know it today gained its popularity in the streets of Mexico City. Eloteros set up stands, luring in passersby with their delicious cobs kept warm on rotating braziers.
From there, it has made its way to the bigger city streets in America to the small-town county fairs. And can you really blame it for catching on? I mean, look at that picture! Taste it for yourself!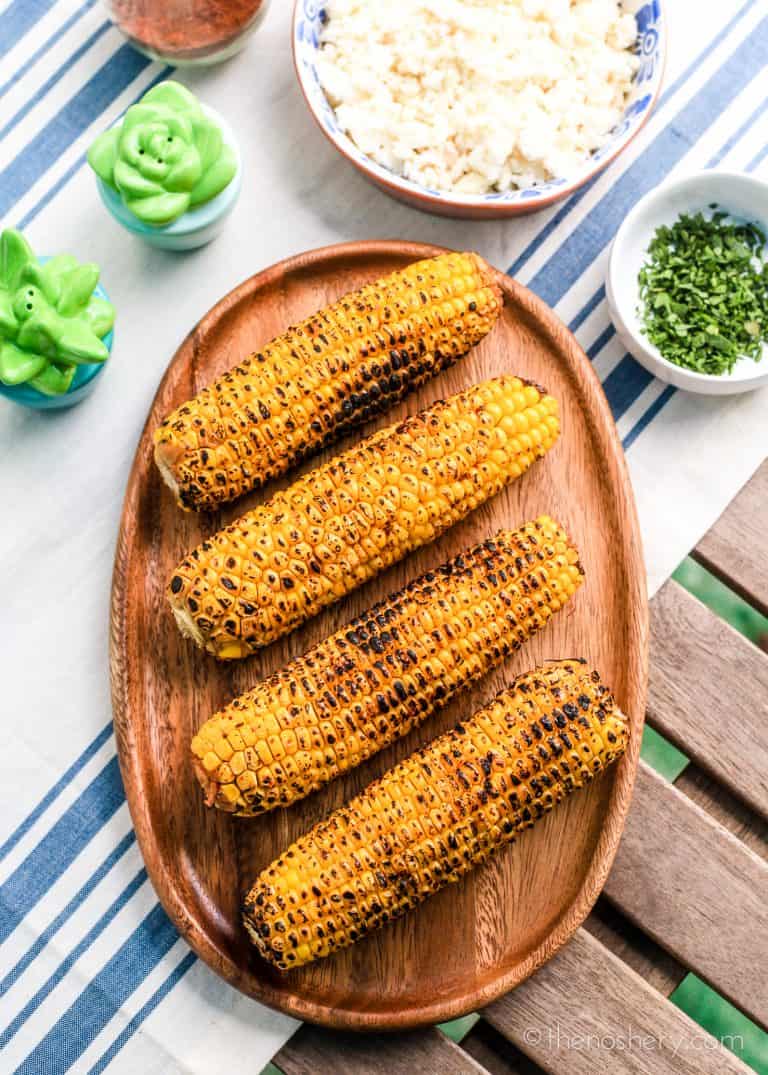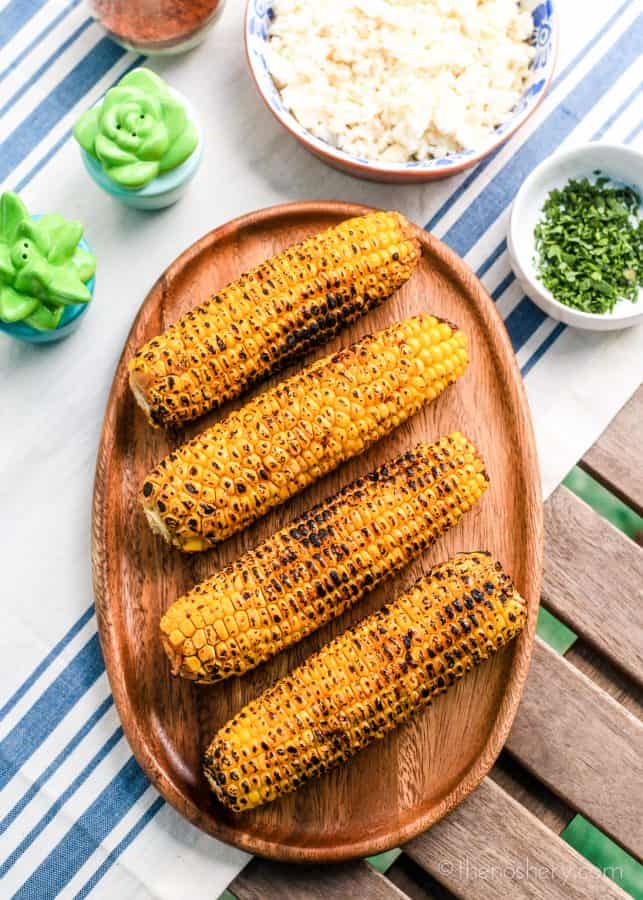 Elote Corn Recipe Ingredients
corn
mayonnaise
sour cream or Mexican crema
garlic
queso fresco or cotija cheese crumbles
chili powder
cayenne pepper
cilantro
kosher salt
lime wedges
How to make elote
To start, let's get prepping. Setting up stations makes assembly so much easier later — trust me.
Mix mayonnaise, sour cream, and garlic in a small bowl until well combined.
Then spread the crumbly queso fresco or cotija cheese on a plate for later. Finally, mix chili powder, cayenne pepper, and salt in another small bowl.
Now you're ready to cook! Brush your grill grate with vegetable oil and turn it on high heat. When it's ready, place directly on the oiled grate and grill corn, turning occasionally until it's slightly charred. This will take about 10 minutes.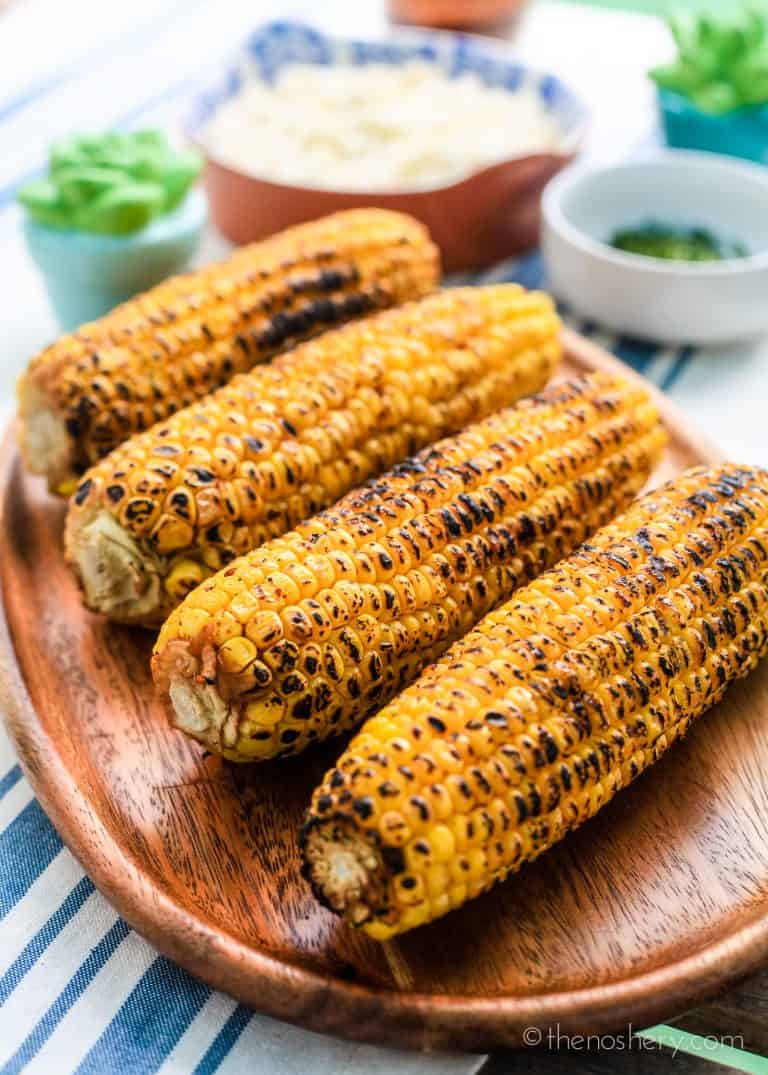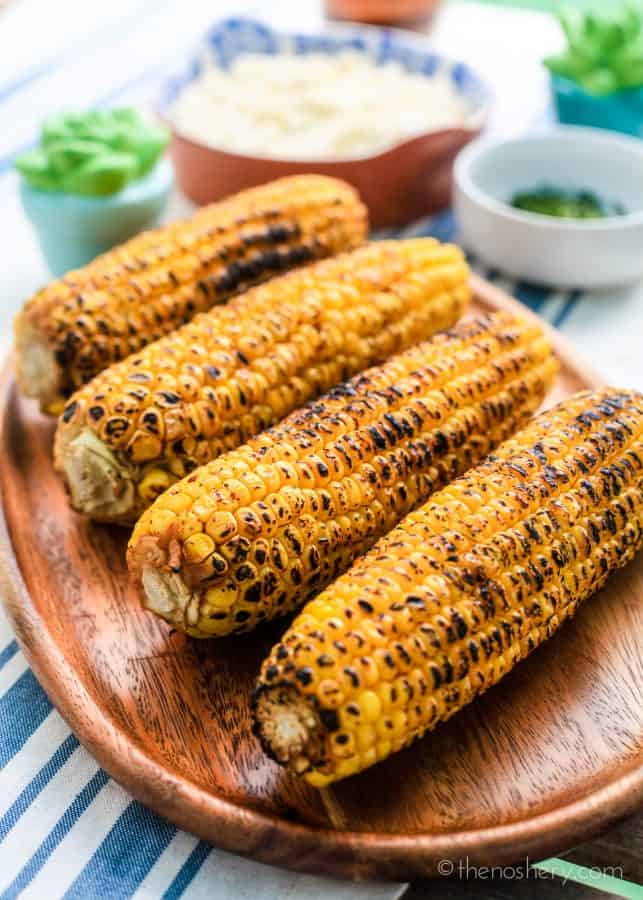 Finally it's time to turn it from average corn into magical elote! First brush the charred corn with the creamy mayonnaise mixture. A pastry brush should do the trick!
Then, dip it in the crumbled cheese, rolling to ensure each side is coated. Lastly, sprinkle the chili powder and seasonings onto the corn with some freshly chopped cilantro.
With a final squeeze of lime, your Mexican grilled corn is ready to be devoured! In every bite, you'll get the creamy and savory coating, the bite of the corn, and a zip from the lime and spices. It's summer on a cob, if we're being real. So, incredibly delicious.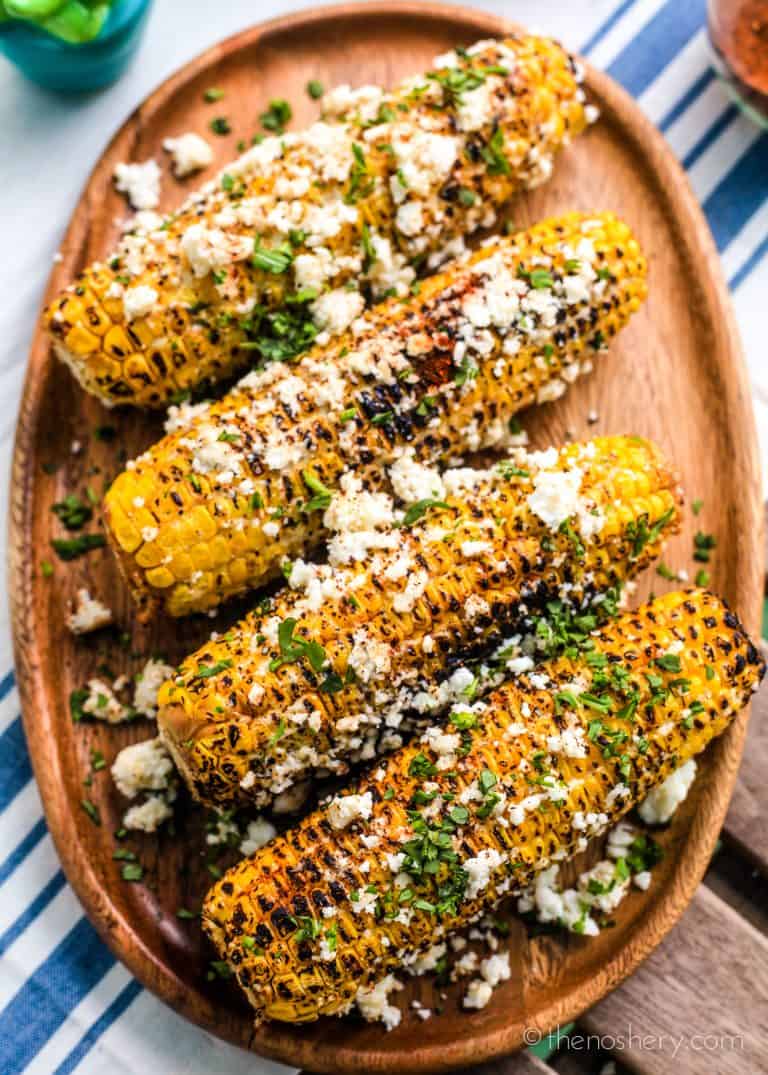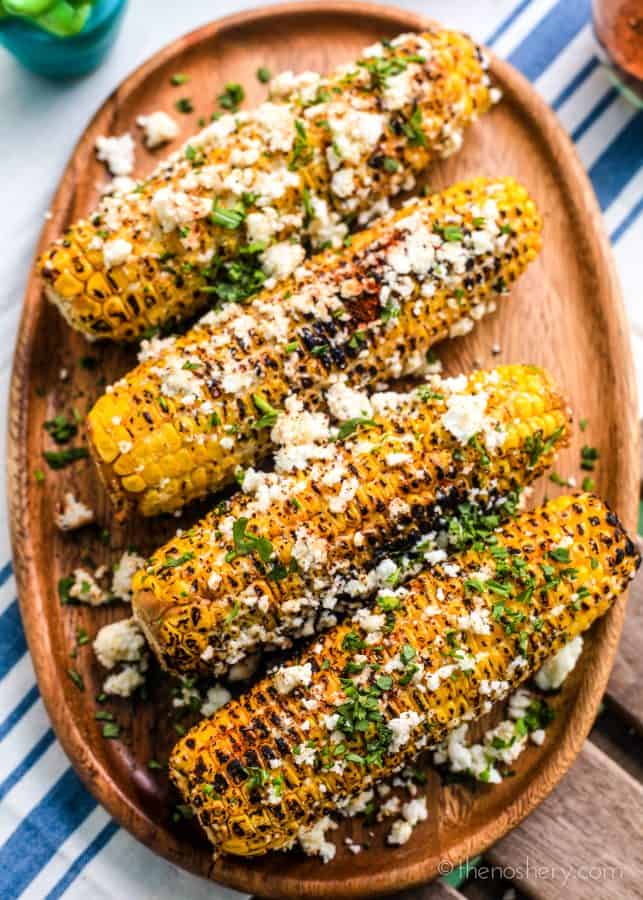 Make it a fiesta!
If you love flavors that are sweet, smoky, and salty, you will love elote corn! Sometimes the simplest dishes are truly the best. If you are looking for more backyard bbq ideas, check out some of my grilling and bbq recipes.
Or maybe you want to serve a full Mexican inspired meal. Your people will love roasted tomatillo salsa verde, queso fundito con chorizo, my spicy chorizo burger, pollo asado salad, or spicy pineapple margaritas. And who doesn't like enchiladas with homemade enchilada sauce?
This Mexican street corn would also make the perfect side dish for taco night. Whip up some slow cooker carnitas, Instant Pot Texas brisket, or turkey chorizo, warm up some tortillas, and serve with your favorite toppings plus the elote. Or, make my walking tacos with chorizo and tangy slaw and you're set.
Whatever else you decide to make, whip up a refreshing michelada or a spicy mezcalita to wash it all down. But make sure to serve this Mexican elote recipe. It will turn any gathering into a party!
more corn recipes
Yield: 6
Elote Corn (Mexican Street Corn)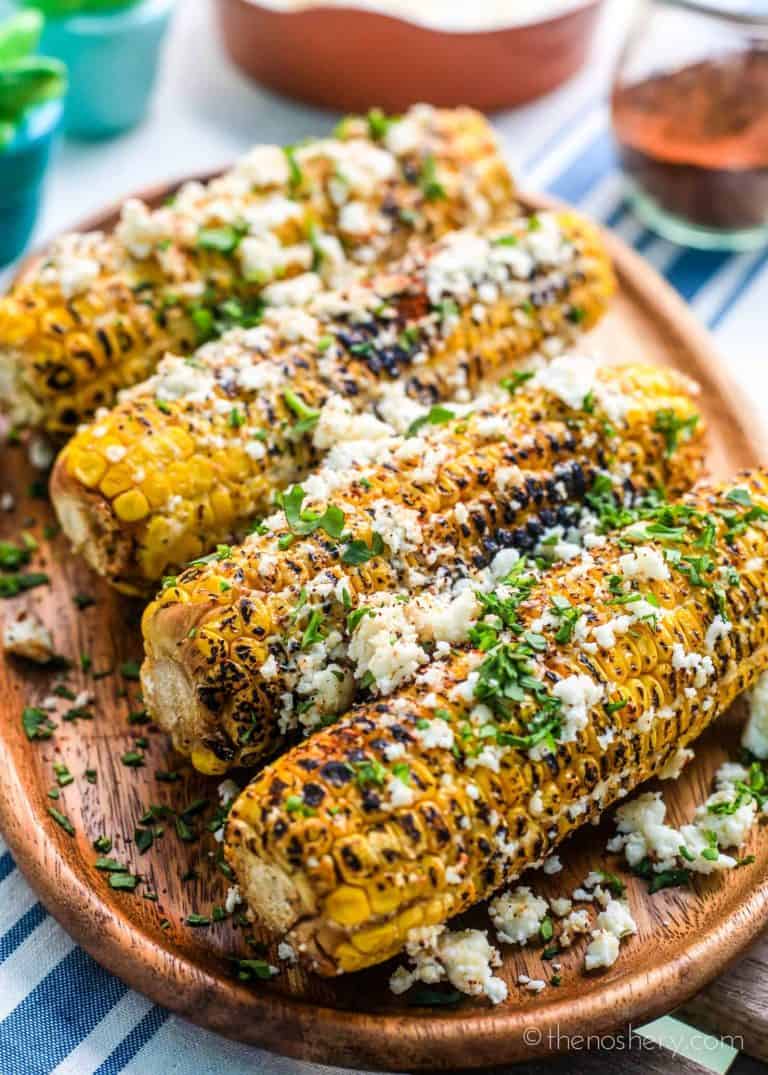 Elote corn is Mexican street corn is roasted over an open grill & coated with salt, chile powder, butter, cotija, lime juice, & mayonnaise or crema fresca.
Ingredients
Vegetable oil for brushing
6 ears corn, shucked
1/4 cup mayonnaise
1/4 cup sour cream or Mexican crema
2 garlic cloves, minced
1/2 cup queso fresco or cojita cheese crumbles
1 teaspoon chili powder
1/2 teaspoon cayenne pepper
1/2 cup finely chopped cilantro
kosher salt
lime wedges
Instructions
In a small bowl combine mayonnaise, sour cream, and garlic. Mix until well combined, set aside. Spread cheese crumbles on a plate, set aside. In a small bowl combine chili powder, cayenne paper, and 1 teaspoon salt, set aside.
Brush grill grate with vegetable oil. Heat grill to high heat. Place corn directly on the grill. Grill corn, turning occasionally until cooked and lightly charred, about 10 minutes.
Immediately brush the corn with mayonnaise mixture. Roll corn in cheese crumbles sprinkles with chili powder mixture and cilantro. Squeeze lime over corn and serve immediately.
Recommended Products
As an Amazon Associate and member of other affiliate programs, I earn from qualifying purchases.
Nutrition Information:
Yield:
6
Serving Size:
1
Amount Per Serving:
Calories:

270
Total Fat:

18g
Saturated Fat:

5g
Trans Fat:

0g
Unsaturated Fat:

11g
Cholesterol:

25mg
Sodium:

565mg
Carbohydrates:

25g
Fiber:

3g
Sugar:

6g
Protein:

7g