Fruit Salad | When I hear fruit salad I immediately get visions of canned fruit cocktail salad. It's probably because that is what I grew up eating. I loved coming home from school and popping open a little can of cold fruit cocktail salad.
It's been ages since I've had canned fruit cocktail. But, it still holds a special place in my memories. Today I am making a grown-up fruit salad worthy of the dinner plate.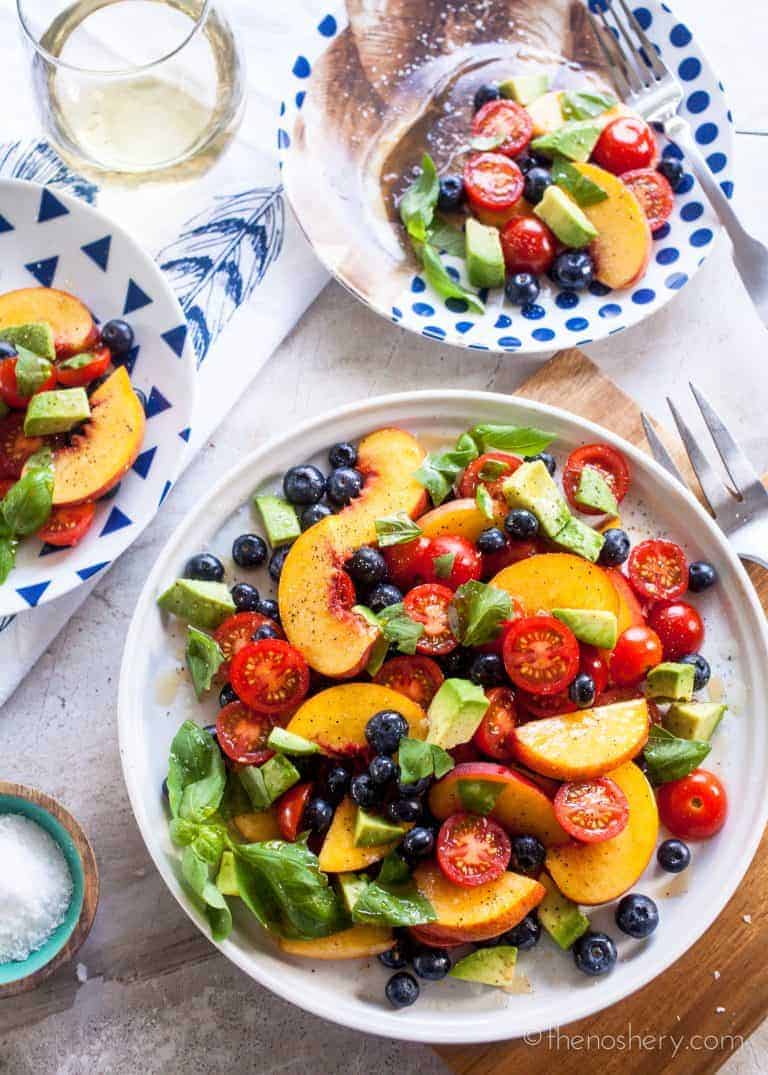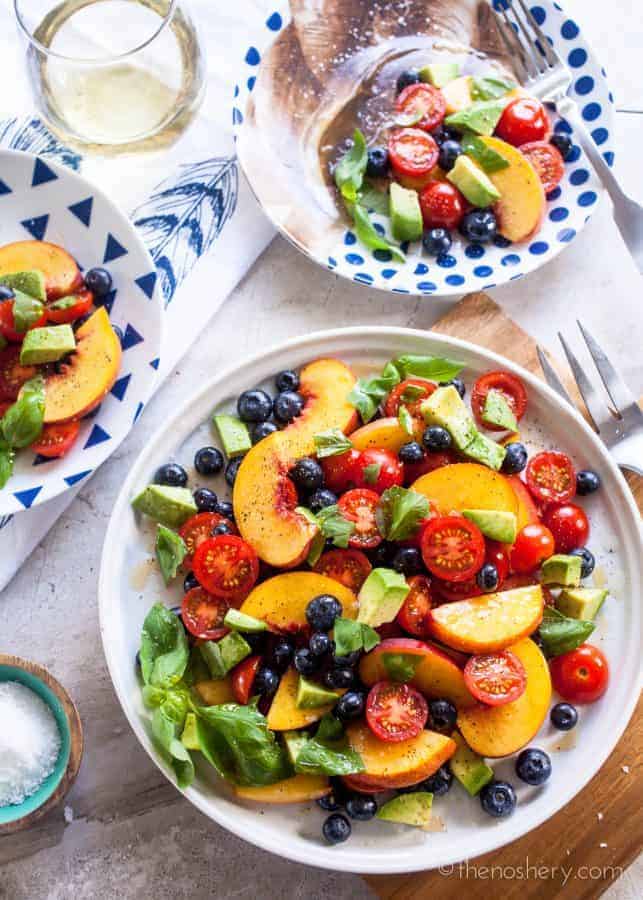 This isn't your typical fruit salad. Made with peaches, tomatoes, avocado and blueberries this fruit salad is perfect on its own or as a side to your favorite grilled meat.
I know! I've been missing. Life got crazy for a few weeks. Especially this weekend when we decided to get a puppy. We must have lost our minds, but he is adorable and we love him. But, I'm back with a knock your socks off salad!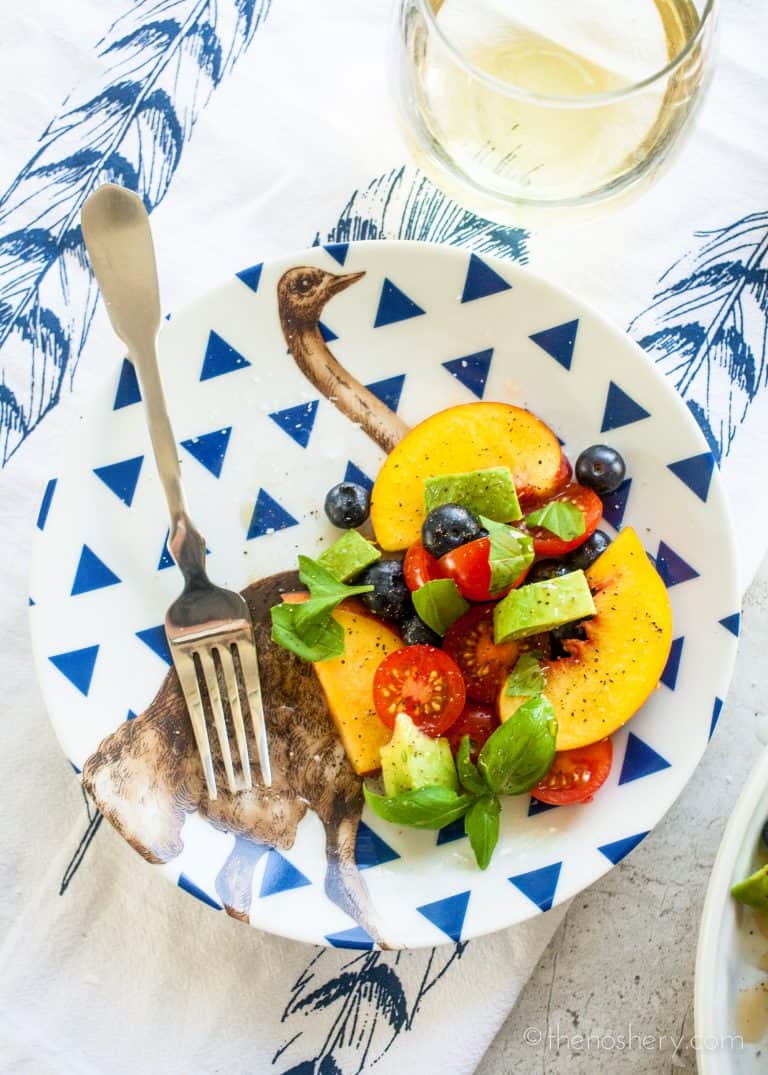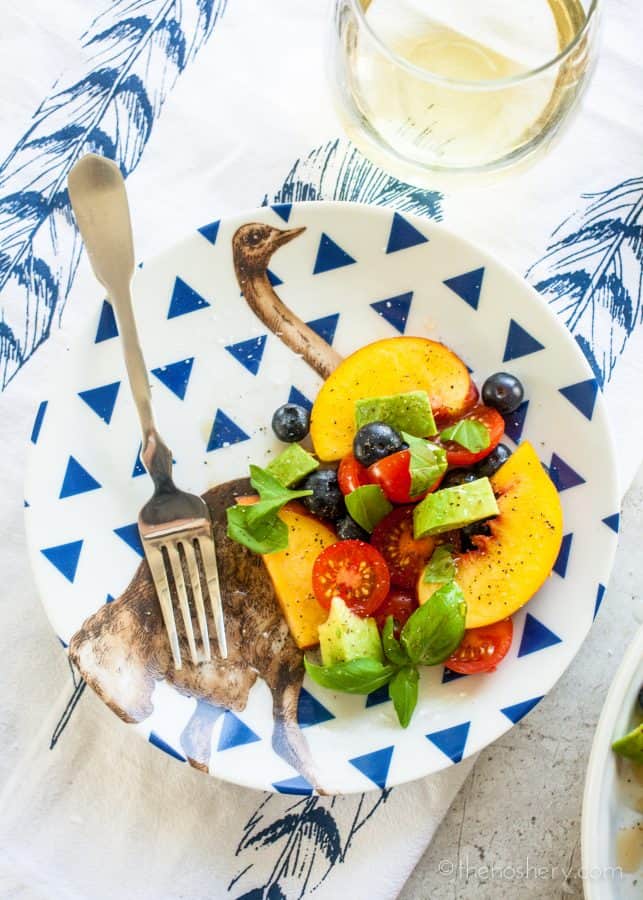 Peach season has arrived and I was so excited when I found the most glorious and perfectly ripe peaches. First, I thought I would make a cobbler or a pie but it's starting to get hot and I didn't feel like turning on the oven. While I snacked on one of these perfect peaches I thought the texture was too perfect. I needed to make something that showcased these crisp but juicy peaches.
Summer Fruit Dinner Salad Recipe
1/4 cup white balsamic vinegar
10 oz cherry tomatoes
6 oz blueberries
2 peaches
1 avocado
olive oil
salt and pepper
basil leaves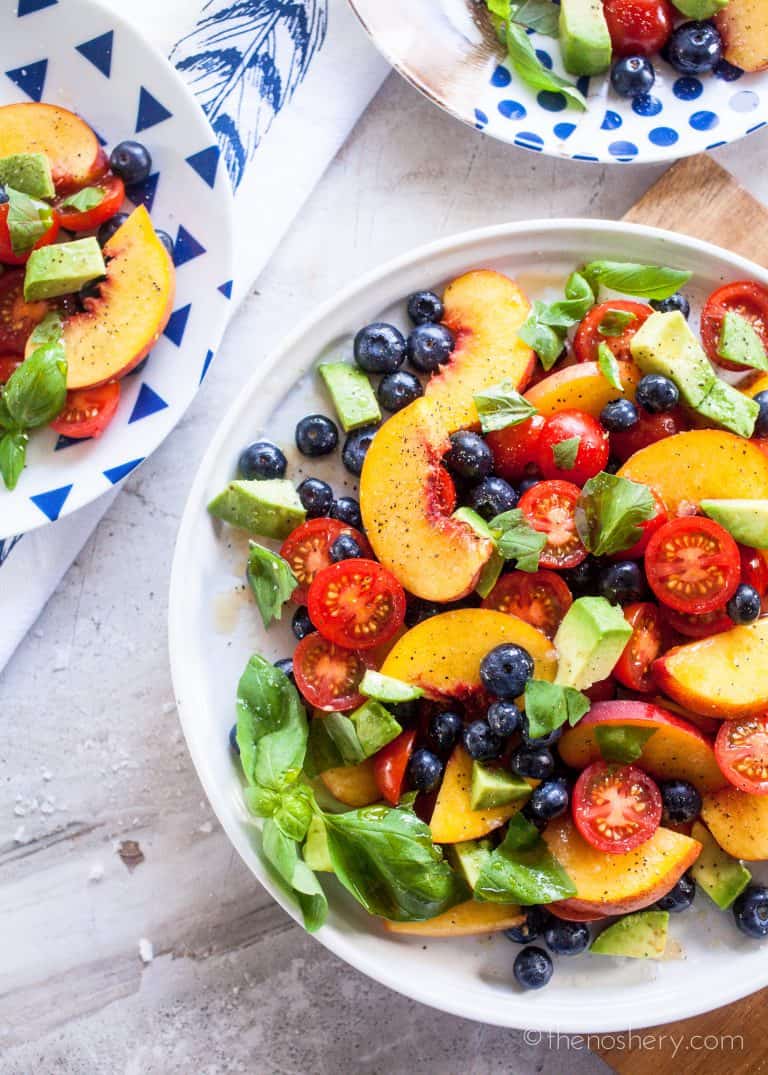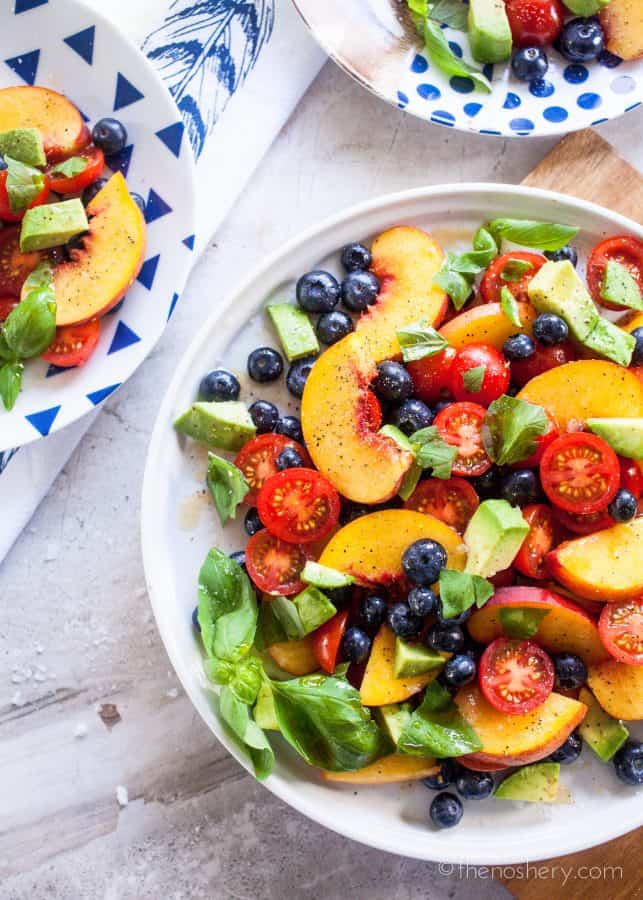 That is when I thought of a fruit salad but, I didn't want to make your typical ho-hum fruit salad. I wanted something vibrant, sweet, and a touch of savory. I wanted to make a fruit salad worthy of the dinner plate. Although tomatoes and avocados are typically associated with vegetables they are fruit. And, it turns out that they are great with peaches and blueberries.
This salad has become one of my go-to dishes to take to summer barbecues and picnics. I love to take it to friend's and see their reaction to this combination of fruit. Some of confused and some are intrigued but, everyone I have served it to has loved it!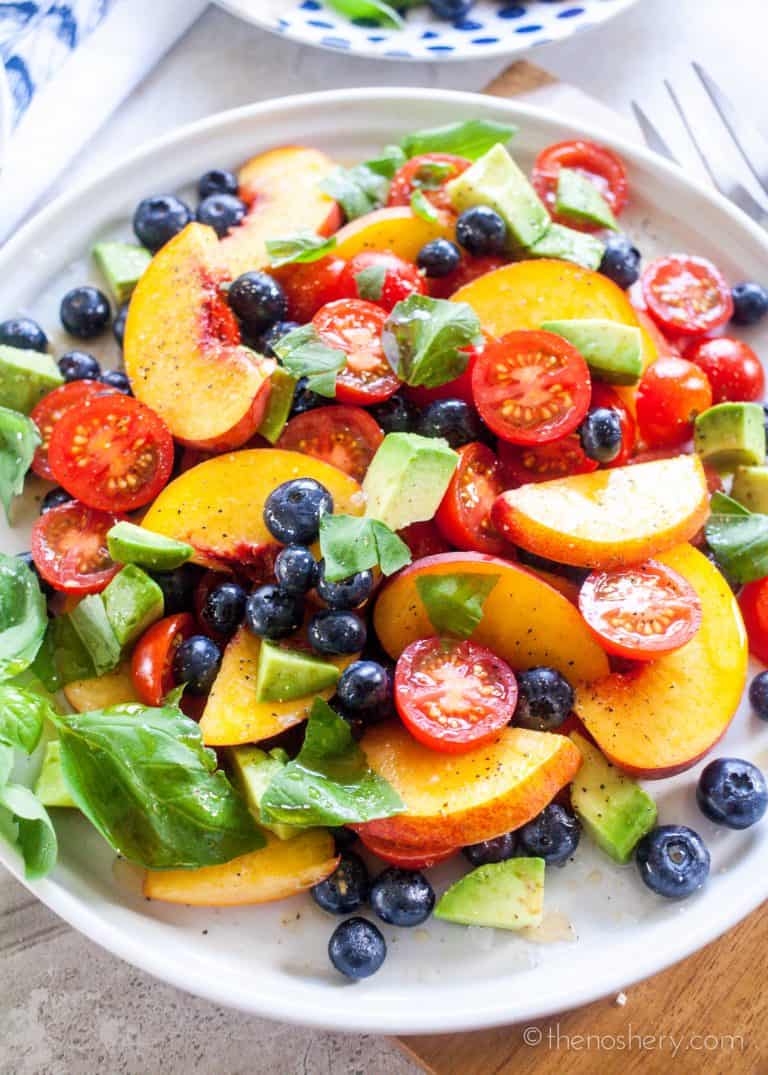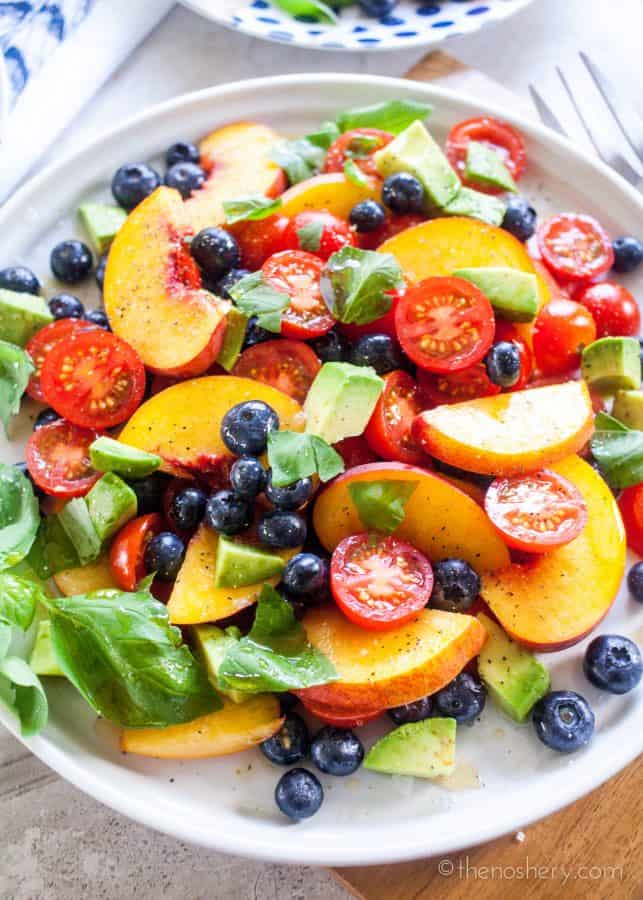 I love non-traditional salads! These sweet and tart fruits are simply dressed with olive oil, white balsamic drizzle, salt, and pepper. It then garnished with fragrant basil. I promise you're going to love this. If you can't find white balsamic you can use traditional balsamic vinegar. I prefer the white balsamic because it's lighter and better complements the sweet fruits.
If you are looking for more ways to use peaches try my Grilled Peach Bacon Pasta Salad with Herb Vinaigrette or BBQ Rubbed Pork Chops with Peaches. If you just need more salads in your life check out my salad recipe collection.
more salad recipe love
Yield: 4
Summer Fruit Dinner Salad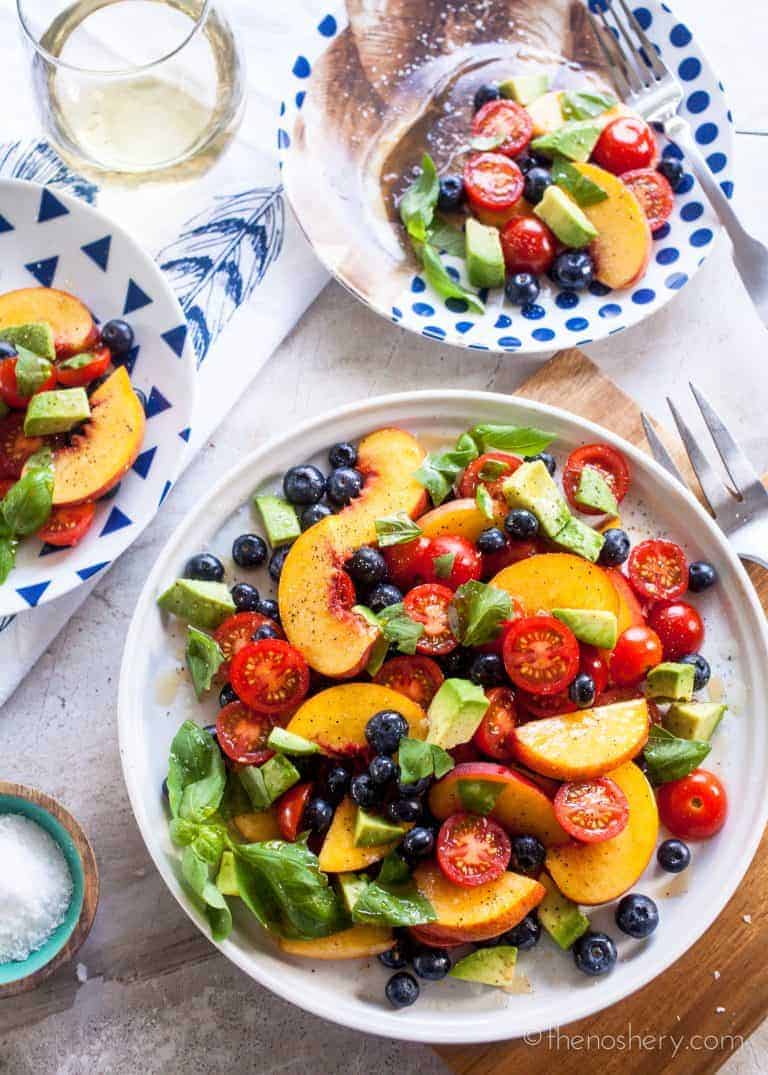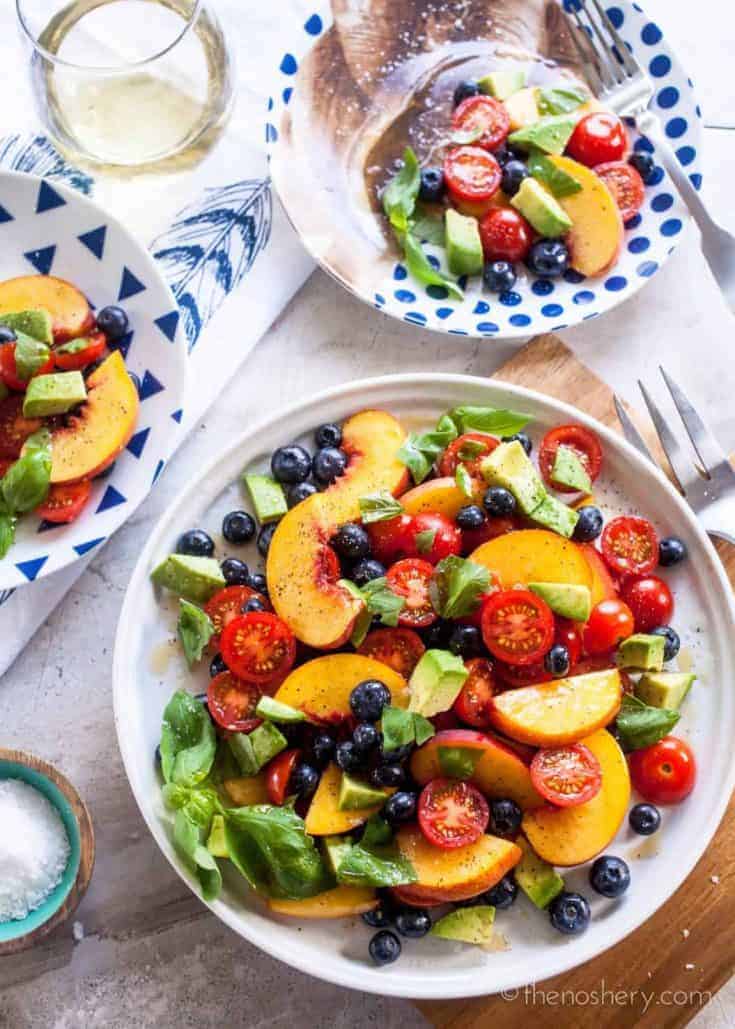 Fruit salad isn't just for dessert or an afternoon snack. This fruit salad is savory and sweet perfect for summer dinners on the patio.
Ingredients
1/4 cup white balsamic vinegar
10 oz cherry tomatoes, halved
6 oz blueberries
2 peaches, pitted and sliced
1 avocado, diced
olive oil
salt and pepper
basil leaves
Instructions
In a small pot bring white balsamic vinegar to a boil. Boil until reduced by half. Pour into a small glass bowl to cool.
In a bowl or shallow platter combine cherry tomatoes, blueberries, peaches, and avocado. Sprinkle with salt and pepper. Drizzle with reduced white balsamic vinegar, olive oil, and garnish with torn basil leaves.
Nutrition Information:
Amount Per Serving:
Calories:

184
Carbohydrates:

19g
Protein:

2g