Instant Pot Chicken and Dumplings | Can you believe that I had never made chicken and dumplings before today? It's not really something they make back home in Puerto Rico, and I wasn't introduced to the dish until I was a kid living in Georgia.
The first time I tried chicken and dumplings was at a friends' house. And before that, the only dumplings I knew about came in a Chinese takeout box. Though those are delicious on their own, what they served me was way different.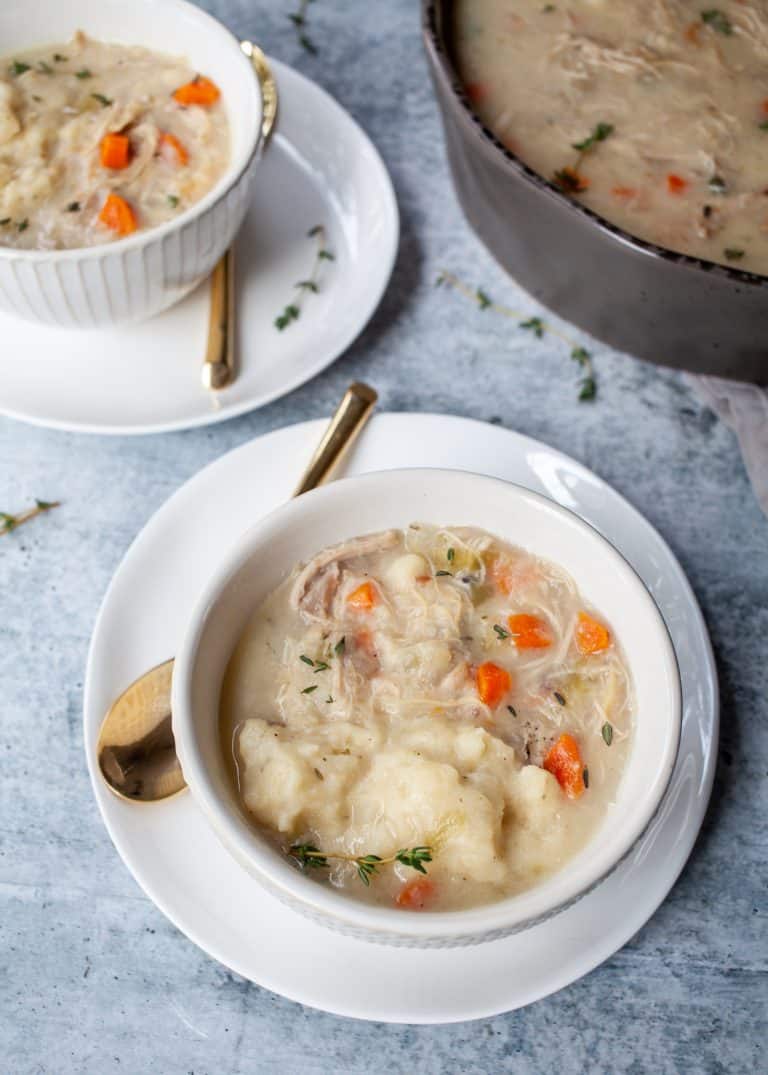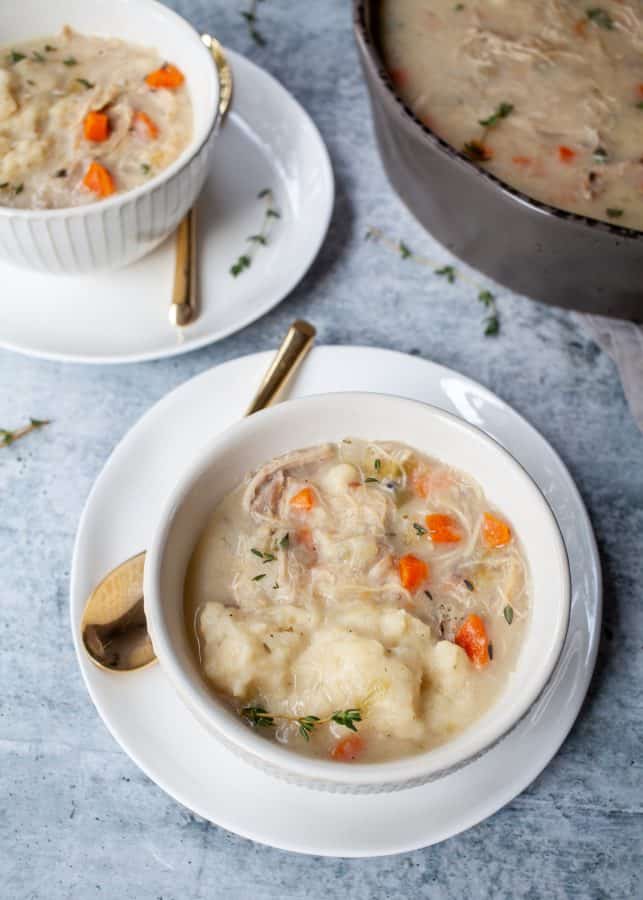 Although I was skeptical about this Southern mainstay, I politely accepted a bowl and it was amazing! Tender, fall apart chicken and vegetables in a savory broth with pillowy dumplings? Yes, please.
But for some reason, many moons passed, we moved away from the South, many meals went through my kitchen, and I never had it again. Until that streak thankfully and deliciously came to an end with this Instant Pot Chicken and Dumplings recipe.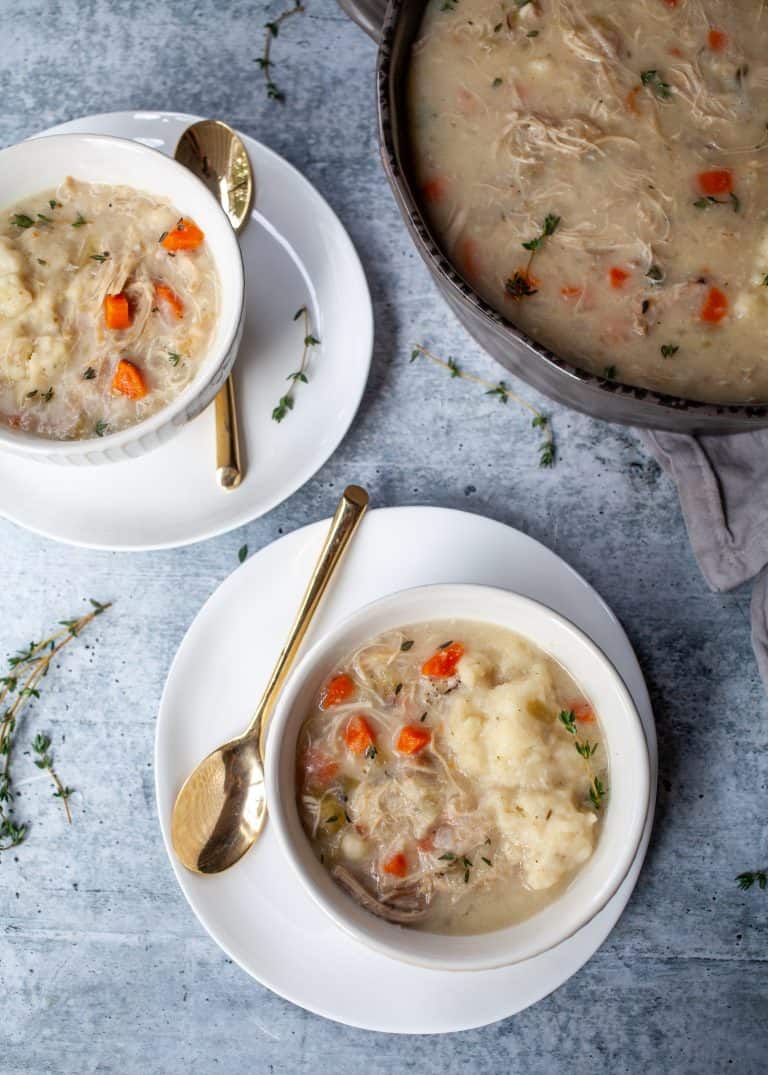 Another random fact — before making this dish, I'd also never used a pressure cooker. I know, right? I always had this fear that I would do it wrong and the next thing I know I would be yelling "Fire in the hole!"
Luckily enough, these two firsts for me went off without a hitch. I discovered a new love for chicken and dumplings and I managed not to blow a hole in my kitchen.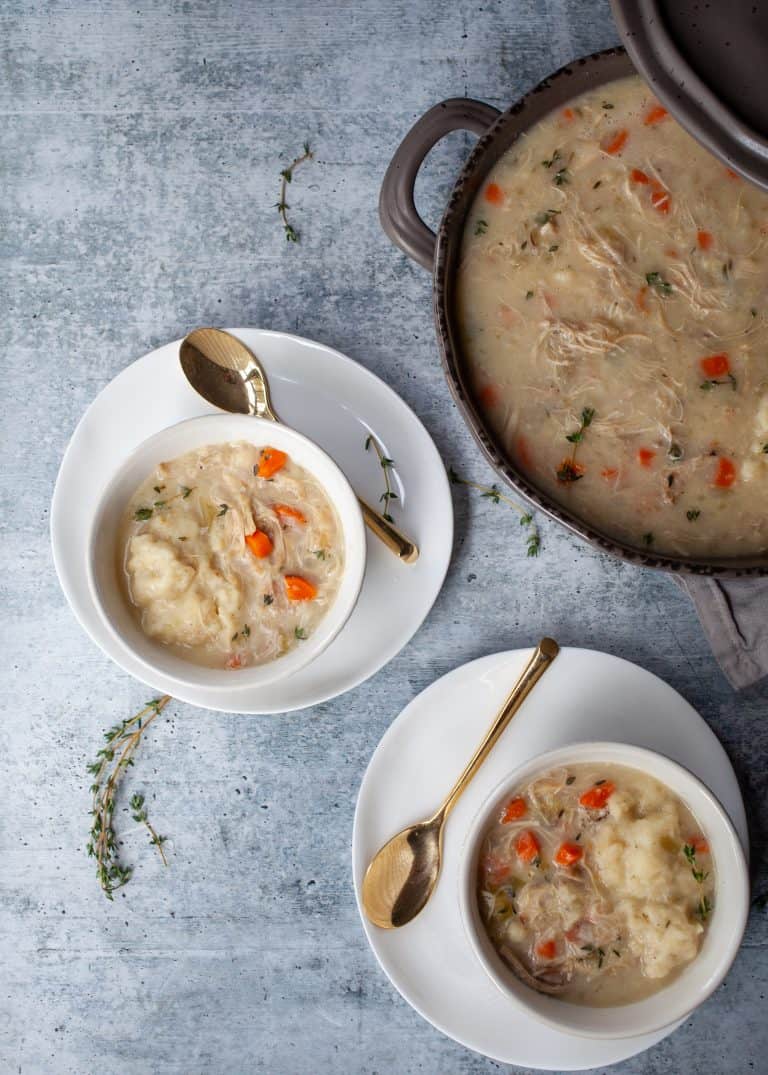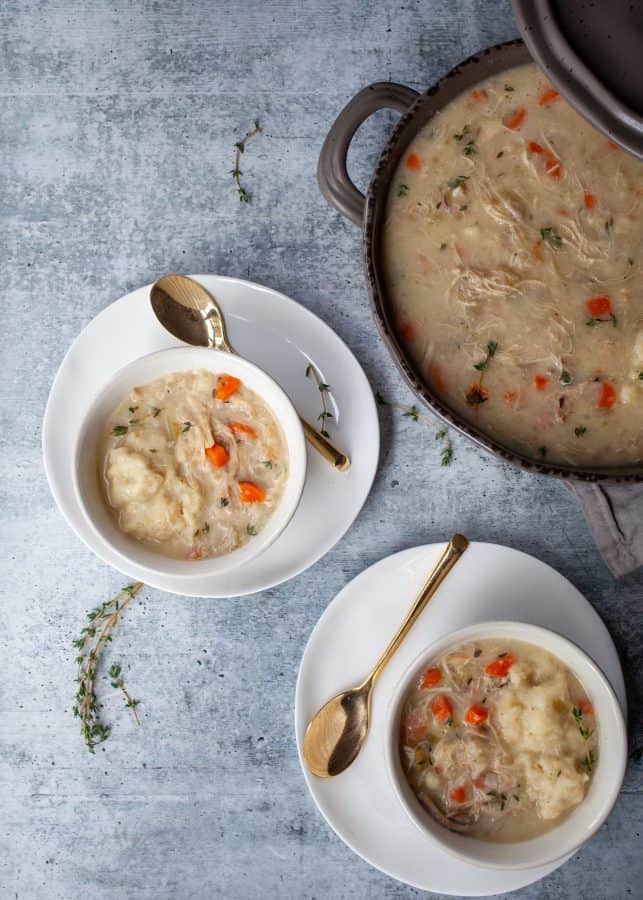 Where did Chicken and Dumplings come from?
So what genius decided to put delicious balls of dough in chicken soup? According to some, chicken and dumplings has French Canadian origins from during the Great Depression and according to others, it came from the Southern US after the Civil War.
Either way, its popularity always soared when American citizens were in dire financial straits throughout the nation's history.
In addition to its origins, another debate has to do with its preparation. Which vegetables should be included in the dish? Should the dumplings be made of all-purpose white flour and heavy cream or a cornmeal mixture?
Whatever side you land on, you can't go wrong with fall-apart-tender chicken meat, a flavorful combination of vegetables, savory aromatics, fresh herbs and traditional poultry seasonings, and comforting dumplings with that touch of pillowy sweetness.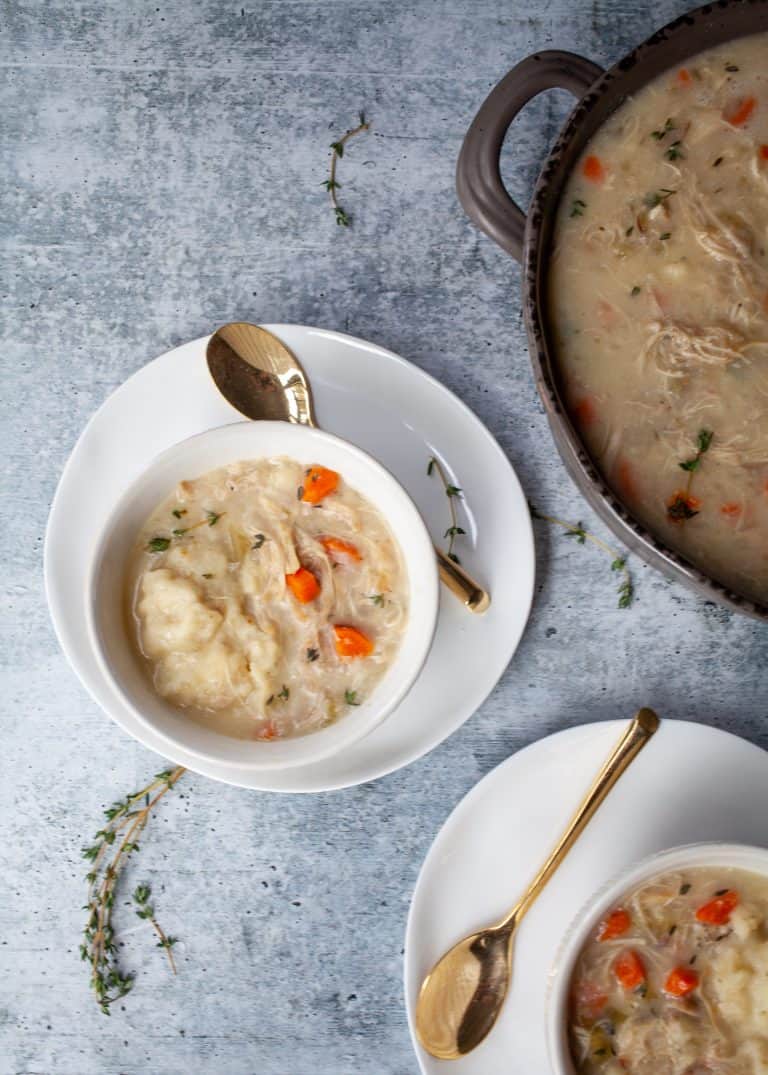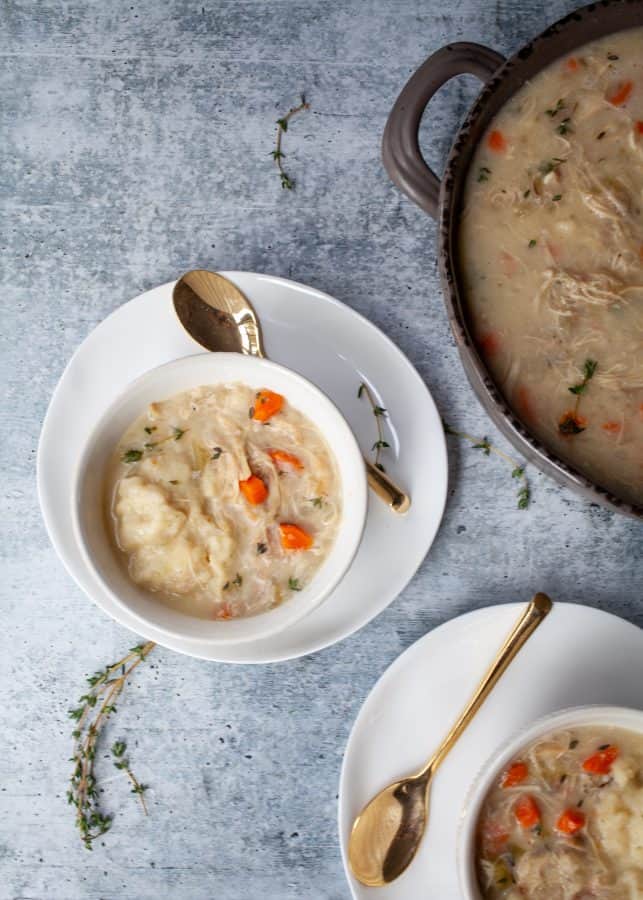 Ingredients for Instant Pot Chicken and Dumplings
chicken (preferably chicken thighs)
olive oil
onion
garlic
carrots
celery
bay leaves
chicken bouillon cubes
fresh thyme
dry sherry or vermouth (optional but recommended)
salt
freshly ground black pepper
all-purpose flour
baking powder
ground cornmeal
sugar
heavy whipping cream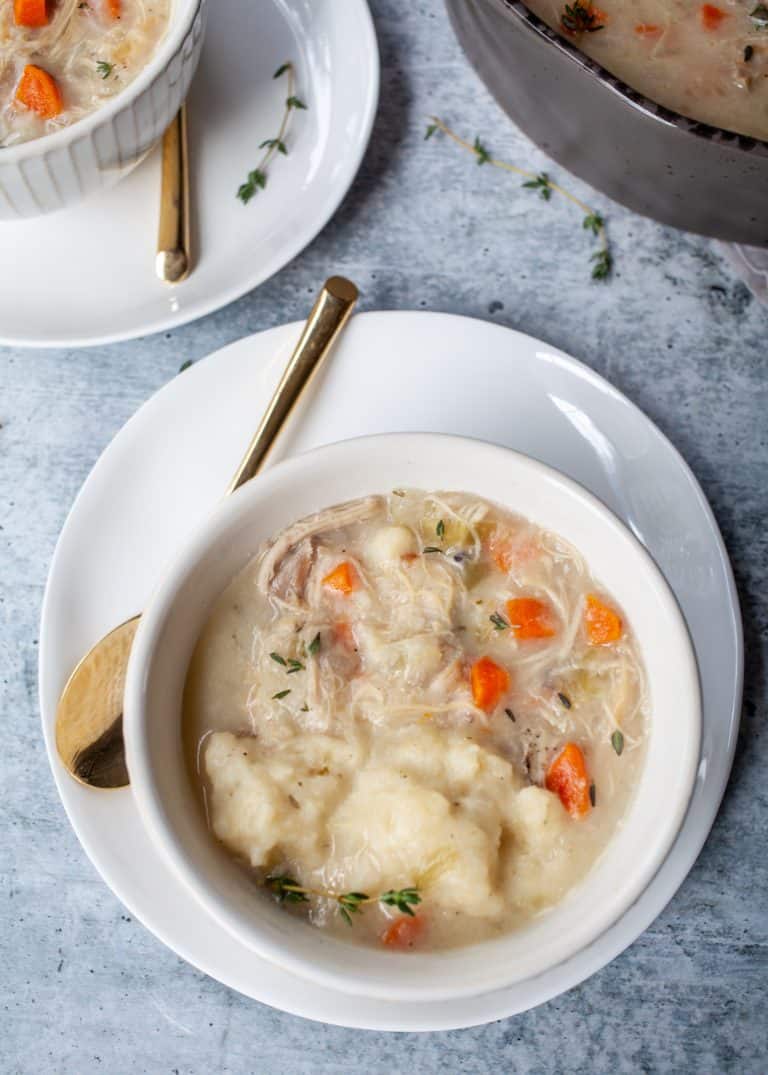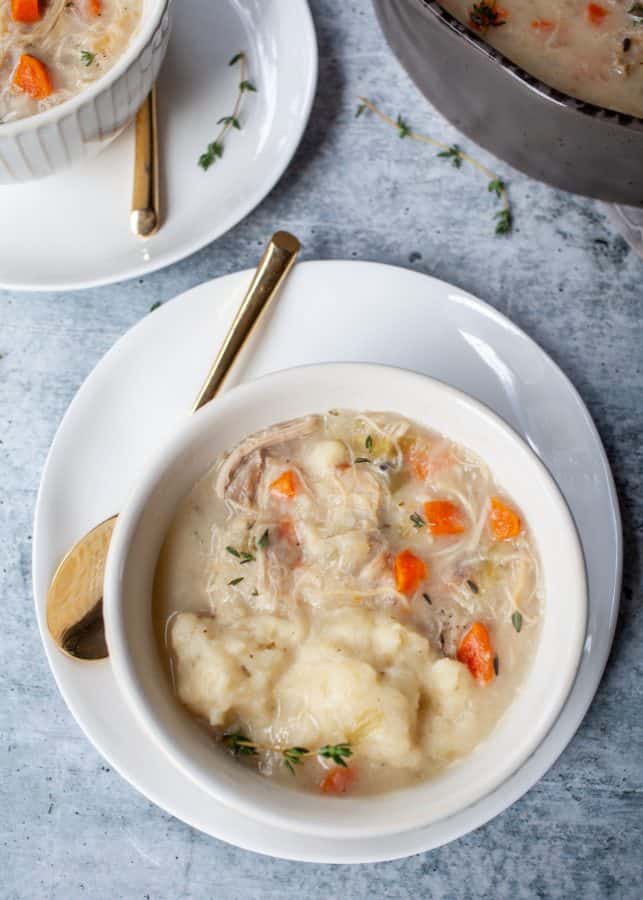 How to make chicken and dumplings in Instant Pot
Start by browning the chicken in the bowl of the Instant Pot. Chicken thighs are more flavorful but chicken breasts will also work. Turn on the sauté setting and generously season the meat with the salt and pepper.
When the pot is hot, add the olive oil and brown the chicken on both sides, making sure to cook in batches to not overcrowd the pot. This way you get a nice sear to develop the flavors on the bottom of the pan.
Remove the chicken and add the onion, carrots, celery, garlic, bay leaves, bouillon, fresh thyme, and dry sherry or vermouth, stirring until fragrant and the onion and carrots start to soften.
Add the chicken back to the pressure cooker along with enough water or chicken broth to cover the chicken and vegetables. Put on the lid and bring to 15 pounds pressure if you're using a traditional pressure cooker or set your Instant Pot to manual for 35 minutes.
When the time's up, let the pressure release naturally before removing the lid (opposed to doing a quick release). Remove the chicken, and when it's cool enough to handle, shred it before returning it to the pot.
While the chicken is cooling, combine the flour, baking powder, cornmeal, sugar, salt, and heavy cream in a small bowl until it forms a wet, shaggy dough.
Once you've added the shredded chicken back in, turn the pressure cooker back to saute mode with the lid off. When it comes to a boil, add big rounded spoonfuls of the dumpling batter and let them cook for about 12 minutes or until they puff up. Then you're ready to dish up a warm, comforting bowl of soup!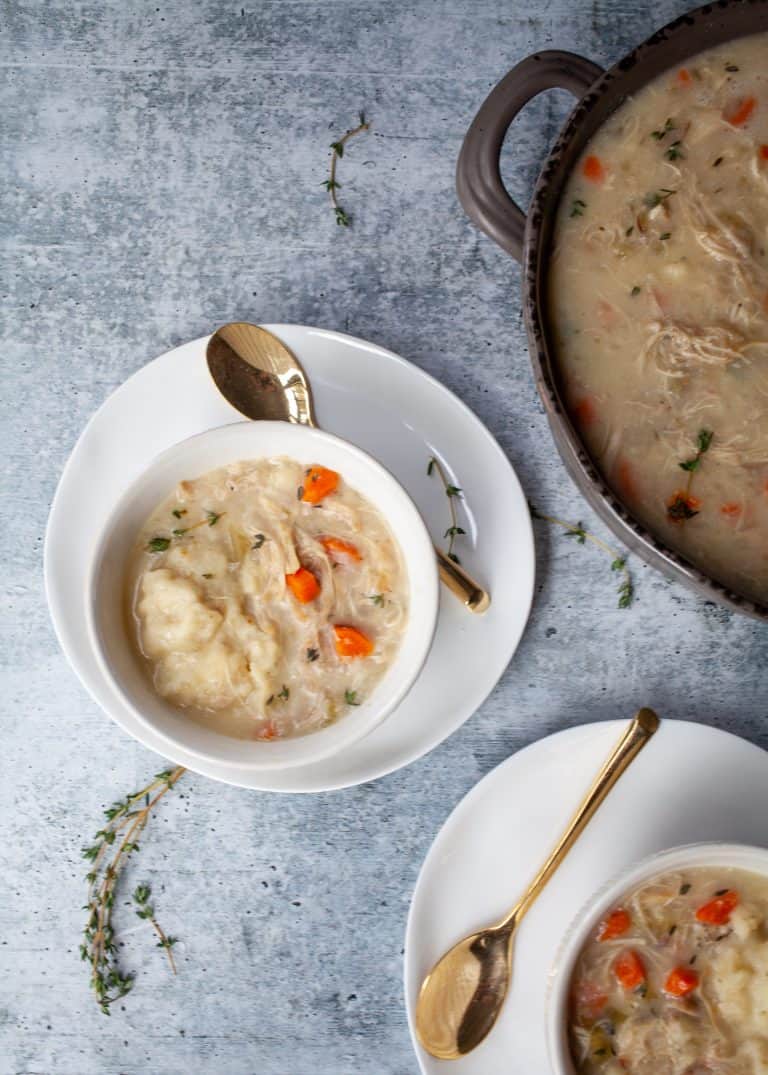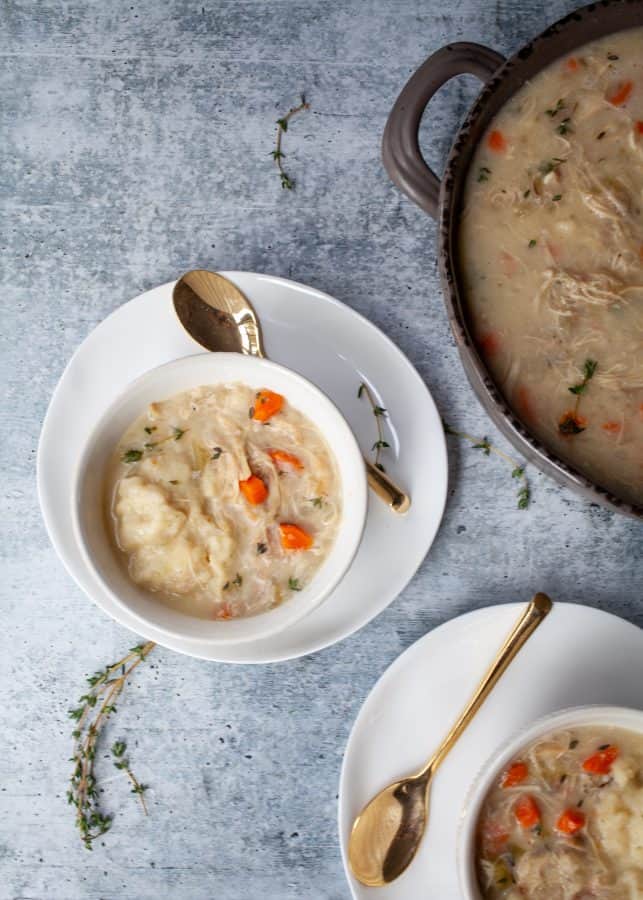 Can You Freeze Instant Pot Chicken and Dumplings?
Yes! You can actually freeze the chicken and dumpling if they're separate. If you freeze the dumplings in the soup, they'll absorb too much broth and turn in to a gummy mess. Nobody wants a gummy mess. So, here's what to do instead.
You start by cooking the chicken soup portion as instructed without the dumplings. Make the dumpling dough separately, portion on a sheet pan lined with parchment, and freeze them raw without cooking them.
Once they're frozen, you can remove the dumplings from the sheet pan, put the dumplings in a freezer bag, and store in the freezer.
To freeze the soup, let it come to room temperature, pour carefully into a large gallon bag and lay it flat to freeze. It will last up to 3 months in the freezer.
When you want to enjoy these chicken and dumplings, thaw the frozen bags in the refrigerator overnight. Add the contents of the soup bag to a Dutch oven and heat until warm on medium heat, about 20 minutes.
Since the ingredients are already cooked, they just need a gentle warmup instead of going back in the Instant Pot.
Finally, add the dumpling dough portions and cook until they have doubled in size for about twelve minutes. Then it's ready to enjoy in no time!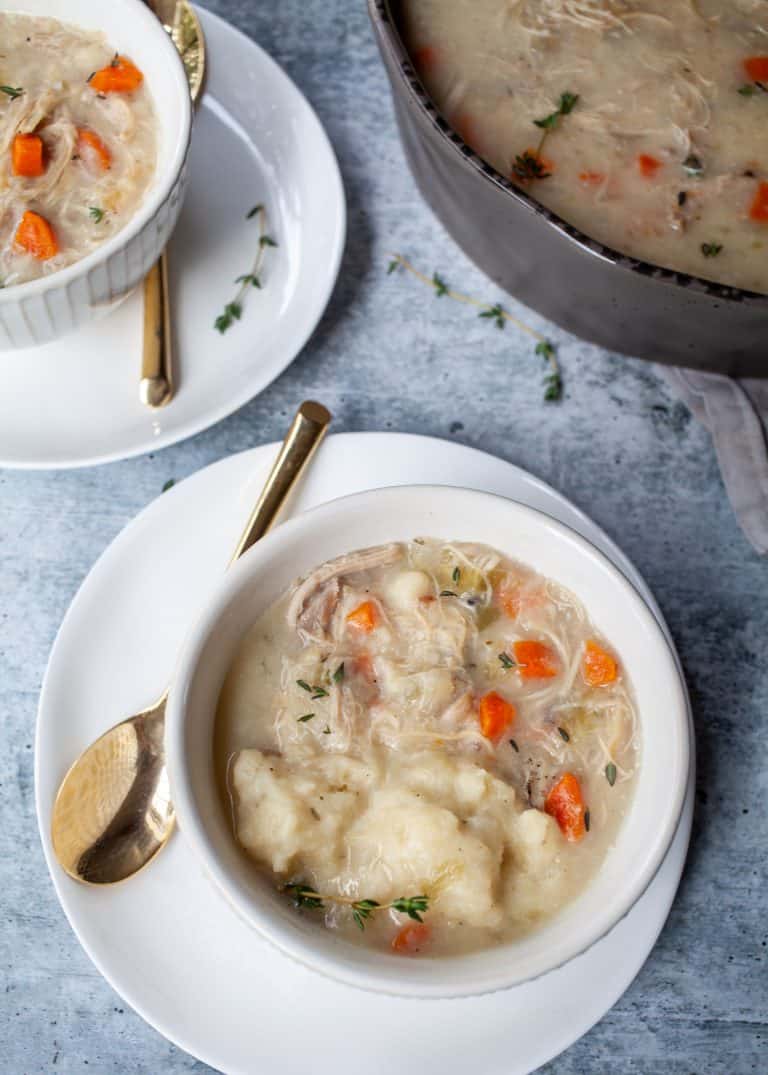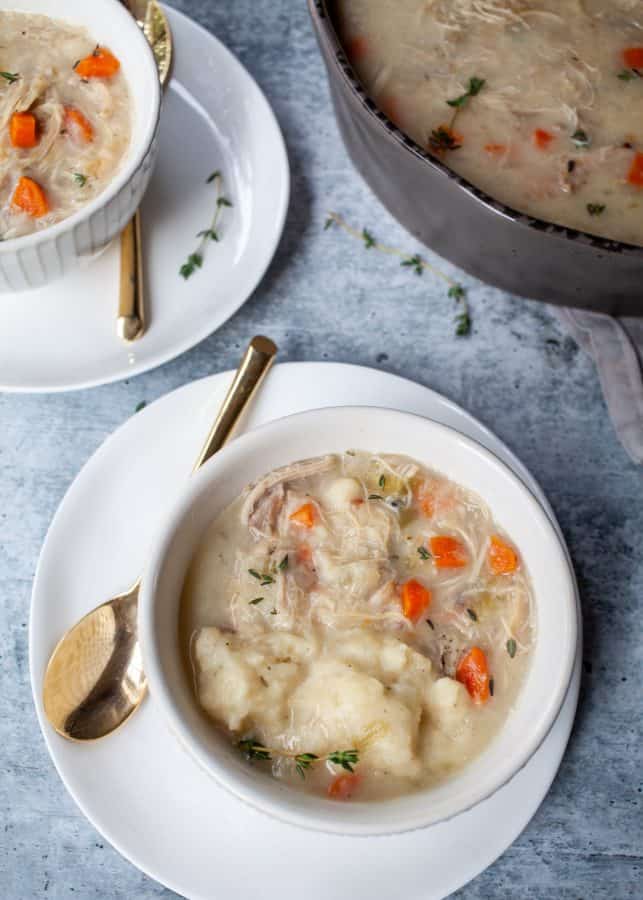 The question remains…
Why did I go without chicken and dumplings for so long? I have to say I was surprised how much I enjoyed this dish. I made a mistake and deprived myself of this delicious goodness for all these years.
But now I love this recipe and this dish permanently has a place in our comfort food rotation of soups and stews like this sopa de pollo con fideo (chicken noodle soup), Spanish bean soup, chunky tomato soup, Moroccan lamb stew, and my beloved Puerto Rican sancocho and pollo fricase.
We're also big fans of Cooking Classy's white chicken chili and this beef stew from Once Upon a Chef and eat them year-round. Sometimes you still need a comforting meal on a rainy day, and these are the perfect antidote for just about any problem.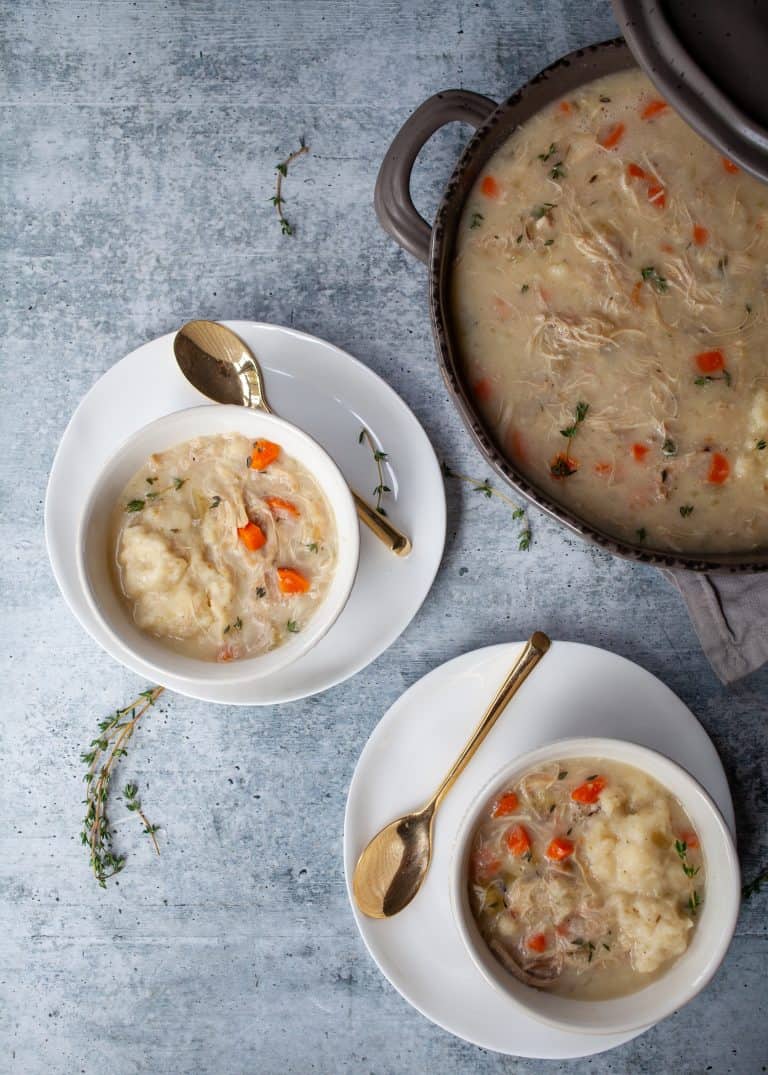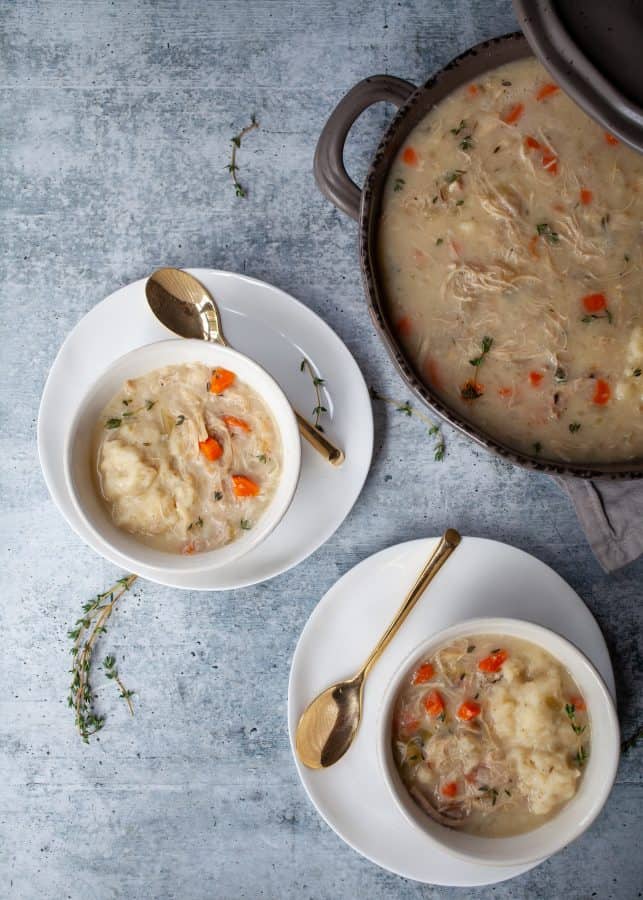 I also write this post to encourage you to try the big scary pressure cooker if you haven't yet. I admit I lived in mortal fear for a short amount of time and watched the pot from the living room. It's really not as I thought it would be, though, and cuts your cooking time in half. It's like the opposite of a slow cooker.
If you're new to the world if Instant Pots and pressure cookers, you can also try these sticky gochujang chicken wings, this lengua de res guisada, and this tasty Texas brisket. Good comfort food dished up in a fraction of the time.
I encourage you to try a new dish and a new cooking method. You will be surprised by what you will learn and how it makes so many recipes with longer preparations so quick, easy, and delicious!
more comforting chicken dishes
Yield: 6
Instant Pot Chicken and Dumplings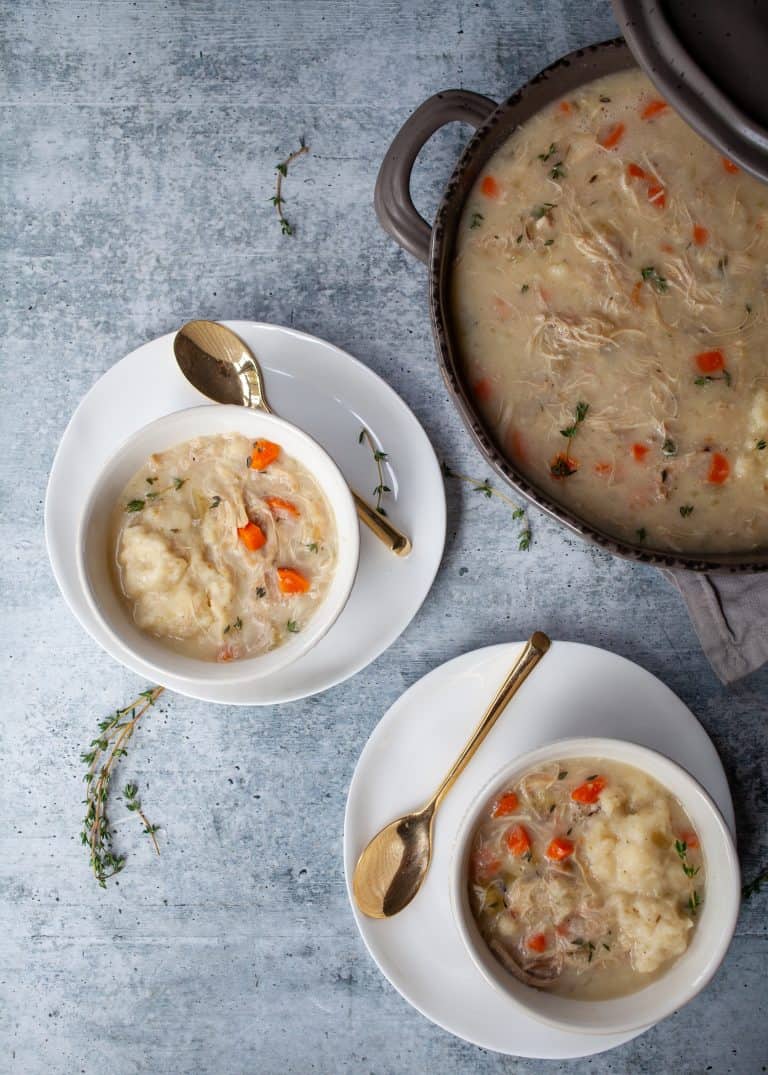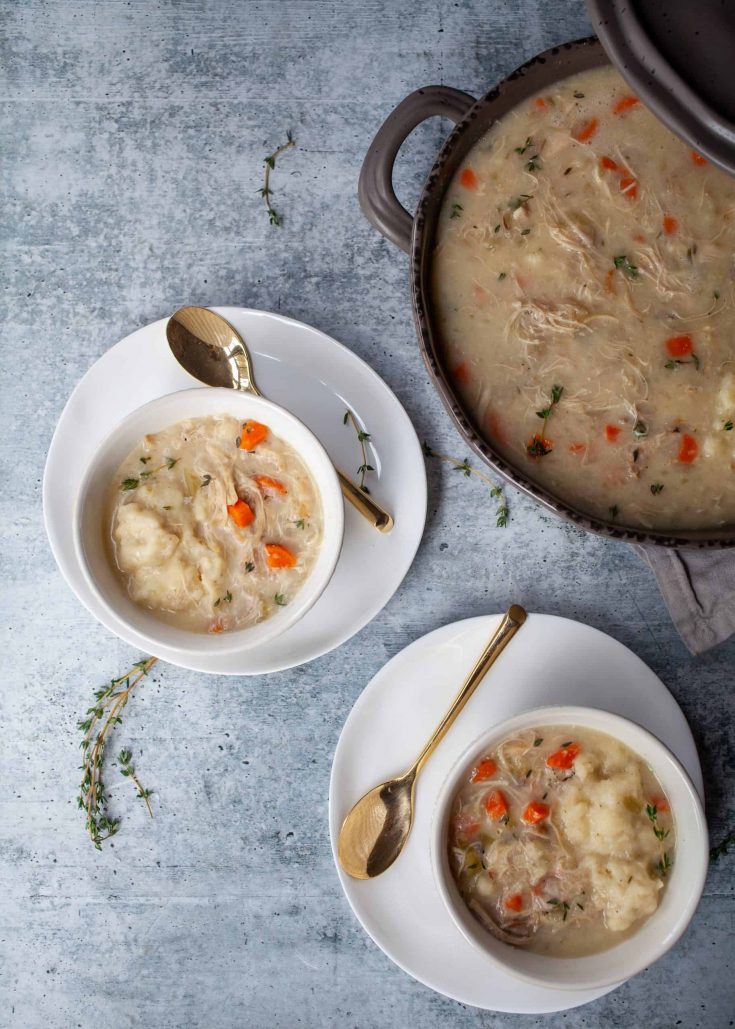 Instant Pot Chicken and Dumplings is a warm, savory chicken stew with pillowy dumplings -- the perfect comfort meal!
Ingredients
Soup
2 1/2 lbs chicken thighs
1 tablespoon olive oil
1 large onion, cut into large chunks
4 cloves garlic, sliced
2 celery stalks, trimmed and cut into 1/2-inch pieces
2 bay leaves
2 chicken bouillon cube
4 sprigs fresh thyme
2 tablespoon sherry vinegar
Salt to taste
2 medium carrots, peeled and cut into 1/2-inch pieces
Ground black or white pepper
Dumplings
1 1/2 cups flour
2 teaspoons baking powder
1/2 cup coarsely ground cornmeal
1 tablespoon sugar
1 teaspoon kosher salt
1 3/4 cups heavy cream
Instructions
Heat olive oil in pan over medium high heat, season chicken with salt and pepper and brown. Arrange chicken in a large kettle or pressure cooker.
If you are using the kettle, place the chicken, celery, onion, garlic, bay leaves, bouillon, thyme and dry sherry in a large pot.
Add 4 quarts of water bring to a simmer over medium heat.
Simmer the chicken until it is tender and the thigh juices run clear, about 2 hours or until chicken is very tender. Add carrots during last hour.
If you are using a pressure cooker, place all soup ingredients in pressure cooker, add enough water to cover chicken and vegetables, bring to 15 pounds pressure, cook for 35 minutes, let pressure fall naturally before removing lid.
When chicken is cool enough to handle remove meat from bones and shred.
Meanwhile, mix the batter for the dumplings. When chicken is cooked, place dumplings over the top of chicken and vegetables, turn on heat once more, cook covered for 12 minutes or until dumplings are puffed.
One More Thing!
Rebecca and I launched the My Plate is Always Full Podcast! Just two friends and former chefs talking obsessively about food. You can go and subscribe now!
New episodes released every Wednesday!
In the meantime follow us on Instagram @my.plate.is.always.full  or visit our website!