Asopao de Pollo |This chicken and rice soup is Christmas for me. Not the Christmas meal by any means but the Christmas season. In Puerto Rico, this is the soup that was traditionally served at parrandas. And it continues to be a staple at parties and get togethers.
What is a parranda? You well may ask. The short answer is that a parranda is a party. It's a Puerto Rican tradition that probably wouldn't go over too well in most American suburban neighborhoods. It involves late night singing and ritualized kidnapping. And eating. And drinking.
A group of singers, parranderos, start the party late in the evening well after dinner. They assemble at the front door of a friend or neighbor's house and make music until the family wakes up and lets them in. After some more singing, everyone gathers in the kitchen for refreshments. Usually chicken and rice soup.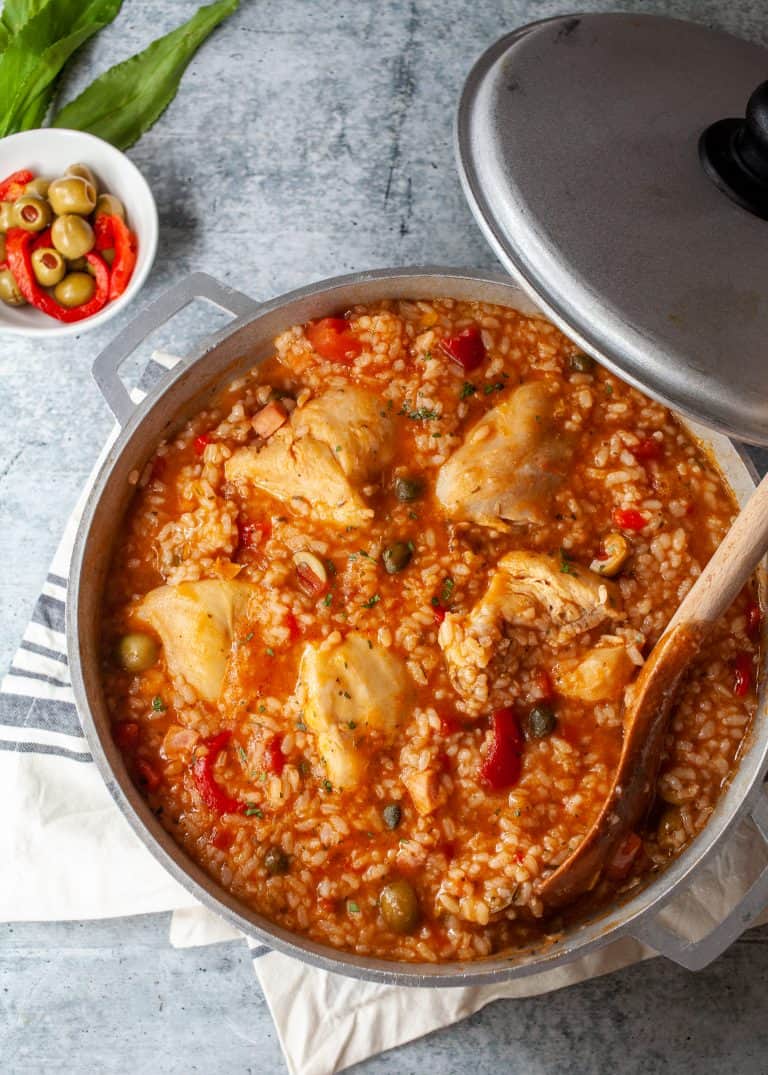 After they eat, the parranderos hustle the family off to the next house where the singing, eating, and kidnapping is repeated through the night. This PR holiday tradition is kind of like Christmas caroling, but not.
The beauty of the Puerto Rican chicken and rice soup is that it was easy to heat up when the parranderos arrived. And by adding more stock, it could be stretched to feed everyone. You can imagine that by the last house, there would be quite a crowd. These parties would break up by dawn, with all of the parranderos going back to their beds.
Guess what heats up nicely the next day when nobody feels like cooking? You've got it. Asopao de Pollo.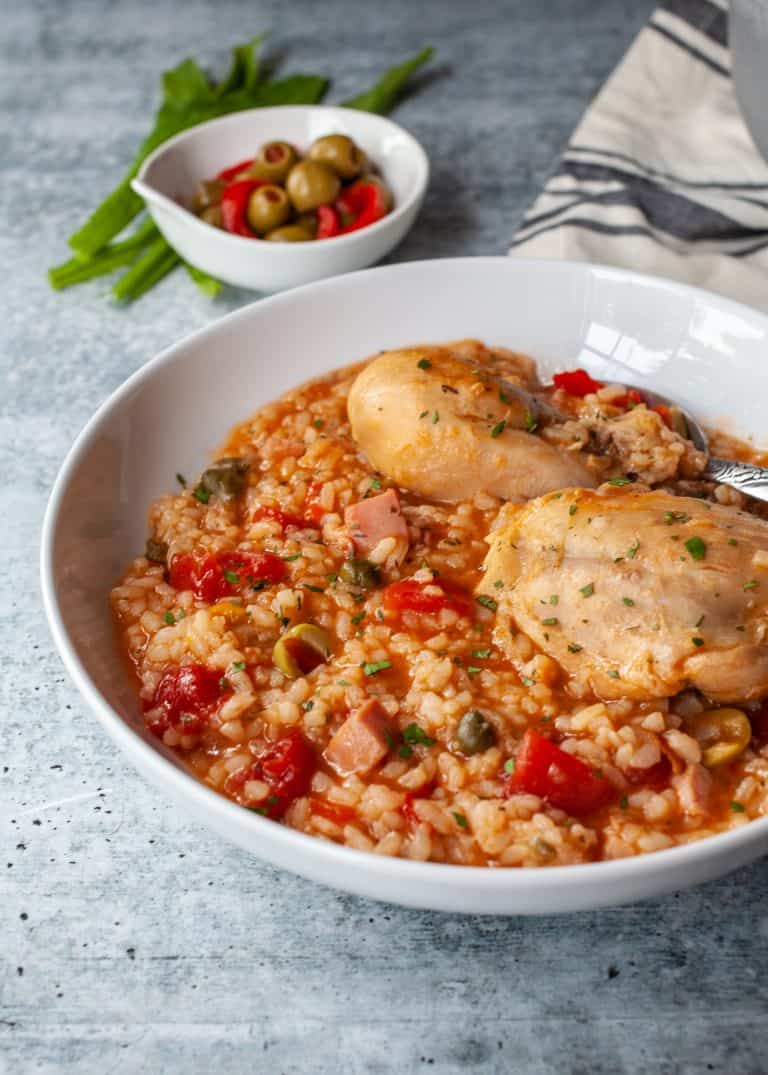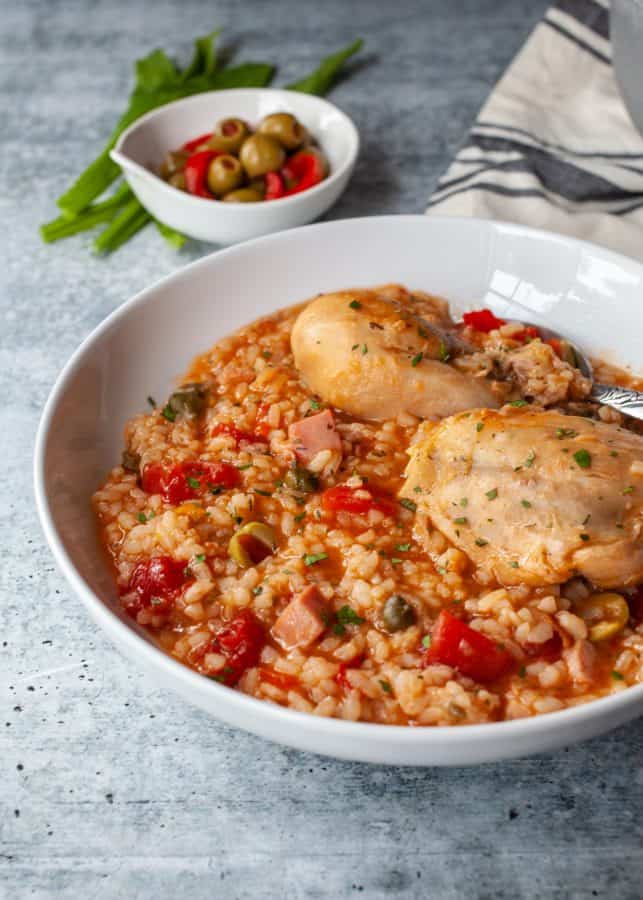 How to Make Asopao de Pollo
The homemade Puerto Rican chicken and rice soup recipe I'm going to show you develops flavor by sautéing most of the ingredients in a large caldero or dutch oven.
After cutting up the chicken and seasoning thoroughly, go ahead and heat up the olive oil in your pot.
First you'll brown the raw chicken pieces in batches and set them aside. Next sauté the sofrito, it will smell fantastic as it cooks. Scrape up those browned bits.
Now add the ham, diced tomatoes, tomato sauce, capers, pimentos, olives, boullion and rice. Stir all of that right into the sofrito before adding the chicken back. Make sure you pour in any juices the chicken might have accumulated while it was waiting. That's the good stuff!
Finally, when all of the ingredients are in the pot, pour as much of the water as you can fit into the caldero. Add your salt and pepper and mix it all up thoroughly. Over the cooking time, you can add more water as the rice cooks and absorbs the liquids.
Bring the soup to a boil and then turn down the heat. Allow it to simmer for up to 30 minutes. Keep an eye on your pot, stirring frequently as the rice can burn to the bottom.
When the rice is tender and the chicken is cooked, it's done. Now you're ready to feed any late night parranderos that come to your door.
Guests that come at more reasonable hours will love this soup too!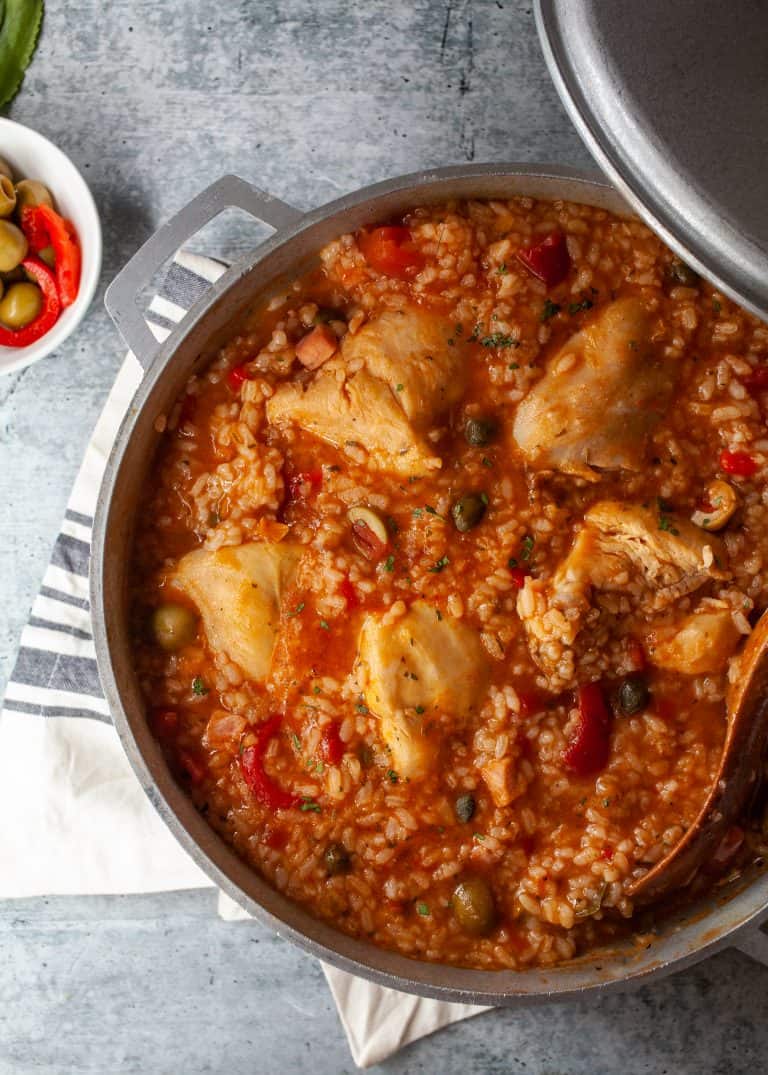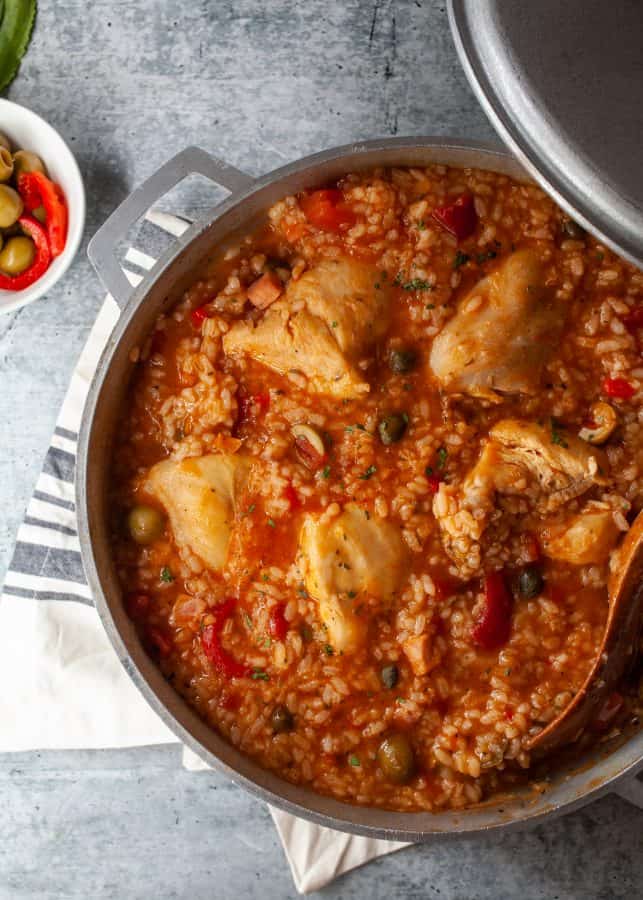 What is Asopao de Pollo
Asopao de Pollo is a classic comfort food in Puerto Rico. The rice gives it a creamy texture similar to a gumbo. The chicken is cooked up in the pot for a beautifully rich broth with green olives and tomatoes.
I can't say enough about how wonderful this soup is. It's delicious and nourishing not to mention easy to prepare and economical.
Puerto Rican chicken and rice soup is an integral part of the holiday season. Christmas Day, however, is a different story, don't forget to put arroz de gandules and roasted pernil on your dinner table.
What is in Asopao de Pollo
chicken
adobo seasoning
olive oil
sofrito
diced ham
tomato sauce
diced tomatoes
pimentos
Spanish olives
capers
chicken boullion
medium grain rice
water
kosher salt
bay leaves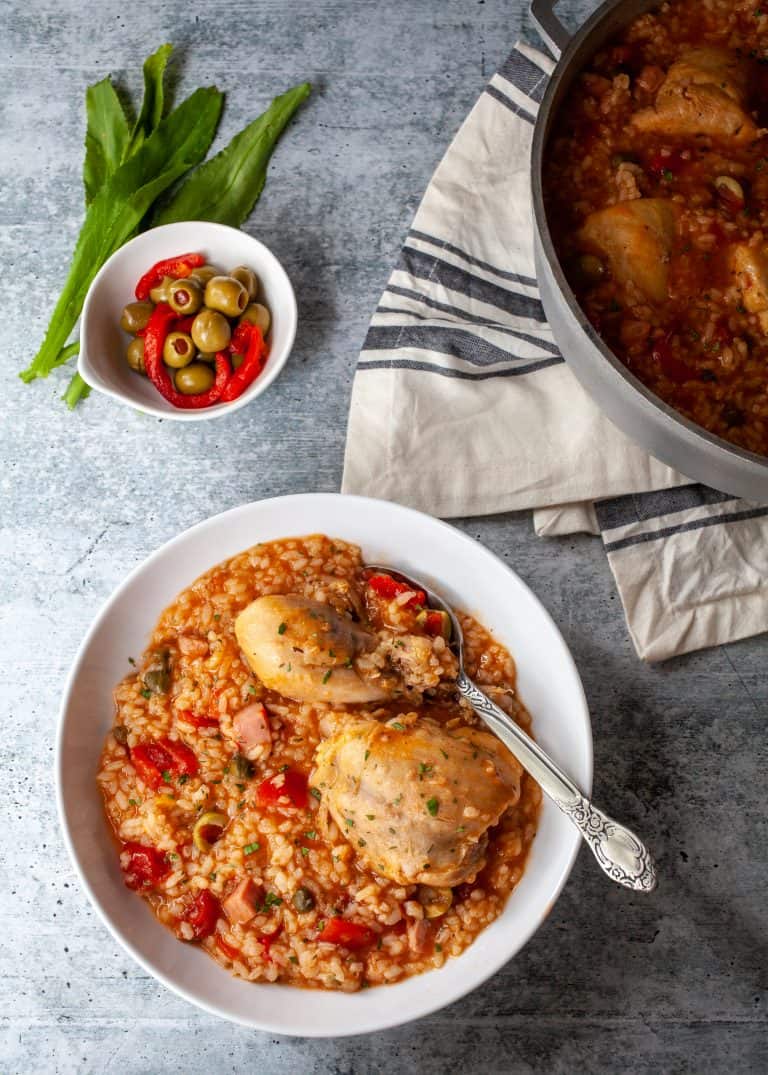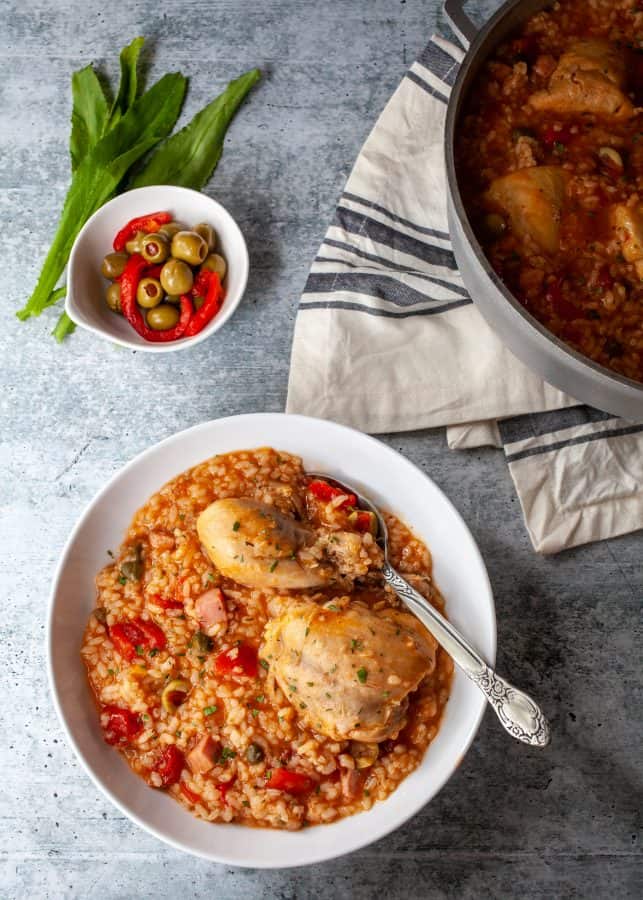 Can you Freeze Puerto Rican Chicken and Rice Soup
Asopao de pollo freezes nicely. I highly recommend making a giant batch to have on hand at all times. Let it thaw overnight in your refrigerator before reheating in a saucepan or microwave.
Some other soups that freeze well and are great to have stocked are Sopa de Pollo con Fideo and Cozy Autumn Wild Rice Soup from Gimme Some Oven.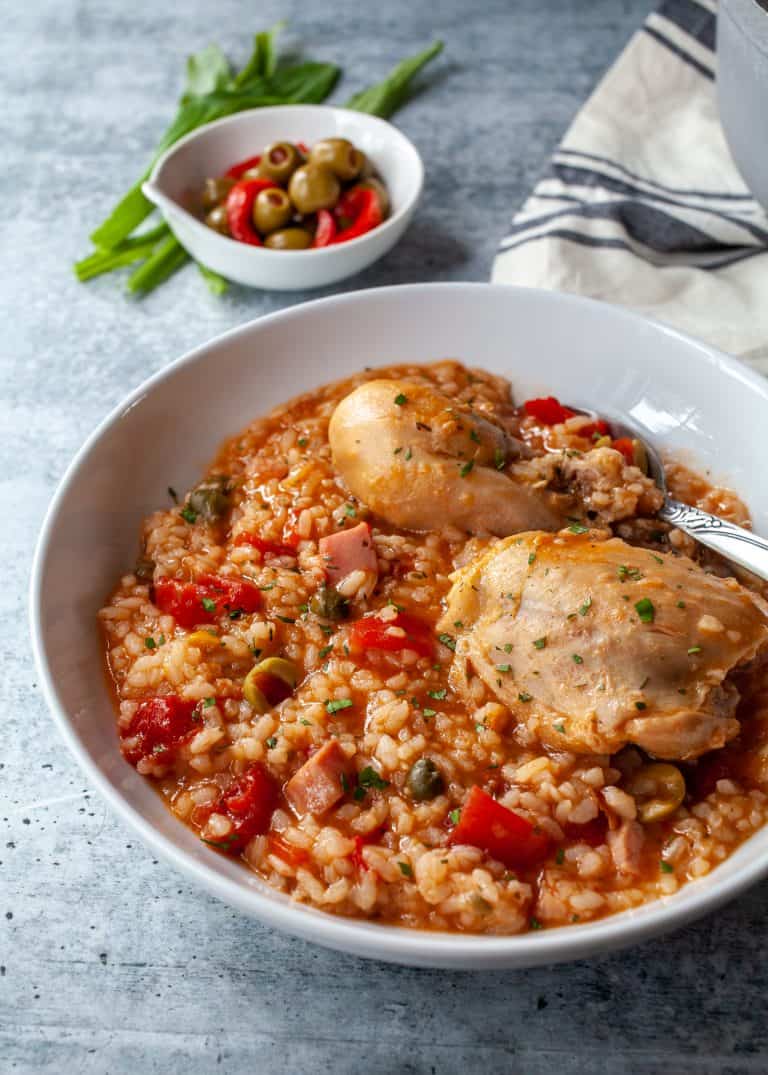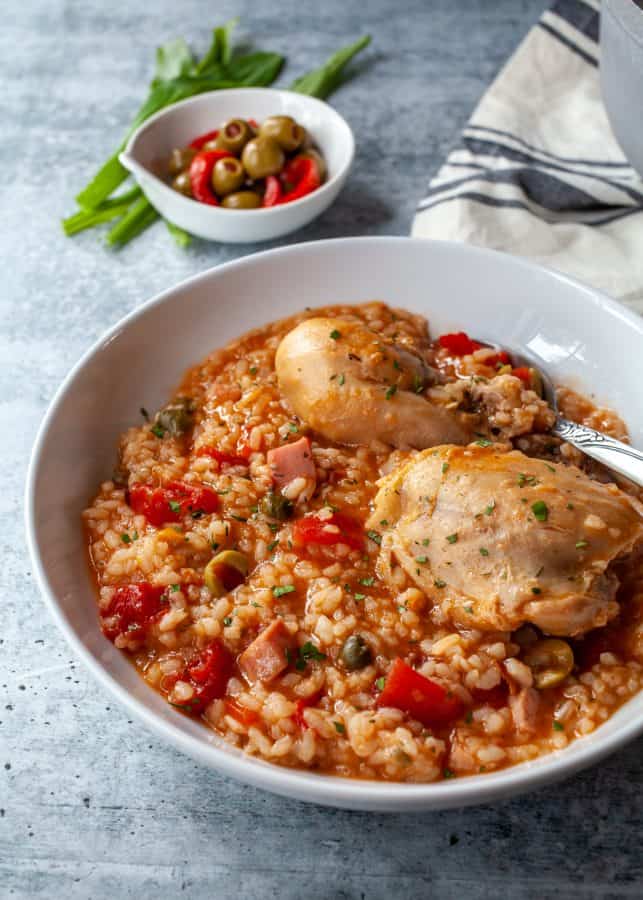 Tips for Asopao de Pollo
Do I have to use medium grain rice? The short answer is no, of course any rice will work. However, not every rice will give you that creamy gumbo texture we're looking for. Besides, long grain rice will take an extra 10-15 minutes of cooking time. Brown rice will take even longer.
Use this sofrito recipe to make your own sofrito. Sofrito and Recaito are used interchangeably in PR. You want the green stuff.
Goya makes a good Recaito you can use as the sofrito in this recipe. It is found in the Latin frozen food sections of many grocery stores.
I use a whole chicken cut into pieces for this recipe. You can use any cut of chicken you have on hand. If you're using a large chicken breast, I'd recommend cutting it in half.
More Soup Recipes You'll Love
This is the season for soup. Here are some more of my favorite fall soup recipes:
Try these traditional Puerto Rican dishes at your holiday celebrations:
As always you can find tons of delicious PR dishes in my Puerto Rican recipe collection.
Yield: 6 - 8
Asopao de Pollo (Puerto Rican Chicken & Rice Soup)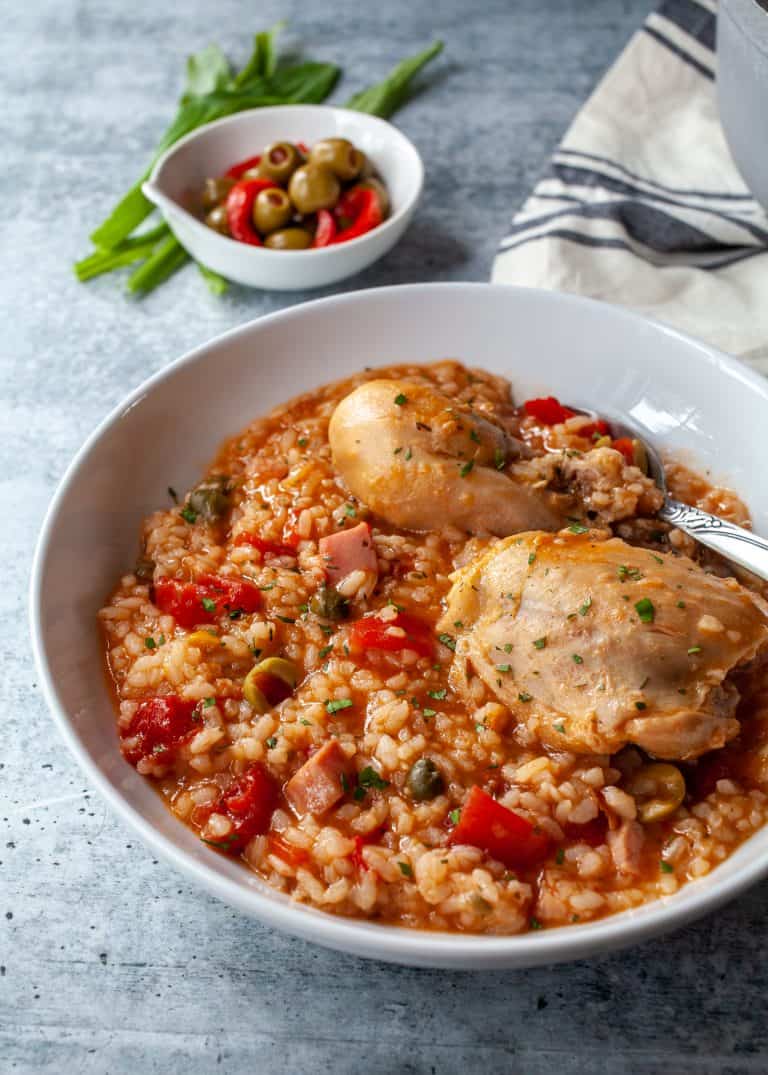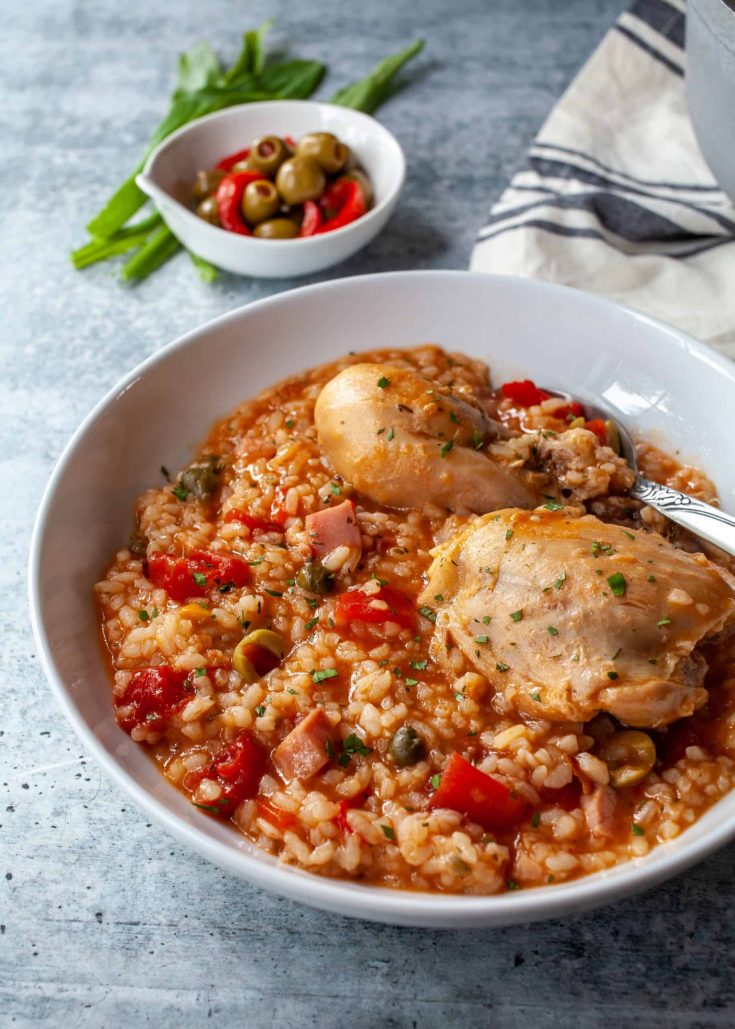 Asopao de Pollo is a classic comfort food in Puerto Rico. A chicken and rice soup with a creamy texture like gumbo.
Ingredients
1 whole chicken
2 teaspoons Adobo seasoning
3 tablespoons olive oil
1/2 cup sofrito
1 cup diced ham
1 4 oz can tomato sauce
1 14 oz can diced tomatoes
1 4 oz jar sliced pimentos
8 Spanish olives, sliced in half
1 tablespoon capers
1 chicken bouillon cube
2 1/2 cups medium-grain rice
9 cups water
1 tablespoon kosher salt
2 bay leaves
Instructions
Break chicken down and remove the skin, cut breasts in half. Store the chicken wings and back in a resealable plastic bag and freeze for making stock.
In a large bowl combine chicken pieces, olive oil, and adobo. Toss until the chicken is well seasoned.
Heat a 6-quart caldero or dutch oven over medium-high heat. Add olive oil and heat until shimmering. Working in batches brown the chicken pieces and set aside.
Add sofrito and saute for 1 minute, until fragrant, scraping up the brown bits at the bottom of the pot.
Add ham, tomato sauce, diced tomatoes, pimentos, olives, capers, bouillon, and rice. Mix until well combined.
Return chicken to the pot with any juices on the plate. Add water, if you can't fit all the water set it aside.
Add salt and gently stir until well combined.
Bring to a boil and lower to a simmer. Simmer for 20 - 25 minutes, or until rice is tender, stirring occasionally making sure the rice doesn't stick to the bottom of the pot.
As the water reduces add any remaining water.
Serve immediately.
Recommended Products
As an Amazon Associate and member of other affiliate programs, I earn from qualifying purchases.
Nutrition Information:
Yield:
8
Serving Size:
1
Amount Per Serving:
Calories:

363
Total Fat:

19g
Saturated Fat:

4g
Trans Fat:

0g
Unsaturated Fat:

12g
Cholesterol:

77mg
Sodium:

1475mg
Carbohydrates:

19g
Fiber:

2g
Sugar:

2g
Protein:

28g
One More Thing!
Rebecca and I launched the My Plate is Always Full Podcast! Just two friends and former chefs talking obsessively about food. You can go and subscribe now!
New episodes released every Wednesday!
In the meantime follow us on Instagram @my.plate.is.always.full  or visit our website!