Fricase de Pollo (Chicken Fricassee) | This post was sponsored by Pompeian.  All opinions expressed on my site are my own.
Fricase de pollo is a traditional Puerto Rican dish of chicken that is braised in wine with potatoes and carrots. It the kind of dish that warms your heart, fills your belly.
Over the last week, we've been spending a lot of time with my husband's family and it made me nostalgic for my favorite childhood dish fricase de pollo. It was my absolute favorite and still is my favorite! I remember the times I would walk through the door and the wonderful smell of fricase de pollo filled the air. I would get so excited! I still love it today because it's hearty, comforting and reminds me home.
Fricase de pollo it's a traditional Puerto Rican dish, versions of it are made throughout the Caribbean, it's typically chicken that is braised in wine or beer with potatoes and carrots. It's the kind of dish that warms your heart, fills your belly and only gets better the next day. My mom made it with red wine and I am going to stick with my mom's recipe.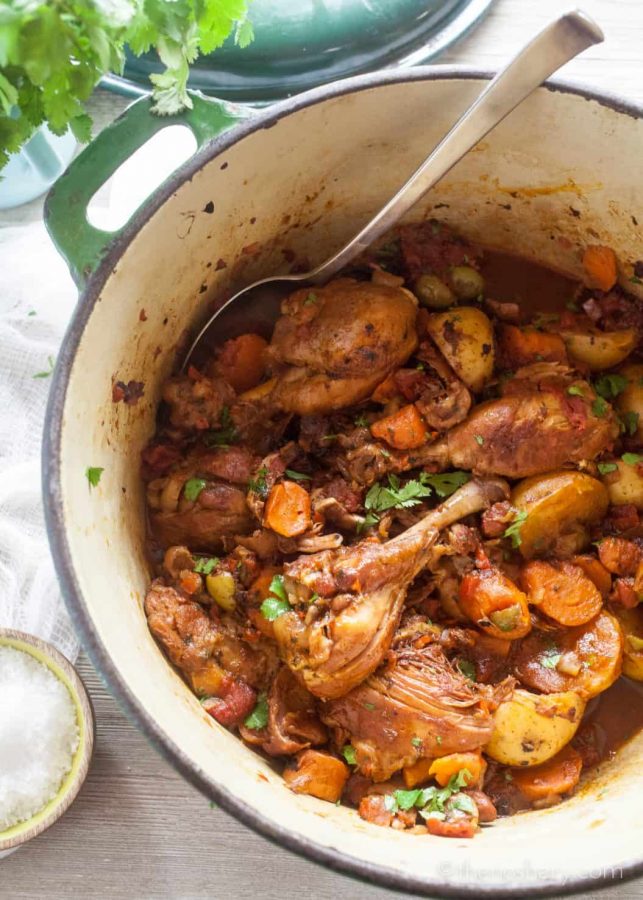 One of the keys to cooking a hearty Puerto Rican meal is good olive oil. You will always find a bottle of olive oil in a Puerto Rican kitchen. I have been using Pompeian for years because I love it! For this recipe, I decided to use Pompeian Smooth Extra Virgin Olive Oil because it's delicate flavor is fruity, aromatic and well balanced by a hint of spiciness. Making it perfect for in this wine and tomato-based sauce.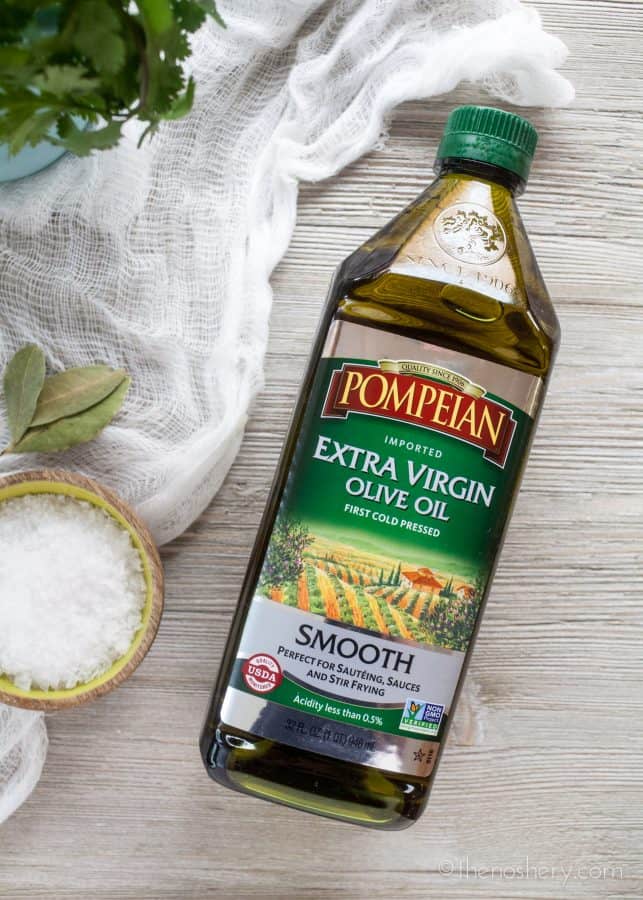 I made perfect sense to partner with Pompeian to bring you all the amazing trends in the kitchen this year. Pompeian knows that for today's home cooks, mealtime is not just about fueling up, it's about experimenting with the latest food trends to create shareable, Instagram-worthy dishes. So, this month is all about hearty meals that are sure to satisfy the whole family. And what is more satisfying than a bowl of white rice and hearty fricase de pollo?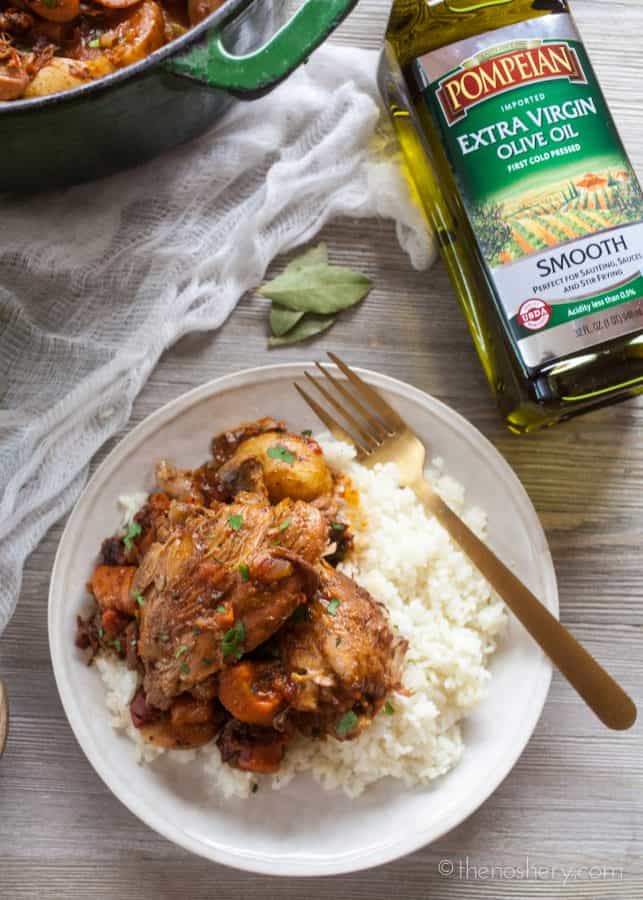 This dish will be a hit with the family.  The chicken turns out so tender it almost falls off the bone and the sauce it lick-off-the-plate good!  It is savory but it has a tangy sweetness because of the wine and after the chicken, my favorite has to be the carrots.  They are soft and sweet, like little nugget treats.  A bowl of rice is key because it soaks up all the sauce, guaranteeing you get don't miss a drop of flavor.  Oh and I can't forget, it makes awesome leftovers since everything sits and marinates in the sauce.  It is just heaven!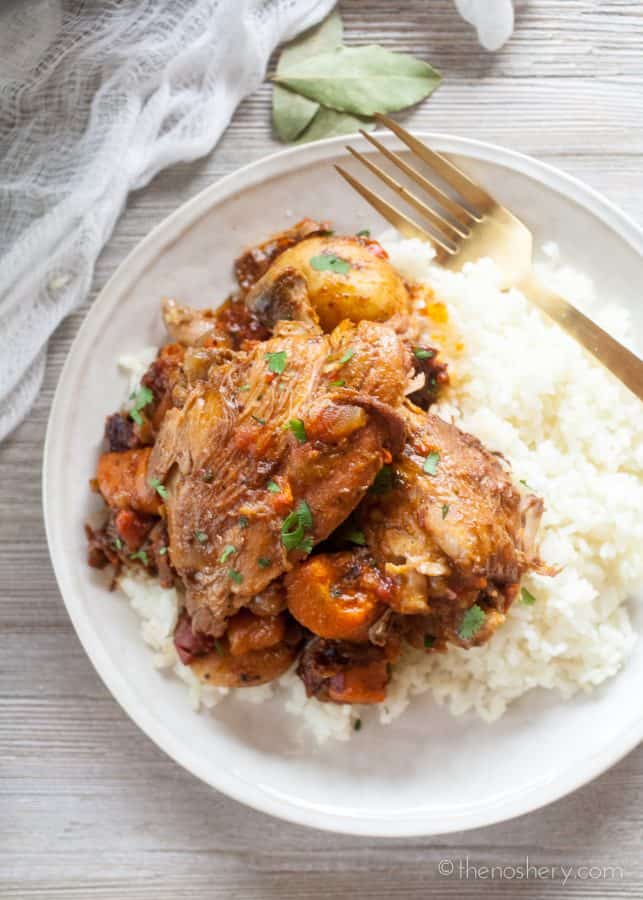 What to Serve with Fricase de Pollo
Wondering what to serve with fricase de pollo? I recommend a pot of white rice or arroz con gandules (rice and pigeon peas). If you're not in the mood for rice, which is just crazy talk, maybe try some arepas de coco (coconut fry bread).  And, no meal is complete without dessert! One of my favorite Puerto Rican desserts is tembleque (coconut pudding).
Need more Puerto Rican recipes? Check out my full collection of Puerto Rican recipes!
For more tips on how to trend in the kitchen, including recipes, visit Instagram.com/Pompeian. Also, we would love to share your latest on-trend creations using Pompeian, tag your photos with #TrendingintheKitchen.
More Puerto Rican Food Love
items used in this recipe
Pollo en Fricase (Chicken Fricassee)
Fricase de pollo it's a traditional Puerto Rican dish of chicken that is braised in wine with potatoes and carrots. It the kind of dish that warms your heart, fills your belly.
Ingredients
3 lbs. chicken pieces bone-in, skinned
3 teaspoons adobo spice seasoning
2 tablespoons olive oil
3 tablespoons garlic, mashed
2 tablespoons olive oil
1 onion, diced
½ red bell pepper, diced
¼ cup minced cilantro or culantro
1 cup red wine
1 14 oz can diced tomato
2 tablespoons tomato paste
2 bay leaf
12 olives stuffed with red peppers, halved
6 petite golden potatoes, halved
3 large carrots, peeled and sliced
salt to taste
Instructions
Combine chicken, adobo, 2 tablespoons olive oil, and garlic. Toss until well combined, cover and refrigerate for 30 minutes.


In a large heavy pot heat 1 tablespoon olive oil, add chicken brown evenly on all sides. Remove from oil and set aside. In the same pot add 1 tablespoon of olive oil, onion, bell pepper, and cilantro, saute for 4 minutes or until translucent. Add red wine to deglaze the pot, scraping up all the brown bits at the bottom of the pot. Stir in diced tomato and tomato paste. Return the chicken to the pot with the rest of the ingredients. Raise heat to bring to a boil, lower to a simmer and cover. Cook for 45 minutes or until chicken is tender. Uncover and simmer for 15 minutes or until sauce begins to thicken.


Serve over white rice.