Oven Roasted Chicken | I believe everyone needs a solid roast chicken recipe. I mean when it comes to kitchen 101 survival a roast chicken is at the top of the list. And, it's so simple that anyone can make oven roasted chicken.
I have tried several different recipes, with different seasonings, roasting times, and roasting temperatures. This is the combination I have settled on. I like this particular oven roasted chicken because the quick brine and seasoning result in an oven roasted chicken that is reminiscent of rotisserie chicken.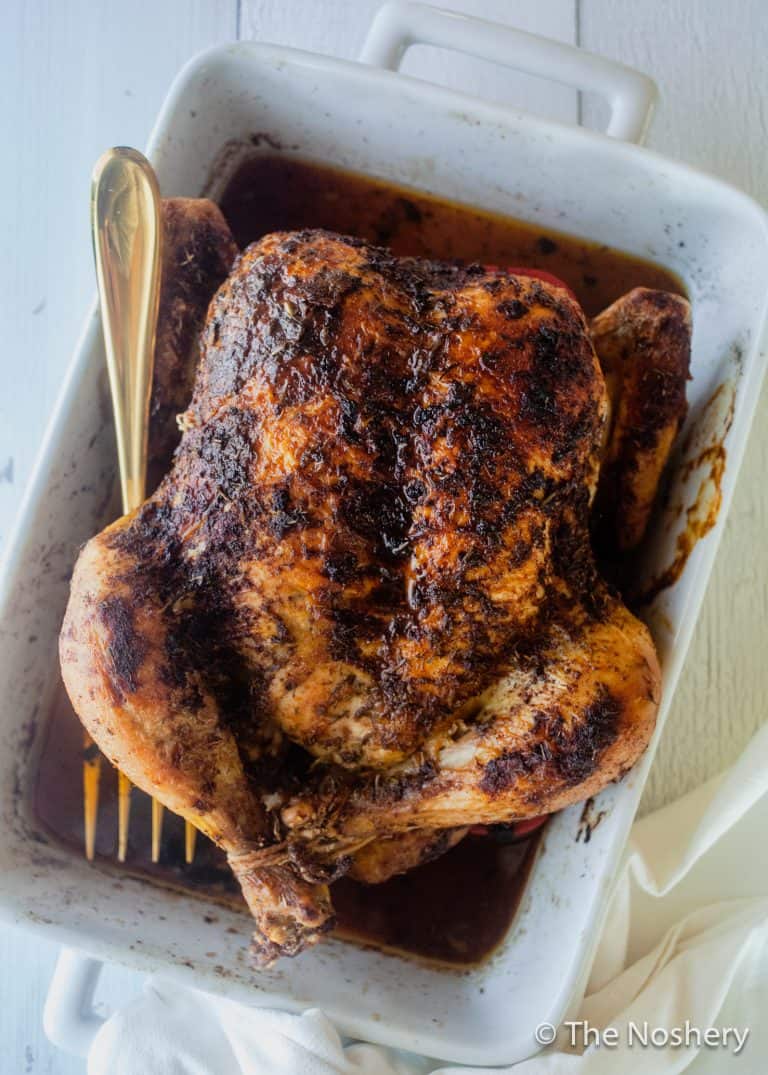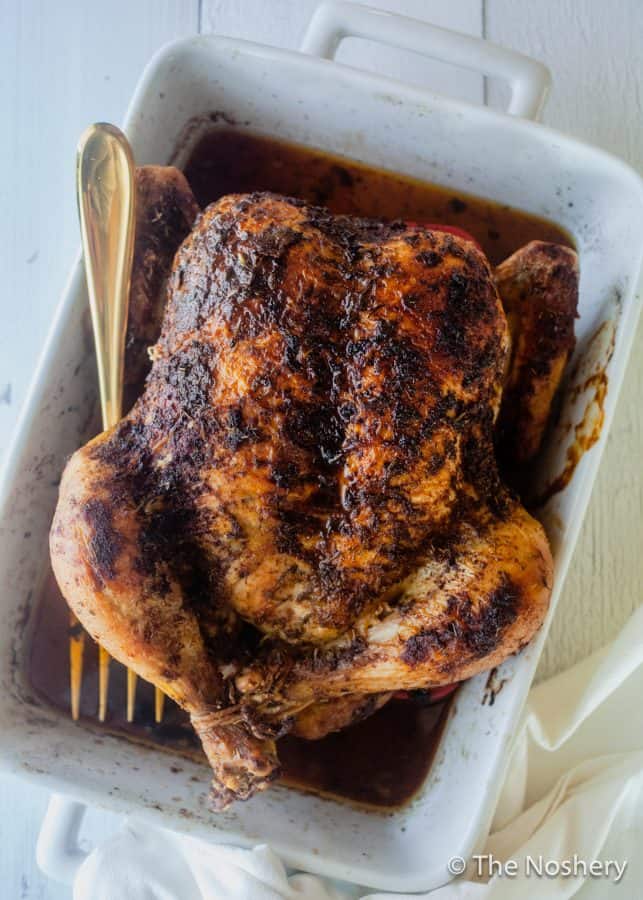 How Long Does it Take to Roast Chicken in The Oven?
The standard cooking time for a whole chicken is 20 – 30 mins a pound at 375° F. So, a chicken weighing 4 lbs could take 1.45 to 2 hours. Of course, the cooking time will change depending on the temperature it's cooked at. For example, in this recipe, I roast a 4 lbs chicken for 1. 5 hours at 400° F.
But, but the best way to know if a chicken is done is to take its internal temperature.
What Temperature Should a Whole Chicken be Cooked To?
The best and safest way to know that your chicken is fully cooked it to take its internal temperature. Please DO NOT slice into the chicken to check if it's done. All you are going to do is release all the juices before they have had a chance to settle and end up with dry chicken.
All poultry must be cooked to an internal temperature of 165 °F. I always check the internal temperature in the innermost part of the thigh and the thickest part of the breast. When they both ready 165° F your chicken is done.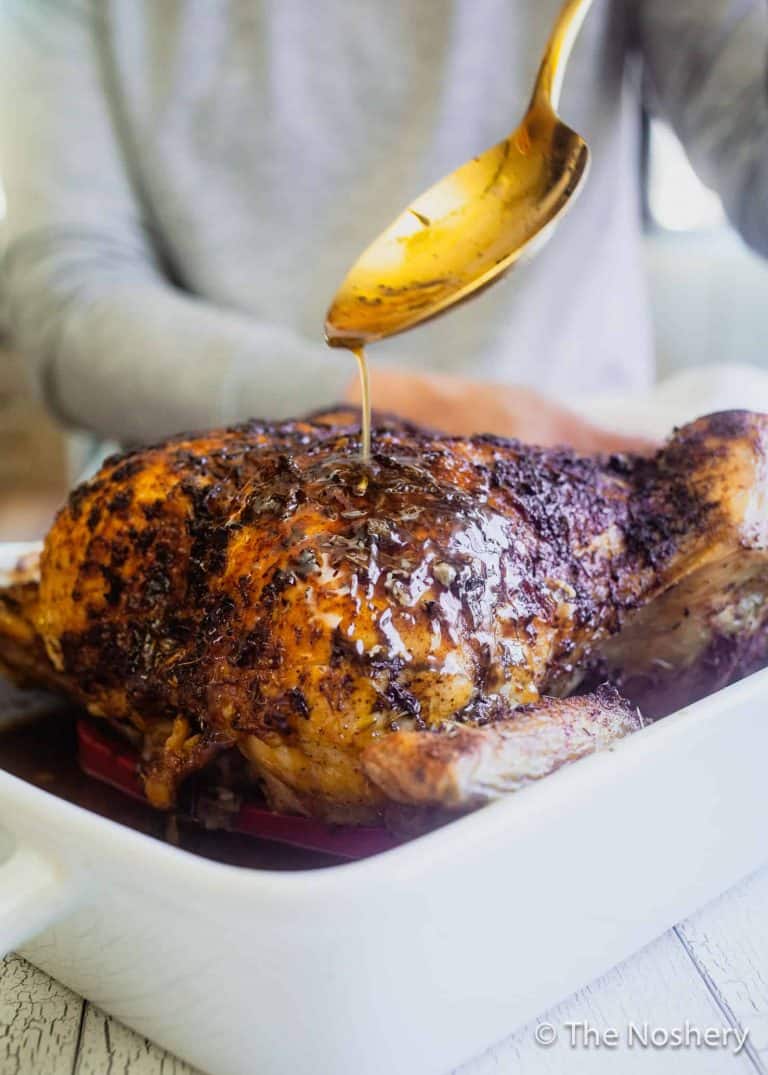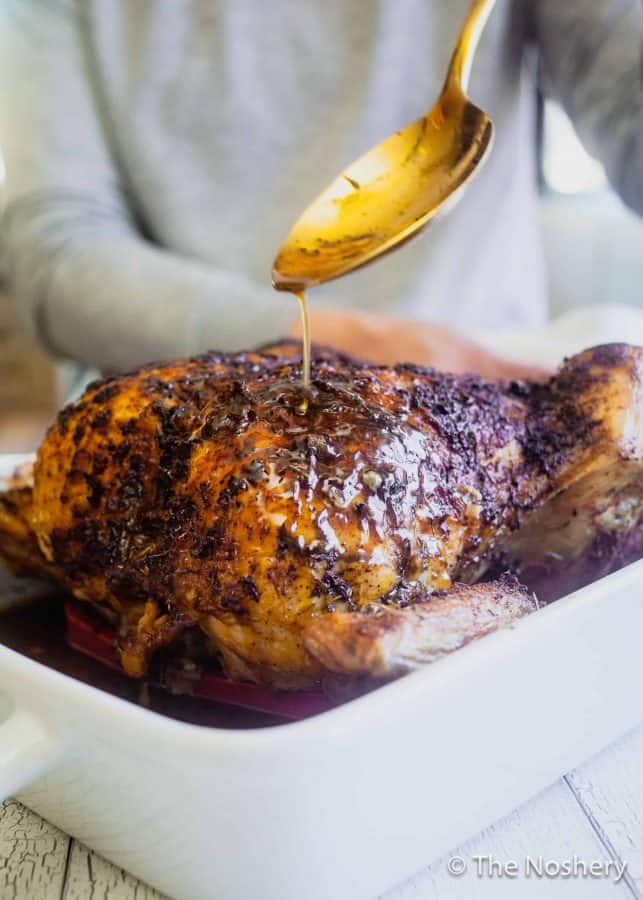 Oven Roasted Chicken Recipe Ingredients
Brine
3 quarts water
3/4 cup table salt
Chicken
1 tablespoon thyme
1 tablespoon garlic powder
1 tablespoon kosher salt
1 teaspoon onion powder
3 teaspoons paprika
3-4 lbs whole chicken
How To Make the Best Roast Chicken
If you want a foolproof juicy roast chicken step one is brine your chicken for 1 hour. Brine is a mixture of water and salt. You can also add citrus, aromatics, and spices to the mixture if desired.
Brining meats is the best way to increase moisture and tenderness. This is especially important for chicken which can easily dry out in the oven. Soaking the chicken in a brine causes it to absorb some of the water through osmosis. Resulting in a moister chicken when cooked.
I then remove it from the brine, pat it dry, and rub it with a mixture of spices. I then roast it in the oven at 400° F for 1.5 hours or until it reaches an internal temperature of 165° F.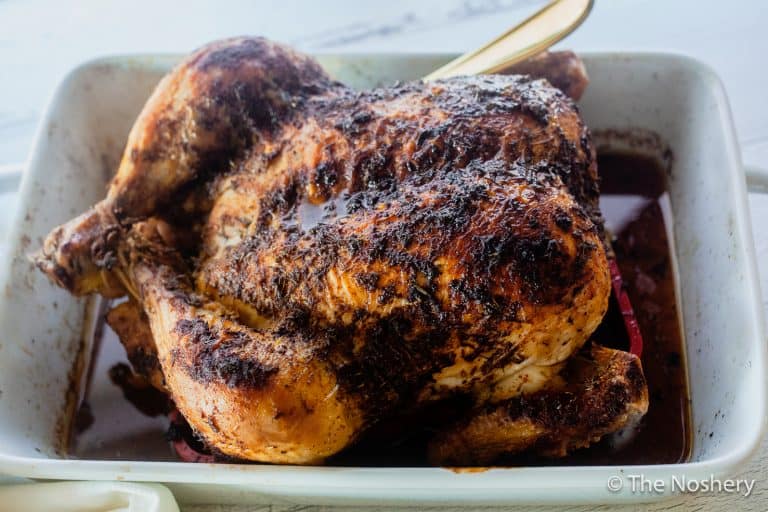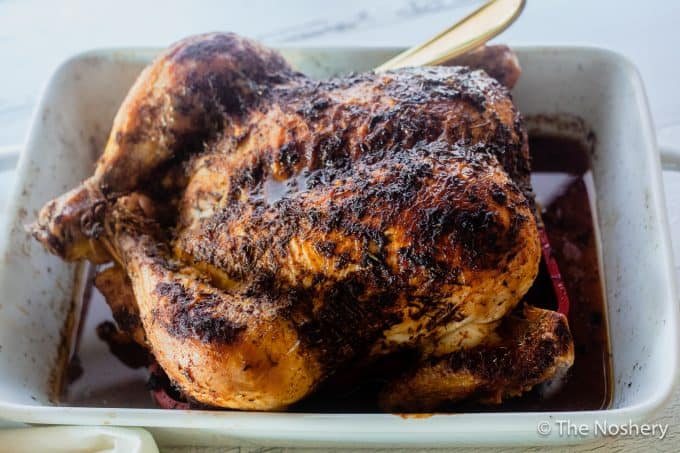 This oven roasted chicken is delicious fresh but, what I really love about this chicken recipe is that it's still great cold or reheated. Because it is brined it still stays tender even after chilled and reheated. Making it the perfect roasted chicken for meal prep.
I like to prepare two of these chicken early in the week to have on hand for easy lunches and dinners. I'll pick the chicken and use it in my light thai peanut noodles with chicken or roasted poblano chicken enchiladas skillet. It's also great over a salad or tossed with noodles and roasted tomato and vegetable pasta sauce.
more chicken dinner love
Yield: 4 - 6 servings
Oven Roasted Chicken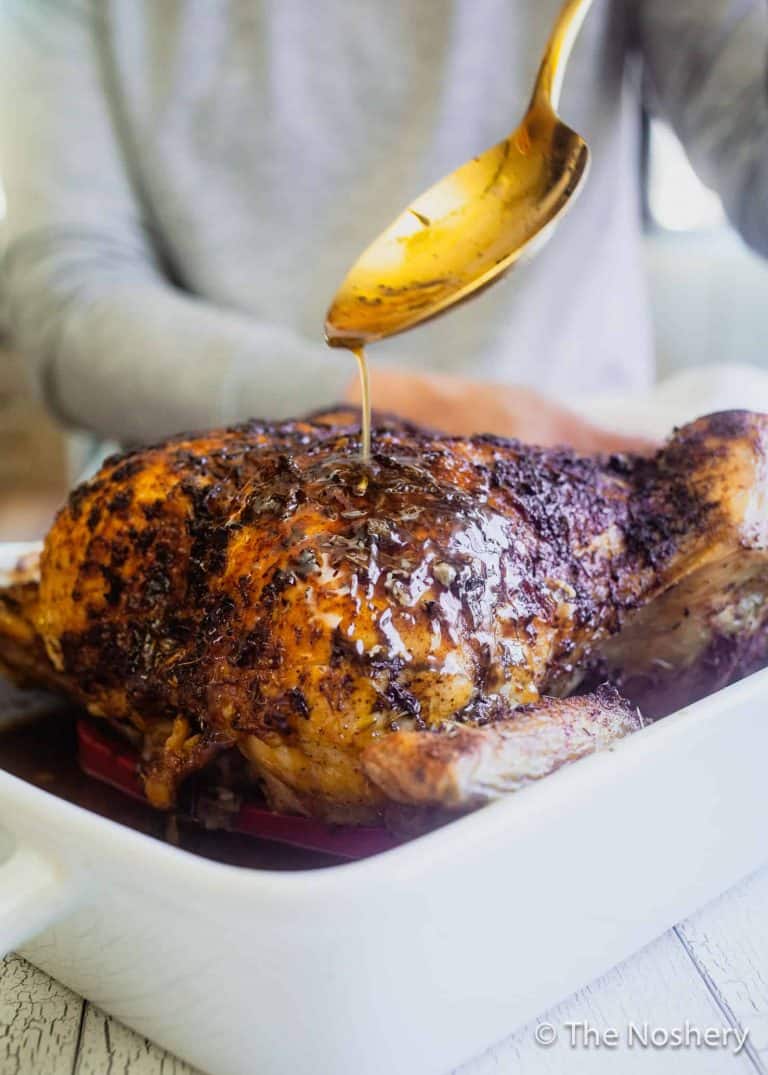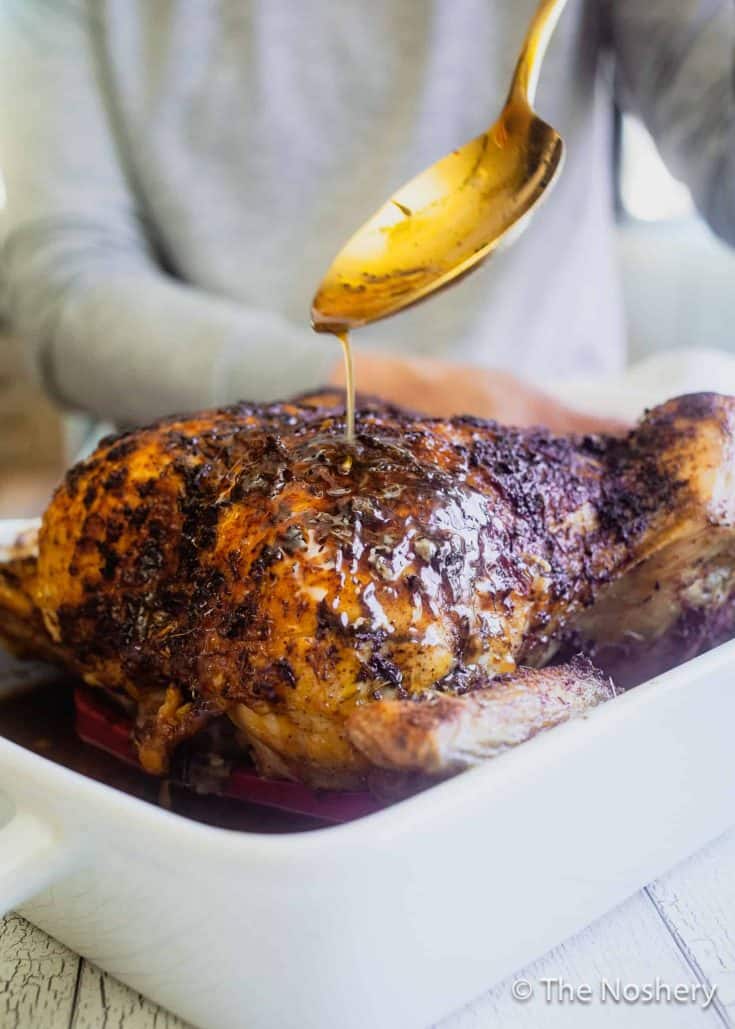 A simple roasted chicken makes for an easy flavorful dinner. It's also perfect to make early in the week to use for quick and healthy lunches and dinners. This chicken is brined, seasoned, and roasted for optimal flavor and tenderness.
Cook Time
1 hour
30 minutes
Total Time
2 hours
45 minutes
Ingredients
Brine
3 quarts water
3/4 cup table salt
Chicken
1 tablespoon thyme
1 tablespoon garlic powder
1 tablespoon kosher salt
1 teaspoon onion powder
3 teaspoons paprika
4 lbs whole chicken
Instructions
In a large 8 quart bowl combine 3 quarts water with 3/4 cup of table salt. Whisk together until salt is mostly dissolved.
Check the chicken for any giblets. If it has any remove them. Submerge chicken into brine. Cover and place in the refrigerator for 1 hour.
Remove chicken from brine and pat chicken dry with clean paper towels.
In a small bowl combine thyme, garlic powder, kosher salt, onion powder, and paprika. Mix until well combined.
Place chicken in a roasting dish. Drizzle chicken with 2 tablespoons of olive oil and rub chicken evenly with spice blend.
Truss the chicken by tucking it's wings behind it and tying the legs. Roast uncovered for 1.5 hrs at 400° F or until the internal temperature reaches 165° F.
Let the chicken rest for 15 mins before serving.
Recommended Products
As an Amazon Associate and member of other affiliate programs, I earn from qualifying purchases.
Nutrition Information:
Yield:
6
Serving Size:
4 oz
Amount Per Serving:
Calories:

213
Total Fat:

11g
Carbohydrates:

1g
Protein:

27g