This post was sponsored by Rumba Meats. All opinions expressed on my site are my own.
Puerto Rican Stewed Beef Tongue (Lengua de Res Guisada) | When I was very young, we used to spend summers in Florida with extended family. And I remember that, during one of these visits, I had my very first experience with beef tongue.
My Titi Denny was making a beef tongue stew and my Tio Jorge decided this was an opportune time to torture me by chasing after me with the tongue. Any other kid may have been reluctant to sit down to dinner that night, but curiosity got the better of me, and I sat down with a plate of lengua guisada and rice.
Spoiler alert: I loved it. And I still enjoy it today. It might not be the most attractive cut of meat in the world—especially if your introduction to it involves being chased across a house—and it takes a little practice to clean. But if that's all that's stopping you, then allow me to change your mind.
The flavor and texture of a beef tongue are out of this world when prepared the right way. Today I'm excited to partner with Rumba Meats, supplier of easily accessible variety meats, to show you our favorite way to enjoy cow tongue at a Puerto Rican table. And how EASY it is to find and make.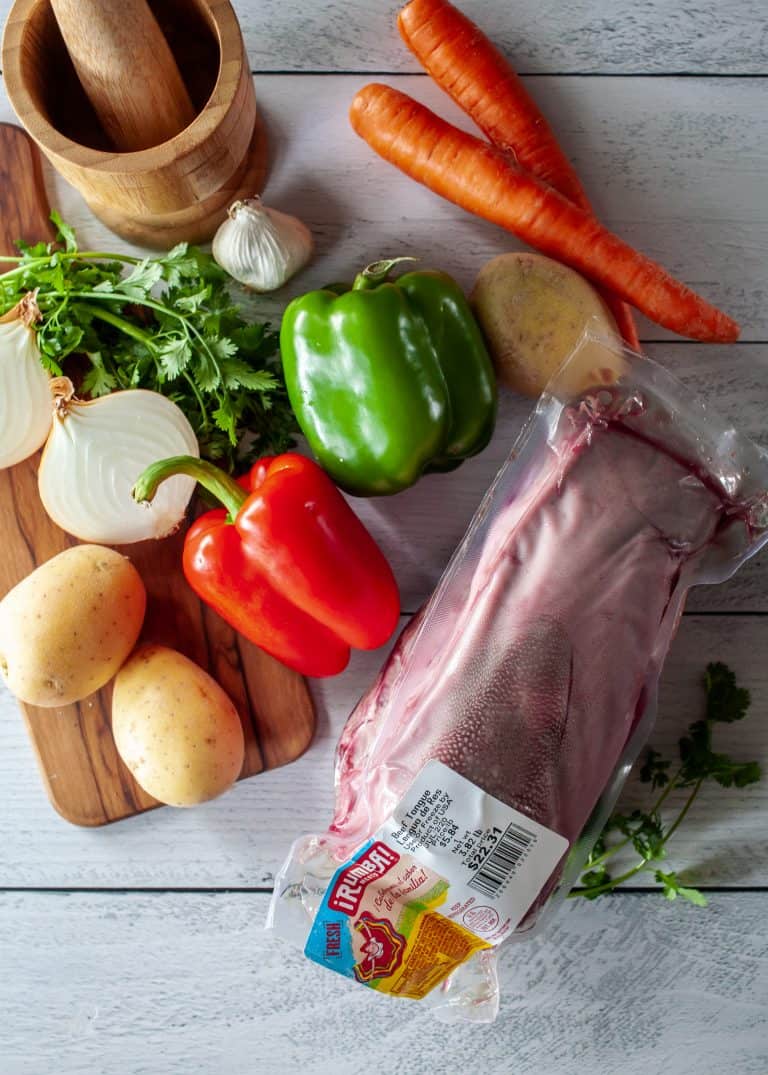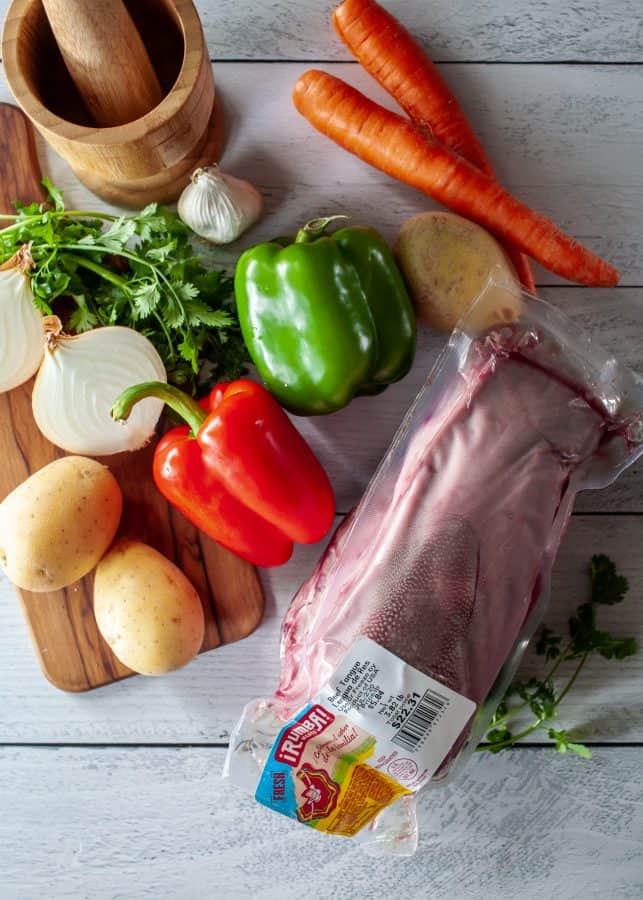 Why beef tongue?
While beef tongue became more of a rarity on American tables after about the 1950s, countries and cultures all over the world enjoy beef tongue. In Mexico, they serve beef tongue in delicious tacos de lengua, and it's also offered at many BBQ restaurants in Korea and Japan.
I'm telling you. Modern America is missing out, dude.
What does beef tongue taste like?
This is going to be a shocker to some of you, but BOOM! It tastes like beef.
The flavor is rich and hearty and, when prepared properly, the tongue has a tender texture. It tastes similar to a filet mignon or flank steak but with a slightly milder flavor—almost like a lamb shank. You'll understand when you try it.
I was grateful to partner with Rumba Meats in their "El Sabor of Your Heritage" campaign to demystify this delicious but highly underrated cut of beef and celebrate its place in the Puerto Rican culture.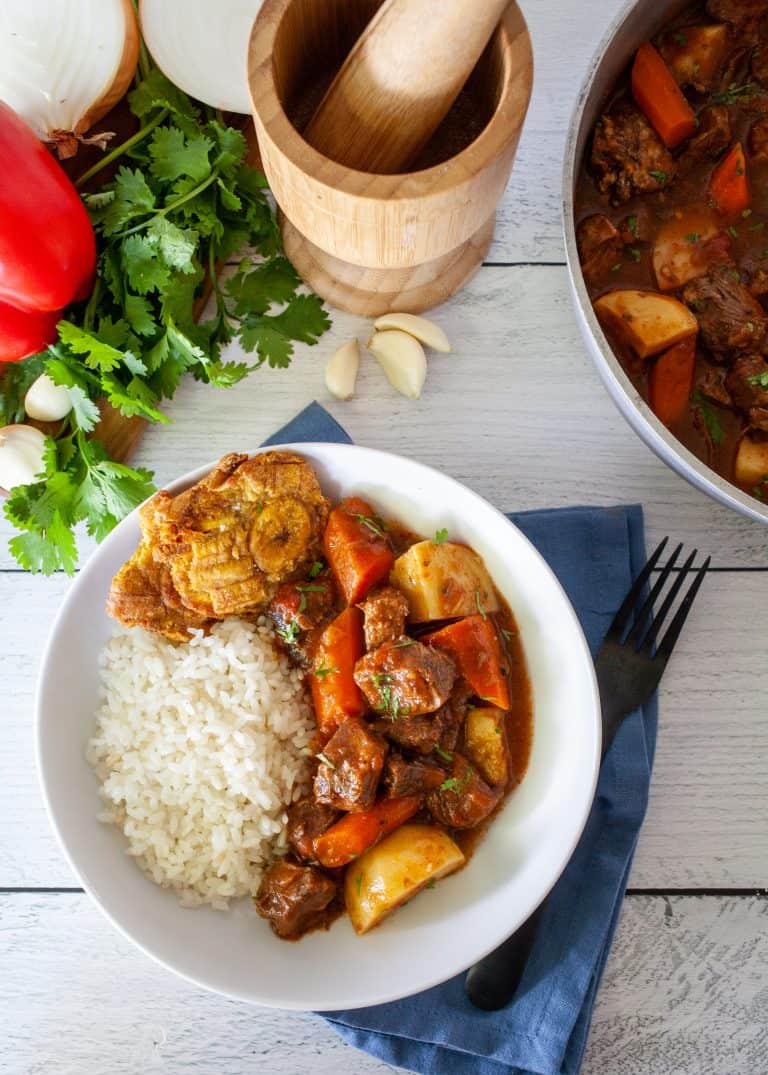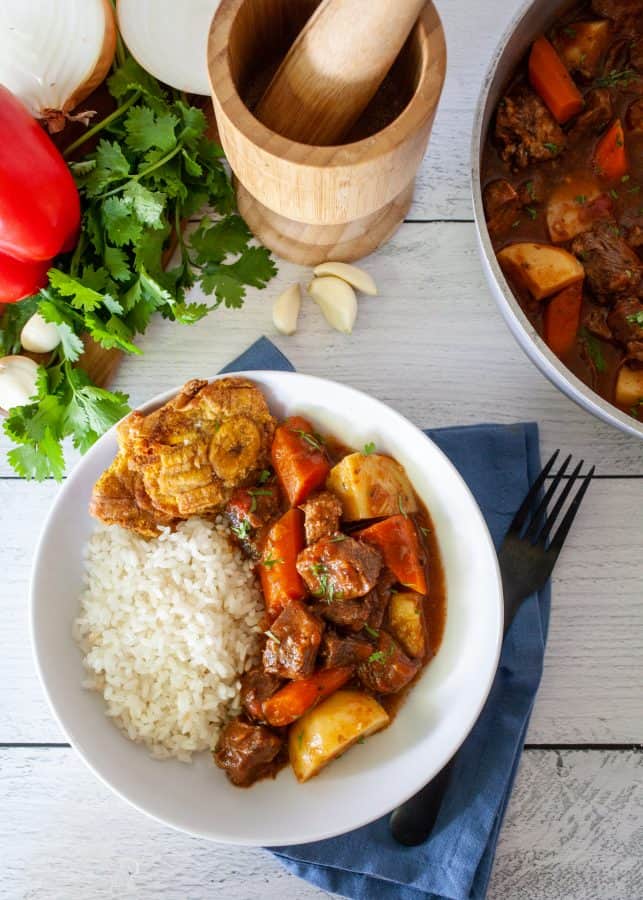 Rumba Meats
I love the mission of Rumba Meats, taking the variety meats that are staples of many cultures and offering them at affordable prices at mainstream retailers across the country. You can find a store that carries them near you by checking out their store locator.
As I mentioned above, their specialty is variety meats. They offer several different kinds of beef tripe, sweetbreads, suet, cheekmeat, feet, heart, tongue, tripas, kidneys, and liver. They also offer marrow, neck, and oxtail bones of the beef and specialty muscle cuts like cross-cut hind shanks.
But while their products are high quality and affordable, I can especially get behind their focus on family, heritage, and gathering loves ones around the table for meals rich in flavor and history.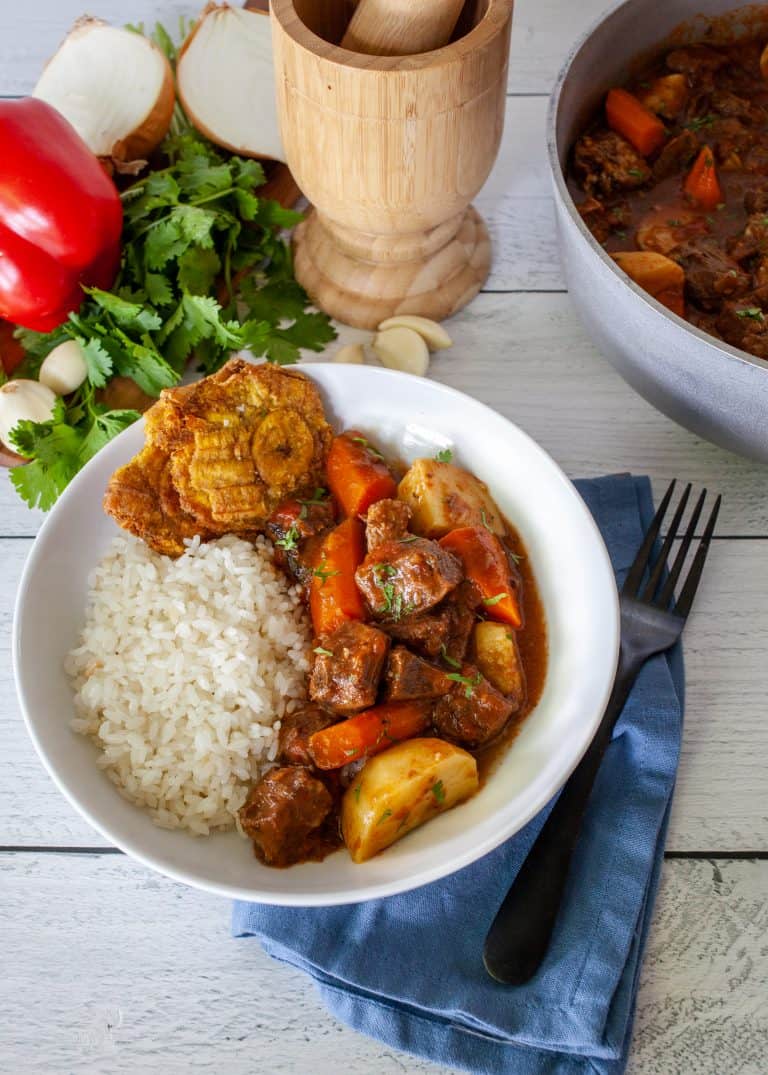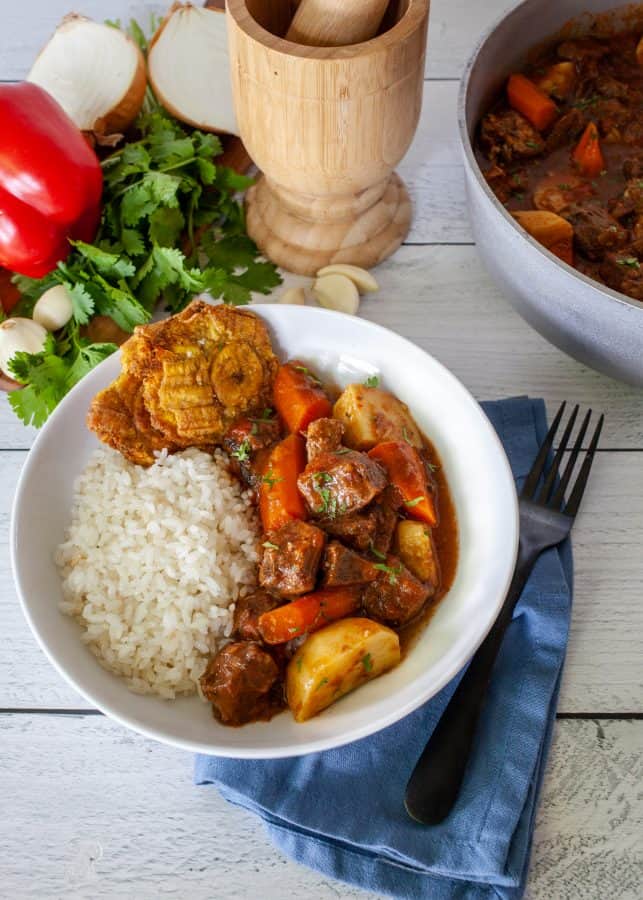 How to clean beef tongue
A few steps will make this cut a lot tastier and easier to work with. Start by removing the base connective tissue and any gristle. Then simmer the tongue in a large pot for 45 minutes so that the tissue begins to break down and get nice and tender.
When 45 minutes is up, remove it and pat it dry. Once it is cool enough to handle, cut the tongue in half lengthwise. Down the center of the tongue, you will find a small gelatinous core blood vessel. Carefully remove it and the outer skin. A filet knife works wonders for that.
After cutting the tongue into cubes, now you're in business!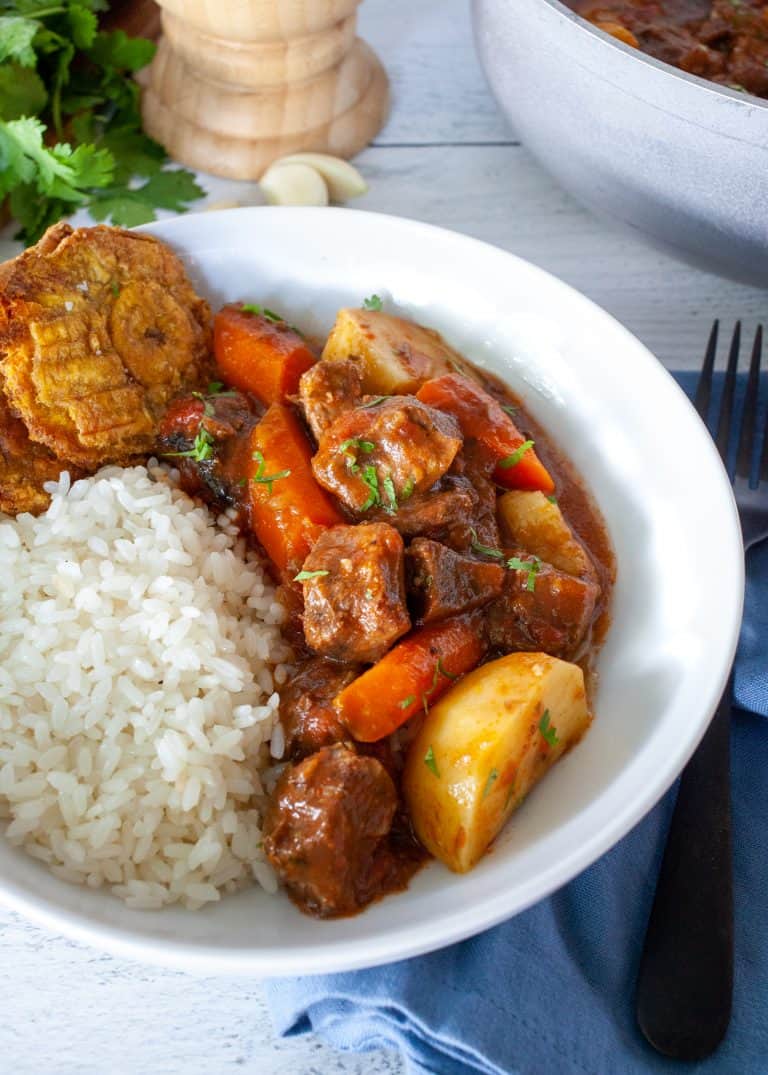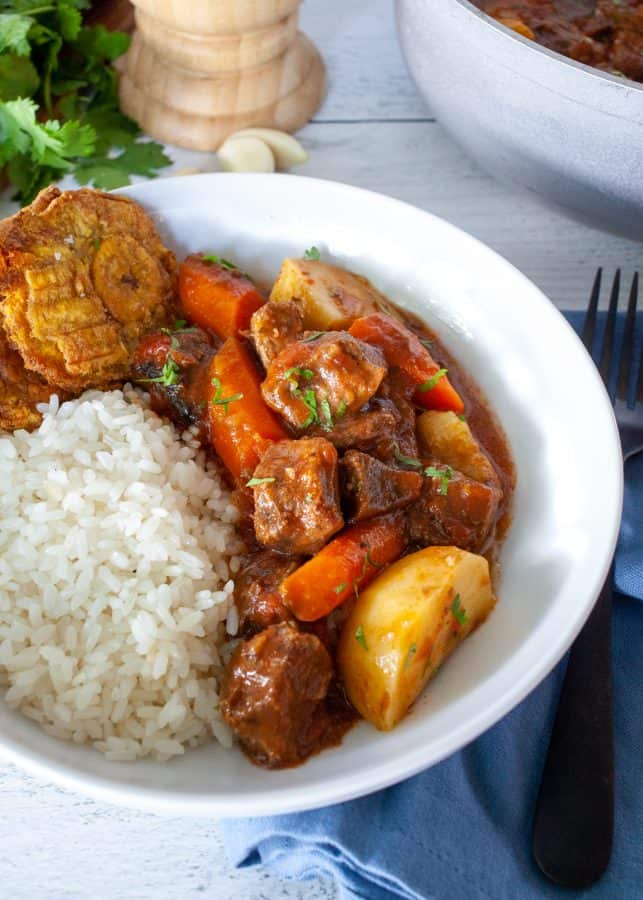 How to make this stewed beef tongue recipe
You can totally cook beef tongue in a Dutch oven or slow cooker, but I chose an Instant Pot pressure cooker to get that tender texture more quickly.
First, turn the Instant Pot or other pressure cooker on saute mode (set to MORE for high heat). Heat olive oil in the pot and then add your sofrito. After about 2 minutes, cue the best smell in the world!
Once that's starting to get soft, add the cubed beef tongue, Sazón seasoning, and 2 teaspoons of salt. When the beef tongue is slightly browned, pour in 3 cups of water and add the bay leaf, tomato sauce, diced canned tomatoes, and vinegar.
After everything's well-combined, add the lid to the Instant Pot, making sure the valve is set to SEALING, and set your cooking time to 45 minutes on high pressure.
Once the timer goes off, instantly release the pressure, add the potatoes and carrots, and set it to SAUTE (the MORE option again) for 30 minutes. Bring to a boil and let the mixture cook, stirring it occasionally, for 30 minutes or reaches an internal temperature of 160°F.
And then it's done! Spoon the cooked tongue over some white rice or even some arroz con gandules for a hearty, satisfying Puerto Rican dinner.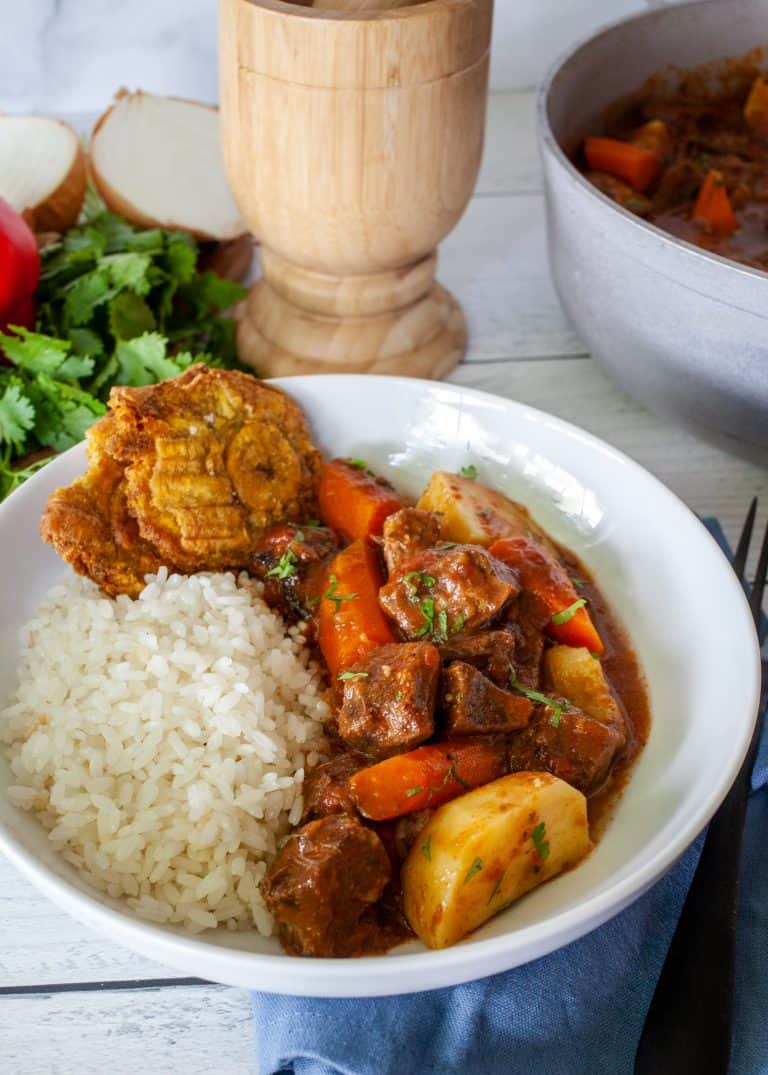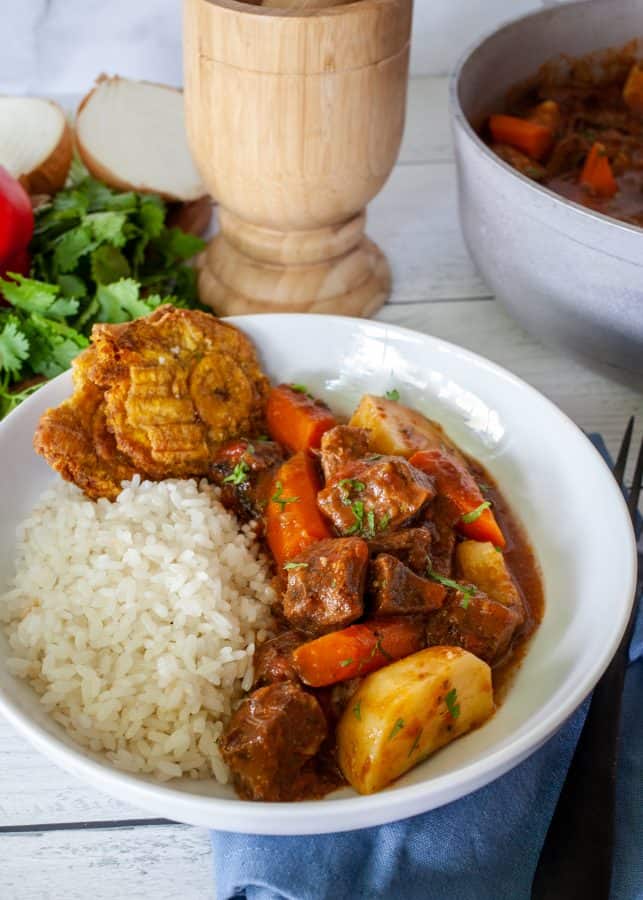 Perfect Puerto Rican comfort food
I'd wager 100 pinchos de pollo that if you served this dish alongside some other Puerto Rican comfort foods like slow cooked pernil, tostones, and arroz con pollo, your guests would never know they were eating cow tongue. They'd go back for seconds even and then ask for the recipe because it's that good.
From the careful knife cuts of cleaning the tongue, to the layering of flavors, to the gradually better smells of the kitchen as the dish progresses, to me, even the process of cooking this dish is comforting.
I'm telling you, don't miss out on beef tongue and other variety cuts of meat. When prepared properly, their taste and texture are melt in your mouth delicious!
To try more tongue recipes, click here to see Rumba Meats list of delicious beef tongue dishes.
More Puerto Rican comfort food
Yield: 6
Instant Pot Puerto Rican Stewed Beef Tongue (Lengua de Res Guisada)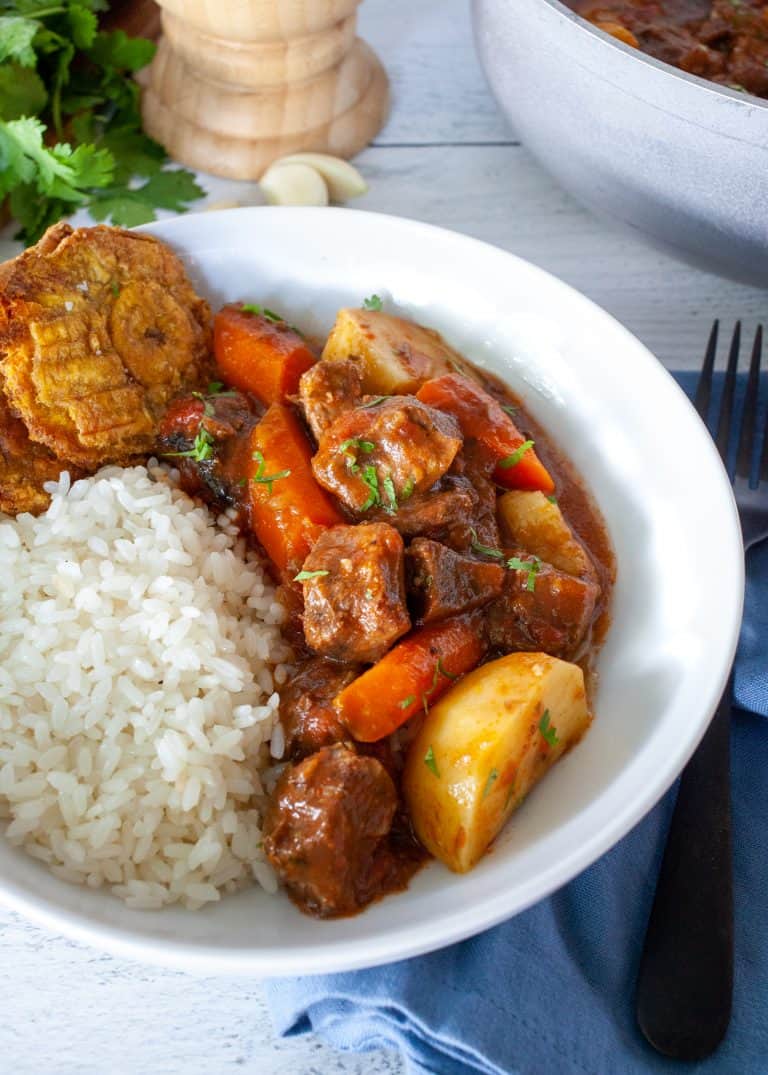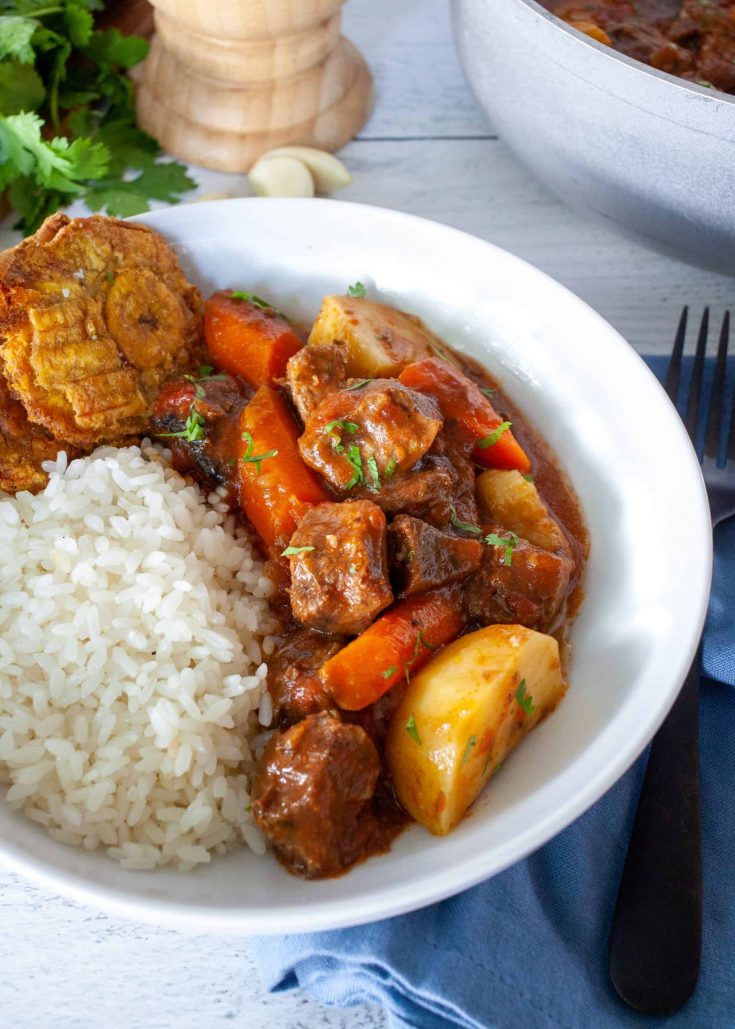 This stewed beef tongue recipe shows how to prepare this underrated cut of meat to melt-in-your-mouth perfection, stewed in delicious Puerto Rican flavors.
Cook Time
1 hour
15 minutes
Additional Time
45 minutes
Total Time
2 hours
15 minutes
Ingredients
3 lb beef tongue
2 tablespoons olive oil
1 envelope sazón sin achiote
2 teaspoons kosher salt
4 cups water
1 8-oz can tomato sauce
1 15-oz can diced tomato
2 bay leaves
2 tablespoons white vinegar
5 Yukon gold potatoes, peeled and diced
3 medium carrots, peeled and chopped
Instructions
Prep Beef Tongue
Remove the connective tissue and gristle from the base of the beef tongue.
Place the tongue in the Instant Pot and cover with water. Set to saute on MORE. Cover with a skillet lid and bring to a boil. Boil covered for 45 minutes.
Carefully remove from the water and pat dry. Discard the water.
Once it's cool enough to handle slice the tongue in half lengthwise. Using a fillet knife remove the vessel from the center of the tongue and the skin.
Dice the tongue into 1-inch cubes.

Stewed Beef Tongue
Add olive oil to the bowl of the Instant Pot. Set the Instant Pot to saute on MORE.
Once the oil is heated and simmering add 1/4 cup of sofrito to the pot. Saute the sofrito until fragrant, for about 2 minutes.
Add the diced beef tongue, sazón, and 2 teaspoons of salt. Stir until well combined and the beef tongue is lightly browned about 4 minutes.
Add water, bay leaves, tomato sauce, diced canned tomatoes, and vinegar.
Stir until well combined and cover with Instant Pot cover. Set to HIGH pressure for 1 hour. Once done quick-release pressure.
Remove cover, add potatoes and carrots. Set to saute MORE for 30 minutes.
Let boil uncovered, stirring occasionally to keep from sticking, until the sauce has reduced and carrots and potatoes are fork-tender.
Serve with white rice.
Recommended Products
As an Amazon Associate and member of other affiliate programs, I earn from qualifying purchases.
Nutrition Information:
Yield:
8
Serving Size:
1
Amount Per Serving:
Calories:

613
Total Fat:

42g
Saturated Fat:

14g
Trans Fat:

1g
Unsaturated Fat:

21g
Cholesterol:

225mg
Sodium:

738mg
Carbohydrates:

23g
Fiber:

3g
Sugar:

4g
Protein:

36g