Changing up the traditional tomato soup and giving it a little texture. This is a simple rich and comforting soup with so much flavor for minimal effort.
Tomato soup is one of my favorite soups. No matter what time of year it is, hot or cold I love a piping hot bowl of soup. You have to understand that it's warm year-round in Puerto Rico. And, I grew up being told that hot soup on a hot day is good for you because it makes you sweat and cools you off. I know, initially, it sounds counter-intuitive. But, the purpose of sweat is to cool off the body so it kind of makes sense.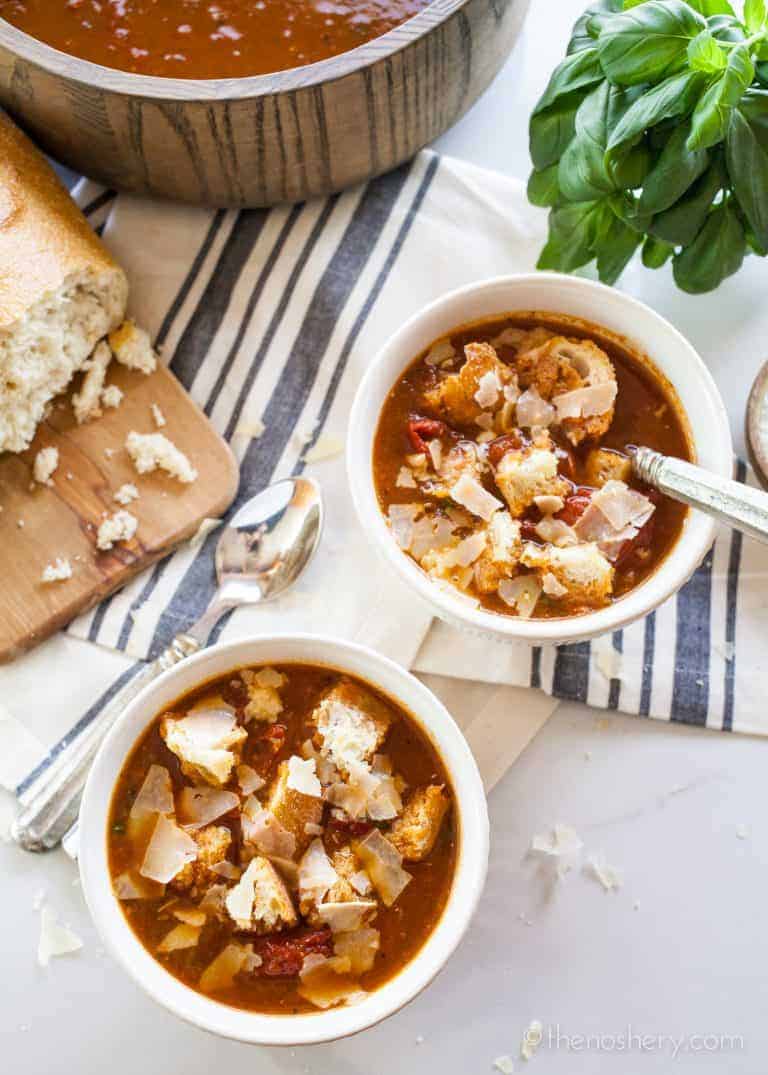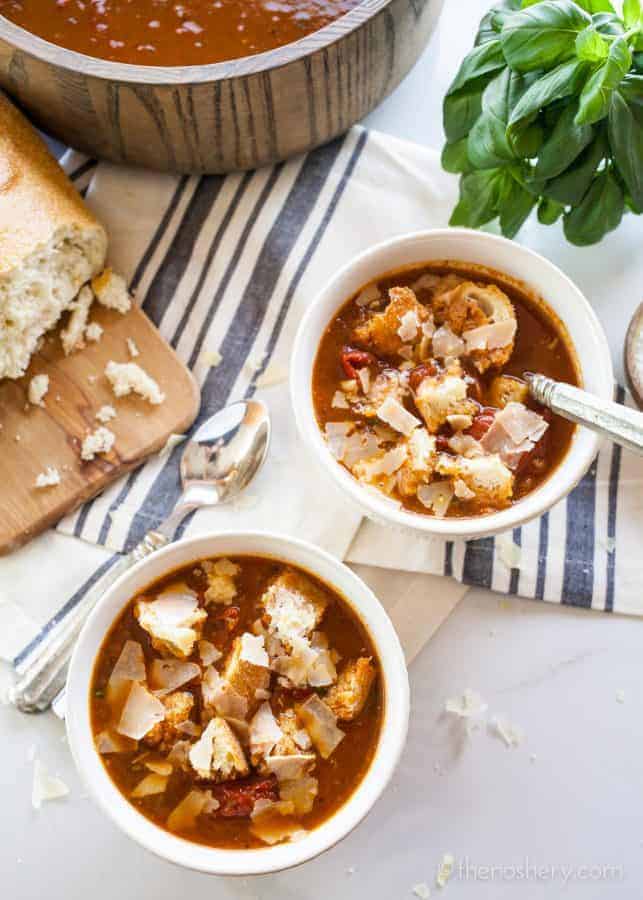 Regardless, I don't care I don't need a reason to enjoy a bowl of tomato soup. I love it because it's comforting, sweet, tangy, and so satisfying. And it's saying a lot if I can find a vegetable soup satisfying. Tear me off a piece of hearty crusty bread and with a bowl of tomato soup and I am good to go.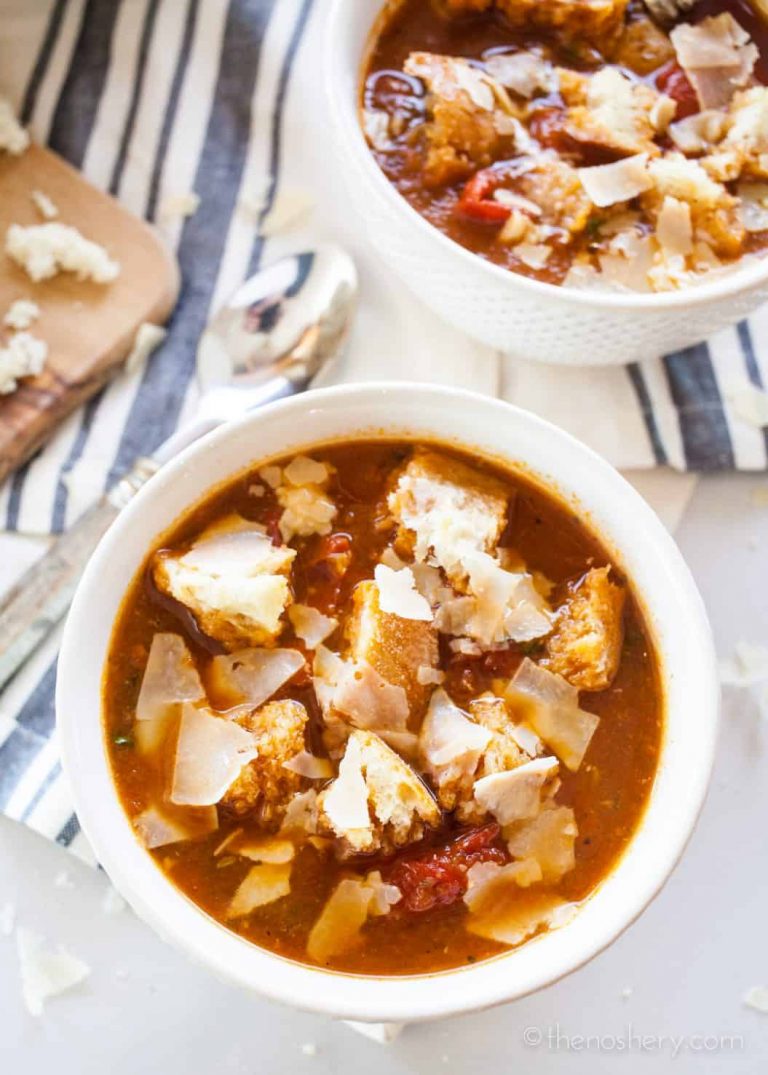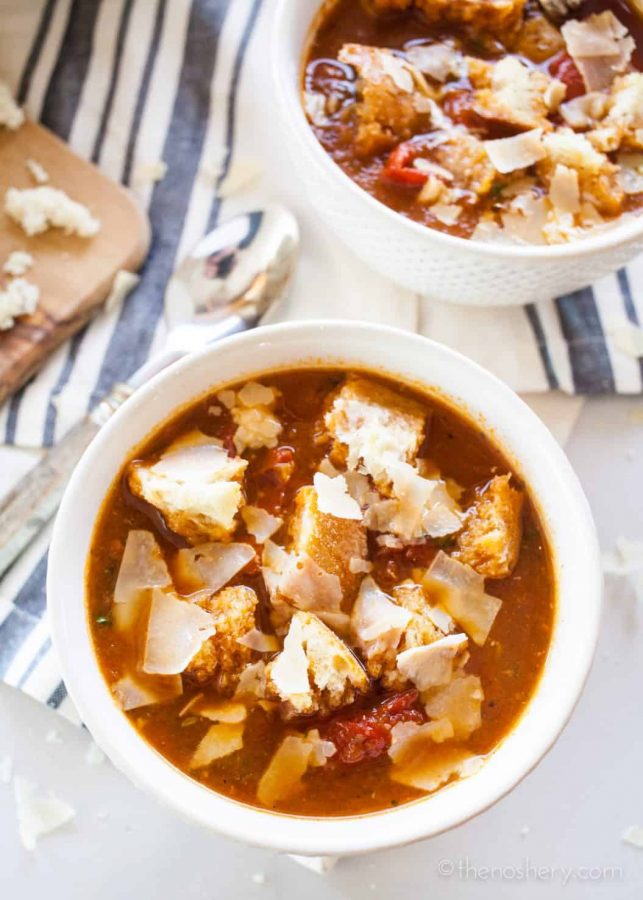 Inspired by traditional tomato soup I thought it would be fun to make it just a little different. For this recipe, I used vegetable stock and my roasted tomato and vegetable pasta sauce for the soup base. You can use any tomato vegetable pasta sauce but, not to toot my own horn, my sauce is kind of amazing. And, it adds great flavor to the soup. I then added roasted tomatoes to give it a chunky texture and torn fresh basil. Finally, I garnished the soup with croutons and parmesan cheese. Dang, it! It was good!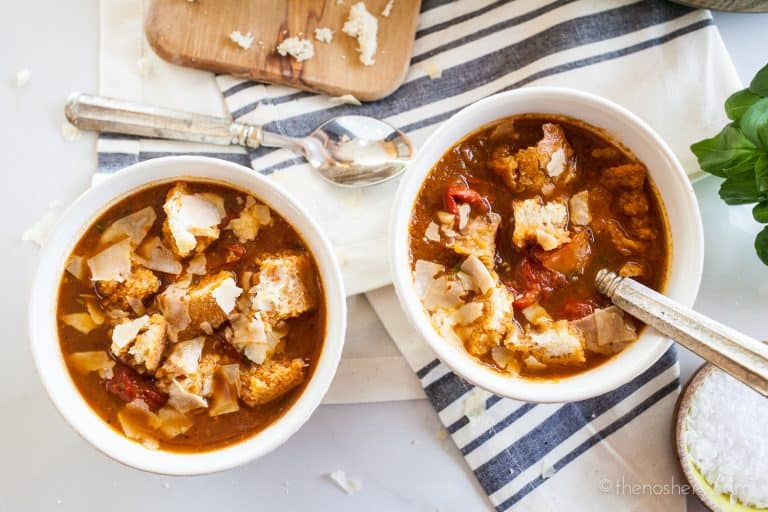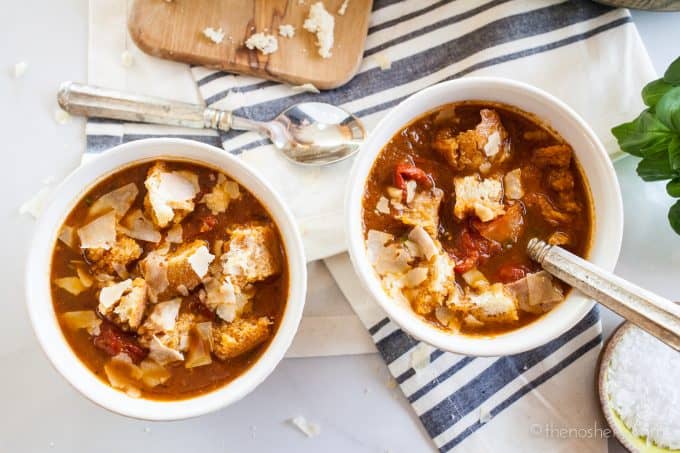 If you are as big a fan of tomato soup as I am you are going to flip over this one. This is such a simple recipe and you get so much flavor for minimal effort. I just love this soup, it's comforting and rich in flavor. Also, it would be out of this world with a cheesy toasted panini.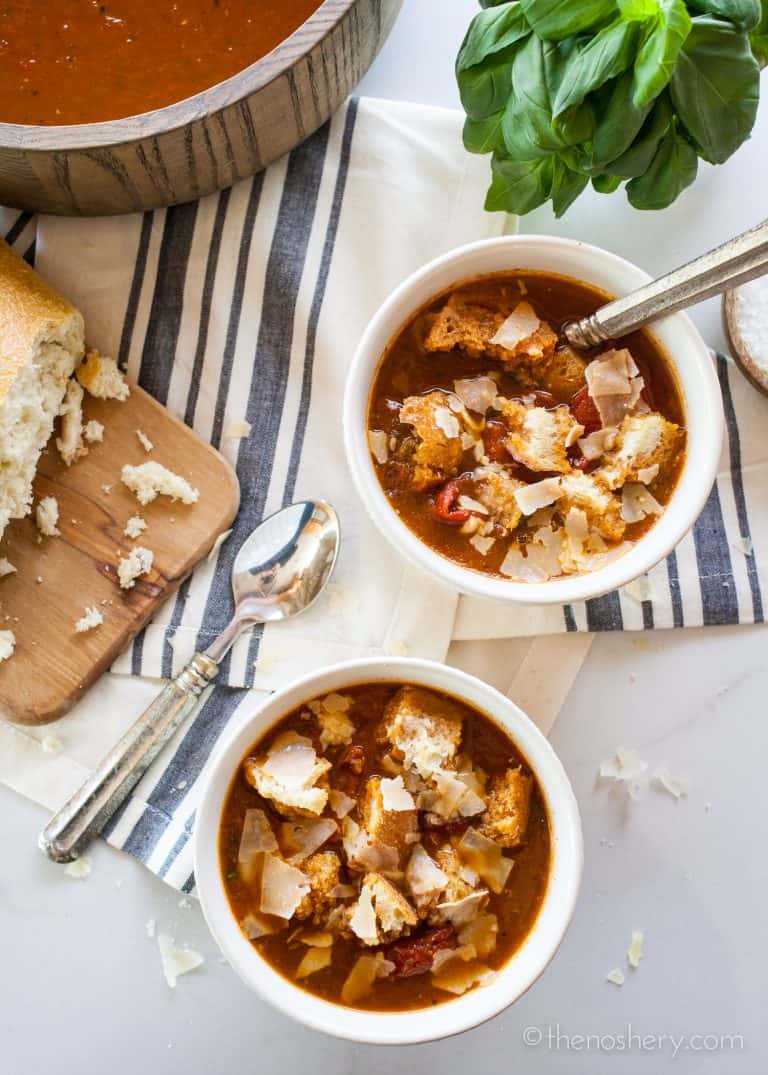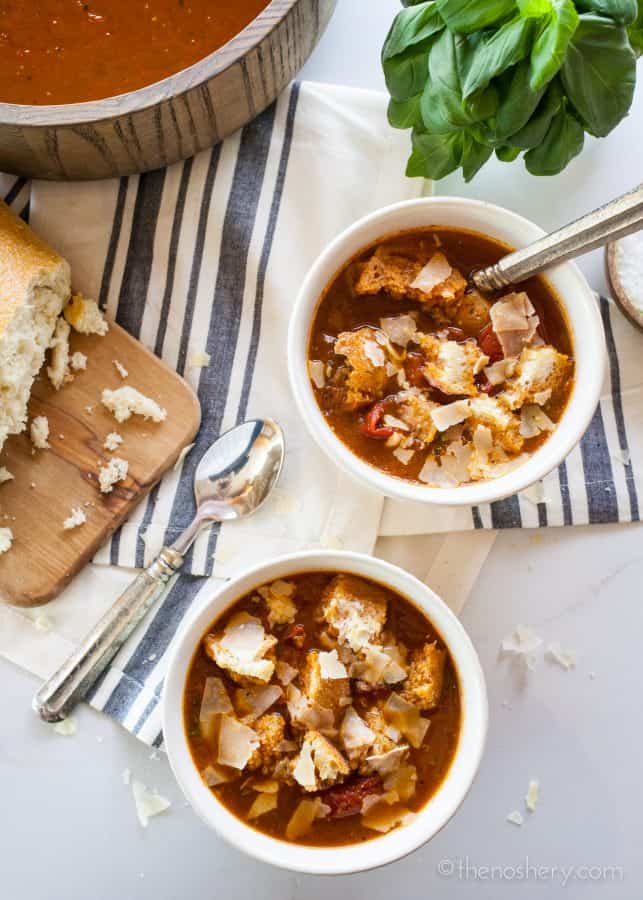 If you are craving something bright and comforting try this lemon chicken and dumplings soup. But, of course, everyone loves a classic Sancocho (Puerto Rican Beef Stew). If you want something hearty and loaded with aromatics and spices you need to try this Moroccan Lamb Stew with Harissa and Garbanzos.
If you are looking for more soup or stew recipes ideas see my collection of soups and stews.
more soup love
items used in this recipe
Yield: 4
Chunky Roasted Tomato Soup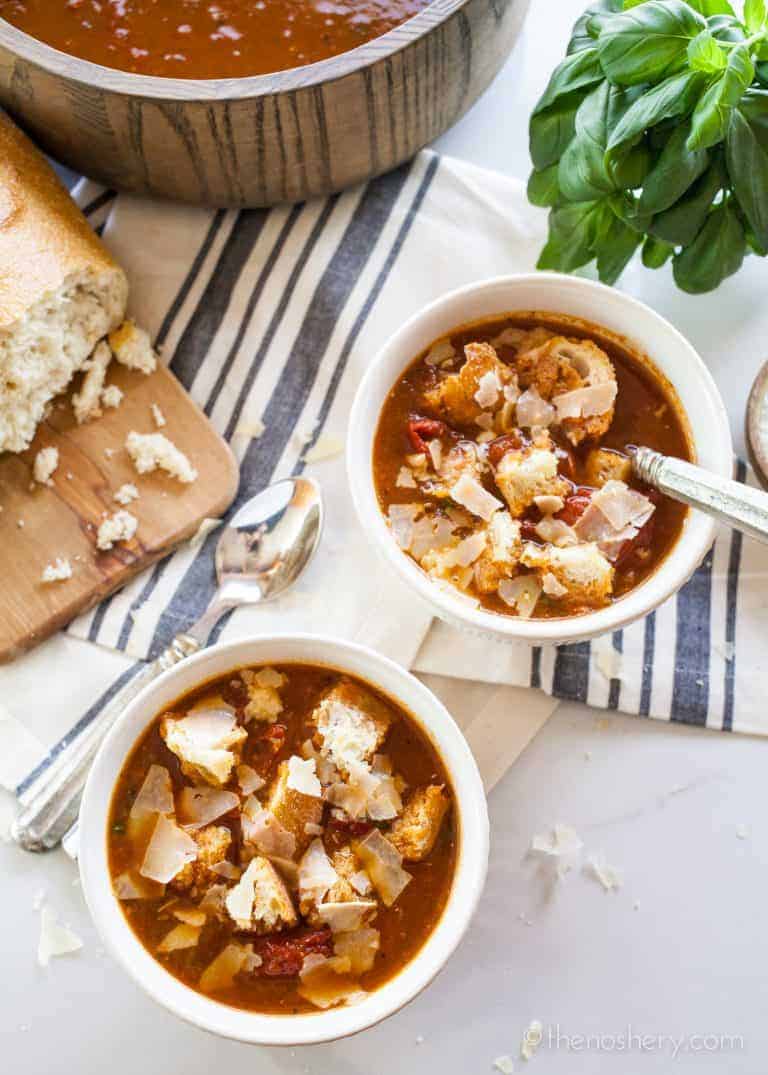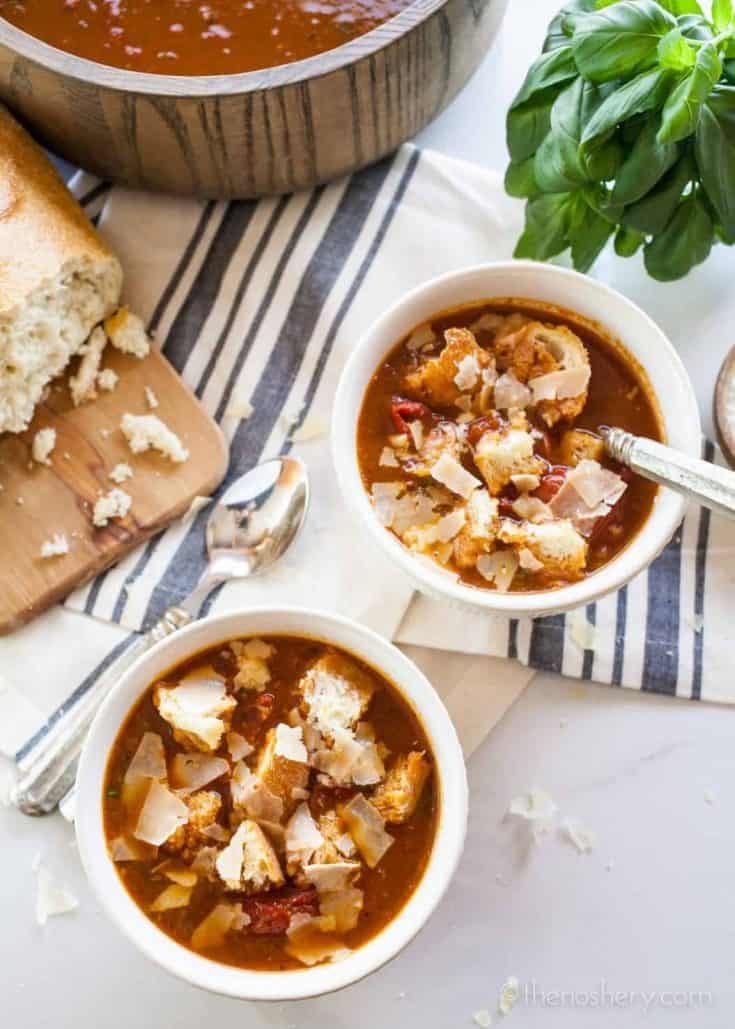 Changing up the traditional tomato soup and giving it a little texture. This is a simple rich and comforting soup with so much flavor for minimal effort.
Inactive Time
1 hour
39 minutes
Total Time
1 hour
55 minutes
Ingredients
2 lbs Campari or cherry tomatoes, quartered and cored
2 cloves garlic, pressed
6 tablespoons olive oil
3 cups vegetable stock
4 sprigs fresh basil
1 1/2 cups torn pieces country style loaf bread
Instructions
Preheat oven to 450 degrees. Line a large sheet pan with foil. Toss tomatoes, garlic, and 3 tablespoons oil on the prepared sheet pan; season with salt and pepper.
Roast, for 30 - 35 minutes stirring occasionally until the tomatoes are browned and the juices thicken.
In a large sauce pot combine roasted tomatoes, tomato sauce, and vegetable stock. Mix until well combined and bring to a boil. Once boiling lower to simmer and cover for 8 - 10 minutes.
Spread bread crumbs on the sheet pan and toss with 3 tablespoons of olive oil and sprinkle with salt. Toast in the oven for 5 minutes or until bread is toasted.
Tear basil leaves and add to sauce pot. Ladle soup evenly into 4 bowls, top with croutons and shaved parmesan.
Notes
Store bought tomato vegetable pasta sauce can be used in place of Roasted Tomato Vegetable pasta sauce.