English Muffin Bread | Today I'm sharing a recipe from one of my favorite friends, fellow podcast host, and food writers, Rebecca Lindamood of Foodie with Family. In her latest cookbook, Ready, Set, Dough!: Beginner Breads for All Occasions, she shares tips on all things bread making.
If you've spent more than a minute on the internet in the last few months, bread has been keeping lots of people occupied lately. It's tasty, comforting, nostalgic, gives people something to do with their hands, and best of all, makes the kitchen smell amazing!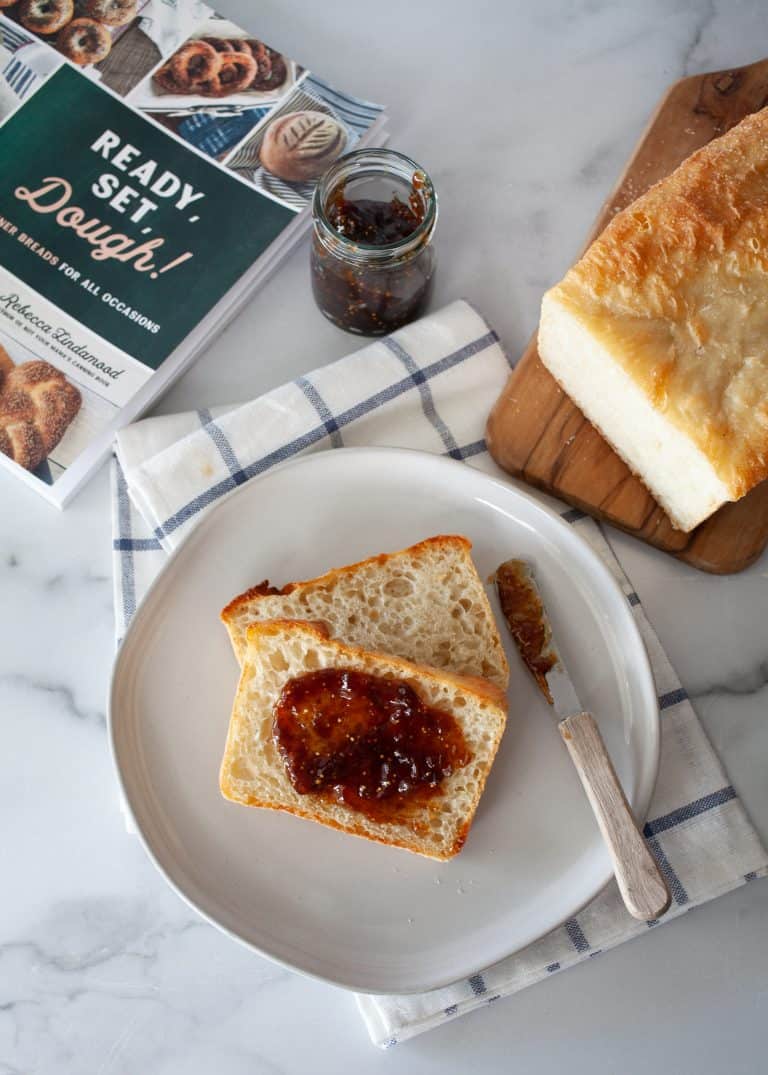 You know I love me some bread. From cranberry rolls, brown butter pumpkin bread, mallorca, arepas, bread pudding, to naan, baked or grilled, I've tried everything. If I've tasted it and loved it, I will figure out how to make it at home. 
It might be a little more time consuming than picking up a $5 loaf, but there's nothing like homemade bread from scratch. And Rebecca makes it easy and approachable whether you've cooked in a restaurant or burn dinner on the regular. (No judgment — we all get distracted!)One of my favorites in the book is her English Muffin Bread recipe. When it comes to my favorite of Rebecca's bread recipes, I've always been torn. Her One-hour Sandwich Bread and her Easter Bunny Bread make the decision tough.
But I can confidently say English Muffin Bread takes the cake. It's all of the magic we love about the breakfast classic but in loaf form.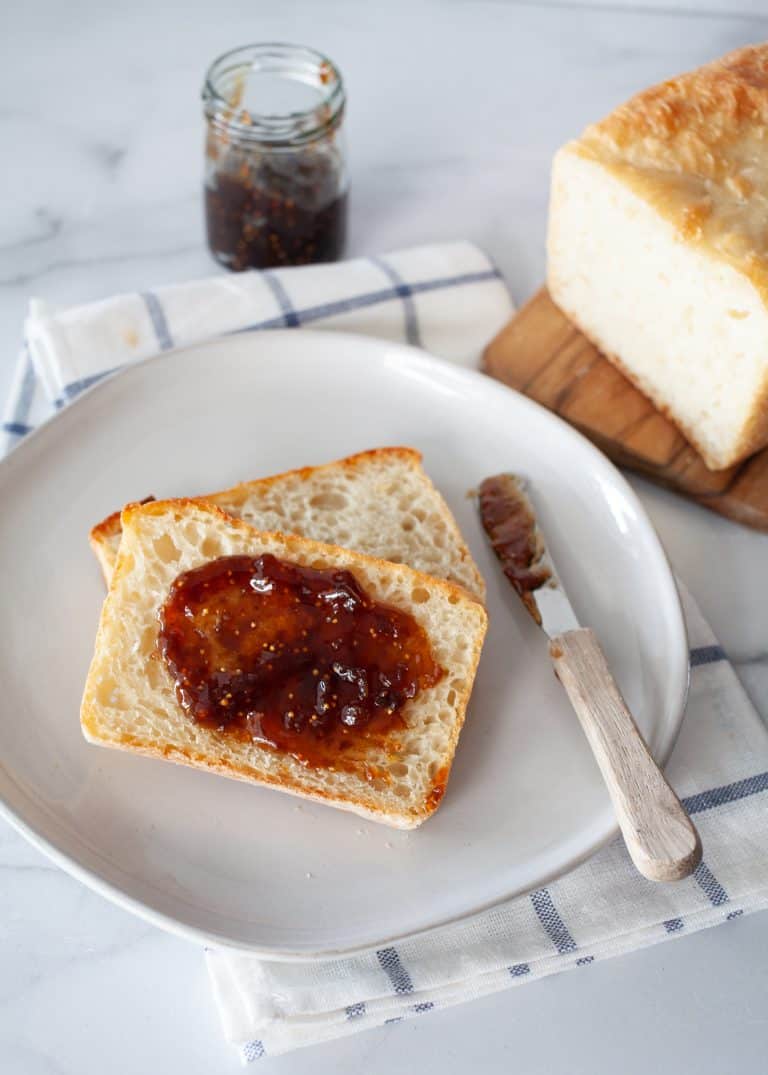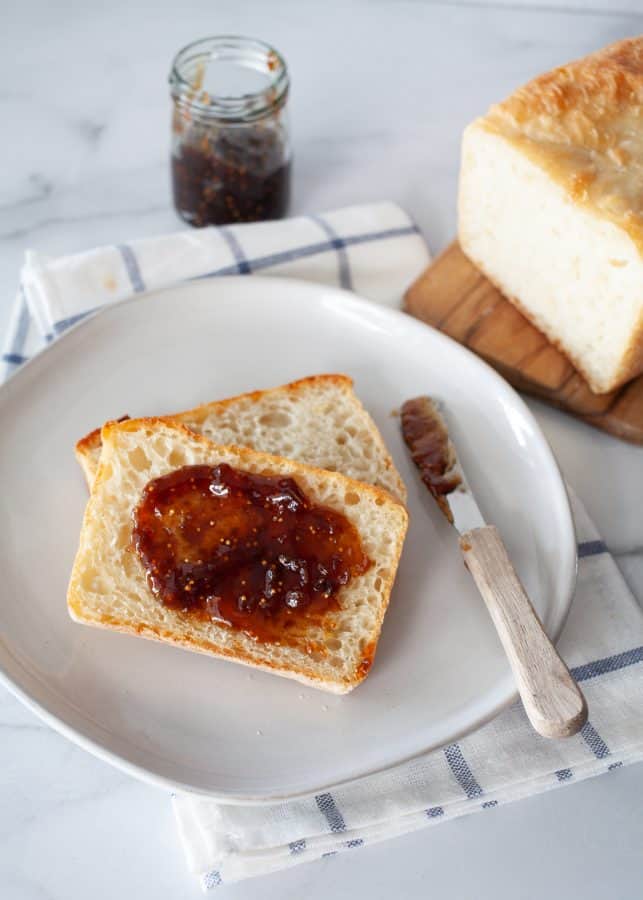 What are English Muffins?
If you've never had an English muffin, allow me to change your life. They're small and disc-shaped, typically sliced in half down their equator. And, if you're me, they're slathered in melted butter and jam and devoured.
English muffins are also a key component of Eggs Benedict and breakfast sandwiches. I can think of one pretty famous breakfast sandwich from the restaurant chain with the golden arches, for example.
So on one hand, you can enjoy them with sweeter toppings like fruit, jam, or hazelnut spread. Or you can go savory with all the breakfast meats, melted cheese, and fluffy eggs on top. Yes and amen.
But the best part about them? Unlike a flakier biscuit, an English muffin has the nooks and crannies of a muffin. So it sops up sauces perfectly. It's the ideal golden brown vessel for any topping imaginable, and my genius friend turned those magical discs into loaf form!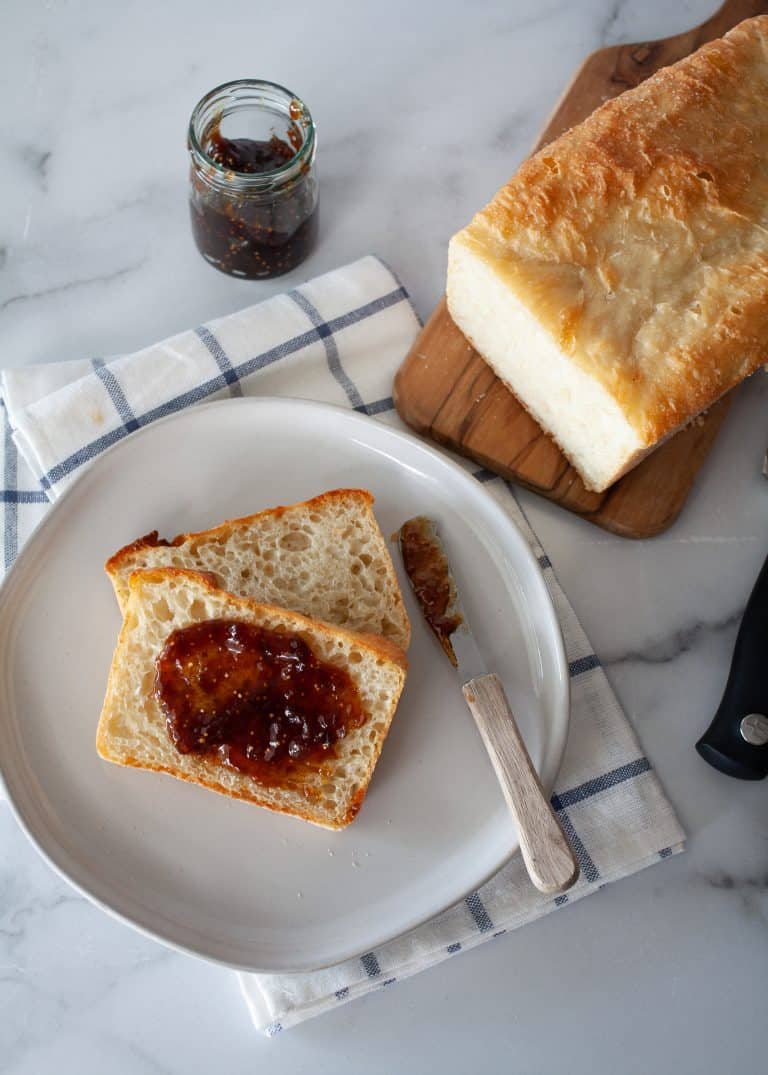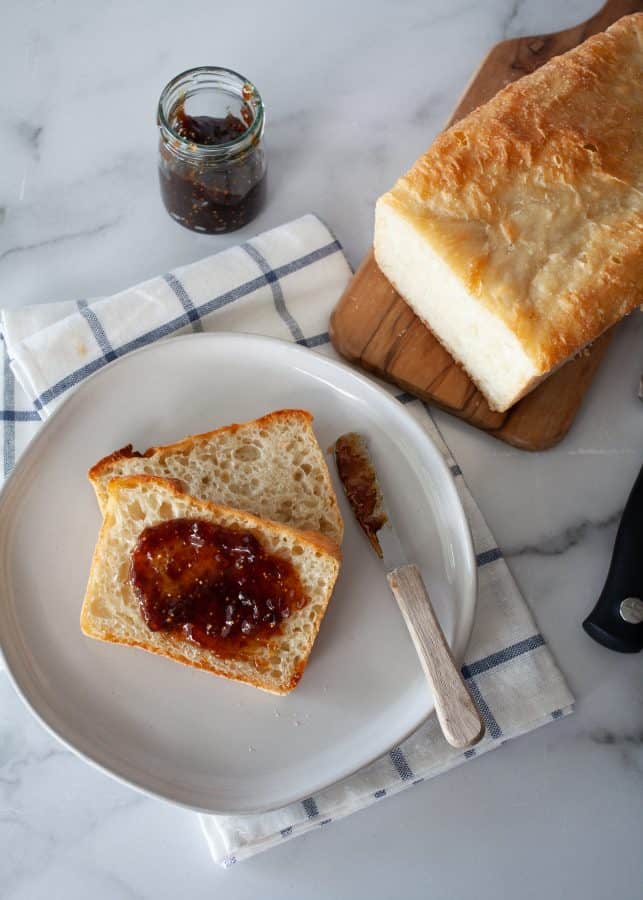 How to make English Muffin Bread
Start with a sturdy spoon and a large mixing bowl that gives you plenty of room to work the dough. Combine the all-purpose flour, water, salt, sugar, and yeast until you have a very sticky, shaggy dough.
Cover with a piece of plastic wrap that's been sprayed with nonstick cooking spray to avoid making a mess. Then let the dough rise in a warm area. After about an hour, the dough should have roughly doubled in size and will appear puffy and bubbly.
While the dough is doing its thing, prepare two loaf pans. Spray them each with nonstick spray and coat the surfaces with cornmeal. Tilting and tapping the pans will make for even distribution. Then shake out the excess cornmeal.
When it's been an hour, place half of the dough in one pan and the other half in another. Greasing your hands with cooking spray helps this process tremendously. If your dough exceeds more than about half full, use a third pan.
Repeat the rising process in the loaf pans with the sprayed plastic wrap and cover the pans for about 30 minutes. Preheat the oven to 350°F so it's ready when the dough has risen a final time. Then put the pans in the center rack of the oven because it's time to bake!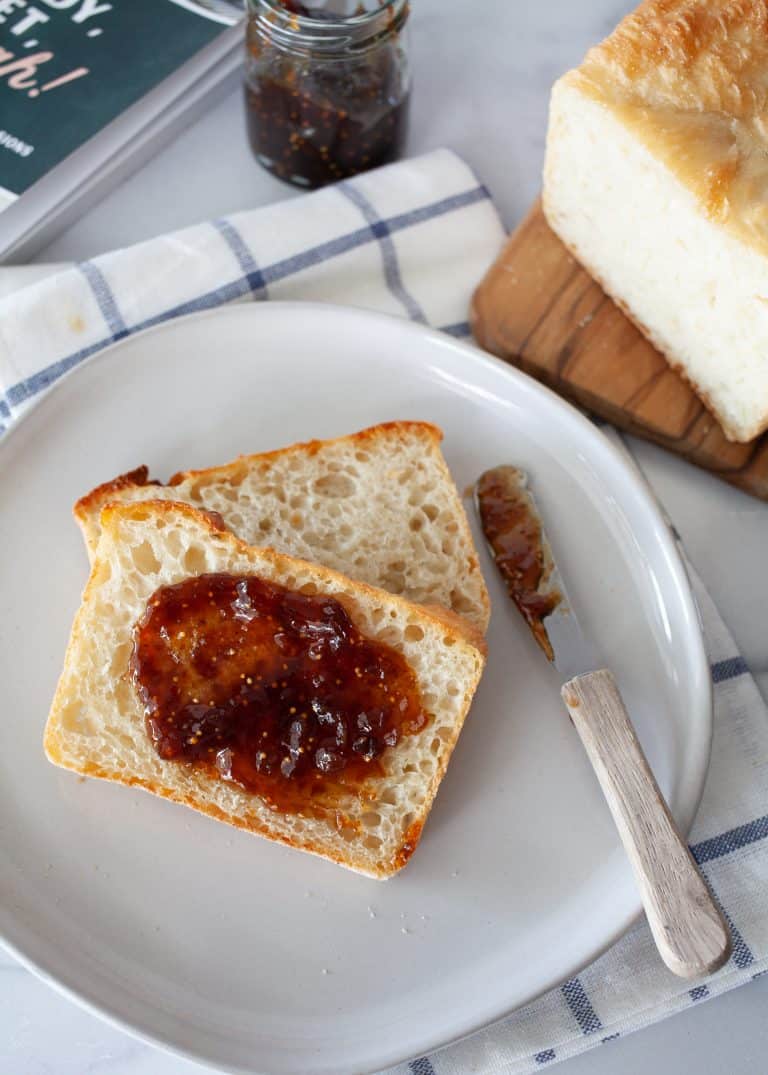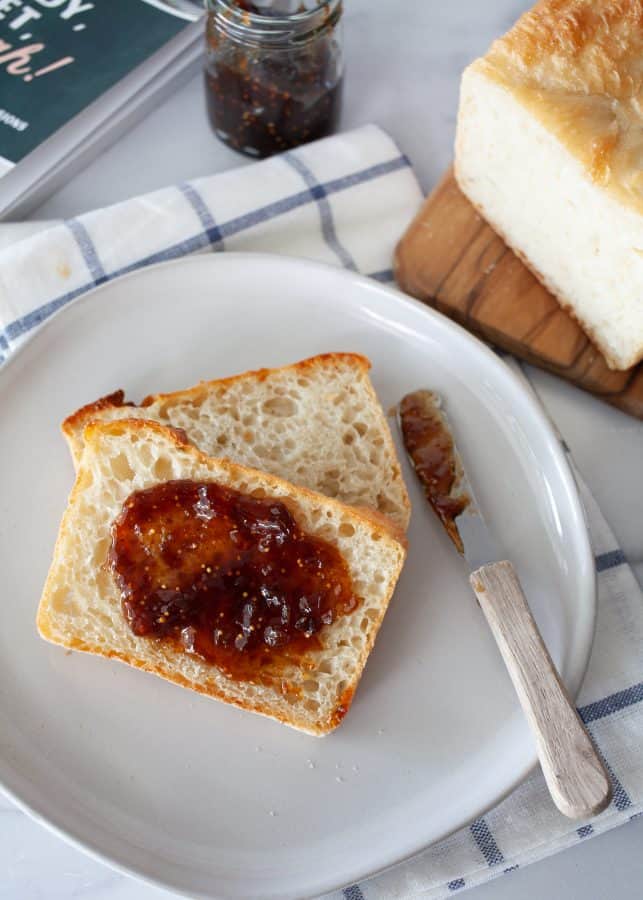 Bake it off
After they've baked for 30 minutes, slather half of the melted butter on top of the bread with a pastry brush and bake for an additional 10 minutes.
When the timer goes off, turn the bread onto a cooling rack immediately and brush it with the other half of the melted butter.
Now here's an important note and one you might have to work hard on your patience to complete. But you have to wait until the loaves have cooled entirely before slicing into it. Trust me, it's just better this way or else the texture isn't the same.
As long as you wait for the English muffin bread to cool completely before slicing, you (and that bread) will be golden.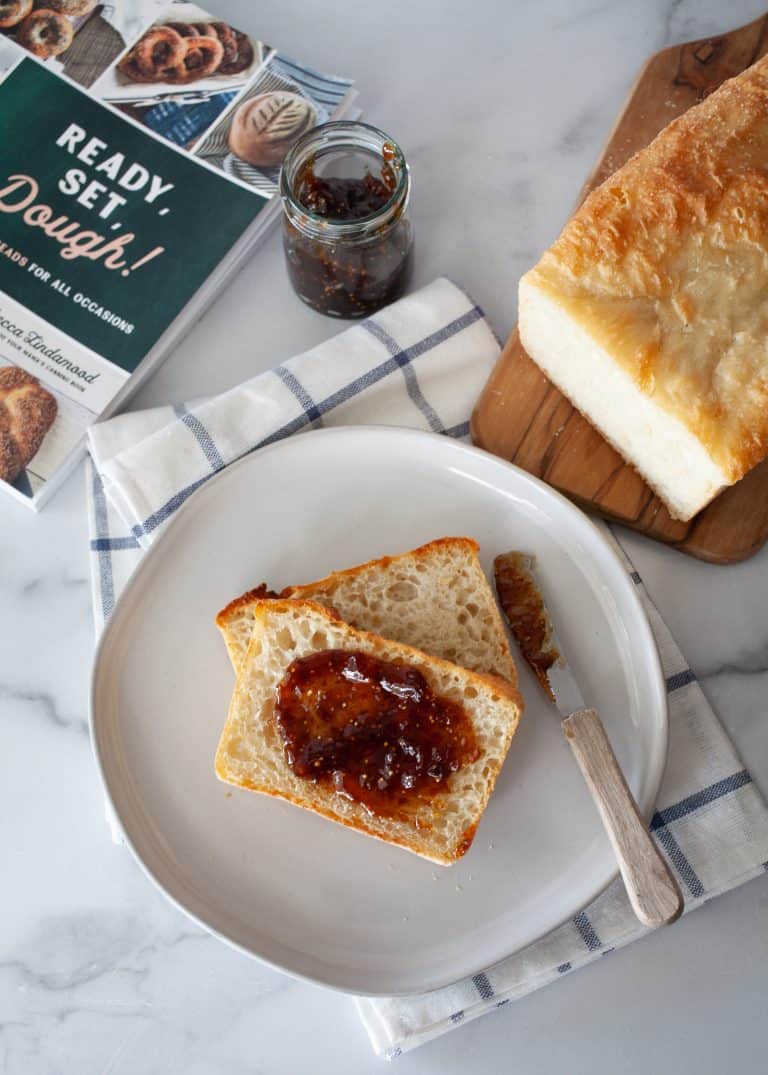 More about the book
From the publisher: Rebecca Lindamood, the author of Not Your Mama's Canning Book, is here to teach you how to make fluffy, golden, perfectly crusted breads with beginner-friendly doughs that ease you into the wonderful world of baking. With recipes that cut down on prep and carefully guide you through proofing, rolling, and rising techniques, you don't need to be a professional (or even an amateur) to dive in and quickly start wowing everyone with your loaves, rolls, twists, and more!
Learn to perfect classic dough recipes such as one-hour whole wheat bread, buttery soft pretzels, or delicious bagels. Indulge in fun flavors with Sun-Dried Tomato Pesto Pinwheel Rolls, Jalapeño Cheddar Cornbread, or Detroit-Style Pizza. With nine easy, foundational dough recipes and 75+ tasty variations to try from there, Ready, Set, Dough! will transform you into a bread-baking master.
Ready, set, dough!
If you don't believe me that you need this cookbook in your life, make this English Muffin Bread and be convinced. It's delicious, fluffy, and begging to be sliced, toasted, buttered, and devoured.
The outside is crispy, the inside is delightfully chewy. And each nook and cranny ensures that every bite is rich with whatever topping you choose.
For more of Rebecca's delicious bread recipes on Foodie with Family, click here.
Yield: 20
English Muffin Bread Recipe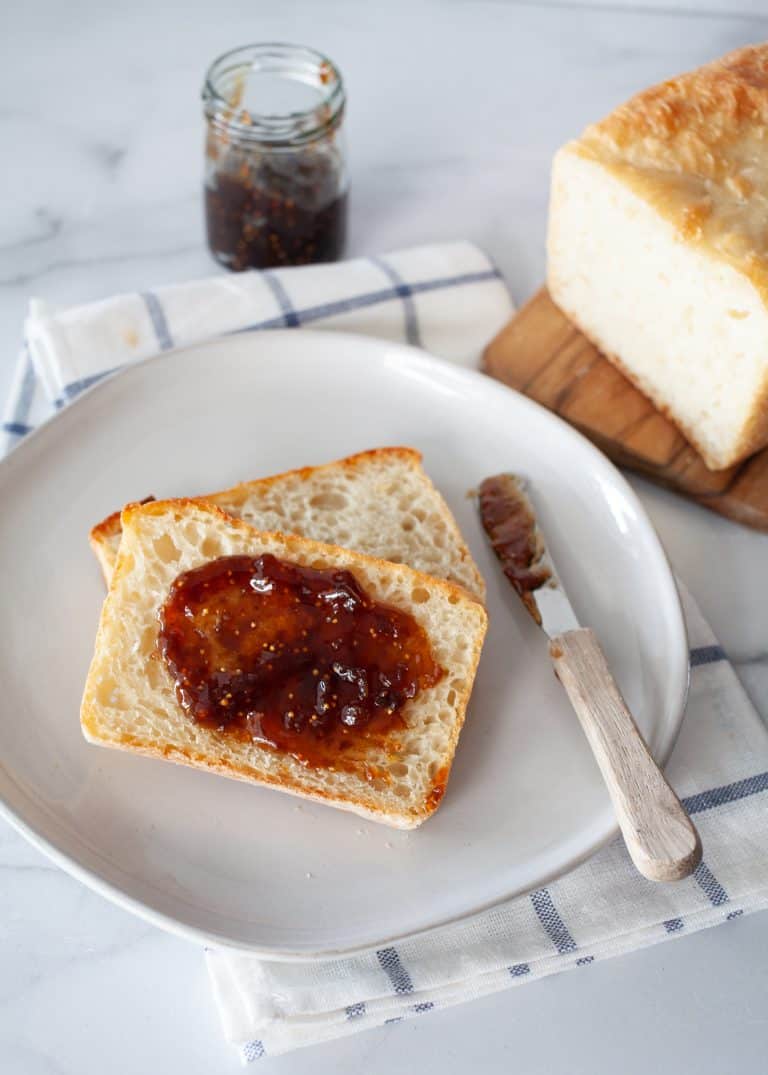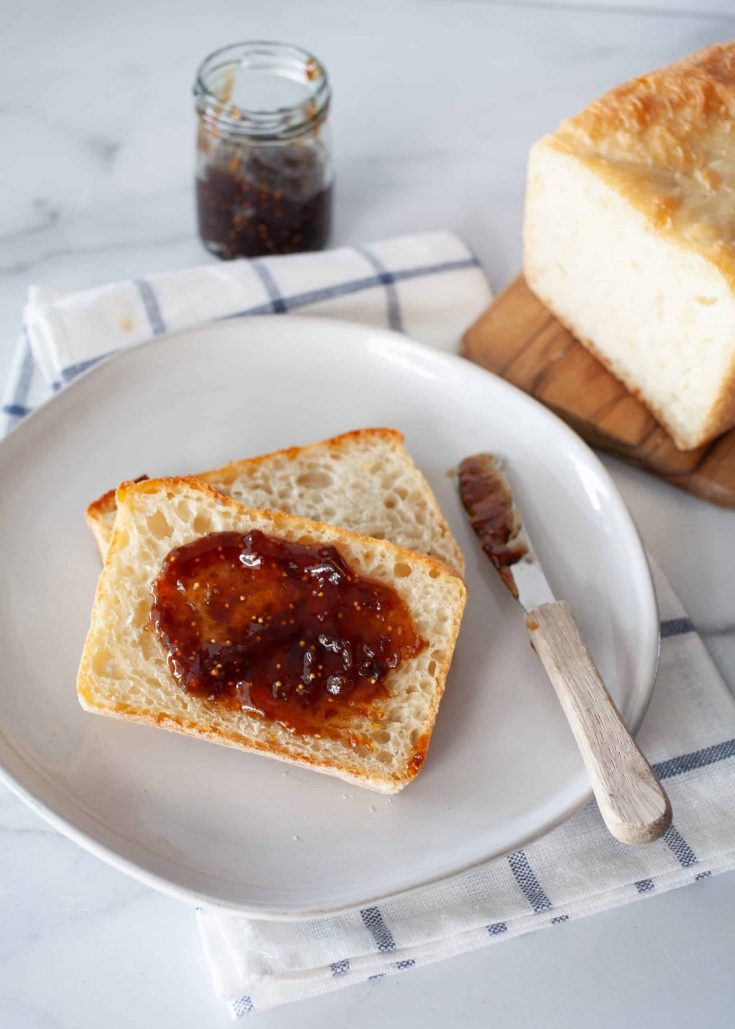 This English Muffin Bread recipe turns a classic into loaf form that's begging to be sliced, buttered, or turned into a delicious breakfast sandwich!
Total Time
1 hour
15 minutes
Ingredients
5 3/4 cups all-purpose flour
2 1/4 cups warm water
1 tablespoon kosher salt
1 tablespoon, plus 1 1/2 teaspoons white sugar
1 tablespoon, plus 1 1/4 teaspoons active dry or instant yeast
nonstick spray, butter, or oil
cornmeal, for flouring pans
1/3 cup melted butter, divided
Instructions
In a large mixing bowl, stir together the flour, water, salt, sugar, and yeast with a sturdy spoon or dough whisk until it is moist with no dry pockets. The dough will be shaggy and very sticky. Spray a piece of plastic wrap with nonstick cooking spray. Place the bowl in a warm, draft-free place until the dough looks puffy and bubbly and has risen to about double its size, about 1 hour.
While the dough rises, spray two loaf pans with nonstick cooking spray and sprinkle 1/4 cup of cornmeal in each pan. Tilt the pans, tapping gently, until the cornmeal coats the sides and bottom of the pan, tapping out the excess cornmeal.
Use nonstick cooking spray to generously grease your hands, and divide the dough between the two prepared pans. The pans should be no more than halfway full. If needed, prepare one more loaf pan to hold any excess dough.
Cover the pans loosely with oiled plastic wrap and let rise in a warm, draft-free place until the dough is once again bubbly and puffy looking and just peeking above the edges of the pans, about 30 minutes. While the dough is rising, preheat the oven to 350°F.
Place the pans on the center oven rack in the oven and bake for 30 minutes. After 30 minutes, brush the surface of the bread generously with about half the melted butter. Return the pans to the oven and bake 10 more minutes.
Immediately turn the loaves onto a cooling rack and brush all surfaces generously with the remaining melted butter. Cool COMPLETELY before slicing or that spectacular English muffin texture will be compromised
Notes
I've also made this bread with 3 cups of bread flour swapped in for 3 cups of the all-purpose flour listed in the recipe. The bread flour adds something special to the resulting texture of this bread.
Recommended Products
As an Amazon Associate and member of other affiliate programs, I earn from qualifying purchases.
Nutrition Information:
Yield:
20
Serving Size:
1
Amount Per Serving:
Calories:

188
Total Fat:

4g
Saturated Fat:

2g
Trans Fat:

0g
Unsaturated Fat:

2g
Cholesterol:

8mg
Sodium:

346mg
Carbohydrates:

33g
Fiber:

1g
Sugar:

0g
Protein:

4g
One More Thing!
Rebecca and I launched the My Plate is Always Full Podcast! Just two friends and former chefs talking obsessively about food. You can go and subscribe now!
New episodes released every Wednesday!
In the meantime follow us on Instagram @my.plate.is.always.full  or visit our website!