Sopa de pollo con fideo or chicken noodle soup warms the soul. When it's cold outside and you feel a case of the sniffles coming on, nothing makes things better than chicken noodle soup. This is the go-to soup that I make for OB and me on chilly days. spanish chicken soup
OB could live on soup. He loves it, maybe a little obsessed with it, and he had about three bowls of this soup. But isn't your standard chicken noodle soup. This is Puerto Rican style chicken soup. It's how my Mami makes it soup.spanish chicken soup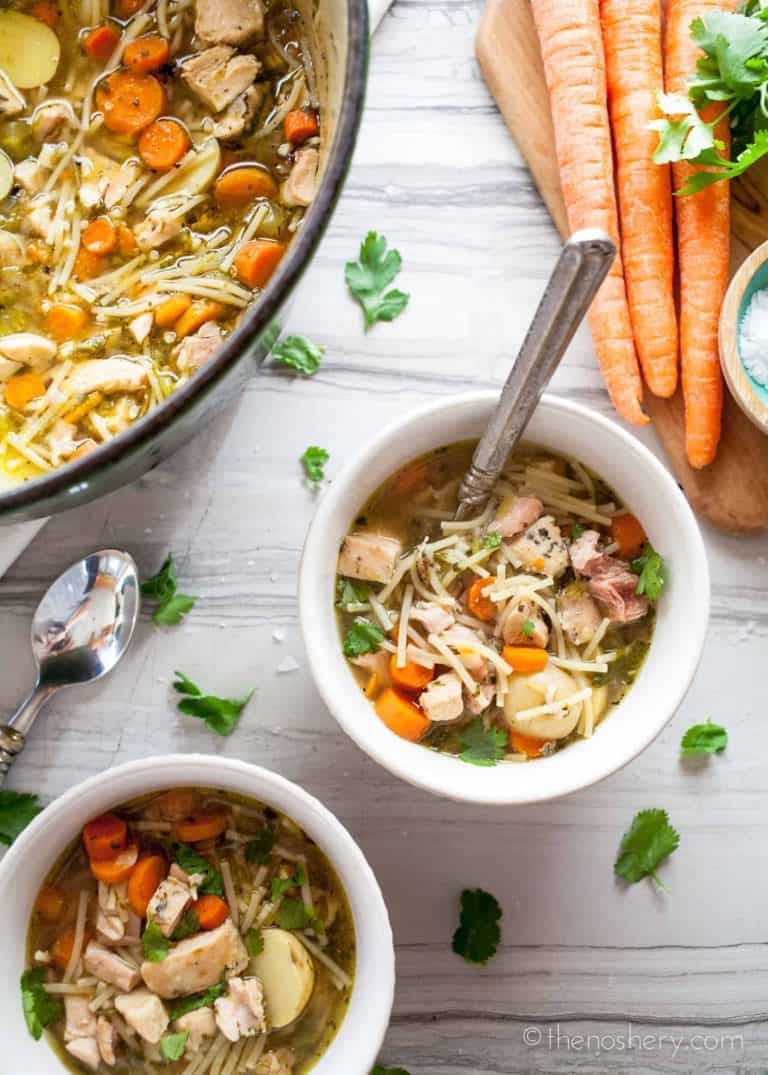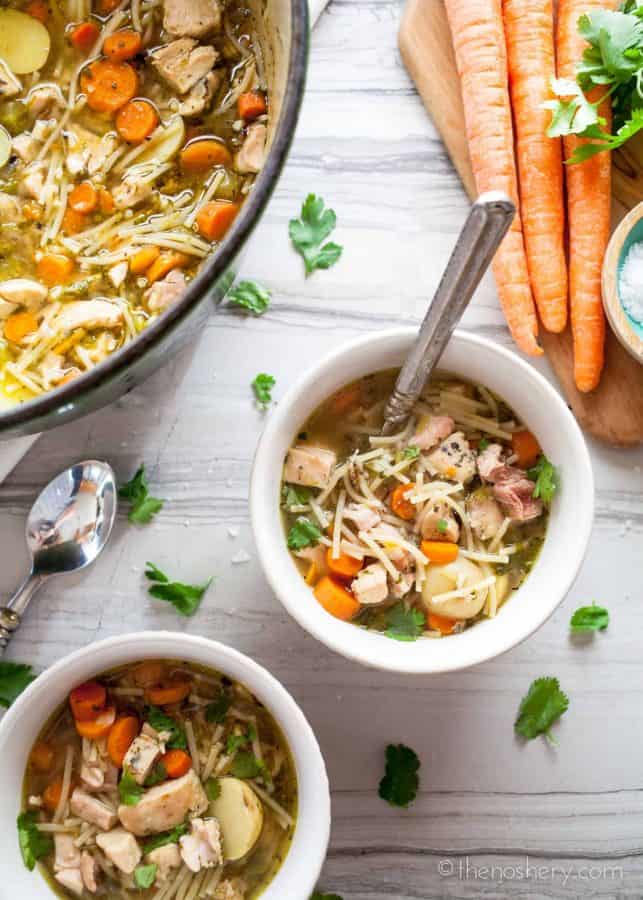 First of all, I use bone-in meat, this adds a rich flavor to the broth. None of that dried shredded chicken breast here and of course the secret ingredient sofrito. Sofrito gives all Puerto Rican food its distinct flavor.
I may be a little bias but I declare this the best homemade chicken noodle soup. Spanish chicken noodles soup is the best! It's loaded with flavor, tender noodles, and chunks of chicken. And, like every soup or stew, it's even better the next day. So, make a big batch and get to freezing because you are going to want this all the time.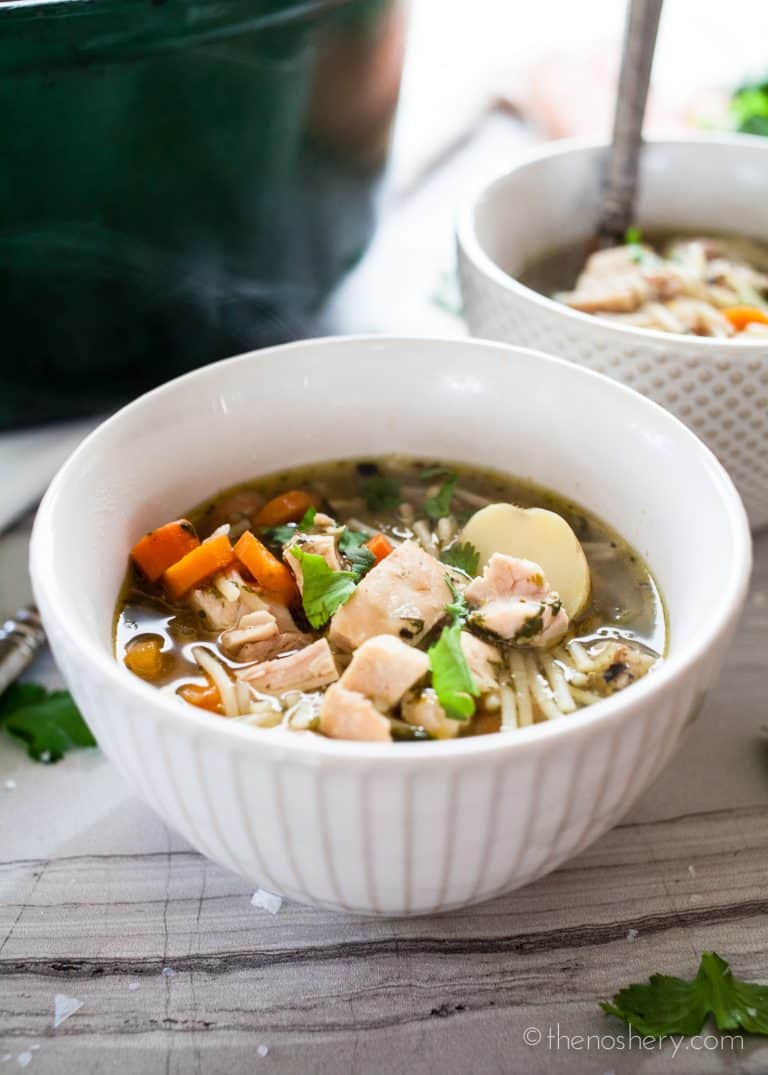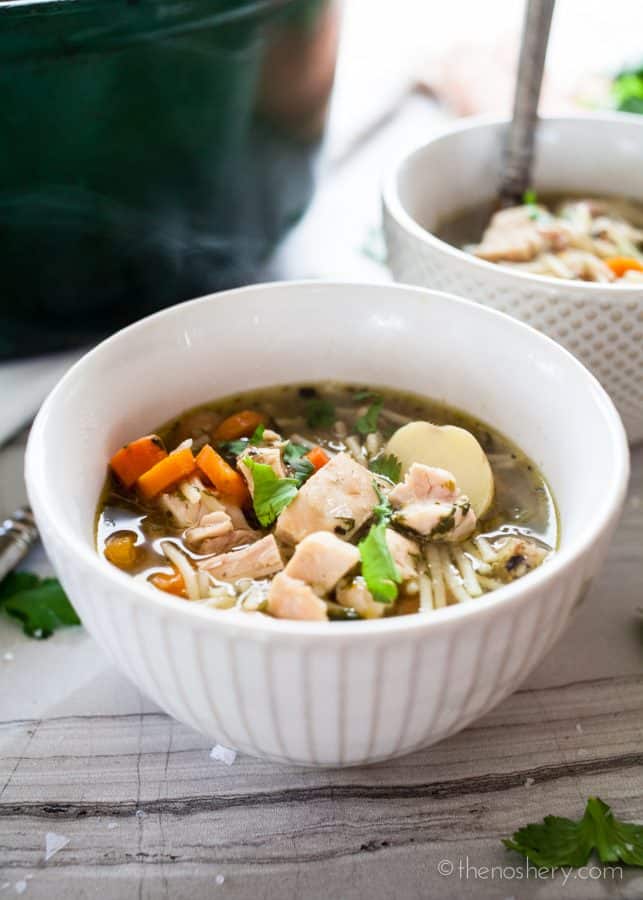 Homemade chicken noodle soup is a hug in a bowl. It hugs you on the inside and I am pretty sure that if you put it up to your ear it would whisper "i love you."
Ok, it's getting a little weird and creepy but you know it's true. If you are wanting to take the comfort level up a notch try this Lemon Chicken and Dumplings soup.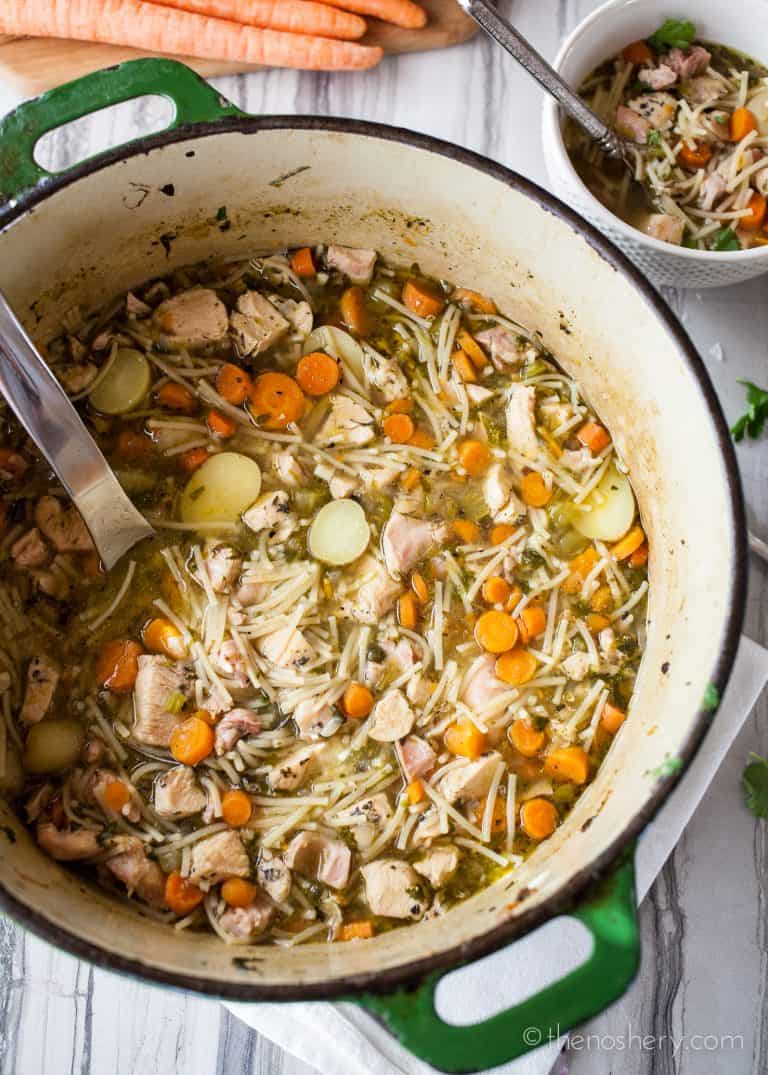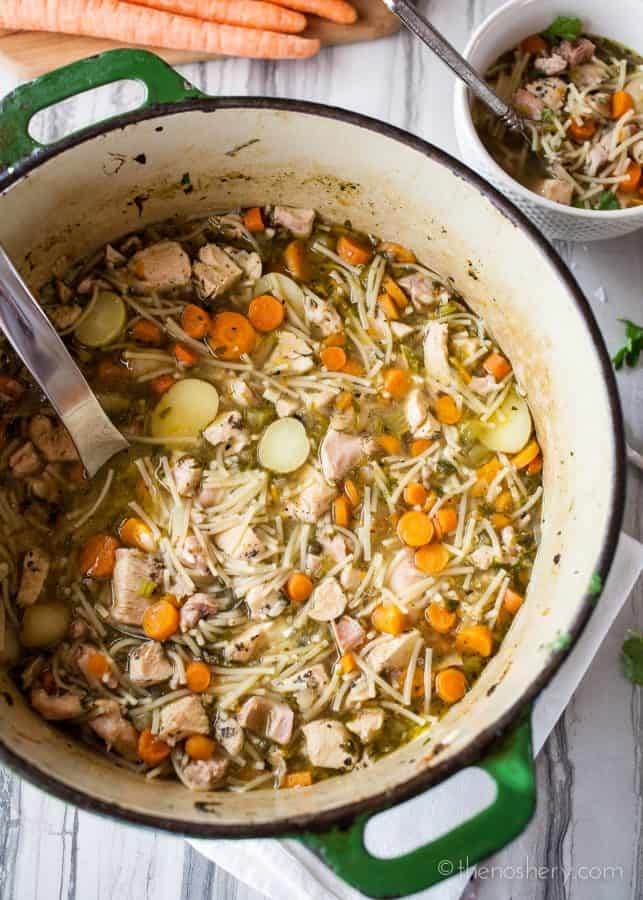 If you are craving something a little lighter try this chunky roasted tomato soup. But, of course, everyone loves a classic Sancocho (Puerto Rican Beef Stew). If you want something hearty and loaded with aromatics and spices you need to try this Moroccan Lamb Stew with Harissa and Garbanzos.
If you are looking for more soup or stew recipes ideas see my collection of soups and stews. Also, be sure to check out my collection of Puerto Rican recipes.
more soup love
Yield: 8
Sopa de Pollo con Fideos (Chicken Noodle Soup)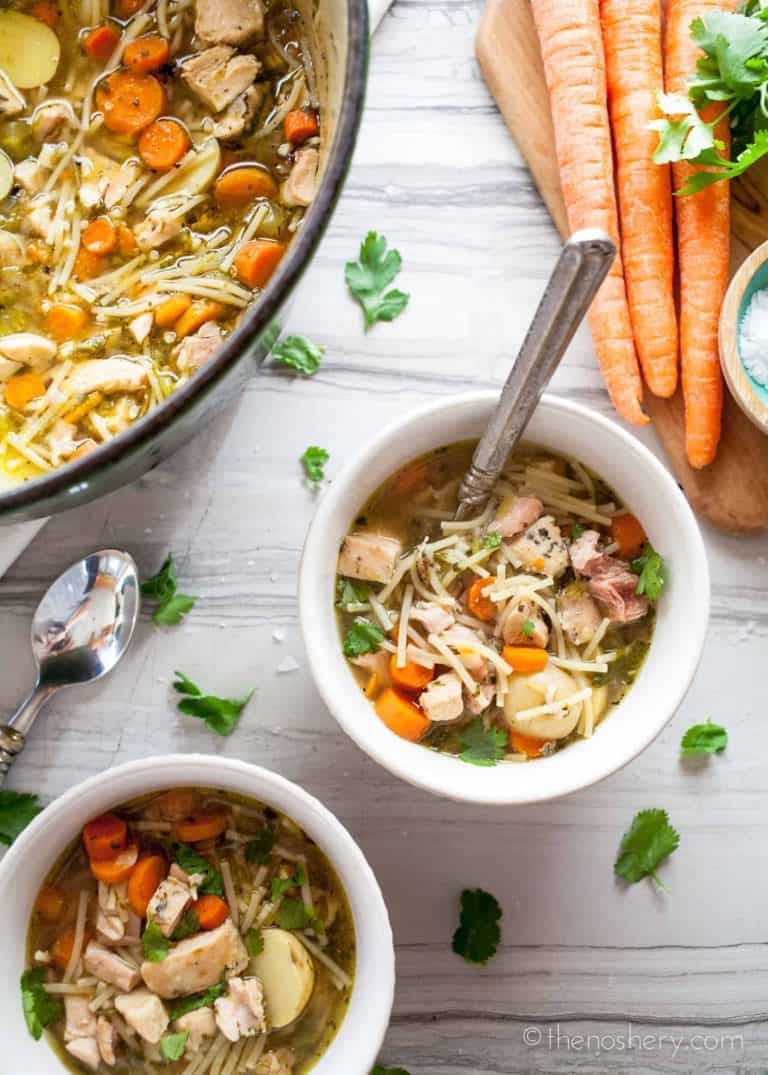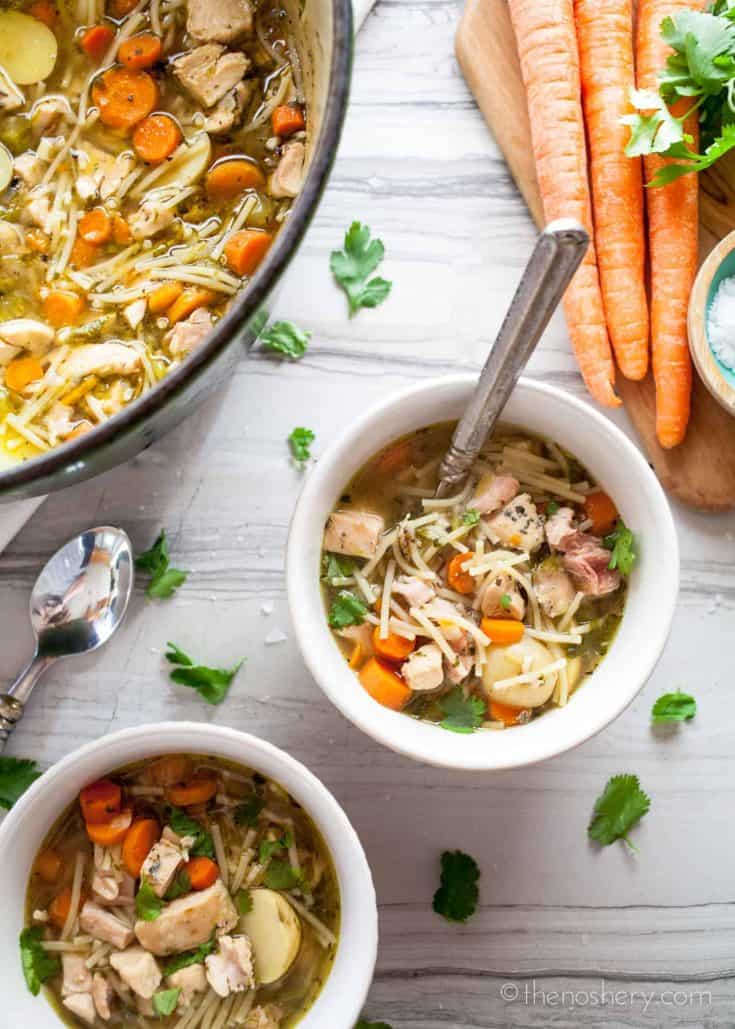 This sopa de pollo con fideo (chicken noodle soup) is loaded with flavor, tender noodles, and chunks of chicken. It's comfort in a bowl.
Inactive Time
1 hour
39 minutes
Total Time
1 hour
55 minutes
Ingredients
1 whole chicken, cut into 8 pieces, bone-in skin removed
3 teaspoons kosher salt
1 teaspoon pepper
3 tablespoons olive oil
2 quarts of chicken stock
1 tablespoon oregano
3 tablespoons sofrito
2 celery stalks, small diced
1 large onion, small diced
1 medium carrot, sliced
1 large potato, small diced
1 envelope Sazon con Achiote
1 large bay leaf
14 oz fideo noodles or broken angel hair pasta
Instructions
Store the chicken wings in a resealable bag and freeze for later use. Remove the skin from the remaining chicken pieces, reserve the back of the chicken.
Rub the chicken pieces and back with salt, pepper and oregano and one teaspoon olive oil and set aside for 30 minutes.
Heat a large heavy bottom pot over medium-high heat. Brown all the chicken on all sides, transfer to a plate.
Add sofrito purée, onion, carrot, and celery with remaining olive oil to the pot. Cook for 5 minutes, or until onions are translucent. Return all the chicken to the pot.
Add the chicken stock sazon, and bay leaf, bring to a boil. Reduce to a simmer and cover, simmer for 30 minutes.
Uncover and add potatoes, simmer uncovered for 15 minutes, potatoes are tender, stirring occasionally.
Remove chicken pieces from the pot and carefully cut the meat off the bones. Return the chicken to the pot.
Add the noodles and cook until pasta for 8 minutes or until it is al dente.
Notes
Sazon is a blend of seasonings. You can make your own by combining equal parts salt, garlic powder, cumin, coriander and annatto. Other possible additions include onion powder, tomato powder, and saffron. 1 1/4 tsp equals 1 envelope of Sazon.
Recommended Products
As an Amazon Associate and member of other affiliate programs, I earn from qualifying purchases.
Nutrition Information:
Yield:
8
Serving Size:
1
Amount Per Serving:
Calories:

474
Total Fat:

20g
Saturated Fat:

4g
Trans Fat:

0g
Unsaturated Fat:

13g
Cholesterol:

73mg
Sodium:

1271mg
Carbohydrates:

40g
Fiber:

3g
Sugar:

6g
Protein:

32g