Baked Chicken Legs and Potatoes | It's been crazy around here! First, our "house" is in the shop because we are getting the floors redone. In case you don't know we live full time in an RV so we had to turn our house in to get the floors done. We have been living temporarily in a borrowed tiny trailer.
Let's just say it's been challenging to get things done. But when it's all over we will be carpet free!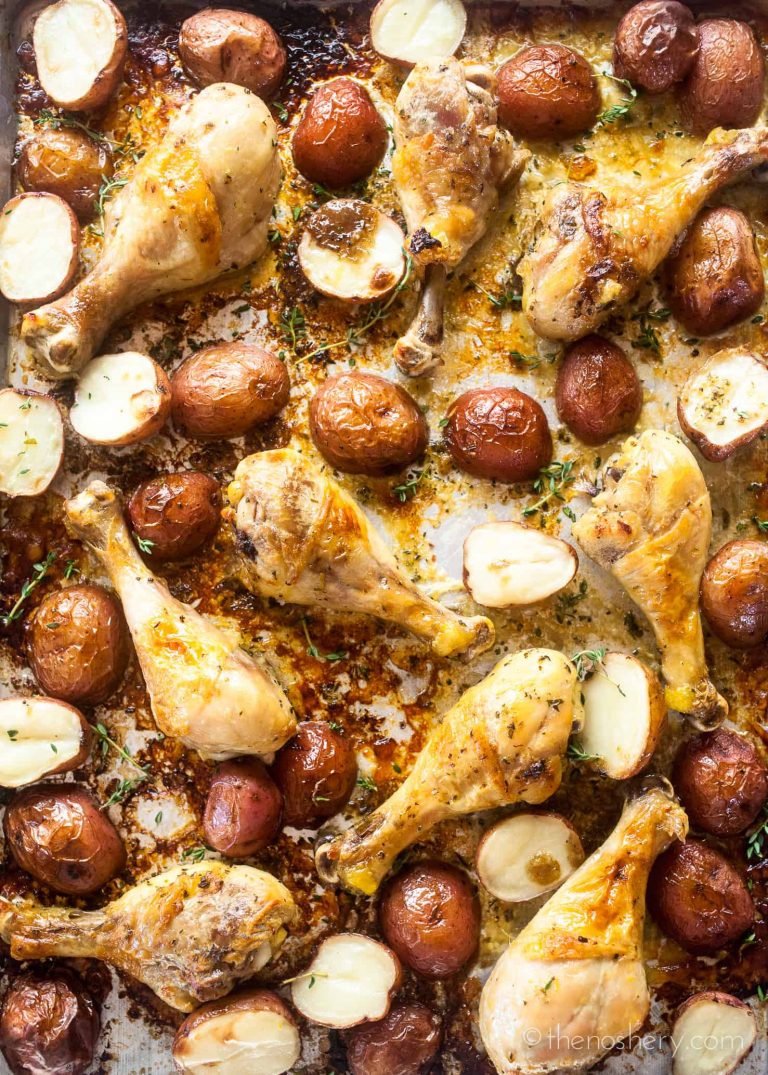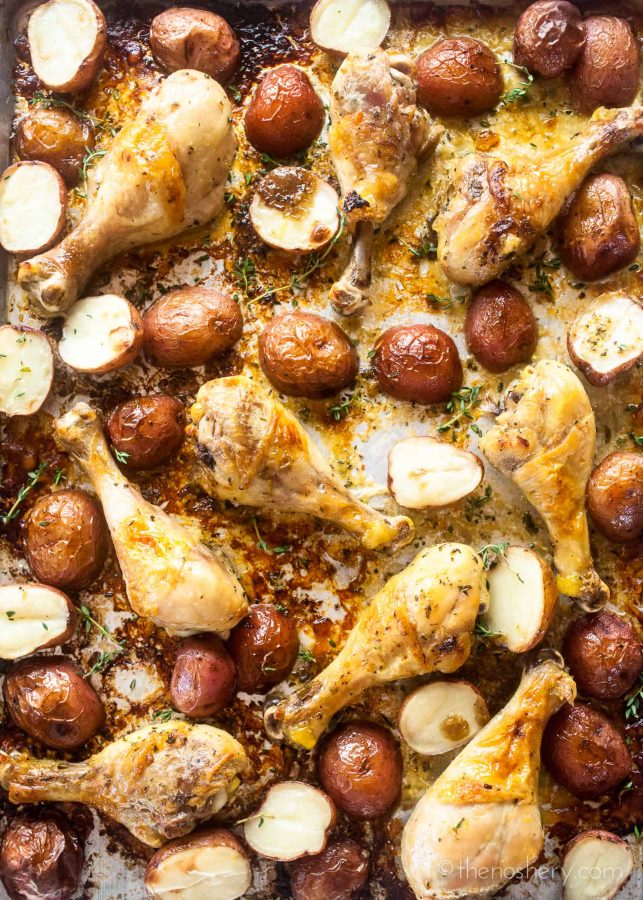 One of the secrets to my sanity these last few weeks have been easy one pan dinners. I am accustomed to cooking in a small kitchen but this one is even smaller and it's unfamiliar. Not to mention the sink is so freaking tiny! But, no matter if you are in a small kitchen or giant gourmet kitchen, everyone can appreciate a one pan meal. Especially a one sheet pan meal.
Sheet pan meals are kind of magic. It's like the oven version of set it and forget it. I mean as long as you set a timer.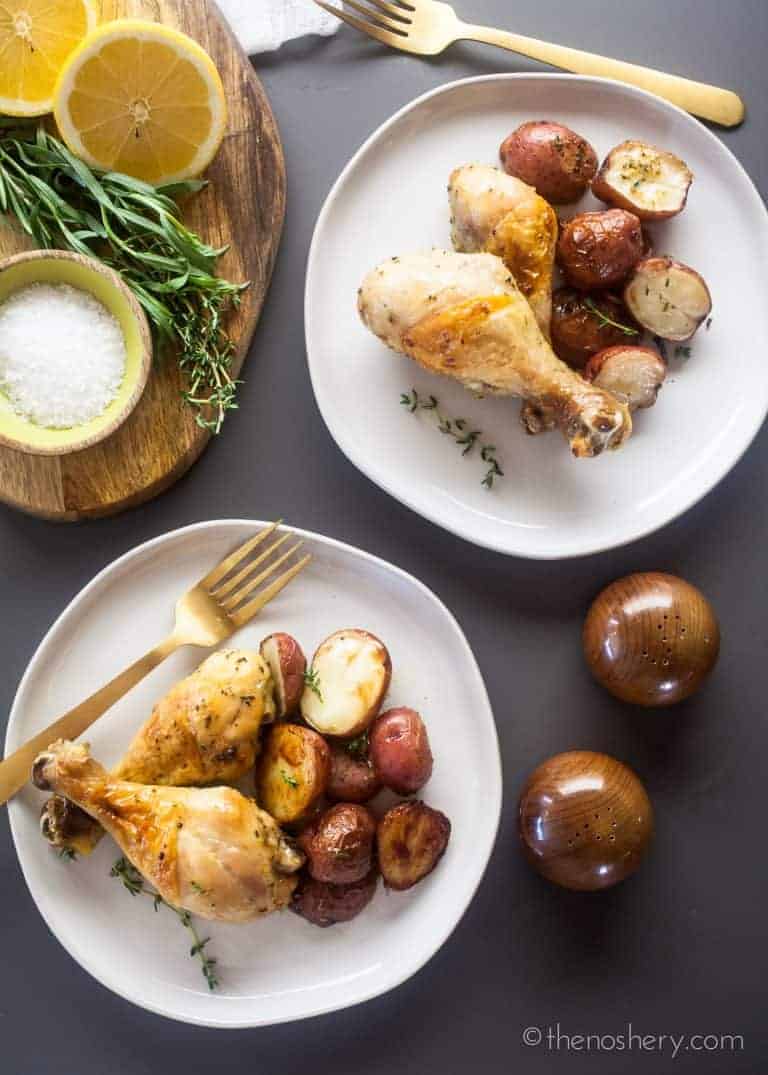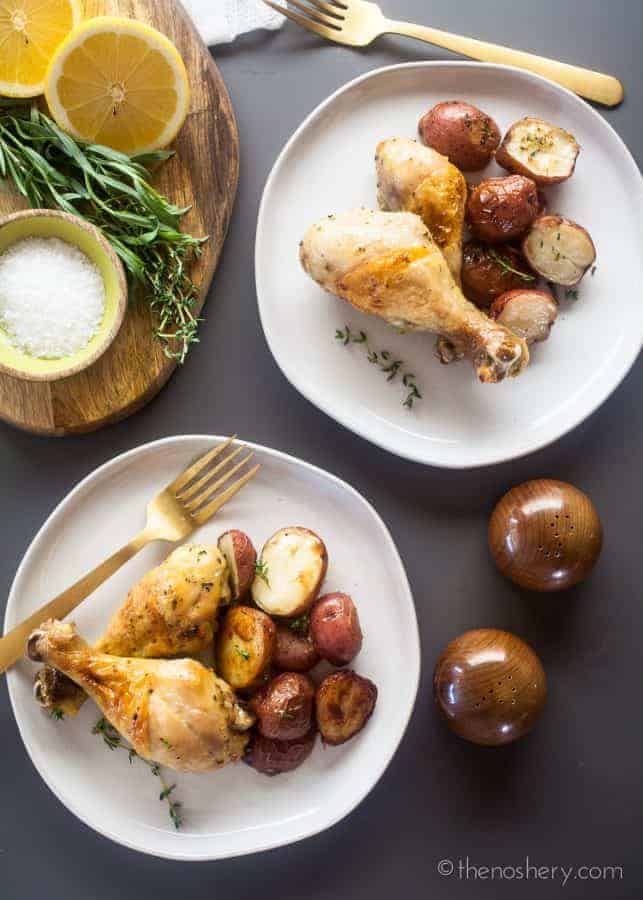 For this recipe all I had was chicken legs on hand but, this recipe can be made with chicken breast or thighs. The chicken breast may require more time. It's always best to temp the chicken with a thermometer to verify doneness. Also, feel free to switch out the potatoes for diced sweet potato, fingerling potatoes, or petite yukon gold.
Roasted Chicken Legs and Potatoes with Lemon and Herb Recipe
olive oil
lemon
garlic cloves
fresh rosemary
fresh thyme
fresh sage
kosher salt
chicken legs
petite red potatoes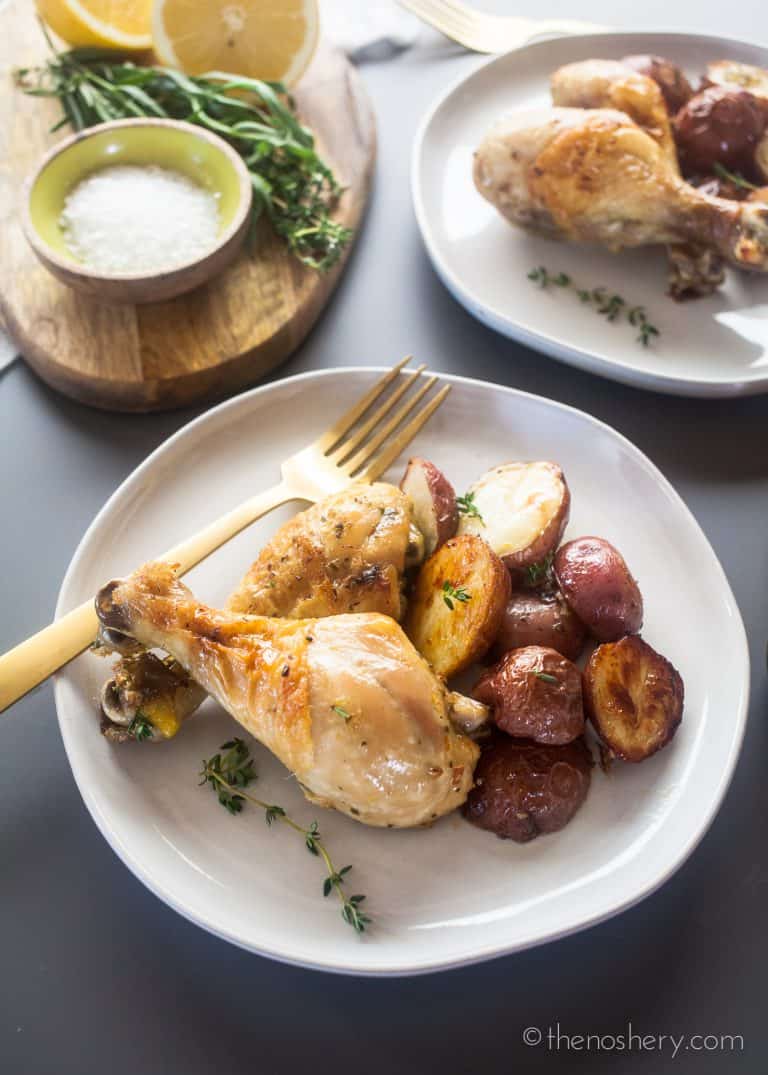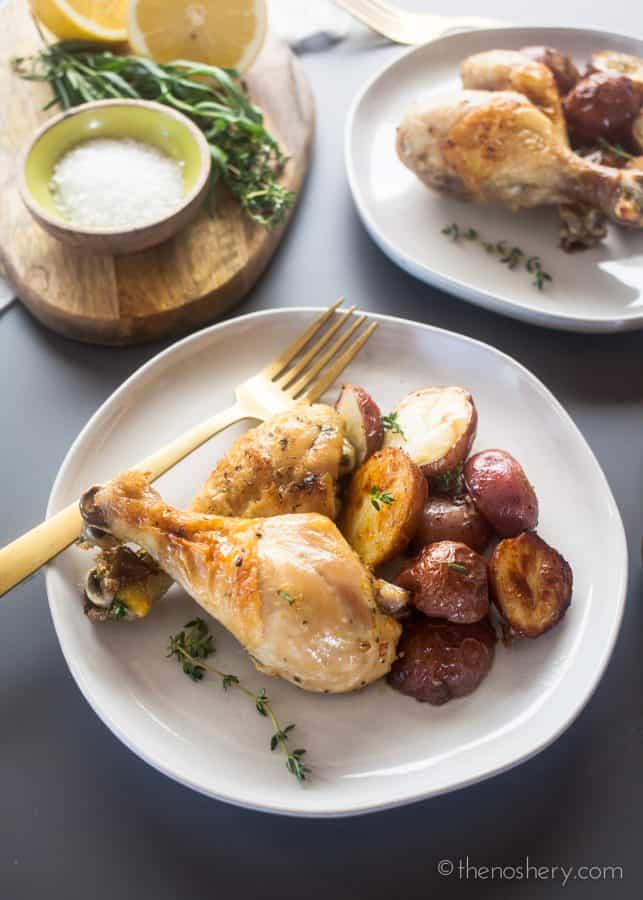 This recipe is so straightforward and simple you almost feel like something has to be missing. But, that is the beauty of recipes like this, they are easy to make and full of flavor. Some weeks I will make a few pans of chicken legs and potatoes for easy lunches and dinners. Serve with a side salad or some grilled vegetables for a full meal.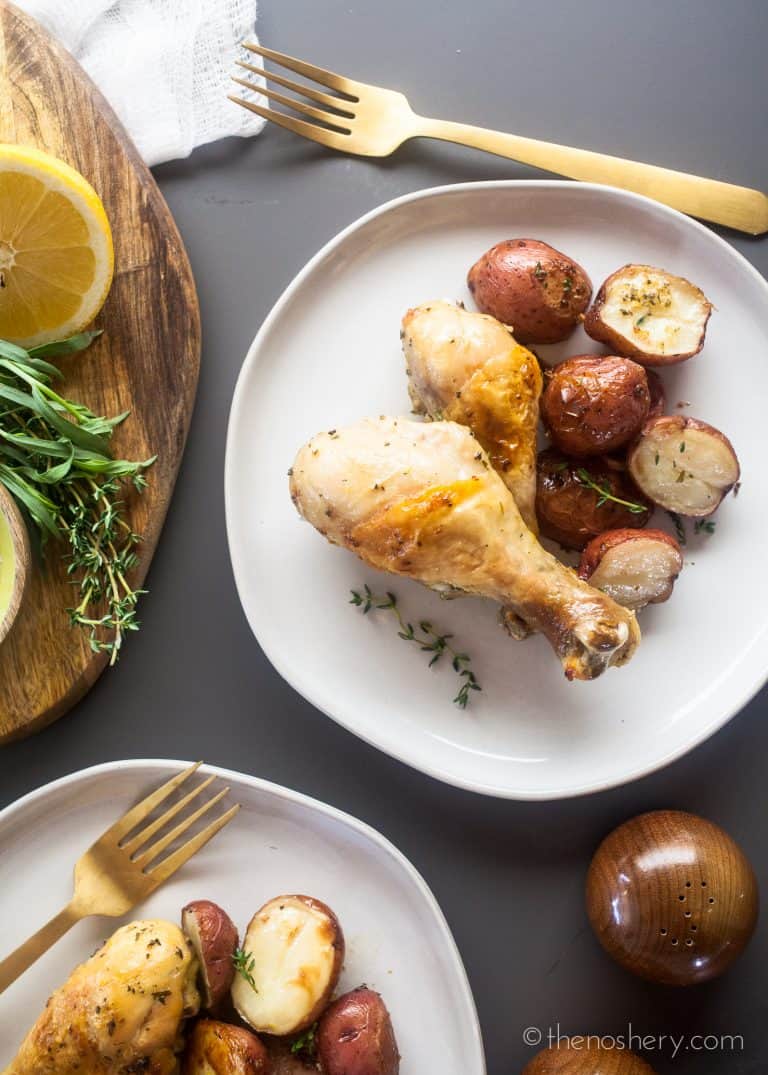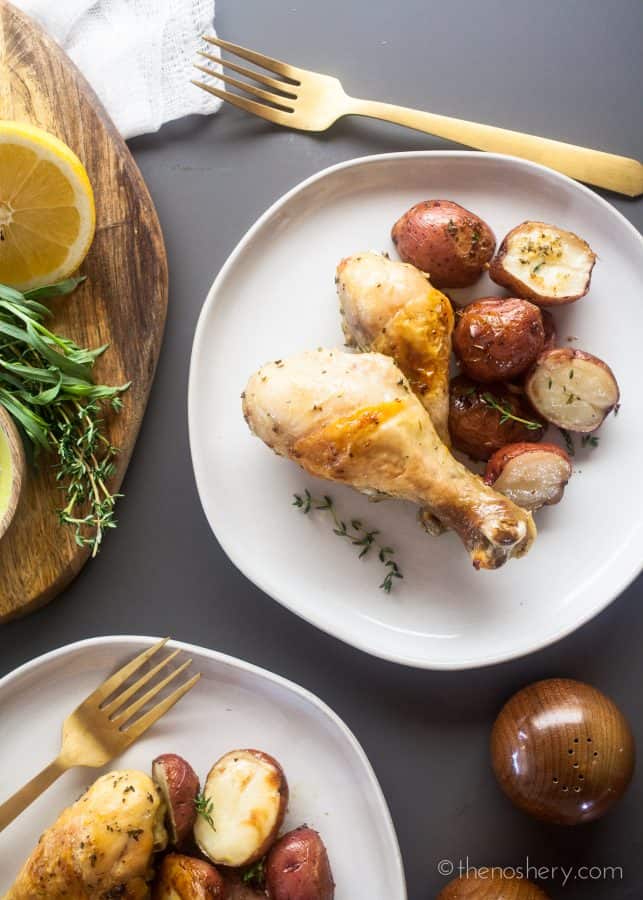 What is great is even with the hotter temperatures approaching you can prepare this on the grill. A grill is basically an outdoor oven. When it starts to get too hot here in Texas I frequently will toss a sheet pan on the grill and let it roast.
If you are looking for a few more one pan meals try this Roasted Poblano Chicken Enchiladas Skillet, Easy Weeknight Italian Chicken Skillet, or Skillet Mushroom Chicken.
Yield: 4 servings
Baked Chicken Legs and Potatoes with Lemon and Herb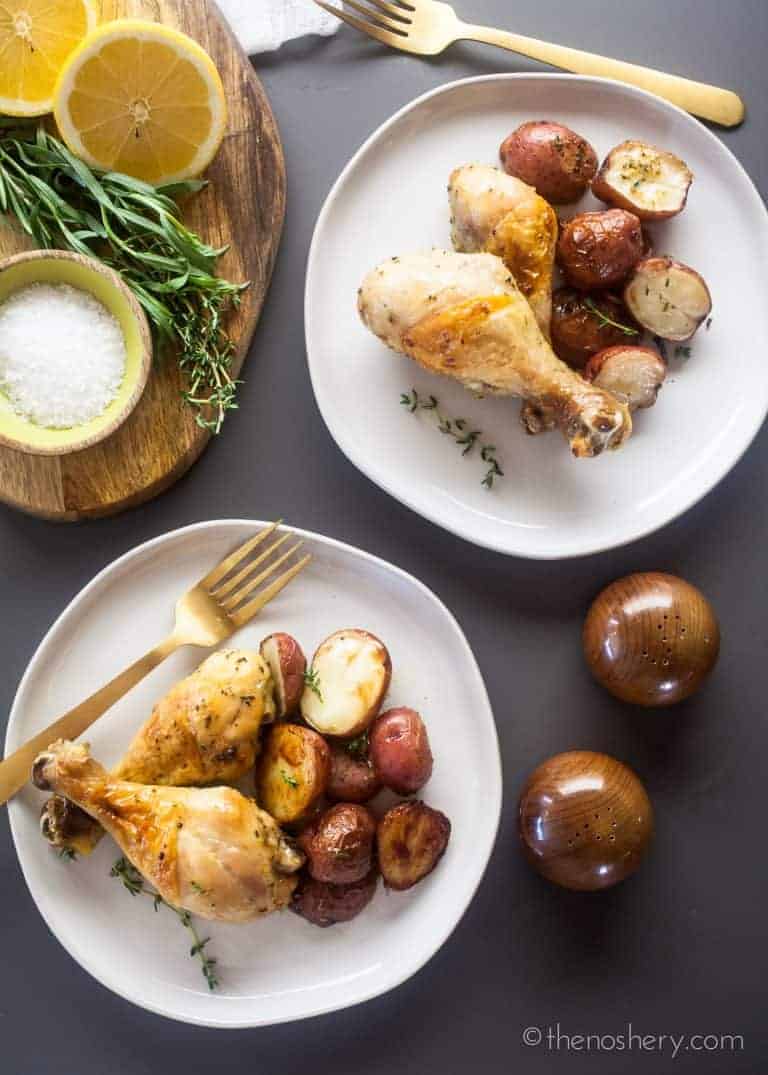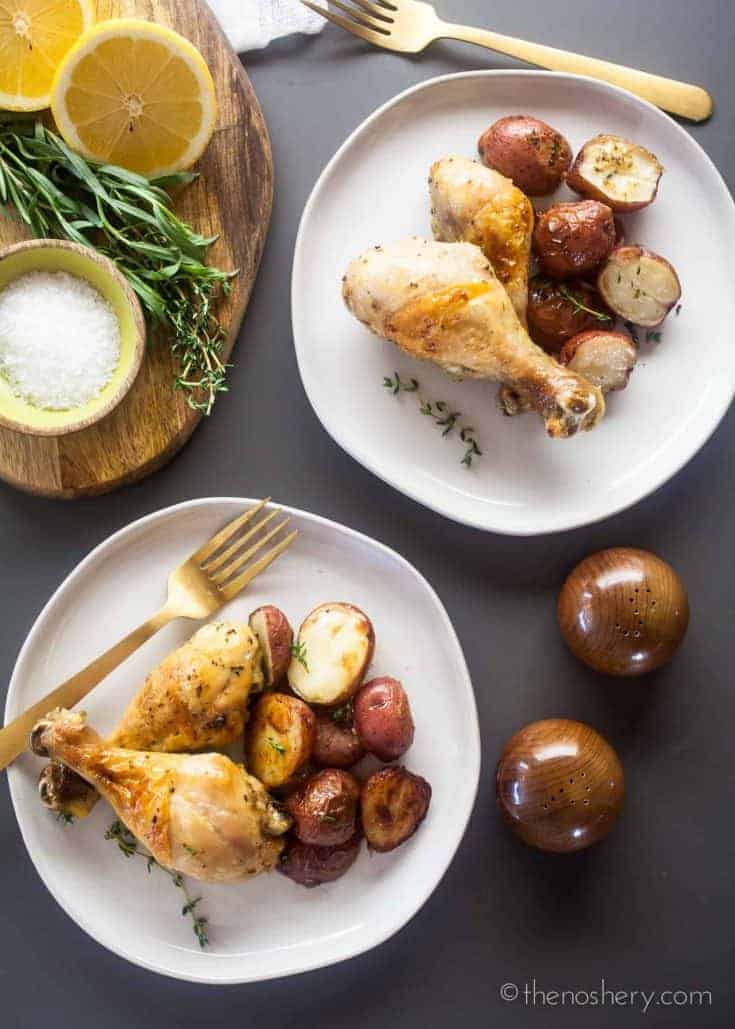 A simple and satisfying meal sure to please the whole family. All you need is one sheet pan and an appetite.
Ingredients
1/2 cup olive oil
1 large lemon, zested and juiced
3 cloves garlic, minced
2 teaspoons minced fresh rosemary
2 teaspoons minced fresh thyme
2 teaspoons minced fresh sage
2 teaspoons kosher salt
3 lbs chicken legs
2 lbs petite red potatoes, halved
Instructions
Heat oven to 400 degrees. Line two sheet pans with aluminum foil.
In a large bowl combine olive oil, lemon juice, lemon zest, garlic, herbs, and salt. Whisk together until well combined.
Pat chicken legs dry with a paper towel. Add chicken and potatoes to the bowl with dressing. Toss until well combined and evenly coated.
Divided chicken and potatoes evenly in a single layer on sheet pans, careful not to overcrowd the pans. Bake in the oven for 45 minutes, or until the juices run clean on the chicken.