Bistec Encebollado, Puerto Rican steak and onions is a very easy recipe to prepare. Because it uses such an inexpensive cut of meat, it is a popular family meal in Puerto Rico.
It is composed of stewed cubed steak with onions and lots of classic Puerto Rican flavors. The result is a very tender meat in a very tasty stew.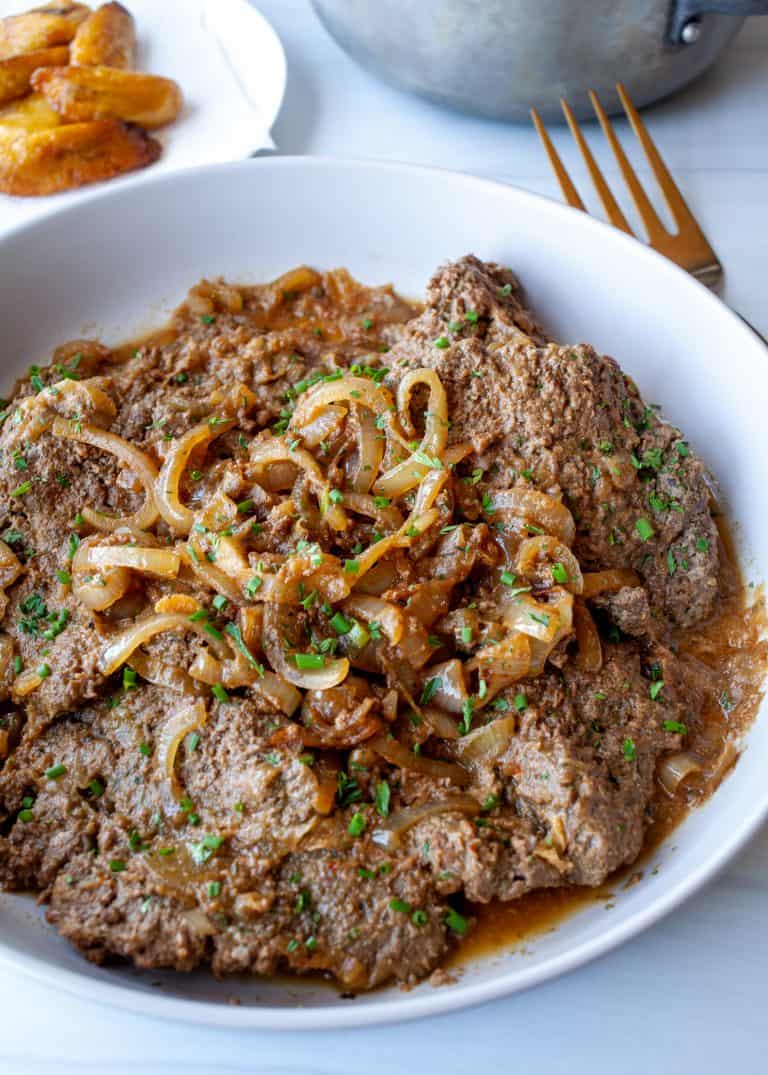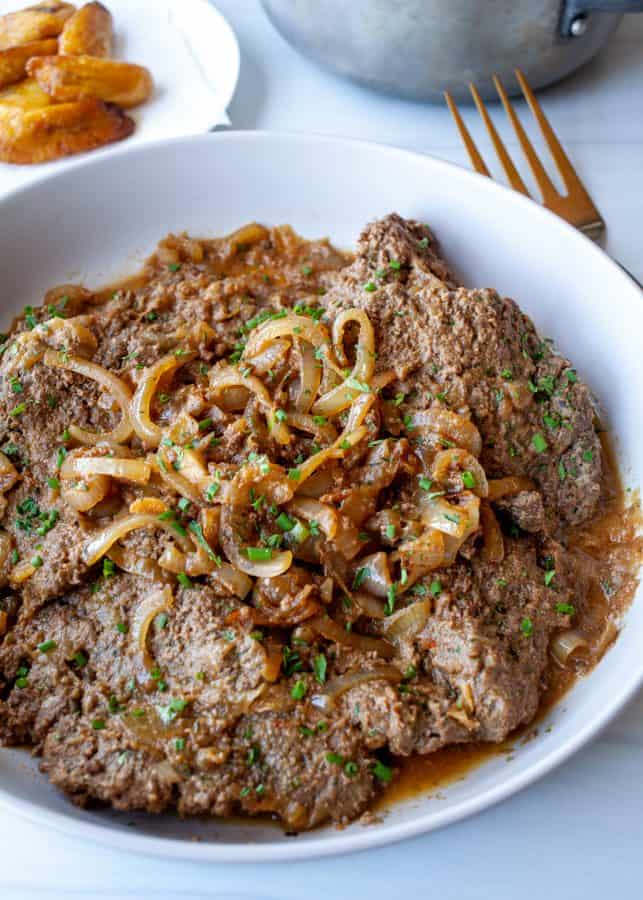 This steak recipe was a staple at my Titi Meli's house. Whenever I make it today I am brought back to my childhood, running in and out of her house with friends. It was dishes like this: cheap, easy and stretchable that allowed her to feed half the kids in the neighborhood.
Her house was the hangout spot and she always had something really good on the stove. You never went home from Titi Meli's hungry.
What is Bistec?
The word "bistec" comes from the Spanish word "bistek", which itself is derived from the English phrase, beef steak. If you say it out loud, it sounds like what it means.
In Spain, the word bistek can mean any cut of beef. In most of Latin America, the "k" turned into a "c". Bistec. Not a huge difference. Furthermore, most Latin American countries, like Spain, use the word simply to refer to any generic cut of meat.
On the other hand, in Puerto Rico, bistec refers almost exclusively to cubed steak. And like Americans in the US, Puerto Ricans call all other steak "steak."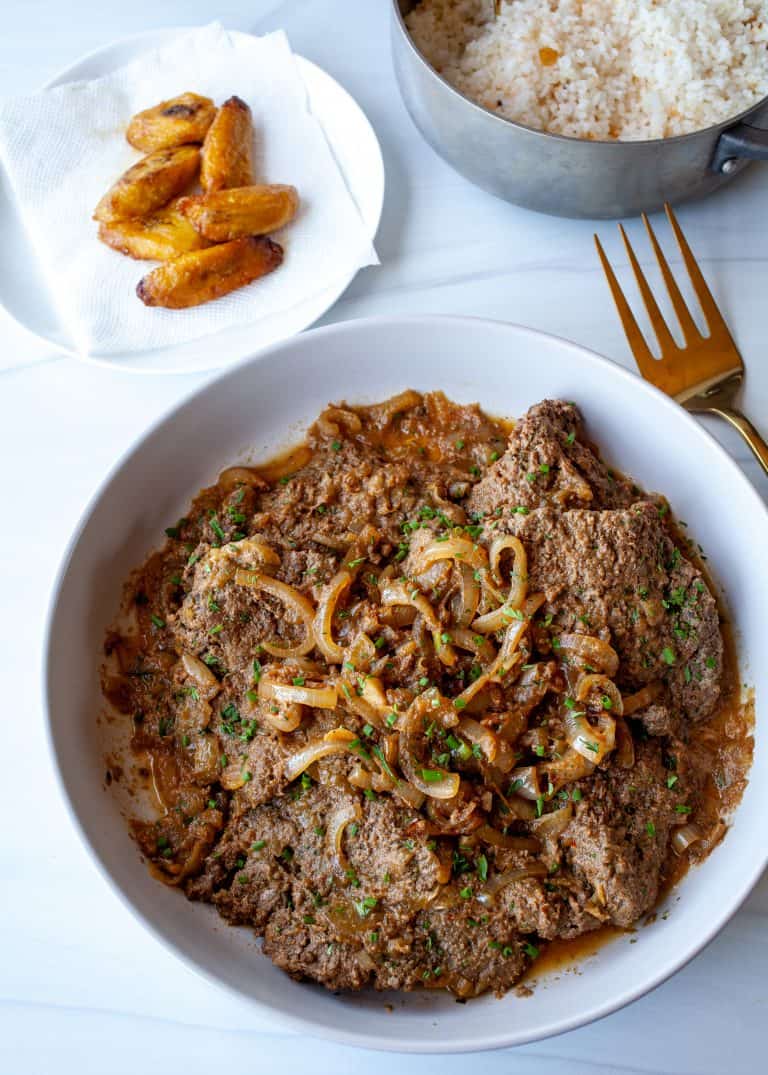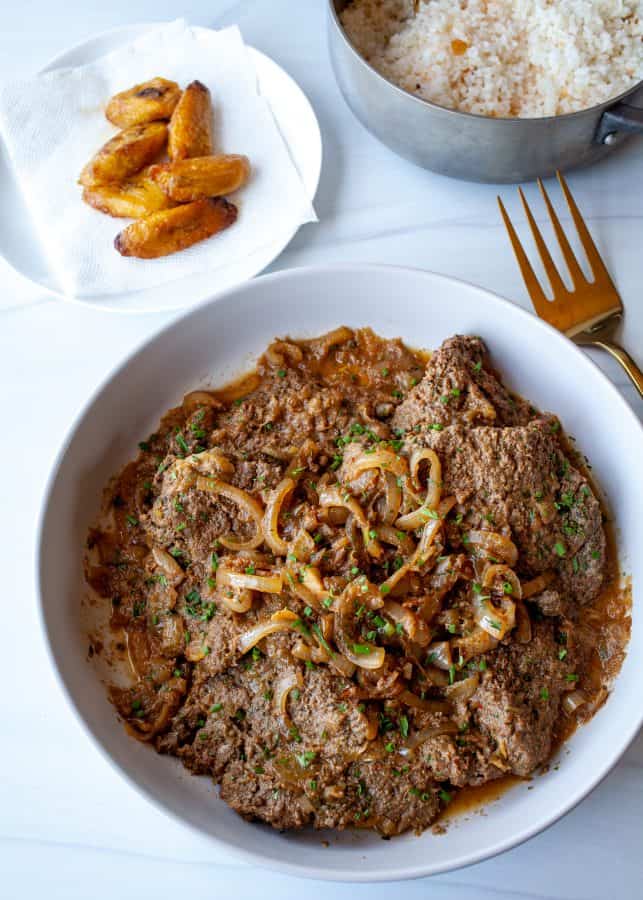 What is the best cut of beef for bistec encebollado?
Hands down, cubed steak makes the best Puerto Rican steak and onions. Because it is lean and already tenderized, the steak practically melts in your mouth when it's done.
Variations of this dish in many other Latin American countries call for any lean cut of beef. They simmer the beef with onions to tenderize the meat. Check out some typical cuts of lean meat at the beef it's what for dinner website.
The Puerto Rican version, which is the one I grew up with and am partial to, uses cubed steak for the meat. Cubed steak is an economical (meaning cheap and probably tough) cut of beef steak that has been mechanically tenderized, leaving a pattern of little cubes on the meat, hence the name.
Word to the wise: use the cubed steak in this recipe.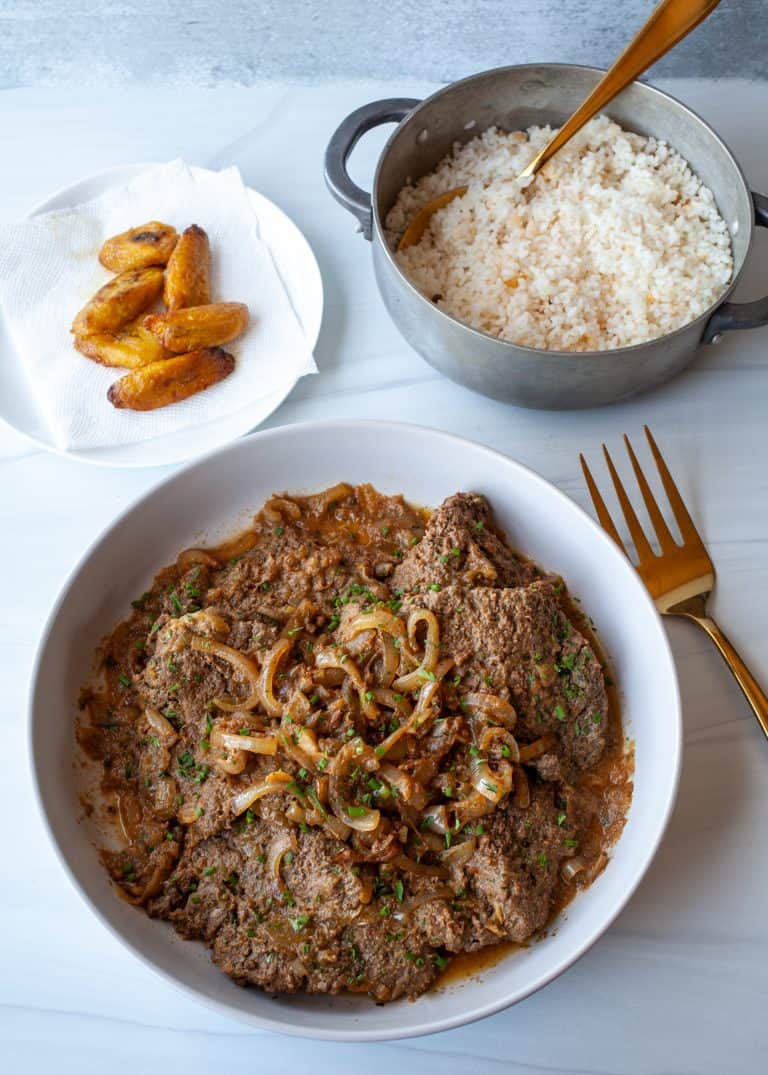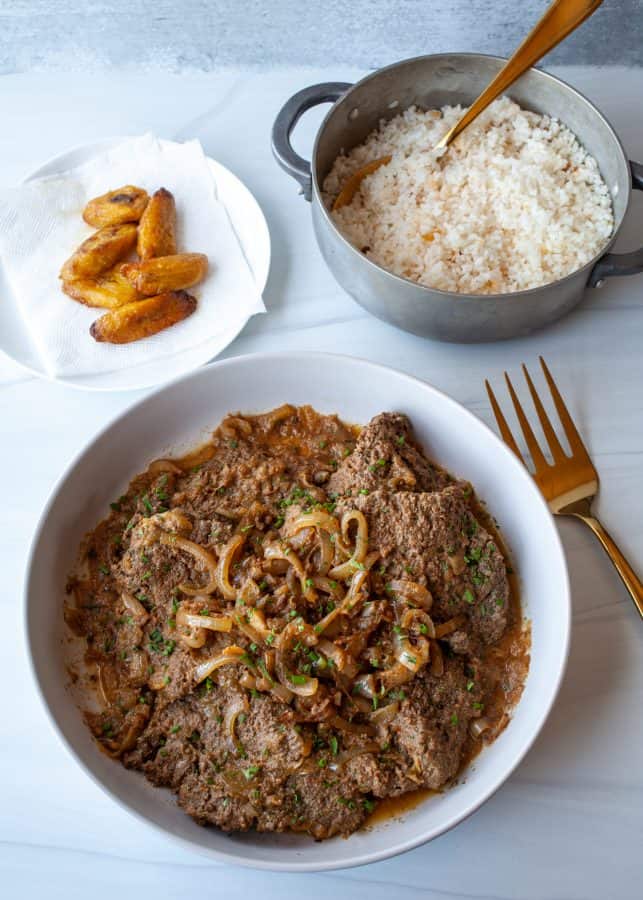 how to make bistec encebollado
Because the meat will need time to marinate, this is a meal you'll need to plan ahead for. Place all of the ingredients in a gallon sized plastic bag. Turn and squish to mix everything together really well in the bag.
At that point, you can either freeze the mixture for later use or put it in the refrigerator for at least 4 hours. Or a couple of days. But it needs to marinate for a while.
When you are ready to cook, deposit the contents of the bag into a large heavy skillet. Bring it to a boil over high heat. Once it's boiling, cover the pan and turn the heat down to low. You want to maintain a simmer without it boiling over for about 40 minutes.
At that point, the bistec encebollados is ready to serve. The cubed steak will be so tender and delicious. Everyone in your house will love you. Your family will thank you.
What is in Puerto Rican steak and onions
cubed steak
olive oil
minced garlic
oregano
white onions
white vinegar
sofrito
water
salt
I have a recipe for homemade sofrito you can use. It's easy and totally worth making up a batch yourself. Freeze it in an ice cube tray to make usable portions.
However, if for some reason it's not possible to make at home, you can find Goya Recaito in the Latin American section of your grocery store. Make sure you get the green one.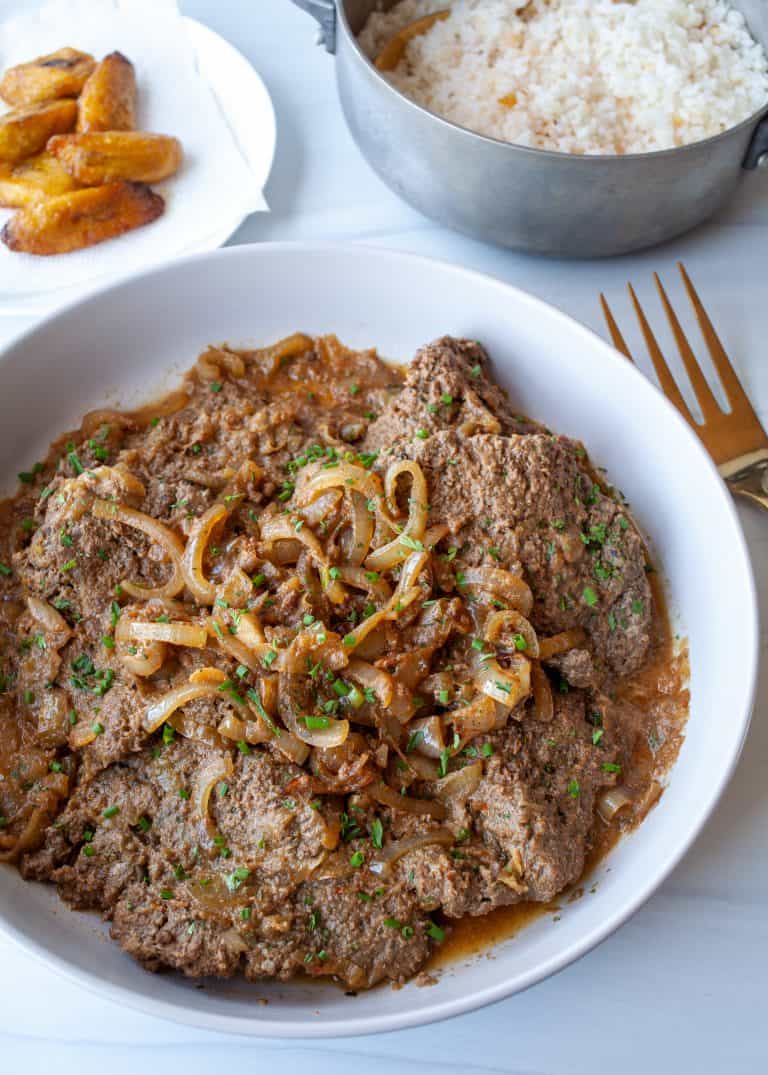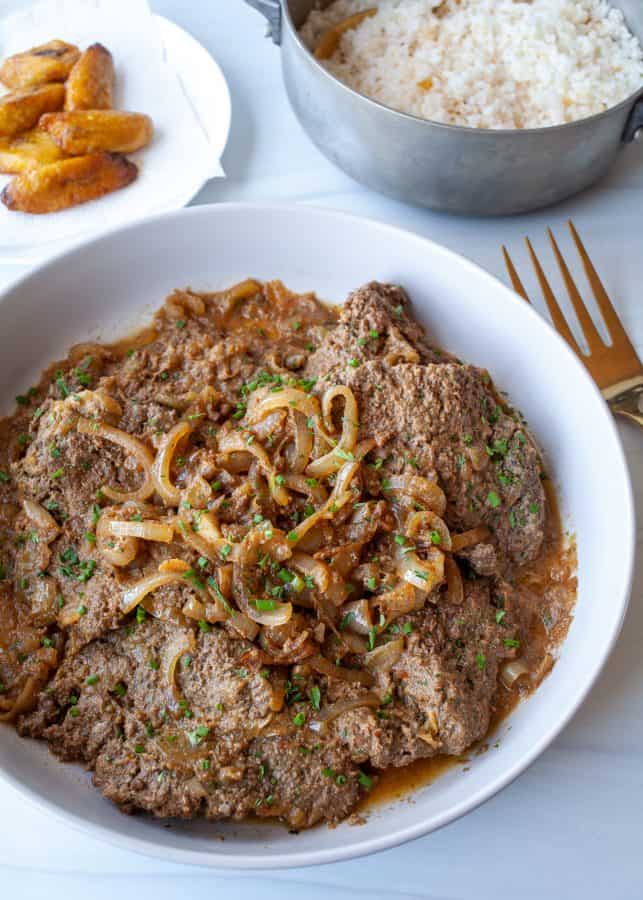 How to serve bistec encebollado
This is a very easy dish that is prepared in many Puerto Rican homes for an easy, economical dinner. Some other stewed meals that are family favorites are lengua de res guisada (stewed beef tongue) and sancocho stew (Puerto Rican beef stew).
Traditionally, we serve Puerto Rican steak and onions with white rice and beans. The white rice sops up the juices. It's fabulous. For the bean side dish, you should try habichuelas guisandas a classic Puerto Rican bean recipe made with tomato sauce.
Additionally, I sometimes like to add a fried egg and a side of maduros to my bistec encebollados. Maduros are fried sweet plantains and the linked recipe from bon appetit is delicious.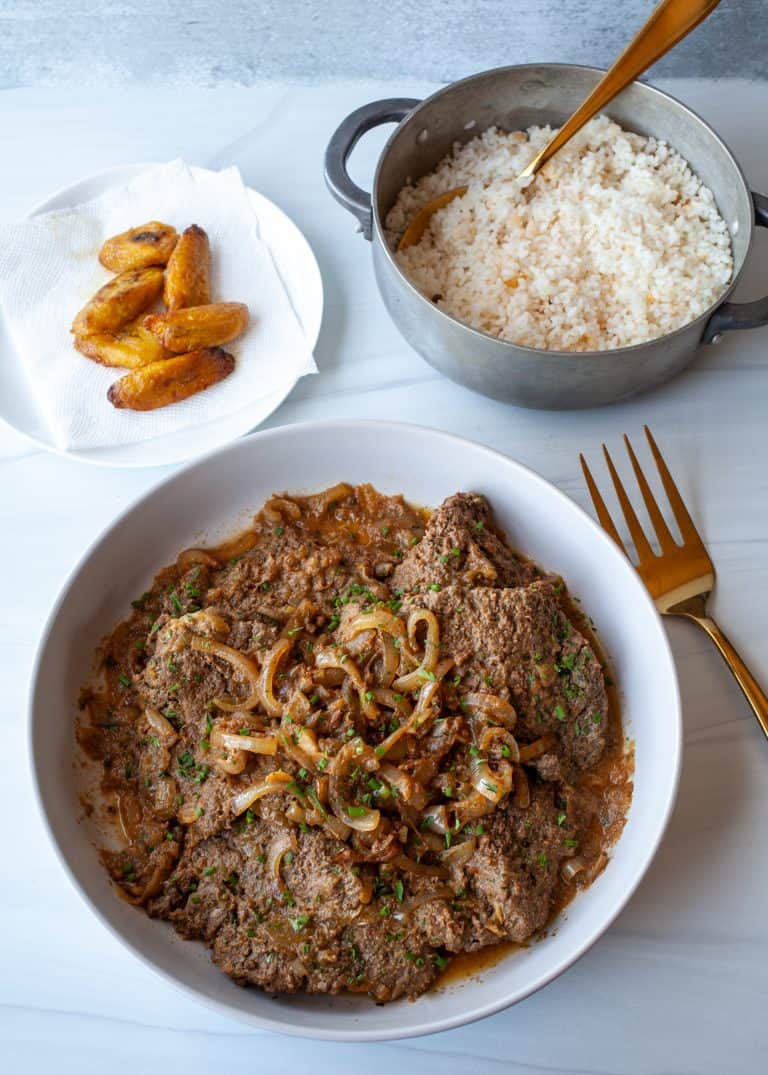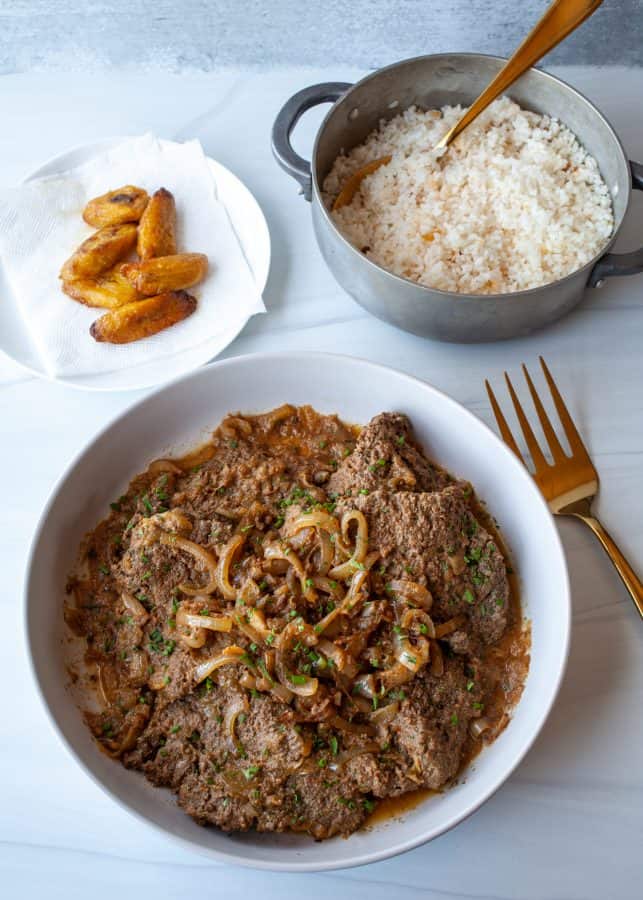 more Puerto Rican recipes you'll love
Include some more Puerto Rican flavors on your dinner table! Try some of these traditional recipes:
As always you can find tons of delicious PR dishes in my Puerto Rican recipe collection.
Yield: 4
Bistec Encebollado (Puerto Rican Steak and Onions)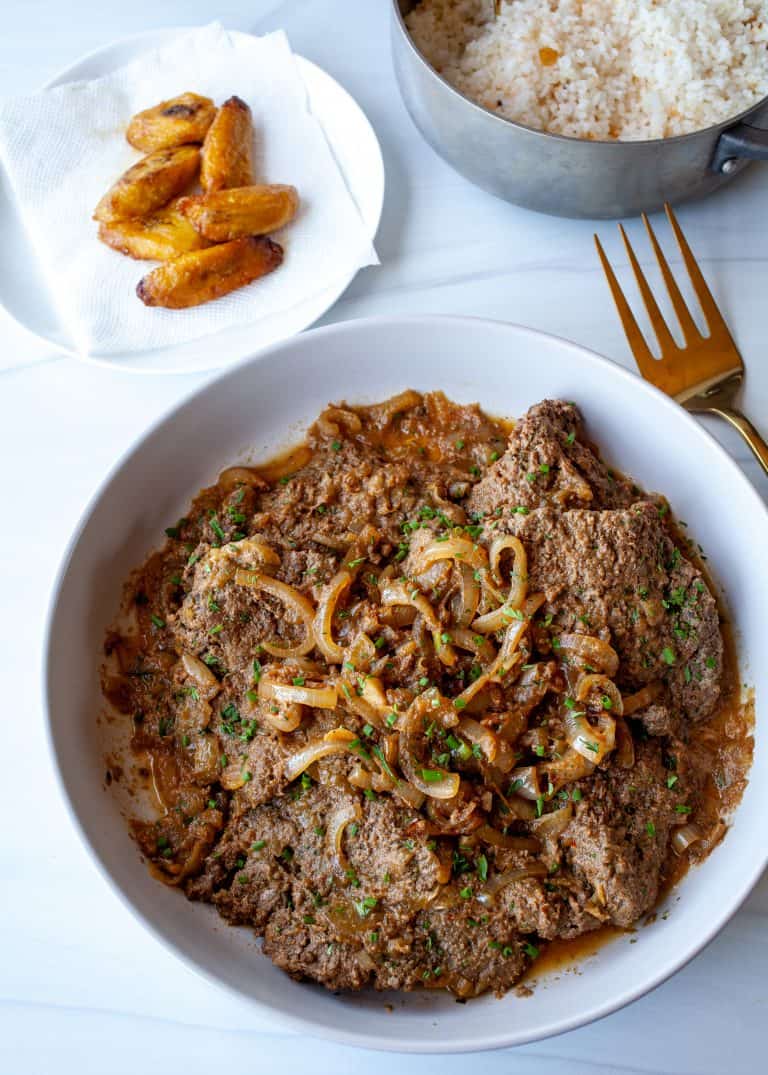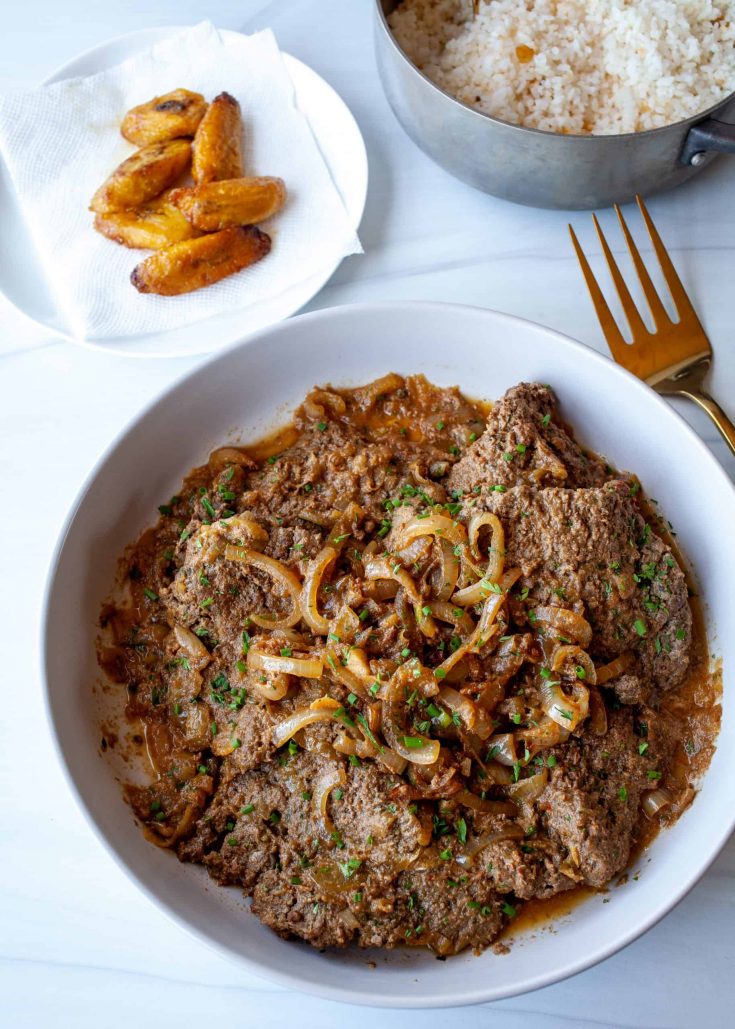 Bistec encebollado, Puerto Rican steak and onions, is an easy and economical family-style dinner made with tender stewed cubed steak.
Total Time
4 hours
50 minutes
Ingredients
2 pounds beef steak, thinly sliced
1/2 cup olive oil
2 tablespoons minced garlic
dash dried oregano leaves
2 large white onions, sliced in rings
1/4 cup distilled white vinegar
1 1/2 cups water
1 tsp. salt
Instructions
Combine all ingredients in a gallon-size plastic bag and turn so that all the ingredients mix together. Refrigerate for at least 4 hours or a couple of days (or freeze for later use).
Place the contents of the bag in a heavy skillet and bring it to a boil. Lower the heat to a simmer, cover and cook for about 30-40 minutes or until the meat is tender.
Recommended Products
As an Amazon Associate and member of other affiliate programs, I earn from qualifying purchases.
Nutrition Information:
Yield:
4
Serving Size:
1
Amount Per Serving:
Calories:

818
Total Fat:

58g
Saturated Fat:

18g
Trans Fat:

0g
Unsaturated Fat:

30g
Cholesterol:

220mg
Sodium:

853mg
Carbohydrates:

9g
Fiber:

1g
Sugar:

3g
Protein:

62g
One More Thing!
Rebecca and I launched the My Plate is Always Full Podcast! Just two friends and former chefs talking obsessively about food. You can go and subscribe now!
New episodes released every Wednesday!
In the meantime follow us on Instagram @my.plate.is.always.full  or visit our website!