Arroz con Pollo | Do I have a treat for you! We all have a dish that brings up feelings of nostalgia and comfort. For me, it's always a toss-up between fricase de pollo (chicken fricassee) or arroz con pollo (chicken and rice).
Arroz con pollo made a regular appearance throughout my childhood. I loved to come home from school and be welcomed by the aroma of savory rice and chicken.
What's not to love? It's a one pot wonder where the chicken is cooked in the rice making it a quick and easy dish that adults and kids love.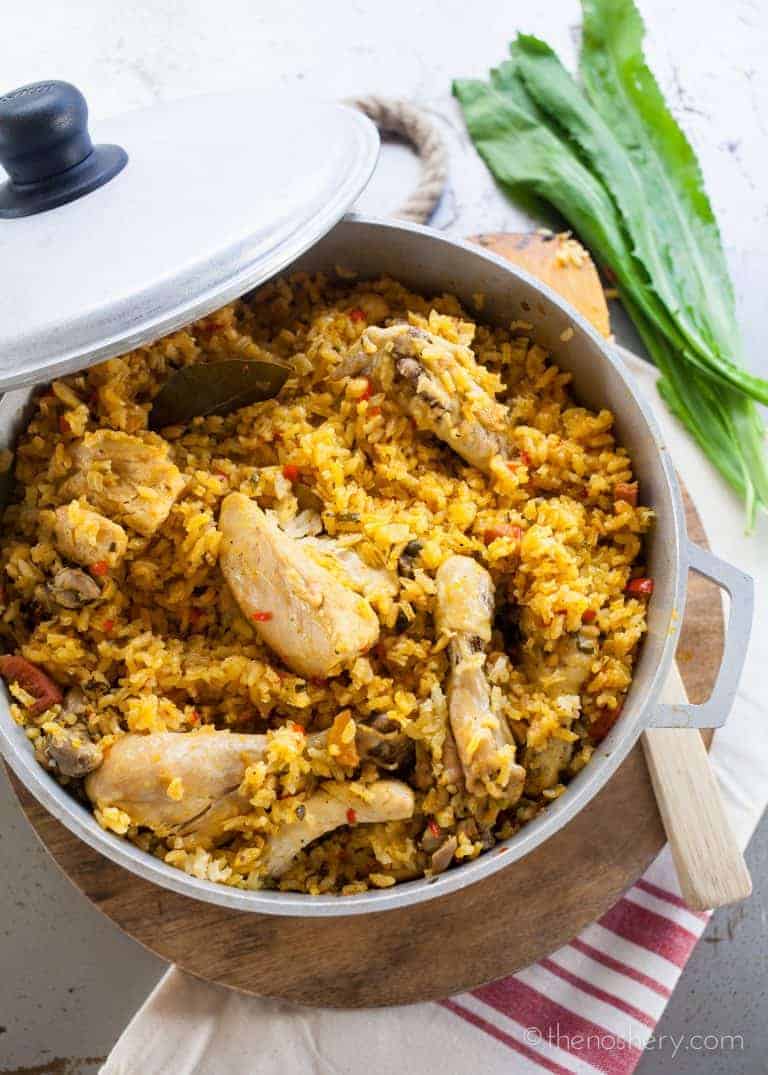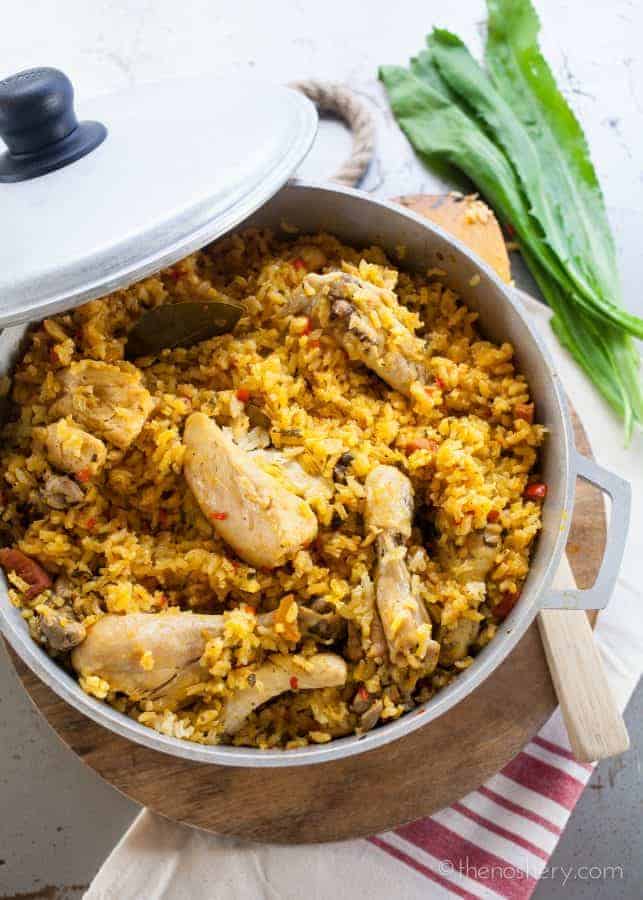 Although chicken and rice is a classic Puerto Rican comfort food many Latin countries have their own versions of arroz con pollo. The seasoning, types of rice and aromatics may vary but, they all have chicken and rice.
Clearly, I am biased but I believe that arroz con pollo boricua is the best. Every Puerto Rican recipe starts with a base of sofrito, medium grain rice, and annatto oil and it's prepared in a caldero the sofrito gives the dish it's flavor and the annatto oil gives it its golden color.
I love this one pot wonder! It's the best arroz con pollo recipe. Just like abuela made it.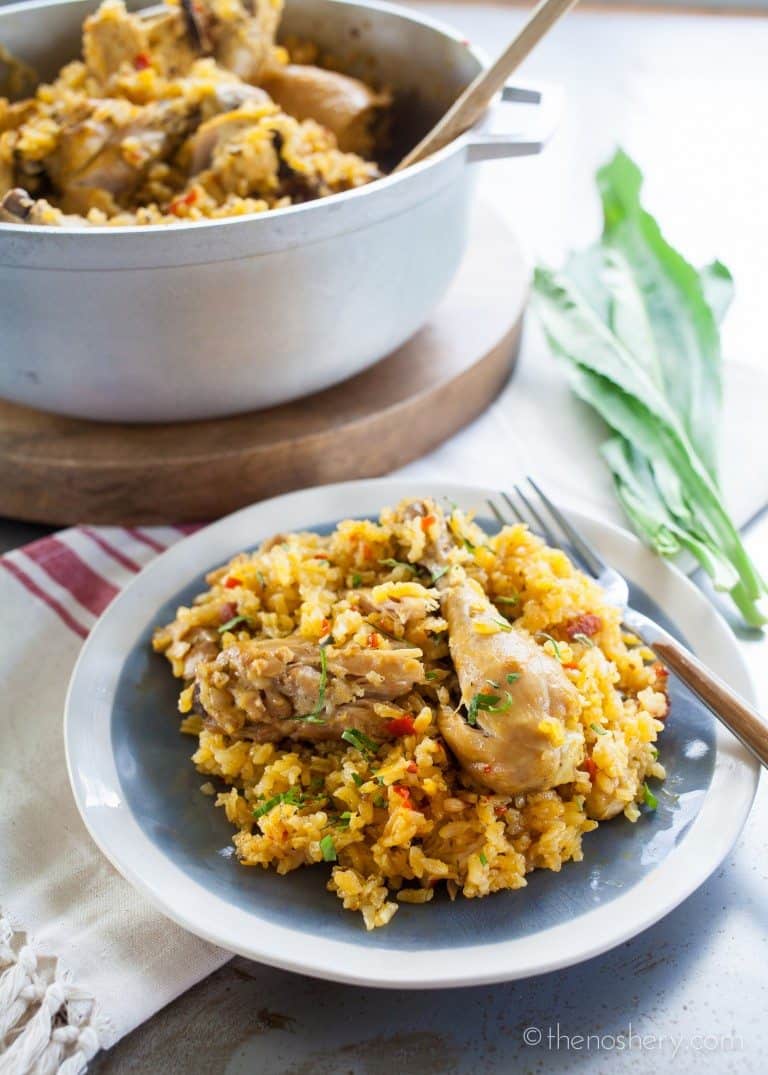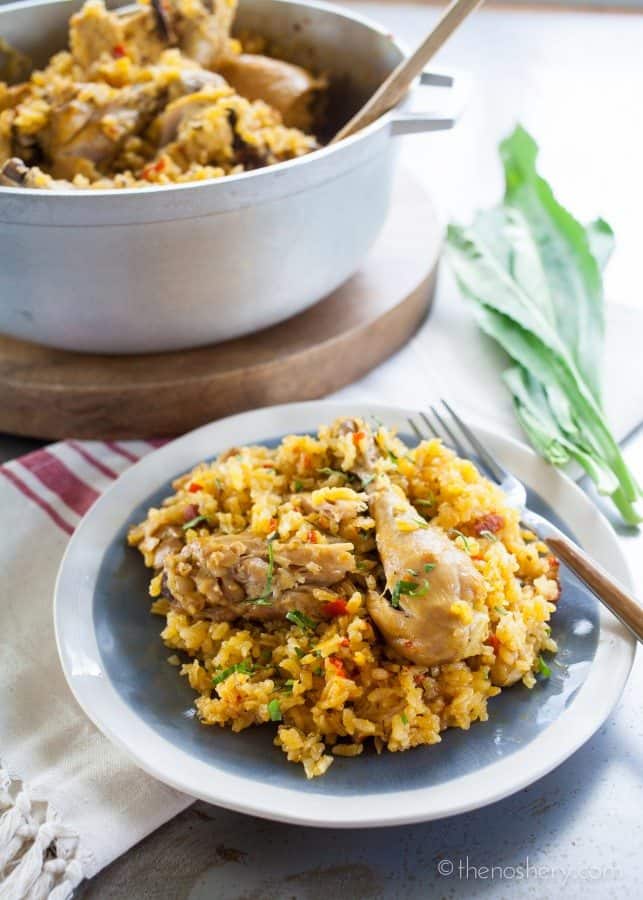 How to Make Arroz con Pollo
The trick to this dish is layering flavors on top of flavors. Although this is a one-pot dish, layering the flavors gives every element of the dish a chance to develop.
It's important to take the time to layer and develop flavor to keep the flavors of this one-pot dish from being muddled.
This is why it's important to take the time to saute the vegetables, brown the chicken, and toast the rice. I typically will get a whole chicken and break it down but if you prefer you can use chicken thighs.
do you need to rinse rice?
When I was a kid watching my mother make dinner, she would always rinse the rice. When I got older, I thought that this step was more of a learned habit than a necessary step.
But, I quickly realized that this is a very necessary step. Rice straight out of the bag is coated in excess starch, and that added starch will make your rice sticky if not rinsed.
Puerto Rican chicken and rice is not meant to be sticky; it should be light and fluffy.
what is sofrito?
Sofrito is the heart and soul of Puerto Rican cuisine. It's our version of mire pox or the holy trinity, except there are way more than just three ingredients.
It is the base of many Puerto Rican dishes and leaving it out when it's called for is not an option. I am a firm believer that homemade is superior to store bought, so I choose to make my own.
But, that does not mean I never use store bought. Sometimes there isn't time to make it, and store bought is acceptable.
However, let me clarify the difference between sofrito and recaito. In Puerto Rico sofrito, DOES NOT have tomatoes, unlike Spain's sofrito that is made with tomato.
Also, sofrito and recaito are used interchangeably in Puerto Rico. That being said if you are going to buy sofrito what you want is recaito. I know confusing, sorry. The best way to remember is a little rhyme "green go and red no."
what kind of rice for arroz con pollo?
Puerto Rican rice is made with medium-grain rice…the end. The problem is that in the states medium grain rice can be hard to find.
But, thanks to the power of the internet you can have a bag delivered to your door. Which is what I did when I lived in Tulsa.
Why do we use medium grain rice? It's all about the texture. Short grain rice produced rice that is too sticky, and long grain makes very loose rice. We like our rice somewhere in between.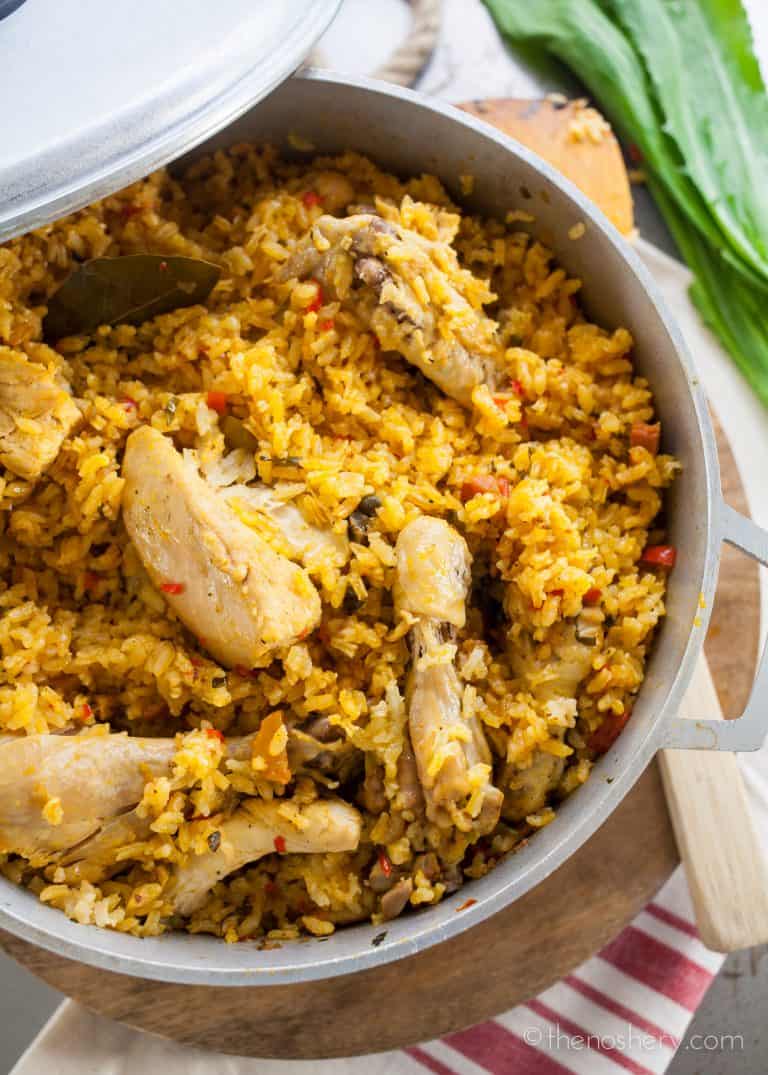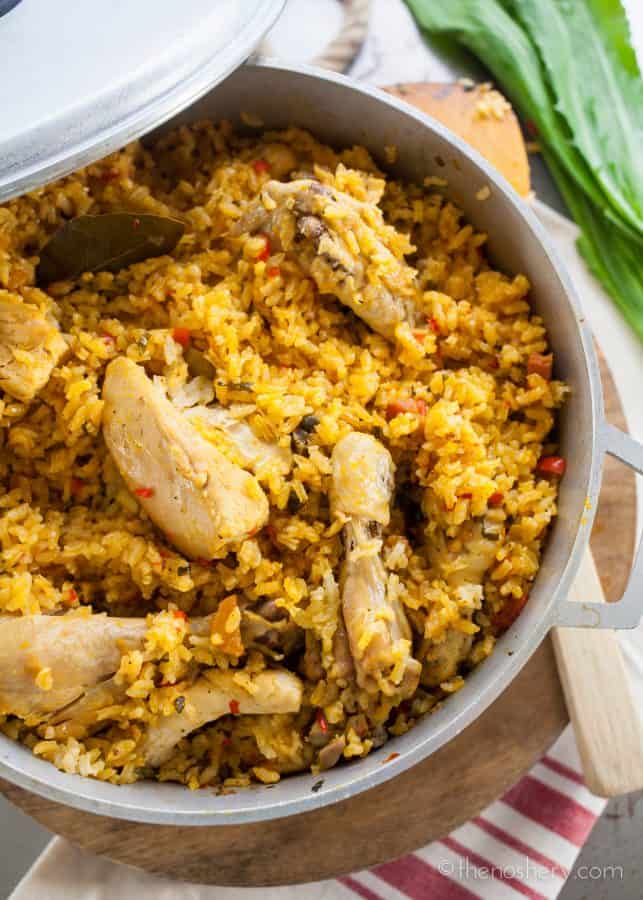 why toast the rice?
Toasting the rice in drippings or oil helps to keep the rice loose and fluffy. Do not over stir the rice when toasting.
You want to allow it time to toast and create a thin barrier from the liquid that helps towards optimal fluffiness. You want to toast it until it's just beginning to brown.
how to make pegao
Also, if you want the coveted "pegao", which is the crusty toasted rice at the bottom of the pot, you have to make the rice in a caldero.
After the last stir of the rice while toasting and before adding the liquid add a little more oil and let the rice toast until it starts to stick to the bottom.
Finally, add the liquid and cook as instructed cooking for 10 minutes longer allowing the rice to get crispy on the bottom.
Keep an eye on it! You want it to toast not burn. Making pegao is an art not everyone gets it right for the first time.
how much water for arroz con pollo?
The standard ratio of rice to water is 1 to 2. Therefore, for every 1 cup of rice, you use two cups of water. However, when it comes to chicken and rice I have found that that ratio isn't quite right.
The issue is that the added ingredients such as sofrito and chicken and rinsing of rice equal to added liquid.
I have found the ratio of 1 1/4 cups of water per cup of rice works better.
This is something that my grandmother and mother-in-law taught me, and it works for me every time.
how to create a tight seal when making rice
A tight seal when steaming the rice is essential! Back in the day, a plantain tree leaf would be laid over the rice and covered to help create a tight seal.
Nowadays we use foil. Not having a tight seal allows heat and water to seep which could result in undercooked rice.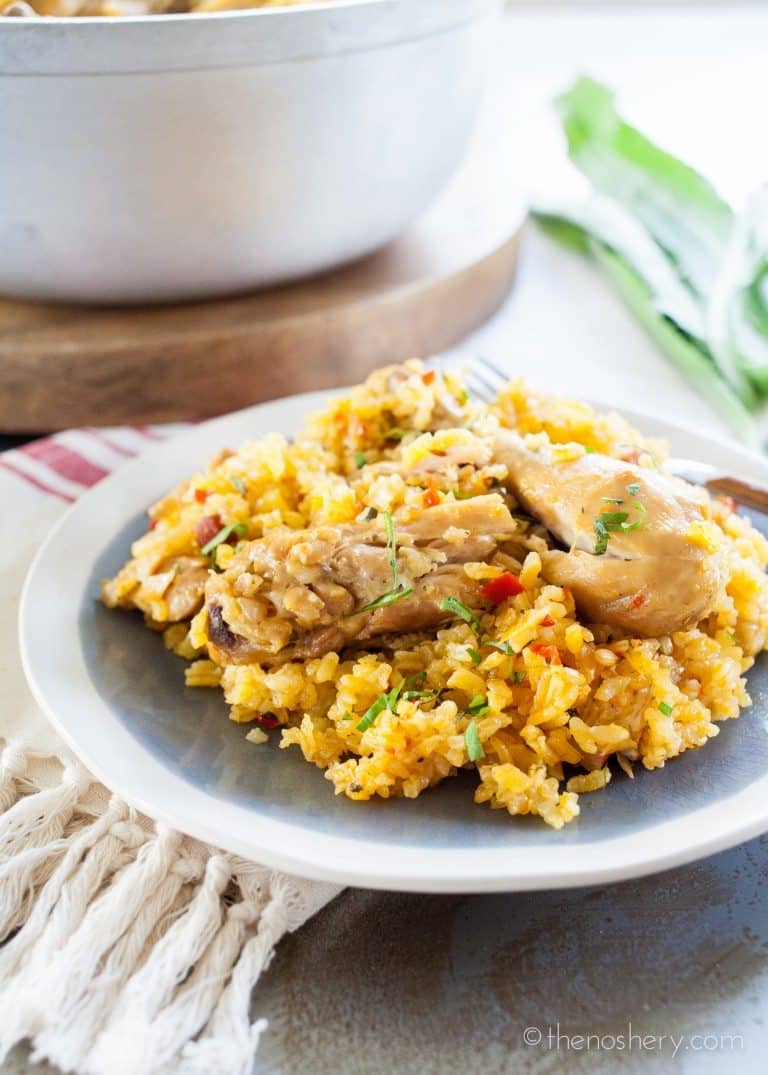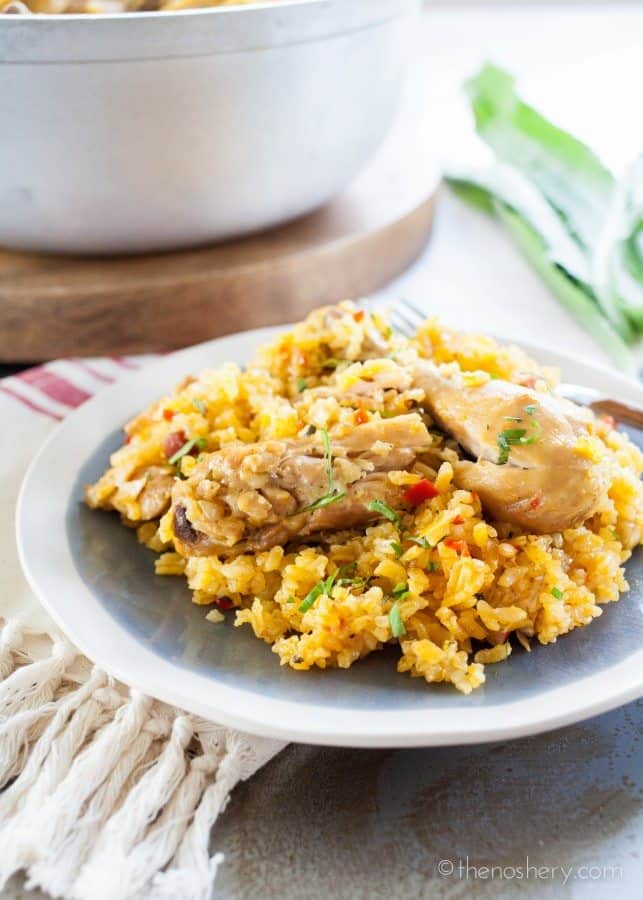 Puerto Rican cuisine has many rice dishes. It's kind of crazy how many variations of rice there are and, it goes to show that making rice is a sort of art.
Explore more Puerto Rican flavors by visiting my entire collection of puerto rican recipes. If you need more inspiration for chicken recipes visit my entire collection of chicken recipes.
more chicken recipe love
more puerto rican recipes
Yield: 10
Arroz con Pollo (Chicken and Rice)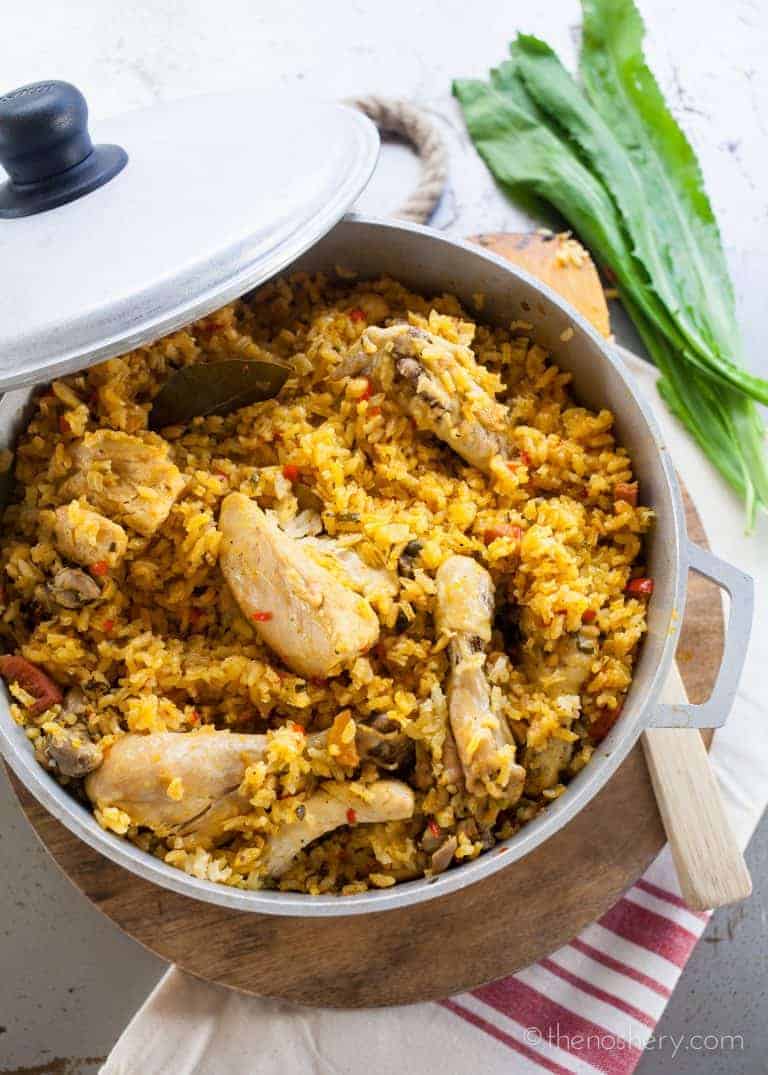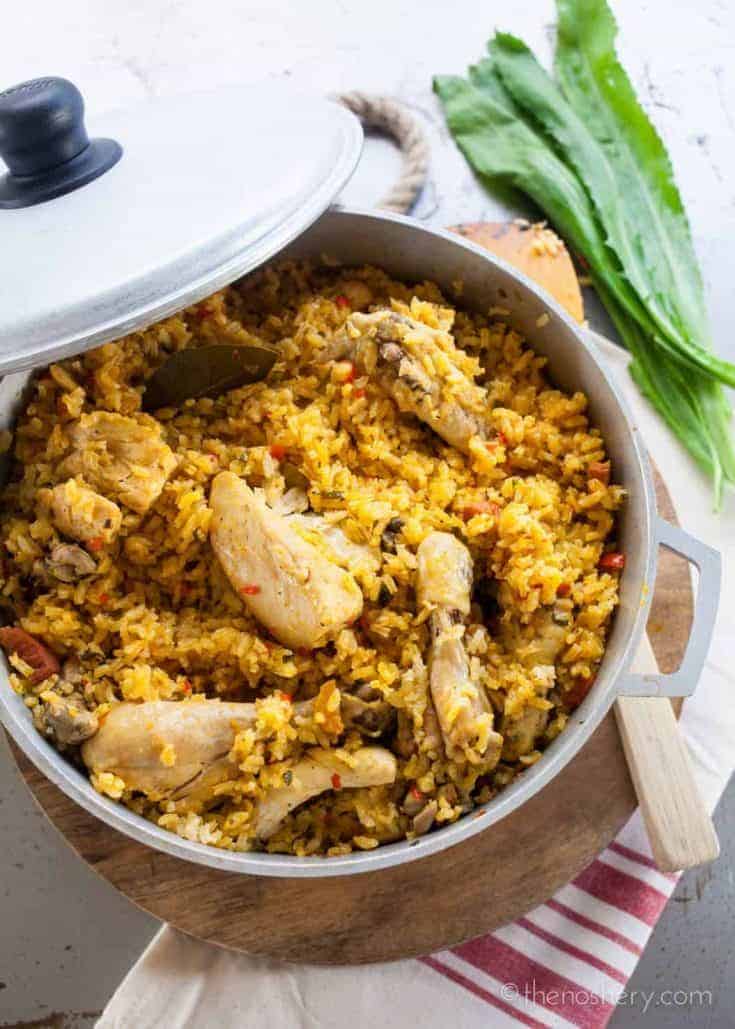 Arroz con pollo is classic Puerto Rican comfort food. It's a one pot wonder where the chicken is cooked in the rice making it a quick and easy dish that adults and kids love.
Ingredients
1 whole chicken, cut into 8 pieces and remove skin* or 8 skinless chicken thighs
1/4 cup diced salted pork
2 1/2 cup medium-grain rice, rinsed
2 large bay leaves
Sofrito
1 medium onion
4 culantro (recao) leaves
1 red bell pepper
3 garlic cloves, chopped
1 tablespoon capers
12 Spanish olives, chopped
Adobo (Seasoning)
1 1/2 tablespoon kosher salt
1 teaspoon ground cumin
2 teaspoon ground garlic powder
1 teaspoon ground coriander
2 teaspoon onion powder
Achiote Oil
1 cup olive oil
2 1/2 tablespoons whole achiote (annato) seeds
Instructions
Achiote Oil
Heat the oil and seeds in a small saucepan over medium heat just until the seeds begin a steady bubble and oil turns a bright orange color. Remove the saucepan from the heat and let stand for a minute. Strain the oil. Store in half-pint mason jar.
Arroz con Pollo
Combine adobo seasoning in a small bowl. Cut chicken breasts in half, sprinkle seasoning over all the chicken and toss until evenly coated, set aside.
Heat a 4-quart caldero or shallow heavy bottom pot over medium heat. Add salted pork, chicken wings and 1 tablespoon of water. Slowly render the fat from the pork and chicken wings, about 10 minutes or until pork is crispy. Transfer wings and pork to a plate.
Raise the temperature to medium-high heat. Working in batches brown chicken on all sides, about 3 minutes per side. Transfer to plate and set aside.
Add sofrito ingredients and 3 tablespoons of achiote oil to the pot. Saute sofrito until tender, 5 - 8 minutes. Add rice and pork to the pot, mix until rice is evenly coated with oil. Toast the rice, stirring for 3 minutes.
Add chicken to the rice and toss, working the chicken into the rice. Add 3 cups of water and bay leaves. Make sure that the chicken and rice are covered by the water. Bring to a boil and let the water reduce until the rice is just becoming visible. Cover with foil and lid, reduce heat to low and simmer until rice is cooked through, about 25 - 30 minutes.
Fluff rice with a fork and serve.
Notes
Culantro can be substituted with 1/4 cup chopped cilantro. However, if you can find culantro I highly recommend using it. Culantro can be found in the produce section of many Latin & Asian supermarkets.
Click on link to learn how to cut a whole chicken : There is no need to skin the chicken wings.
Rinse rice in a fine mesh strainer until water runs almost clear.
When making achiote (annato) oil make sure to use whole seeds and not the powder. The powder will burn easily and clump.
Learn some important tips for making Puerto Rican style rice here.
Recommended Products
As an Amazon Associate and member of other affiliate programs, I earn from qualifying purchases.
Nutrition Information:
Yield:
10
Serving Size:
1
Amount Per Serving:
Calories:

572
Total Fat:

39g
Saturated Fat:

8g
Trans Fat:

0g
Unsaturated Fat:

29g
Cholesterol:

169mg
Sodium:

1221mg
Carbohydrates:

15g
Fiber:

1g
Sugar:

1g
Protein:

42g