Ensalada de Coditos | Think classic American macaroni salad with a Puerto Rican flare. This pasta salad is present at our family table for every celebration, from birthdays to Christmas. If the salad bowl wasn't scraped clean by the end of the night, we would do the scraping ourselves after the guests went home. Sitting up with the last bit of macaroni salad, rehashing the party and the latest family gossip.
My go-to macaroni salad recipe is from my sister-in-laws, Degi & Lissie. I have been wanting to share this forever and finally made them give me the recipe. All I had to do was ask and they were happy to share, not strong-arming was necessary. I am really excited to share this recipe as we head into the holiday entertaining season.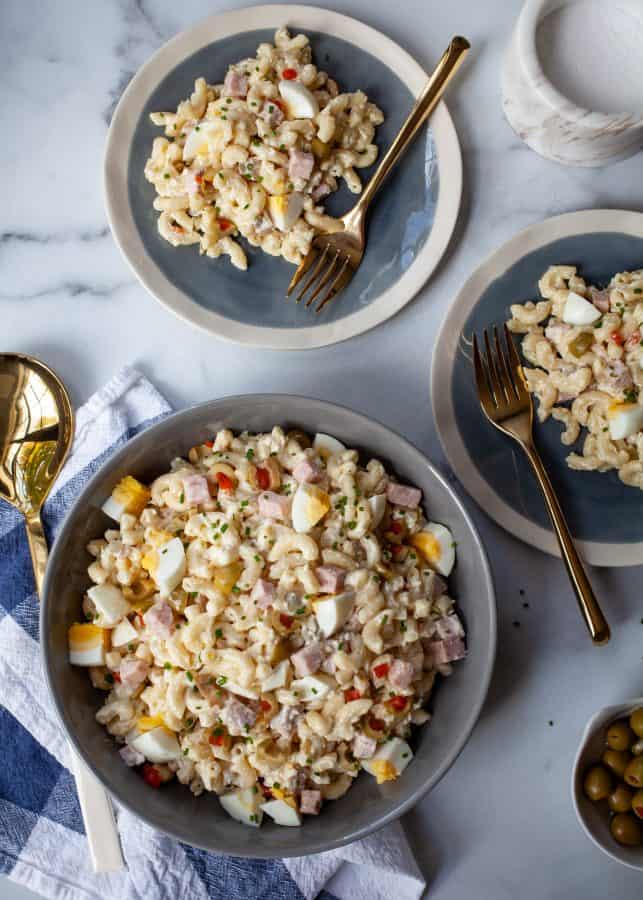 Ensalada de coditos is creamy and delicious, perfect to bring as a dish to pass. Furthermore, it improves with age so it's definitely worth making ahead. You can keep some stashed in the refrigerator for easy lunches and unexpected guests.
If you are thinking of using some PR macaroni salad as a side dish at your Christmas dinner, don't forget to include these Christmas dishes. Arroz con gandules, some pasteles such as pasteles de yuca or pasteles de masa and pernil. Try slow cooker pernil or roasted peril.
How to Make Ensalada de Coditos
Putting these salad ingredients together couldn't be easier.
First you'll want to cook the elbow macaroni in a large pot of boiling water until al dente. Next, drain and rinse the pasta in cold water before tossing it with olive oil. You can grate the onion and chop the olives, spam and boiled eggs while the macaroni is cooking.
Finally, thoroughly toss the spam, onion, olives and mayonnaise together in a large bowl. Now gently stir in the eggs. Cover the macaroni salad and let it marinade in the refrigerator for at least an hour.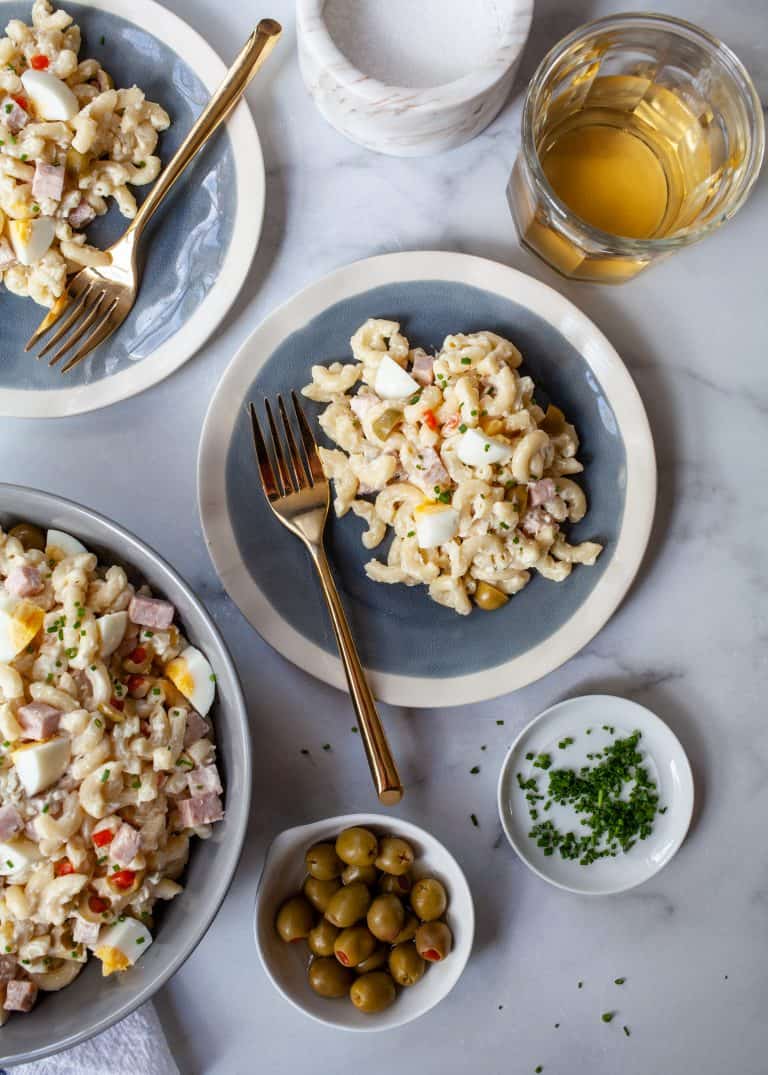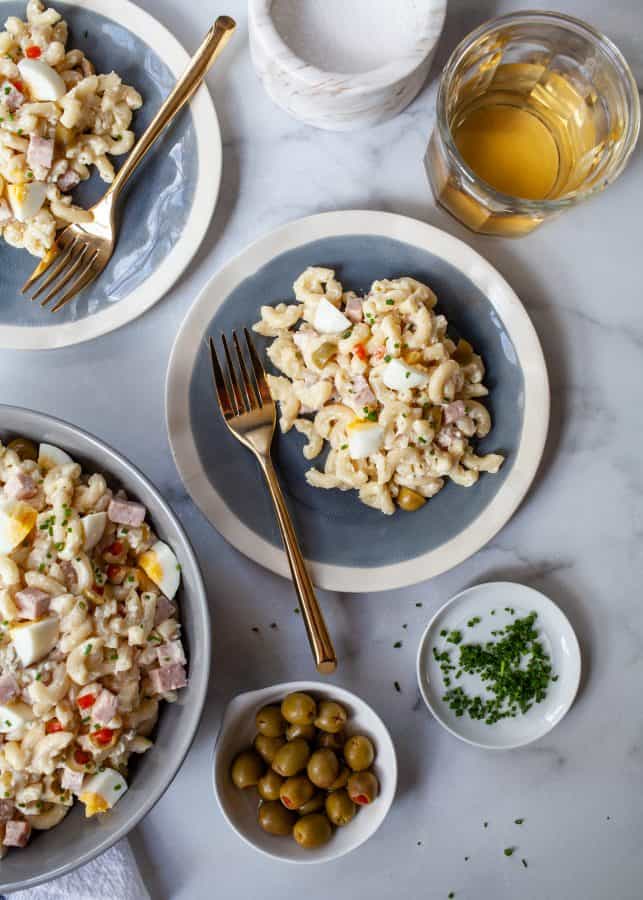 This pasta salad is so easy to make, you might be inspired to serve more than one at your next get together. Olive and sun-dried tomato pappardelle is absolutely delicious and will provide a nice foil for the mayonnaise salad. Peach and bacon pasta salad is a tasty option and I just love Mexican street corn pasta salad from Chelsea's Messy Apron.
What is in Ensalada de Coditos
Here's what you need to make Diga's delicious ensalada:
elbow macaroni
olive oil
Spam, yes spam
onion
mayonnaise
Spanish olives
hard-boiled eggs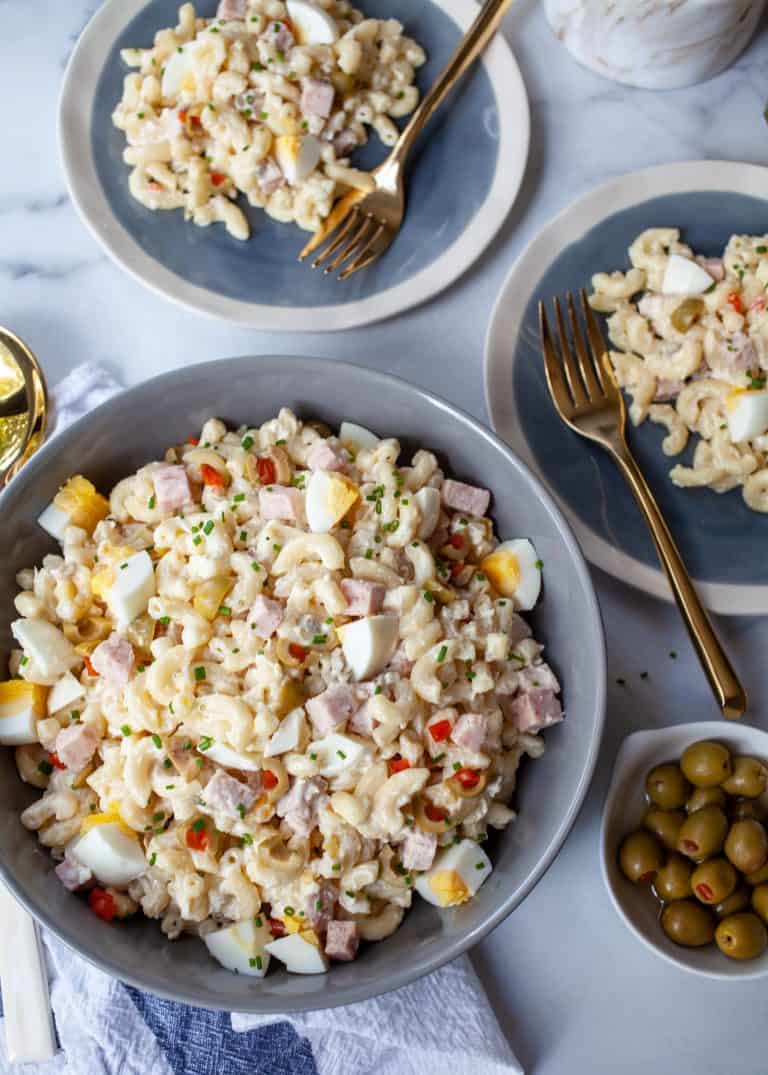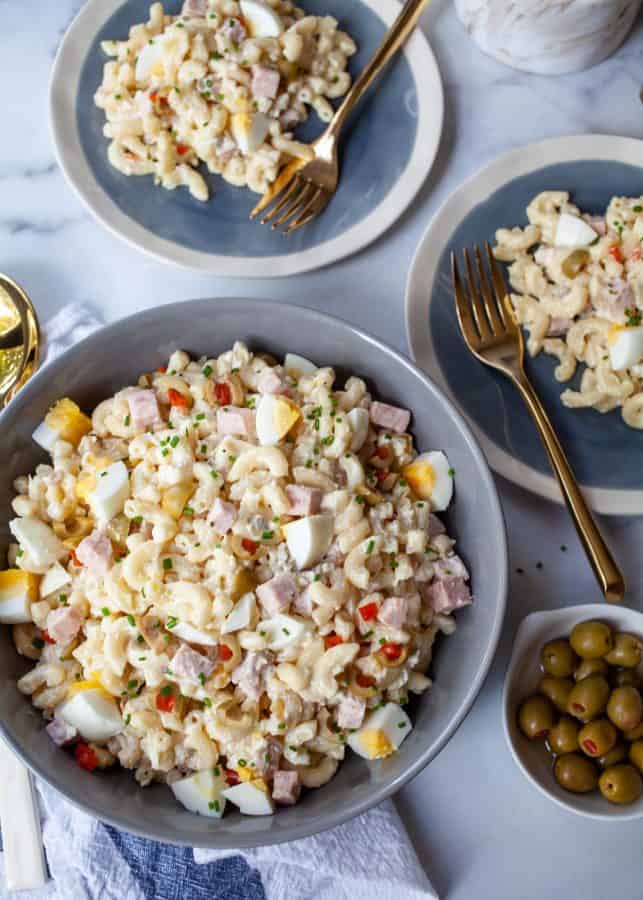 Classic Macaroni Salad vs. Puerto Rican Macaroni Salad
This dish perfectly demonstrates how American and Puerto Rican cuisine morph together over time. For instance, inspired by the classic American macaroni salad, Puerto Rican home cooks adapted it to the local palate. They used readily available ingredients, like spam and pimento stuffed olives.
The familiar salad recipe consists of elbow macaroni and a mayonnaise base. Both recipes include boiled eggs and onions. But that's where the similarities end and local flavor takes over.
Most American macaroni salads use dijon mustard, dill pickles or apple cider vinegar as an acidic element. Spanish olives fill that role in our Puerto Rican version.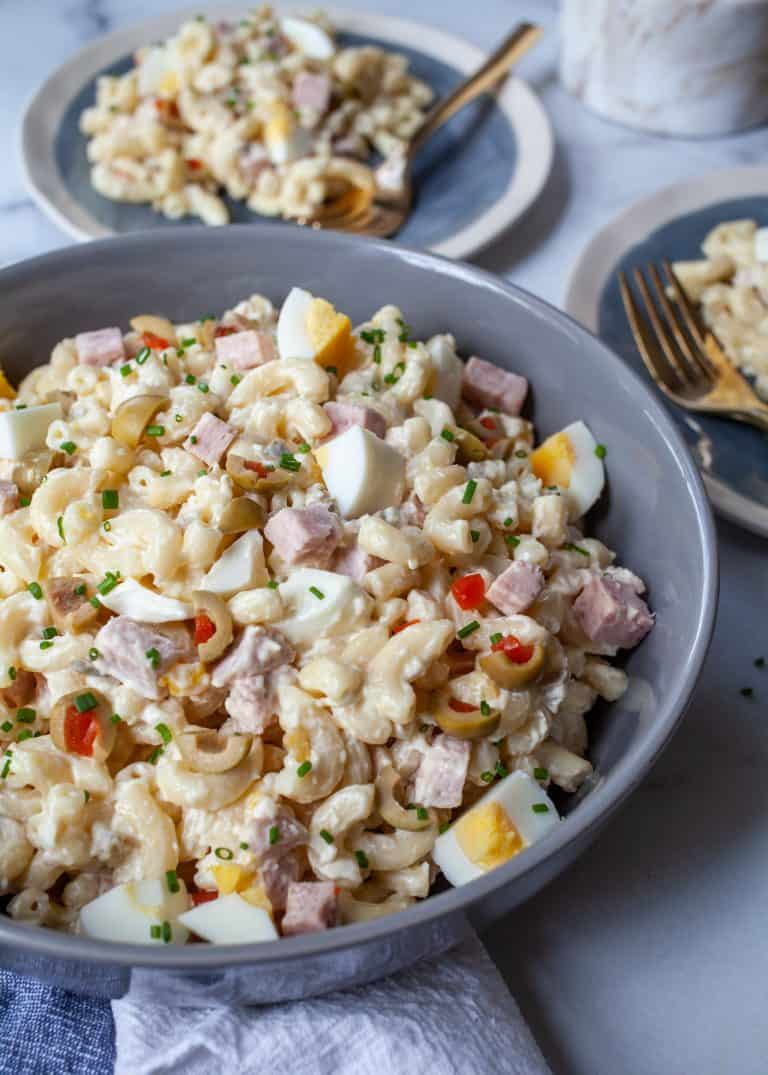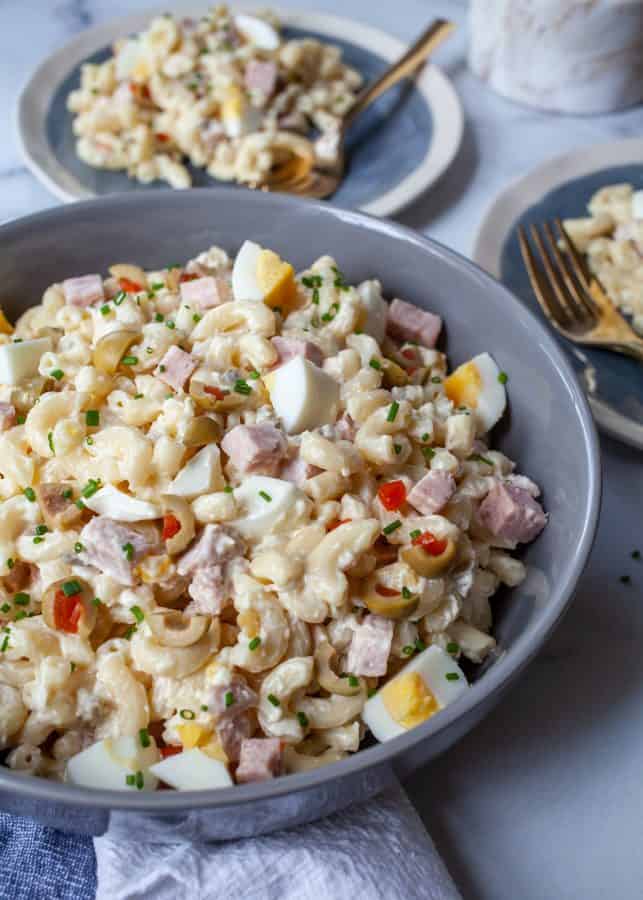 The olives play a two fold part, with the green olive and red pimento adding color and flavor. Even better, a splash of olive juice cuts the heaviness of the mayonnaise.
Both are staples at family picnics, pot lucks and holiday feasts. Let's face it, everybody loves a good macaroni salad! It's a cheap way to fill lots of bellies.
Pasta is the ultimate comfort food. Try this Mediterranean pasta salad from the Modern Proper and my own one pot chicken pasta for a mayonnaise free noodle experience.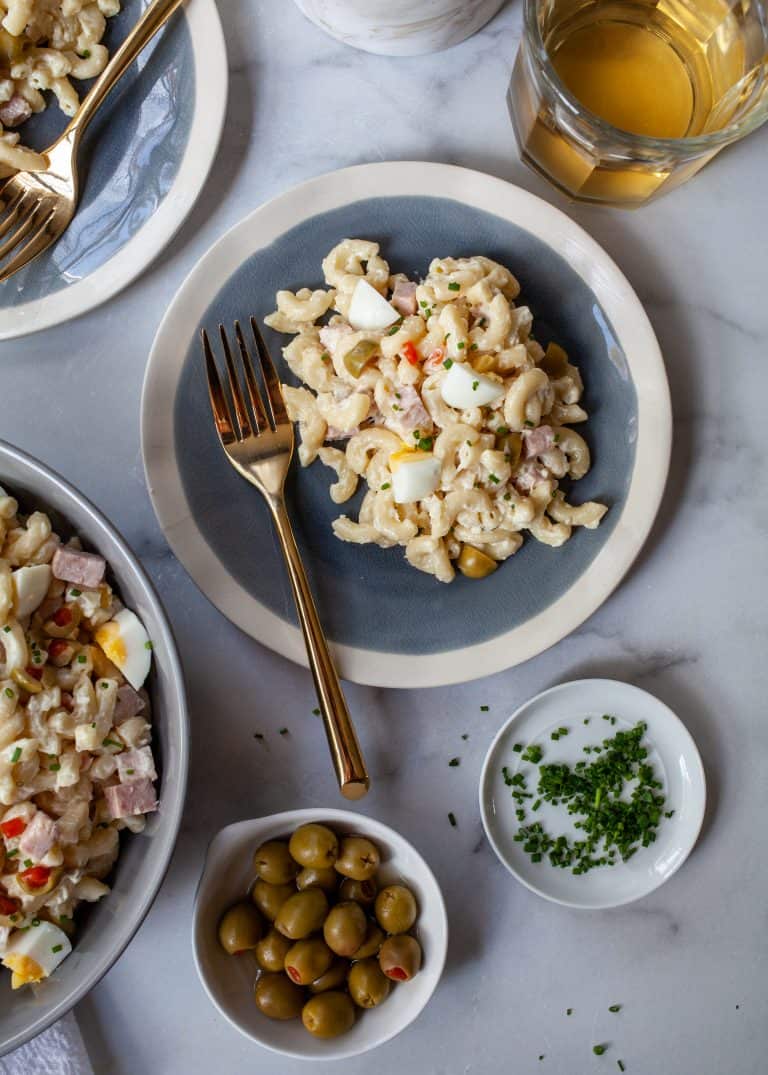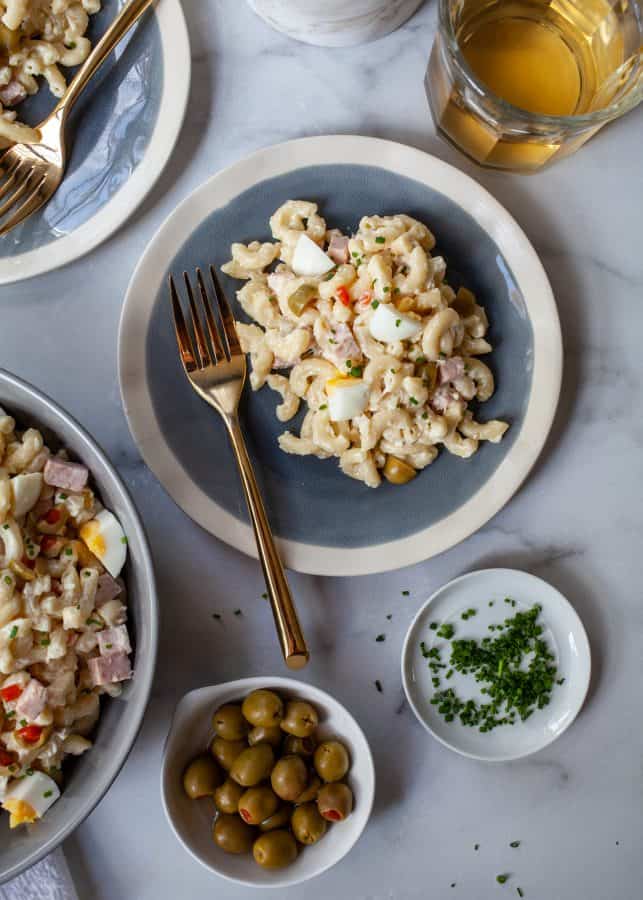 How Long Can You Keep Macaroni Salad?
As I mentioned before, this is a perfect pasta salad to make ahead for the holidays and for family events. However, being mayonnaise based, there are limits.
It will keep for up five days in an air tight container in the refrigerator. On the other hand, it will have to be tossed if it spends the whole day out on a table at room temperature.
Provided you are keeping your salad cold, you can make some up Sunday night. That way you can have it all week for lunches and late night snacks.
Visit my collection of Puerto Rican recipes for even more inspiration!
Tips for Ensalada de Coditos
Yes, grate your onion. It adds to the dressing and makes the onion virtually disappear.
Add a generous splash of olive juice. This also improves the dressing.
Marinate the salad over night in the refrigerator for the best flavor.
Serve in a covered dish and place it on a platter filled with ice. This will help keep the macaroni salad cool and improve the shelf life.
If you don't like Spam, you can substitute diced ham.
More Puerto Rican Recipes You'll Love
Include some more Puerto Rican flavors on your holiday table! Try some of these traditional recipes:
Yield: 20
Ensalada de Coditos (Puerto Rican Macaroni Salad)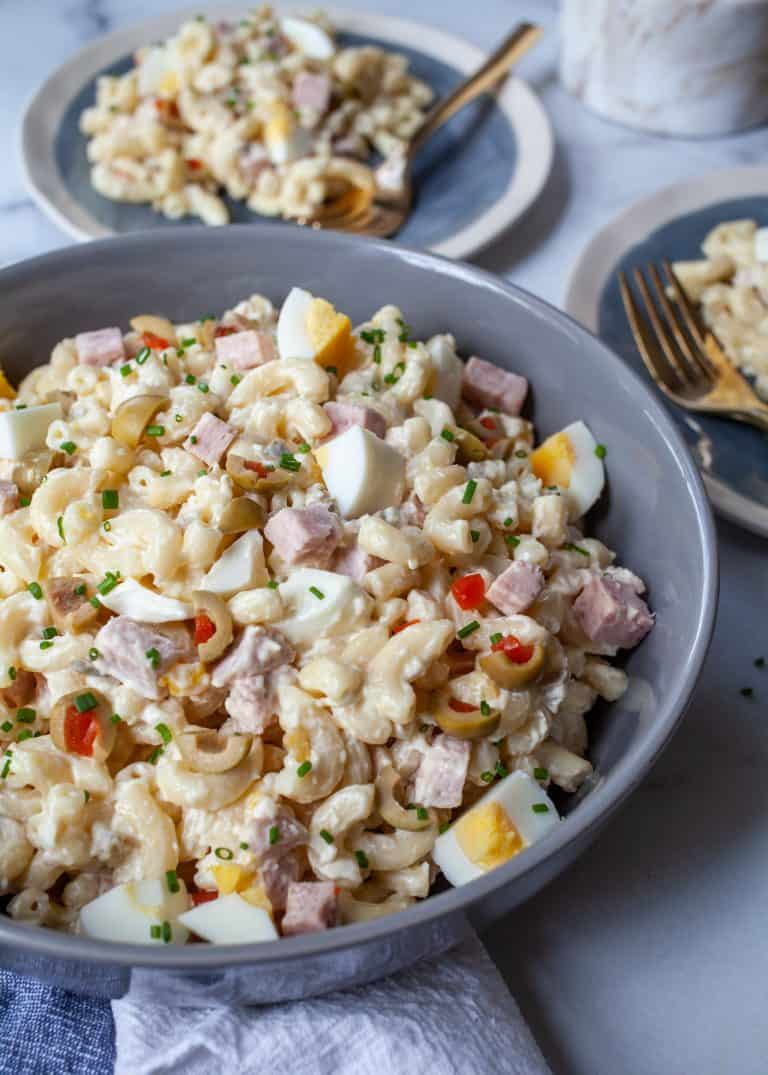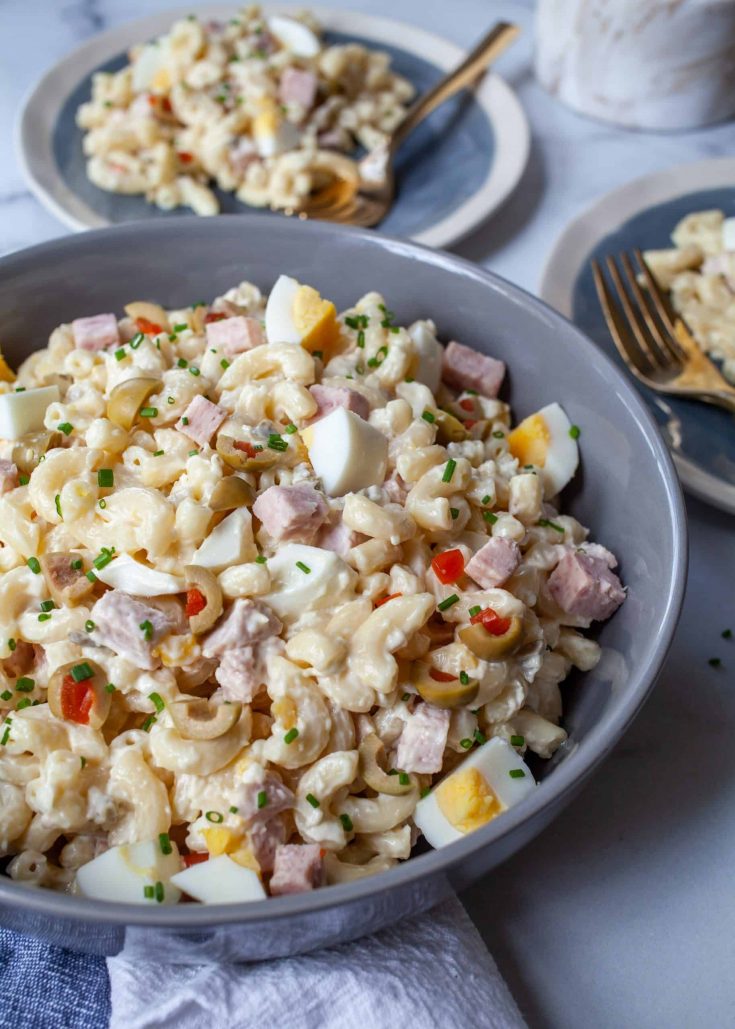 A classic macaroni salad with a Puerto Rican twist. This salad makes its appearance many PR events from birthday parties to holiday feasts.
Total Time
1 hour
21 minutes
Ingredients
2-lb elbow macaroni
1/4 cup olive oil
1 can spam, small dice
1 medium onion, grated
1 cup mayonnaise
1/4 cup chopped pimento stuffed green olives
6 hard boiled eggs, diced
Instructions
Bring a large pot of salted water to boil. Add the macaroni pasta and whole eggs. Cook until the pasta is al dente, about 11 minutes.
Transfer the eggs to a bowl with ice and fill with water to cover the eggs, set them aside to cool.
Drain the pasta in a colander and rinse under cold water to cool the pasta. Transfer the pasta to a large bowl and toss with olive oil.
Add spam, onion, olives, and mayonnaise to the pasta. Mix until well combined.
Peel the shell off the eggs and dice. Gently mix in the hard-boiled egg. Cover and refrigerate for 1 hour or overnight.
Notes
Leaving it to cool in the refrigerator for at least an hour will allow the flavor of the salad to develop.
If you do not like Spam you can substitute diced ham, although it may require some additional salt seasoning.
Recommended Products
As an Amazon Associate and member of other affiliate programs, I earn from qualifying purchases.
Nutrition Information:
Yield:
20
Serving Size:
1 cup
Amount Per Serving:
Calories:

201
Total Fat:

13g
Saturated Fat:

2g
Trans Fat:

0g
Unsaturated Fat:

10g
Cholesterol:

62mg
Sodium:

111mg
Carbohydrates:

15g
Fiber:

1g
Sugar:

1g
Protein:

5g
One More Thing!
Rebecca and I launched the My Plate is Always Full Podcast! Just two friends and former chefs talking obsessively about food. You can go and subscribe now!
New episodes released every Wednesday!
In the meantime follow us on Instagram @my.plate.is.always.full  or visit our website!