A Puerto Rican Twist on Classic Macaroni Salad
If you're someone who relishes the comfort of good ol' macaroni salad but wants to shake things up, you've stumbled upon the ultimate treat. Ensalada de Coditos isn't just another pasta salad; it's a delightful marriage of classic American macaroni salad and zesty Puerto Rican flair. This dish is a staple in family celebrations, potlucks, and frankly, it's so scrumptious it often disappears before the party ends. So grab a bowl and let's dig in!
Why Ensalada de Coditos Should Be Your Next Go-To Dish
This mouthwatering pasta salad is the gift that keeps on giving. Not only does it get tastier as it ages, but it's also perfect for prepping ahead of your holiday gatherings. So, say goodbye to last-minute kitchen scrambles and hello to a dish that's as flexible as it is flavorful.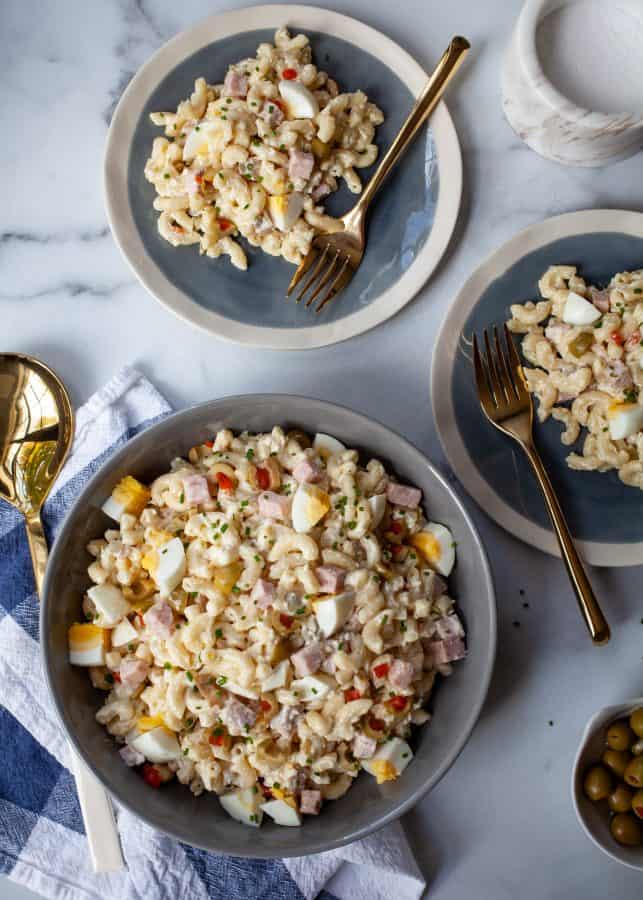 Pairing Suggestions for a Festive Feast
Considering Ensalada de Coditos for your holiday dinner? Complement this vibrant side dish with traditional Puerto Rican Christmas favorites like Arroz con gandules, pasteles de yuca, pasteles de masa, and a succulent roasted peril. Trust me, your holiday table has never looked—or tasted—so good!
Step-by-Step: How to Make Ensalada de Coditos
Making this dish is as simple as it is delicious. Here's how:
Cook the Pasta: Boil elbow macaroni until al dente, then drain and rinse in cold water.
Prep the Ingredients: While your pasta is cooking, chop your olives, Spam, and hard-boiled eggs, and grate the onion.
Mix it Up: Combine the Spam, onion, olives, and mayonnaise in a large bowl.
Add the Eggs: Gently fold in your chopped hard-boiled eggs.
Let it Chill: Cover your bowl and refrigerate for at least an hour.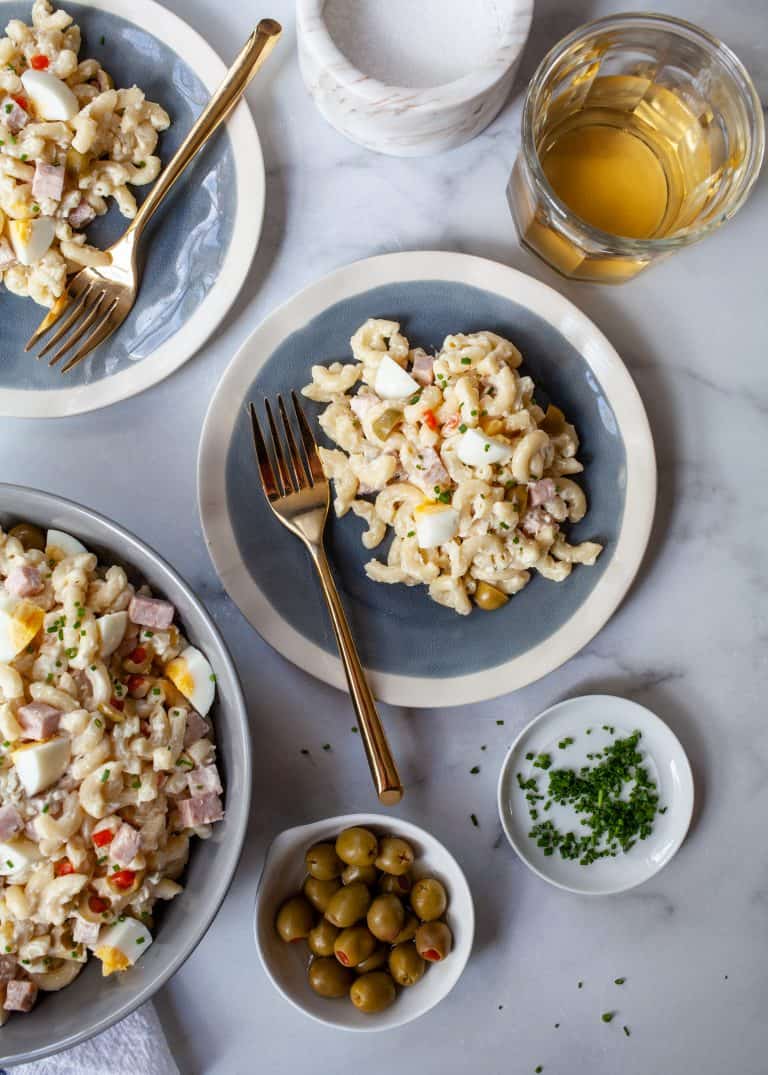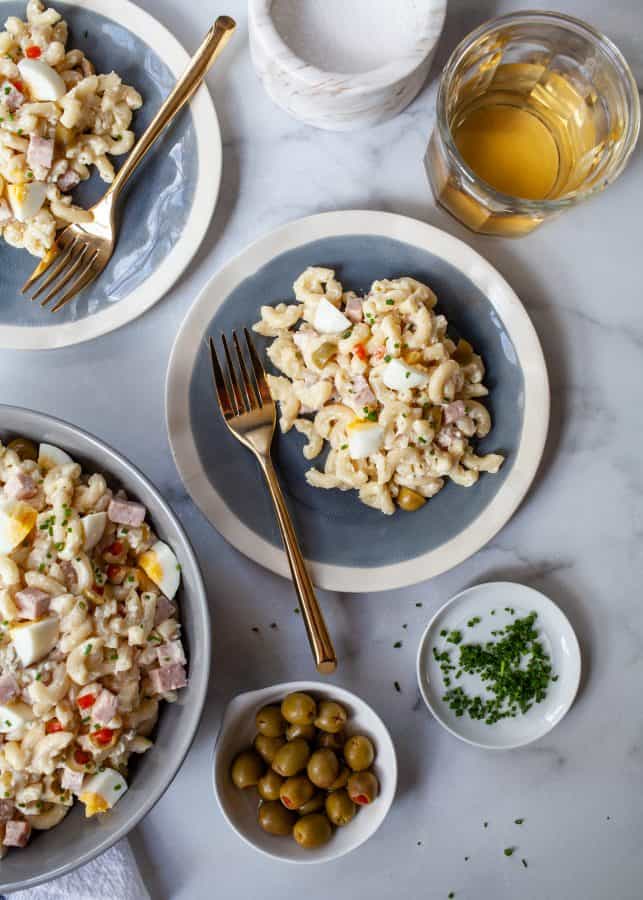 This pasta salad is so easy to make, you might be inspired to serve more than one at your next get-together. Olive and sun-dried tomato pappardelle is absolutely delicious and will provide a nice foil for the mayonnaise salad. Peach and bacon pasta salad is a tasty option and I just love Mexican street corn pasta salad from Chelsea's Messy Apron.
What's Inside This Puerto Rican Delight
Wondering what makes this Ensalada de Coditos so extraordinary? Here are your key ingredients:
Elbow macaroni
Olive oil
Spam (Yes, Spam!)
Onion
Mayonnaise
Spanish olives
Hard-boiled eggs
Classic Macaroni Salad vs. Puerto Rican Ensalada de Coditos
What sets this apart from your run-of-the-mill macaroni salad? The answer lies in the unique fusion of ingredients. While both versions use elbow macaroni, mayonnaise, boiled eggs, and onions, Ensalada de Coditos adds its own island twist with Spanish olives and Spam. Instead of dijon mustard or dill pickles, a splash of olive juice adds the perfect zing.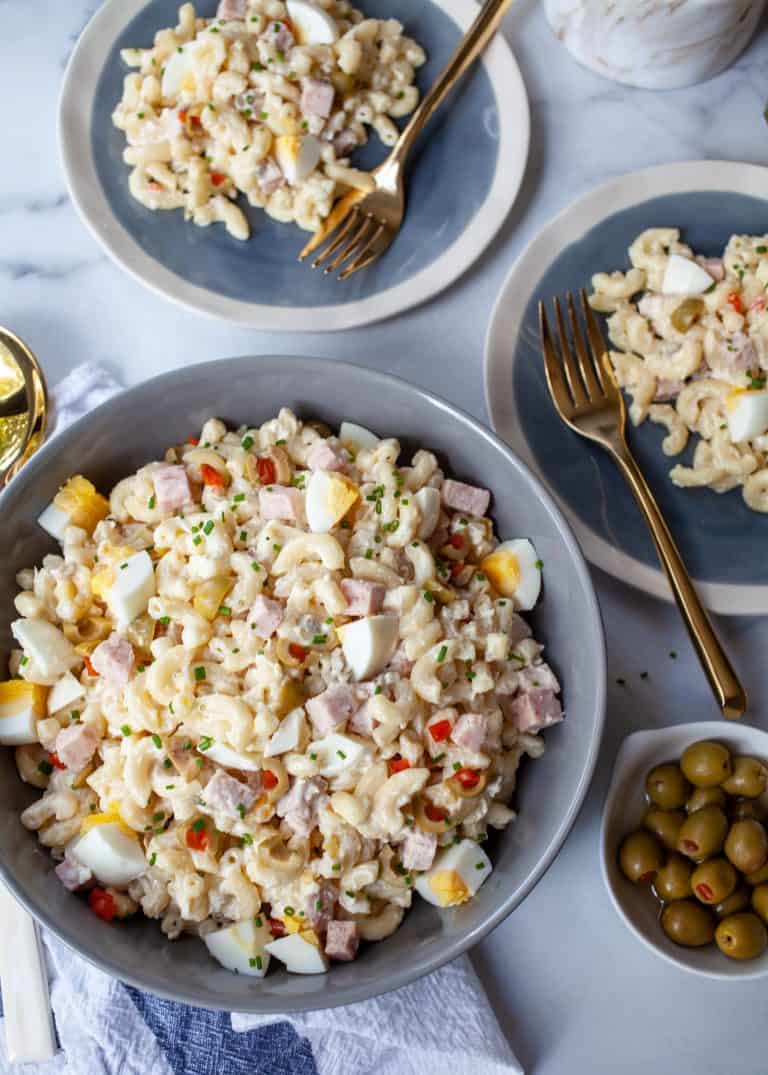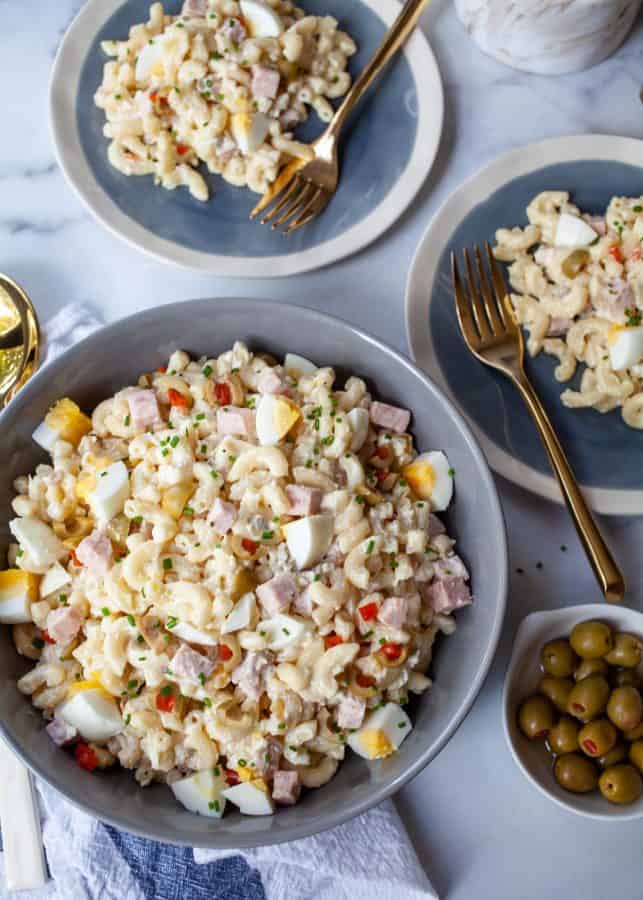 Preservation Tips: Keeping Your Macaroni Salad Fresh
A quick word to the wise—Ensalada de Coditos can stay fresh for up to five days in the fridge if stored in an airtight container. However, don't let it sit out for an entire day at room temperature. Plan ahead, and you'll have an easy, delicious treat for meals and midnight snacks throughout the week.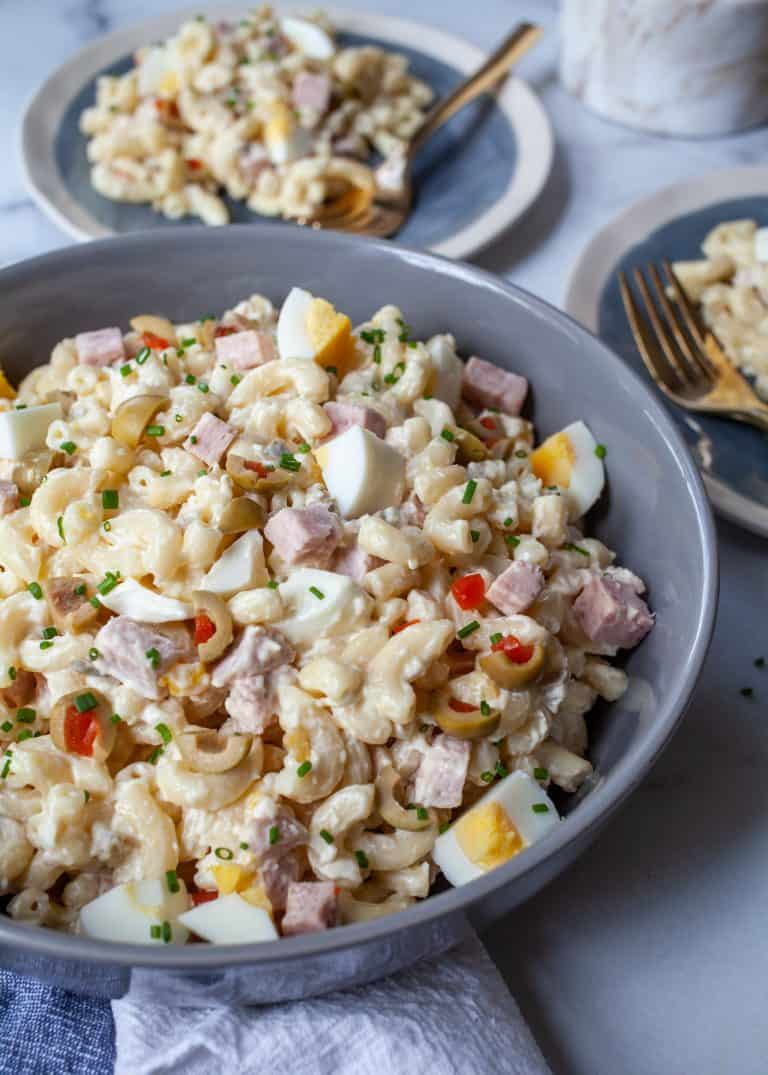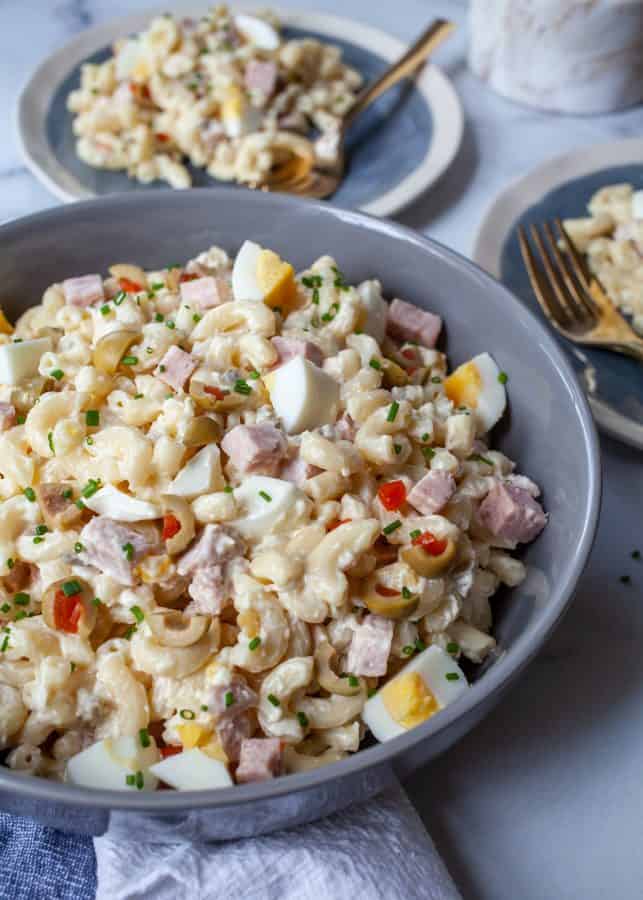 Final Thoughts and Tips
Just when you thought macaroni salad couldn't get any better, Ensalada de Coditos comes into the picture. It's the perfect dish to introduce at your next family gathering or holiday celebration. For the best results, grate your onion, add a splash of olive juice, and let the salad marinate overnight. If Spam's not your thing, no worries—you can easily swap it out for diced ham.
Visit my collection of Puerto Rican recipes for even more inspiration!
Tips for Ensalada de Coditos
Yes, grate your onion. It adds to the dressing and makes the onion virtually disappear.
Add a generous splash of olive juice. This also improves the dressing.
Marinate the salad over night in the refrigerator for the best flavor.
Serve in a covered dish and place it on a platter filled with ice. This will help keep the macaroni salad cool and improve the shelf life.
FAQs
What makes Ensalada de Coditos different from traditional macaroni salad?

It's all about the Spanish olives and Spam, which add a unique Puerto Rican twist.

Can I make this dish in advance?

Absolutely, it actually tastes better when made a day in advance.

How long will Ensalada de Coditos last in the fridge?

Up to five days when stored in an airtight container.

What are some good main dishes to pair with Ensalada de Coditos?

Try it with Arroz con Gandules, Pernil, or Pasteles for a festive Puerto Rican feast.

I'm not a fan of Spam. What can I use as a substitute?

Diced ham works just as well if Spam isn't your cup of tea.
More Puerto Rican Recipes You'll Love
Include some more Puerto Rican flavors on your holiday table! Try some of these traditional recipes:
Yield: 20
Ensalada de Coditos (Puerto Rican Macaroni Salad)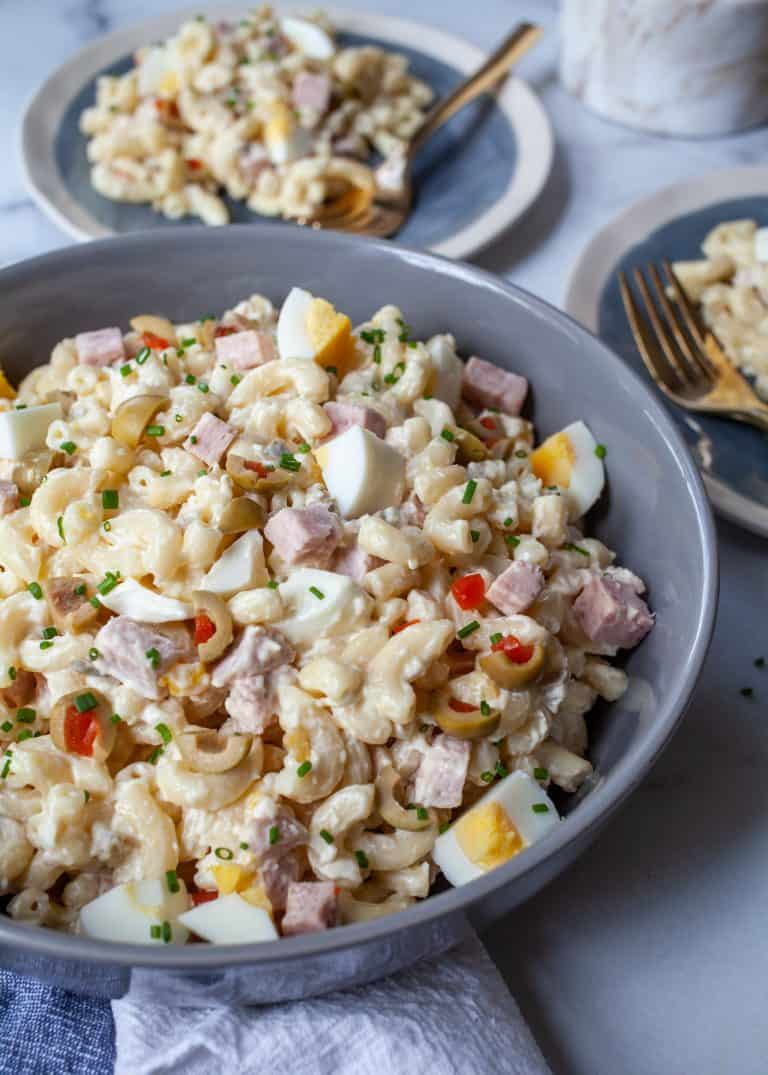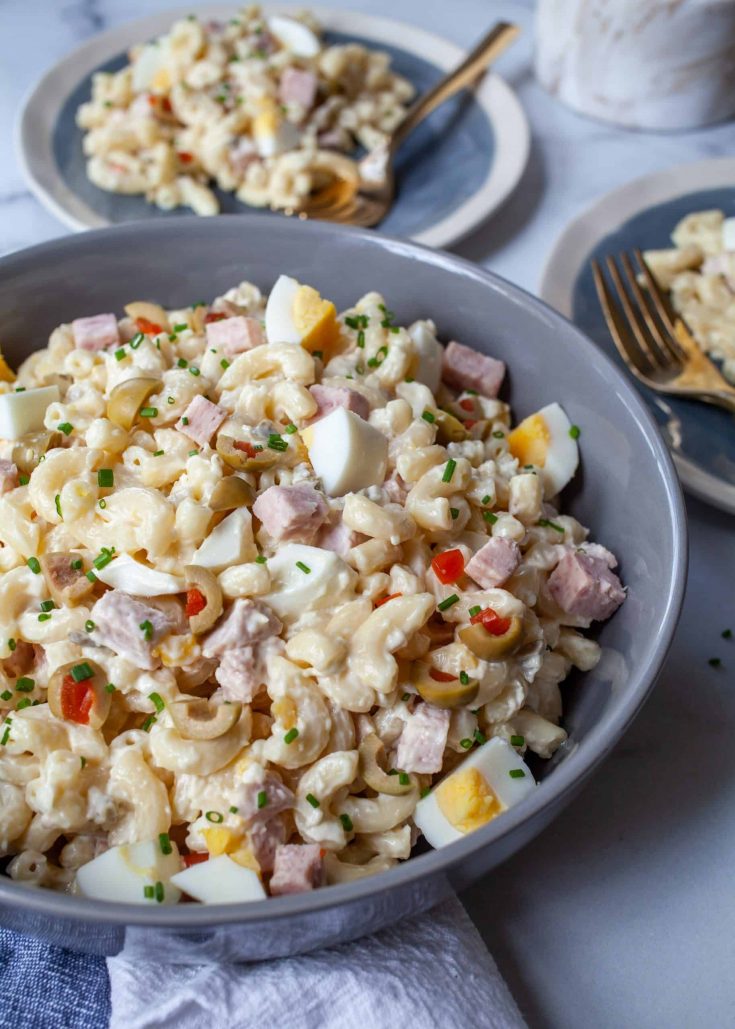 A classic macaroni salad with a Puerto Rican twist. This salad makes its appearance many PR events from birthday parties to holiday feasts.
Total Time
1 hour
21 minutes
Ingredients
2-lb elbow macaroni
1/4 cup olive oil
1 can spam, small dice
1 medium onion, grated
1 cup mayonnaise
1/4 cup chopped pimento stuffed green olives
6 hard boiled eggs, diced
Instructions
Bring a large pot of salted water to boil. Add the macaroni pasta and whole eggs. Cook until the pasta is al dente, about 11 minutes.
Transfer the eggs to a bowl with ice and fill with water to cover the eggs, set them aside to cool.
Drain the pasta in a colander and rinse under cold water to cool the pasta. Transfer the pasta to a large bowl and toss with olive oil.
Add spam, onion, olives, and mayonnaise to the pasta. Mix until well combined.
Peel the shell off the eggs and dice. Gently mix in the hard-boiled egg. Cover and refrigerate for 1 hour or overnight.
Notes
Leaving it to cool in the refrigerator for at least an hour will allow the flavor of the salad to develop.
If you do not like Spam you can substitute diced ham, although it may require some additional salt seasoning.
Recommended Products
As an Amazon Associate and member of other affiliate programs, I earn from qualifying purchases.
Nutrition Information:
Yield:
20
Serving Size:
1 cup
Amount Per Serving:
Calories:

201
Total Fat:

13g
Saturated Fat:

2g
Trans Fat:

0g
Unsaturated Fat:

10g
Cholesterol:

62mg
Sodium:

111mg
Carbohydrates:

15g
Fiber:

1g
Sugar:

1g
Protein:

5g