If you like your burger spicy and juicy I present you with your new favorite burger! The patty is made with a mixture of beef and pork chorizo. It results in a patty that has a touch of heat and stays tender on the grill. If you been craving some char-grilled burgers, I suggest you give these a try.
It may sound ridiculous but, it wasn't until I moved to the Midwest that I learned non-cured chorizo existed. I grew up only knowing about cured Spanish chorizo. My mom would cut it up and toss it in rice or stewed garbanzos.  The first time I encountered Mexican chorizo was when we moved to Oklahoma. I was very confused by the spicy ground meat that was presented to me when I was expecting bites of cured sausage.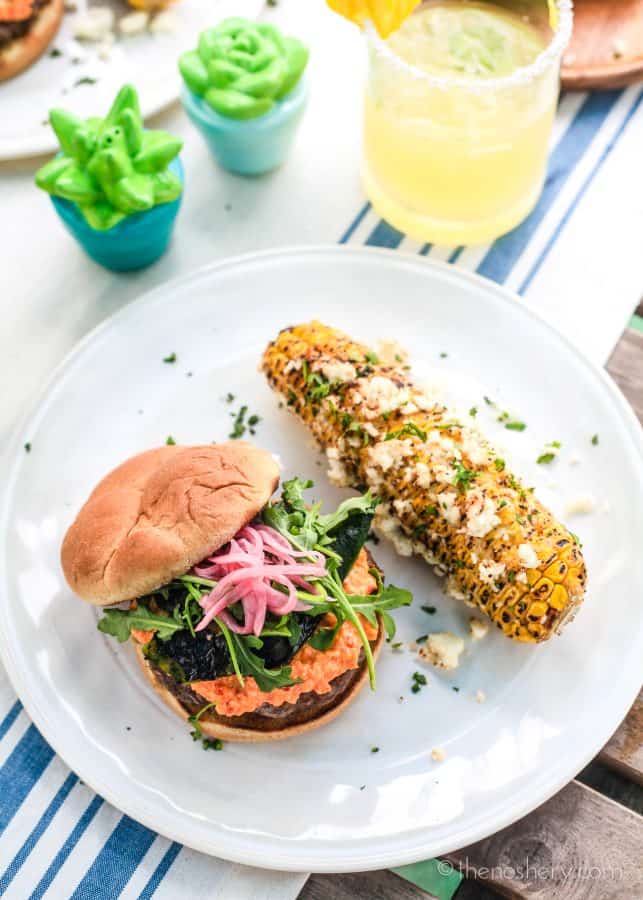 Since moving to the southwest, I have grown to love Mexican chorizo. One day I was making hamburgers but was short on ground beef. I happened to have some ground chorizo in the fridge and tossed it in with the hamburger meat. I had accidentally discovered a new burger patty that made my knees buckle. It's juicy, spicy and sinfully tasty.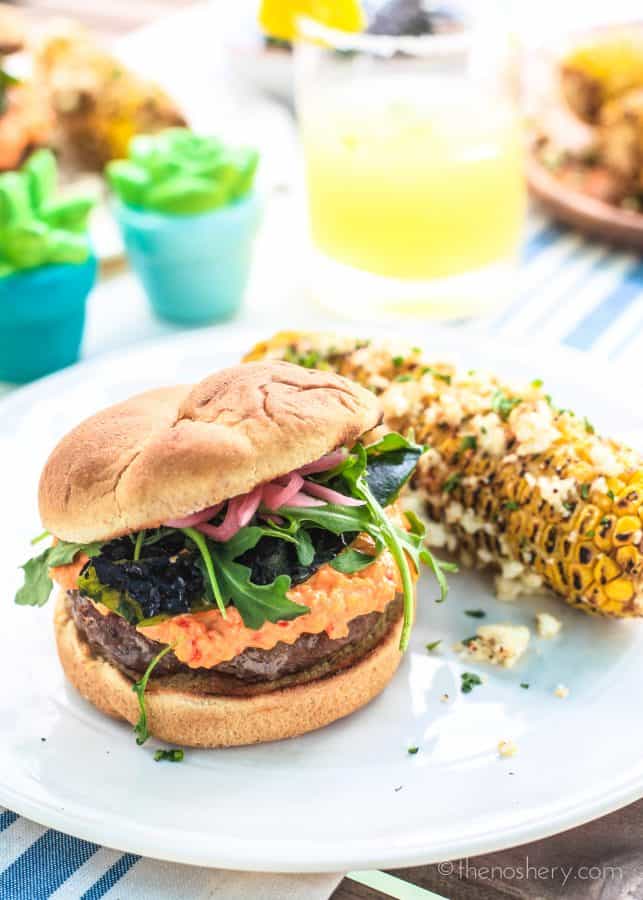 But, a chorizo and beef patty wasn't enough! I then topped it with pimento cheese, pickles onions, roasted poblano, and arugula. Yeah, you read that right. Sounds pretty freaking amazing, right? Recently I was reacquainted with pimento cheese and ended up putting it on everything for almost a month. Obviously, I had to put
pimento cheese
on this burger! If you don't have time to make, pimento cheese feel free to use store bought.
Although homemade is totally worth the time and effort
!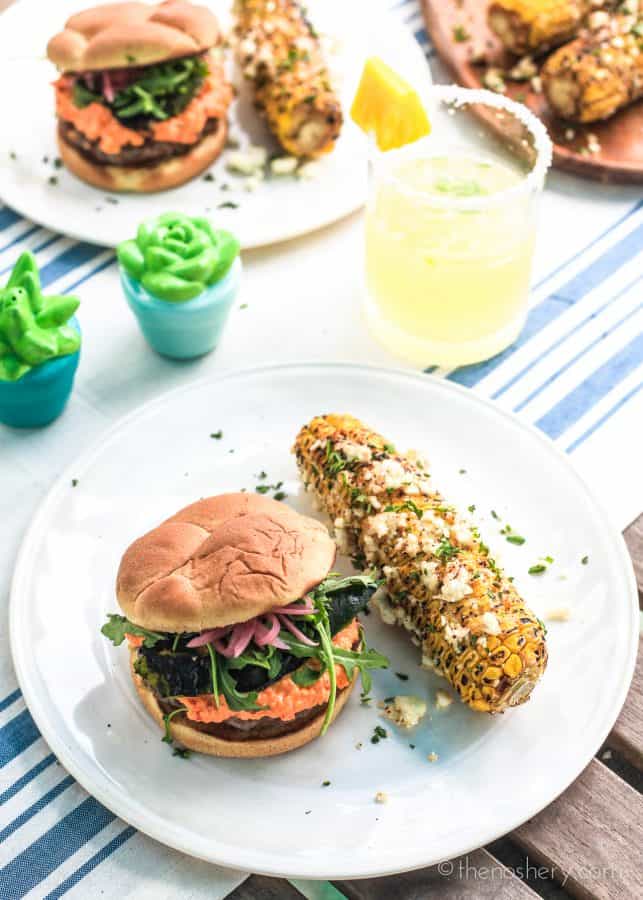 I am teaming up with 100 other bloggers across the country to bring you some seriously mouth-watering burgers for Burger Month. We also want to give major props to the American Lamb Board, Anolon, Beef, It's What's For Dinner, Char-Broil, Curly's BBQ, Cuttingboard.com, Melissa's Produce, Primal Stone, Spiceologist, Thermoworks, & Veal Made Easy for providing some serious goodies for the epic giveaway!
Click the photo below to enter!

Spicy Chorizo Burger with Pimento Cheese
If you like your burger spicy and juicy I present you with your new favorite burger! The patty is made with a mixture of beef and pork chorizo.
Ingredients
Burger Patties


1 pound pork chorizo
1 pound ground beef
2 teaspoons kosher salt


Pickled Onions


1 tablespoon of sugar
1 tablespoon of salt
¾ cup of white vinegar
¼ cup water
1 red onion, thinly sliced


Assemble


2 cups pimento cheese
2 poblano peppers
arugula
hamburger buns
Instructions
Pickled Onions


In a small pot combine sugar, salt, vinegar, and water. Heat over medium-high heat and stir until sugar and salt have dissolved. In a small bowl combine pickling liquid and onions, set aside.


Poblano Peppers
Place peppers over an open flame, like the gas burner. Char the peppers on all sides until black and blistered, turning as needed. Place peppers in a sealable plastic bag, airtight container or paper bag. Set aside for 15 minutes or until cool enough to handle. Cut peppers into fours lengthwise and remove seeds, set aside.


Hamburgers


In a large bowl combine ground beef, pork chorizo, and salt. Using your hand work to combine the meats. If you have a stand mixer, you can combine them using a stand mixer with paddle attachment. Divide the meat into 8 quarter-pound balls. Flatten a ball in the palm of your hand, shaping the patty till it's about the size of your palm. Using two fingers shape a dimple in the center of the patty. Place patty on a plate or sheet pan lined with parchment paper. Continue with remaining balls.


Using a pastry brush, brush grill grates with vegetable oil. Heat grill to medium-high heat. Place patties on the grill cooking 3 - 4 minutes each side, or until desired doneness. Do not press the burgers or anxiously flip them.


Place patties on the hamburger buns, top with pimento cheese, a slice of roasted poblano, arugula, pickled onions and hamburger bun lid.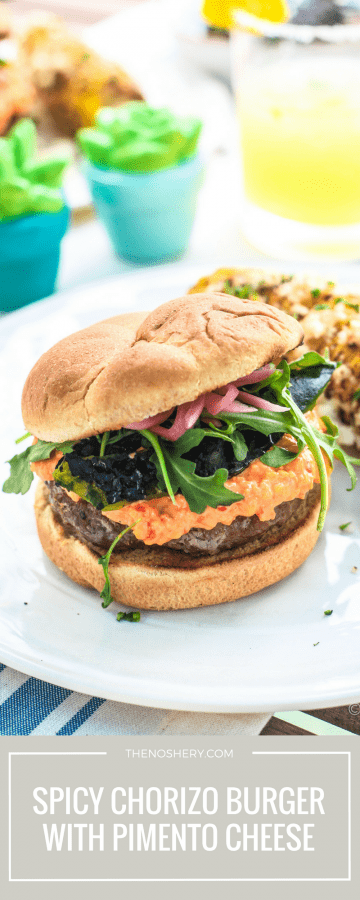 3