Habichuelas Guisadas | These Puerto Rican beans are a quick, easy, and comforting staple in a stew-like tomato sauce packed with flavor.
After several requests and emails describing these Habichuelas Guisadas, I am finally posting the recipe. It's not that I don't like these beans. I love them! But I hadn't thought to share the recipe because — well, to be honest — it didn't seem interesting enough to post.
You see, I grew up eating this beans recipe probably close to three times a week, if not more. But I forget that not everyone has tasted this and what may be commonplace and ordinary to me can be interesting and exciting to you.
Because if you haven't tasted these beans, your world is about to be changed!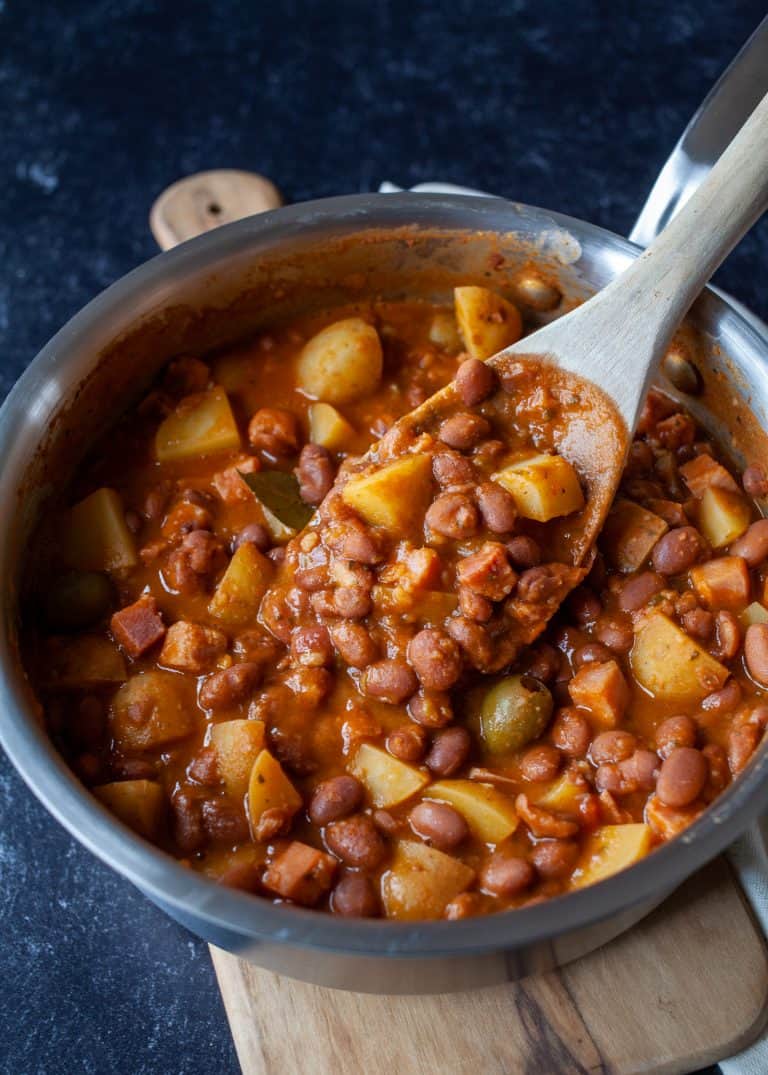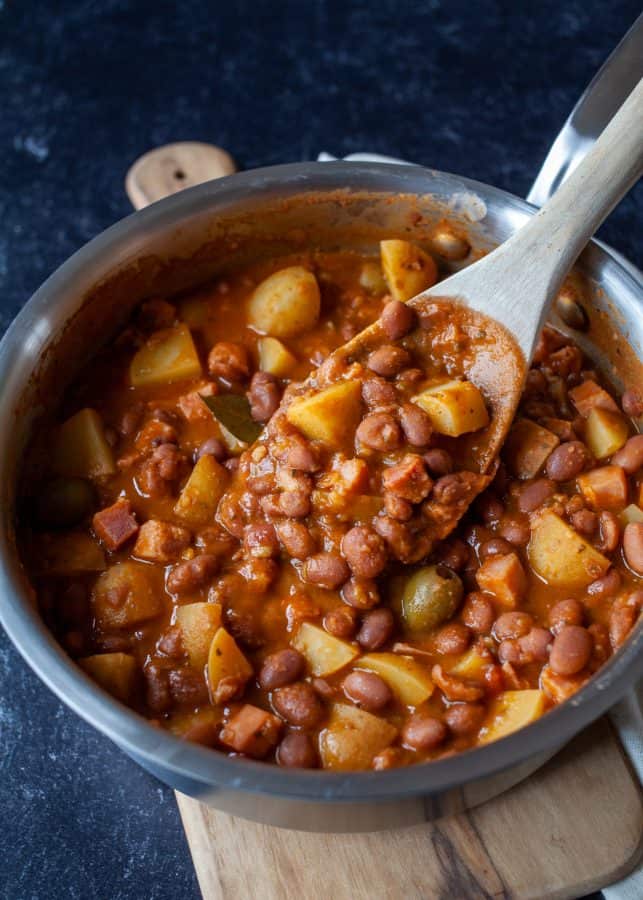 In the US, a basic all-American meal will consist of something like meat, potatoes, and a vegetable like peas or corn. The average American will enjoy a chili with red kidney beans every once in a while, a bean dip at potlucks or gatherings, and the occasional side of red beans or black beans with different dishes.
But in Puerto Rico, a basic, everyday meal will consist of some type of meat, rice, and beans, with maybe a little salad on the side. I have eaten more rice and beans in my life then I can shake a stick at.
These Habichuelas Guisadas are a staple in Puerto Rican cuisine. If you test a Puerto Rican's blood, I'm pretty sure you'll find traces of these beans. My father-in-law has to have rice and beans with almost everything.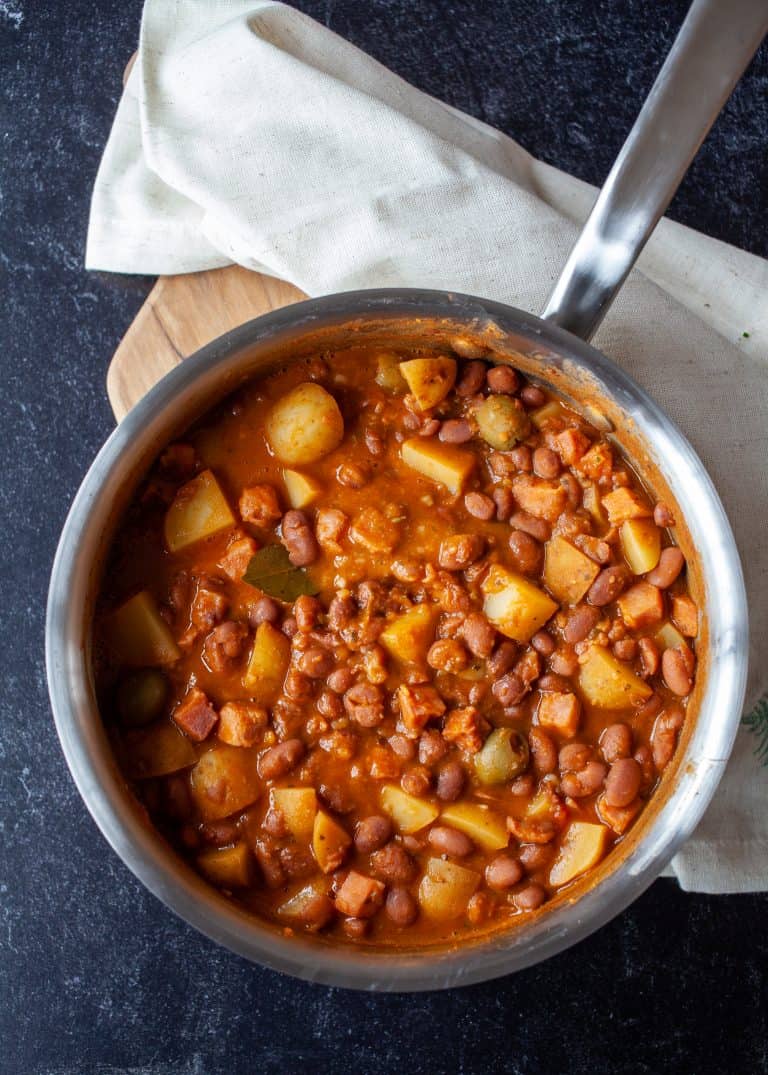 What's in Puerto Rican beans?
olive oil
diced ham or sausage
bay leaves
Spanish Green Olives
canned tomato sauce
Sazon, Con Culantro y Achoite seasoning
chicken bouillon cube
pink beans
potatoes
salt and pepper to taste
What kind of beans are used in Habichuelas Guisadas?
Puerto Rican stewed beans are traditionally made with pink beans. Pink beans are similar to pinto beans but smaller and rounder. They are small, pale, and brownish pink with a meaty texture. So stinking delicious!
Now please note, I do not drain my beans and I do not add water on purpose. This makes for a thick, stew-like sauce that's comforting, filling, and tastes divine.
However, if you prefer your beans on the saucier side, be sure to drain the beans and add half a cup of water or chicken broth before you stew them. You will get all the same flavors, but this will achieve a different, thinner consistency in the sauce.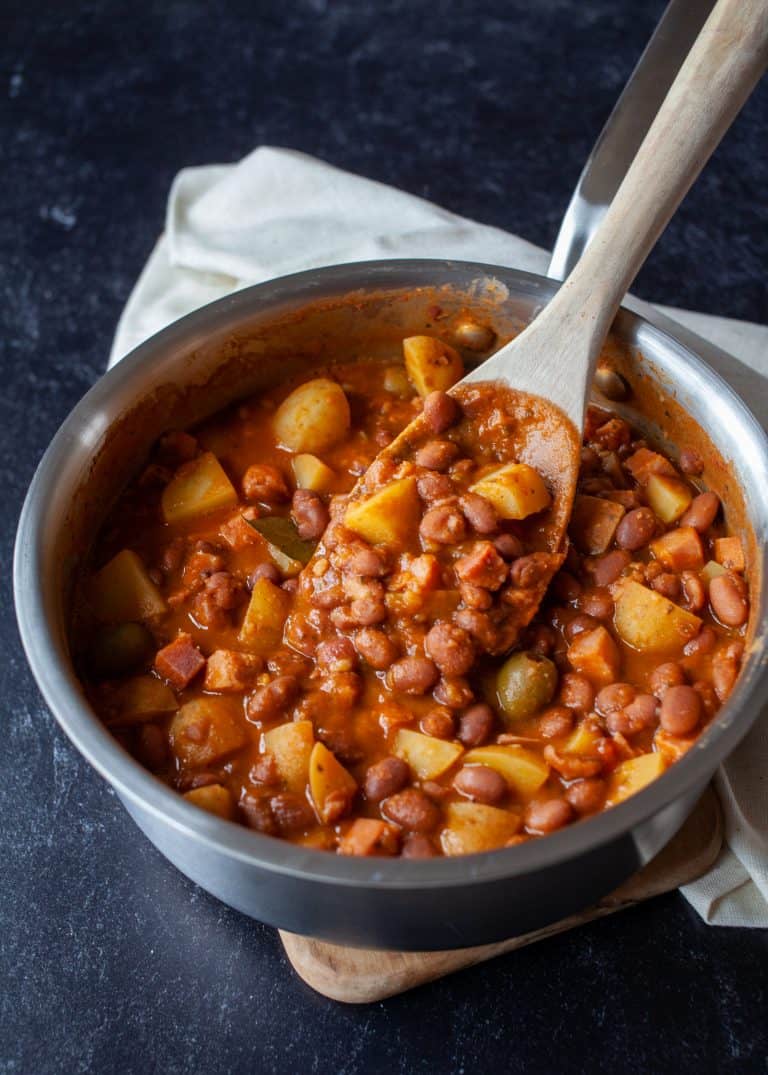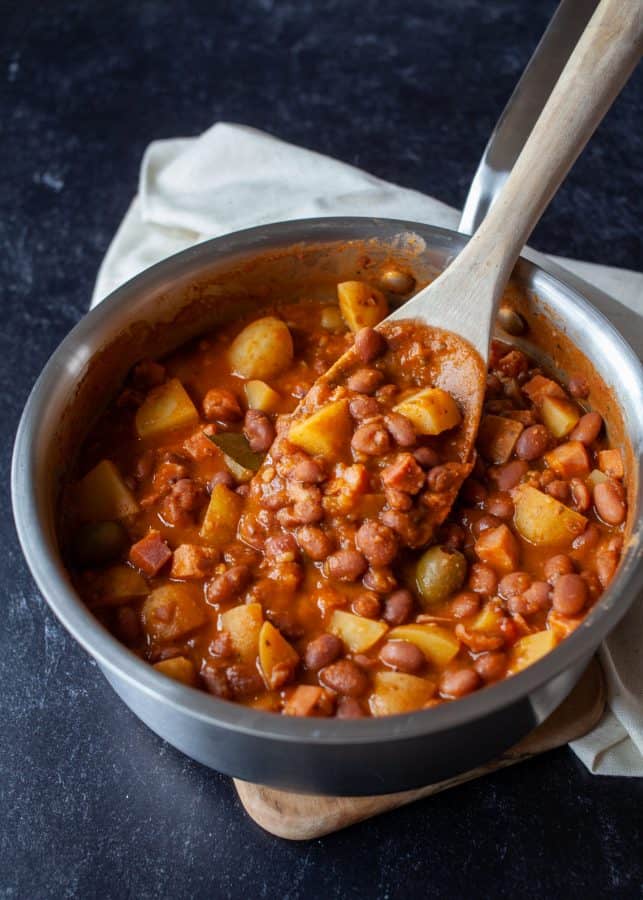 What is sofrito?
Sofrito is the holy grail of Puerto Rican cooking, the flavor base to so many magical things, such as arroz con pollo, arroz con gandules (rice with pigeon peas), and pastelon. A short representation of MANY delicious recipes.
Don't tell anyone, but this flavor bomb is our secret weapon. It's like the French's mirepoix or the Italian's soffritto, except in addition to the onions, carrots, and celery, our sofrito has more ingredients and more flavors.
There's cilantro, culantro, garlic, and onion, for starters. Then it has not one, not two, but THREE kinds of peppers. And the flavors are deepened by olives, capers, and other seasonings. Since I use it in so many recipes, I typically make a big batch at a time and freeze it in ice cube trays to pop into recipes for convenient and pre-portioned flavor building.
But you can also buy it from the supermarket if you're not in the mood to chop and combine the ingredients (look for the Goya brand). Let me advise you to bypass the red jar and get the GREEN one that's labeled "recaito." We don't want the one with tomatoes in this dish!
How to make habichuelas guisadas (Puerto Rican beans)
Turn your stovetop heat to medium high and add a tablespoon of olive oil. When that's heated up, add your sofrito and cook for about 3 minutes until it's getting soft and translucent. Then add the ham and cook for another 3 minutes.
Next, stir in the olives, bay leaf, the tomato sauce, chicken bouillon cube, and a packet of Sazon con Culantro y Achiote. When that's well combined, pour in a can of pink beans, 1/2 cup water, and the potatoes.
Bring the pot to a boil. Once it's bubbling, reduce heat down covered to simmer for 15 minutes, stirring occasionally. You'll know it's ready when the potatoes are fork tender. Season to your liking with salt and pepper, and this comforting bowl is ready to get in your belly!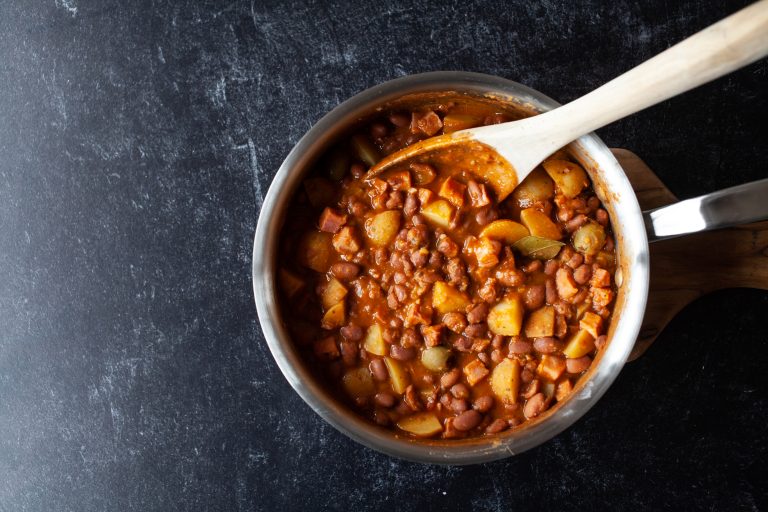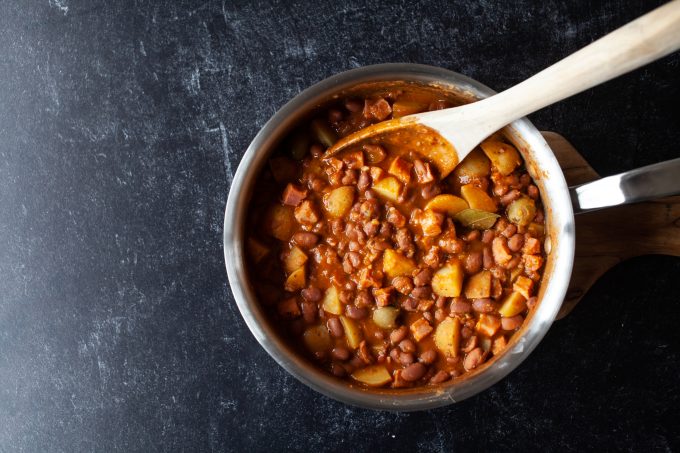 A quick, easy, and comforting weeknight dinner
This is the go-to dish for a quick and easy dinner. And that's why you will find these beans in every Puerto Rican household. Some may be more saucy than others or add a few tweaks here and there, but they are basically the same.
If I am tired and want to put something together quickly, I add some white rice to the rice maker, get these beans going on the stove, and fry a few eggs. If I have some sweet plantains, I may fry them up and put them on the side. TADA! Dinner is ready! Obed and I love this recipe and come back to it often.
If you like beans, you have not lived until you have tried these Puerto Rican style beans. For more recipes from back home, check out my entire Puerto Rican recipe collection by clicking here!
more delicious Puerto Rican dinners
Yield: 6
Habichuelas Guisadas | Puerto Rican Beans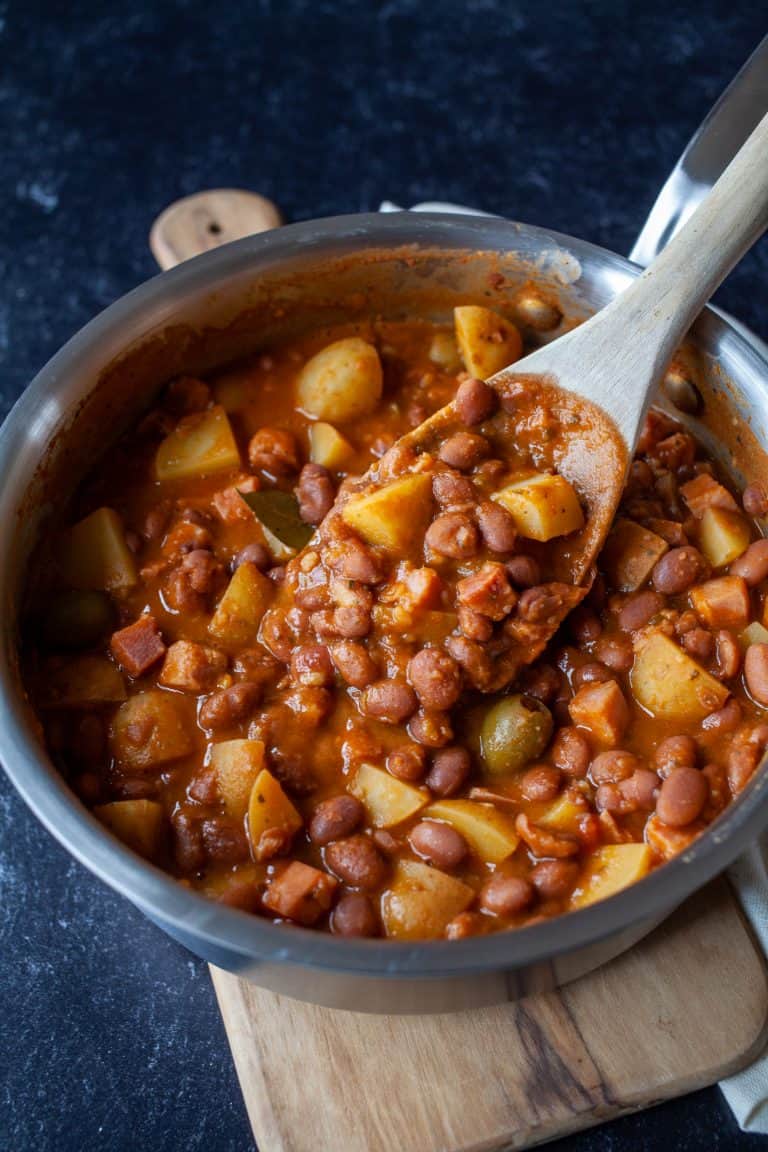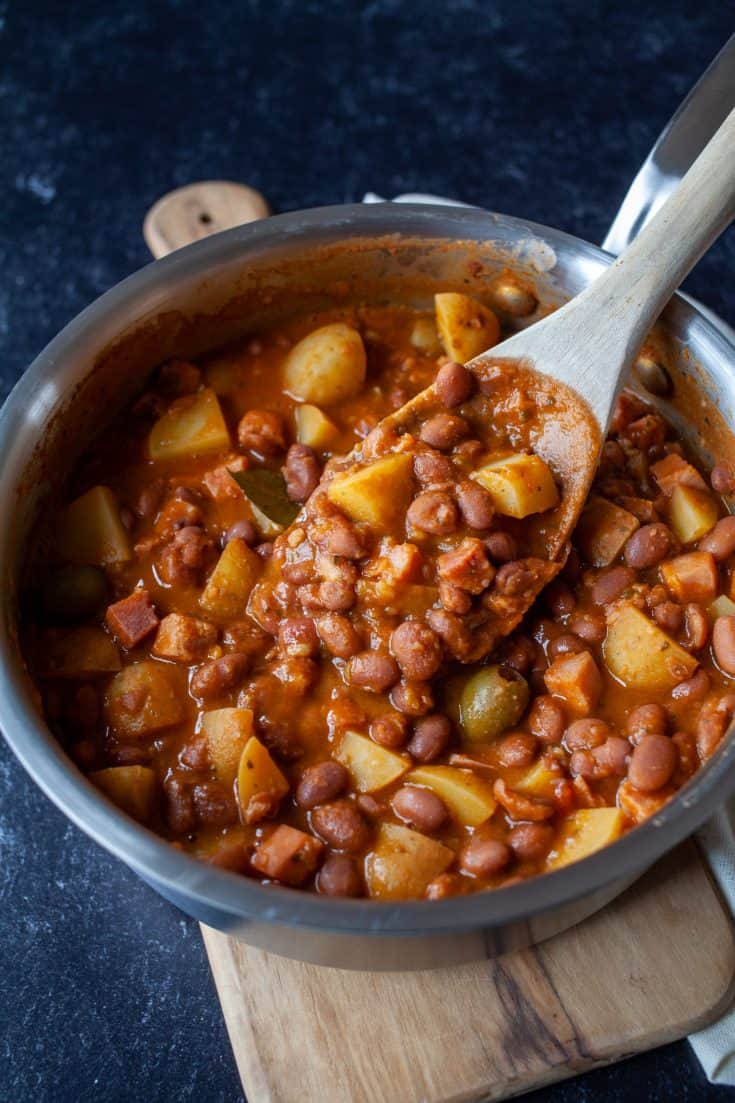 These Puerto Rican beans are a quick, easy, and comforting staple in a stew-like tomato sauce packed with flavor.
Ingredients
1 tablespoon olive oil
3 tablespoons sofrito
1/4 cup diced ham
8 Spanish green olives
1 6 oz can tomato sauce
2 whole bay leaves
1 chicken bouillon cube
1 envelope Sazon con Culantro y Achiote
1 15 oz can pink beans, drained and rinsed
2 small potatoes, diced
salt and pepper to taste
Instructions
Heat olive oil over medium heat and add sofrito. Cook for 3 minutes or until fragrant.
Add ham and saute for 3 minutes.
Add olives and, Sazón, tomato sauce, chicken bouillon, and bay leaves and stir until well combined.
Add pink beans, potatoes, 1/2 cup of water and stir until well combined.
Raise the heat and bring the beans to a boil. Lower the heat to a simmer. Cover and simmer for 15 minutes or until potatoes are tender.
Add salt and pepper to taste.
Recommended Products
As an Amazon Associate and member of other affiliate programs, I earn from qualifying purchases.
Nutrition Information:
Yield:
6
Serving Size:
1
Amount Per Serving:
Calories:

205
Total Fat:

5g
Saturated Fat:

1g
Trans Fat:

0g
Unsaturated Fat:

3g
Cholesterol:

4mg
Sodium:

632mg
Carbohydrates:

32g
Fiber:

5g
Sugar:

2g
Protein:

10g