Puerto Rican Picadillo is a wonderfully versatile ground beef mixture. Use it to fill empanadas, pastelillos, or papa rellena; serve it over rice or eat it with a spoon. There is no wrong way to get this savory comfort food into your body.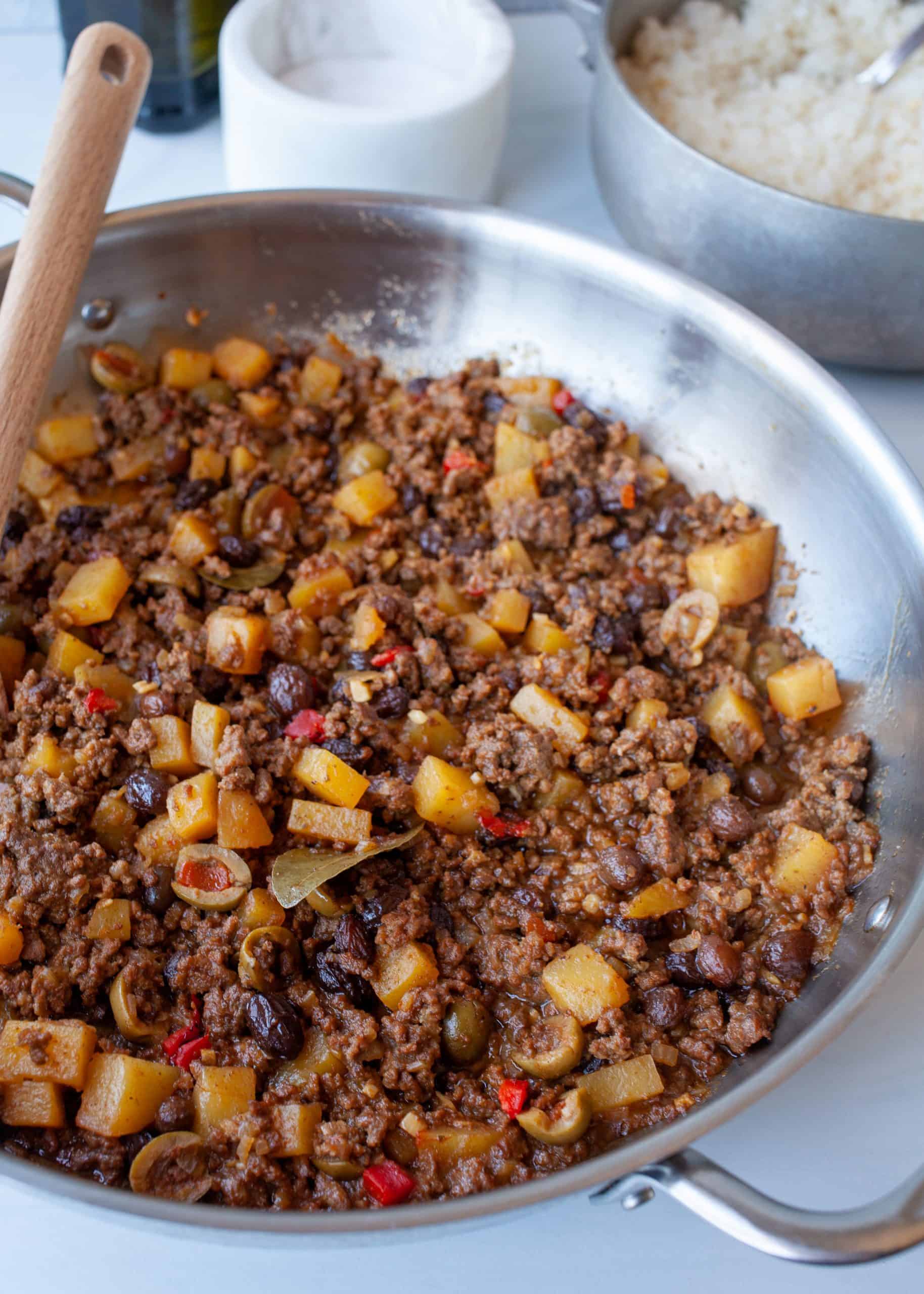 How to make picadillo
Making picadillo is a straight forward process. No fancy cooking skills needed. Heat up 2 tablespoons of olive oil in a large skillet over medium heat. Sauté the diced onions, minced garlic, and the sofrito in the oil.
Meanwhile, drizzle remaining olive oil, adobo seasoning, and salt over the ground beef, add this to the skillet when the onion is soft and translucent.
Finally, add the rest of the ingredients to the skillet: potatoes, olives, bay leaves, water and tomato paste. If you're using raisins, add them in now. Give it a good stir and bring to a boil. Once the picadillo is boiling, turn down the heat and simmer for 15 minutes or until it thickens.
For a variety of savory ground beef mixtures try the Best Ever Taco Meat from the House of Yumm and these Korean Beef Rice Bowls from skinnytaste.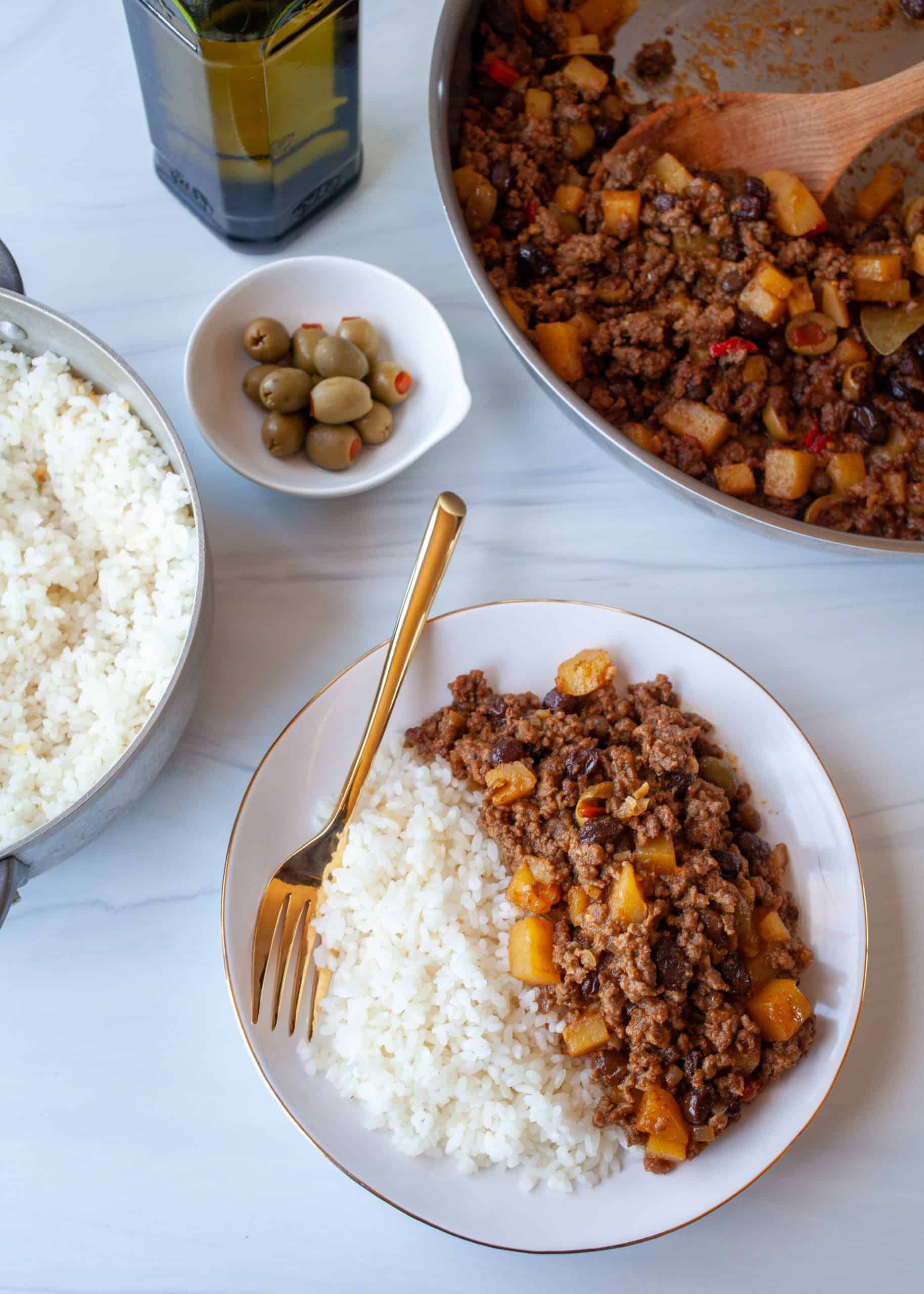 What is in Puerto Rican picadillo
Puerto Rican picadillo, at least the version I grew up with, includes pimento-stuffed olives and raisins. The flavor combo of tangy olives and sweet raisins along with the ground beef mixture is what I love.
olive oil
onion
garlic
ground beef
dry adobo
potatoes
pimiento-stuffed olives
bay leaves
raisins (optional)
water
tomato paste
Sofrito is an aromatic base that defines the flavor of Puerto Rican cuisine. It is also known as Recaito. A mixture of aromatics and recao, also called culantro. Recao is very similar to cilantro but looks different and has a more intense flavor that can stand up to cooking a bit better. You can usually find recao at Asian or Latin American grocery stores. If you can't find it, don't worry, the cilantro will substitute nicely.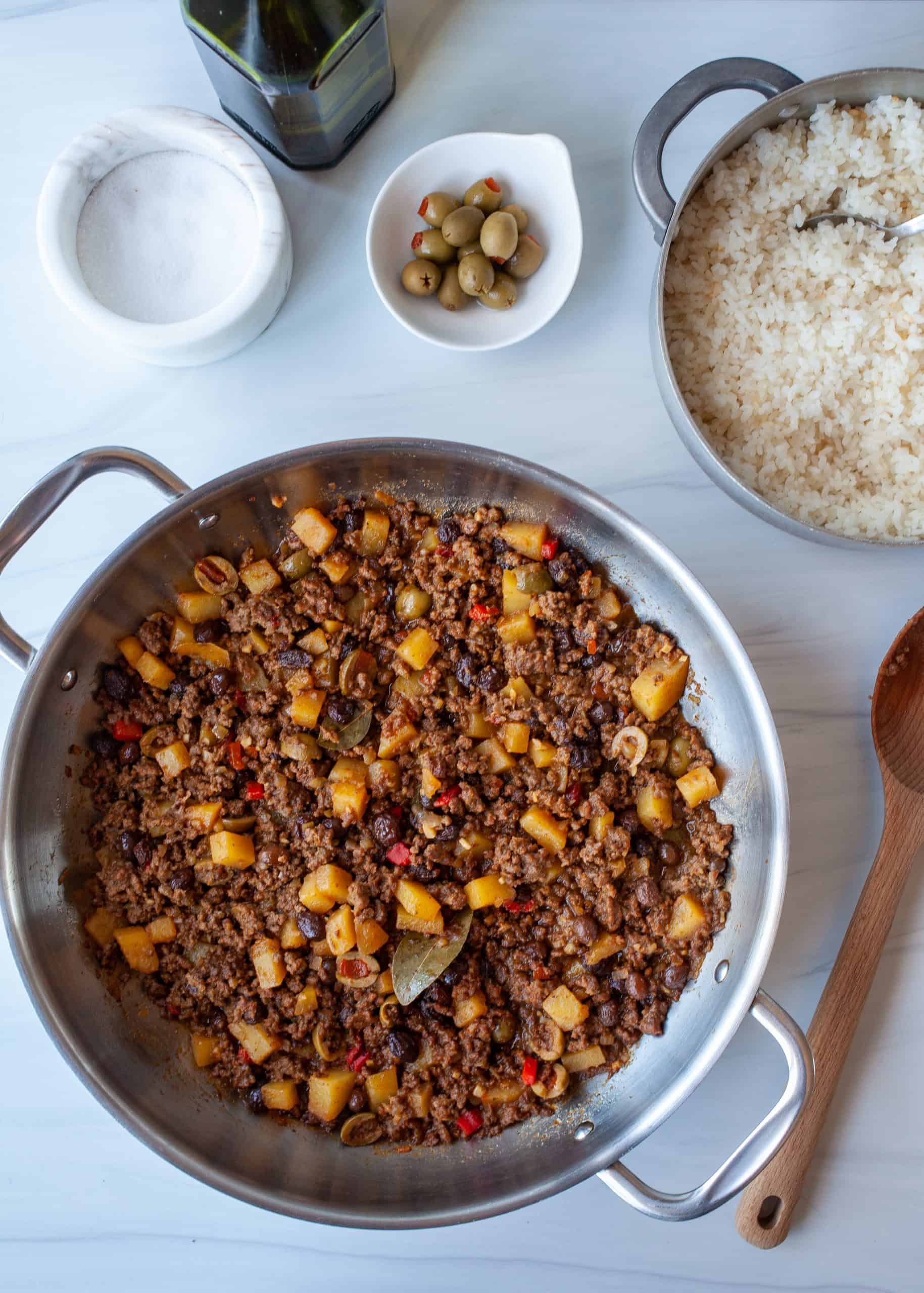 How to serve Puerto Rican picadillo
Like I said, this ground beef mixture is super versatile and can be used as a filling in any number of dishes. Besides filling empanadas and pastelillos, you can serve it over rice with a fried egg and a side of tostones. It is also incredibly tasty mixed with tomato sauce and served over pasta, topped with shredded cheese.
I use Puerto Rican picadillo in my pastelon recipe. Pastelon is like lasagna except that instead of noodles we layer fried plantains with the meat.
Leftovers can be frozen in batches. A little bit goes a long way however you decide to use it.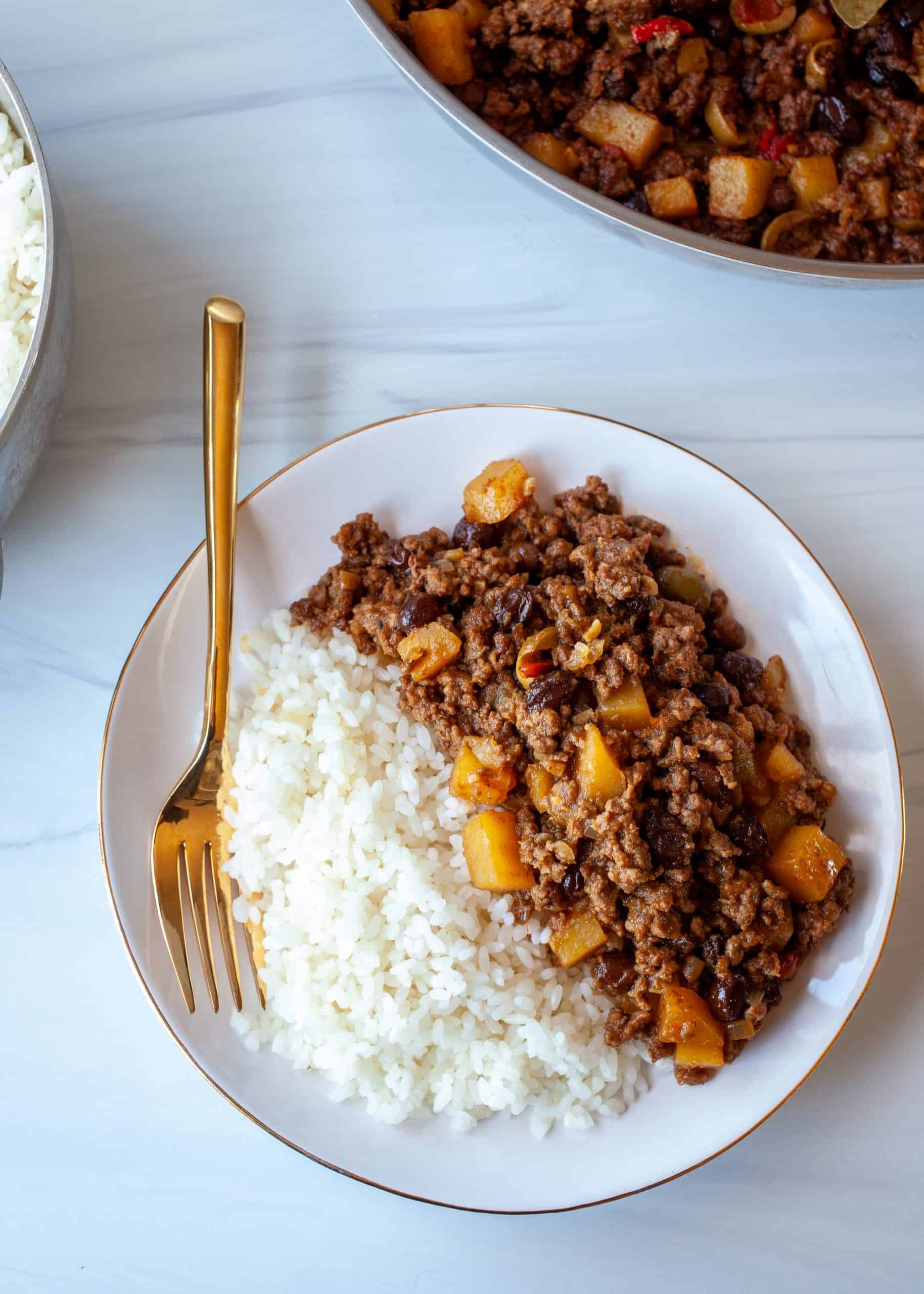 More Puerto Rican Recipes You'll Love!
Include some more Puerto Rican flavors antojitos! Try some of these traditional recipes:
As always you can find tons of delicious PR dishes in my Puerto Rican recipe collection.
Yield: 6
Puerto Rican Picadillo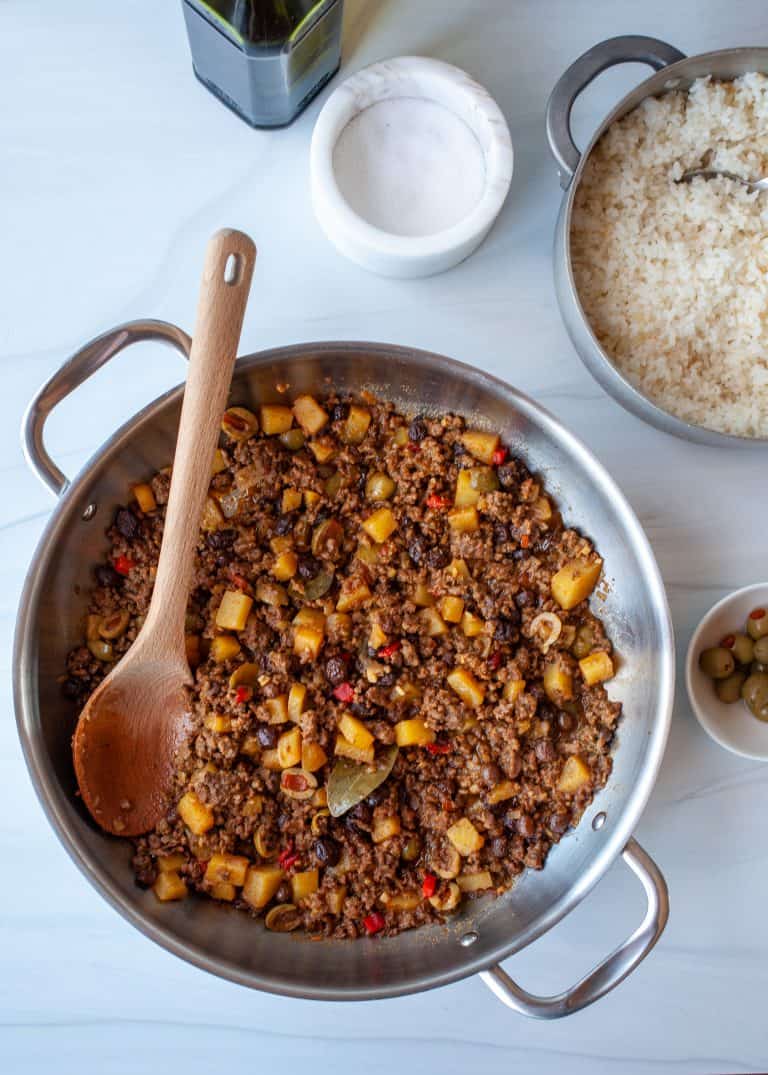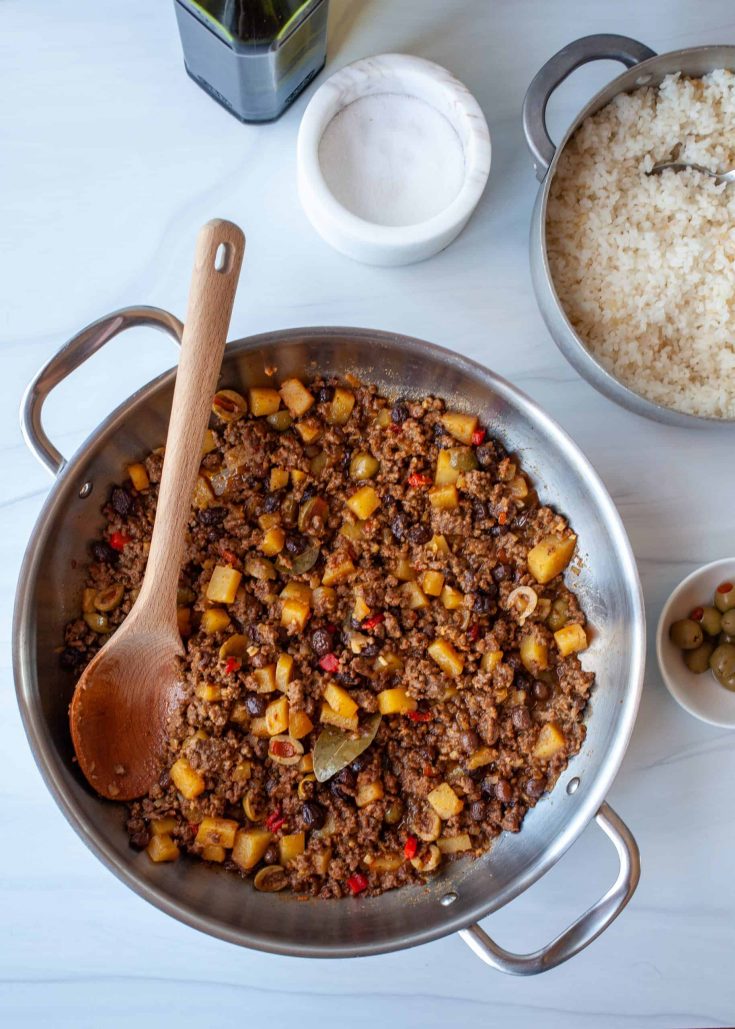 Puerto Rican picadillo is a savory ground beef mixture that is used as a filling for empanadas, pastelillos or served over rice.
Ingredients
3 tablespoons olive oil
1 large onion, small diced
4 cloves of garlic, minced
1 pound ground 80/20 beef
1 1/2 teaspoons dry adobo
2 small potatoes, small diced
10 pimiento-stuffed olives, cut in half
2 bay leaves
1/2 cup raisins (optional)
1/2 cup water
2 tablespoons tomato paste
Instructions
Heat skillet at med-high, drizzle with 2 tablespoons of olive oil. Sauté onions, garlic, and sofrito until onions are translucent.
Drizzle beef with a tablespoon of olive oil and season with dry adobo and salt. Add beef, potatoes, olives, bay leaves, raisins (if using), water, and tomato paste to the skillet, stir until well combined. Raise heat to bring to a boil.
Lower heat to a simmer cover and let cook for 15 minutes. Uncover and let simmer for another 15 minutes or until sauce thickens. Set aside.
Recommended Products
As an Amazon Associate and member of other affiliate programs, I earn from qualifying purchases.
Nutrition Information:
Yield:
6
Serving Size:
1
Amount Per Serving:
Calories:

352
Total Fat:

20g
Saturated Fat:

5g
Trans Fat:

0g
Unsaturated Fat:

11g
Cholesterol:

49mg
Sodium:

162mg
Carbohydrates:

26g
Fiber:

3g
Sugar:

10g
Protein:

19g
One More Thing!
Rebecca and I launched the My Plate is Always Full Podcast! Just two friends and former chefs talking obsessively about food. You can go and subscribe now!
New episodes released every Wednesday!
In the meantime follow us on Instagram @my.plate.is.always.full  or visit our website!