Braised Pork Chops + Garden Vegetables (Chuletas a la Jardinera) | I've partnered with the National Pork Board for this trip to Sioux Falls, South Dakota and to share this information with you. All opinions remain, as always, my own.
Of all the pork chops in all the word, it's the bone-in pork chop that I love the most. It has so much more flavor and tenderness than a pork loin chop. During my trip to Sioux Falls, SD with The National Pork Board's Pass the Pork Tour we sat in on a pig fabrication demo. During the demo, we covered all of the common cuts of pork. When we were asked which were our favorite cuts of pork I immediately said the bone in pork chop and the pork shoulder.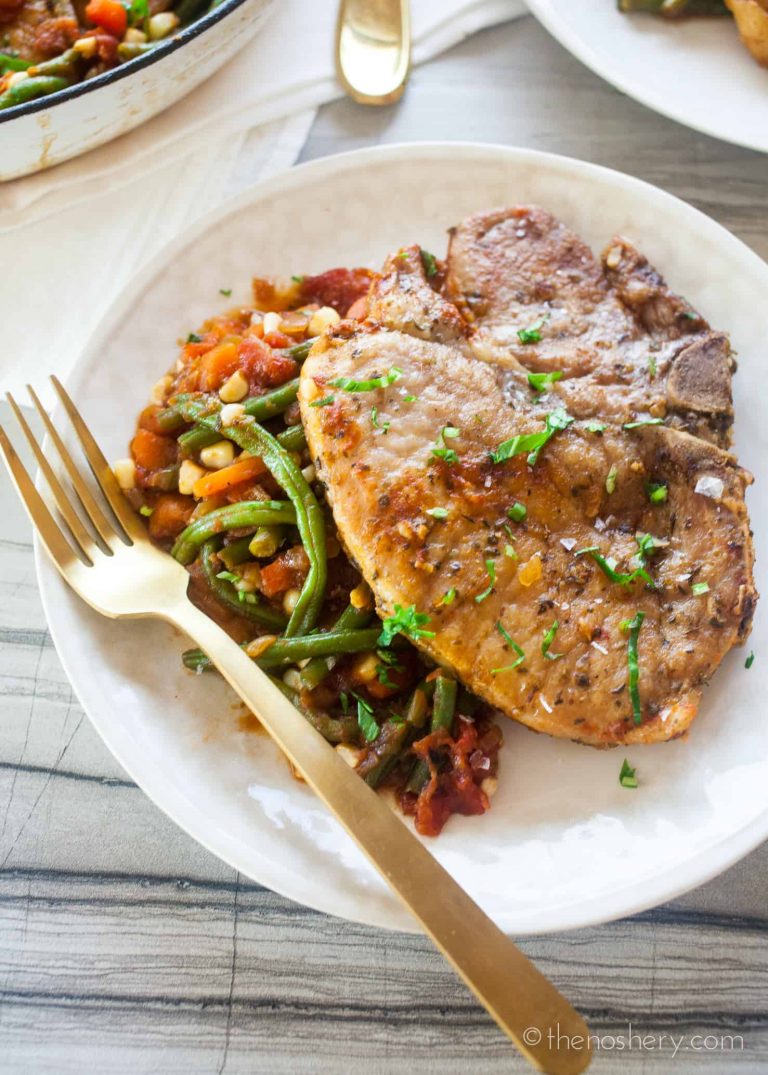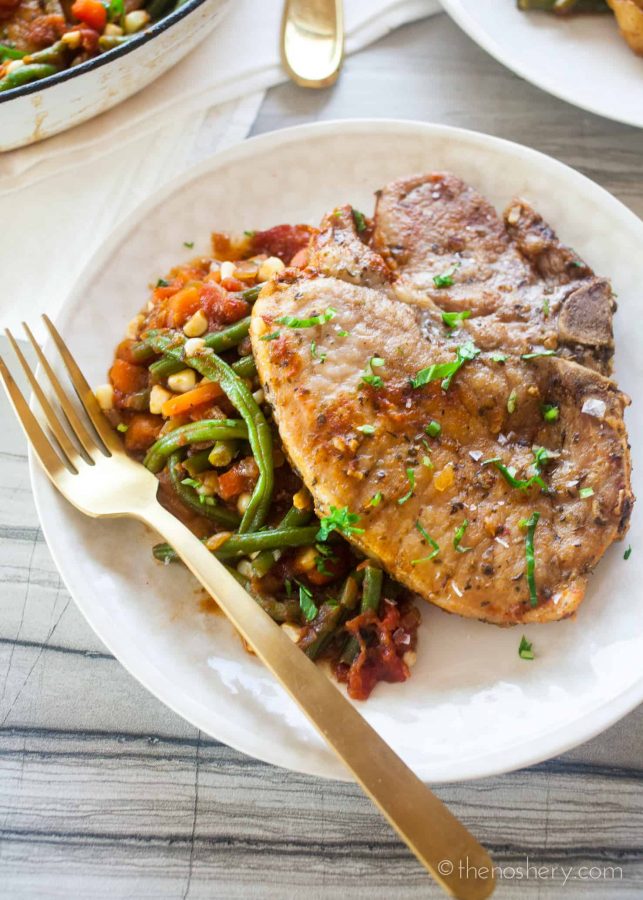 my favorite braised pork chops
Today I am celebrating my love for the bone in pork chop by sharing one of my favorite recipe for braised pork chops. This is a recipe from my childhood and a common easy dinner recipe in many Puerto Rican homes. The pork chops are braised in a savory tomato sauce with carrots, green beans, and corn. Traditionally canned mixed vegetables are used for this dish but, I prefer to use fresh vegetables. If it's a time of year that you are unable to find fresh corn or green beans you can use frozen.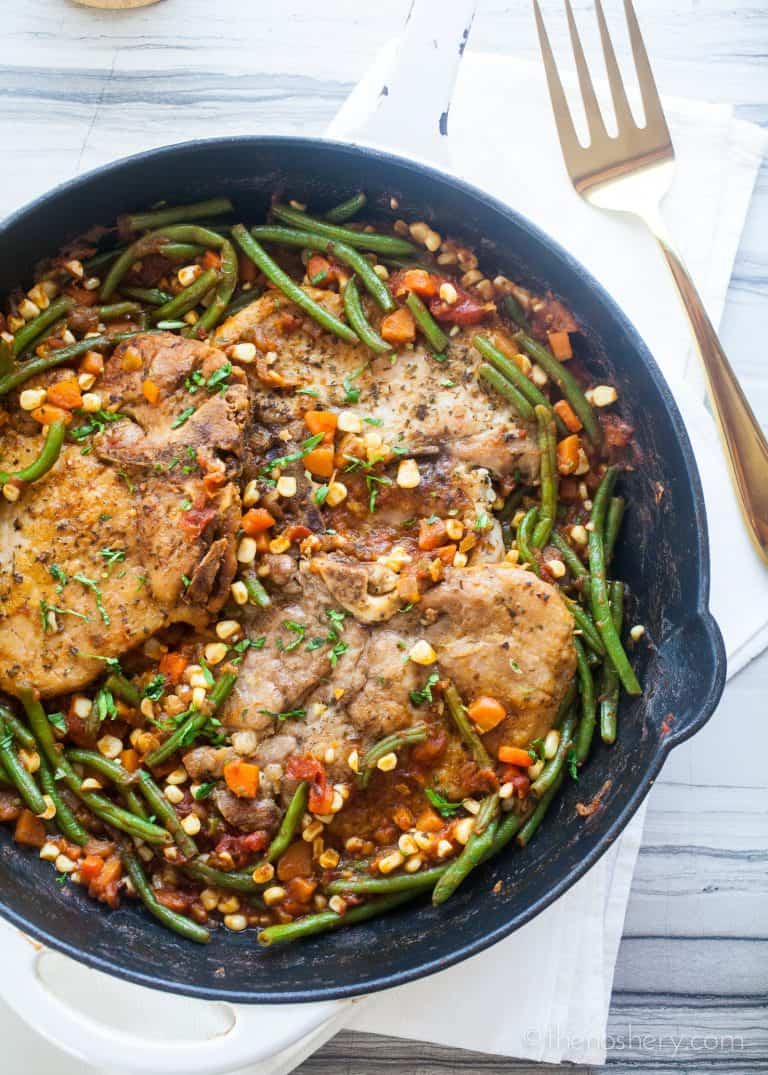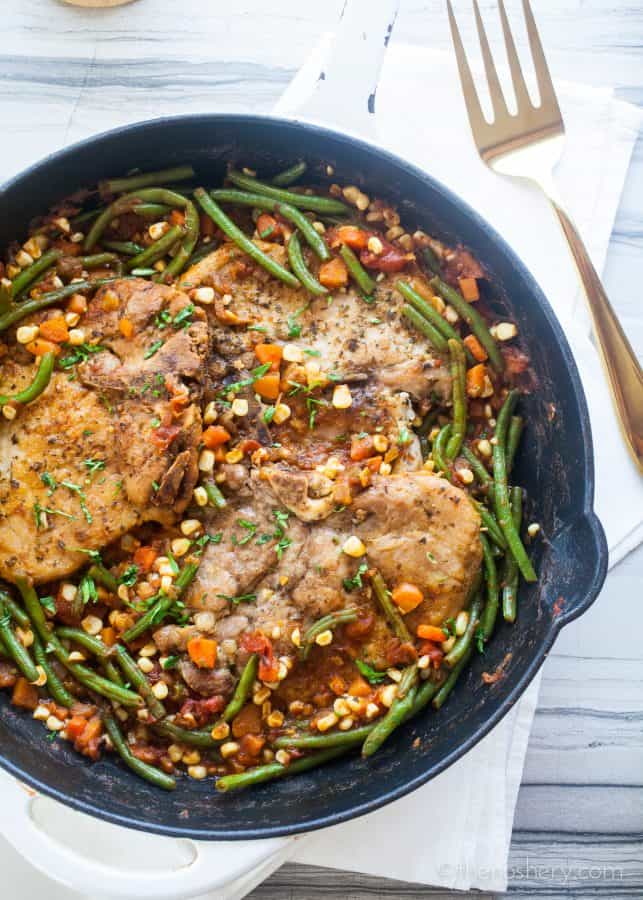 how to braise pork chops in a skillet
The term braised is normally associated with a dutch oven in the oven or a slow cooker but these pork chops are braised on the stove top in a skillet. The trick to skillet braised pork chops is to keep the heat low and the skillet sealed. When braising in a skillet bring the liquids to a slow boil and lower to a simmer. Then cover tightly with foil and a lid. Leave it to simmer covered on the stove top for up to 30 minutes.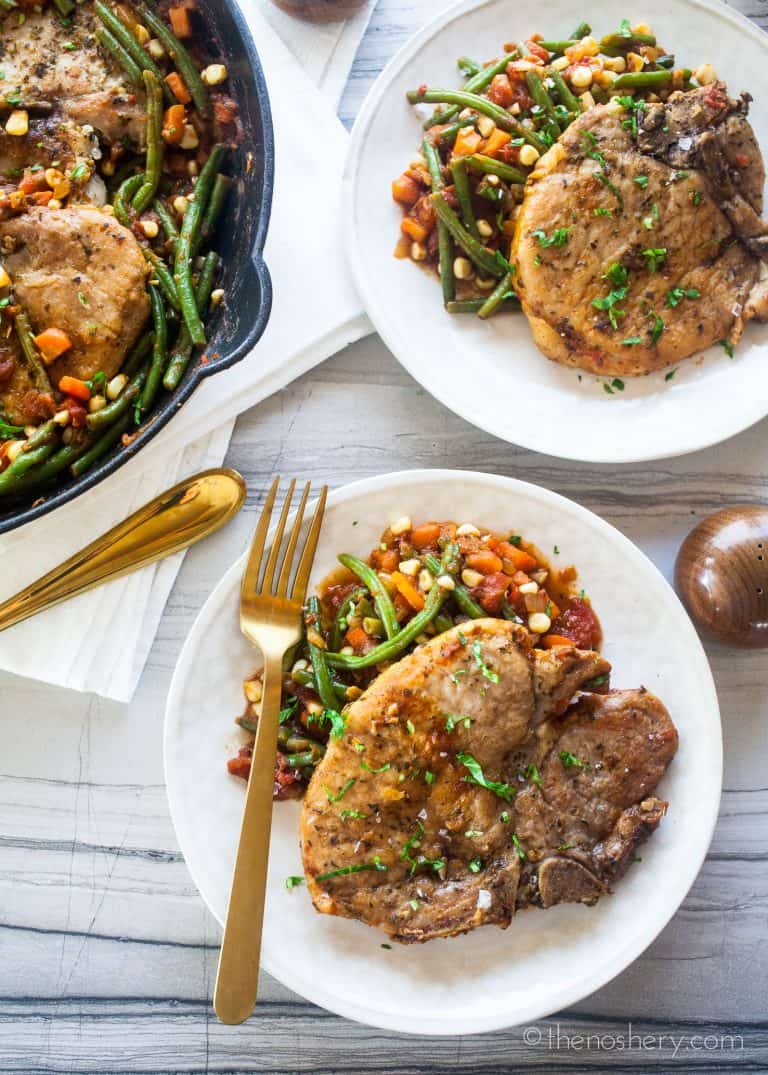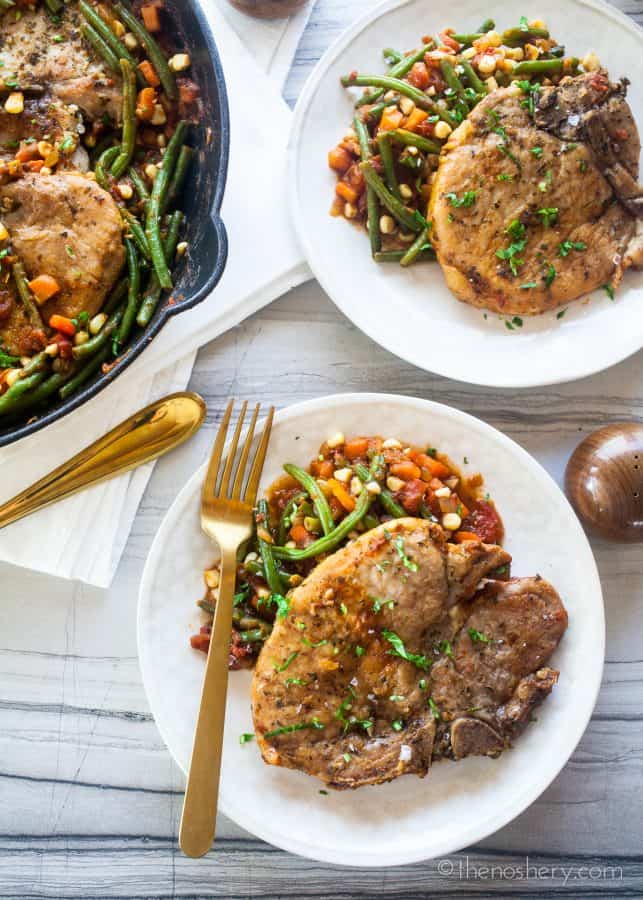 My love for pork runs deep, deep into my heart. Which is why when I was asked to partner with the National Pork Board I jumped on the opportunity. Think of all the amazing and loved foods that come from pork, ham, bacon, sausage, pulled pork, bacon. Did I mention bacon? I love pork in all ways, like these citrus herb glazed ribs or spicy malta pulled pork and these bbq rubbed pork chops with peaches. So, many pork recipes! Get all my pork recipes!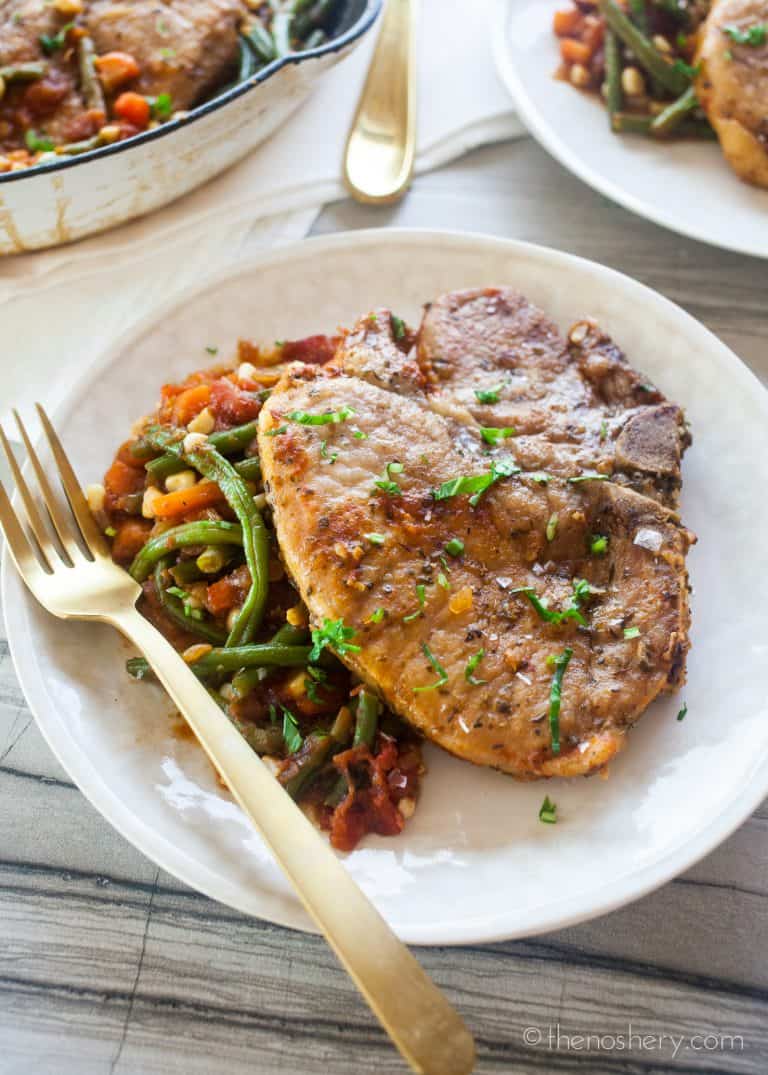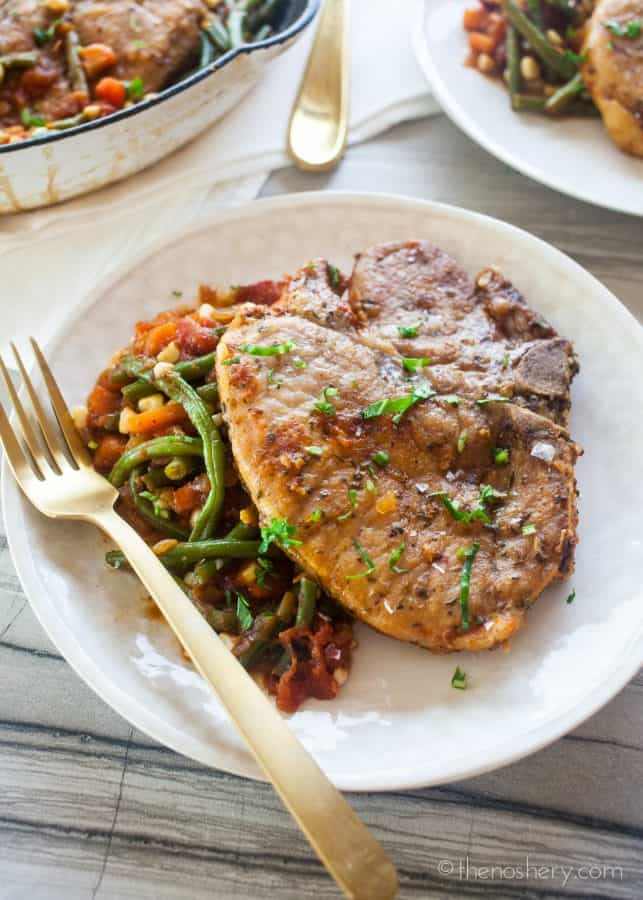 Wondering what to serve with these braised pork chops? I recommend a pot of arroz con gandules (rice and pigeon peas). And, no meal is complete without dessert! One of my favorite Puerto Rican desserts is tembleque (coconut pudding). Need more Puerto Rican recipes? Check out my full collection of Puerto Rican recipes!
It was so much fun being part of The National Pork Board's Pass The Pork Tour! I am so grateful for the opportunity and had such a great time making new friends and spending time with old friends. For more Pass the Pork Tour, visit all of my lovely blogger friends that were also on the tour.
more pork love
Yield: 6
Chuletas a La Jardinera (Garden Pork Chops)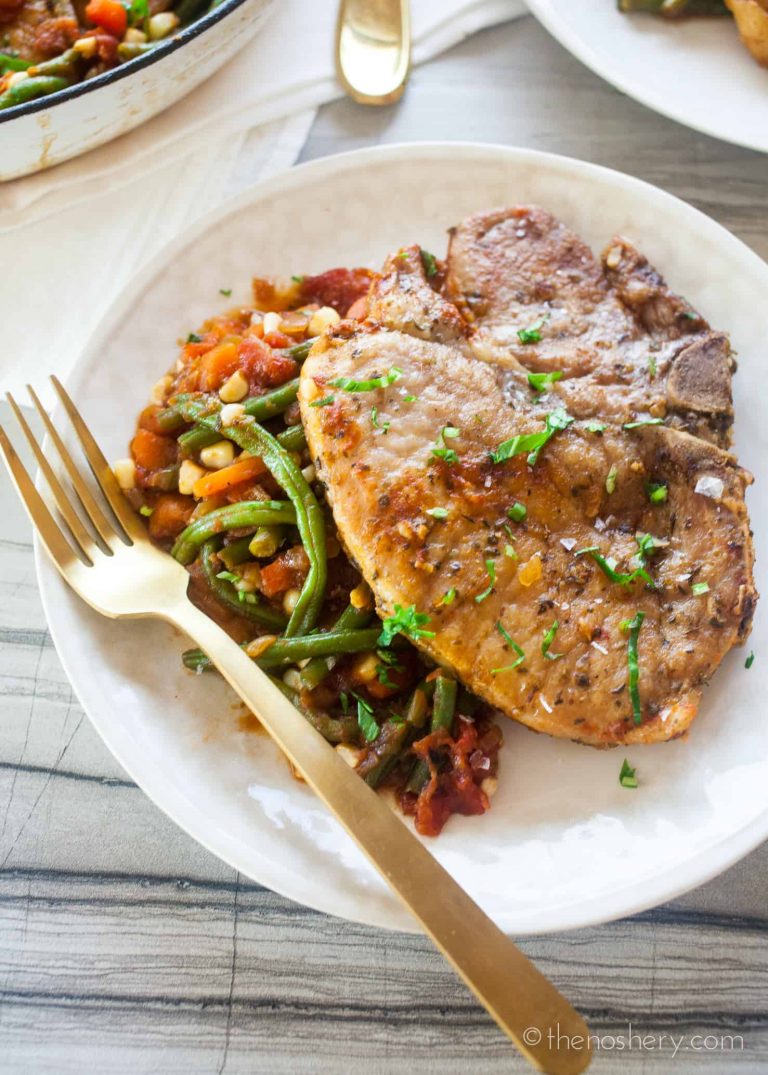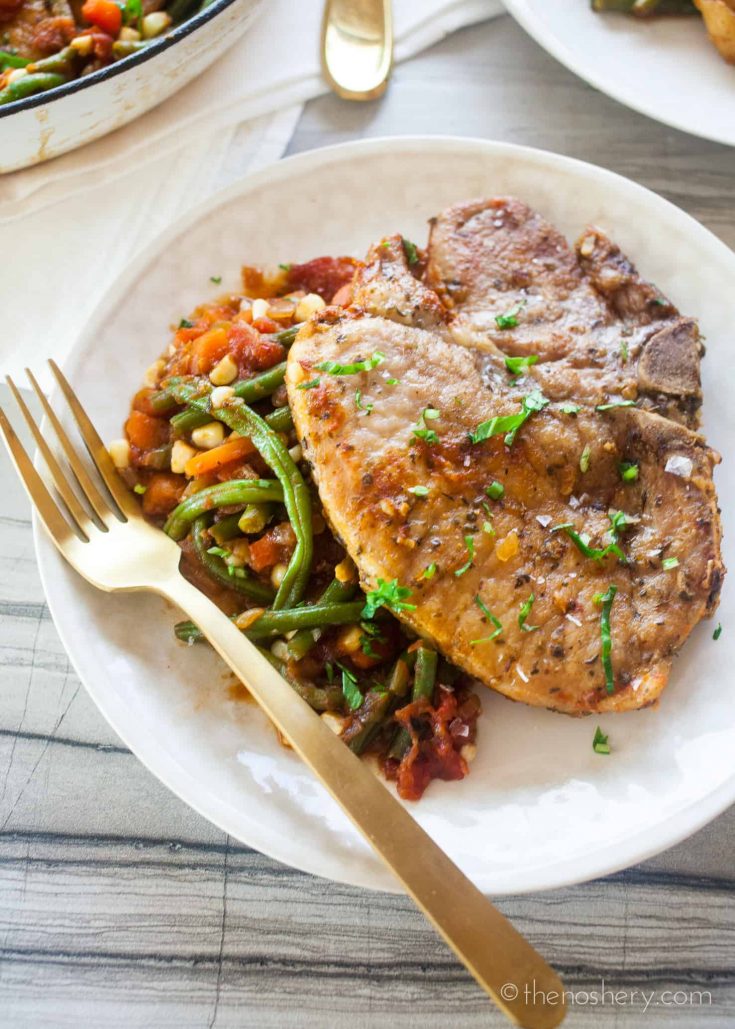 Pork chops braised in a tomato sauce with fresh carrots, corn, & green beans. Resulting in tender pork chops in a sweet and savory sauce & crisp vegetables.
Ingredients
6 Pork Chops, Center Cut, Bone-in
1 large clove garlic, minced
1/2 teaspoon oregano
2 teaspoons salt
1 tablespoon olive oil
1/2 tablespoon vinegar
1 medium onion, diced
1 15 oz can diced tomatoes
2 medium carrots, peeled and diced
1/2 lb fresh green beans, ends trimmed and chopped
1 large ear of corn, shucked
Instructions
Rinse and clean pork chops. Dry with paper towels and set aside.
Combine garlic, oregano, salt, olive oil and vinegar in a mortar and pestle. Mash until well combined. Pour garlic mixture over pork chops and toss until all chops are well coated on both sides.
Heat a heavy deep skillet or dutch oven over medium-high heat. Working in batches, brown the chops.
After the chops have been browned, place all the chops back into the skillet. Pour tomatoes with their juices and onions over the top. Bring to a simmer, lower heat, cover and cook for 25 minutes. Add carrots and cook, covered, for an additional 5 minutes. Add corn and green beans and cook covered for 10 minutes. Then remove the lid and cook, uncovered, for a final 10 minutes.
Serve pork chops hot with vegetables over top.
Recommended Products
As an Amazon Associate and member of other affiliate programs, I earn from qualifying purchases.