Ensalada de Bacalao | When I was a kid, my grandmother would make this salad, and it was one of the few things I would refuse to eat. Great way to start off a food post huh? Of course, I don't think anyone can successfully feed a child salted cod. If you have, please let me know.
It's amazing how things change because now I can't get enough of the stuff. Salted cod is a little hard to come by here in Texas but, when I do find it, it's like finding gold.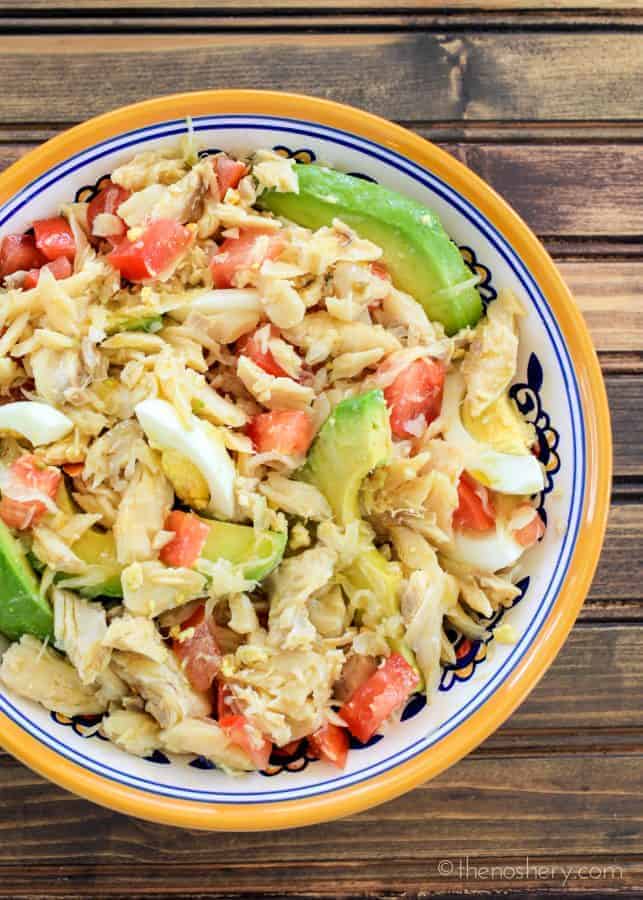 It took some time for me develop an appreciation for ensalada de bacalao. When I first moved to Florida, my mother-in-law would make this, and everyone loved it, especially my husband. I thought they were crazy because all I could remember was how much hated it as a kid.
I was hesitant but I didn't want to put of my new in-laws. After some reluctance, I decided that I would give the salad a try. It was like discovering a new love.

What is Bacalao?
Bacalao is the Spanish term for dried and salted cod. The process of drying and salting cod started as a way to preserve the fish to transport to the market. The flavor and texture it gives the cod is a bonus.
Historically, bacalao was solely made of Atlantic cod but due to overfishing it recently includes pollock, haddock, and blue whiting. Finding real cod bacalao is a real treat. However, it is ok to use other varieties of dried salted fish.
This salad has become one of my favorite easy make ahead meals. Served chilled or room temperature it's the perfect recipe for the summer. Although the main ingredient is salted cod, it is not overly salty, and it is not fishy.
It is a great combo of mild saltiness from the fish and sweet from the combination of tomatoes, onions, and olive oil.

How to Prepare Bacalao for Ensalada de Bacalao
The most important part of this recipe is removing just the right amount of salt from the cod. If you don't remove enough it's inedible and if you remove too much it's just bland.
Some recipes will call for the bacalao to be soaked in water in the refrigerator for up to three day. Changin the water at least 3 times a day.
I don't have the patience to wait three days or to babysit the salted cod and change the water three times a day.
A quicker way to remove the salt from bacalao is to soak the salted cod in cold water for 15 – 30 minutes.
Then place it in a pot, covered with water and bring it to a simmer. Changing the water and bringing to a simmer 3 – 4 times or until the cod is just the right amount of saltiness.

What to Serve with Ensalada de Bacalao
Ensalada de bacalao is traditionally enjoyed alone or served over boiled yuca. It's also great served over salad greens, white rice, or with crispy arepas de coco (coconut fry bread).
If you are looking for more traditional Puerto Rican dishes try my favorite chicharron de pollo recipe or arroz con pollo. And, no meal is complete without dessert!
One of my favorite Puerto Rican desserts is tembleque (coconut pudding). Need more Puerto Rican recipes? Check out my full collection of Puerto Rican recipes!
more seafood recipes
Yield: 6
Ensalada de Bacalao (Salted Cod Salad)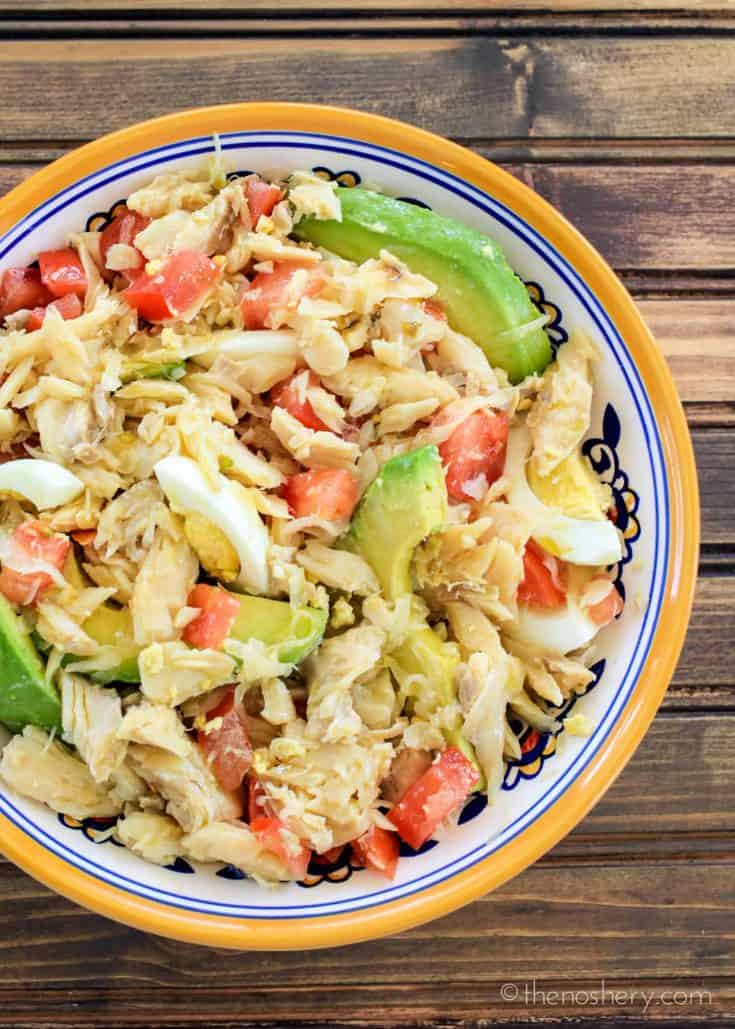 One of my favorite easy make ahead meals. Served chilled or room temperature it's the perfect recipe for the summer.
Inactive Time
3 hours
18 minutes
Total Time
3 hours
35 minutes
Ingredients
1 lb of salted cod
1 large yellow onion, thinly sliced
1 large tomato, diced
1/2 large avocado or a whole small avocado, diced
3 hard-boiled eggs, quartered
12 green olives (optional)
1/4 cup olive oil
1 tablespoon white wine vinegar
Instructions
Soak salted cod in cool water for 15 - 30 minutes. Drain and transfer cod to a pot. Cover with water and bring to a simmer on the stovetop. Change the water and bring it to a simmer 3 - 4 more times or until cod reaches desired saltiness. Drain, using a fork break up the cod and set aside.
Saute onion in a skillet with 2 tablespoons of olive oil until soft and translucent.
In a large bowl combine cod with onions and remaining ingredients. Toss until well combined. If the salad is too dry to your liking add more olive oil.
Serve with rice or boiled yucca root drizzled with olive oil.
Recommended Products
As an Amazon Associate and member of other affiliate programs, I earn from qualifying purchases.
Nutrition Information:
Yield:
6
Serving Size:
1
Amount Per Serving:
Calories:

441
Total Fat:

22g
Saturated Fat:

4g
Trans Fat:

0g
Unsaturated Fat:

16g
Cholesterol:

208mg
Sodium:

5433mg
Carbohydrates:

8g
Fiber:

4g
Sugar:

2g
Protein:

52g