If you visit regularly or have been reading this blog for a while you probably have seen the ingredient "sofrito" or "recaito" mentioned a few times in my Puerto Rican recipes. This is a must-have condiment to keep on hand for any Puerto Rican dish. It is the entire island's secret ingredient. Don't tell them I told you.

What is Puerto Rican Sofrito?
Sofrito is the beginning of all the best recipes and gives Puerto Rican cuisine its distinctive flavor. It is an aromatic base much like the Cajun holy trinity or mirepoix.
Because there are so many more ingredients in PR sofrito it is worthwhile to make it ahead and freeze some in an ice cube tray. Those little cubes of flavor loaded with garlic, culantro, peppers, and capers will jazz up beans and rice dishes and Latin American soups as well as serve as your base for most Puerto Rican cookery.
Some of my favorite recipes that use Puerto Rican recaito base are arroz con pollo, sopa de pollo con fideo, and pasteles de yuca.

Recaito vs. Sofrito
You may have noticed that I use the words recaito and sofrito interchangeably. They are basically the same thing. Traditionally, Spanish sofrito contains tomatoes making it red. Puerto Rican sofrito does not include a tomato product so it retains the green coloring of the herbs.
Goya makes a sofrito and recaito which you can find in the Latin freezer section of most grocery stores. They also carry a jarred version in the dry goods department. For Puerto Rican cooking you will want to use the Goya Recaito as it is the green one. Think green go, red no.
That said, it is worthwhile to skip the grocery store and make a batch at home. It will last up to a year in your freezer and add a Puerto Rican kick to your cooking.

What is recao (culantro)?
Recao is also called culantro and will probably be the hardest thing to find on your list of ingredients. If you have a local Asian or Latin market, go there first. Besides the culantro, you'll find all kinds of interesting foods to try.
Other names for this pungent herb are Mexican coriander, ngo gai, sawtooth coriander, and shadow beni.
Culantro smells and tastes a lot like cilantro but it is not the same thing. It is a completely different plant with longer, broader serrated leaves. The flavor is stronger than cilantro so you don't need as much for the same effect. Furthermore, it can be cooked up in your recipe rather than added later as a condiment or garnish.
As I said, it is hard to find so if you do run across some, buy a bunch to make up a big batch of homemade sofrito.

Puerto Rican Sofrito Ingredients
culantro
onions
garlic
Spanish olives
extra virgin olive oil
sweet chili peppers
green bell pepper
roasted red peppers
capers
crushed oregano
salt and pepper

How to Make Puerto Rican Sofrito
Don't give up on the sofrito if you can't find culantro or sweet chili peppers. Simply add another handful of cilantro to replace the cilantro and use red bell pepper in place of the sweet chili peppers.
Once you have the ingredients assembled, give the vegetables a rough chop, and place them in your food processor or blender. Add the rest of the ingredients and puree until the mixture reaches the consistency of a thick pesto.
It is ready to use if you are. If not, scoop it into clean ice cube trays and freeze the recaito before storing in plastic freezer bags.
A note on the peppers: sweet chili peppers, aji dulces, are a staple in PR cookery. However, they look a lot like hot Jamaican peppers or tiny habaneros, these peppers are easily mistaken for each other.
Ask me how I know. The hot Jamaican peppers are very hot, so make sure you have the sweet chili peppers. Always handle any pepper carefully, keeping your hands away from your face.
Finally, here are a couple of great resources for other aromatic bases for cooking Mirepoix 101 from the Pioneer Woman and The Spruce Eats treatment of the cajun trinity.
Yield: 24
Recaito (Puerto Rican Sofrito)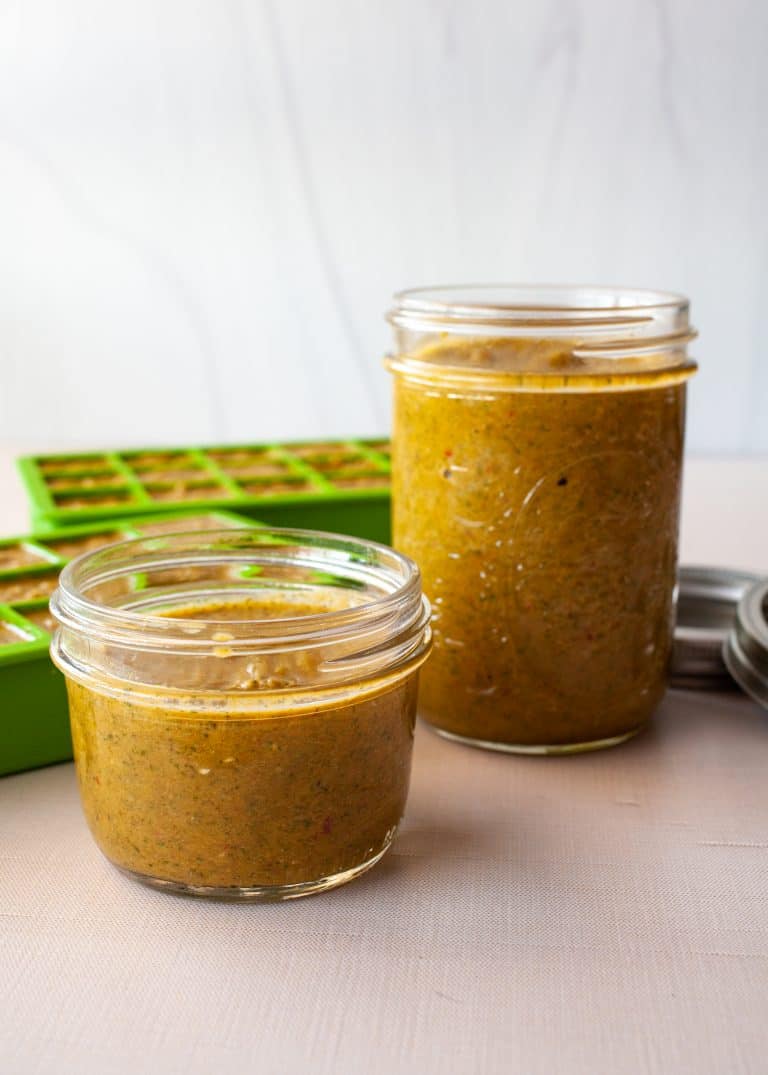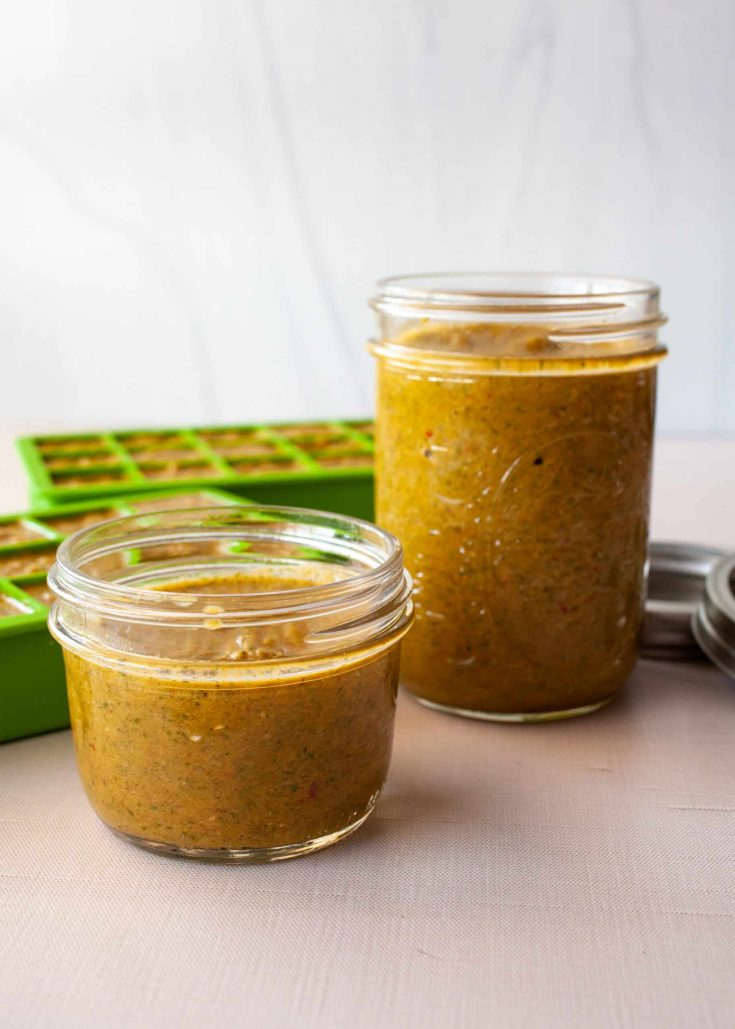 Puerto Rican sofrito is the aromatic base that defines the flavor of Puerto Rican cuisine. It is also known as Recaito.
Ingredients
2 bunches culantro (if you can't find you can sub cilantro)
2 small heads of garlic
2 large onion
1/2 lb. sweet chili peppers
2 large green bell peppers
½ cup olives with pimientos
1 4 oz jar roasted red peppers
1 tablespoon capers
2 tablespoon crushed oregano
1 tablespoon salt
1 teaspoon black pepper
1 cup extra virgin olive oil
Instructions
Rinse, peel, and chop vegetables. Combine in blender or food processor and puree.
Spoon into an ice tray and freeze. Store cubes in a zip-loc bag. Each cube measures 1 tbs.
Recommended Products
As an Amazon Associate and member of other affiliate programs, I earn from qualifying purchases.
Nutrition Information:
Yield:
45
Serving Size:
1 cube
Amount Per Serving:
Calories:

53
Total Fat:

5g
Saturated Fat:

1g
Trans Fat:

0g
Unsaturated Fat:

4g
Cholesterol:

0mg
Sodium:

158mg
Carbohydrates:

2g
Fiber:

0g
Sugar:

1g
Protein:

0g
more Puerto Rican recipes you'll love
Include some more Puerto Rican flavors on your dinner table! Try some of these traditional recipes:
As always you can find tons of delicious PR dishes in my Puerto Rican recipe collection.
One More Thing!
Rebecca and I launched the My Plate is Always Full Podcast! Just two friends and former chefs talking obsessively about food. You can go and subscribe now!
New episodes released every Wednesday!
In the meantime follow us on Instagram @my.plate.is.always.full  or visit our website!