Grilled Brioche with Mixed Berry and Vanilla Ricotta Cheese Dessert | School has started and that is the first sign of summer winding down. But summer isn't over yet and there is still plenty of time to fire up the grill.
When grilling out, most immediately think about throwing some burgers, hot dogs, or steaks on the grill and serving them up with a few sides. But what about dessert? Why don't more people associate sweets with the grill?
Now I'm not talking about the cake from the supermarket deli. I'm talking about grilled brioche and fresh berries coming together to create and easy ricotta cheese dessert.
Yes, grills are generally associated with meat. I will admit there is no better sound than the sizzle of meat hitting a hot grill, but a grill can do so much more. I love grilled fruits served over ice cream, and it's easy to toast up brioche or pound cake on the grill.
This simple ricotta cheese dessert topped with mixed berries and served over a delicious toasted brioche comes together in no time. It's great when feeding a large crowd and leaves your guests satisfied and impressed.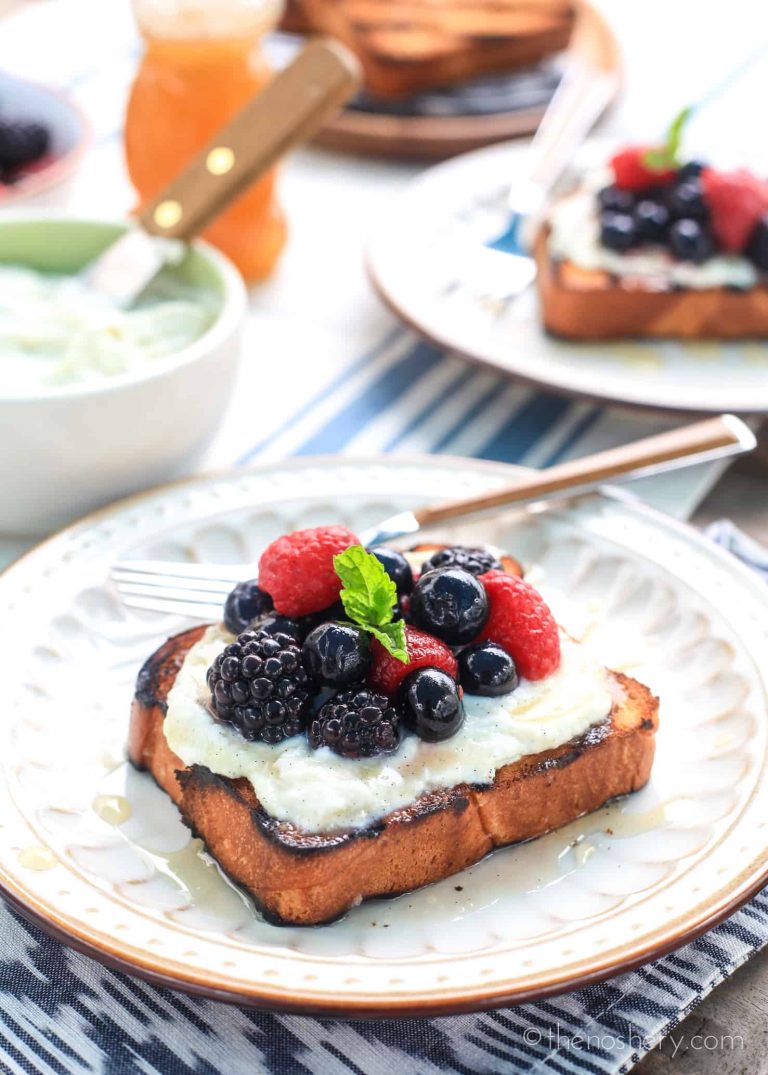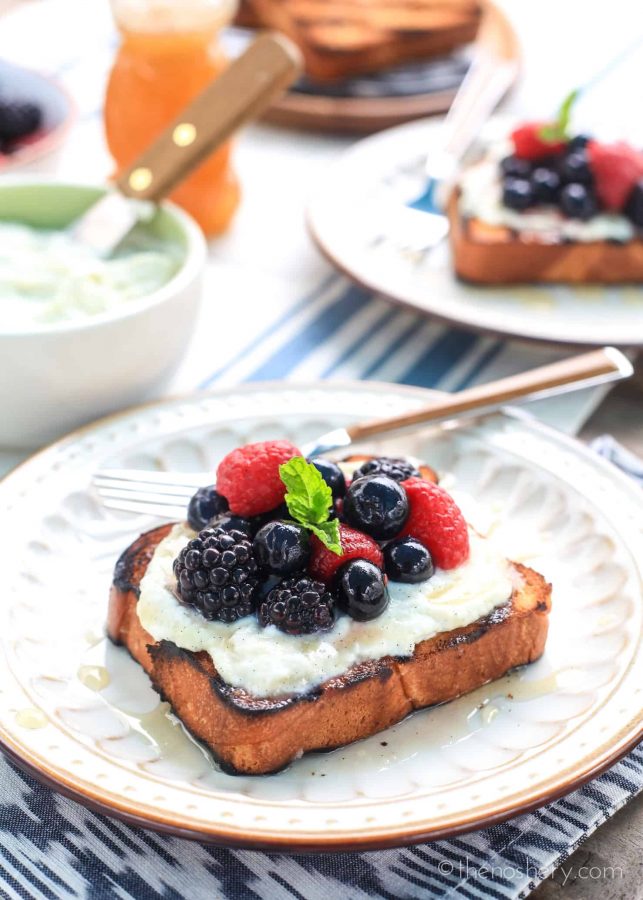 Sweet vs. savory desserts
You know I love a straight up sweet dessert like a dark chocolate brownie, tembleque, or flancocho. But you know what's straight up magical? When desserts take a savory ingredient and turn it into a satisfying sweet. I'm talking about candied pecans with that sweet and salty combination, these perfectly chewy olive oil cookies, or a creamy dish of cheese flan.
I'm telling you, when you add a little honey and some berries to ricotta, the result is smooth and creamy, like next-level whipped cream. This combination of ingredients is incredibly satisfying. But don't take my word for it. Make this ricotta cheese dessert yourself!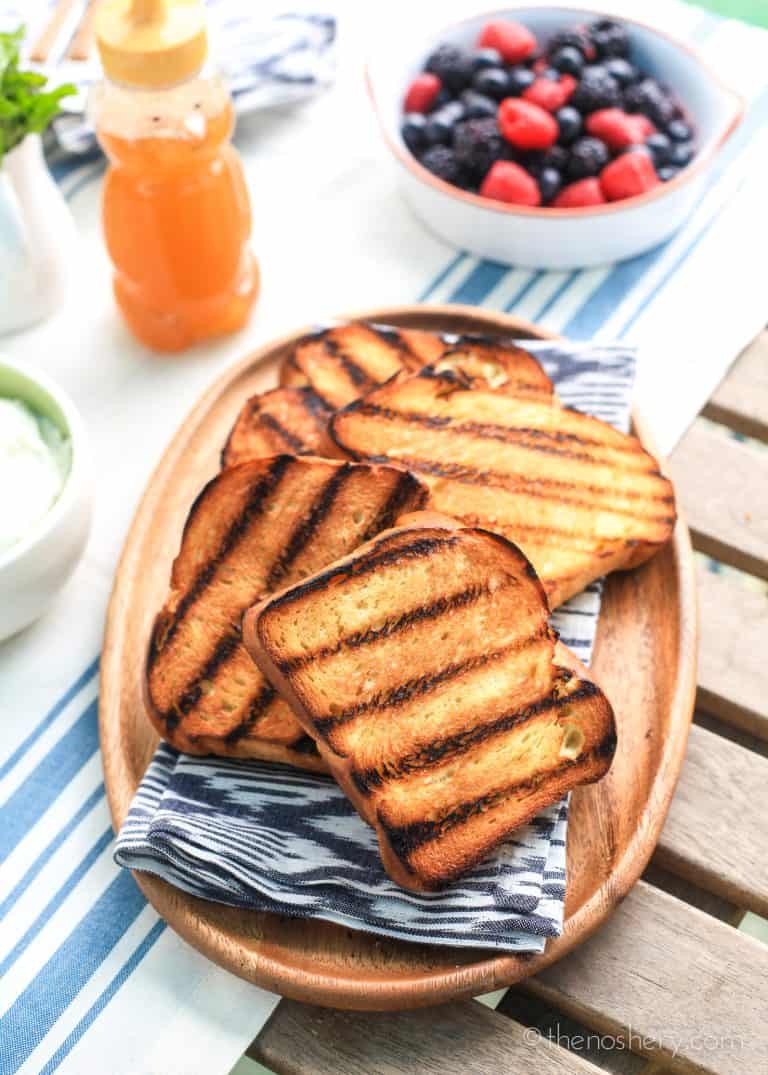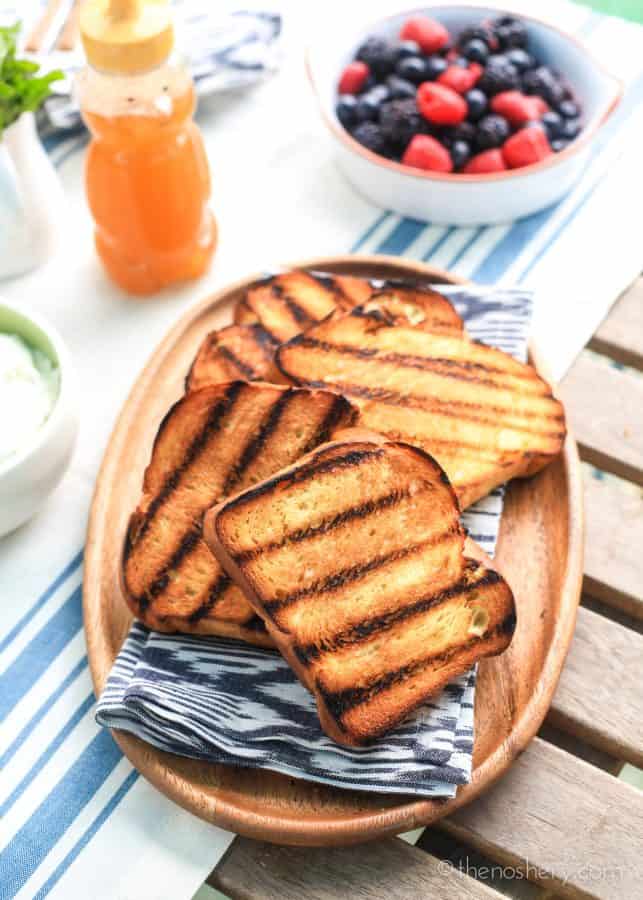 How to make grilled brioche and vanilla ricotta cheese dessert
First, make the berry mixture so it has plenty of time to let the flavors do their thing. Pro tip: using a food storage container with a lid makes for easy mixing.
Add rinsed and dried berries to your container along with the sugar, orange liquor, and ginger powder. If you don't have orange liquor, a little lemon juice will do. Put the lid on and shake the container until they're combined. Then place it in the refrigerator, covered, while you prepare the rest of the dish.
To make the ricotta mixture creamy, you're going to want to use either a bowl with a hand mixer or put it straight into the food processor. You also want to use whole milk instead of skim ricotta, which will affect the texture.
To scoop out the contents of your vanilla bean, cut in half lengthwise and run the flat edge of a small sharp knife along the cut to get as much as of that "caviar" as you can into the ricotta cheese.
Then whir up that food processor or beat until the ricotta cheese is cool, smooth, and creamy. Cover that and put it in the refrigerator until it's time to assemble. So good!
Now it's time to grill!
Over a medium-high heated grill, place the brioche slices on the grill. They will toast and get those lovely grill marks pretty quickly, about 10-15 seconds on each side. If you use pound cake, however, it could take a little longer because it has more moisture.
When your bread is all grilled, spread one side with the ricotta cheese mixture and spoon your macerated berries on top. To add a touch more flavor, drizzle with a little honey and garnish with a mint leaf.
Now sink your teeth into this sweet, hearty, creamy ricotta cheese dessert. So incredibly delicious!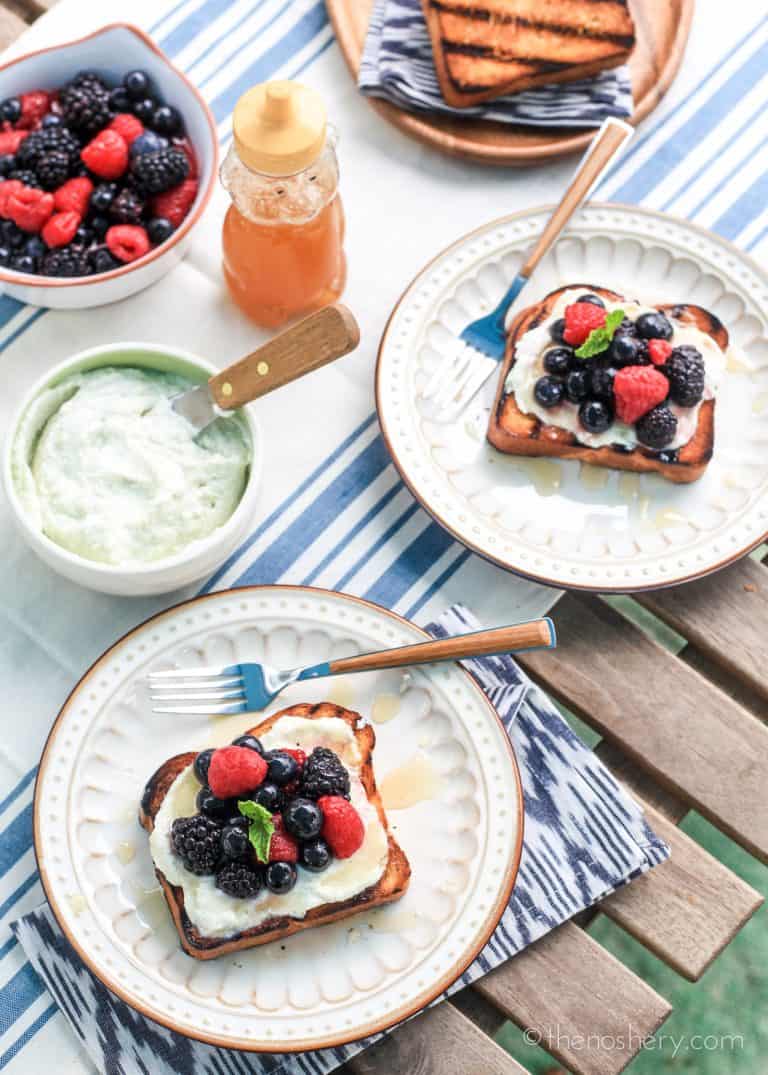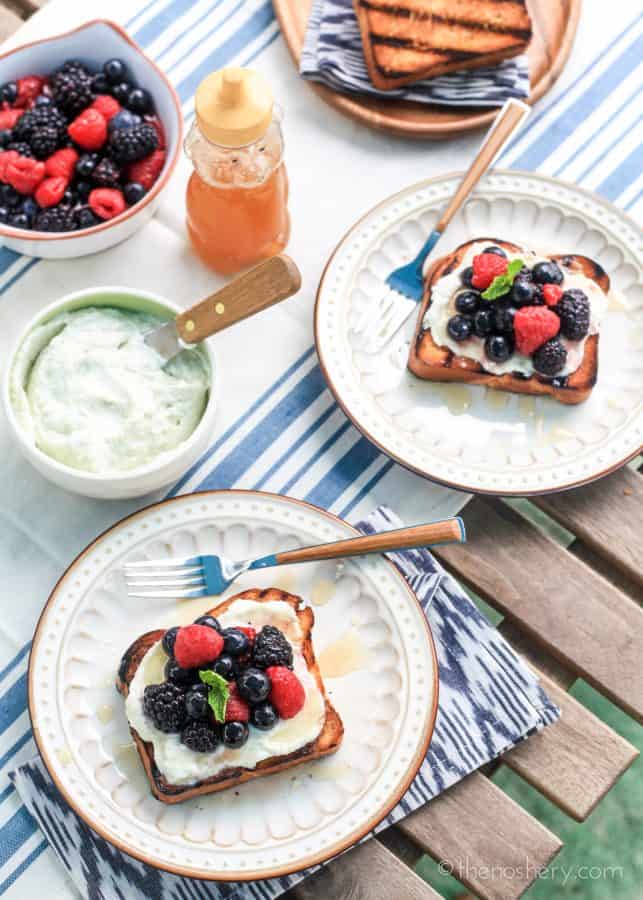 Other ricotta cheese desserts
When you think of ricotta, many first think of Italian savory dishes like a lasagna or this ricotta gnocci with sausage and pesto. Maybe a savory ricotta toast or a cheesy appetizer like this baked ricotta from Foodie with Family.
But, let me tell you, with a little added flavor, it makes desserts and other sweet preparations absolutely delicious! Case in point, I have one word for you: cheesecake. Cheesecake is basically ricotta cake.
Ricotta also loves lemon zest and juice. With a little lemon, ricotta really shines!
I also love it in mousse form over Dutch pancakes or spread on a brioche toast. FoodieCrush even has an amazing dessert spin on a grilled cheese sandwich.
Add a little honey, vanilla extract, or some sweet jam or berries and a ricotta cheese dessert is rich, creamy goodness on a plate! Make your own ricotta and it's even better.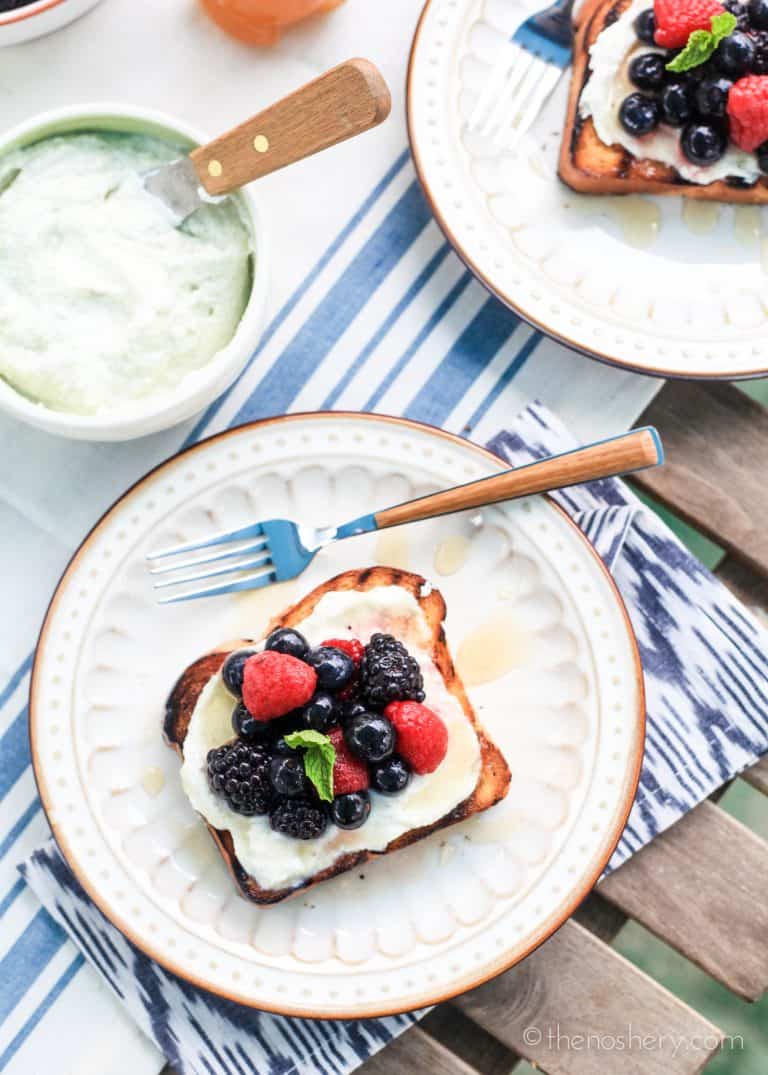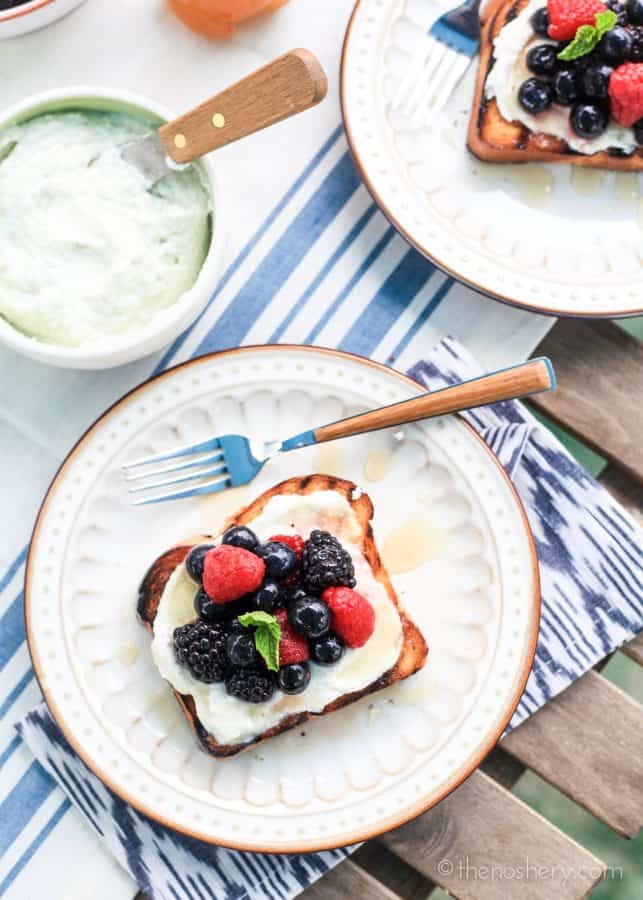 Can you make this ricotta cheese dessert if you don't have a grill?
If you don't have a grill or the weather isn't cooperating, you can still enjoy this easy ricotta dessert by utilizing your broiler or toaster oven. You won't get the fun grill marks or that hint of smokiness on the brioche, but it will still toast up nicely and make the perfect vessel for ricotta cheese and berry goodness!
Right now is a great time to make this dessert while the berries in the stores are still sweet. But if you're not interested in berries, you can use peaches, cherries, nectarines, or segmented citrus.
If you can't find brioche (Sprout's Market usually carries some), you can also use challah bread or pound cake. That means gluten-free foodies can still enjoy this recipe by subbing the brioche for a gluten-free pound cake.
I love the simplicity of this grilled brioche and ricotta cheese dessert. Sometimes the simplest ingredients make the best dishes. It's a perfect finish to a summer meal.
For a full summer grilled dinner, check out this burger, this salad, and this spicy margarita!
more grilled dessert love
Yield: 6
Grilled Brioche with Mixed Berry and Vanilla Ricotta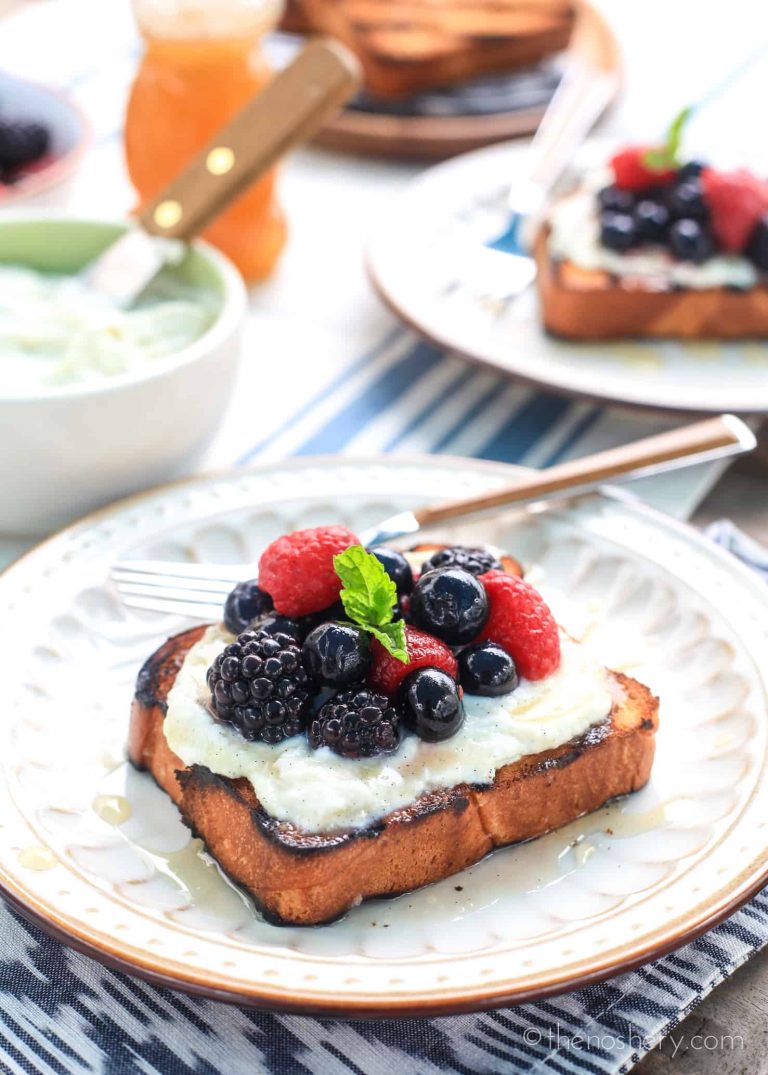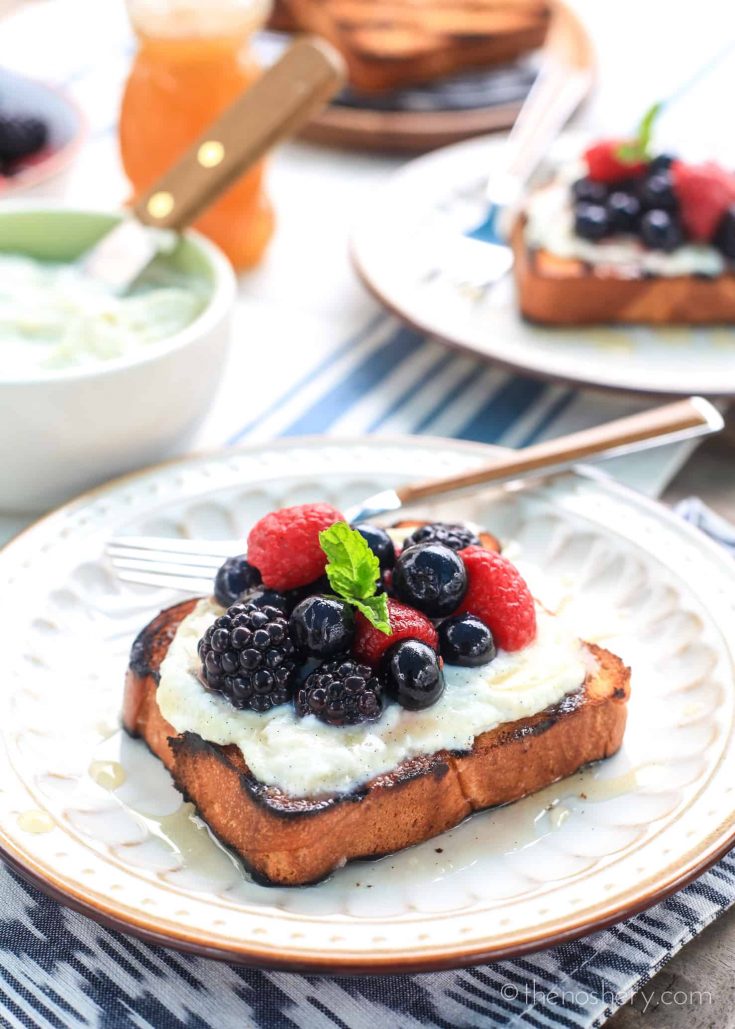 A simple dessert of grilled brioche with whipped vanilla ricotta and sweet berries soaked in orange liquor.
Ingredients
6 slices brioche bread (can also use challah or pound cake)
Berries
2 pints blueberries
2 pints blackberries
2 pints raspberries
1/4 cup sugar
1 tablespoon orange liquor (Grand Mariner or Cointreau)
1/2 teaspoon ginger powder
Vanilla Ricotta
1 15 oz container whole milk ricotta
1 vanilla bean, or 1 teaspoon pure vanilla extract
Garnish
Instructions
Rinse berries in a colander. In a large container with an airtight lid combine berries, sugar, orange liquor and ginger powder. Gently toss until well combined, cover and place in the refrigerator.
Scoop out ricotta cheese into a bowl or food processor. Reserve the ricotta cheese container. Using a small sharp paring knife cut the vanilla bean in half lengthwise. Using the back of the tip of the knife scrape the inside of the vanilla bean halves to remove the caviar. Add the vanilla bean caviar to the ricotta cheese. Process or beat with a hand mixer until smooth. Place vanilla bean ricotta back into the container, cover and refrigerate.
Heat grill to medium-high heat. Place brioche on the grill until lightly toasted and has grill marks, about 10 - 15 seconds.
Spread ricotta cheese on grilled brioche slices. Divide berries evenly among brioche slices, drizzle with honey and garnish with mint leaves.
Notes
If you cannot find brioche, you can use challah bread or pound cake. Pound cake will take a little longer to toast because of the moisture.
3.3.3077
Recommended Products
As an Amazon Associate and member of other affiliate programs, I earn from qualifying purchases.