I could eat my weight in fruit during the hot summer months. Especially cold watermelon. I stinking love ice cold watermelon on a hot summer day. It's like a sweet treat and a cold drink of water in one.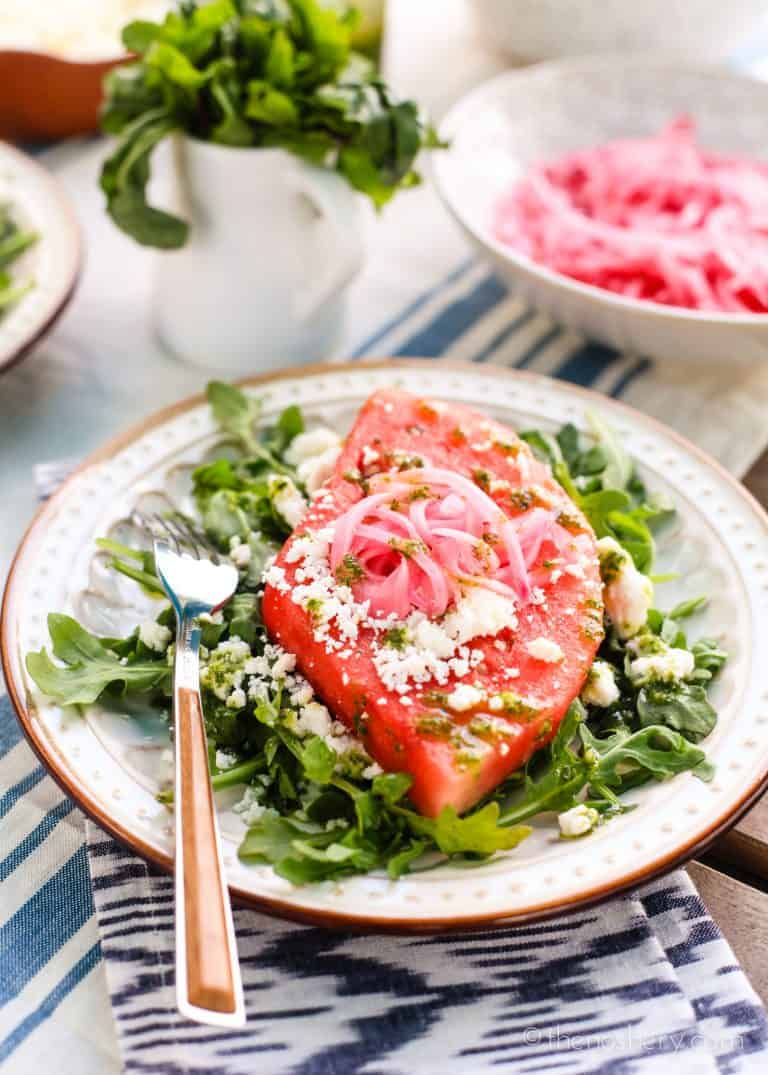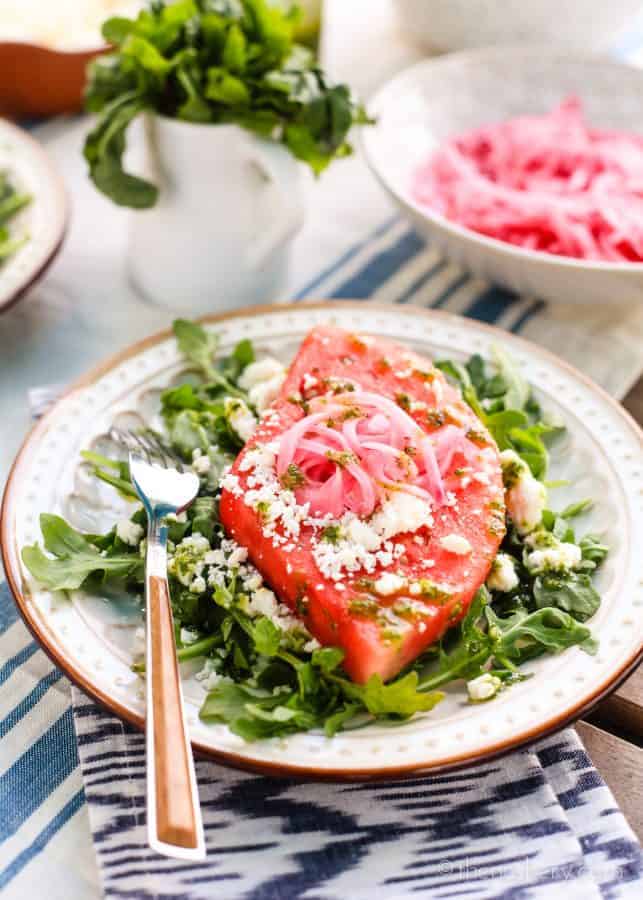 We have been lucky, summer came late to North Texas. Normally by this time sitting on the deck is like sitting in an oven. But, the afternoons are still bearable enough to enjoy outside. The grill is being fired up almost on a nightly basis. Which is great for me because can sit back with a cup of iced while OB grills my dinner.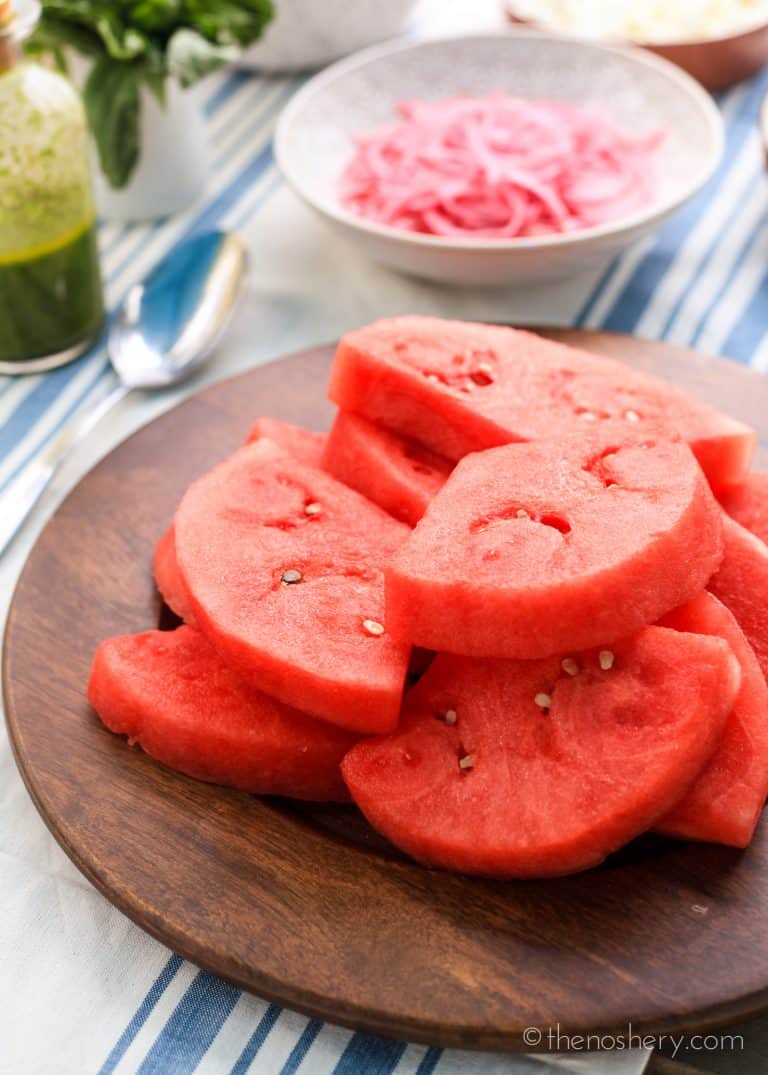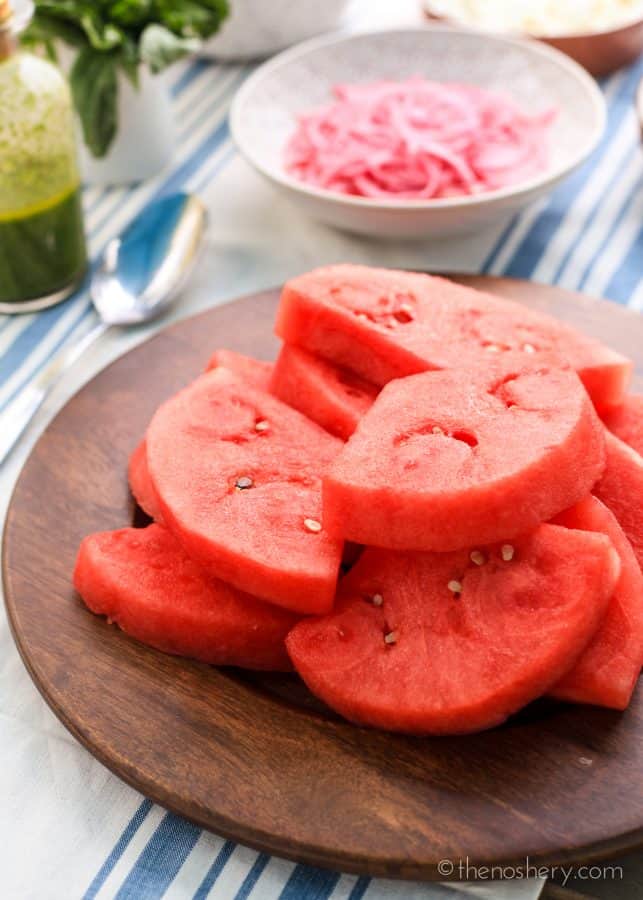 Last night was a lazy Sunday night on the deck. There was a slight breeze and you could hear the neighbors outside watching television and the kids in the pool giggling. This is the time of year I most love living in an RV park.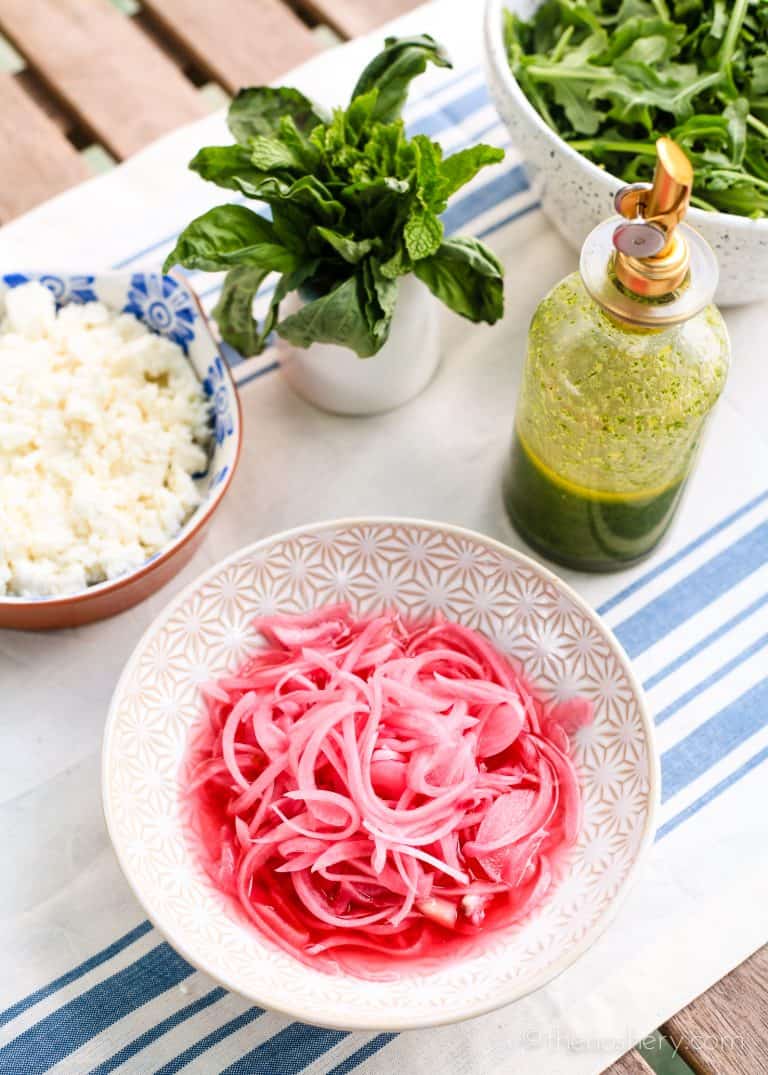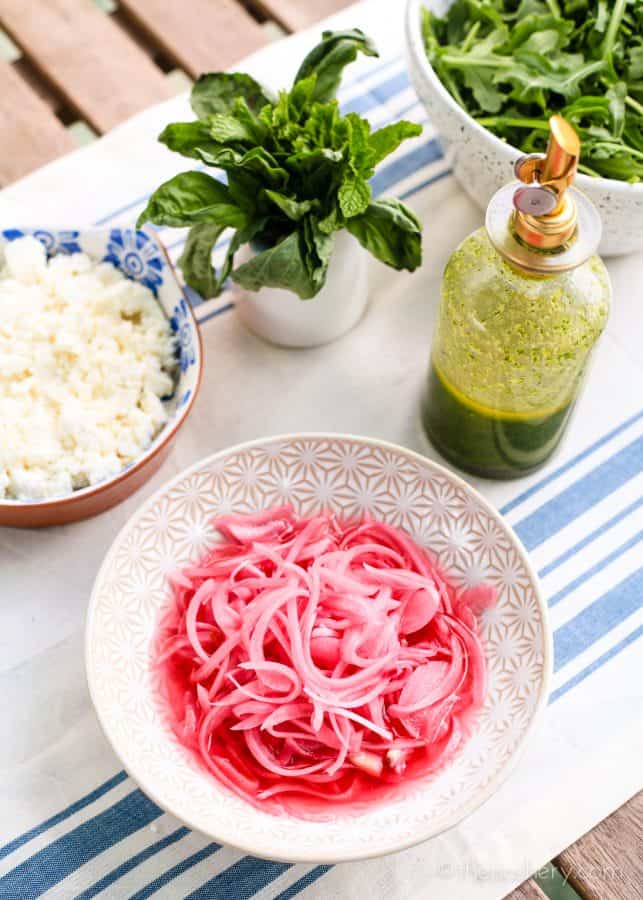 It was dinner time which meant it was time to toss some steaks on the grill. But, at first, I was at a loss what to make to go with the steaks. My kitchen was already clean so I had no interest in making anything complicated. Then I remembered the mini watermelon we had in the refrigerator.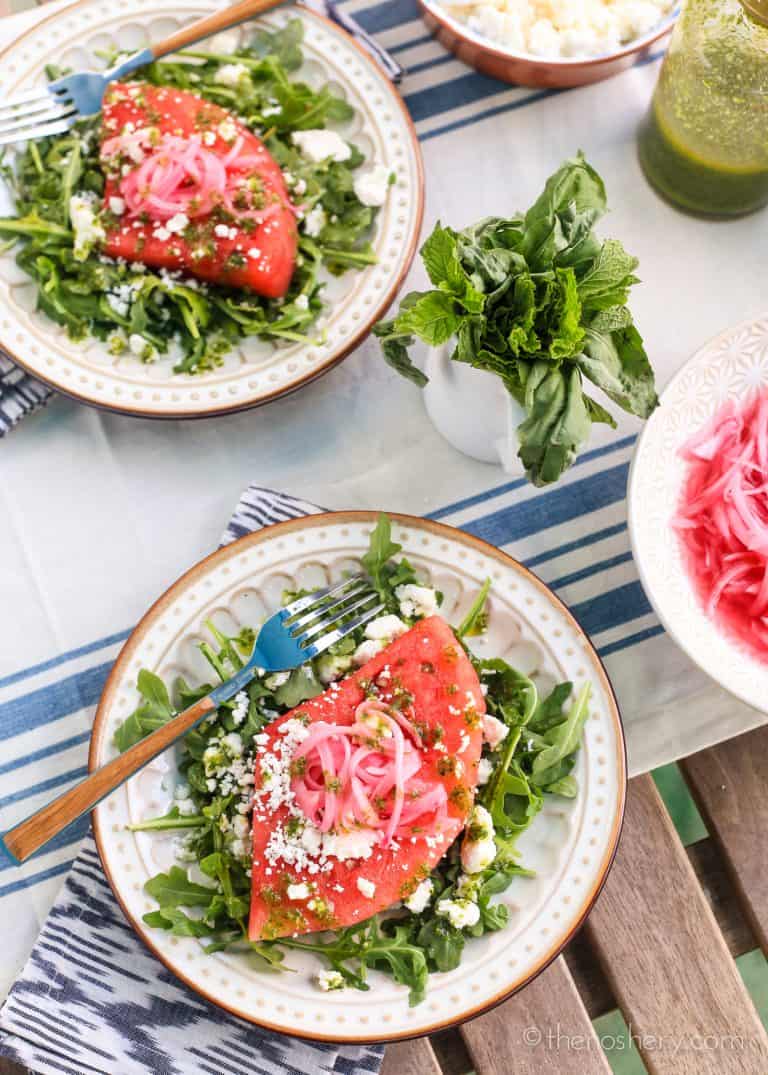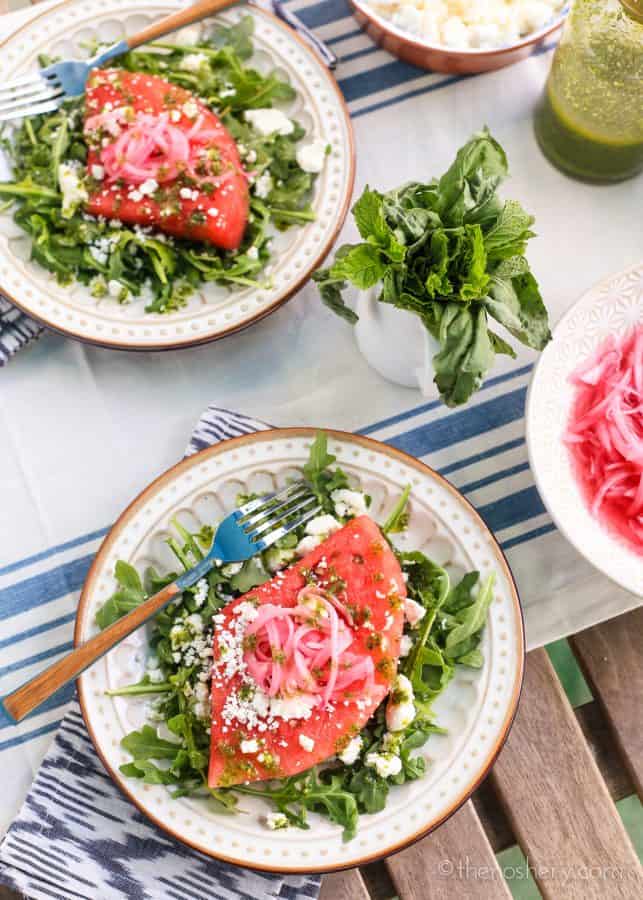 Have you ever had savory watermelon salads? Well, spoiler alert, they are awesome. Savory watermelon salads must be a part of your regular life. This salad is incredibly simple but it packs a lot of flavors. Sweet watermelon, fragrant dressing, salty cheese, tangy onions, and peppery arugula create a salad worth swooning over.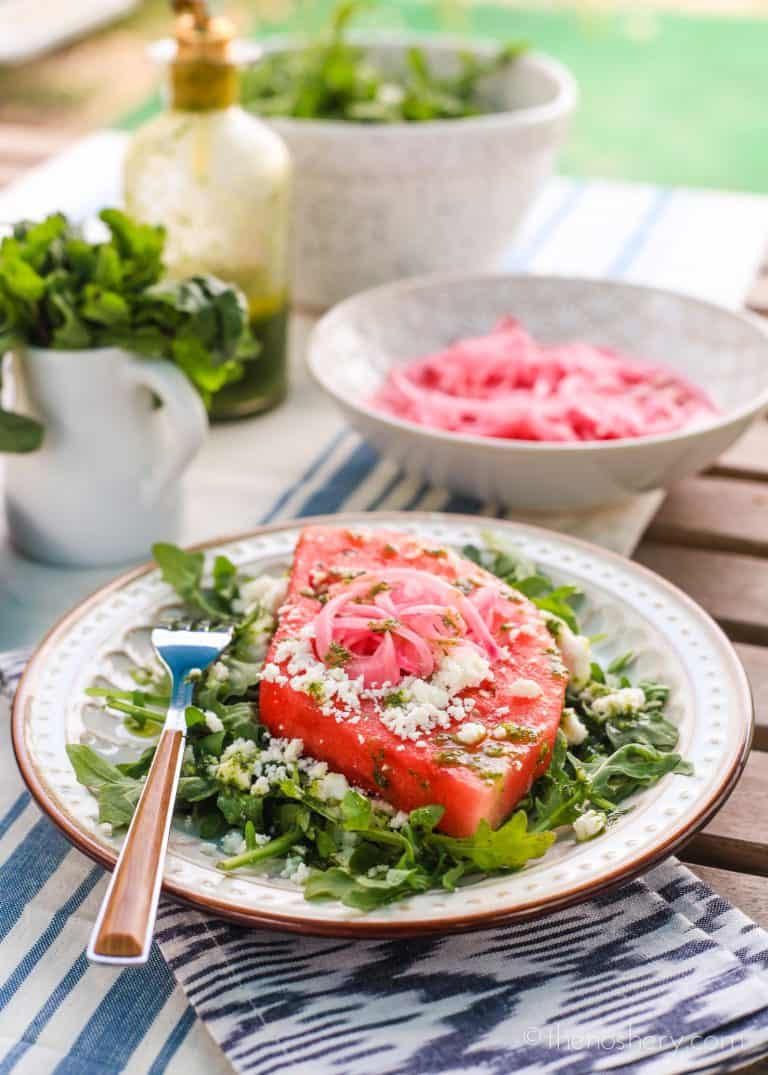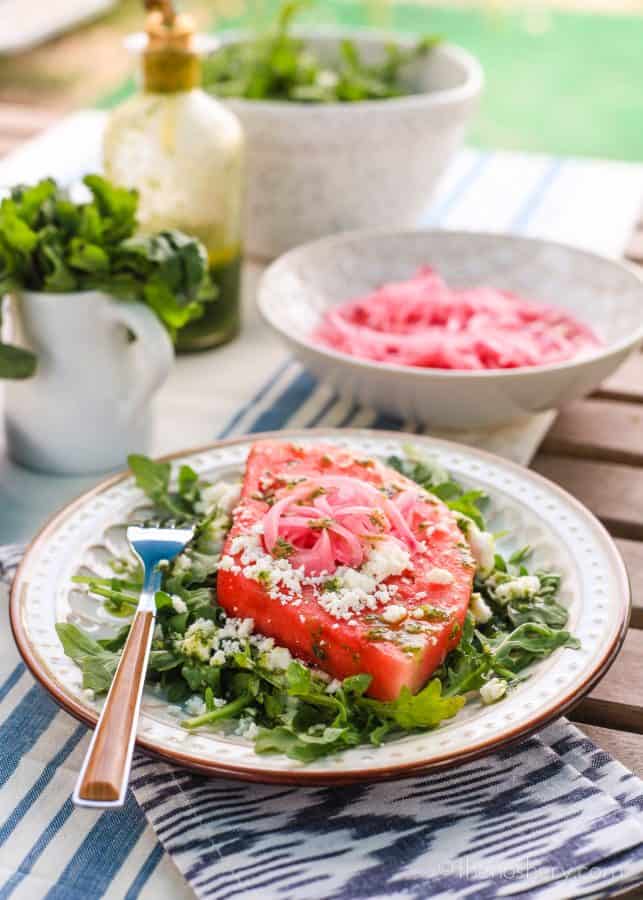 If you want to take the extra step you can grill the watermelon. But, I personally like the watermelon fresh and cold. There is something about the cold sweet watermelon against the salty cheese and pickled onions that are extra satisfying.
more summer salad love
Yield: 6
Watermelon Summer Salad with Mint Basil Vinaigrette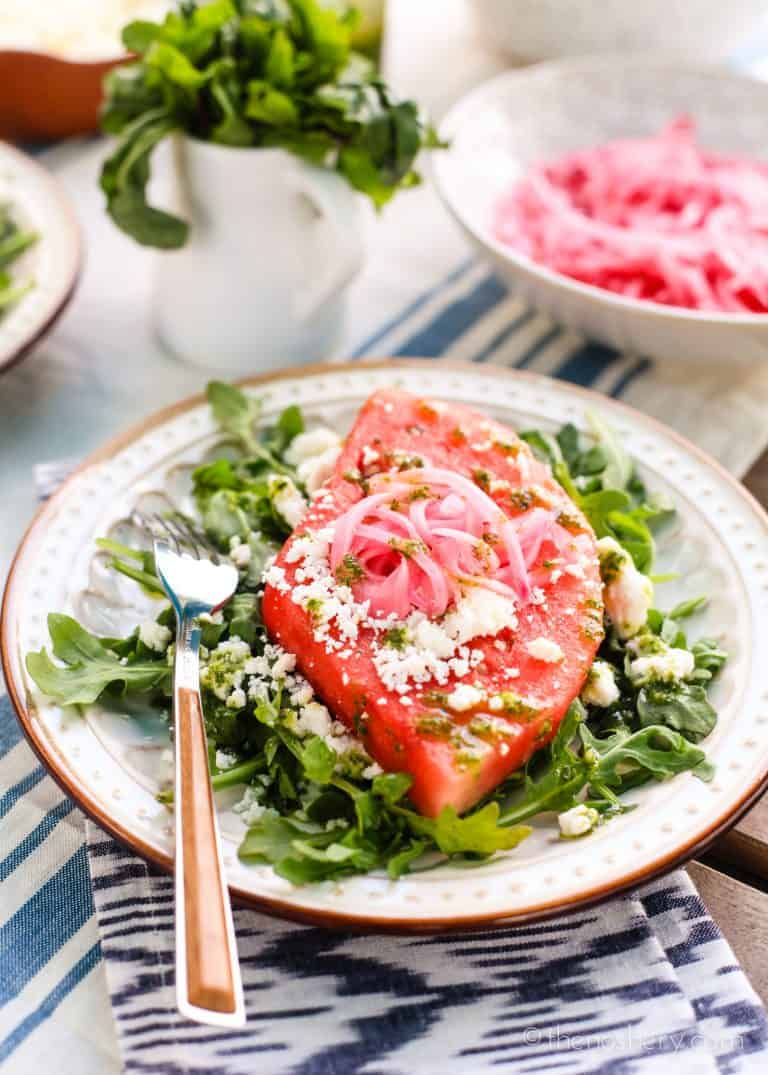 This easy salad combines sweet watermelon, fragrant dressing, salty cheese, tangy onions, and peppery arugula create a salad worth swooning over.
Ingredients
2 1-1/2 inch slices seedless watermelon, rind removed cut into thirds, total of 6 wedges
9 cups arugula
1 cup crumbled queso fresco
Pickled Onions
1 red onion, thinly sliced
1 tablespoon of sugar
1 tablespoon of salt
3/4 cup of white vinegar
1/4 cup water
Mint Basil Vinaigrette
1/2 cup packed fresh basil leaves, finely chopped
1/2 cup packed fresh mint leaves
1/2 teaspoon grated orange zest
1 tablespoon orange juice
1/4 cup white wine vinegar, add more to taste
1/2 cup olive oil
1 teaspoon salt
2 garlic cloves
1 teaspoon Dijon mustard
Instructions
Pickled Onions
In a small pot combine sugar, salt, vinegar, and water. Heat over medium-high heat and stir until sugar and salt have dissolved. In a small bowl combine pickling liquid and onions, set aside.
Vinaigrette
Combine all ingredients in a food processor. Process until herb leaves are minced, and the vinaigrette is emulsified.
If you do not have a food processor finely minced herb leaves. Combine all ingredients in an airtight container and shake until well combined and emulsified.
Divide arugula evenly between six plates. Place a watermelon wedge on each plate, top with some pickled onions, sprinkle with queso fresco and drizzle salads with the desired amount of vinaigrette.
Recommended Products
As an Amazon Associate and member of other affiliate programs, I earn from qualifying purchases.
Nutrition Information:
Yield:
6
Serving Size:
1
Amount Per Serving:
Calories:

290
Total Fat:

23g
Saturated Fat:

5g
Trans Fat:

0g
Unsaturated Fat:

17g
Cholesterol:

14mg
Sodium:

1607mg
Carbohydrates:

15g
Fiber:

2g
Sugar:

10g
Protein:

6g