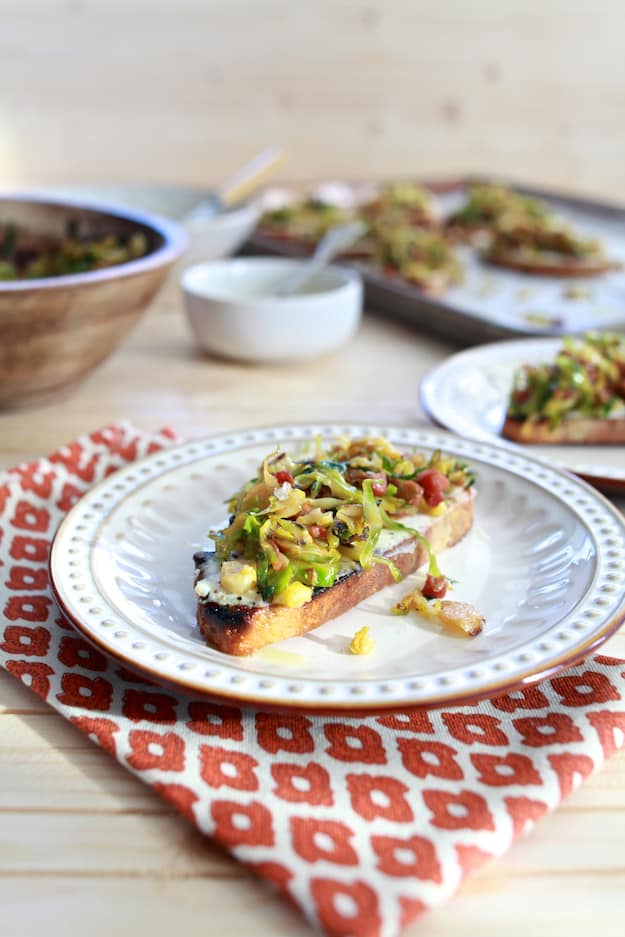 Yesterday a miraculous thing happened. It was like a regular day. I woke up, got dressed, walked the dogs and settled in for a busy day. Then as I sat at my table working on some images I notice a bright yellow light streaming through my window. "What could the source of such light be?", I asked myself. Then I noticed a yellow orb rising just over the horizon. Could it be….the Sun?
Yes, I am well aware that this is all very dramatic to say that the sun came out. That glorious yellow orb in the sky. For a time, I wondered if it still existed. And with the sun came a toasting 60 degrees. It was glorious! The dogs hung outside most of the day, the windows were open and there wasn't a track of mud in site. And, yes my life is so exciting that the weather is the most exciting thing of the day.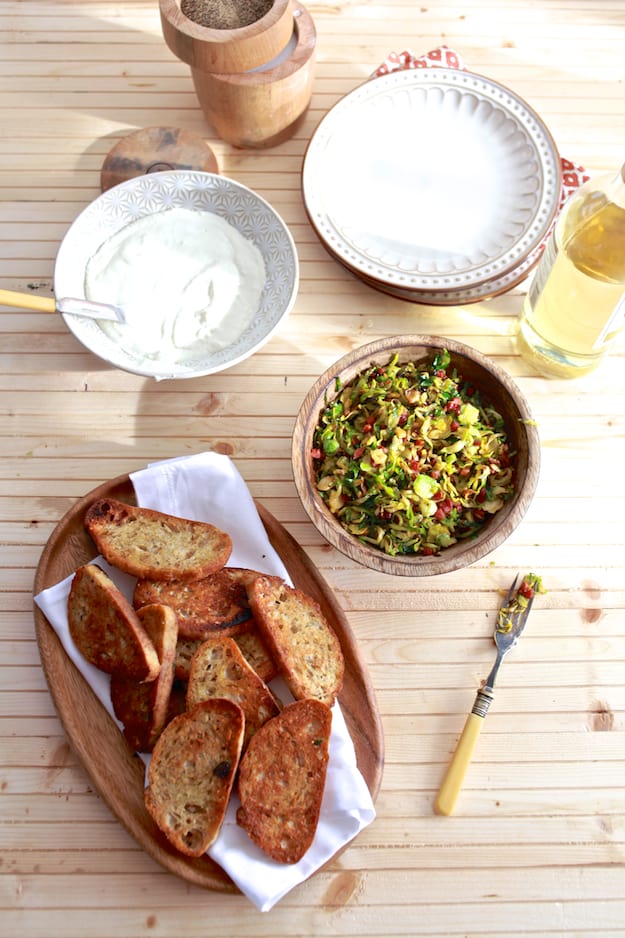 It's kind of crazy how the dreary weather and cold can really affect a person. I know that I need me a healthy consistent dose of vitamin D otherwise I am a gloomy Debbie Downer. And, I'm in Texas where we actually get a break. I feel like you all further north. I will do my best to send some sun your way.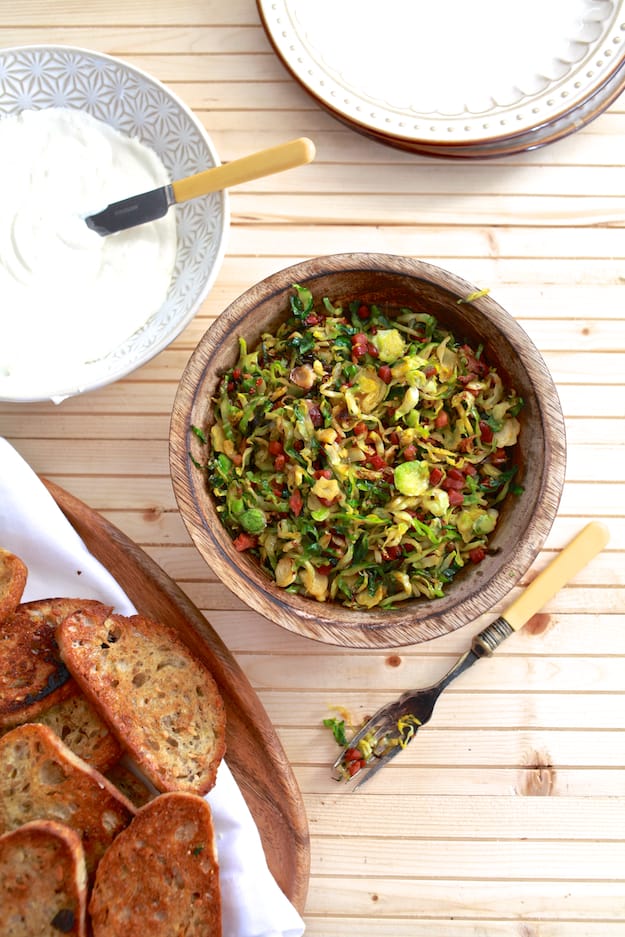 With the sudden and unexpected dose of vitamin D, I had an extra pep in my step. My productivity level went from -10 to 110. I got all kinds of stuff done, and it was awesome! One of which I like to call fancy toast.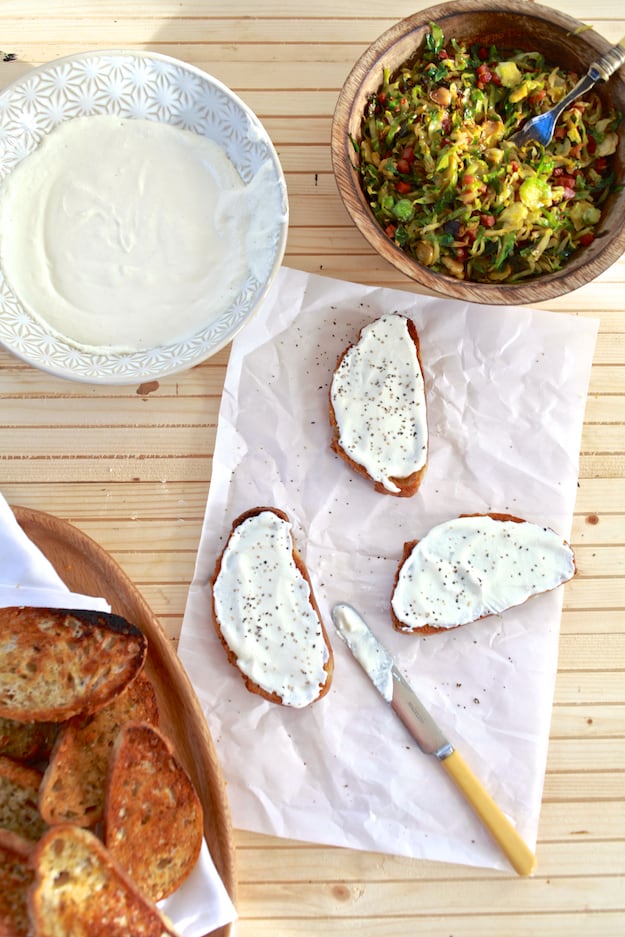 I've always been obsessed with toast.  You see…I am all about texture when it comes to food. I believe in not only layering textures but just as importantly layering texture. You never want a dish that is all soft or mushy at least I don't. There has to be some element of crush, crisp or bite. This is why I love toast!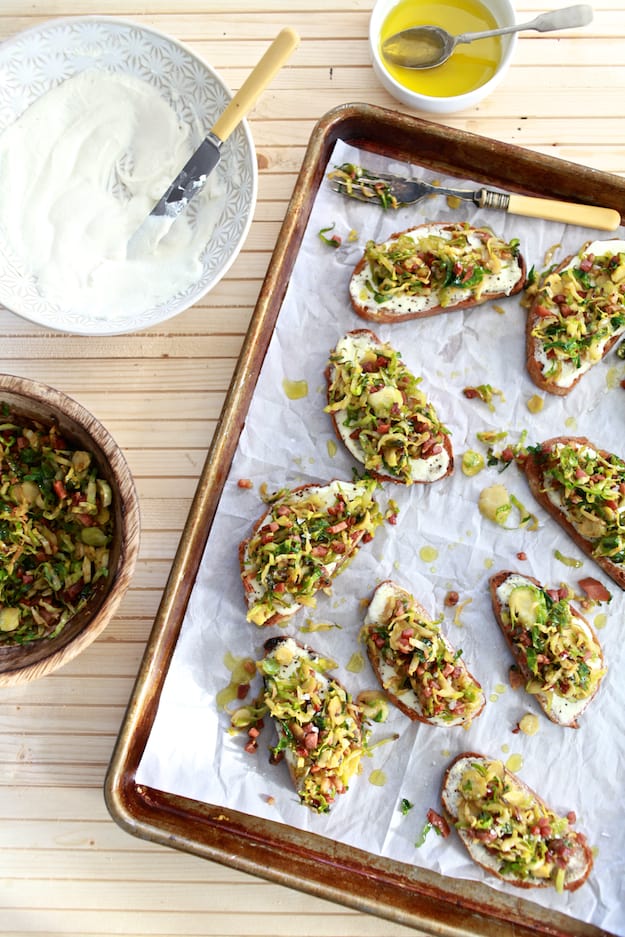 Toast is a quick and easy way to make a snack or even a meal and get all the glorious layers of texture that a dish should have. The crunch is already there, of course, so all you have to do is top it with all things your heart desires.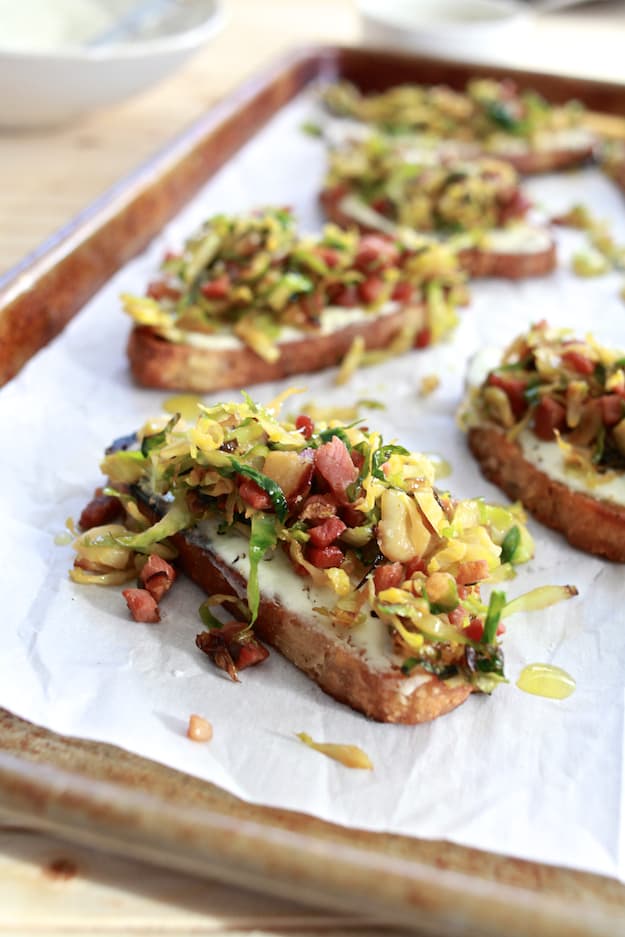 Today I thought I make a simple toast with a smear of whole milk ricotta, shaved Brussels sprouts and crispy pancetta. This toast has it all three c's crispy, crusty and creamy.You know what else is awesome about toast? No utensil is required.  I love toast!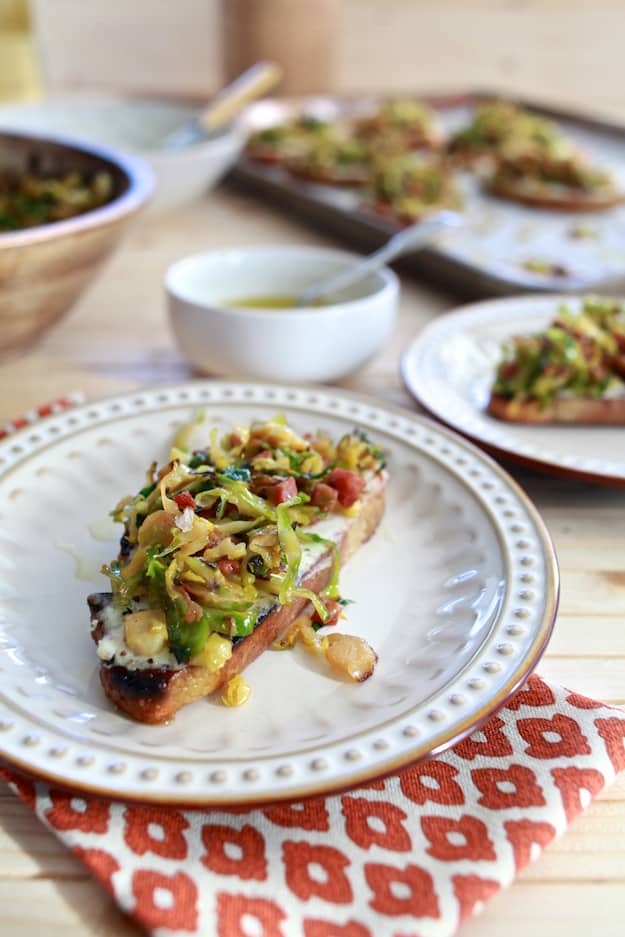 Toast can be enjoyed for breakfast, lunch or dinner. It all depends on what topping you choose. For breakfast toast, maybe you want a smear of Greek yogurt with a drizzle of honey and some toasted nuts. For lunch, a simple avocado toast with olive oil and tomato slices. And, for dinner ricotta with Brussels sprouts and pancetta.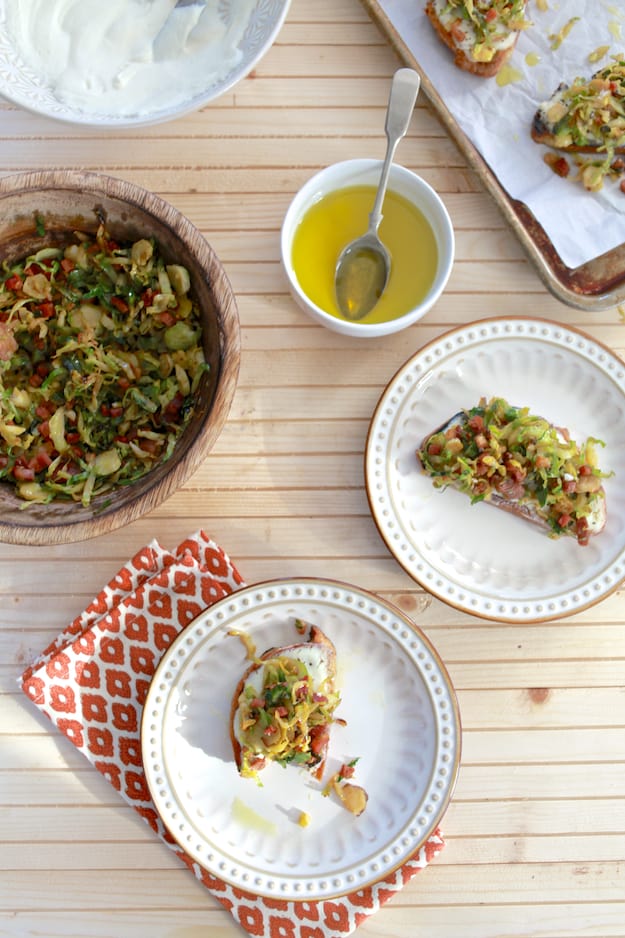 Toast isn't just for breakfast with a pad of butter anymore. It can be so much more!  All, you need, are three elements for the perfect toast.
Bread
Think of breads that will complement and stand up to your topping. If your topping are heavy and hearty, you may want to use an open-crumb breads (think holes) that toast really firm like sourdough or english muffins. If you are doing light toppings, try thin slices of hearty grain breads that tend to toast chewy.
Fatty Spread
A dry piece of toast is a sad thing. Toast demand fat! Think fat and creamy. It can be anything, yogurt, butter, nut butter or olive oil, but, you need some fat on your toast. Otherwise, it just sad dry toast.
Toppings
Top your toast to your heart's content. The possibilities are limitless, be as creative or as traditional as you please. It can be shaved veggies, bean salad or sautéed greens. Try this trick.
Trick to Toast
Do you have a hard time thinking of a toast more interesting than peanut butter and honey? Try this, think of a dish that your really love or recently enjoyed. The odds are that there where fat elements and topping elements. Take those things and put them on toast. For example, do you love eggplant parmesan? Toast a hearty piece of Italian bread, drizzle with olive oil, sprinkle with salt, spread with marinara sauce, top with grilled eggplant and sprinkle with fresh shaved parmesan cheese. TA-DA eggplant parmesan toast!
Are you getting excited about toast?
More Brussels Sprout Love:
Items Used in this Recipe:

Yield: 12 toasts
Brussels Sprouts and Ricotta Toast

Hearty toast topped with whipped ricotta cheese, shaved brussels sprouts and pancetta.
Ingredients
1 cup whole milk ricotta cheese
12 slices whole grain bread
1 - 2 cloves garlic
4 cups shaved brussels sprouts
4 oz pancetta
fresh cracked pepper
olive oil
white wine or chicken stock
kosher salt
Instructions
Using an immersion blender or food processor whip the ricotta cheese until smooth. Set aside.
Heat oven to 400 degrees. Brush bread slices with olive oil on both sides, making sure to brush evenly and all the way to the edges. Lay out on a single layer on a rimmed sheet pan. Lay another sheet pan on top of the bread slices, using them as a press. Bake in the oven about 8 - 10 minutes or until the bread slices are toasted. Set them aside to cool. Once cool lightly rub one side of each toast with garlic clove.
Heat a skillet over medium heat. Cook pancetta until crispy about 15 minutes. Splash with white wine or chicken stock to deglaze the pan, scrapping up all the brown bits. Add 1 tablespoon of olive oil and brussels sprouts to pan. Toss to coat with olive oil and raise to medium-high heat. Cook the brussels sprouts, stirring occasionally, for 8 - 10 minutes or until tender and lightly browned.
Spread whipped ricotta on toast, sprinkle with fresh cracked pepper and top with brussels sprouts. Lightly sprinkle with salt and enjoy.