Double Dark Chocolate Brownie Recipe | Who doesn't want chocolate brownies with two forms of dark chocolate baked in? This double dark chocolate brownie recipe is rich, decadent, and the perfect mixture of fudgy and cakey goodness.
What is it about homemade brownies that make them so beloved? They are the hallmark of slumber parties and movie nights and everybody's favorite at the bake sale. They are the perfect base to an ice cream sundae and many people's go-to fix when chocolate cravings strike.
Brownies are awesome!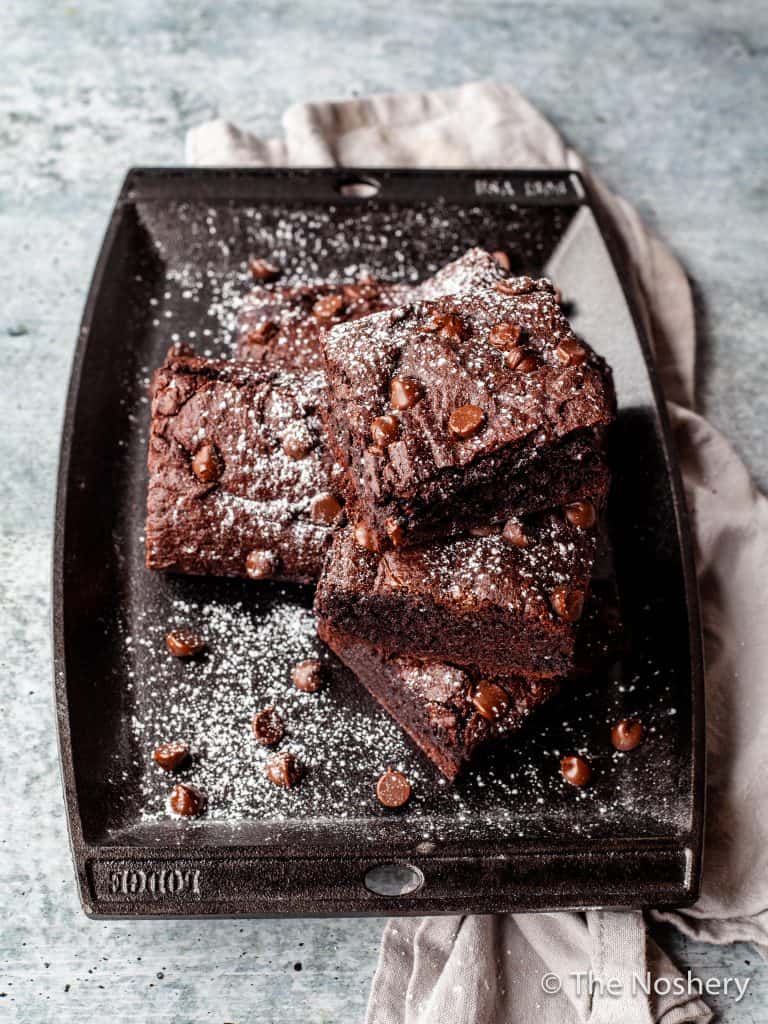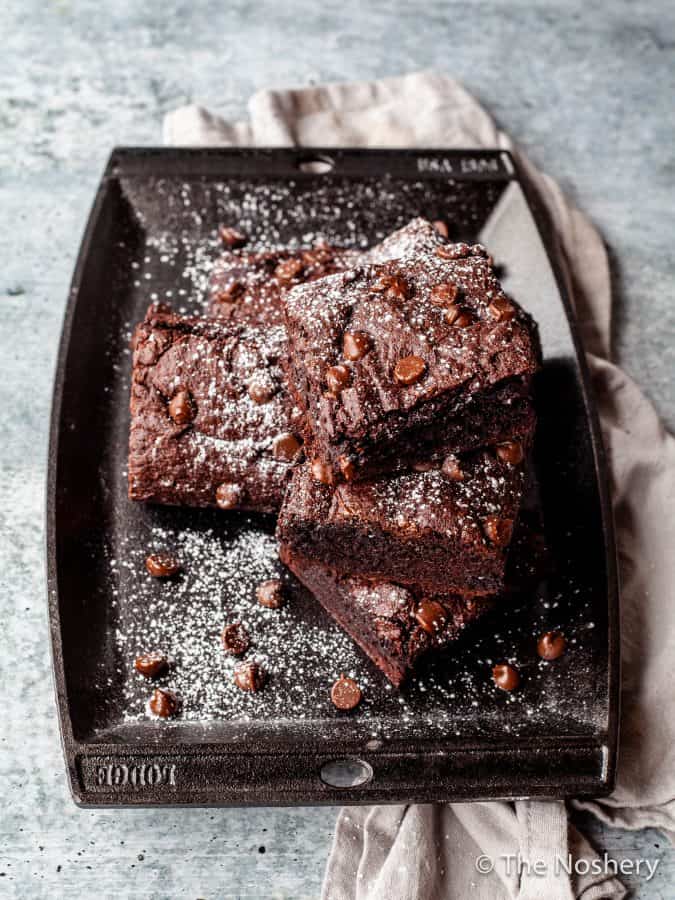 There are blondies and "brookies" and bars of all kinds, but nothing compares to the classic fudgy goodness in a pan of dark chocolate brownies.
And people have their opinions. Some prefer to eat them straight out of the oven when they're still a little gooey and wouldn't dream of letting them get that dreamy crackly top.
Others buy pans specifically designed so every brownie has four of the crispy edges that you get in a corner piece.
What makes brownies fudgy vs. cakey?
Then there is density, or fudgy vs. cakey.
Fudgy brownies have a chewier texture due to their higher fat-to-flour ratio. They will have a higer ration of chocolate or butter, than cakey brownies.
Cakey brownies are almost a crumby chocolate cake consistency. A cakey brownie will have more flour and depend on baking powder for leavening.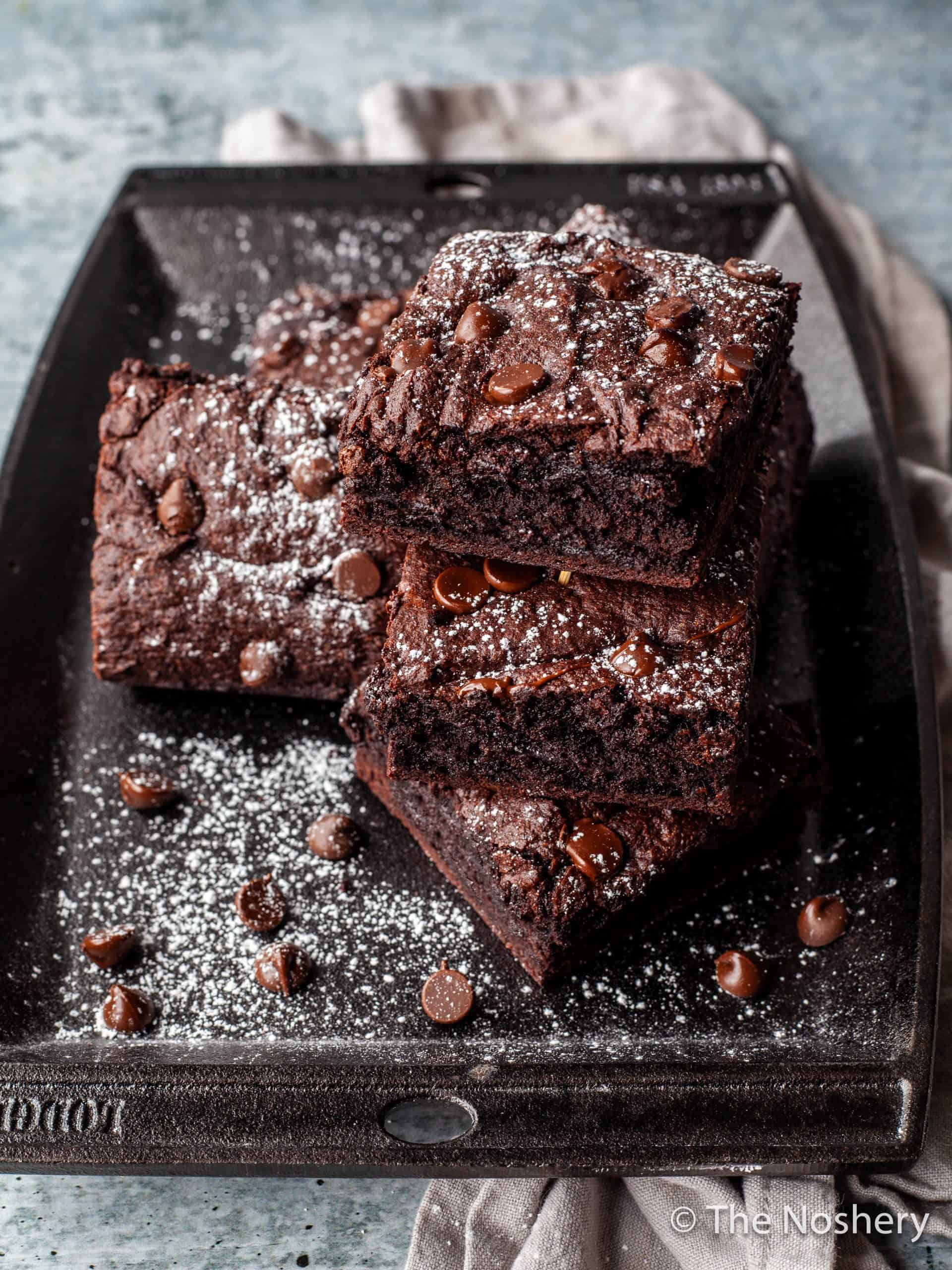 What is the difference between brownies and chocolate cake?
On that subject, the main difference is the proportions of sugar, flour, and butter. Another difference is that leveling agents like baking powder or baking soda are rarely used in brownies. (I did, however, use a small amount of baking powder in this recipe to get them to rise. I wanted a thick brownie.)
When it comes down to it, brownies are usually moister and more chocolatey than cake.
The Perfect Brownie Recipe
It's no secret that I love some chocolate if you've ever made my Chocolate and Coffee Flancocho, Chocolate Truffles with Hazelnut Ganache, or Spanish Hot Chocolate with Coconut Churros.
I'm also bananas over this Dark Chocolate Mousse Cake from Sally's Baking Addiction.
When I set out to make this recipe, I was in the mood for a rich, dark chocolate dessert. Compared to bitter and semi sweet chocolate, dark chocolate has just the right amount of sweetness to drive that chocolate flavor home.
What fits that bill like a pan of brownies? My goal was to create the perfect balance of fudgy and cakey goodness to satisfy my chocolate craving.
Notice there's no vanilla extract in this recipe, just a double dose of luscious dark chocolate. When they came out of the oven, I did a little happy dance!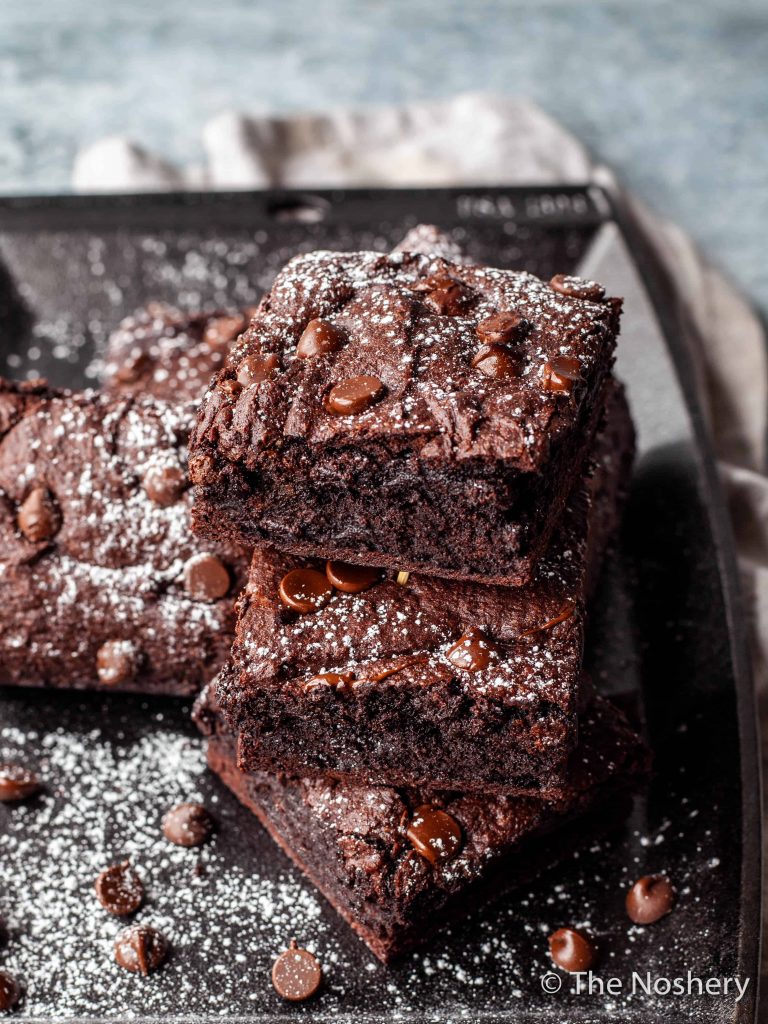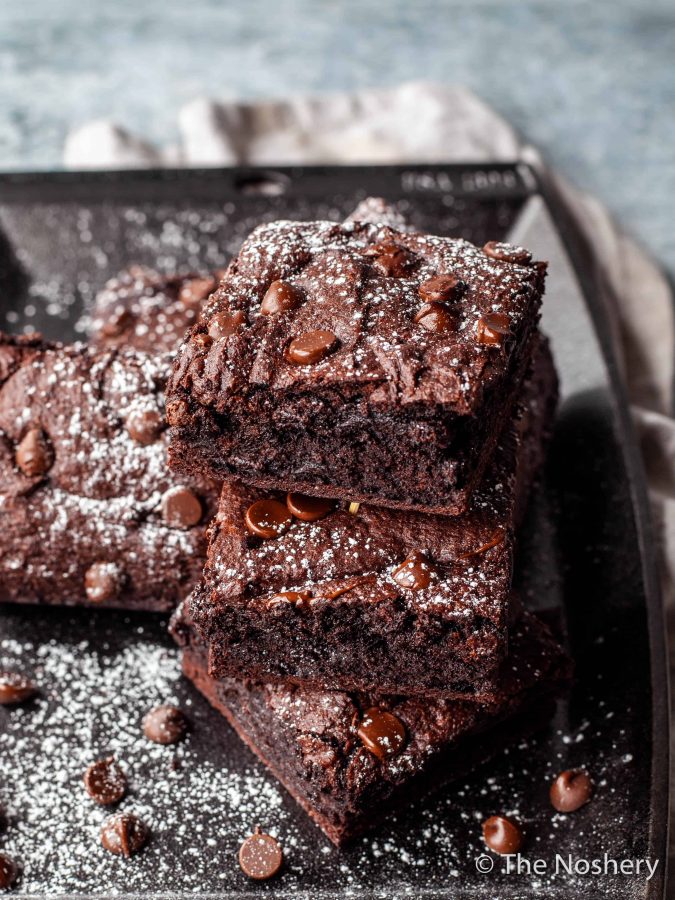 How to Make Double Dark Chocolate Brownies
Before you get started, your future self will thank you for properly buttering your square pan, AND lining it with parchment paper for easy clean-up.
Preheat oven to 350, and while that's going, set up a double boiler by filling a heat-proof bowl with hot water and positioning a larger bowl on top.
Add the unsalted butter and dark chocolate chips in the larger bowl, sitting on the bowl of hot water. Leave it ot sit for a minute to melt the butter and chocolate. Then stir until the mixture is glossy and smooth.
Remove the mix from the heat and stir in sugar. Once that's smooth, incorporate eggs one at a time.
Then it's time to add dry ingredients. Take the chocolatey flavor to the next level with dark chocolate cocoa powder, temper the sweetness with salt, and whisk.
Finally, mix in the flour with the baking powder, until just combined. Your mixture will be thick!
Why Do My Brownies Sink in the Middle?
To keep brownies from sinking in the middle, stir in new ingredients only until they're well combined.
Sinking is common when bakers incorporate too much air into the egg and butter mixture. When too much air is incorporated into the brownies, those air bubbles will over-expand as the brownies bake.
The center then collapses as they cool and the bubbles deflate.
Moral of the story: no aggressive stirring when making these dark chocolate brownies.
Once your batter is mixed (but not overmixed), spread it into the prepared pan, making sure to form an even layer.
Since baking times vary per oven, it will take between 35 and 45 minutes in the oven (mine took 40 minutes). But they're ready when a toothpick inserted in the center comes out almost clean.
Then you're going to want to let them set in the pan on the counter for 15 or 30 minutes before transferring them to a wire cooling rack with the help of your parchment paper "handles."
Is it Easier to Cut Brownies Hot or Cold?
There is no question that brownies are easier to cut when cooled completely. I know. The smell of that goodness baking in the oven can make it hard to wait.
But if brownies are too hot or warm, their gooey centers will stick to the knife and make a big mess when you cut them.
For a clean even cut, it is best to wait until the brownies have cooled to room temperature. But if you're like me and like to eat them warm, you can easily reheat an individual square (or two) before you dive in.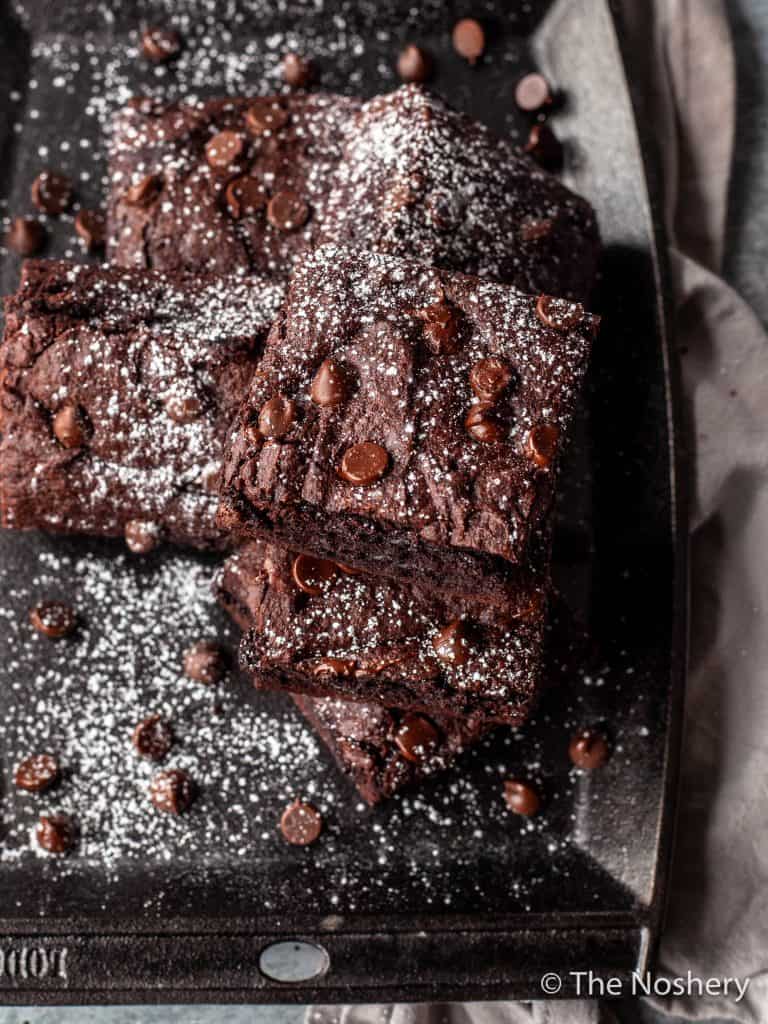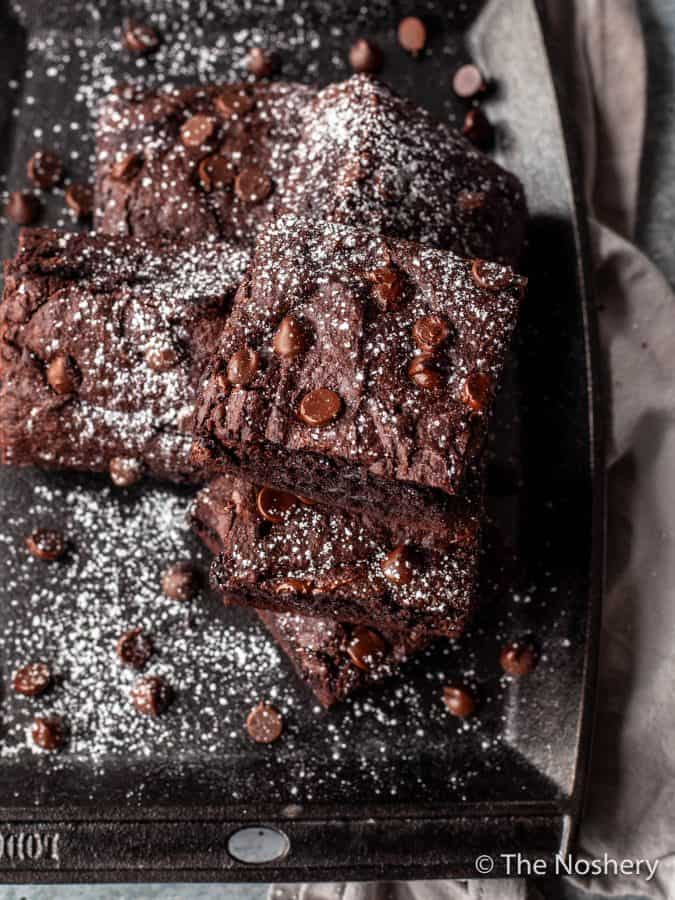 Dark Chocolate Brownie Recipe Ingredients
unsalted butter
dark chocolate chips
granulated sugar
eggs
dark chocolate cocoa
salt
all-purpose flour
baking powder
What is the Best Baking Pan for Brownies?
The kind of baking pan you use also determines how well your brownies turn out. The best pan for baking brownies is a light-colored metal pan. They are better conductors of heat and therefore bake more evenly.
Without getting all science-y on you, glass slows the flow of heat and retains heat longer than metal. So when you bake with it, the batter takes longer to cook through, and it's easier to over bake because the center takes more time to set.
My personal favorite for these dark chocolate brownies is the 8×8 straight edge pans like this nonstick USA Pan Bakeware Square Cake Pan. Here are some more baking pans that will do the job beautifully: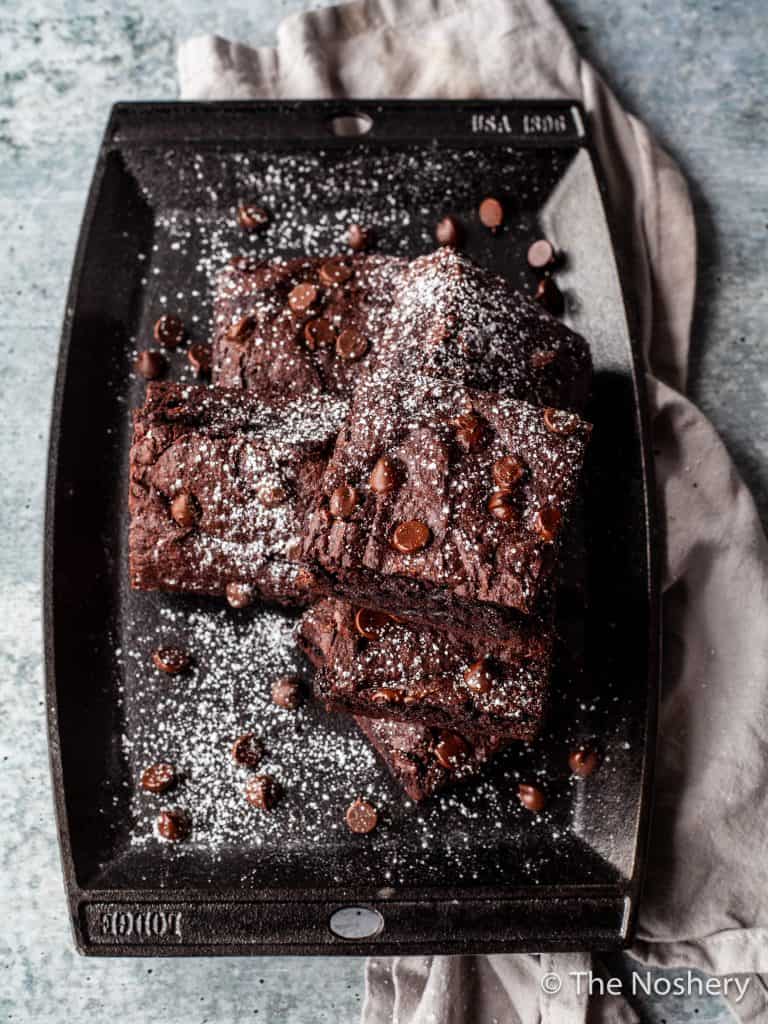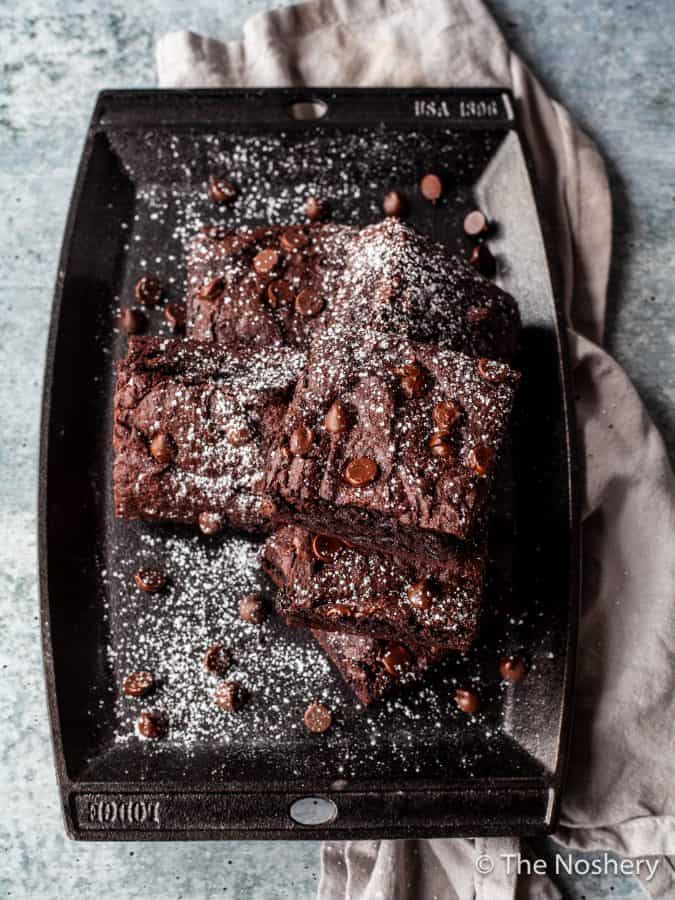 Now that you have all the tools you need to make my Double Dark Chocolate Brownie Recipe, enjoy them with a tall glass of milk like the old days, warm with a scoop of vanilla ice cream, or a dollop of fresh whipped cream. They'd also be delicious with a side of sliced fruit if that's more your jam (No pun intended. Okay pun totally intended).
They'd be a hit at your next bake sale next to these Olive Oil Cookies and A Family Feast's Chocolate Chip Pie.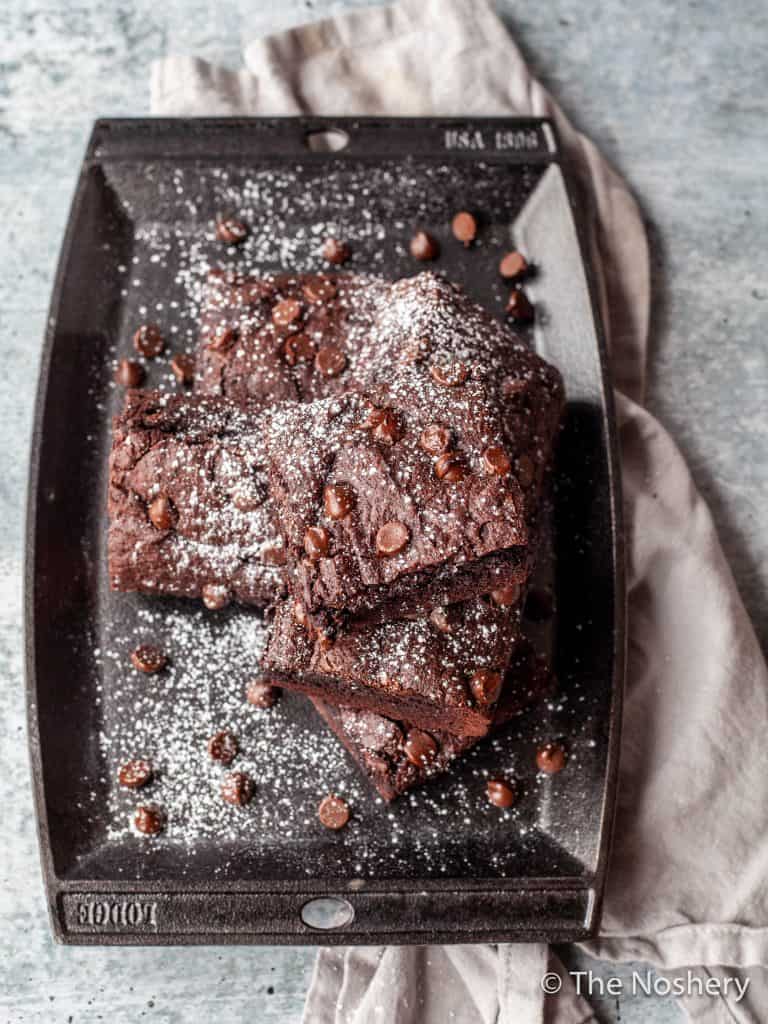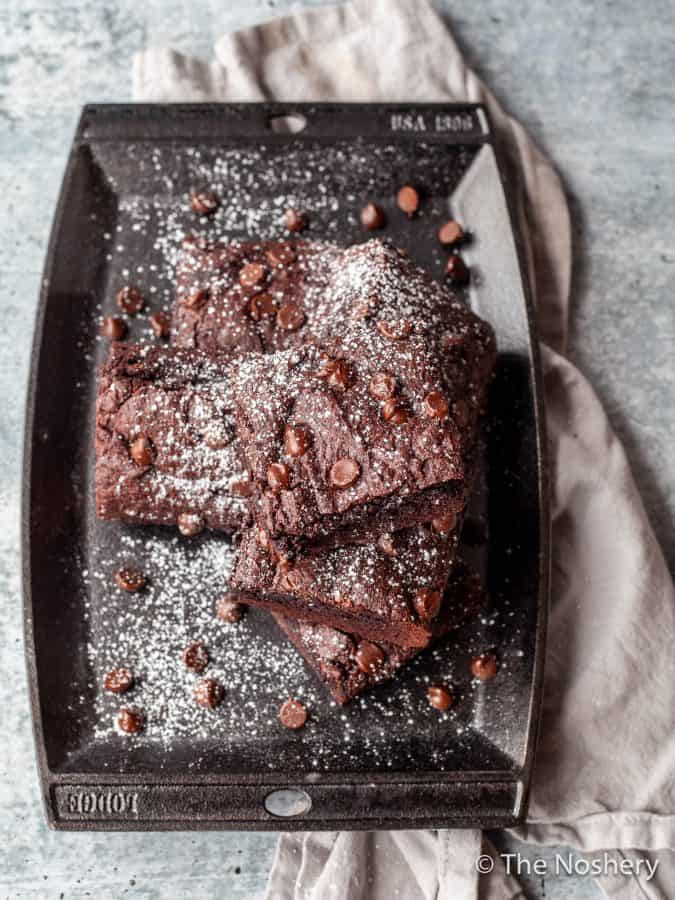 You can make them for the perfect Valentine's Day dessert or date night in any day of the year. Especially if that date is yourself or your best friends.
This Valentine's Chocolate Raspberry Bundt Cake with White Chocolate Glaze or these Raspberry Crumb Brownie Bars would also be phenomenal. Whatever you make, it might be wise if you doubled the recipe.
If you prefer blondies instead of brownies I have Elvis Blondies! These delicious little squares are made with peanut butter, banana, chocolate, and bacon!
Will someone please pass me a fork already?
Cook's Notes for Dark Chocolate Brownie Recipe
Butter your pan and line with parchment paper that hangs over the sides for easy removal of brownies.
Use binder clips or chip clips to secure the parchment paper to the side of the baking pan. This will prevent the parchment paper from shifting when spreading the batter.
This batter is a thick batter. You will not be able to pour the batter, it will require spreading with a spatula in the pan.
Do not over stir your ingredients and incorporate air into the batter. This will cause air bubbles to expand during baking and deflate after cooling. Which will result in the center of your brownies sinking.
When testing the brownies for doneness it is not necessary for the test stick to come out completely clean. It is good for some crumbs to stick to the test stick.
Use a light color metal baking pan for even baking. I do not recommend using a glass dish.
My personal favorite for these dark chocolate brownies is the 8×8 straight edge pans like this nonstick USA Pan Bakeware Square Cake Pan.
More Dessert Love:
Yield: 9
Double Dark Chocolate Brownie Recipe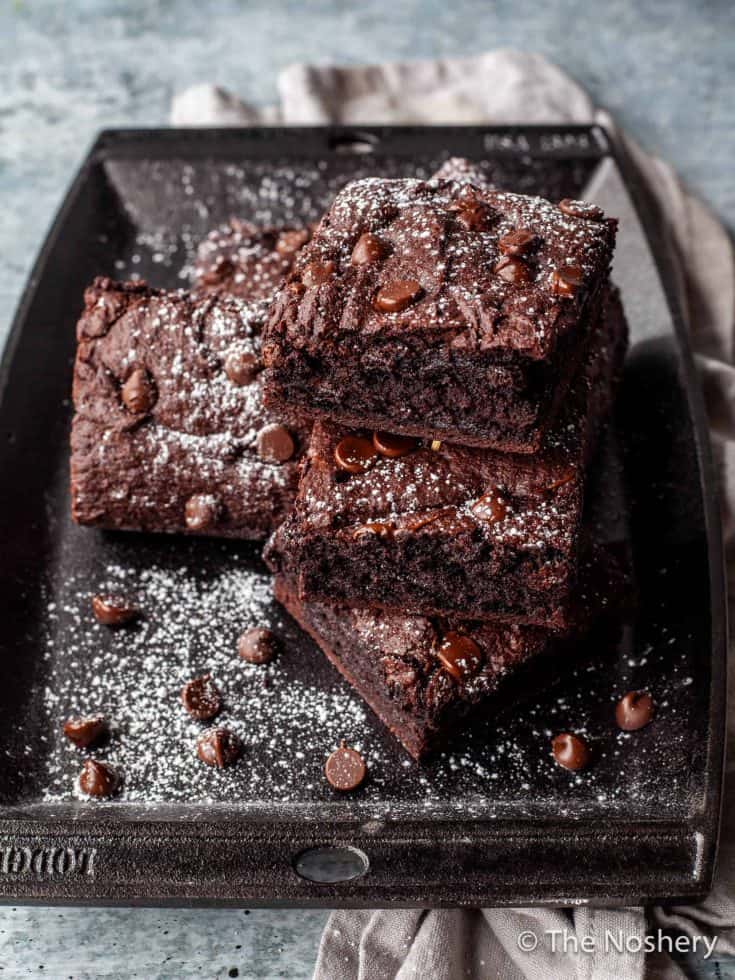 This double dark chocolate brownie recipe is rich, decadent, and the perfect mixture of fudgy and cakey goodness. You'll love these dark chocolate brownies!
Ingredients
1 stick unsalted butter
6 oz dark chocolate chips
1 1/4 cup sugar
3 eggs
1/2 cup dark chocolate cocoa
3/4 teaspoon salt
1 1/2 cups all-purpose flour
3/4 teaspoon baking powder
Instructions
Preheat oven to 350° F.
Lightly butter an 8-in light-colored metal square pan and line with parchment paper, leaving ta slight overhand on the sides.
Heat a kettle of water until boiling. Pour the hot water into a heatproof bowl. In a larger bowl combine butter and chocolate chips. Place the bowl with the butter and chocolate chips over the bowl with the hot water. Let sit for 1 minute.
Stir the butter and chocolate until well combined and smooth.
Remove the chocolate mixture from the heat and add sugar. Whisk until the sugar and chocolate are well combined.
Whisk in eggs one at a time, until well combined.
Add the dark chocolate cocoa powder and salt and whisk until well combined
Fold in flour with baking powder, until well combined. The batter is a thick batter.
Spoon brownie batter into the prepared pan and gently spread it out.
Bake in the heated oven for 35 - 45 minutes or until the center tests with moist crumbs.
Leave the brownies to cool in the pan for 15 minutes. Then lift the brownies out of the pan and transfer to a wire rack to cool.
Once cooled remove the parchment paper and cut the brownies into squares.
Recommended Products
As an Amazon Associate and member of other affiliate programs, I earn from qualifying purchases.
Nutrition Information:
Yield:
9
Serving Size:
1
Amount Per Serving:
Calories:

472
Total Fat:

22g
Saturated Fat:

13g
Trans Fat:

0g
Unsaturated Fat:

8g
Cholesterol:

92mg
Sodium:

250mg
Carbohydrates:

64g
Fiber:

3g
Sugar:

43g
Protein:

6g