Chocolate and Coffee Flancocho | If you are looking at this dessert and thinking "that is magic cake" or "that is chocoflan," well we are all right.
Honestly, it doesn't matter what you call it it's the most amazing dessert ever. Especially if you are an indecisive person or love dessert. Because you never have to choose between cake and flan again!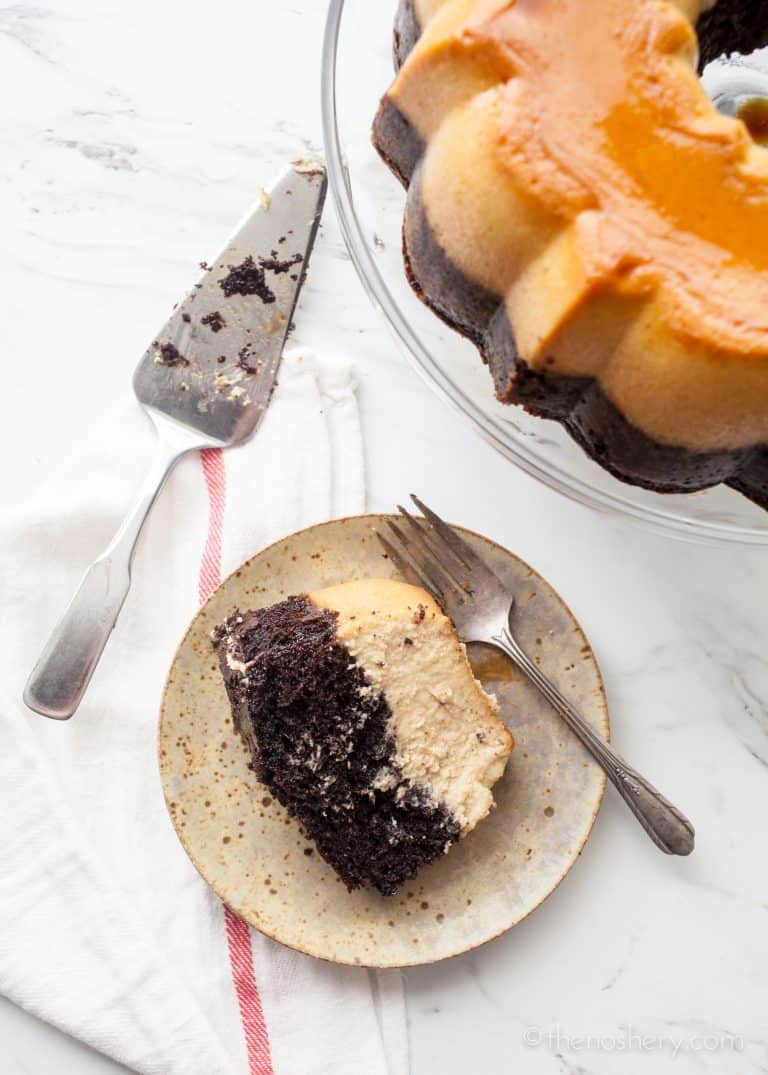 Picture this, someone comes up to you and asks, "Would you like cake or flan?". How are you suppose to choose? Well, you don't have to!
I present to you flancocho! It's cake and flan all in one dessert. It's a thing of beauty and magic. The name is a combination of flan, the caramel custard layer, and "bizcocho", the cake layer.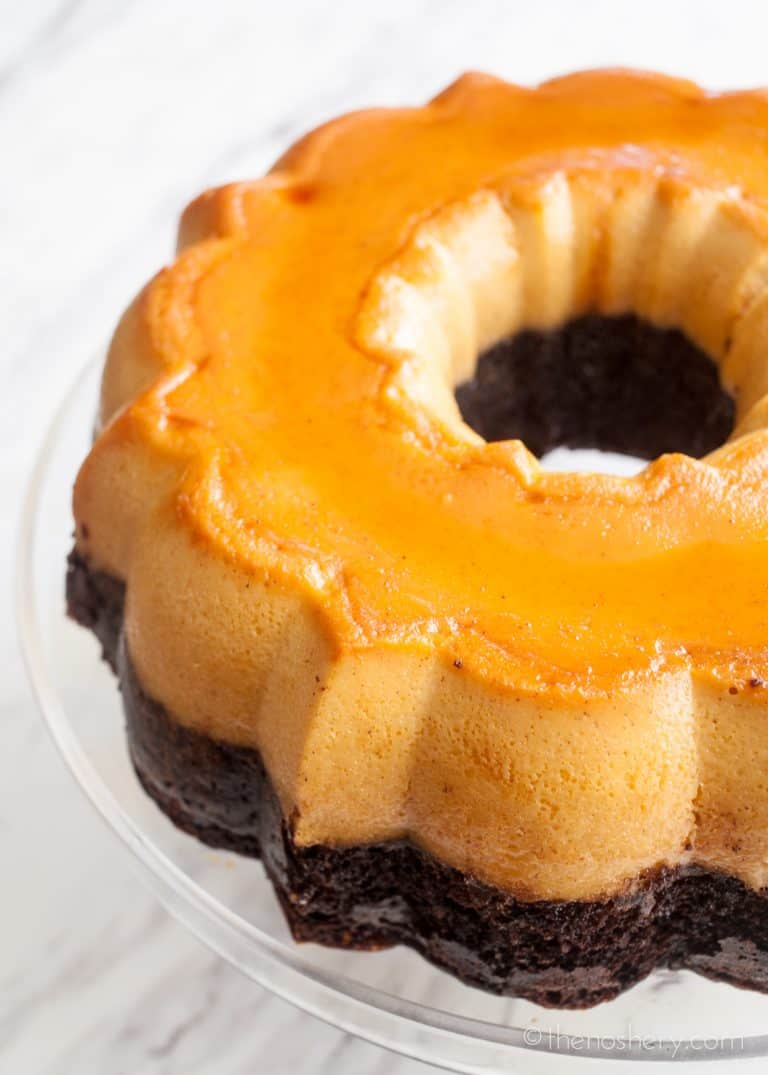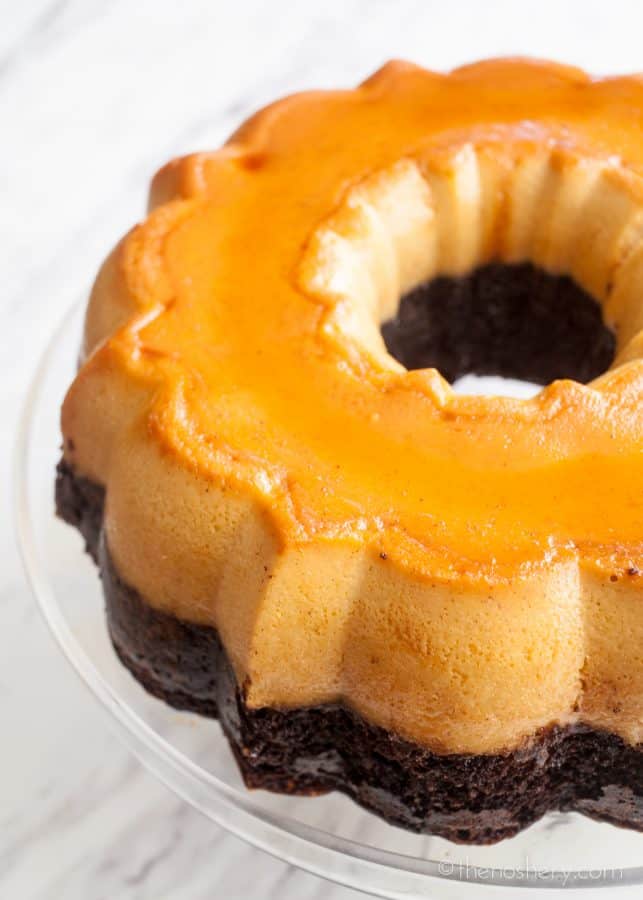 If you are wondering how can this be? It's basically magic.
No, I did not bake a flan and a cake and layer them on top of each other? The bottom layer is a simple box cake and the top layer is a classic cheese flan.
First, you pour the caramel into the pan, followed by the flan batter and over that I poured the cake batter. Without mixing the batters I baked it in the oven and they magically separate and become two separate layers. Hence, why it's also called magic cake. It's pretty awesome!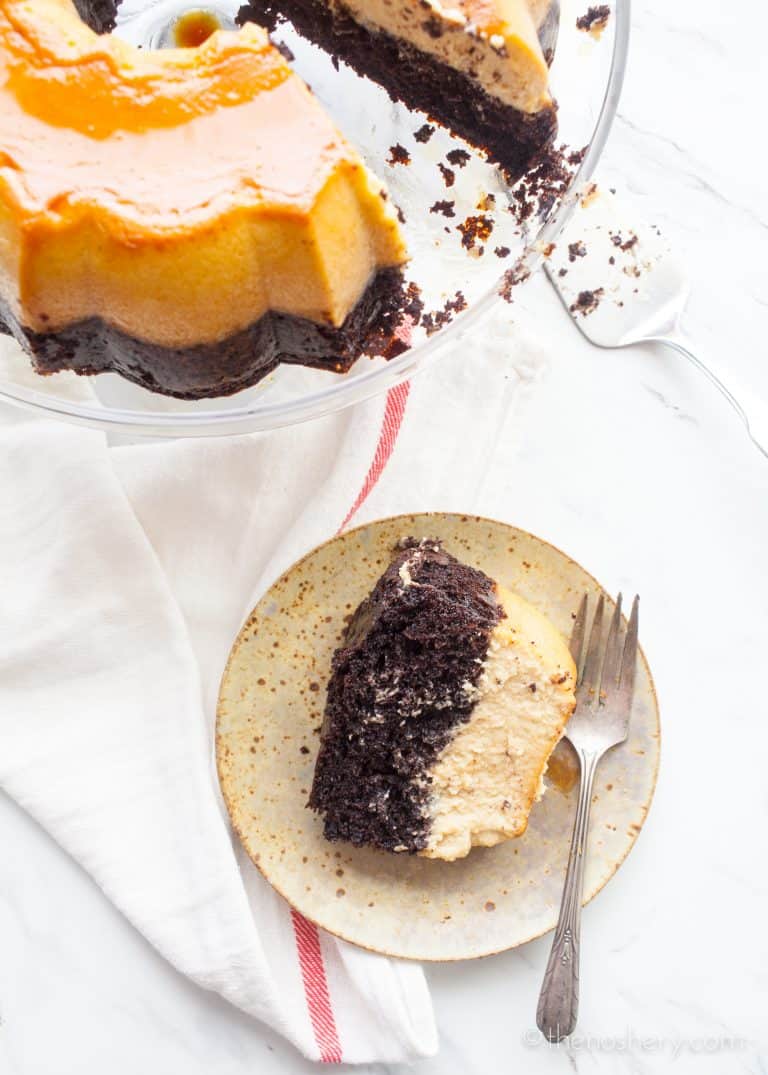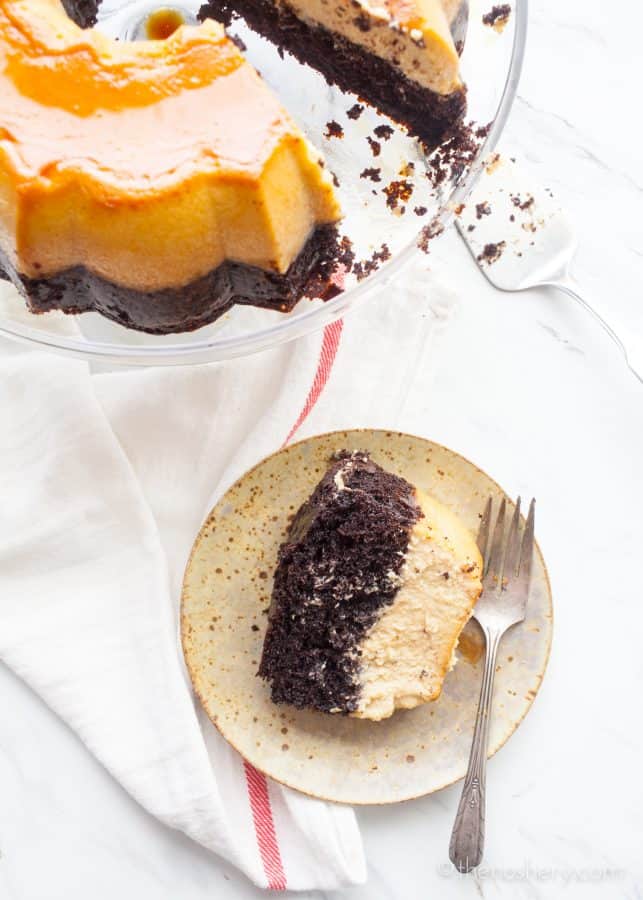 I did not grow up eating flancocho. But recently my mother had tried it and insisted that I give it a go. When she explained that it was a cake and flan in one I was 100% on board!
Chocolate and Coffee Flancocho Recipe Ingredients
1 cup sugar
8 oz block of cream cheese, softened
12 oz can evaporated milk
1 14 oz can sweetened condensed milk
6 eggs, room temperature
1 tablespoon vanilla extract
2 tablespoons instant coffee
1 box chocolate fudge cake mix
1 teaspoon cinnamon
1 box chocolate fudge cake mix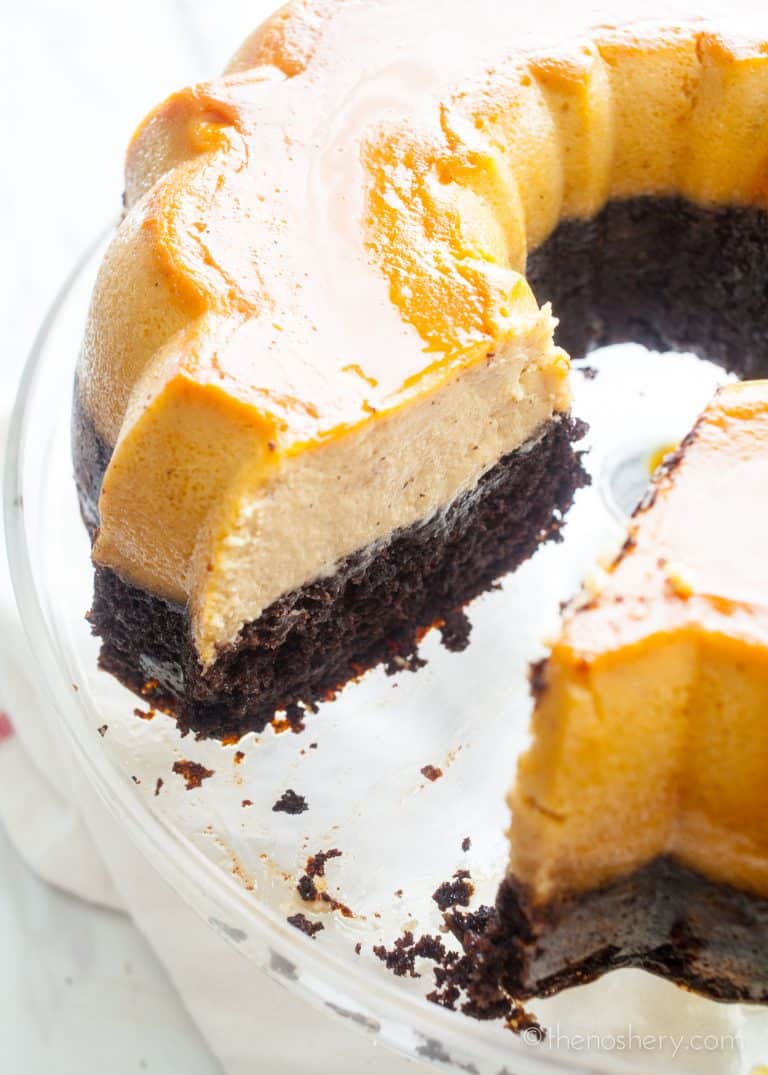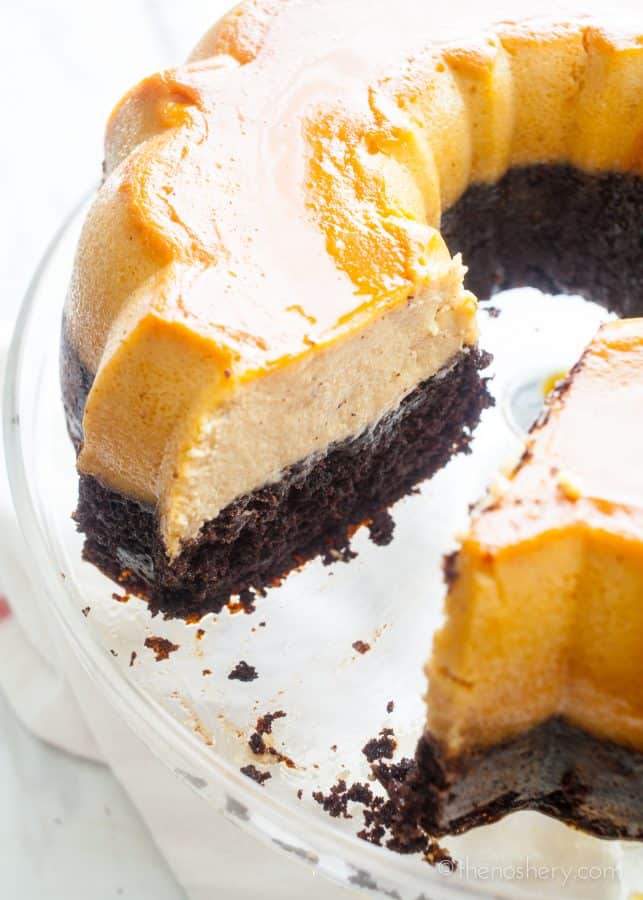 Flancocho is traditionally vanilla flan with a vanilla cake but I wanted to make something more fun and not so vanilla. (Hehehehe) I decided to go with a coffee flan and a dark chocolate fudge box cake. Yes, it's as awesome as it sounds! Coffee and chocolate are a perfect pair.
If you aren't a fan of chocolate your crazy but it's ok we can still be friends. You can use any box cake flavor like carrot cake, lemon cake, or coconut cake. All of which I think would be a great combination with this flan.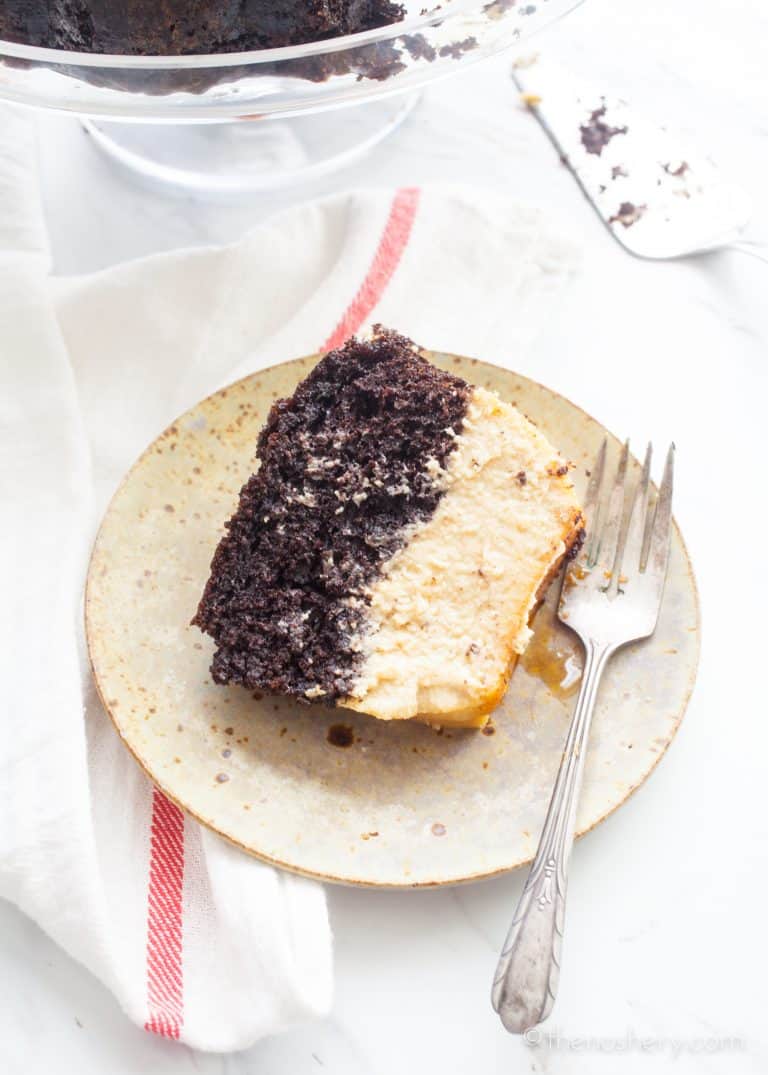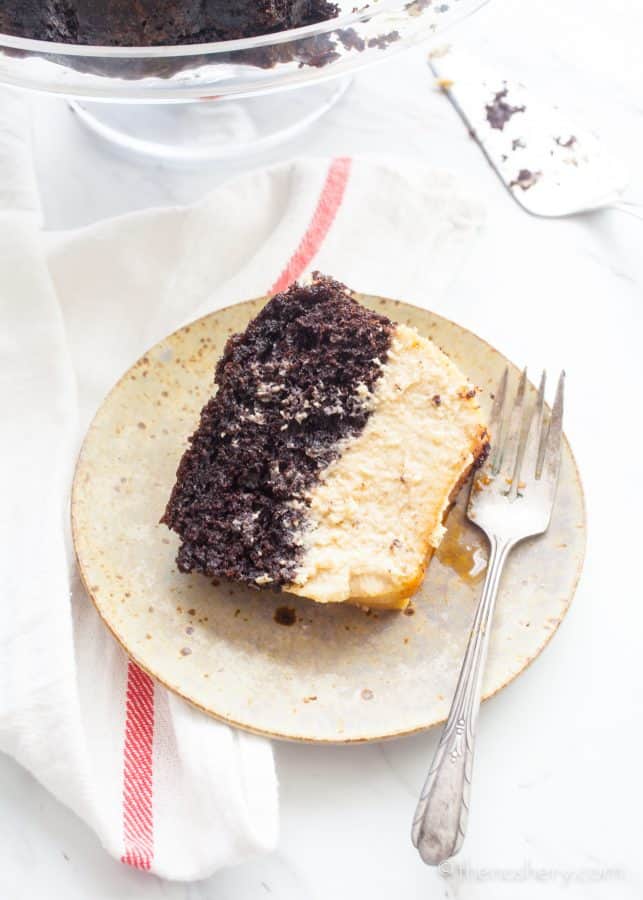 Tips for Flancocho
When melting sugar to make caramel do not leave it unsupervised. The moment you do it will burn.
Use room temperature ingredients when preparing the flan mixture this will result and a smoother texture and keep the cream cheese from clumping.
There is no need to bake the flan and cake separately or par cook anything. simply pour the flan batter and the cake batter over it. The two will separate as the flancocho bakes.
Allow the flancocho to cool completely before inverting on plate.
Flancocho can be made a day ahead. You can keep it in the pan & refrigerate until ready to serve.
Never choose flan or cake, choose flancocho! In a single bite you get creamy custard and tender cake. How amazing is that?
It's a great cake for holidays, birthdays, and to take to a party because it's a great conversation starter. People are fascinated by how the layers are created. Also, it's freaking delicious! Flancocho for the win!
More Puerto Rican Desserts:
Yield: 8
Chocolate and Coffee Flancocho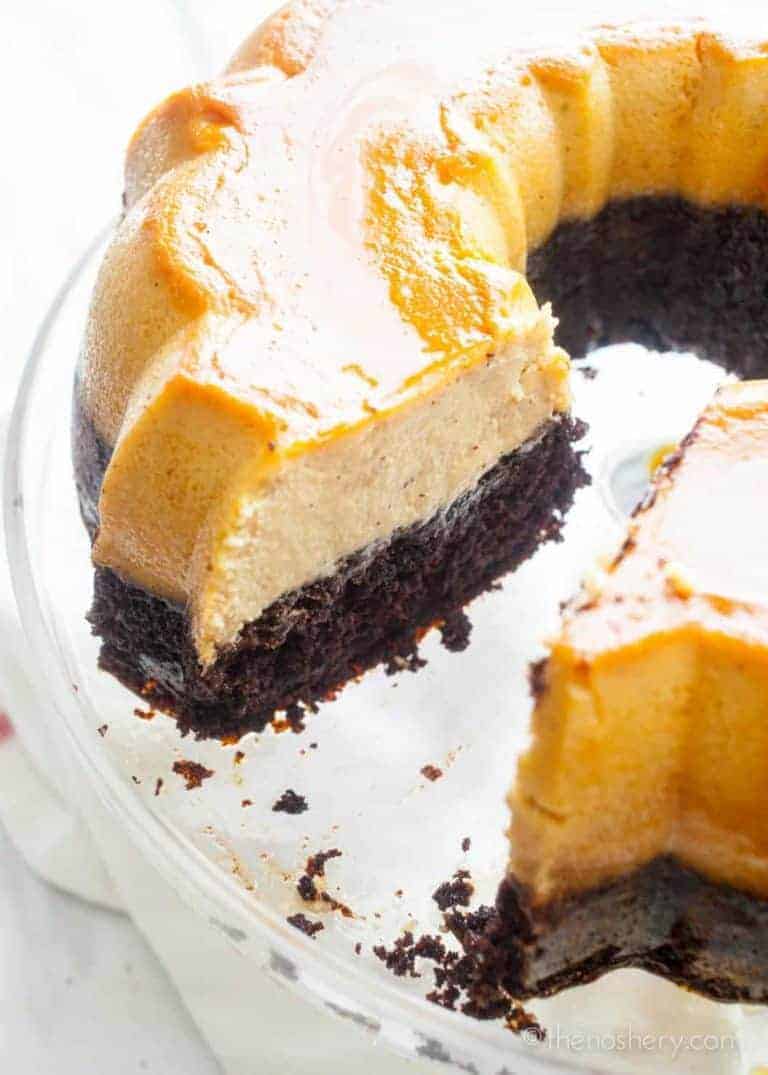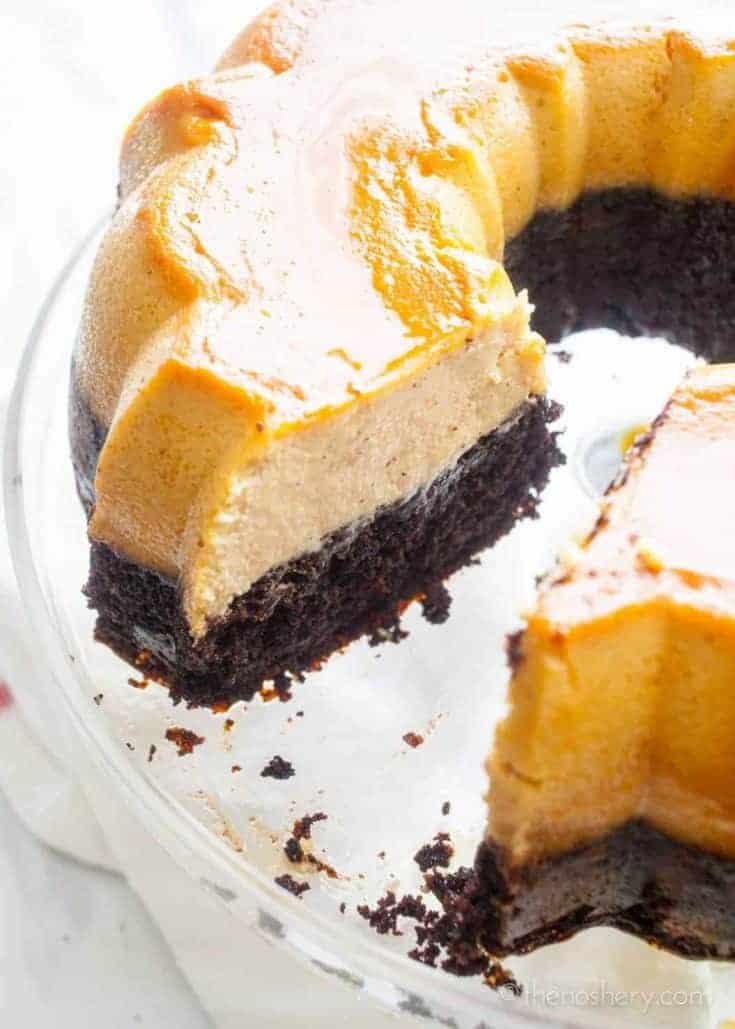 Never choose between cake and flan again! Instead, enjoy a slice of flancocho. It is a layer of cake on the bottom, flan on the top and it's covered in caramel.
Cook Time
1 hour
50 minutes
Total Time
2 hours
10 minutes
Ingredients
1 cup sugar
8 oz block of cream cheese, softened
1 12 oz can evaporated milk
1 14 oz can sweetened condensed milk
6 eggs, room temperature
1 tablespoon vanilla extract
2 tablespoons instant coffee (dissolved in 1 tbs water)
1 teaspoon cinnamon
1 box chocolate fudge cake mix
butter for greasing pan
1 12-cups non-stick bundt pan
Instructions
Preheat oven to 350 degrees.
Grease bundt pan with butter set aside. Heat sugar in a small saucepan over medium-high heat. Let sugar sit for about 2 minutes until sugar begins to melt. Be sure to keep an eye on the sugar. Once the sugar begins to melt, begin to swirl the pan to help melt the sugar. Continue to swirl until sugar melts smooth, if needed stir gently with a wooden spoon. Be careful not to over brown the sugar.
Immediately pour caramel into the bundt pan, evenly coating the bottom of the pan. You will have to move quickly before the caramel sets. Set pan aside until ready to use.
Add cream cheese and 2 tablespoons of evaporated milk to the bowl of a stand mixer. With a whisk attachment, whisk the cream cheese and milk until smooth.
Changing to a paddle attachment, beat in eggs one at a time. You want to change to a paddle attachment so as not to incorporate air into the batter. Mix in evaporated milk, sweetened condensed milk, vanilla, cinnamon, and coffee. If there are any cheese lumps floating in the strain it through a fine-mesh strainer.
Pour batter into prepared bundt pan, set aside.
In a separate bowl prepare cake mix according to directions. Pour cake batter evenly throughout the pan. DO NOT MIX.
Place bundt pan into a large roasting pan in the oven and pour water into the roasting pan outside of the cake pan until the water covers the flan halfway.
Bake for 1 hr or until a toothpick inserted in the center of the cake comes out clean.
Let flan cool on the counter for 15 minutes then refrigerate until completely cooled, about 4-5 hour or overnight. Carefully invert onto a large rimmed platter.
Recommended Products
As an Amazon Associate and member of other affiliate programs, I earn from qualifying purchases.