Candied Pecans | Whenever I walk into a store or venue and I smell the sweet wonderful smell of roasting candied nuts I basically turn into a bloodhound. My nose goes up in the air and I am on a mission to sniff them out.
When I smell warm candied nuts my mouth immediately begins to water. I love to walk up to those kiosks and order a paper cone full. My favorite is candied pecans.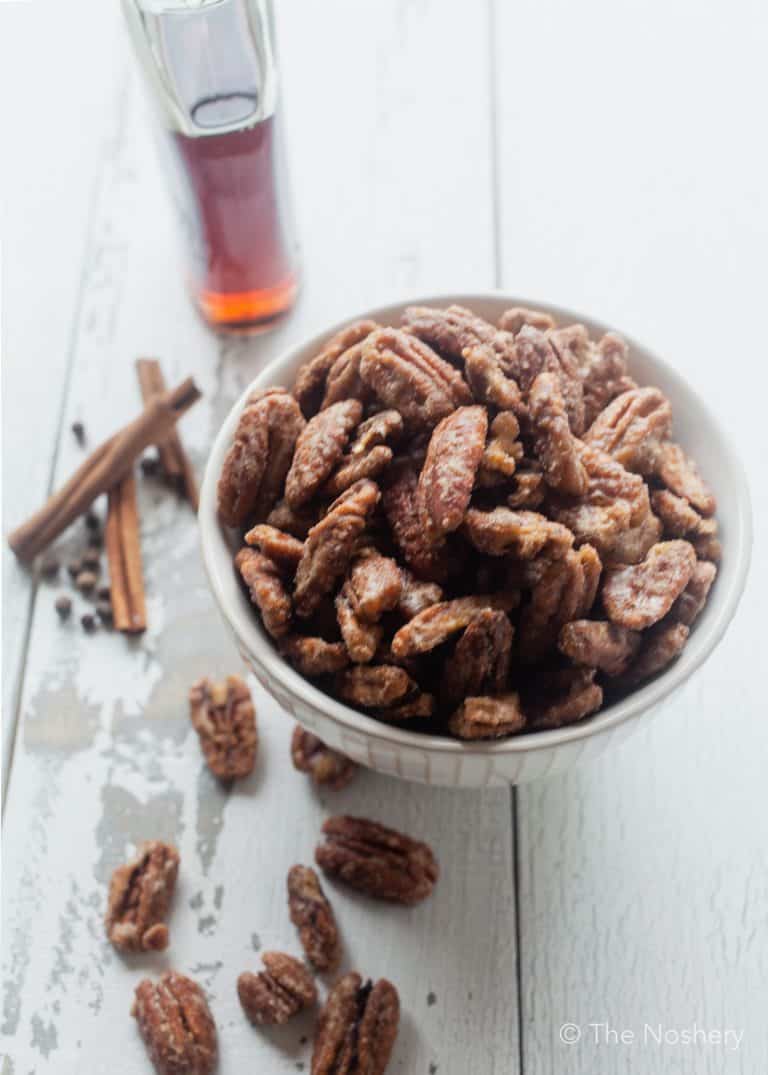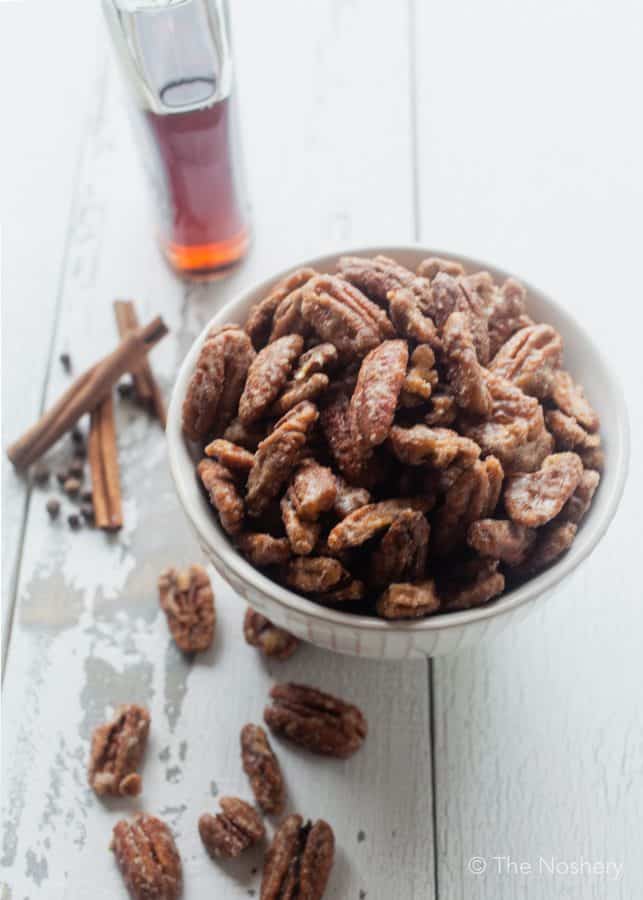 Candied Pecans
But, I don't want to have to venture out everytime I am craving candied pecans. So, sometimes I make them at home. And, these skillet candied pecans are incredibly easy to make. If you are craving something a little salty and sweet you can whip these up any time.
Sometimes I whip them up quickly for a snack. But I also love to make large batches of these nuts. They are great for snacking, sprinkled over ice cream, topping for salads, or even giving away as gifts.
The Difference between Candied Pecans vs. Glazed Pecans vs. Pralines
For a long time, I thought these terms were interchangeable and they are more dependent on region versus recipe. But, I did a little research and I found some distinct differences between each.
All of these recipes have at least a few things in common, pecans, of course, a type of sugar, salt, and spices. After that, there is some variation.
Candied pecans typically will use white sugar, and an egg white. Glazed pecans brown sugar, corn syrup, and butter. And, pralines are essentially coated in a caramel made of brown sugar, butter, and cream. Each one of these results in a different flavor and texture.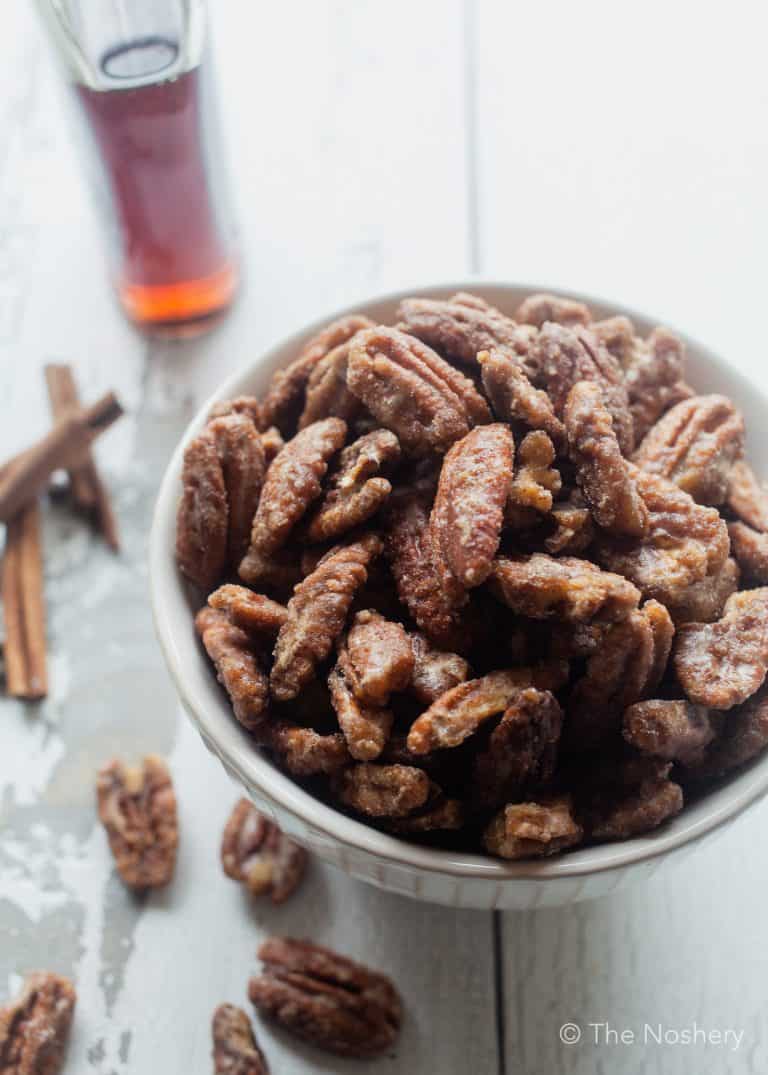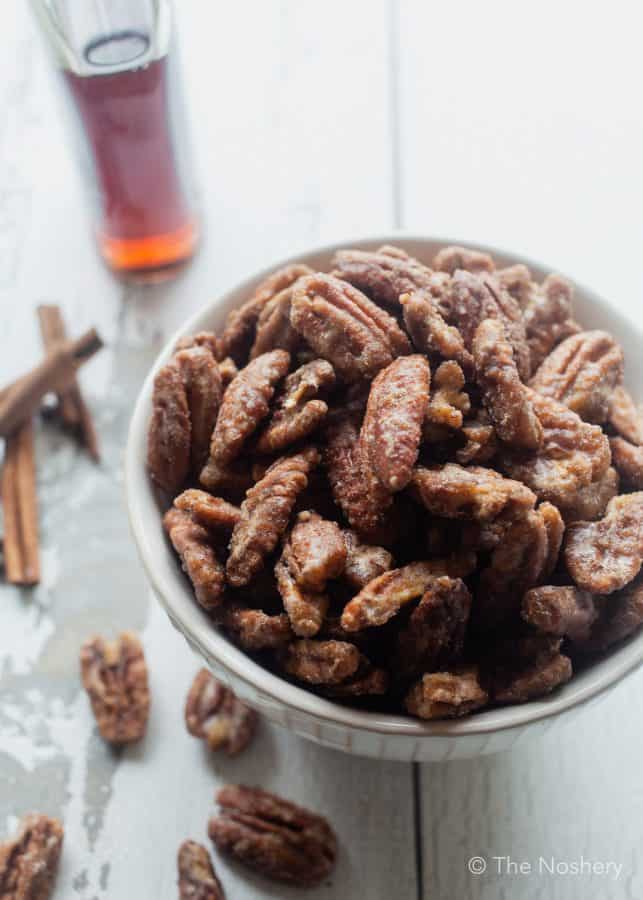 How to make Easy Skillet Candied Pecans
This recipe is more of a candied pecan hack. The goal here is basically to coat some pecans in sugar as quickly as possible and eat them. I also added a little mix of spices to give these candied pecans a little holiday pizzaz.
All you need to do is combine all the ingredients except the pecans in a hot skillet. Whisk until well combined and syrupy. Then add the pecans and stir to coat the pecans in the sugar mixture. Then spread out on parchment paper to cool and enjoy! Candied pecans can be stored in your freezer for a few months so you'll always have them on hand.
Easy Spiced Skillet Candied Pecans Recipe Ingredients
1/2 cup brown sugar
1/4 teaspoons kosher salt
1/2 teaspoon ground cinnamon
1/4 teaspoon allspice
pinch of nutmeg
2 tablespoons maple syrup
2 tablespoons water
2 cups pecan halves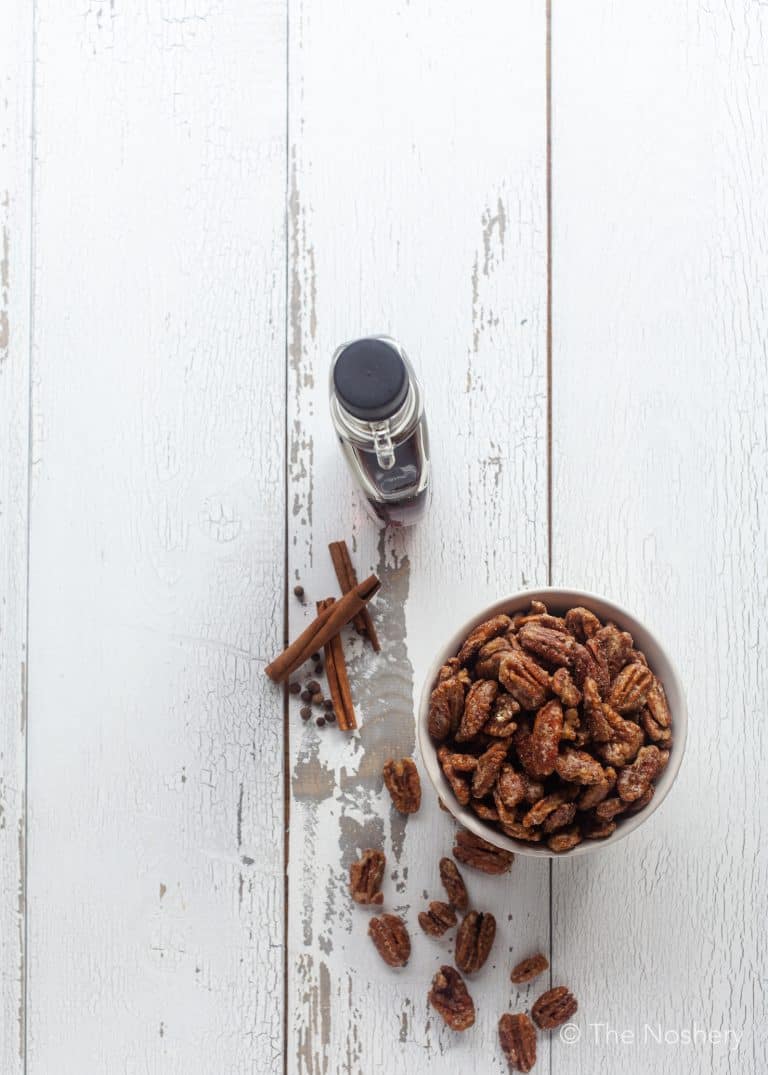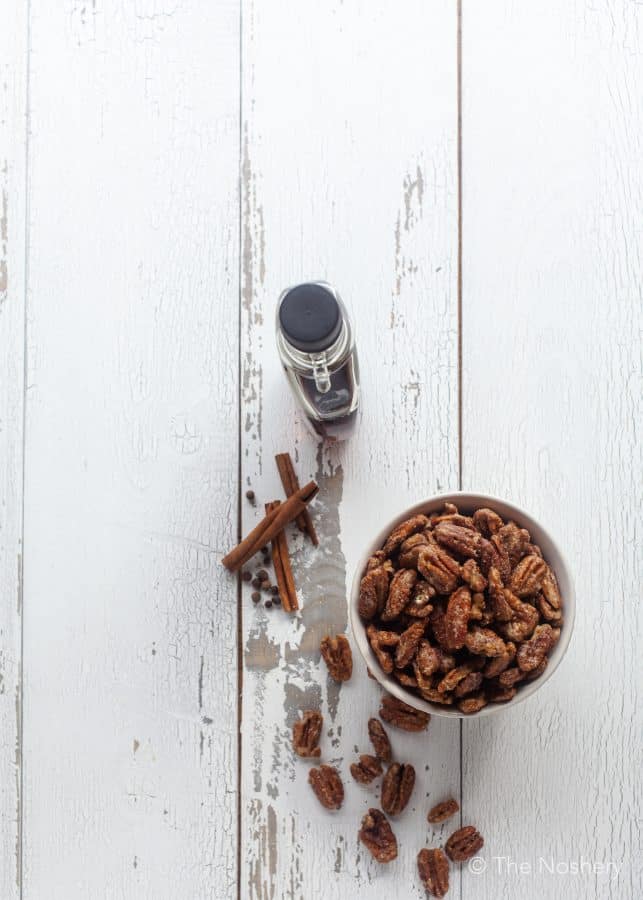 Ideas for How to Use Candied Pecans
There are so many delicious ways to enjoy candied pecans! I mean typically I just shove them in my mouth but, as they say, there is more than one way to skin a cat.
Sprinkle them on your vanilla ice cream and add a drizzle of caramel sauce.
Add them to your favorite yogurt with some granola.
Top your favorite salad with candied pecans. I love mine over a Summer Strawberry Salad with Grilled Chicken.
Use them as a delicious garnish for a fun appetizer. I sometimes sprinkle them over my Balsamic Beets and Goat Cheese Toasts.
Package them and give them away as gifts.
Eat them all and don't share them with anyone. 😉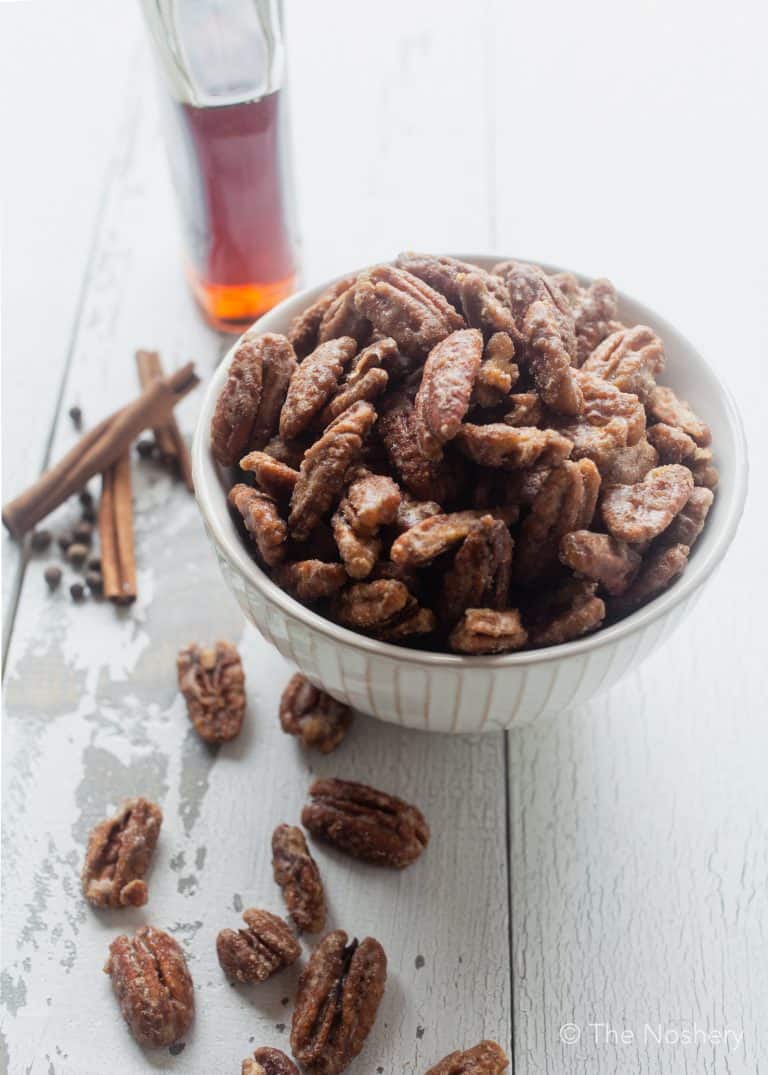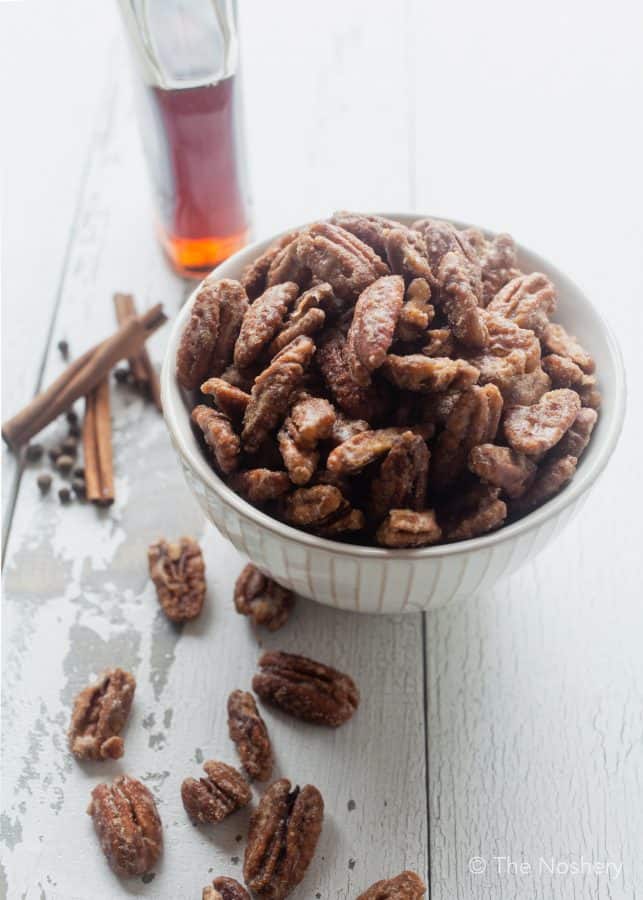 So, question. Generally, nuts are considered good for you. They have protein, healthy fats, and antioxidants. So, all that "healthy" cancels out covering them in sugar…right? I am going to say yes. Because it's my blog and I can say that sugar coated nuts are healthy. 😉
If you got a sweet tooth that needs tending to check out my dessert recipe collection. I got cookies, custard, pies, and more!
more food gift love
Yield: 2 cups
Easy Skillet Spiced Candied Pecans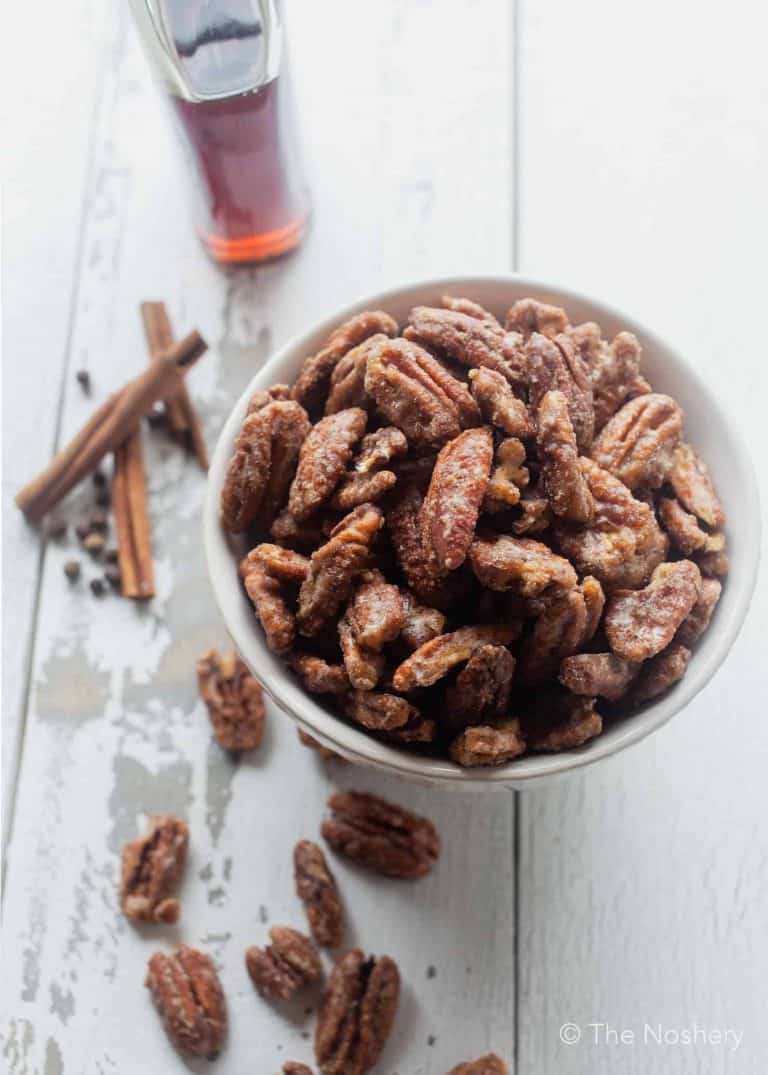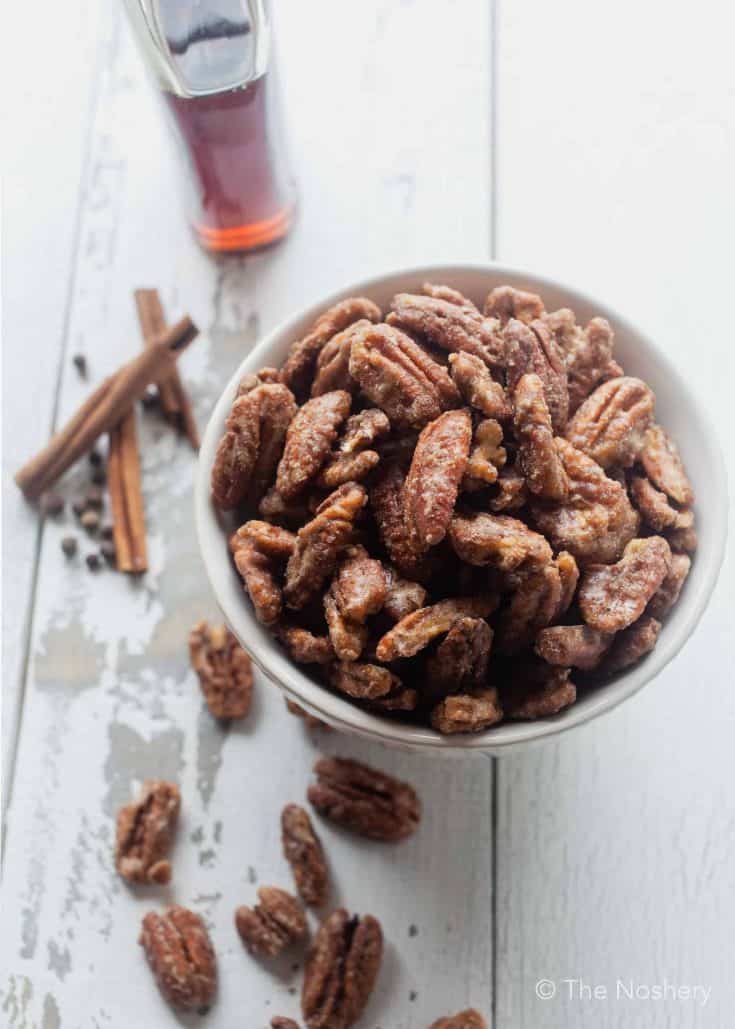 Easy Skillet Spiced Candied Pecans | These candied pecans take only a skillet and 5 minutes to make. They are spiced with allspice, cinnamon, and nutmeg make them a great treat. Perfect to add to a salad, roasted vegetables, or to give out as a food gift. | The Noshery
Ingredients
1/2 cup brown sugar
1/4 teaspoons kosher salt
1/2 teaspoon ground cinnamon
1/4 teaspoon allspice
pinch of nutmeg
2 tablespoons maple syrup
2 tablespoons water
2 cups pecan halves
Instructions
Combine all ingredients except the pecans in a skillet and cook over medium heat for a minute or two, until the sugar dissolves and the mixture is bubbling.
Add the pecans and cook for an additional 3 minutes, stirring to coat the pecans in the glaze.
Remove from the heat, and spread the pecans out on parchment paper to let the pecans cool completely.
Break apart, and enjoy!
Recommended Products
As an Amazon Associate and member of other affiliate programs, I earn from qualifying purchases.