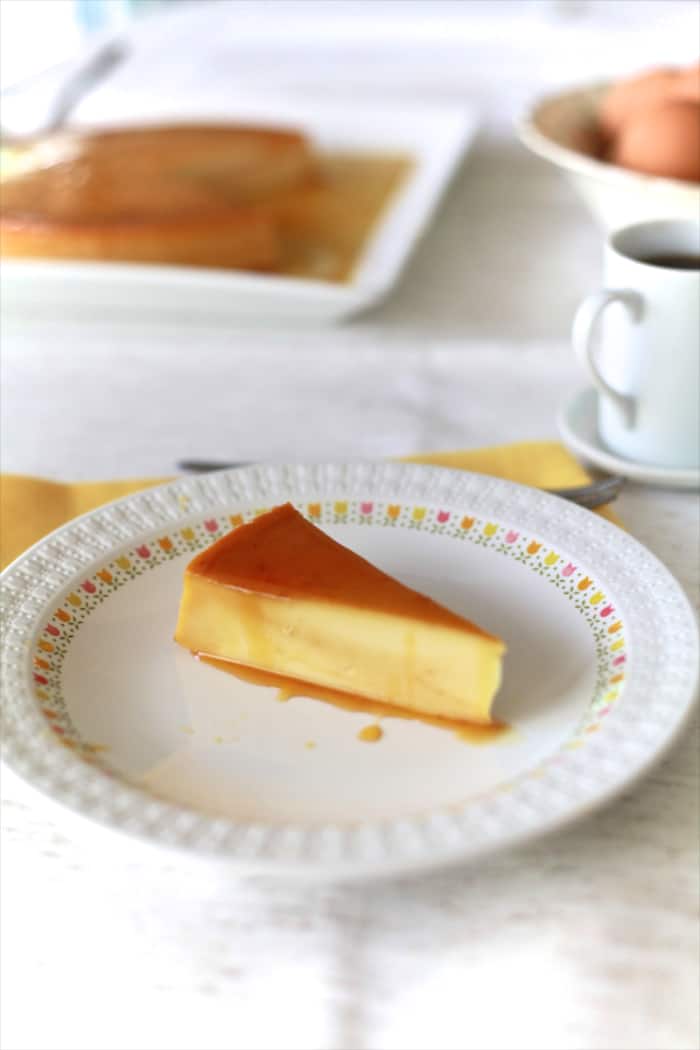 A while back I did a pumpkin flan for Thanksgiving. This time I though I would share my favorite flan for Christmas. There is no doubt that if you attend a Puerto Rican Christmas party or dinner you will find flan on the table.
Christmas is the season of giving and sharing but, you will probably find it hard to share your flan. I confess I'm a bad flan-sharer. But you can't hold it against me because you too will be a bad flan-sharer.  Initially you will think to yourself, "Oh, I will make some flan for my family, friends or co-workers."  But when you get your first taste of this flan, you will end up eating the whole thing while hiding in the closet.  Trust me, you will turn into a rabid bad flan-sharer, attacking any hand that reaches out to take any of your flan. Christmas or not.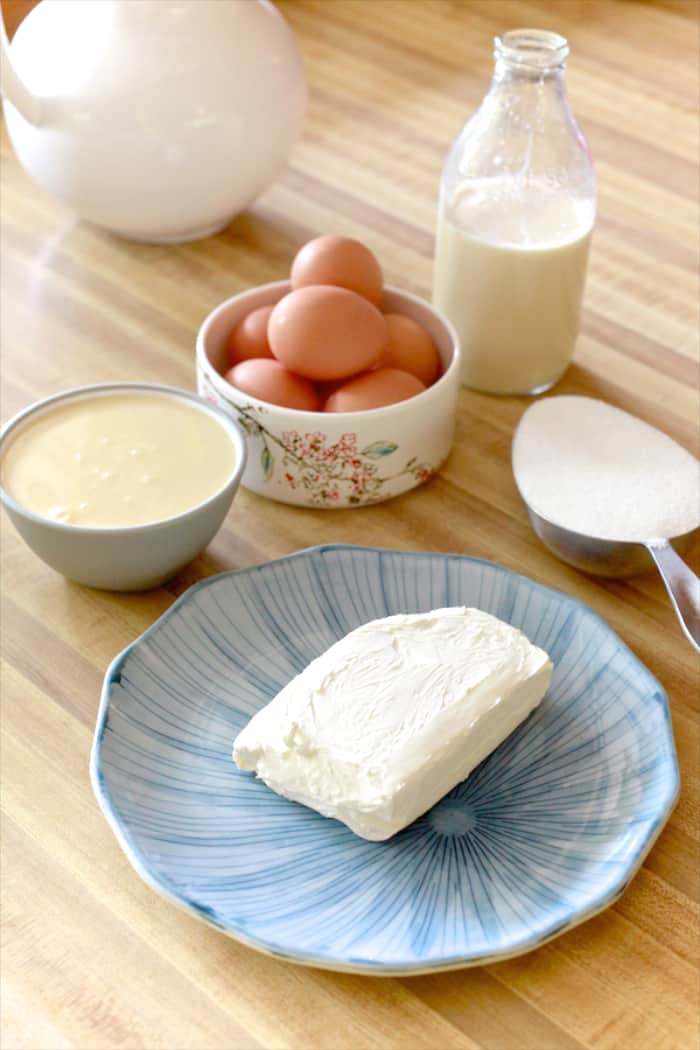 There are many different kinds of flan. Cheese, coconut, pumpkin, vanilla, rum, coffee, chocolate–you think of it, it's probably been done. I gravitate toward cheese, vanilla or coconut.  There are a lot of things that make a flan delicious.  The creamy texture, the caramel and for some of us it reminds us of home.  Many things can make a flan delicious but, there are just as many things that can make it bad.
Traits of a Bad Cheese Flan:
Strong eggy flavor (So bad!)
Cheese flan with a lumpy cheese layer
Burnt caramel
Grainy texture or air pockets
Skin. Skin is bad.
I am going to show you how to avoid making a bad cheese flan and how to make a flan that will make you a bad flan-sharer.
When making a cheese flan, you want to make sure all your ingredients are room temperature. This means your eggs and cream cheese, too.   If your cream cheese is room temperature and your eggs are cold, your cheese will lump up and make your flan miserable.  (See 2nd bullet point above.)
Preheat your oven to 350 degrees.  Have a 9-inch round cake pan standing by.
Add sugar to a small sauce pot over med-high heat.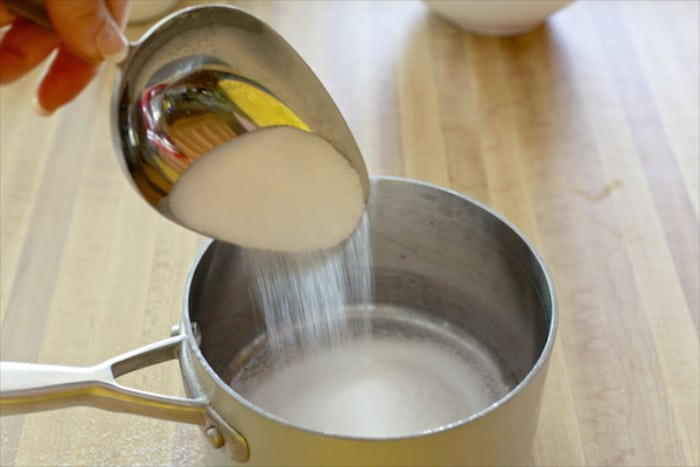 Don't leave the sugar unattended, but don't mess with it for a while.  Wait until the sugar is beginning to melt and then stir.  It will clump up at first, but do not stress. Just keep stirring it.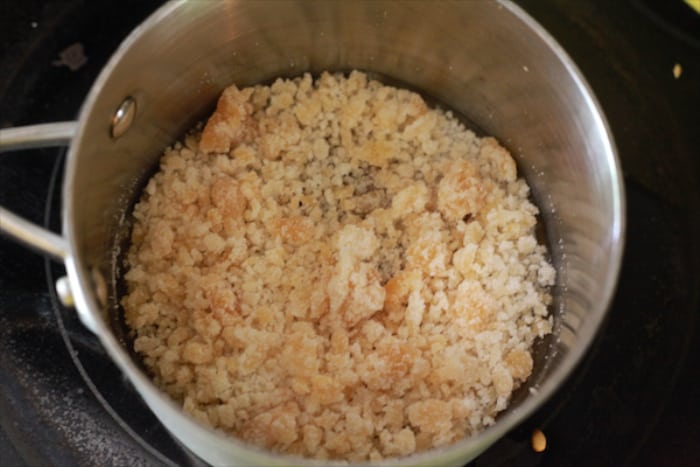 Continue to stir and the lumps will start to melt.  If it's getting too hot or brown, just lift it off the burner for a bit while still stirring.  When the sugar starts to melt this can go fast, so don't walk away or it will burn. (See 3rd bullet point above.)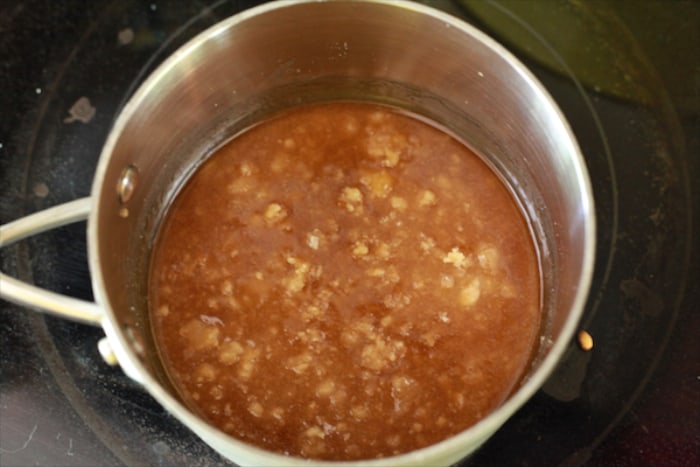 Continue to stir and melt the sugar until smooth and a deep golden brown color.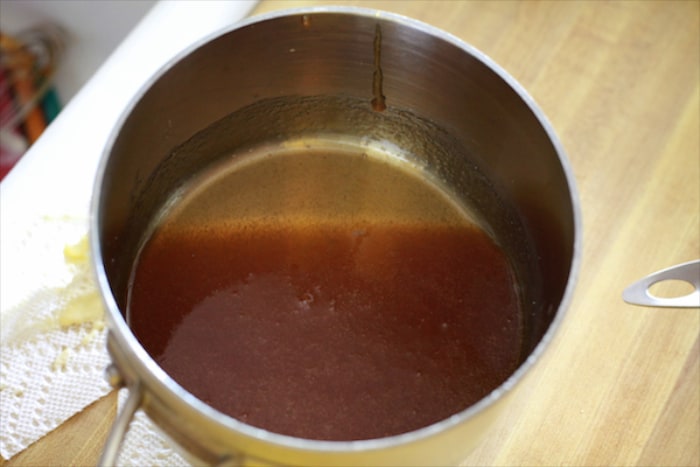 Immediately pour the caramel into the cake pan.  You will want to pour throughout the cake pan and not just in one spot.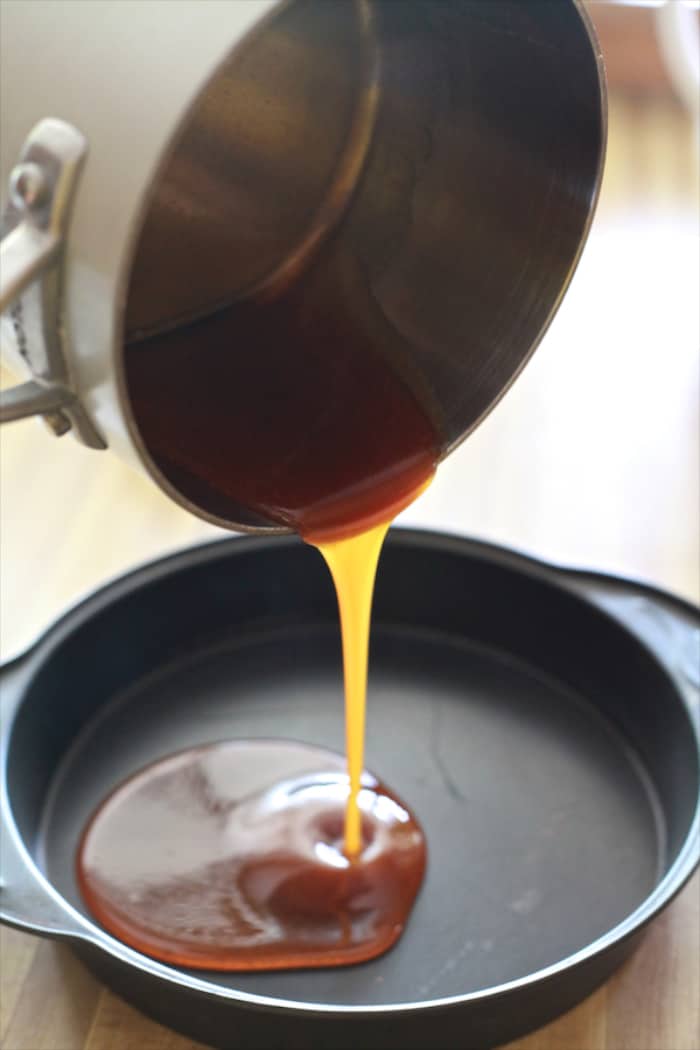 You want to coat the bottom of the pan as evenly as possible.  Again, move quickly because the caramel sets pretty quickly.  Set the pan aside until ready to use.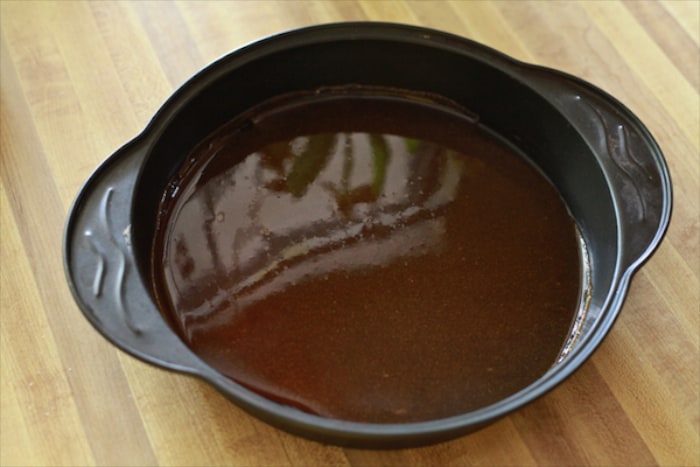 Let's move on to the custard.
In the bowl of a stand mixer, whisk cream cheese and 2 tablespoons of evaporated milk together until smooth and creamy.  Be sure to scrape down the sides as needed.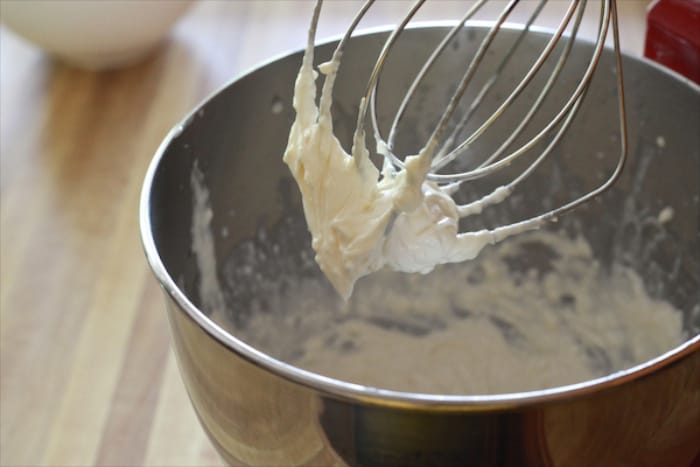 Switch the whisk to the paddle attachment. (I took the picture before making the switch.)   You do not want to use the whisk attachment because this will incorporate air, making air bubbles in your custard. (See 4th bullet point above.)  Beat in eggs one at a time until well combined.
There is a debate about how many eggs makes a good flan. Egg quantities can range from 4-8 eggs.  That is a pretty big spread.  Personally I think any more than 6 and you are begging for an eggy flan.  Eggy flans are bad…very bad. (See 1st footnote)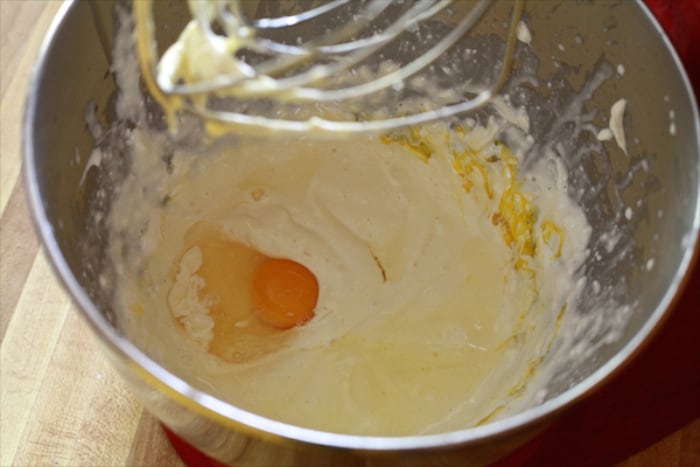 When your cream cheese and eggs are smooth and creamy, beat in evaporated milk, sweet condensed milk and vanilla.
Although we've taken steps to avoid having cream cheese lumps, I am going to suggest we take one more step to guarantee a lumpy cheese layer-free flan.  (See 2nd bullet point above.) Pour the custard mixture into a fine mesh strainer over a bowl.  This will take out any stray cheese lumps.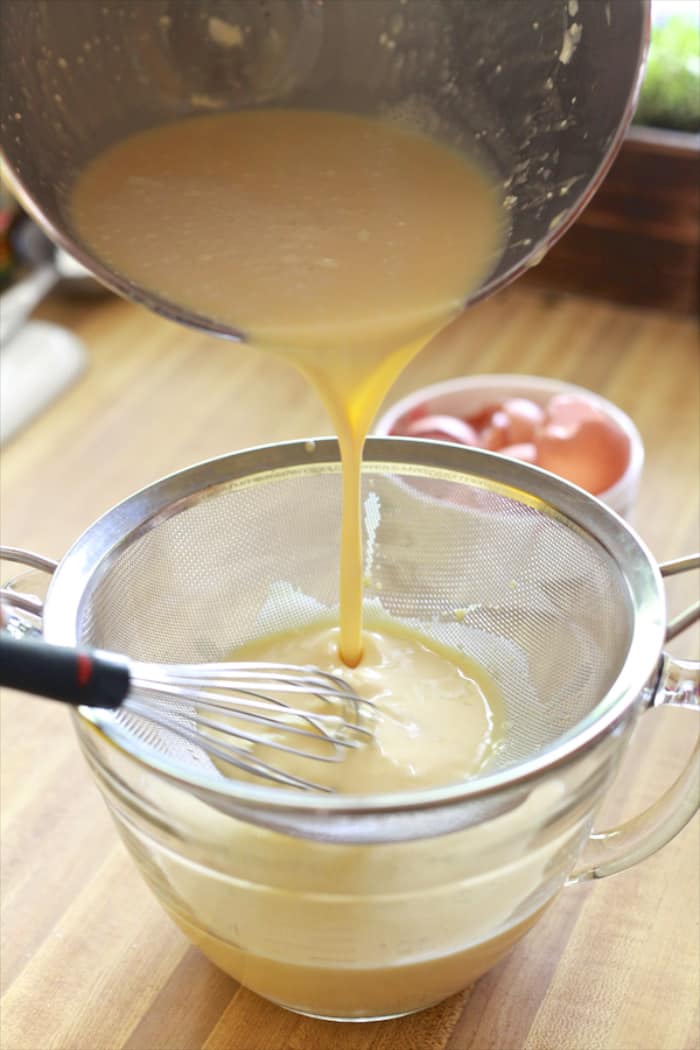 Pour the stained custard into the caramel coated pan.  The caramel may make a cracking sound.  That is completely normal.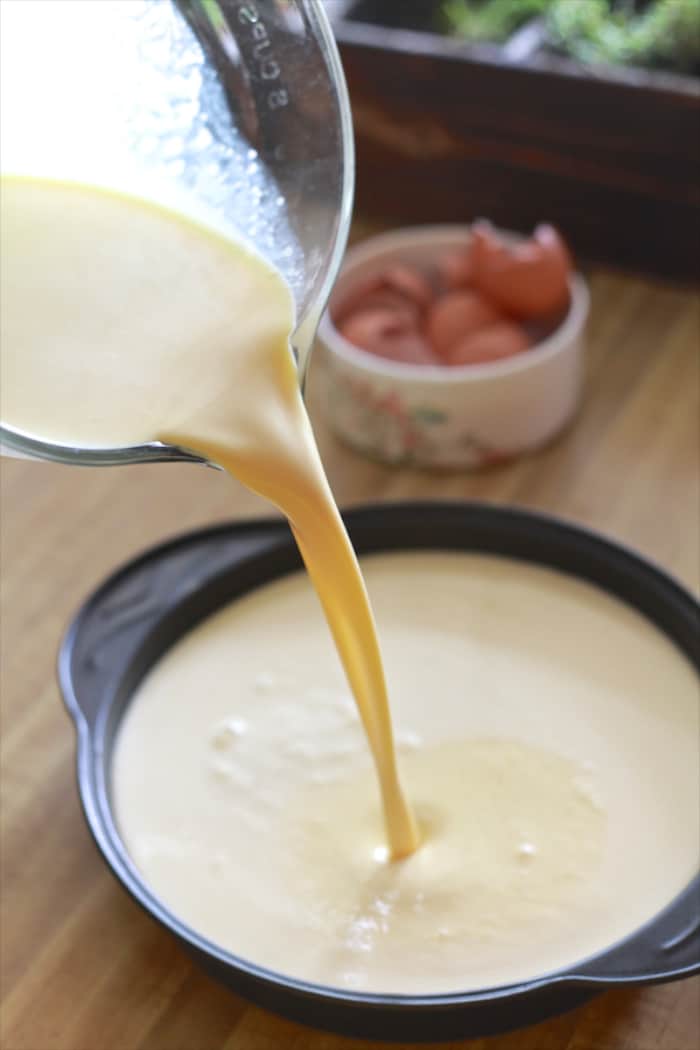 Bake the flan in a water bath for 1 hour.  The flan should be set and just beginning to brown on top.  The browner it gets on top, the more skin you will end up with. And skin is bad. (See 5th bullet point above.)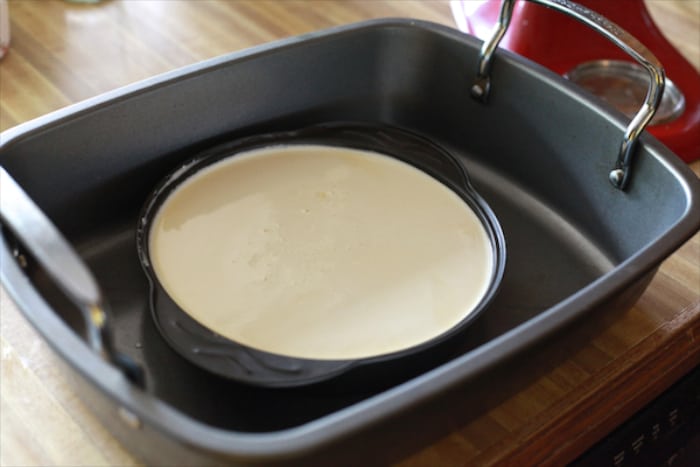 Let the flan cool out of the water bath and in the pan for about 5 minutes.  Run a knife along the edge to release the flan.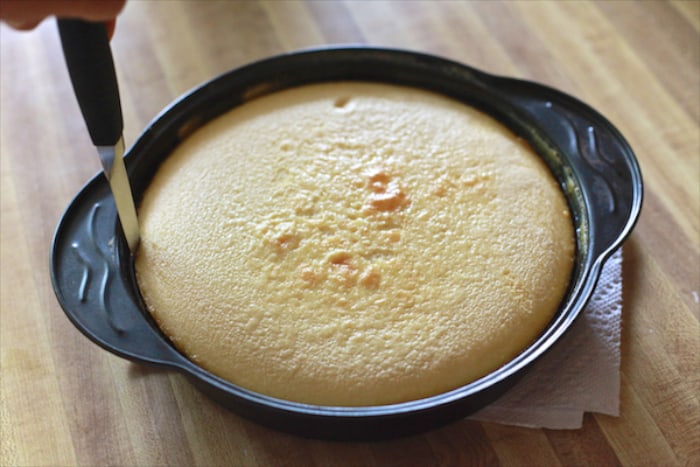 Invert on to a large rimmed platter.  I say a rimmed platter to contain the caramel.  DO NOT invert this into a flat cake stand because the caramel will just run off the edge.  Not that I ever did that….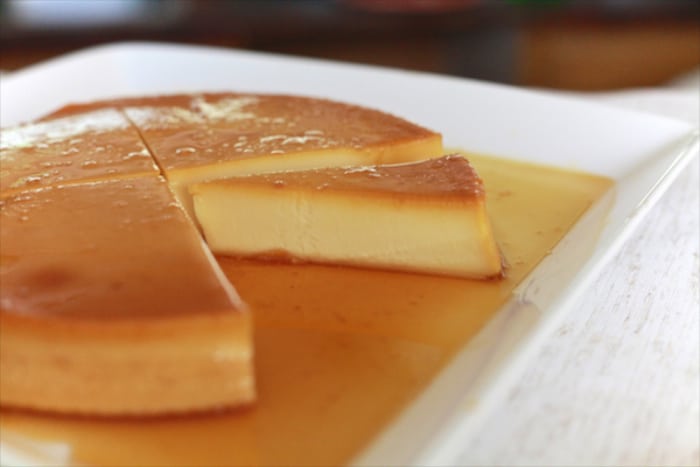 Refrigerate for at least 1 hour. Overnight is best.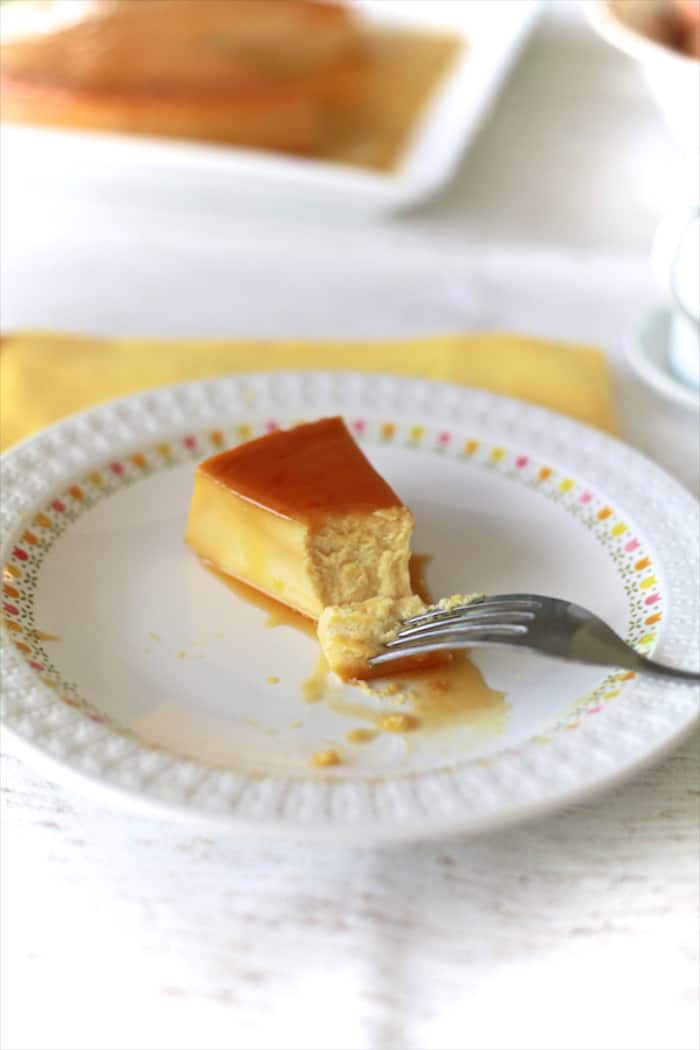 Now take the flan that you made for your family, friends or co-workers and hide in a closet.  Trust me, this is a dessert that you will not want to share.  When you dig into it, it should be smooth, creamy, bubble, lump and skin free.  Very close to the texture of a really creamy cheesecake, but it's better than cheesecake because it's flan!

Flan de Queso (Cheese Flan)
Flan is a traditional holiday treat. This cheese flan is the perfect combination of custard and cheesecake.
Ingredients
1 cup sugar
8 oz block of cream cheese, softened
1 14 oz can evaporated milk
1 12 oz can sweetened condensed milk
1 teaspoon vanilla extract
6 eggs, room temperature
9 in round cake pan
Instructions
Preheat oven to 350 degrees.
Have cake pan out and ready. Heat sugar in a small saucepan over medium-high heat. Let sugar sit for about 2 minutes until sugar begins to melt. Be sure to keep an eye on the sugar. Once the sugar begins to melt, stir with a wooden spoon. Continue to stir until sugar melts smooth, careful not to over brown the sugar. Immediately pour caramel into round cake pan, evenly coating the bottom of the pan. You will have to move quickly before the caramel sets. Set pan aside until ready to use.
Add cream cheese and 2 tablespoons of evaporated milk to the bowl of a stand mixer. With a whisk attachment, whisk the cream cheese and milk until smooth.
Changing to a paddle attachment, beat in eggs one at a time. You want to change to a paddle attachment so not to incorporate air into the batter. Mix in evaporated milk, sweetened condensed milk and vanilla. Strain flan batter into another bowl to strain out any leftover cheese lumps.
Pour batter into prepared cake round. Place flan into a large roasting pan in the oven and pour water into the roasting pan outside of the cake pan until the water covers the flan half way. Bake for 1 hour or until set.
Let flan cool in pan for 5 minutes. Run a knife along the edge of the pan and carefully invert onto a large rimmed platter. Place in refrigerator to cool completely.
Enjoy!
Notes
Be sure that all your ingredients are room temperature. If you mix cold eggs in with the cream cheese it will lump.

Taking the steps to beat the cream cheese with 2 tablespoons of milk and straining the finished custard will ensure a smooth creamy texture.

Be sure not to use a whisk when adding the eggs. If you do you will end up incorporating air into the custard and that will create air pockets in the cooked flan.
8