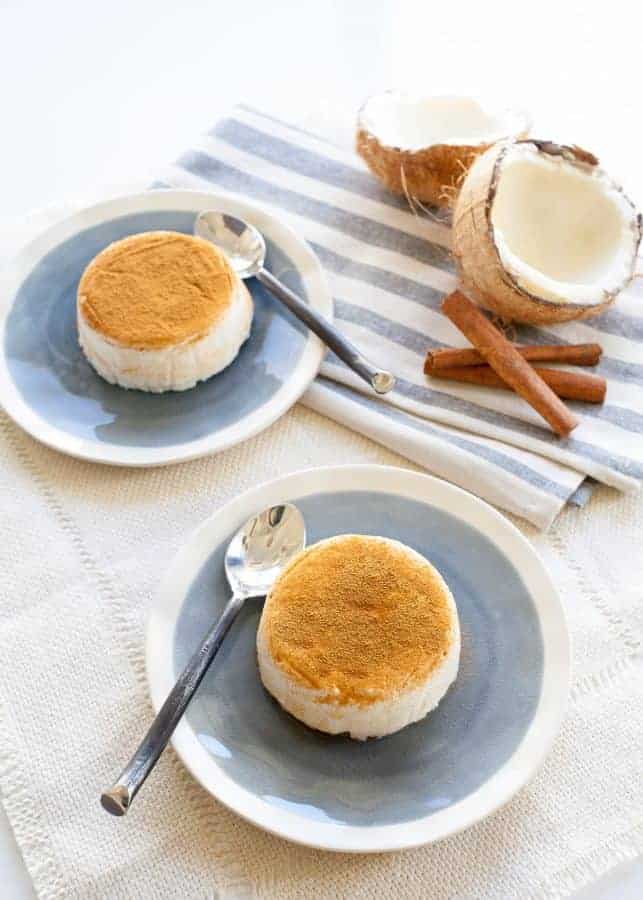 Hey, coconut lovers! I got a treat for you! It's called tembleque and it's one of my favorite desserts. Not only is it one of my favorites but it's one of the easiest dessert ever! I know I've said before that Flan de Queso (cheese flan) was my favorite dessert but why should I choose? They are both amazing! Although I prefer tembleque during warmer months and flan during the cooler.  Tembleque gets its name from the Spanish word tiembla which means to shake. It's a pudding thickened with cornstarch resulting in a slightly firm pudding with a custard texture that has a little jiggle when shaken.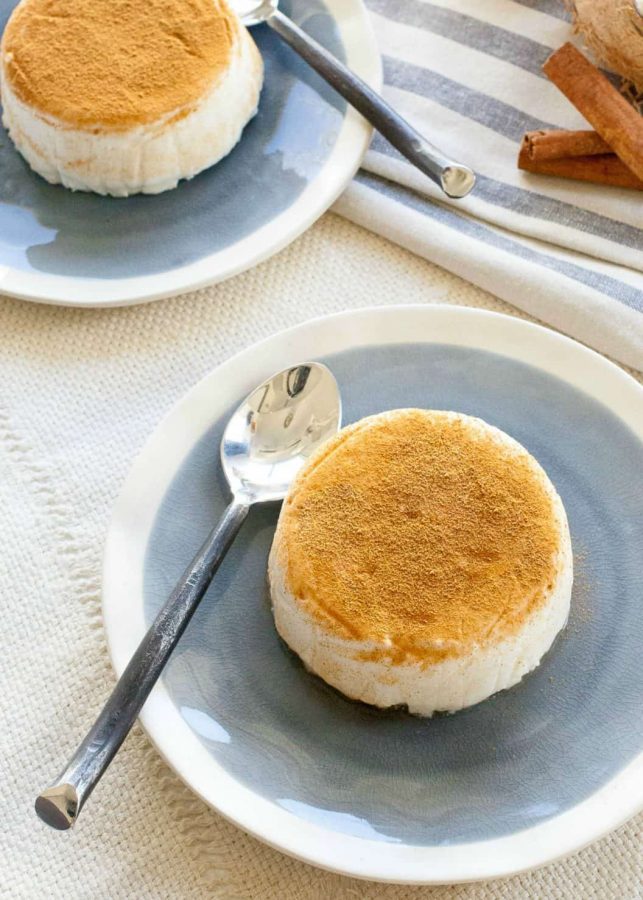 It's light, creamy, cool and most of all coconutty. What better treat than a cool coconut pudding? The pudding can be poured into individual molds or into a 9 x 9 square pan and served in slices. I like to do the individual servings if I'm making them as a daily snack but, if I am taking it to a party I will make it in a pan. If you prefer a softer pudding try these Coconut Pudding Cups with Vanilla Berries

Tembleque (Coconut Pudding)
Ingredients
4 cups coconut milk
½ cup of cornstarch
⅔ cup of sugar
½ teaspoon salt
1 tablespoon grand marnier
ground cinnamon
Instructions
Wet the inside of six 4-oz ramekin molds, set aside.


In medium saucepan combine all ingredients except cinnamon and whisk until well combined. Place over medium-high heat. Cook, stirring constantly until mixture comes to a slow boil and is smooth and thick, about 5 minutes.


Pour the pudding into prepared molds. Cover with plastic wrap and refrigerate until firm, at least 3 hours or overnight.


Enjoy in the ramekin or to unmold, run a thin knife around edge. Invert mold onto serving plate. Sprinkle with cinnamon.
107