Slow Cooker Carnitas | Whenever I am asked if there are any foods I don't like or if I have any allergies I declare that I eat all the foods. And, this is a true statement. However, that doesn't mean I don't have strong preferences for one food over another. Consequently, if given the choice I will always choose pork over beef. Especially if we are talking about ground beef when it comes to tacos. I will never turn down any type of taco but, I will probably snatch a pork taco out of your hands. This is why I declare that for your next taco Tuesday you ditch the ground beef and go for the pork roast and slow cooker and make these pork carnitas! Pork carnitas tacos and tacos al pastor are my two favorite types of tacos. Today I am all about this slow cooker carnitas recipe.
Taco Tuesday is a family favorite because it's easy and let be honest, no one says no to tacos. However, I encourage you to this Tuesday to bypass the ground beef, taco seasoning envelope, and taco shells that break. Consequently, spilling taco juice all over your white shirt. Because that is usually how it works doesn't it? Let's up the Taco Tuesday game and make some crispy pork carnitas and warm tortillas.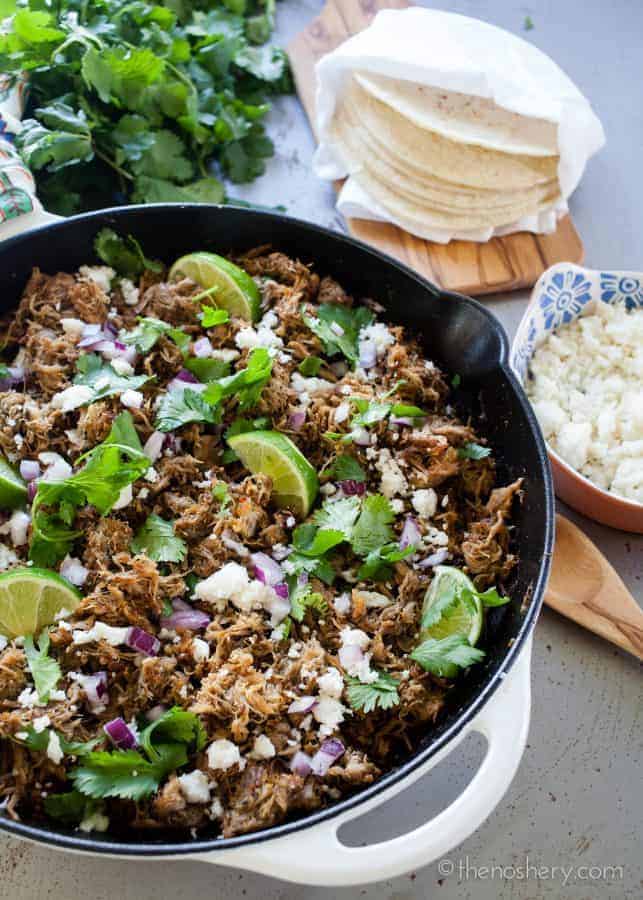 The great thing about these tacos is that with the help of a slow cooker they come together as easily as the other tacos. In fact, I dare say that these are easier than traditional tacos. Carnitas meat is tender and flavorful with all the savory elements of an authentic taco at a stand taco. To finish off the carnitas all you need to do is crisp them in a skillet, warm some tortillas, and lay out a spread of toppings.
Pork Carnitas Tacos Toppings
cilantro
onion
queso fresco
pico de gallo
mango salsa
grilled pineapple
cotija cheese
lime juice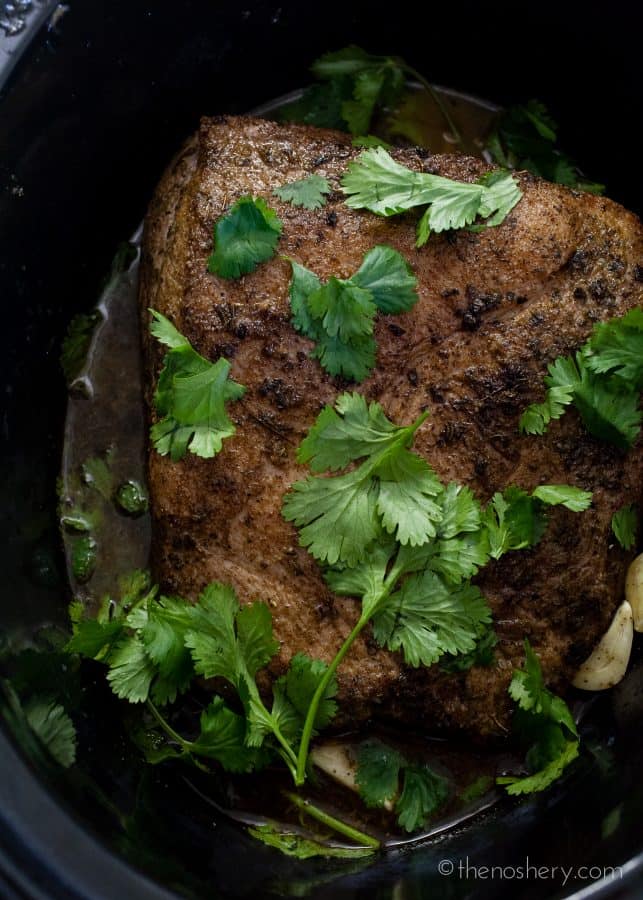 What are Carnitas?
In the simplest terms, carnitas are nuggets of meat heaven. To be more specific carnitas literally translates to little meats or meat nuggets. Traditionally made of pork, sometimes the term carnitas will be used in reference to beef. However, if you are at a Mexican home or restaurant and carnitas is on the menu 9 times out of 10 they will be pork.  Carnitas is a Mexican dish originating from the state of Michoacán, which are made by braising pork and then frying in oil or lard until tender.
What's the Difference Between Carnitas and Al Pastor?
The biggest difference between these two is the preparation and the seasoning. Carnitas are typically marinated in a mixture of spices, citrus, and oil. Then they are braised until tender and shredded. Al Pastor literally means shepherd style. The pork is marinated in a combination of spices, chilies, and pineapple. It is then traditionally prepared shawarma style, which is a slow cooking vertical rotisserie. This preparation style was brought by the Lebanese immigrants to Mexico. The only thing these two preparations have in common is that they are both pork tacos. Hence, you cannot go wrong with either taco.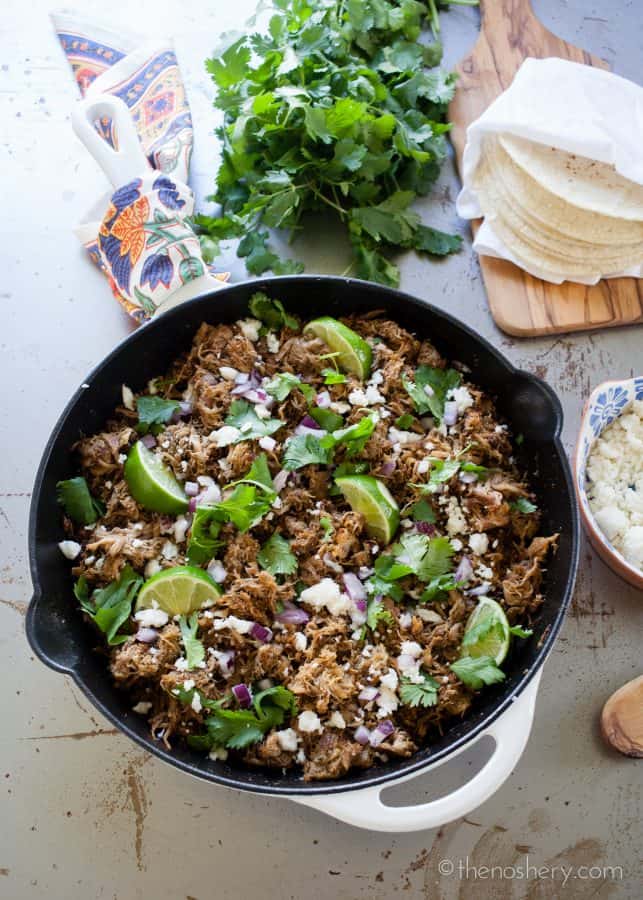 Ideas for Pork Carnitas Leftovers
I love to make this dish in large batches! Because there are so many things you can make with them. One of my favorite dishes to make with leftovers is posole a comforting pork and hominy soup. Leftovers are great for enchiladas, breakfast hash, panini sandwich, breakfast tacos, or over a salad. In fact, they are the secret to making the ultimate salad bowl. One of my favorite ways to enjoy leftovers is nachos! I just spread tortilla chips on a baking sheet and top them with shredded pork and cheese! This is a great recipe to add to your weekly meal plan. Leftovers can also be frozen to enjoy later.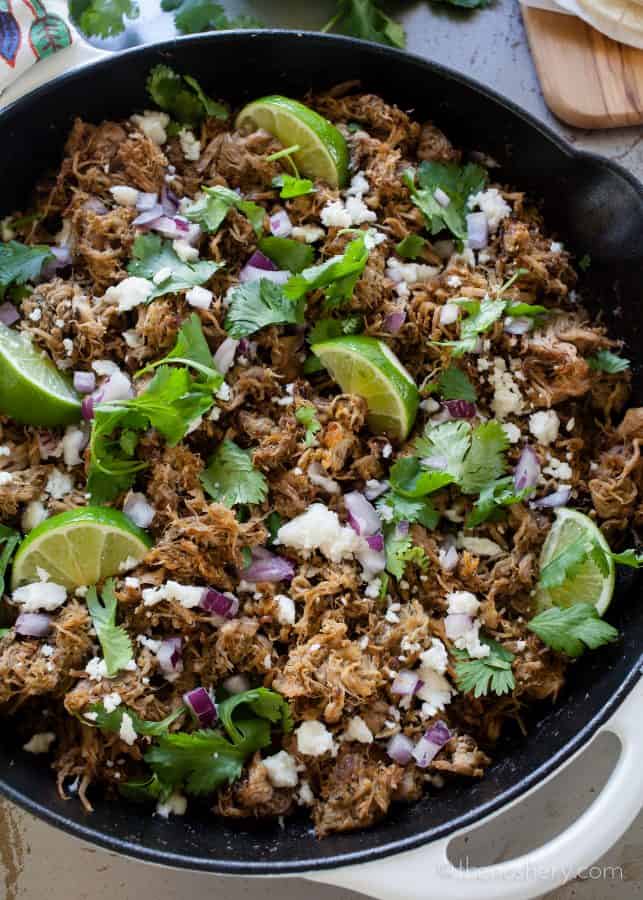 I have used both pork butt and pork shoulder for this recipe. They are my favorite cuts of pork for this recipe because both of these cuts have a healthy ratio of fat, producing very tender carnitas. However, if you are looking for a healthier leaner option you can use pork tenderloin or a pork loin roast. Lean pork sometimes gets a bad rap for being dry, but I promise pork made in a slow cooker will remain tender.
If you are looking for more slow cooker pork recipes check out this slow cooker pork ramen, slow cooker Puerto Rican pork, or spicy malta slow cooker pulled pork. To prove my love for pork checkout all of my pork recipes.
more pork love
Yield: 6
Slow Cooker Carnitas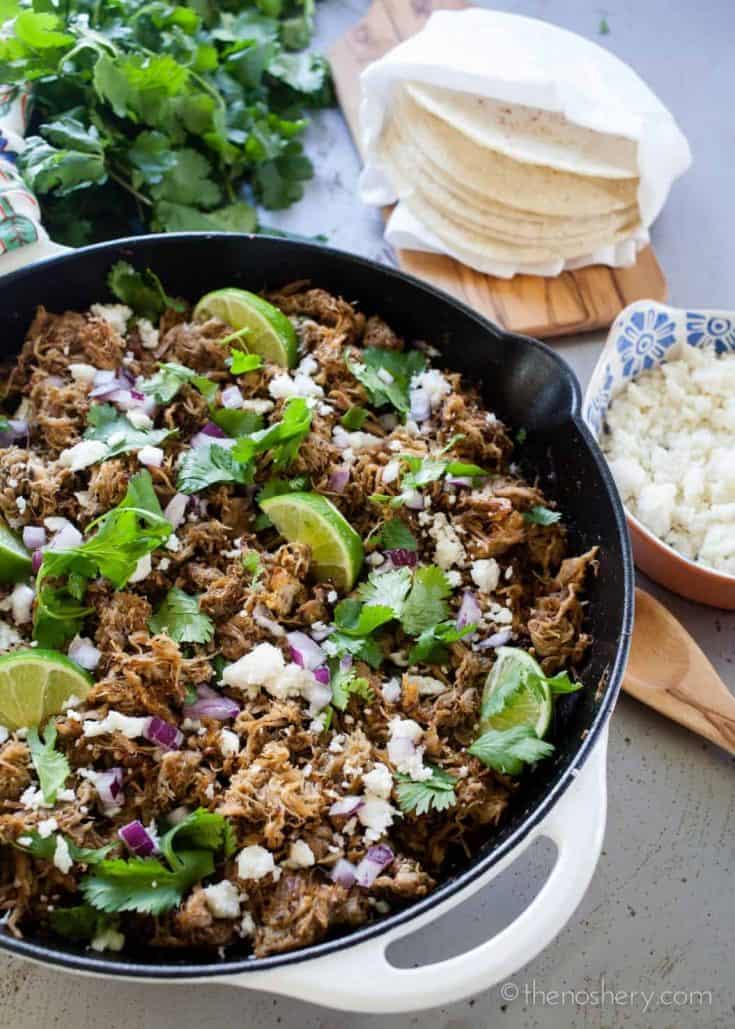 Make taco night a special night! Ditch the ground beef with the taco seasoning and try these easy and flavorful slow cooker carnitas tacos.
Inactive Time
13 hours
12 minutes
Total Time
13 hours
35 minutes
Ingredients
See notes before starting this dish.
3 pounds boneless pork shoulder (butt) roast
3 teaspoons kosher salt
2 teaspoons cumin
1 tablespoon oregano
olive oil
1/4 cup of chicken or beef stock
3/4 cup fresh squeezed orange juice
juice of 1/2 a lemon
7 cloves garlic
1/4 cup cilantro, chopped
Instructions
Season pork roast with salt, cumin, and oregano. Drizzle with olive oil and rub seasoning and oil evenly over roast. Heat a cast iron skillet or heavy skillet over medium-high heat.
Sear the roast on all side until brown and crispy, 3 minutes per side. Transfer roast to the slow cooker.
Pour the chicken stock into the hot skillet and scrape all the brown bits from the pan, transfer to the slow cooker.
Add all remaining ingredients to the slow cooker. Set slow cooker to low for 6-8 hours. The longer it cooks the more tender the pork.
Heat a cast iron skillet or stainless steel pan over medium-high heat. Using a slotted spoon transfer the pork from the slow cooker to the pan in batches.
Fry the pork until brown and crispy, breaking it up as you fry it. Do not crowd the pan with pork for best results.
Serve on tortillas garnished with chopped onions, avocado, fresh cilantro and a lime wedge.
Recommended Products
As an Amazon Associate and member of other affiliate programs, I earn from qualifying purchases.
93