This post was sponsored by Pompeian.  All opinions expressed on my site are my own.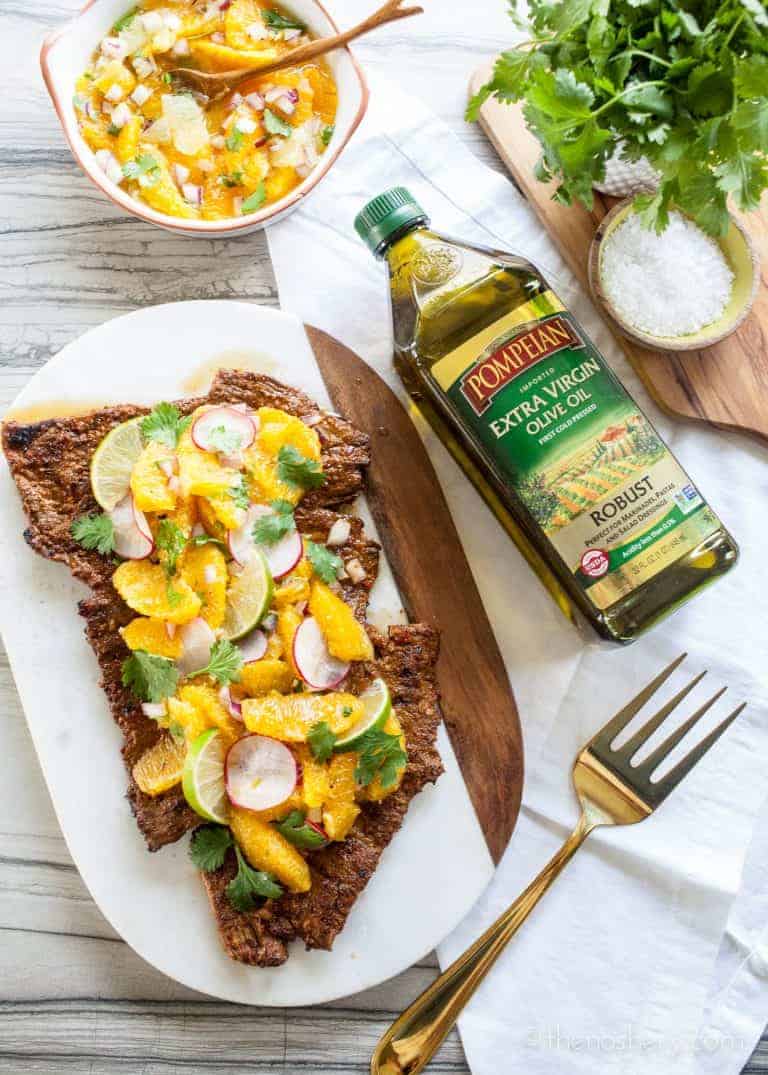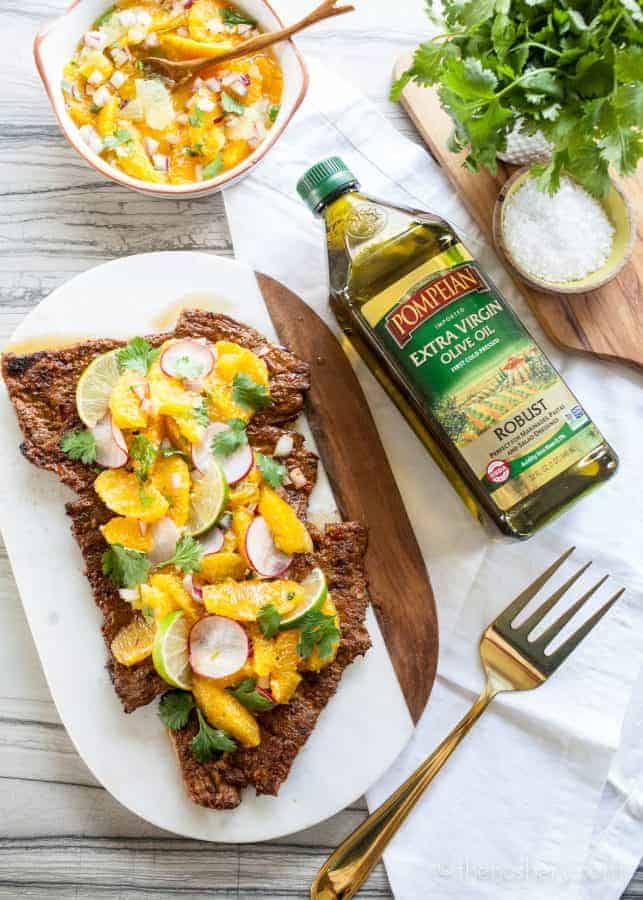 marinade
Summer is on full blast, like a Hot Air Industrial Strength Hairdryer in the face.  This is the time of year we do a lot of grilling. This weekend I marinated some skirt steak to toss on the grill. The marinade was made with a mixture of Pompeian Robust Extra Virgin Olive Oil, guajillo peppers, citrus, garlic, onion, cumin, and tossed in a few other spices. I love to use Pompeian Robust Extra Virgin Olive Oil for marinades because of its full-bodied flavor that is fruity with grassy overtones. Pompeian Robust Extra Virgin Olive Oil is extremely low in acidity it's still spicy making it ideal for marinades. The steak marinades for at least 1 hour but you marinade it overnight to let the flavors really meld into the steak.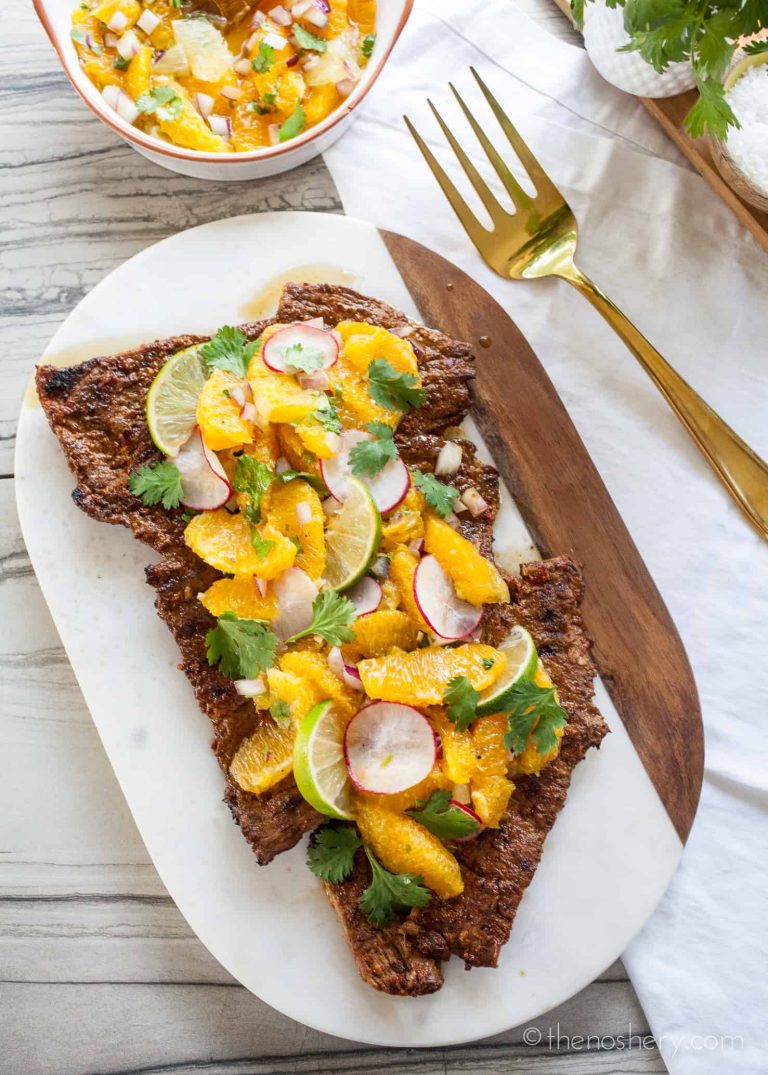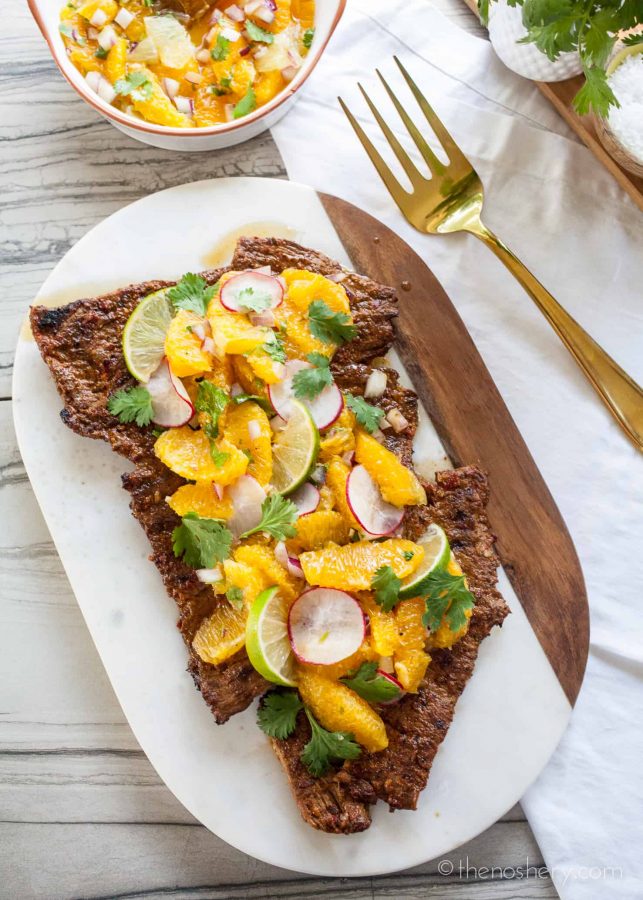 Trimming Skirt Steak
Without a doubt, skirt steak is my favorite steak to grill. However, it is very important to trim the steak so it doesn't get tough when grilled. On the back side of skirt steak, you will find both a layer of fat and a thin membrane. You will want to trim most of the fat off but not too much because some fat will keep the steak juicy and flavorful. Also, take the time to remove the membrane. Most of it should come off easily with just pulling it off. Use a sharp boning knife to remove any remaining membrane. The reason you want to remove the membrane is that it seizes when the steak is cooked and will cause the steak to become tough or chewy.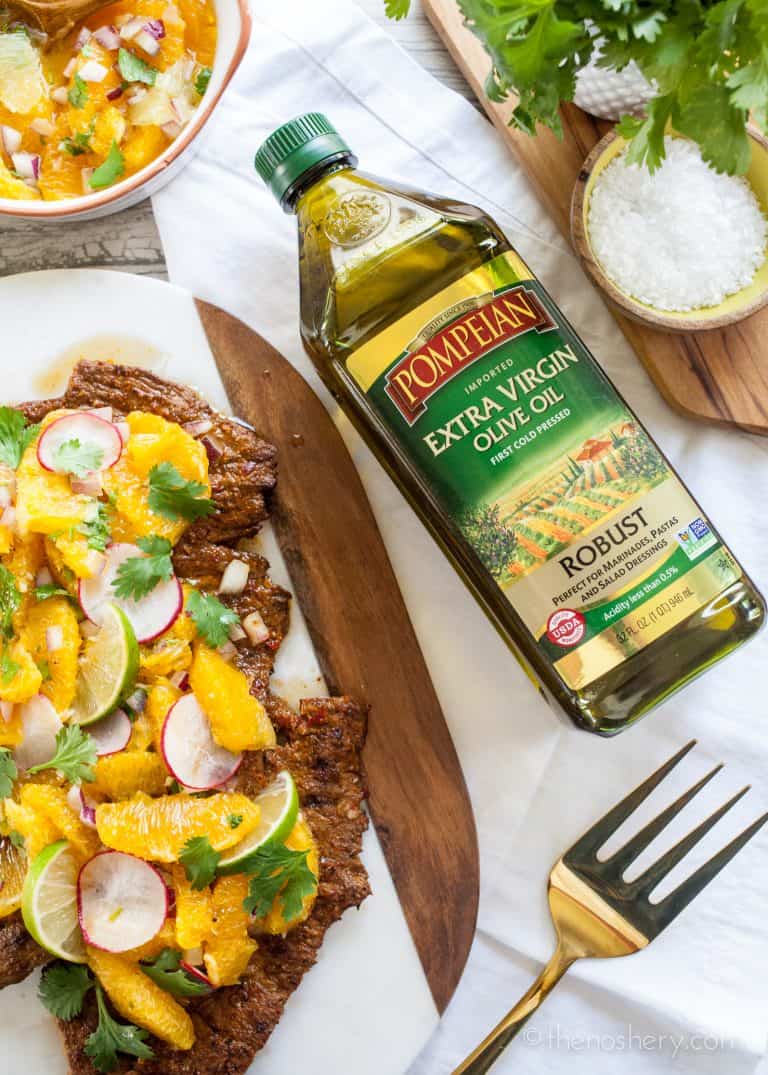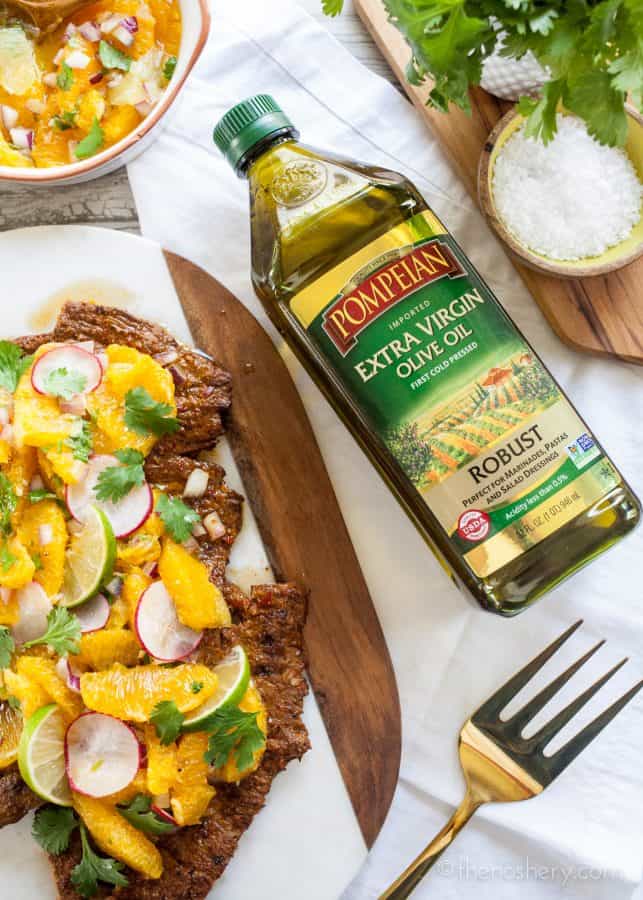 To compliment the rich smoky flavors of the carne asada I decided to pair it with a bright and tangy orange salsa. Pompeian Robust Extra Virgin Olive oil is great with this salsa because it's low acidity doesn't clash with the orange and its spicy and bitter character compliments it perfectly.  You can depend on Pompeian's high-quality olive oils as a great-tasting base while exploring new flavors and ingredients.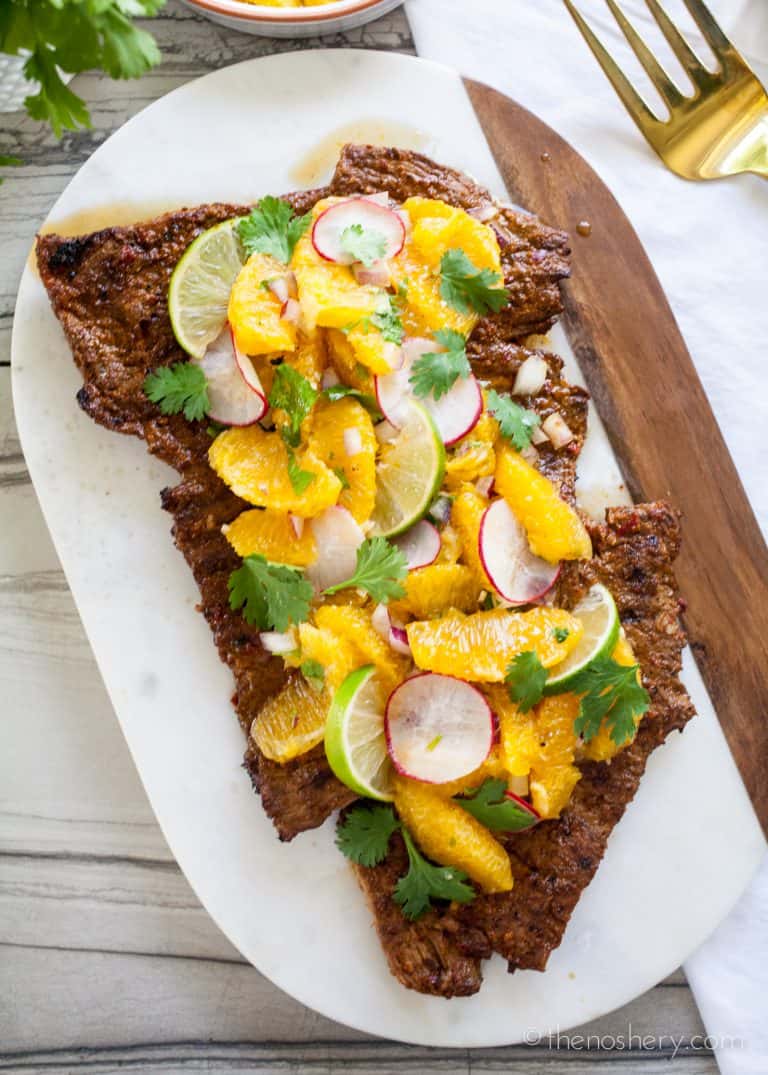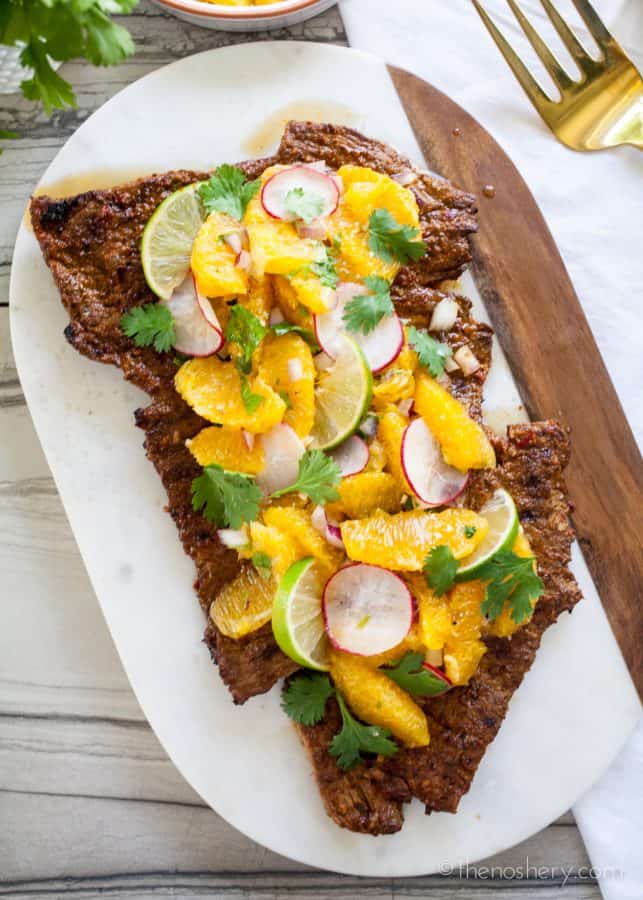 This carne asada and orange salsa is great in warm chard tortillas or served over these sweet potato latkes. Trust me on the sweet potato latkes! The rich roasted chili flavors of the carne asada and the citrus from the salsa are great with sweet potato latkes.
Pompeian and I know that mealtime is not just about fueling up, it's about having fun in the kitchen and experimenting with the latest food trends. It's summer and what is more on trend than grilling? For tips on how to trend in the kitchen, including recipes, visit Instagram.com/Pompeian. To share your latest on-trend creations using Pompeian, tag your photos with #TrendingintheKitchen.
more grilling recipes
Yield: 6 - 8
Carne Asada with Orange Salsa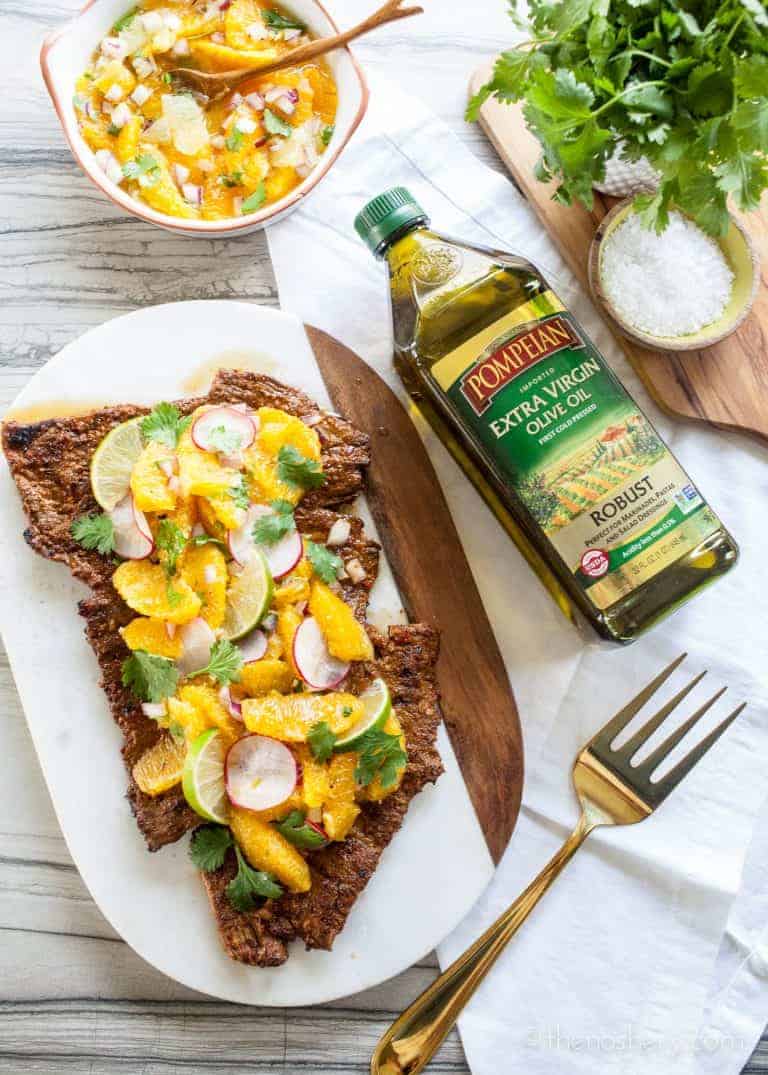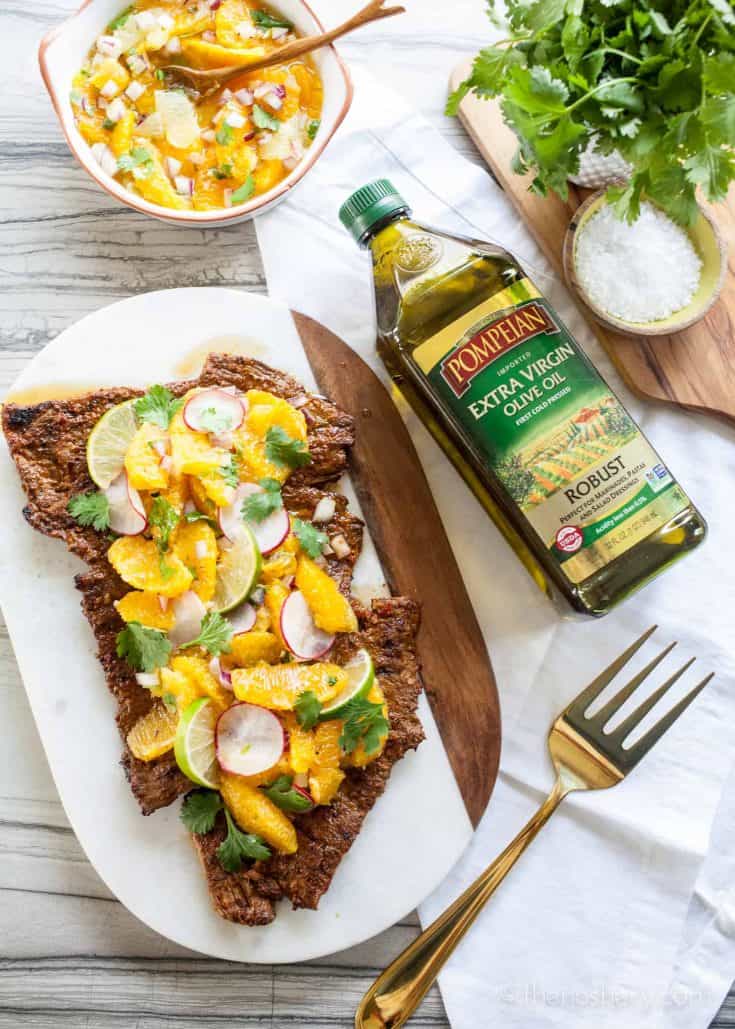 Fire up the grill and time for some carne asada. The skirt steaks marinate in a mixture of chili peppers, aromatics, and olive oil.
Prep Time
1 hour
55 minutes
Total Time
2 hours
5 minutes
Ingredients
2 lbs skirt steak
2 dry guajillo peppers, stems and seeds removed
juice of 1 orange
juice of 1 lime
1 tablespoon soy sauce
1 tablespoon cumin
2 teaspoons chipotle crushed red pepper
4 cloves garlic, minced
1 teaspoon kosher salt
1/2 medium white onion
Instructions
Trim the excess fat from the skirt steak and remove the membrane. Place steaks in a resealable plastic bag set aside.
Place guajillo peppers in the microwave for 10 seconds. In a blender combine peppers and remaining ingredients. Blend until smooth.
Pour the marinade over the steaks. Seal the bag and toss the steaks until evenly coated with marinade. Open the bag and reseal being careful not to let leave in any air. Refrigerate for at least 1 hour or overnight.
When ready to grill, heat the grill to high heat, close grill and preheat for 10 minutes. Scrub and oil the grilling grate.
Remove steaks from marinade and shake off excess. Place the steaks directly over the hot side of the grill. If using a gas grill, cover; if using a charcoal grill, leave exposed. Gill for 3 minutes each side or until the center registers 110°F on an instant-read thermometer, 6 to 8 minutes total. Transfer to a cutting board and allow to rest for 5 minutes. Slice thinly against the grain and serve immediately, serve topped with orange salsa. Garnish with lime wedges, sliced radish, and cilantro.