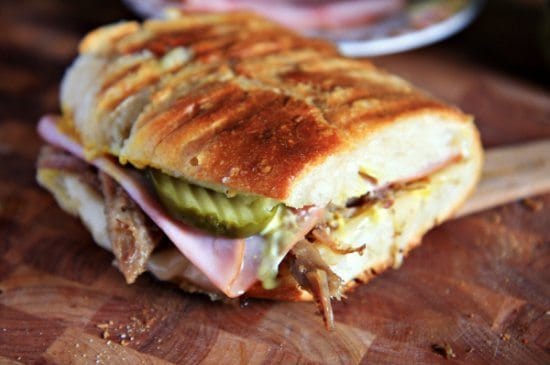 I hope and trust everyone had a wonderful Thanksgiving weekend and is slowly recovering from any turkey overdoses.   Obed and I headed east to Arkansas to spend our Thanksgiving weekend with old friends, we were very grateful for the invitation.  However since Thanksgiving was in another state for us, we have no turkey leftovers.  But I did have some leftovers of my Slow-Cooked Puerto Rican Pork (Pernil)  from an office pot luck on Tuesday.  In the spirit of Thanksgiving leftovers I figured I would show you how to assemble a traditional Cuban sandwich.
Cuban sandwiches are one of my favorite sandwiches.  When I was in high school back home in Puerto Rico I would go to this bakery called "Facciola" that served the best Cuban sandwich I have had to date.  I have seen different variations and twists on the Cuban sandwich but this is how you make a traditional Cuban sandwich.
Supplies needed, crispy crust bread, ham, pernil, Swiss, mayo, mustard and pickles.  A Cuban is not really a Cuban without these essential items.
If you have any sort of aversion to mayo I recommend you look away. First slice your crispy bread and lay on the mayo….don't be shy.
Then spread on some yellow mustard.
Every true Cuban sandwich I have ever had has Swiss cheese, not cheddar…not American…but Swiss cheese.
 The most important and delicious, some out of focus/blurry left over pernil.
Top it off with a few slices of deli cut ham and;
 don't forget the pickles, I use sweet butter pickles.  It's really not a Cuban if it doesn't have pickles.  Obed always leaves out the pickles, so I call him a traitor. 😀
Once you have all your goodies stuffed between two crispy slices of bread, lay it on a hot sandwich press brushed with melted butter.  Brush the top of the sandwich with butter also.
 Aaaaand press for 1 -2 minutes, then turn the sandwich and press again.  This way you get an evenly flat sandwich.
Aaaaah delicious beauty is before you!  Not to mention my favorite sandwich of all time.
This is a great way to make use of your pernil leftovers and if you happen to be one of those that decided to smoke your turkey this Thanksgiving, I think that would make a pretty good sub for the pork.  This sandwich produced quite a few odd moans and grunts from Obed so it was definitely a hit.
I did make the bread fresh using "Artisan Bread in 5 Mins a Day" Master Recipe: Boule shaped into a Batard, which is like a baguette rolled 3 inches in diameter.  Baked at 450 degrees for 30 minutes with a baking pan filled with 1 cup of water on the bottom rack to create steam, and make a perfect crust.
Cuban Sandwich
Crispy crust bread loaf

Swiss cheese

ham

yellow mustard

mayonnaise

sweet butter pickles
Heat sandwich press.
Slices bread to desired length, spread with mayonnaise and yellow mustard.    Stack Swiss cheese, pernil, ham and pickles, top with bread.
Brush sandwich press with melted butter, place sandwich on press and brush with butter.  Press for 1 – 2 minutes, until cheese begins to melt, then turn and press for another 1 -2 minutes.
Enjoy hot off the press. 😀