Spicy Malta BBQ Slow Cooker Pulled Pork Recipe | Pork is a big deal in this home. It could have something to do with being Puerto Rican. It's the choice of meat on our little island. Seriously, instead of a Christmas ham, we roast pork with the skin on until crispy.
We even have Christmas songs about a roasted pig. Needless to say, I love pork and I was craving some pulled pork but I wanted to use some more "down-homey" flavors. I thought I would start with my "Slow Cooker Pernil" and give it a BBQ pulled pork twist.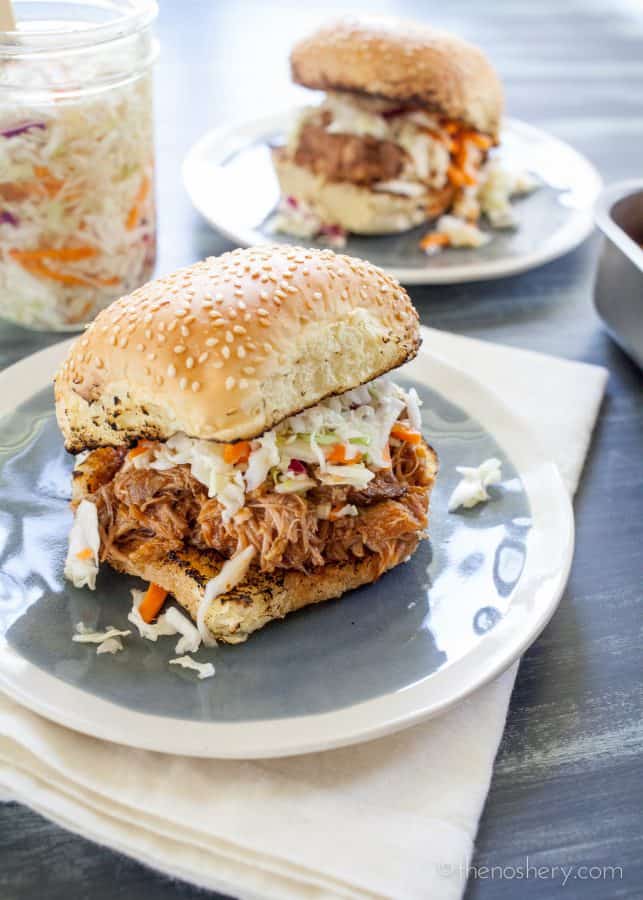 Spicy Malta BBQ Slow Cooker Pulled Pork Recipe
4 lb boneless pork shoulder
6 cloves of garlic, pressed
¼ tsp ground black pepper
1 tsp oregano
1½ Tbs olive oil
1½ Tbs white vinegar
4 tsp salt
1 7 oz can chipotle salsa
1 12 oz bottle malta
½ cup bitter orange marinade
1 6 oz can tomato paste
I took my slow cooker pernil and added chipotle salsa, malta, and tomato paste. The result was a barbecue sauce slow cooker pulled pork recipe that's knocks your socks off delicious! Let me make clear that I used chipotle salsa and not chipotle peppers.
Malta can be found at most Latin markets, Asian markets, or if you're lucky the international aisle of your local supermarket. If you can't find malta you can use Coca-Cola or root beer in its place. If you are really in a pinch you can make a simple syrup with brown sugar. They don't taste like malta but what you really need are the sugars, so either Coca-Cola, root beer, or a brown sugar simple syrup can be used as a substitution.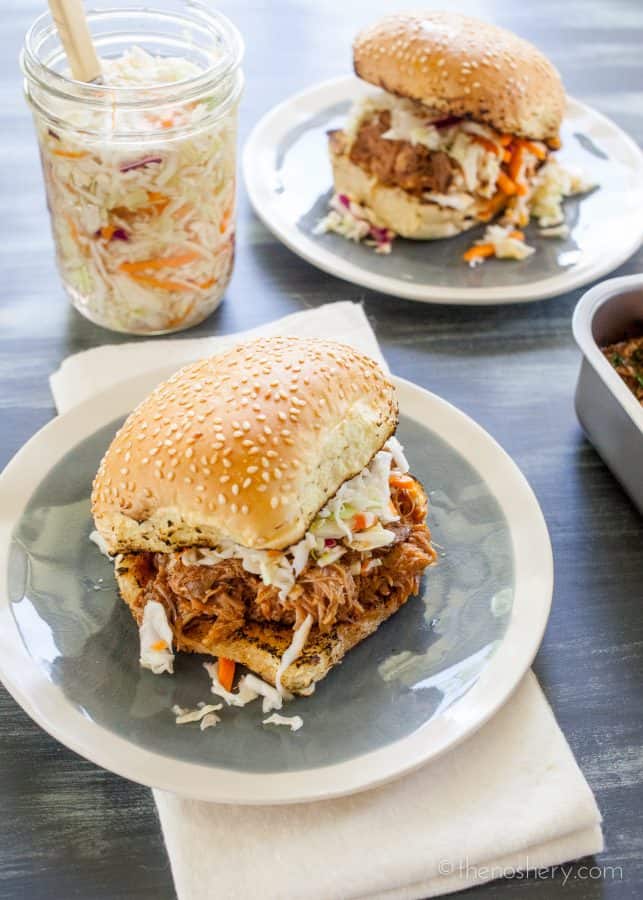 My preferred cut of pork for this recipe is a boneless pork shoulder. But, you can also use bone-in pork shoulder. You will need to allow more cooking time, approximately 10 on LOW or 6 on HIGH. Other cuts of pork that you can use are pork roasts or Boston butt.
What is Malta?
If you are thinking what is the world is malta, let me explain. Malta is one of my favorite carbonated drinks. It has a strong malty beer smell and flavor but it is a non-alcoholic beverage. Malta is like a beer that has not been fermented. It has both sweet and bitter notes and is best-served ice cold.
Malta is a beverage that is enjoyed throughout the Caribbean and South American. If you have never had it there is a 50/50% chance you may not enjoy it. I have introduced malta to many friends and it's always hit or miss. It's can be an acquired taste that you have to grow up enjoying. I LOVE it and could drink it all day long.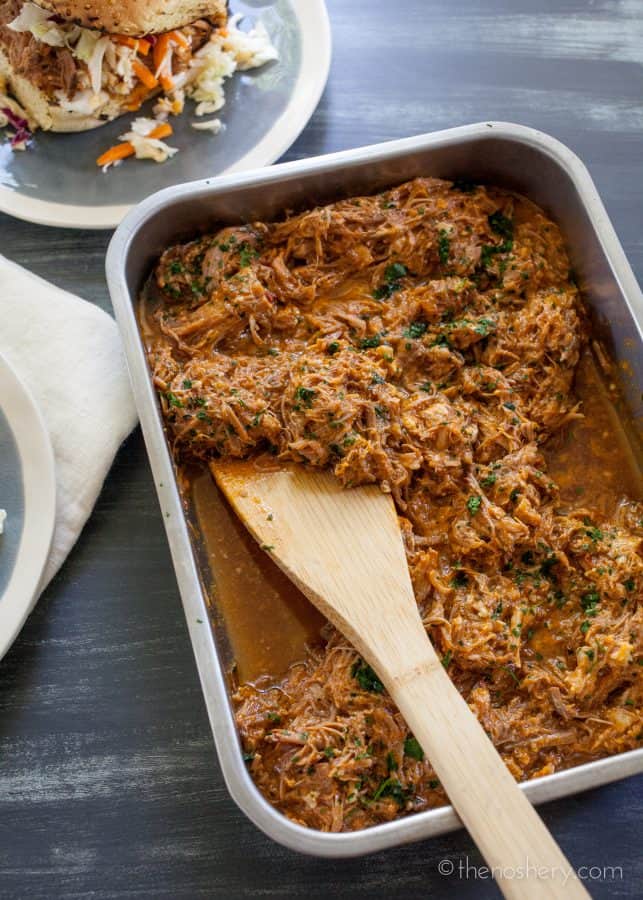 What I love about slow cooker recipes is that you can walk away, do some laundry, run a mile, or try to paint a replica of the Mona Lisa while it cooks. When you come back from doing whatever super productive thing you were doing (taking a nap), you will be greeted with tender, saucy porky goodness. What can be better than that!?
And if there is one slow cooker pulled pork recipe you want to be greeted with it's this one, especially if you are a fan of a killer pulled pork sandwich.
I freaking love this recipe! It so easy and so stinky tasty! It is best served on toasted hamburger buns topped with tangy coleslaw or with my refrigerator pickled salad.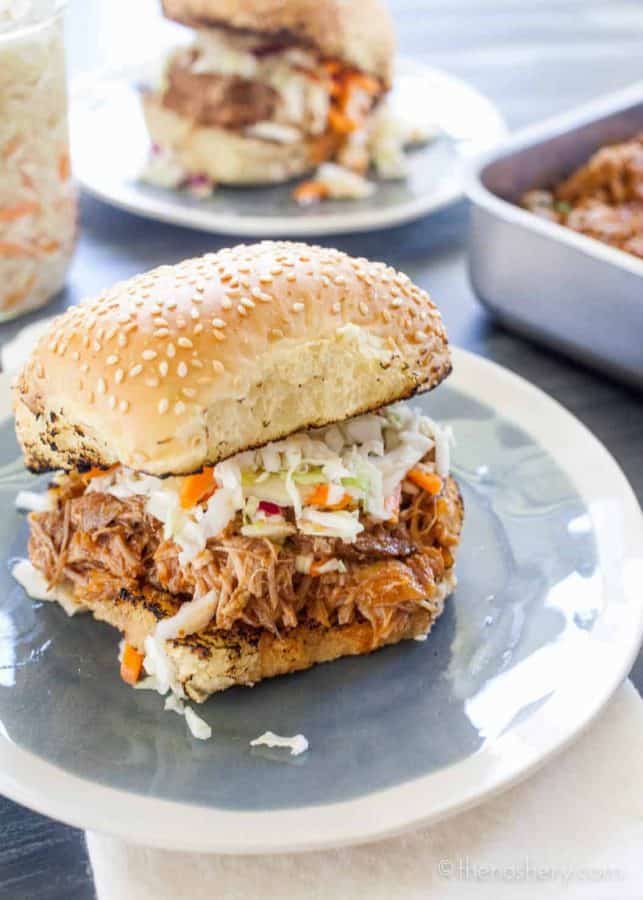 Tips for Spicy Malta BBQ Slow Cooker Pulled Pork Recipe
Allow the meat to marinate for a minimum of 4 hours, best if overnight.
If you cannot find boneless pork shoulder use bone in pork shoulder and allow more time to cook. Approximately 10 hours on LOW and 6 hours on HIGH. The pork is ready when it easily shreds. Another cut of pork you can use is pork roasts or pork butt.
If you cannot find malta you can use cola or root beer instead. You can also use 1/2 cup of brown sugar diluted in 1 cup of water.
Make sure to use the small 7-oz can of chipotle sauce. This is not the same as canned chipotle peppers and you cannot simply puree a can of chipotle peppers. You can substitute the sauce with 2 chipotle peppers.
The best part about this is the leftovers because you get to eat it AGAIN! Don't have buns you can enjoy the pulled pork wrapped in a toasted tortilla, on a salad, or with eggs! If you are looking for more fabulous pork recipes visit my pork recipe collection!
more slow cooker recipe love
Follow me on Instagram!
[juicer name="thenoshery"]
Yield: 8
Spicy Malta Pulled Pork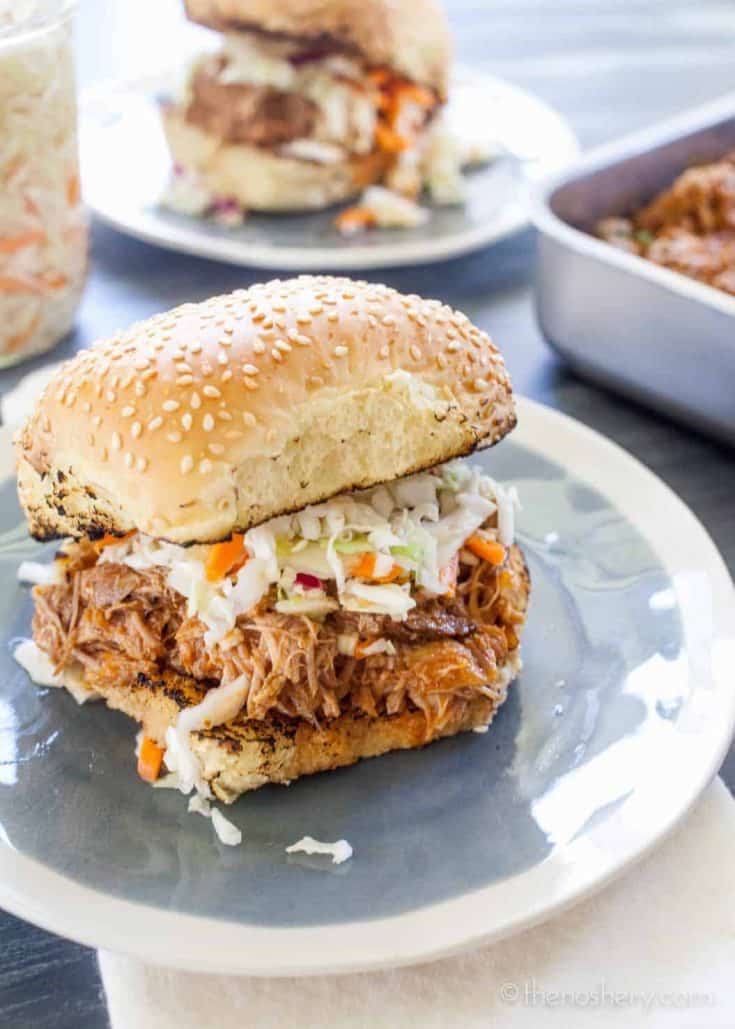 Tender pulled pork prepared in a slow cooker with a sweet and spicy chipotle and malta sauce. Enjoy this pulled pork on a bun with a tangy coleslaw or make a batch for the week ahead.
Inactive Time
19 hours
48 minutes
Total Time
20 hours
20 minutes
Ingredients
Pulled Pork
4 lb boneless pork shoulder
6 cloves of garlic, pressed
1/4 tsp ground black pepper
1 tsp oregano
1 1/2 Tbs olive oil
1 1/2 Tbs white vinegar or apple cider vinegar
4 tsp salt
1 6 oz can tomato paste
Cole Slaw
1 cup hot water
1 cup sugar
1 cup white vinegar
1 tablespoon kosher salt
3 cups coleslaw
Instructions
Combine garlic, pepper, oregano, olive oil, vinegar, and salt. Cut slits in pork, fill with garlic mixture, rub remaining mixture on pork refrigerate for 4 hours or overnight.
Set the slow cooker to sear and place the pork in the slow cooker and brown the pork on all sides. Add chipotle salsa, malta, bitter orange marinade & tomato paste, stir.
Cover and cook for 8 hours cooking on LOW or 4 hours cooking on HIGH.
In a container combine hot water, sugar, vinegar, and salt. Cover and shake until well combined. Toss coleslaw with pickling juice. Cover and set aside.
Shred meat using a fork or thongs, season with salt to taste, serve on buns with slaw.
13