Salsa Verde | I love to say salsa and coincidentally I also love to eat salsa. Salsa with chips, salsa over my eggs, salsa on my tacos, salsa with skirt steak and salsa in a cup with a straw. Ok, in a cup with a straw is a little much but, you know you've thought about it too or I'm just weird.
There are countless variations of salsa in the world. Seriously, google "salsa" and you will get everything from fruit salsa, traditional salsa, and my personal favorite salsa verde.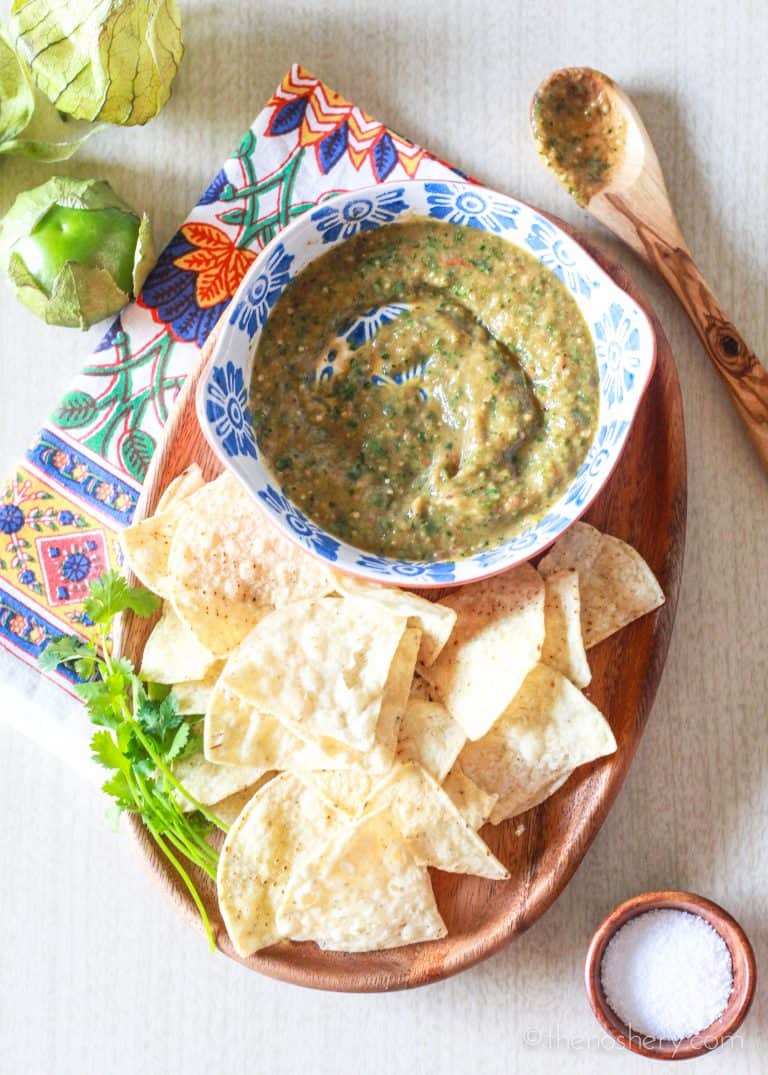 Now as much as I love salsa and do not like the feeling of fire in my mouth. I am a total wimp when it comes to hot peppers and I have no desire to end up in tears and snotting when I am trying to enjoy some chips and salsa. I totally don't get the appeal and those of you who enjoy the consumption of lava are weird. Just saying. I hope we can still be friends.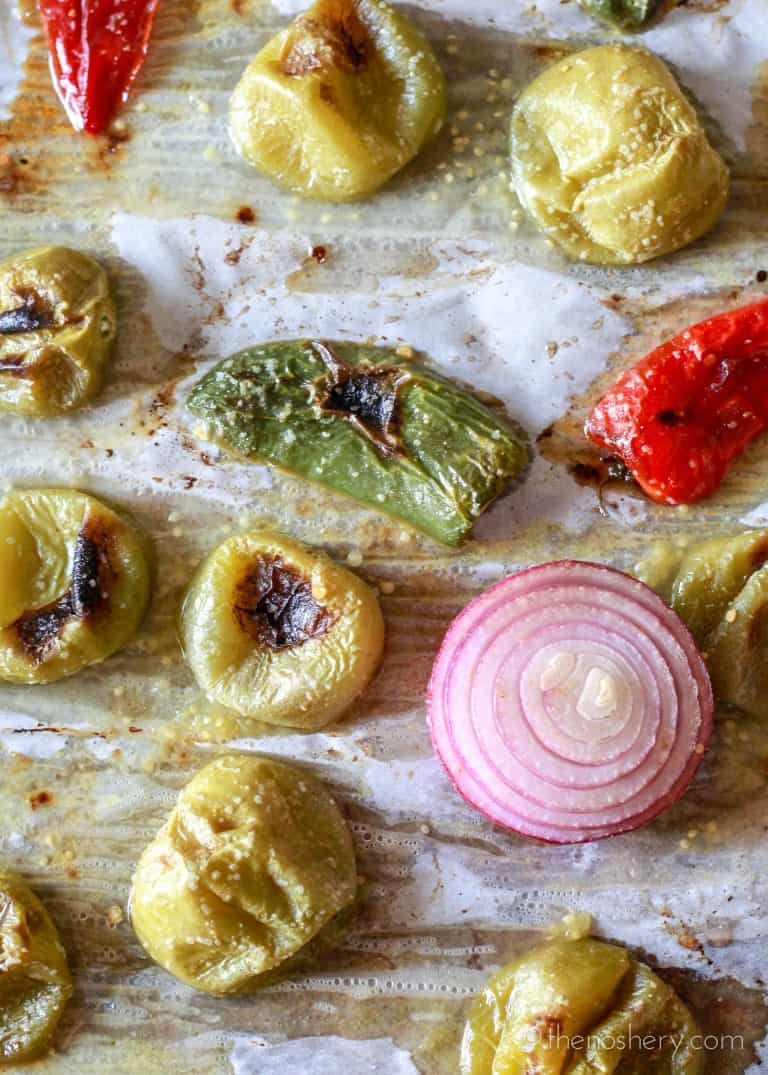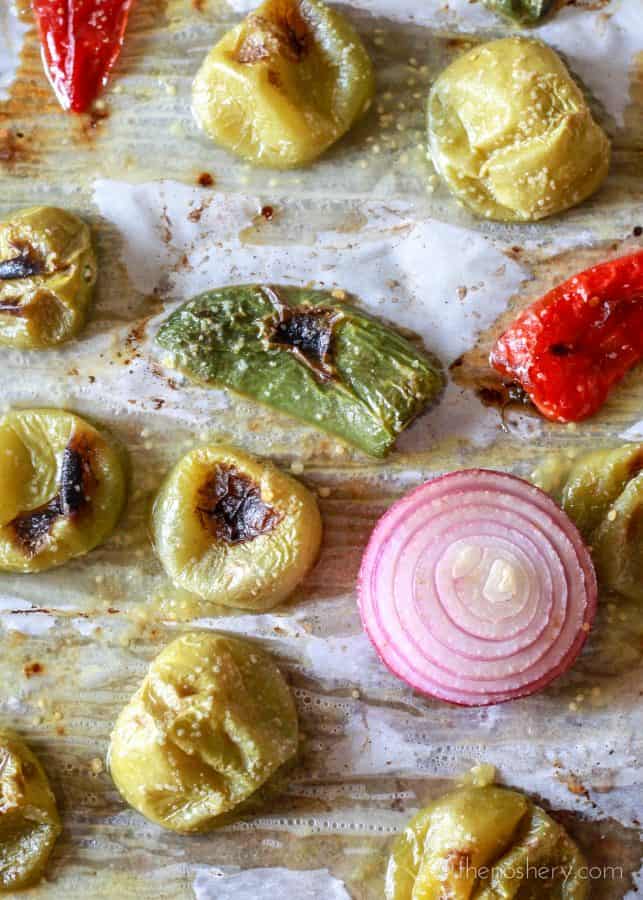 This is why I love this salsa verde recipe in particular. It has all kinds of flavor and just a touch of heat. Of course, if you're a lava eater you can pump up the hot peppers and make it as hot as you want. If you're brave, you can also forgo seeding the peppers. I chose to seed like I said, I am a wimp.
The salsa verde base is comprised of green tomatillos, which some people think are related to the tomato, but are actually related to the cape gooseberry. The tomatillo is a fruit that is wrapped in a husk and can be very sticky when removing the husks.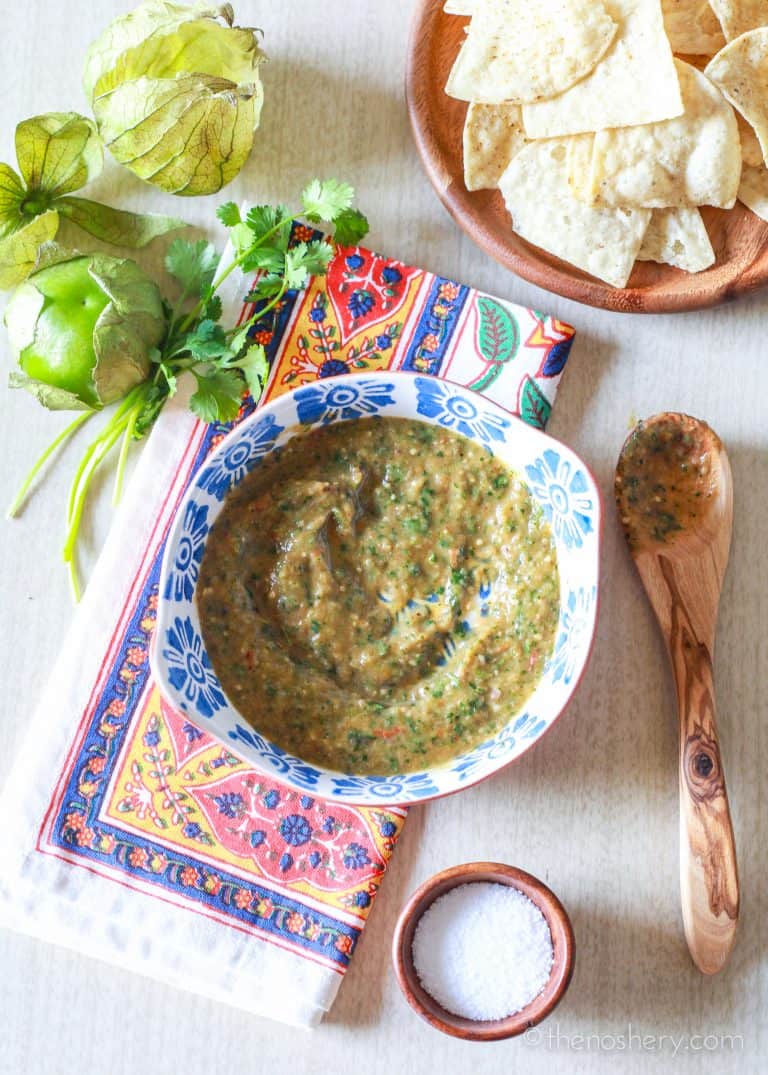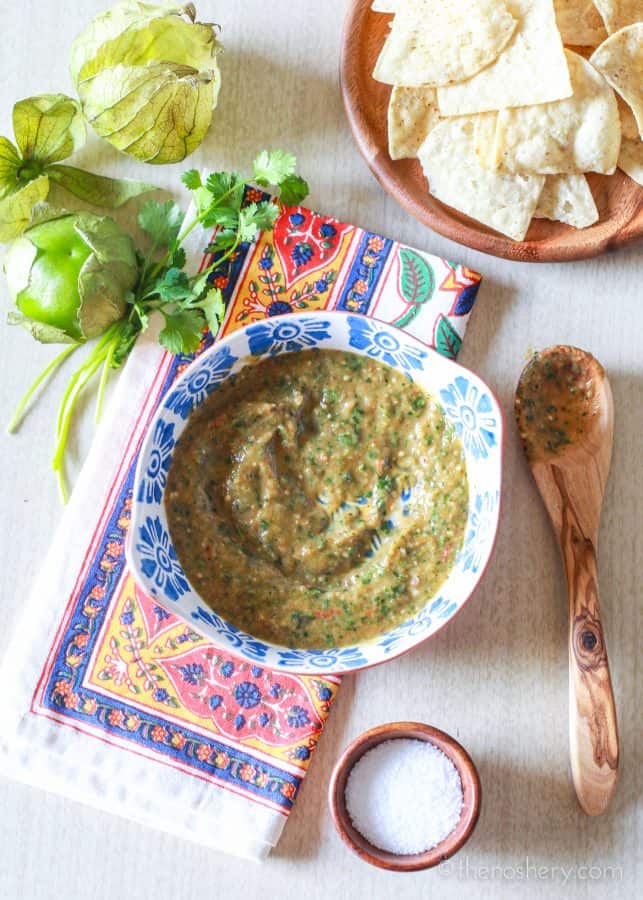 Tomatillos can be found in several colors when ripe, including yellow, red, green, or even purple. A good tomatillo should be firm, bright green and have a tart flavor which is key to the perfect salsa verde. Red and purple tomatillos have a slight sweetness making them more suited to make jams and preserves.
Roasted Tomatillo Salsa Verde
1 lb tomatillos
1 jalapeno pepper
1 fresno pepper
1/2 small red onion
2 cloves garlic
cilantro
1 lime
1 tablespoon olive oil
1 teaspoon cumin
salt to taste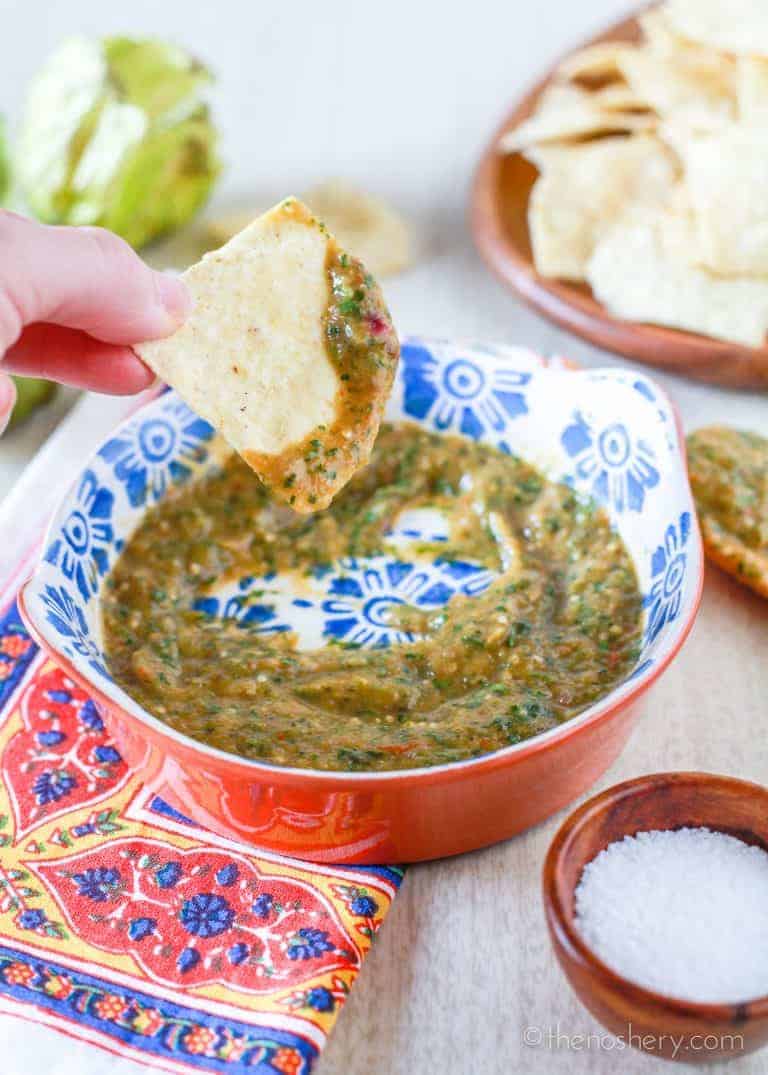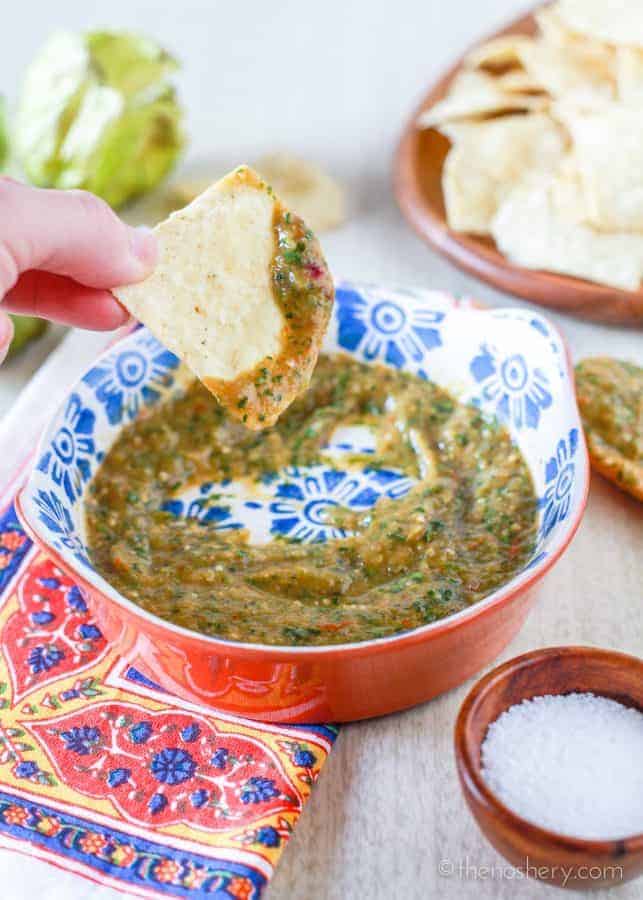 For the next taco Tuesday, barbecue or party ditch the pop-top jar of ho-hum red salsa and try serving a big bowl of roasted tomatillo salsa verde. It's easy to make and even better if made the day before because it allows time for the flavors to marry together.
Salsa Verde Tips
If you don't have a food processor you can also use a blender or immersion blender.
Rinse the tomatillos under warm water after removing the husk to clean off the sticky film.
Make sure to scrape all the drippings from the sheet pan.
If you can't find tomatillos you can use tomatoes.
Make a double batch so you don't have to share.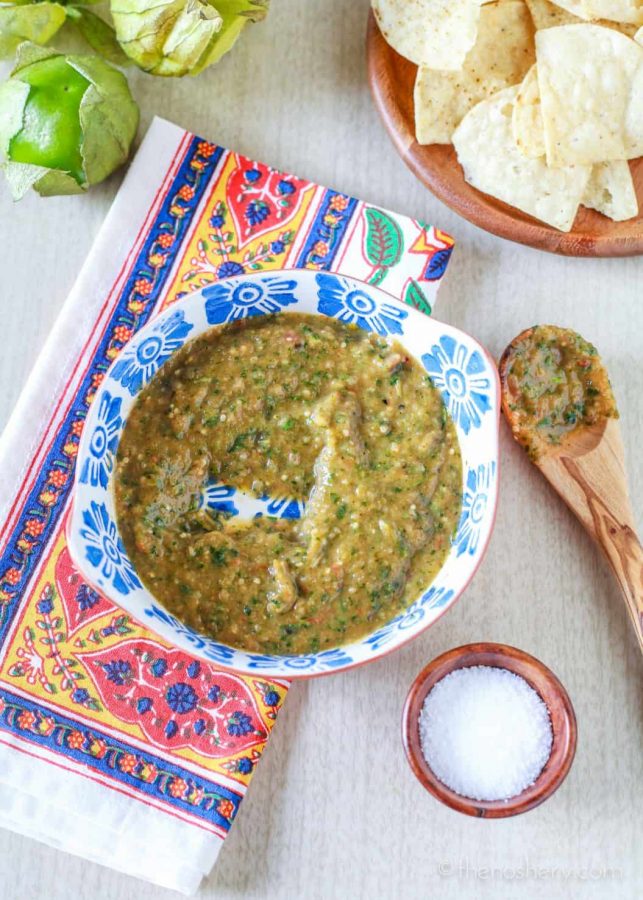 How do you take your salsa? Mild or with fire? Red, green or with a variety of fruit?
If you are looking for a full Mexican inspired meal try elote corn, queso fundito con chorizo, spicy chorizo burger, pollo asado salad, or spicy pineapple margaritas.
more mexican inspired love
Yield: 1 1/2 cup
Roasted Tomatillo Salsa Verde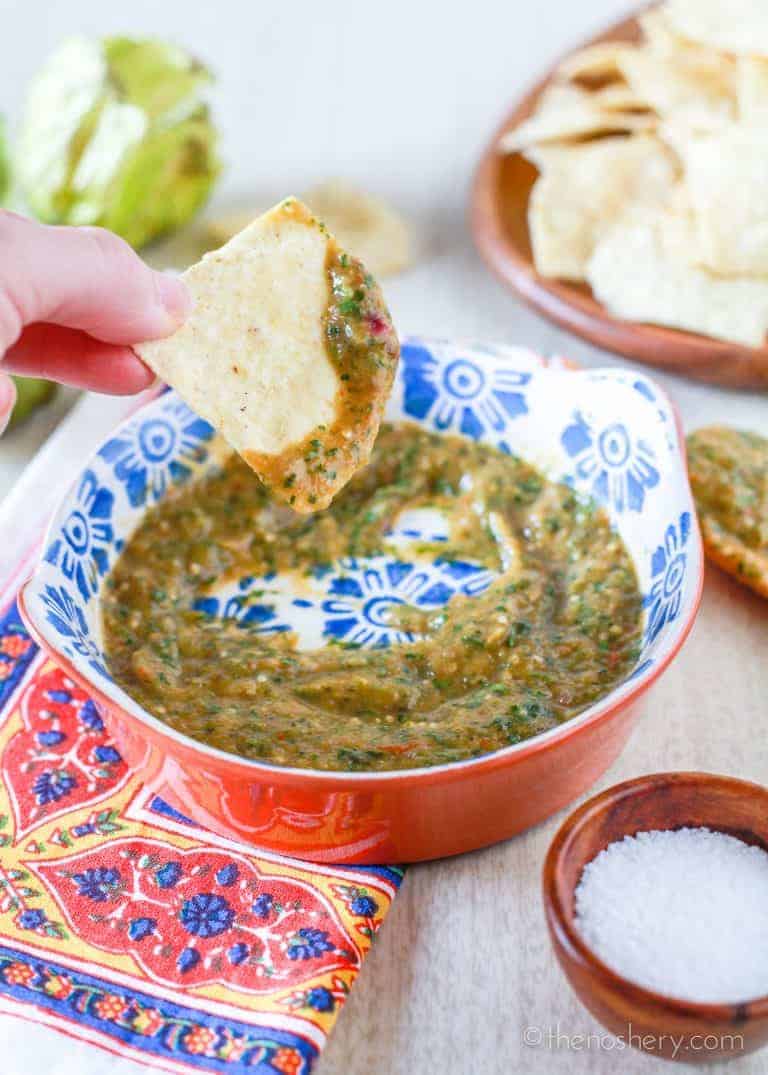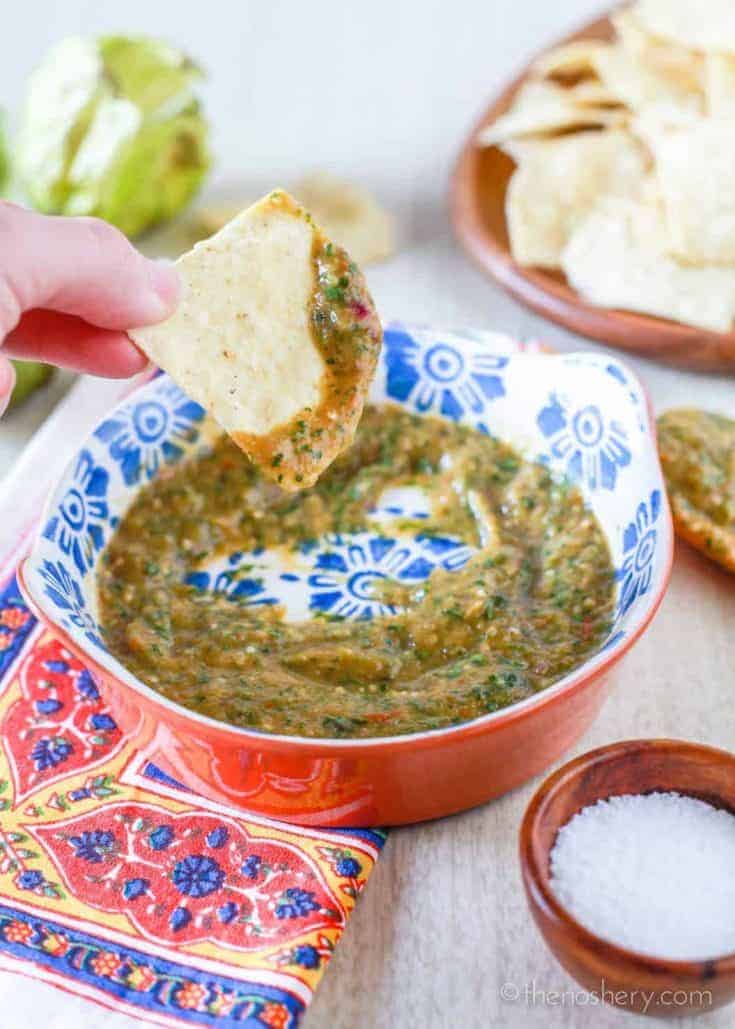 Roasted Tomatillo Salsa Verde | Roasted tomatillo salsa verde is fresh, tart, and simple to make. This recipe is full of cilantro, lime, and just a hint of heat. Eat it with everything!
Ingredients
1 lb tomatillos, halved and husked
1 jalapeno pepper, halved and seeded
1 fresno pepper, halved and seeded
1/2 small red onion
2 cloves garlic, minced
1 cup loosely packed cilantro leaves
juice from 1/2 a lime
1 tablespoon olive oil
1 teaspoon cumin
salt to taste
Instructions
Set oven to broil. Line a sheet pan with parchment paper.
Add tomatillos, peppers, and onion in a large bowl, drizzle with olive oil and season with kosher salt. Toss until evenly coated.
Spread the vegetables out cut side down on prepared sheet pan. Broil in oven until tender and blistered, about 10 - 15 minutes. Keep an eye on the vegetables, every oven broils differently.
Transfer roasted vegetables to a food processor, add remaining ingredients and process until smooth. Let salsa cool and serve with chips or on your favorite taco.