Walking Tacos with Chorizo and Tangy Slaw | I love chips! Sometimes I crave food more because of the texture than the flavor and crispy is one of my weaknesses. Give me a nice golden brown breading, a crisp pepper, or an almost burned edge and I'm a happy camper.
And at parties? If you want to find me, look for the chick who is hovering around the chip bowl. Why must chips be so delicious?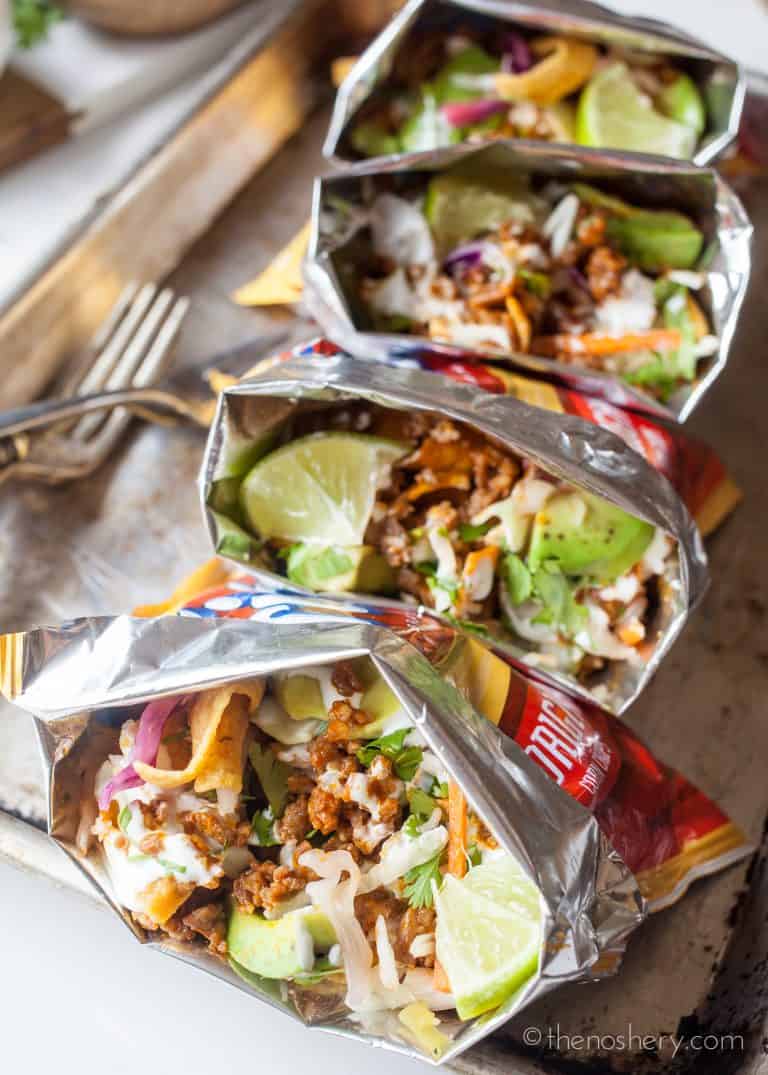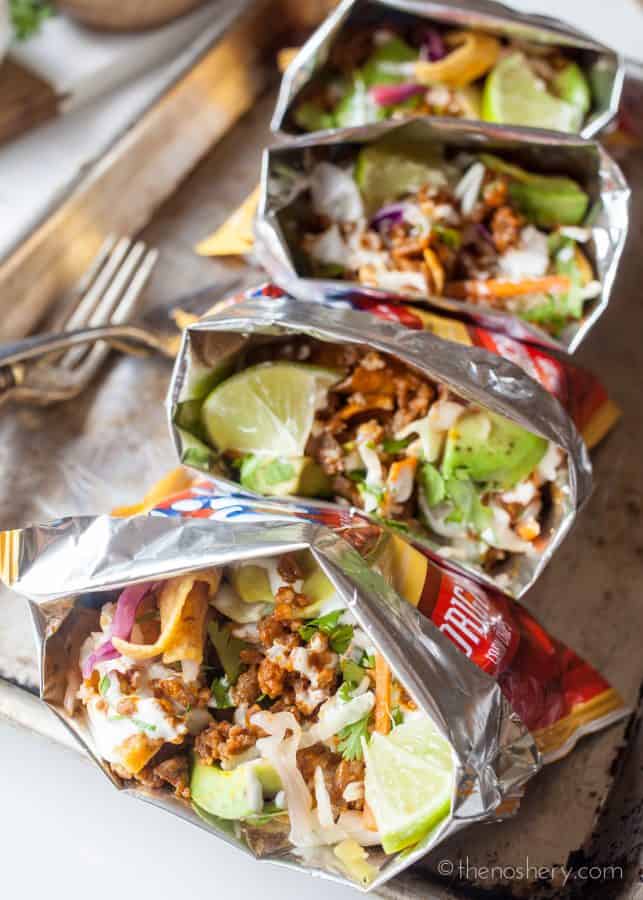 And then I went and got an idea to make my favorite corn chips even more irresistible. Have you ever had walking tacos? If not, allow me to introduce you. I don't know exactly why they call these walking tacos because I guess, technically, you can walk and eat almost any taco. But, when you put corn chips in a bag with delicious toppings, it's known as walking tacos.
What is a walking taco?
I don't know what genius came up with the great idea for walking tacos, but they're pretty brilliant. It's just a bag of Fritos or another favorite tortilla or corn chip with some kind of seasoned meat, cheese, and your favorite taco toppings.
They're portable, extremely versatile based on ingredients you like, and reduce the amount of mess you have to clean up. I'm always down for that!
So if you're actually walking around and need dinner on the go or you're away from home camping, picnicking, or spending the day at a festival or ballpark, these walking tacos are so tasty and convenient. Simply pack them up, open the bag, and prepare for a filling treat!
But even if you're only walking to your living room for a football game day, movie night, or board game battle, a portable taco is the ultimate party food!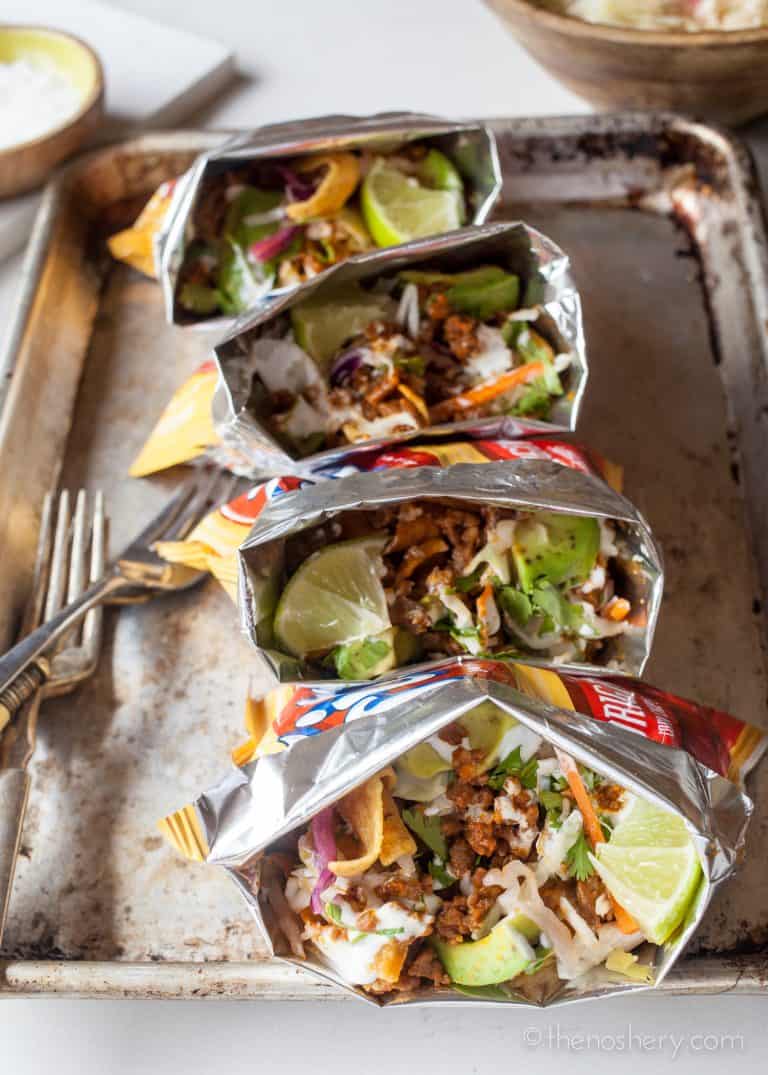 I wanted to make this easy walking taco recipe a little more interesting than your typical walking taco. What better way to make tacos than to swap out the typical cumin and chili spiced taco meat for chorizo? It makes for a delicious spin on breakfast burritos and pimento cheese burgers, so why not walking tacos?
And so I topped my chips with spicy chorizo, a light and crunchy slaw, some crema Mexicana, and a little avocado to cool things down. They are crunchy, spicy, and creamy. This easy walking taco recipe has all the flavor and wonderful texture a person could want and is perfect for feeding a crowd.
How to make walking tacos
Place a nonstick skillet over medium heat. Once it's nice and hot, cook the chorizo for 6-8 minutes. When it's completely cooked through, remove it from the heat and set it aside.
Now, prepare your coleslaw by mixing the lime juice, sugar, and cilantro with the coleslaw mix in a medium bowl.
Then you're already to assemble for serving! It's as easy as that. All you have to do is cut open the corn chip bags, rolling the edges down to create the perfect vessel for layering. On top of the corn chips, pile on the chorizo, coleslaw, and sliced avocado.
Drizzle some Mexican crema on top of all of it along with your desired toppings. Now you have a delicious, portable taco. It's a party in a bag!
Walking taco toppings
ground beef, ground turkey, or shredded chicken flavored with taco seasoning mix
chili, with or without beans
nacho cheese sauce
shredded lettuce
diced tomatoes
diced onion
salsa
jalapeños
sour cream
shredded cheese
pico de gallo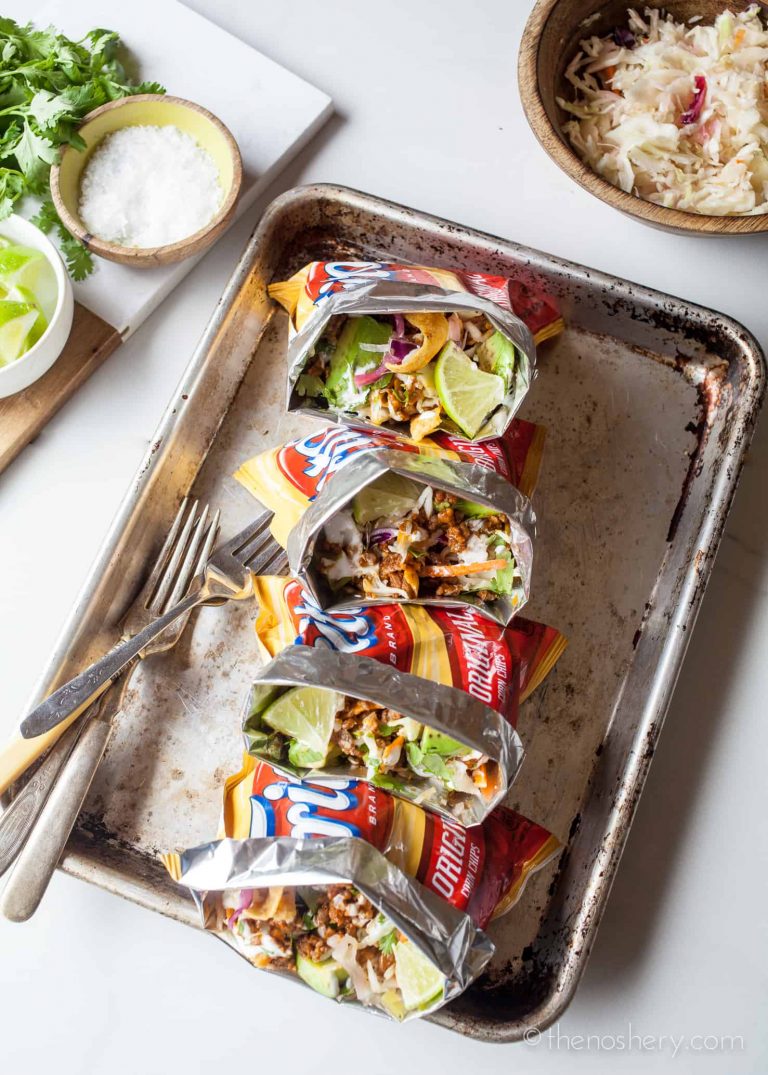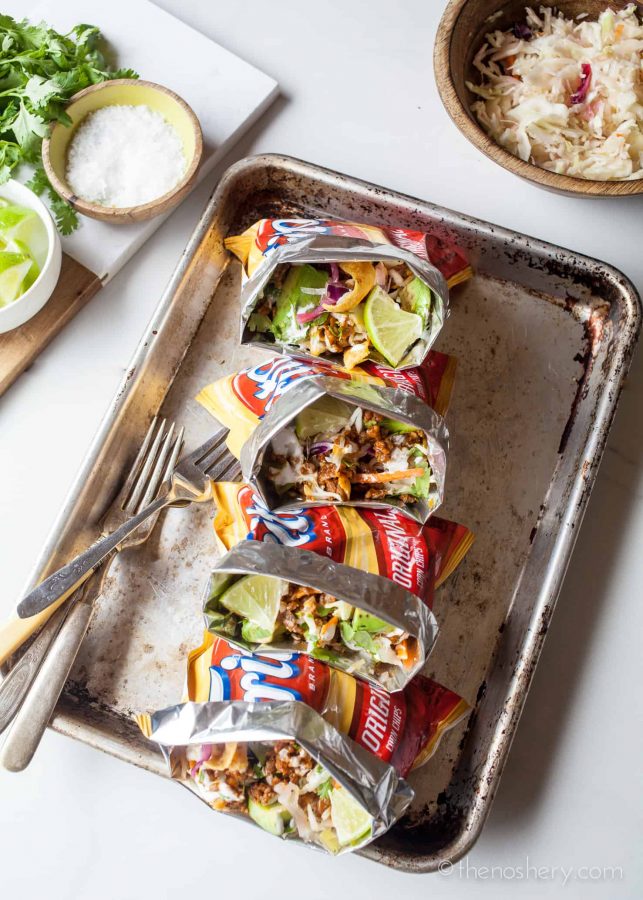 How to make a walking taco bar
A fun, different idea for a gathering is to set up a full station for friends to assemble their own walking tacos. You can provide bags of chips, already cut, rolled, and ready to create. Then guests can go bananas with a bar of different toppings in small bowls or mason jars.
Keep the proteins warm in a few crock pots and set out forks for those who might not be in to the full hands-on walking taco experience. Don't forget lots of napkins!
And you can definitely mix it up. For proteins, you can serve Texas Brisket, sliced pollo asado like the kind in this kale salad recipe, slow cooker carnitas, or this homemade turkey chorizo, which is super easy but will impress your guests on a whole different level.
To amp things up, you can also add some queso fundido con chorizo a la tequila to the lineup and some tasty elote (Mexican street corn). You can think outside the box and go beyond your average Frito pie ingredients!
What to serve with walking tacos
If you want to make it a full dinner fiesta, my favorite chicken enchiladas and Baked by Rachel's amazing slow cooker chicken tortilla soup would beef up the menu. A bowl of this Mexican chocolate ice cream from Simply Recipes would both cool things down and send guests home with a satisfied sweet tooth.
But definitely don't forget to wash it all down with a spicy pineapple margarita or two. Yeah, this walking taco party definitely needs to happen sooner than later!
Yield: 4
Chorizo Walking Tacos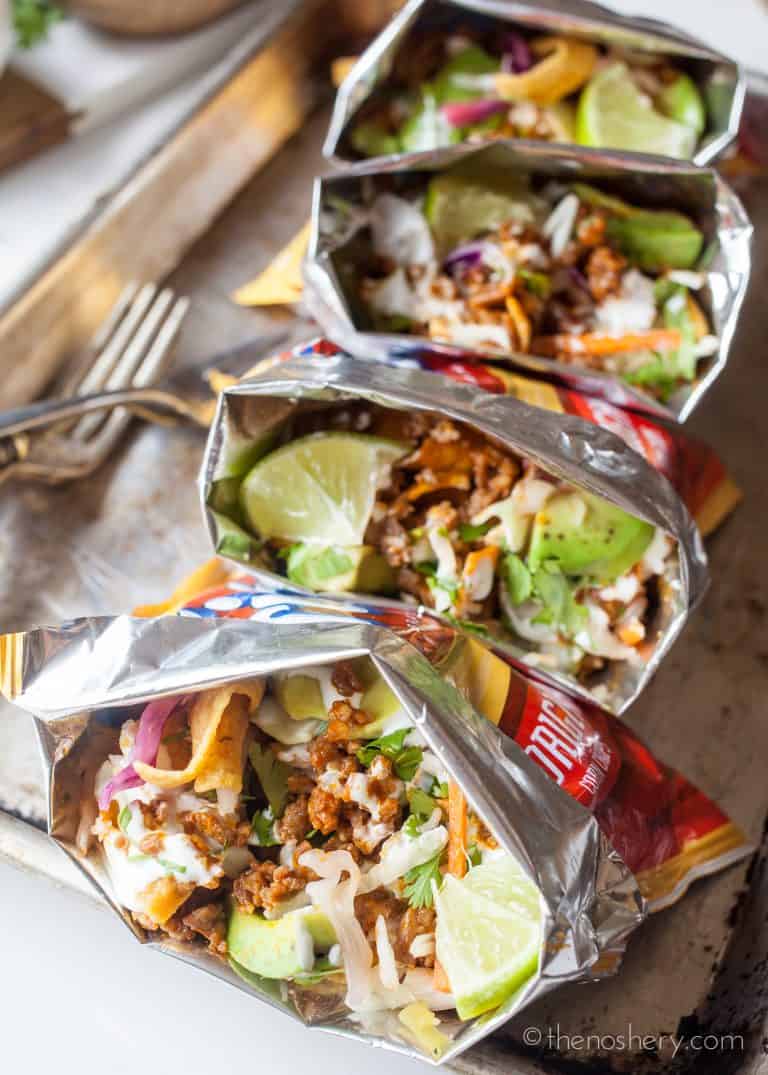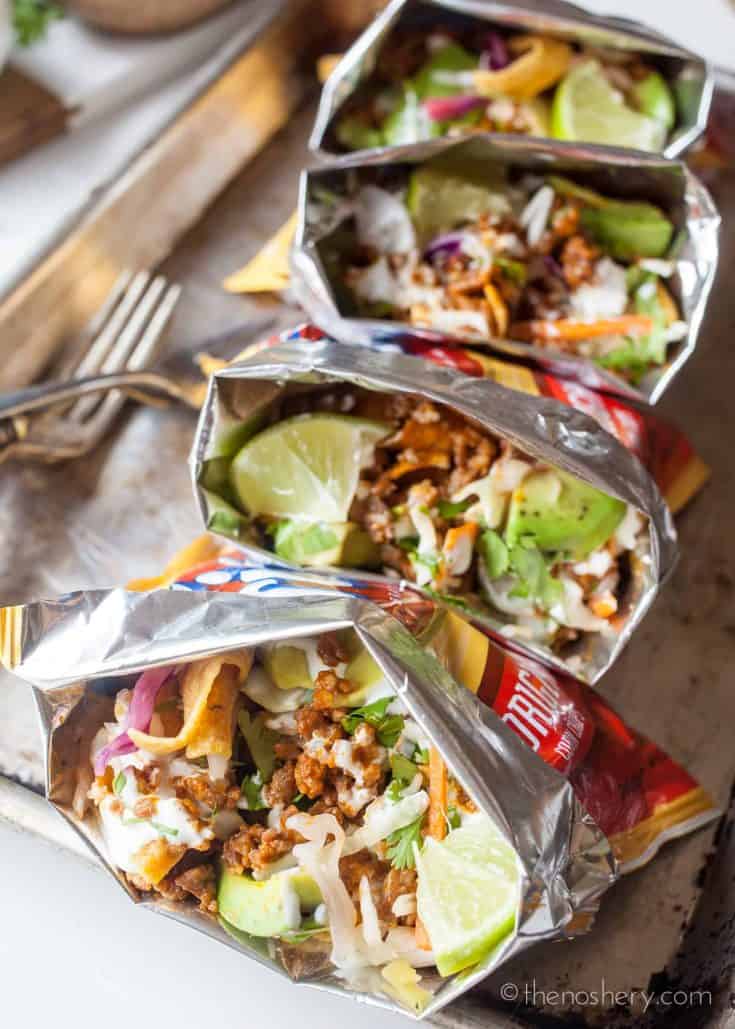 These walking tacos are great for an on-the-go dinner, quick lunch or an easy game night snack. The ingredients go right into the chip bags!
Ingredients
10 oz Mexican chorizo
2 cups coleslaw mix
1/4 cup cilantro
1 lime
1 tablespoon sugar
1 tablespoon olive oil
4 corn chip snack bags
1 small haas avocado, diced
garnish
cilantro
crema Mexicana
lime wedges
Instructions
In a non-stick skillet cook the chorizo for 6 - 8 minutes, or until cooked through. Transfer to a bowl set aside.
In a medium bowl combine coleslaw, juice from the lime, sugar, and cilantro.
Cut open the corn chip bags and roll back the edges. Top the corn chips with chorizo, coleslaw, and avocado. Drizzle with crema Mexicana, and garnish with chopped cilantro and a lime wedge.
Recommended Products
As an Amazon Associate and member of other affiliate programs, I earn from qualifying purchases.
Nutrition Information:
Yield:
4
Serving Size:
1
Amount Per Serving:
Calories:

740
Total Fat:

60g
Saturated Fat:

16g
Trans Fat:

0g
Carbohydrates:

25g
Fiber:

4g
Protein:

16g