Slow cooked five spice pork served in a savory broth with sweet potato noodles. It's not your classic ramen, but it's tasty!
You are probably thinking why I am making hot soup in August? Because I love soup! Sometimes you have to deal with the heat for the love of soup. One of my favorite soups is ramen. It's comforting, and it has that umami flavor that makes my heart go pitter-pat.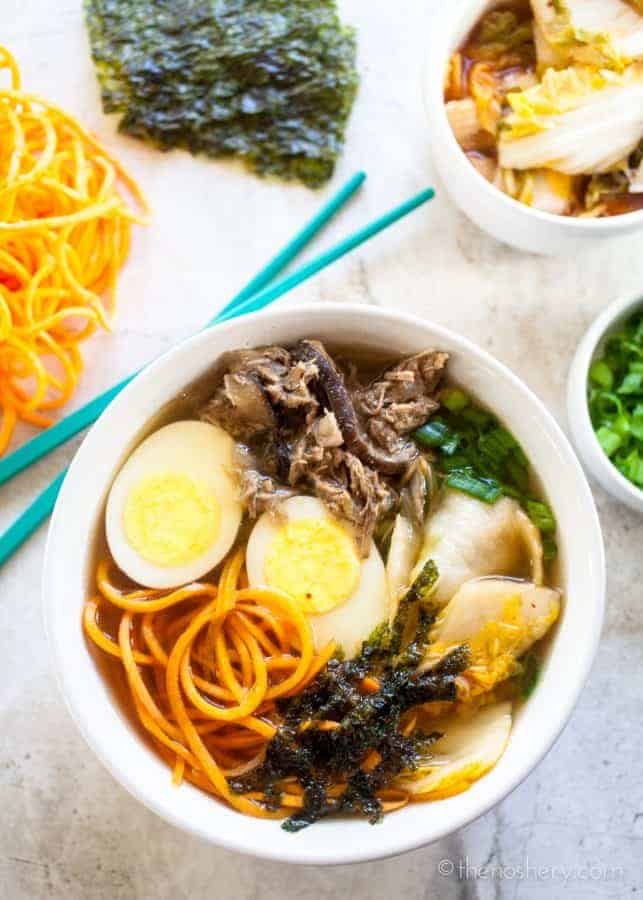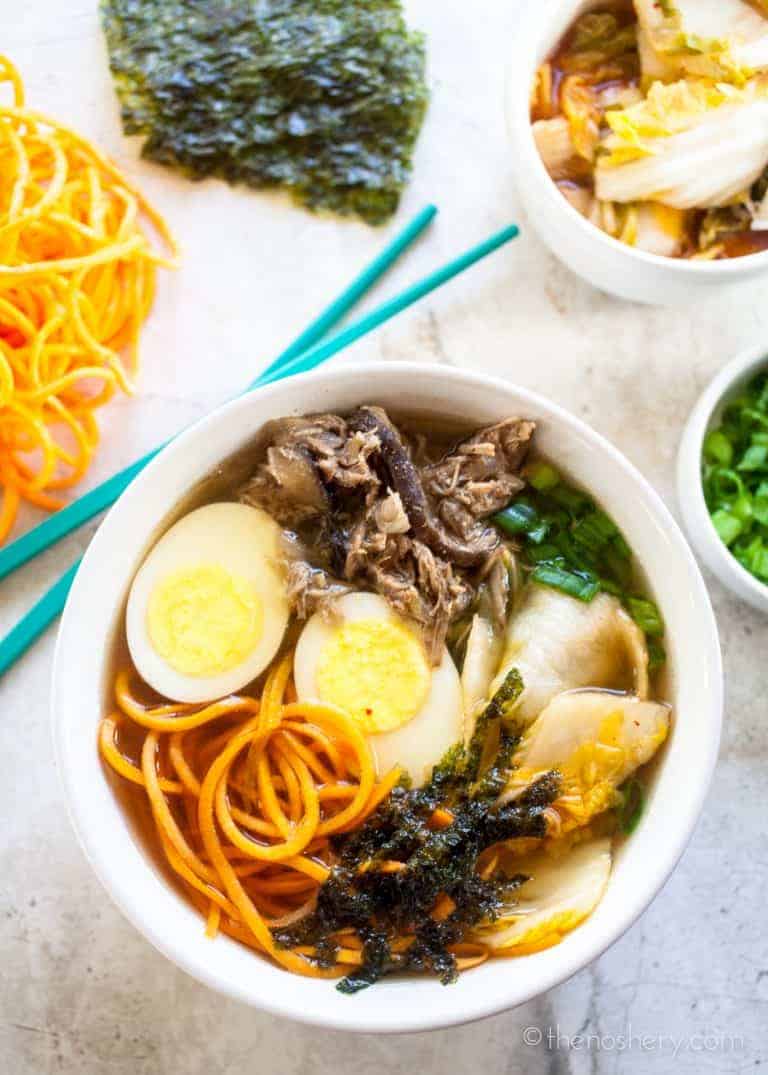 One of the best ramen experiences I ever had was while in New York City at Toto Ramen. This place was legit and probably one of the happiest places on earth because they have ramen and steamed pork buns.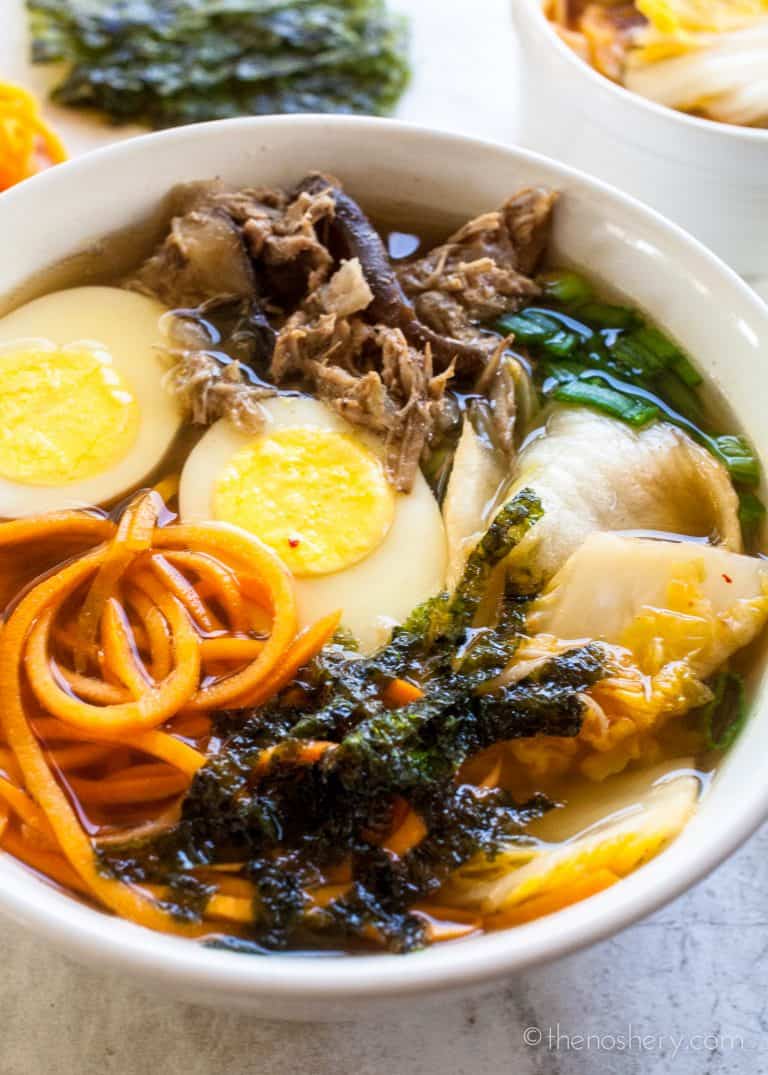 Inspired by my experience at Toto Ramen and wanting to create something equally as delicious but lighter I made pork "ramen". I put the ramen in quotes because ramen soup is all about the ramen noodles but for this recipe, I busted out my spiralizer and used sweet potato in place of the noodles. So, this isn't ramen it's "ramen".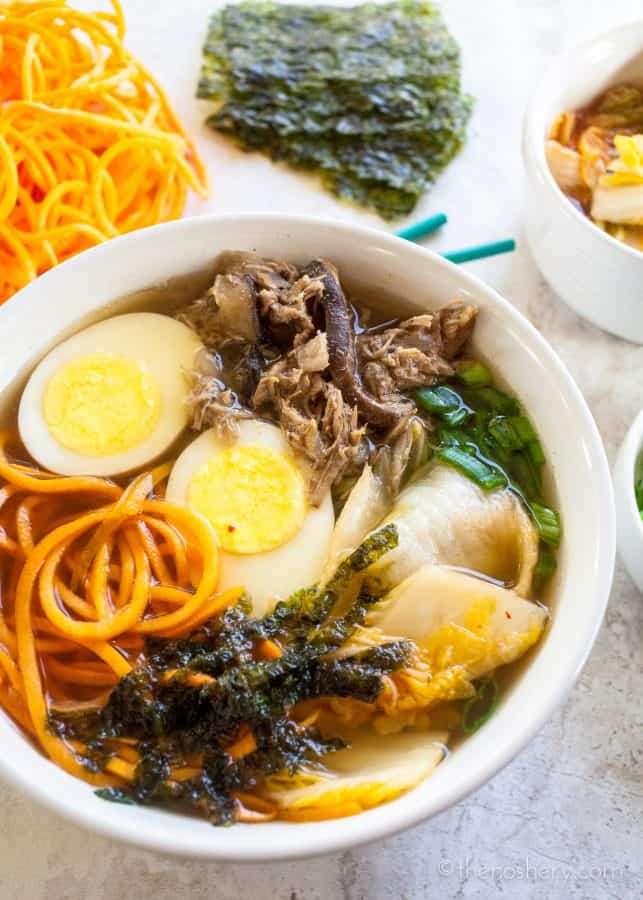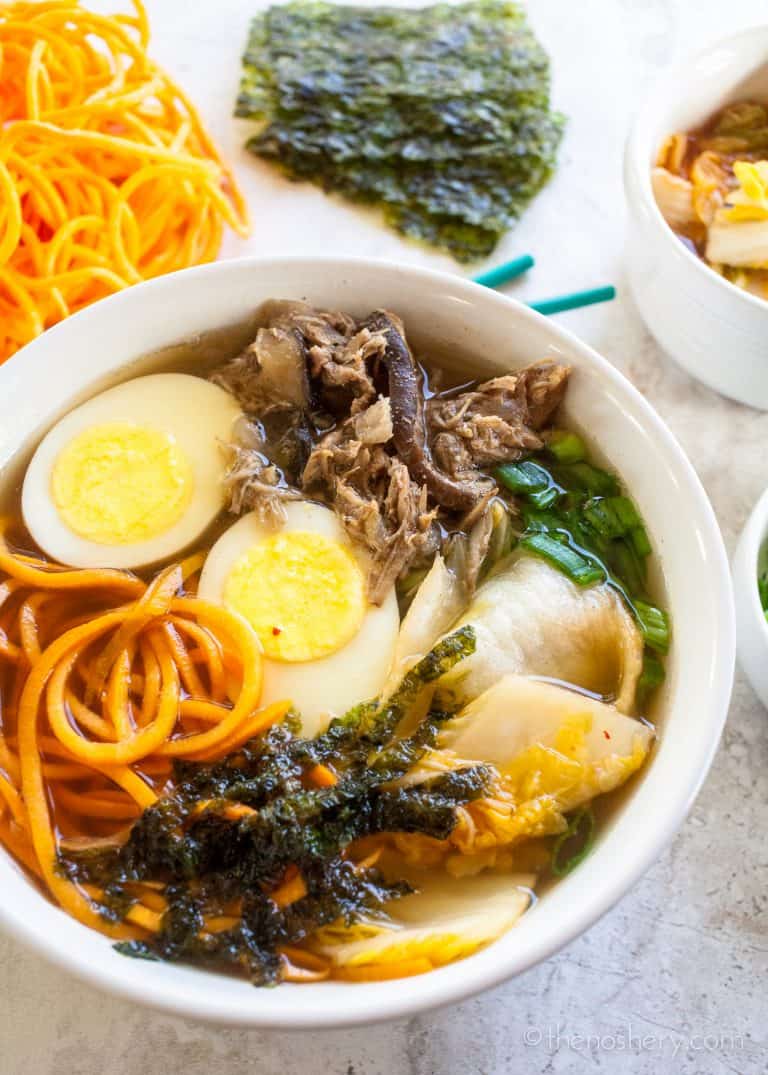 The pork is rubbed with Chinese five-spice and simmers in the slow cooker with stock, onion, garlic, ginger, and mushrooms resulting in a wonderfully flavorful stock. Also, I must mention the amazingly tender pork. The sweet potato noodles hold up in the stock and add just a hint of sweetness. If you want to to go the more traditional route just add real ramen noodles.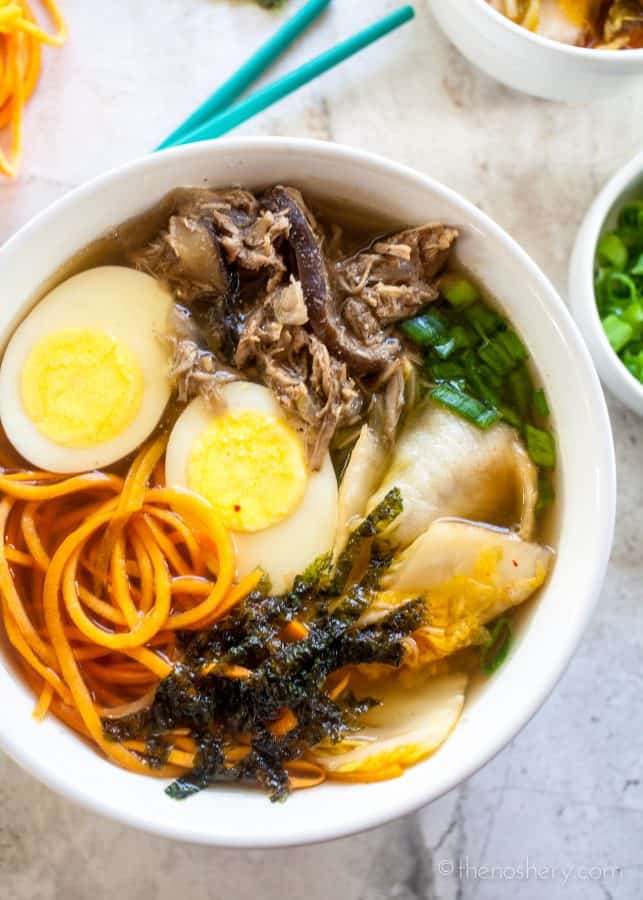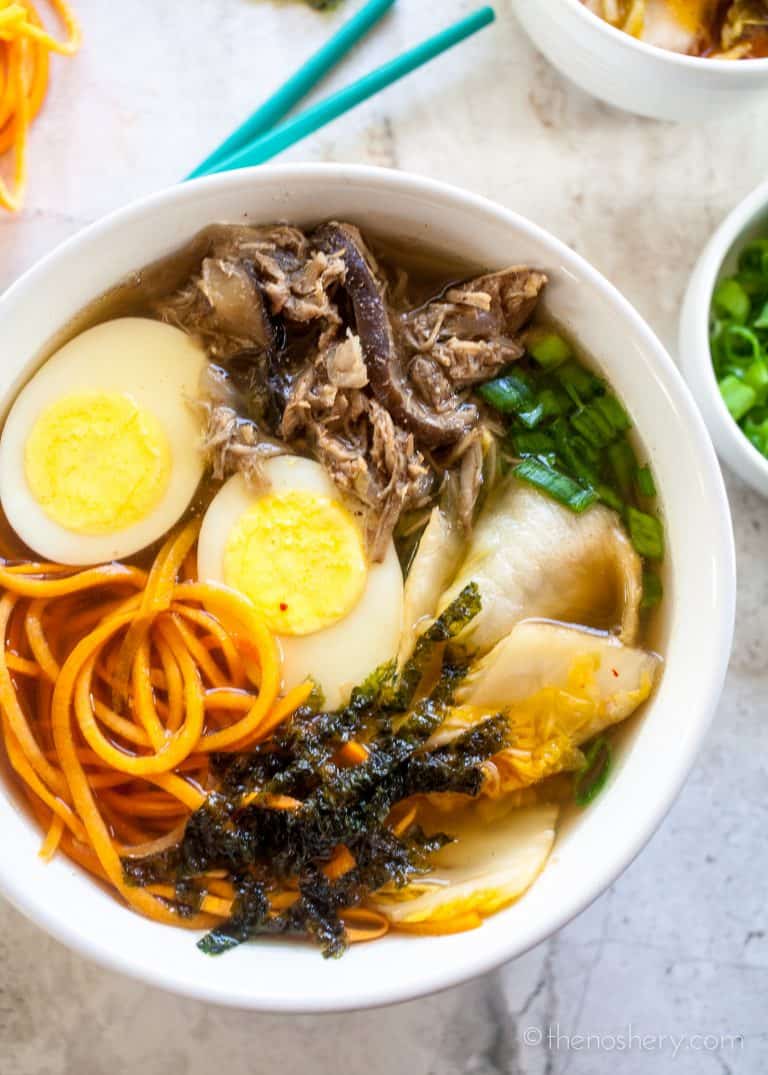 One of my favorite parts of ramen is the toppings. I topped my "ramen" with a hard-boiled egg, kimchi, scallions, and nori. I could eat this any day even if it's 100 degrees outside!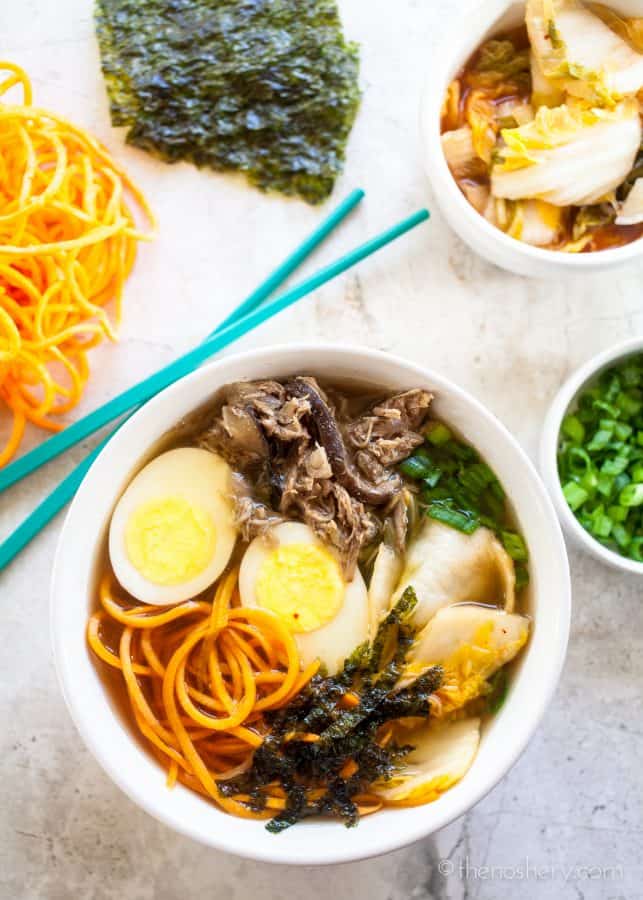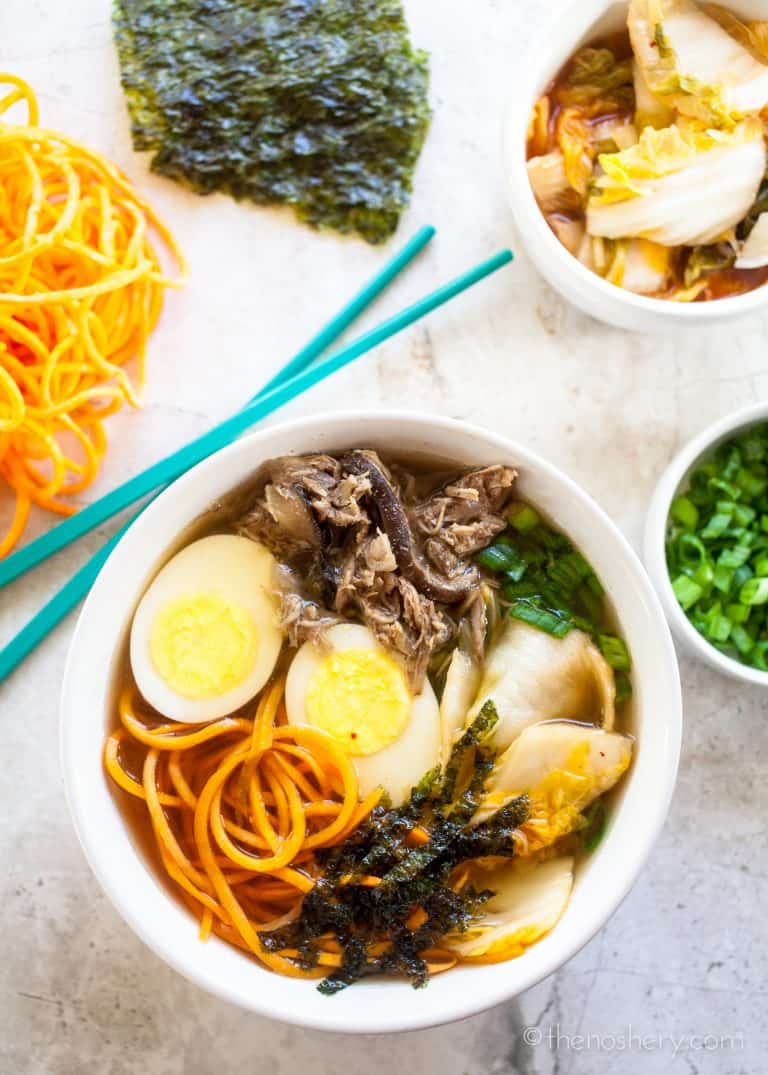 If you are craving something a little lighter try this chunky roasted tomato soup. But, of course, everyone loves a classic Sancocho (Puerto Rican Beef Stew).  If you want something hearty and loaded with aromatics and spices you need to try this Moroccan Lamb Stew with Harissa and Garbanzos.
If you are looking for more soup or stew recipes ideas see my collection of soups and stews.


Yield: 6
Slow Cooker Pork "Ramen"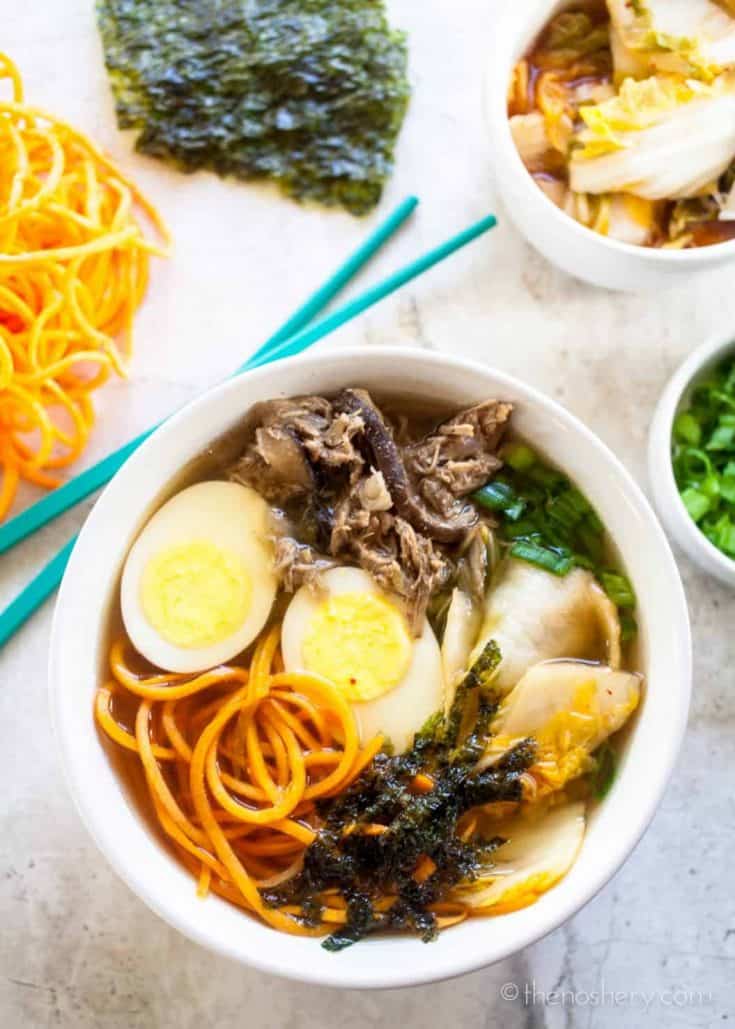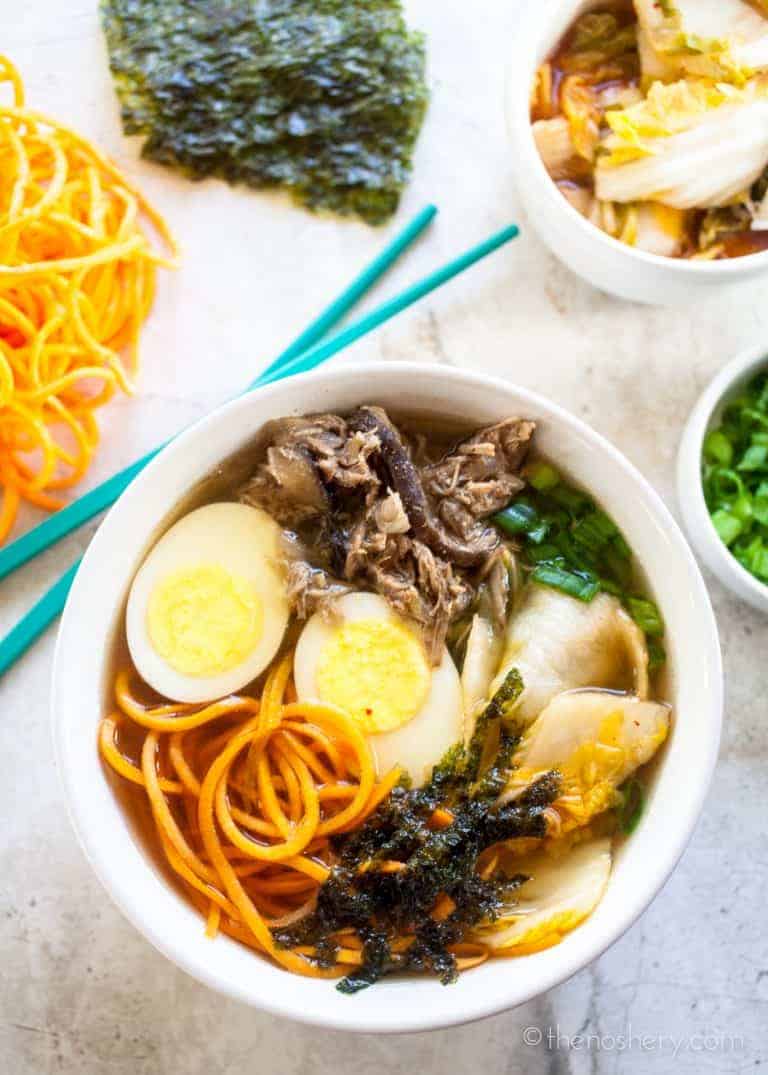 Prep Time 15 minutes

Cook Time 8 minutes

Inactive Time 13 hours 12 minutes

Total Time 13 hours 35 minutes
Ingredients
3 lb pork shoulder roast, deboned and cubed
2 tablespoons Chinese five spice
1 onion, julienne
1 tablespoon grated ginger
8 oz shitake mushrooms
6 cloves garlic, minced
8 cups chicken stock
1 tablespoon soy sauce
1 large sweet potato
[br]
garnish
[br]
scallions
kimchi
hard boiled egg
nori
Instructions
Season pork with Chinese five spice, toss until evenly coated.


In a slow cooker combine, pork, onion, ginger, mushrooms, garlic, stock, and soy sauce. Set slow cooker on LOW for 8 hours or HIGH for 4 hours.


Using a fine mesh colander strain the stock. Chill the stock in the refrigerator until the fat cap solidifies. Skim fat from the stock. Strain stock through a mesh strainer lined with cheesecloth to remove any remaining solids. Shred pork removing any large pieces of remaining fat. Put pork in an airtight container and refrigerate.


Peel sweet potato and spiralize on spaghetti size setting to make noodles.


Heat stock on the stove top to a simmer. Add sweet potato noodles to the stock and cook for 5 minutes. Using tongs divide the sweet potato noodles evenly among bowls. Add pork to the stock and cook until heated through. Ladle pork and stock over the noodles. Garnish bowls with hard boiled eggs, scallions, nori, and/or kimchi.
Nutrition Information:

Amount Per Serving: Calories: 630 Carbohydrates: 25g Protein: 56g



4