Slow Cooker Spicy Pork Ramen Recipe | five-spice pork served in a savory broth with sweet potato noodles. It's not your classic ramen, but it's tasty!
You are probably wondering why I am making hot soup in August. Because I love soup! It's that simple. Sometimes you have to deal with the heat for the love of soup.
One of my favorite soups is ramen—and I'm not talking about that instant stuff. Don't even get me started. This is not the stuff of college dorm rooms and processed flavor packets.
A good bowl of ramen is comforting, and it has that aromatic umami flavor that makes my heart go pitter-pat.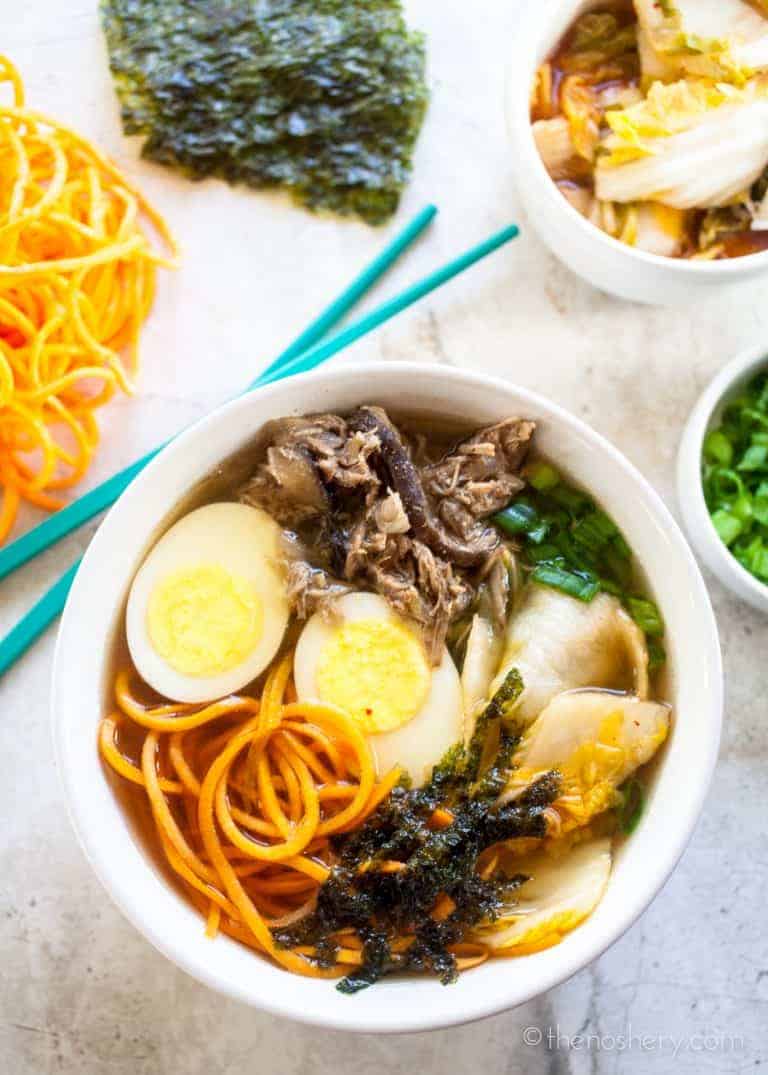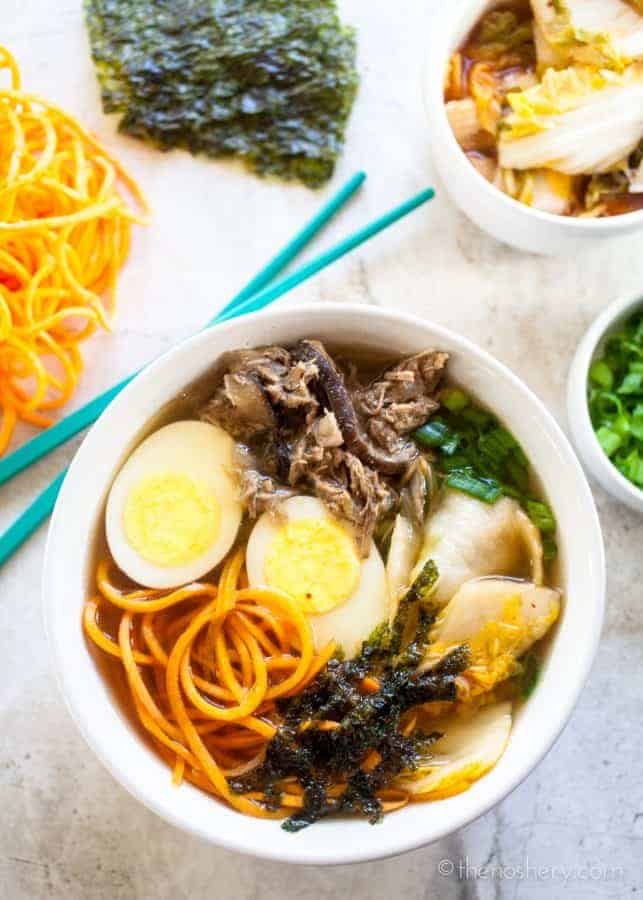 One of the best ramen experiences I ever had was while in New York City at Toto Ramen. This place was legit and probably one of the happiest places on earth because they have ramen and steamed pork buns. A match made in heaven, if you ask me.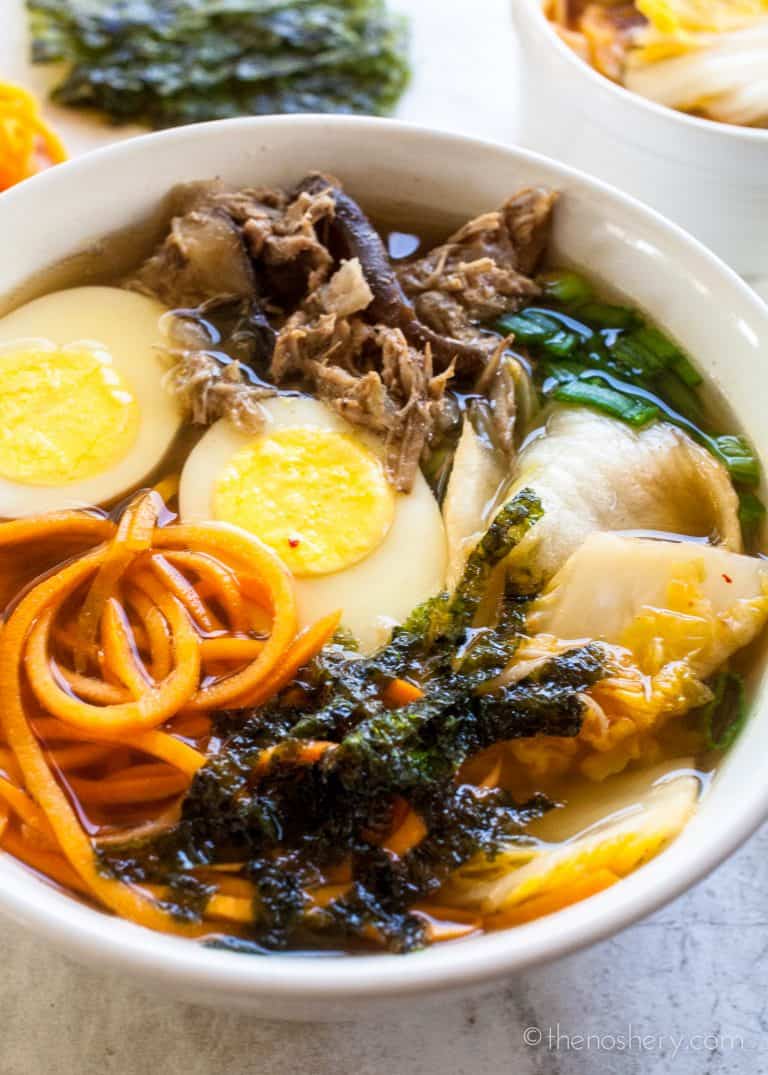 Inspired by my experience at Toto Ramen and wanting to create something equally delicious but lighter, I made pork "ramen". I put the ramen in quotes because ramen soup is all about the ramen noodles. But for this recipe, I busted out my spiralizer and used sweet potato in place of the noodles. So, this isn't ramen, it's "ramen".
What is ramen?
It's a traditional Japanese dish that translates to "pulled noodles". Chinese wheat noodles are served in a meat or fish-based broth, often flavored with miso or soy. Sliced protein and delicious fixings such as nori, scallions, and flavorful sauces make it a bowl of warm perfection.
Homemade ramen is easy to make in a crock pot, giving the flavors plenty of time to develop, with ingredients you can get at your regular grocery store.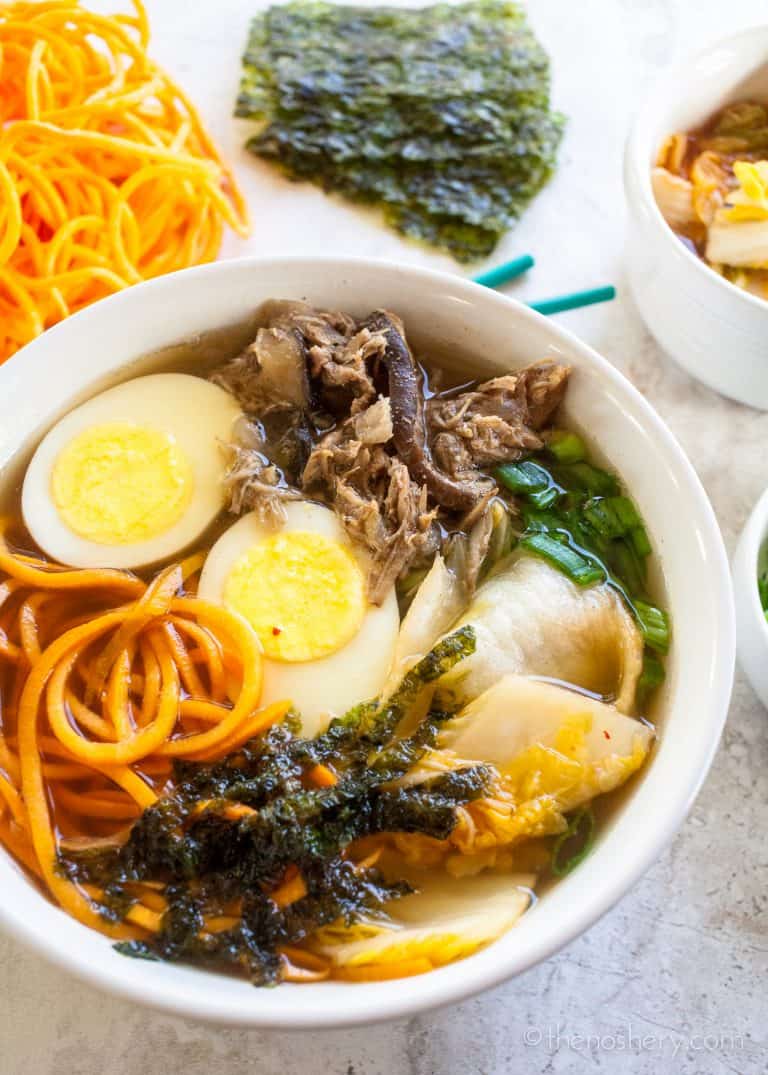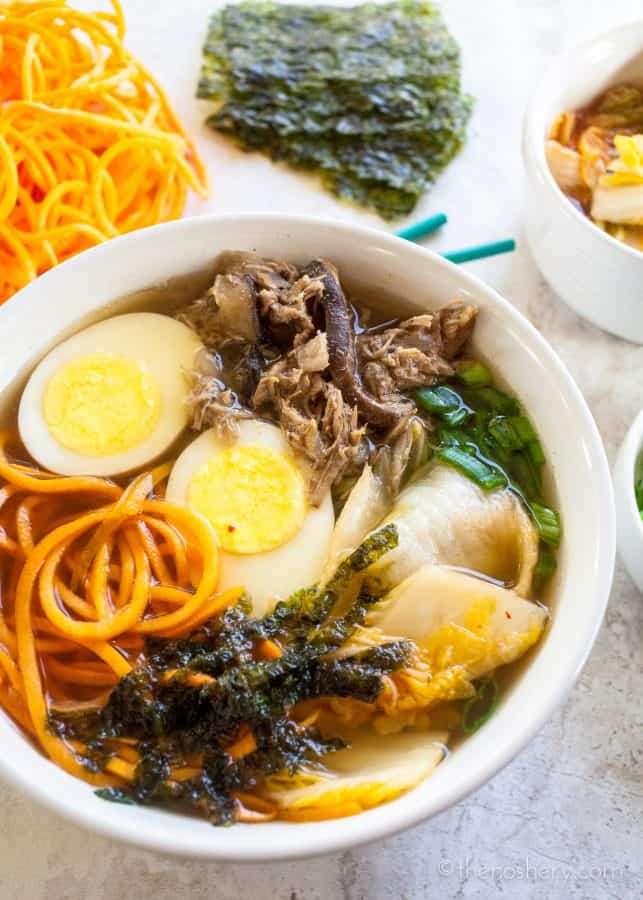 What Kind of Pork Do You Use for Ramen?
You know we're all about the pork in this home. Traditionally, pork ramen is made with pork belly, but for this recipe, I opted to use pork shoulder roast rubbed with Chinese five-spice. It turns out incredibly tender after cooking low and slow in a broth of mouthwatering flavors.
Most prefer to slice the pork before adding it to the bowl instead of serving with shredded pork. The texture just works here.
How to Make Pork Ramen Broth
The cooking liquid starts with a chicken stock that's enhanced with the addition of onion, ginger, mushrooms, garlic, soy sauce, and the flavors it picks up from the spice rub. My mouth is watering just thinking about it.
Cover and cook in a slow cooker or Dutch oven for 8 hours on low or 4 hours on high, then strain it with a fine mesh colander. After chilling in the fridge long enough until you can easily skim off the fat, strain it again to ensure a smooth, aromatic broth. That's when the pork gets added and the rest of the party begins.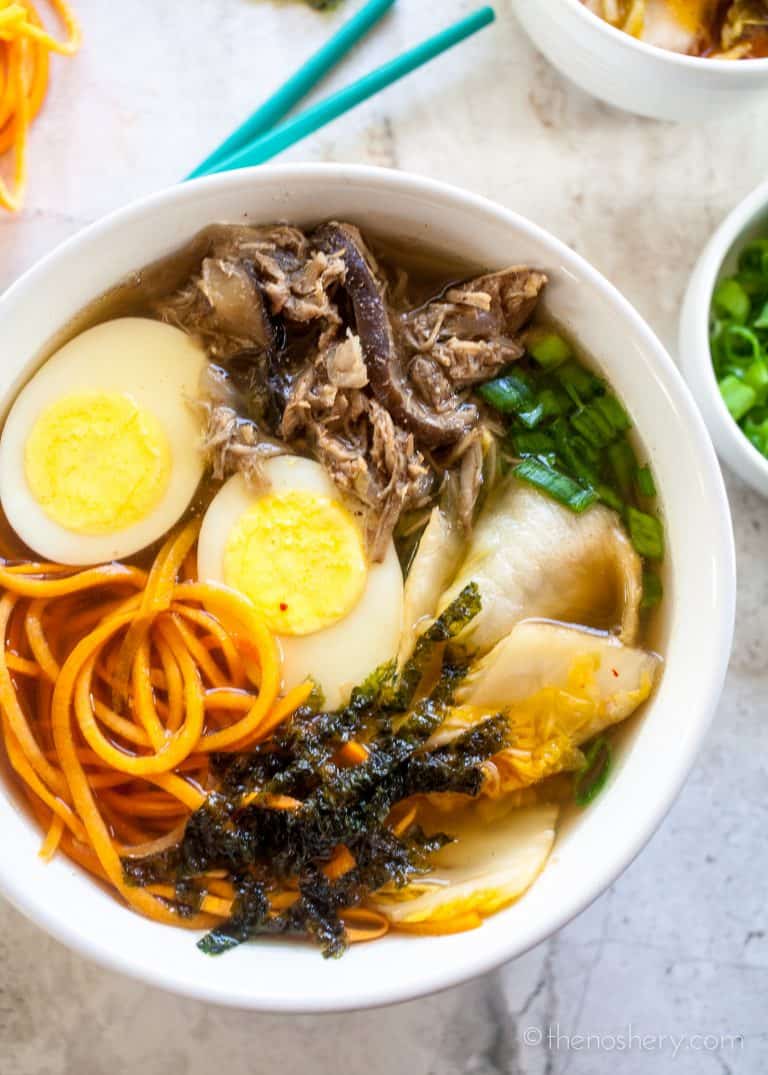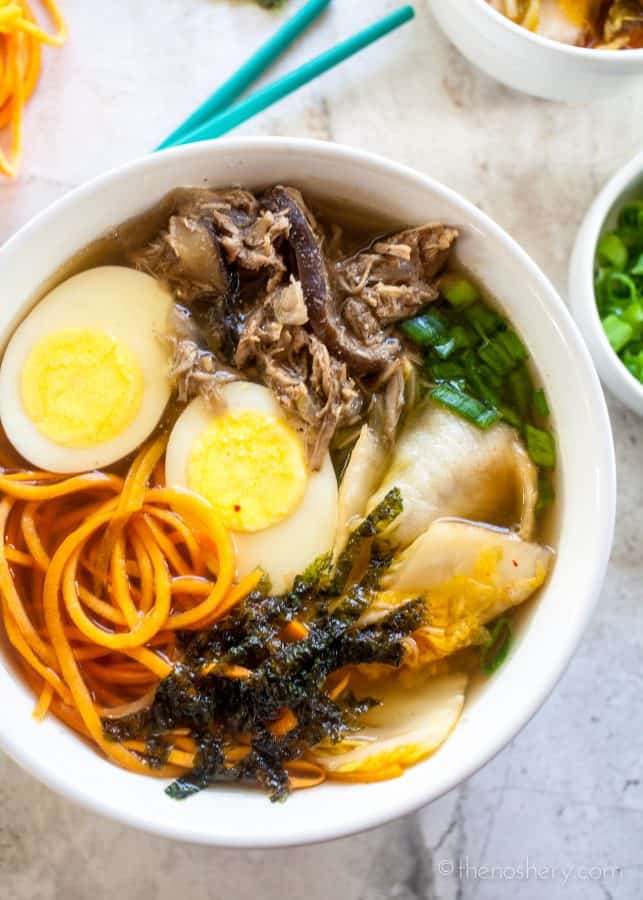 Can You Use Pasta as a Substitute for Ramen Noodles?
Ramen is softer than pasta noodles and has a distinct savory taste. This is because of "kansui", an alkaline water that gives the noodles their characteristic bounce and their yellowish hue.
To recreate this effect with a store-bought spaghetti, bring a pot of water to boil like you'd normally cook pasta. But add 1 tablespoon of baking soda—very slowly so it doesn't foam over. This will give the pasta a springier texture. You can also use Chinese noodles or rice noodles if that's what your store has on hand.
In this pork ramen recipe, the sweet potato noodles hold up in the stock and add just a hint of sweetness. If you want to go the more traditional route, be sure to use authentic ramen noodles.
How to Make Pork Ramen Bowls
A good ramen bowl builds on four main elements: broth, noodles, seasonings (soy, mirin, and miso), and toppings like pork or chicken, scallions, kimchi, a hard or soft-boiled egg, black sesame seeds, nori, seaweed salad, cilantro, gochujang, mushrooms, or a hit of sesame oil. The possibilities are endless, and that's one of the reasons I love ramen so much.
Many would say a the flavor and texture of a boiled egg is nonnegotiable in a ramen soup. The Stay at Home Chef has an excellent guide to boiling eggs, whether you prefer a hard boil or softer boil. But the key to not overcooking is to remove the eggs to a bowl of cold water to stop the cooking process. They will warm through when you add them back in.
For this particular dish, I added a hard-boiled egg, kimchi, thinly sliced spring onions, and nori. And I could eat this any day, even if it's 100 degrees outside!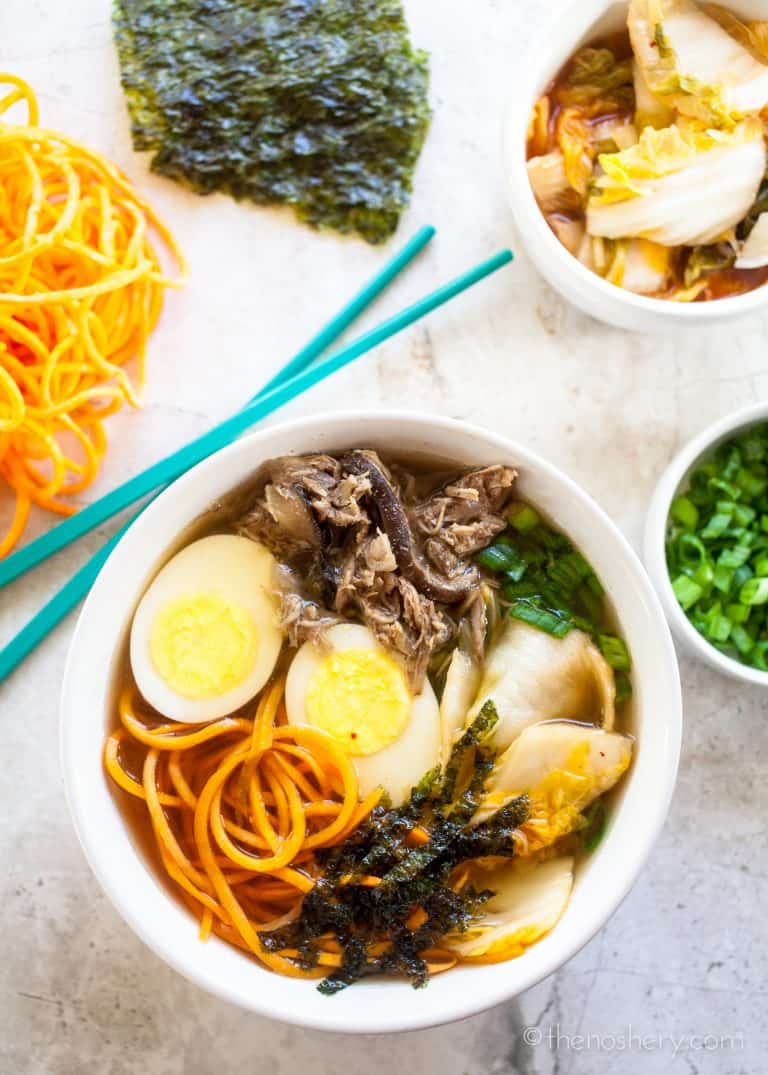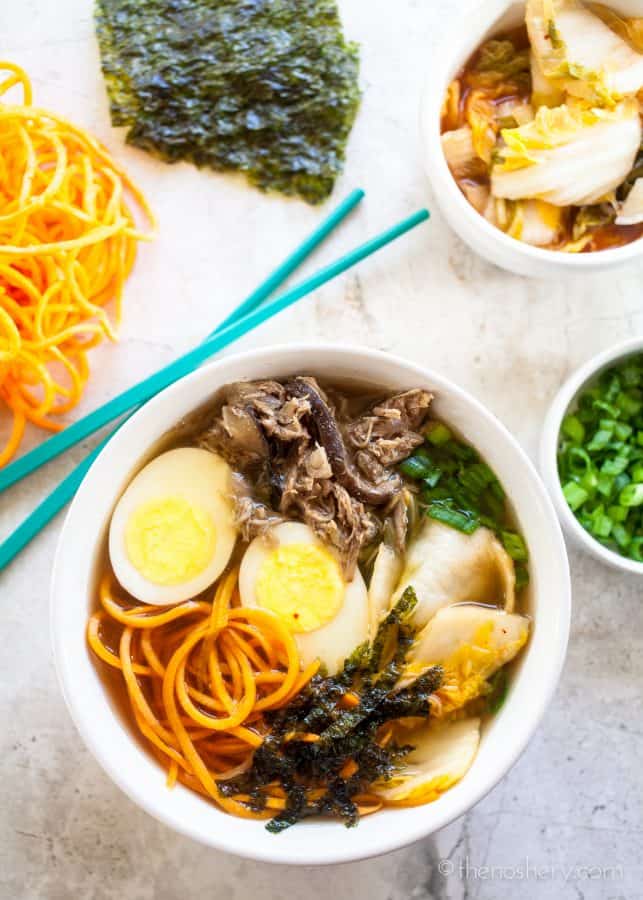 More Inspiration
Why not make a dinner party out of it? You can make an Asian-themed spread for company with my Pork Belly Buns, Miso-Glazed Pork Wings, or Kimchi Korean Pancakes. Arrange the sides and all the ramen toppings out on a big cutting board or platter, and guests can build the meal of their dreams.
If you're looking to add more Asian flavors to your everyday menu, my Thai Chicken Salad is perfect to spice up your lunch routine. Light Thai Peanut Noodles can be on the table fast on a busy weeknight. I also can't get enough of Foodie with Family's Easy Garlic Ginger Glazed Sticky Pork or the Sticky Asian Glazed Chicken from The Recipe Critic.
Craving something a little lighter than pork ramen? Try this chunky roasted tomato soup. But, of course, when it comes to comfort food, everyone loves a classic Sancocho (Puerto Rican Beef Stew). If you want something hearty and loaded with aromatics and spices you also need to try this Moroccan Lamb Stew with Harissa and Garbanzos.
If you are looking for more soup or stew recipe ideas, see my collection of soups and stews.
Yield: 6
Slow Cooker Pork "Ramen"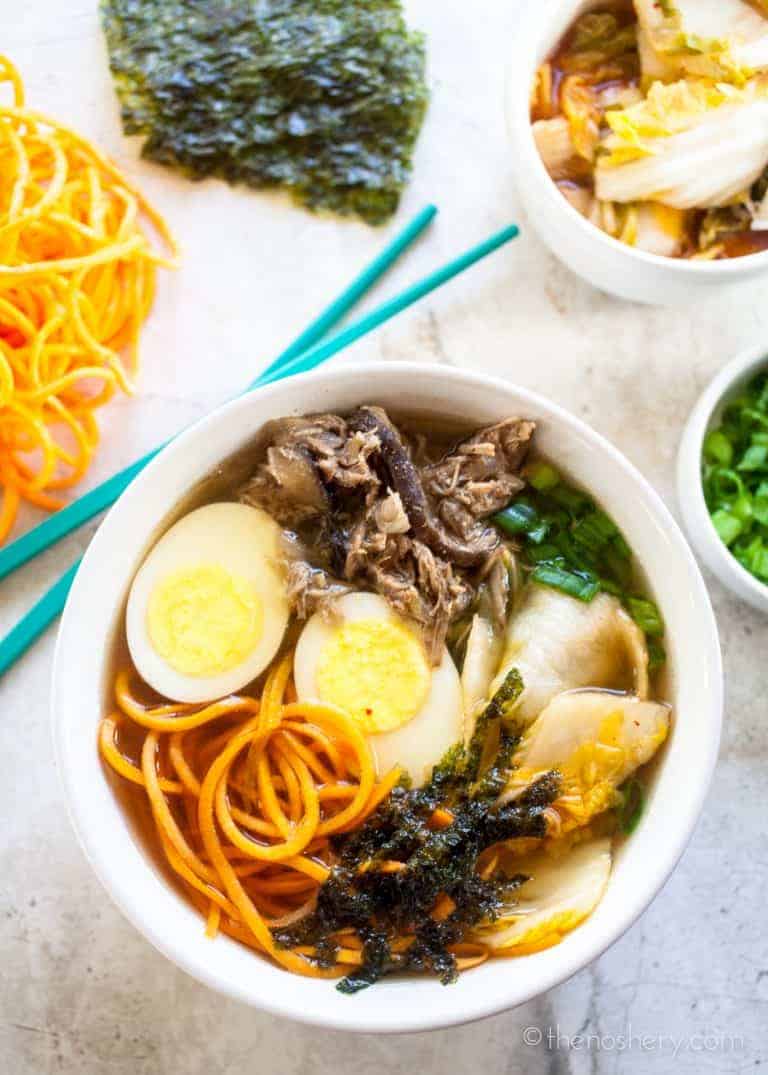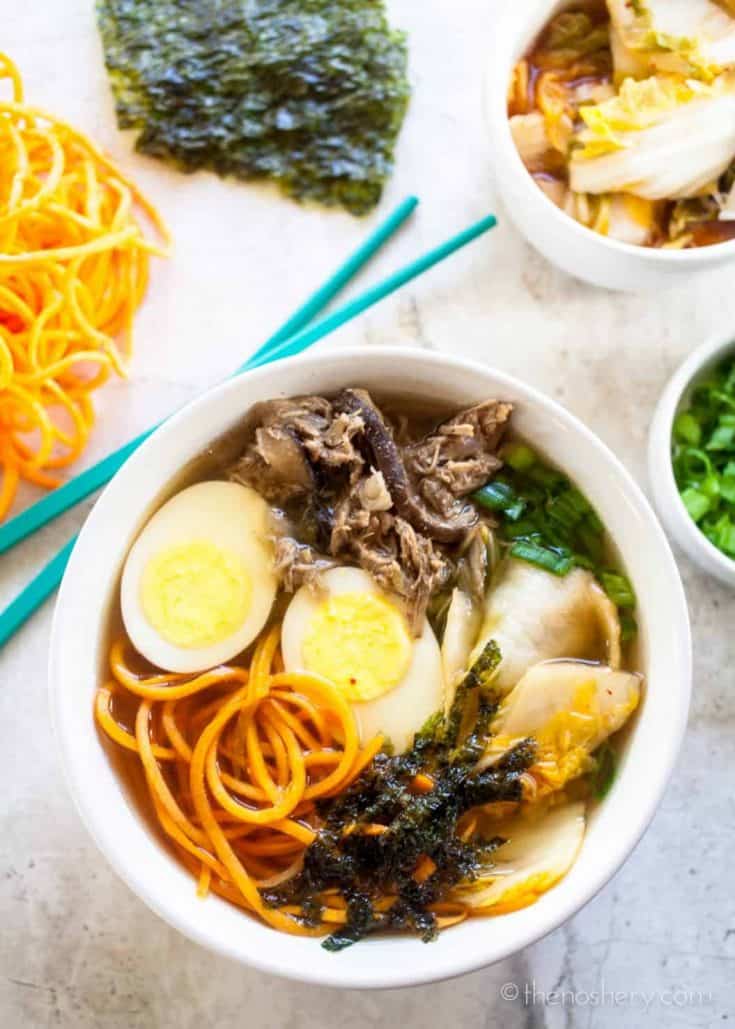 Slow-cooked five-spice pork served in a savory broth with sweet potato noodles. It's not your classic ramen but it's tasty!
Inactive Time
13 hours
12 minutes
Total Time
13 hours
35 minutes
Ingredients
3 lb pork shoulder roast, deboned and cubed
2 tablespoons Chinese five-spice
1 onion, julienne
1 tablespoon grated ginger
8 oz shitake mushrooms
6 cloves garlic, minced
8 cups chicken stock
1 tablespoon soy sauce
1 large sweet potato
garnish
scallions
kimchi
hard-boiled egg
nori
Instructions
Season pork with Chinese five-spice, toss until evenly coated.
In a slow cooker combine, pork, onion, ginger, mushrooms, garlic, stock, and soy sauce. Set slow cooker on LOW for 8 hours or HIGH for 4 hours.
Using a fine mesh colander strain the stock. Chill the stock in the refrigerator until the fat cap solidifies, and skim fat from the stock. You can also run the stock through a fat separator into a large clean bowl.
Strain stock through a mesh strainer lined with cheesecloth to remove any remaining solids. Shred pork removing any large pieces of remaining fat. Put the pork in an airtight container and refrigerate.
Peel the sweet potato and spiralize on spaghetti size setting to make noodles.
Heat stock on the stovetop to a simmer. Add sweet potato noodles to the stock and cook for 5 minutes. Using tongs divide the sweet potato noodles evenly among bowls. Add pork to the stock and cook until heated through. Ladle pork and stock over the noodles. Garnish bowls with hard-boiled eggs, scallions, nori, and/or kimchi.
Recommended Products
As an Amazon Associate and member of other affiliate programs, I earn from qualifying purchases.
Nutrition Information:
Yield:
6
Serving Size:
1
Amount Per Serving:
Calories:

853
Total Fat:

54g
Saturated Fat:

19g
Trans Fat:

0g
Unsaturated Fat:

29g
Cholesterol:

245mg
Sodium:

908mg
Carbohydrates:

25g
Fiber:

3g
Sugar:

9g
Protein:

65g