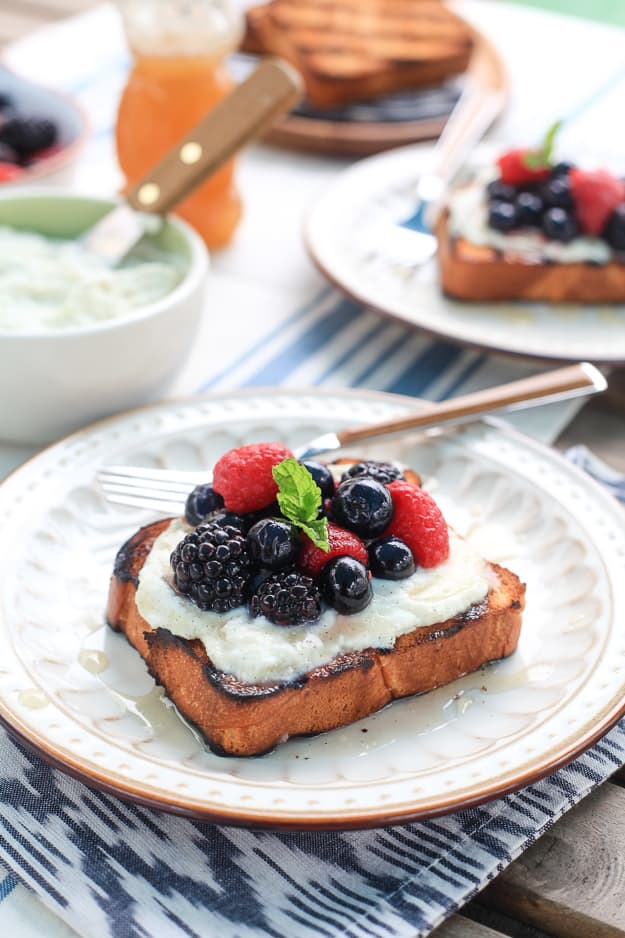 It's a long weekend, friends! What are you up to this weekend? I wish I could say that I have a big Labor Day party to go to but, my husband and I will trying to finish up our new camper. We are in the homestretch and need to take advantage of the long weekend. But, I know you will be having a great time gathered around the grill with friends and family.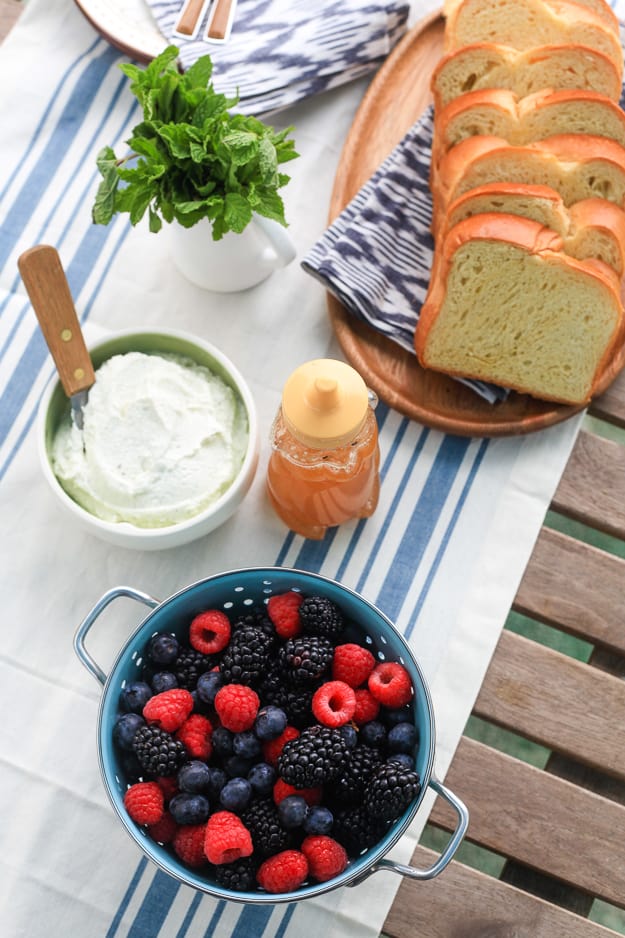 When grilling out most immediately think about throwing some burgers, hot dogs or steaks on the grill and serving them up with a few sides. But, what about dessert? And, I'm not talking about the cake from the supermarket deli. I'm talking about grilled brioche topped with fresh berries and whipped vanilla ricotta.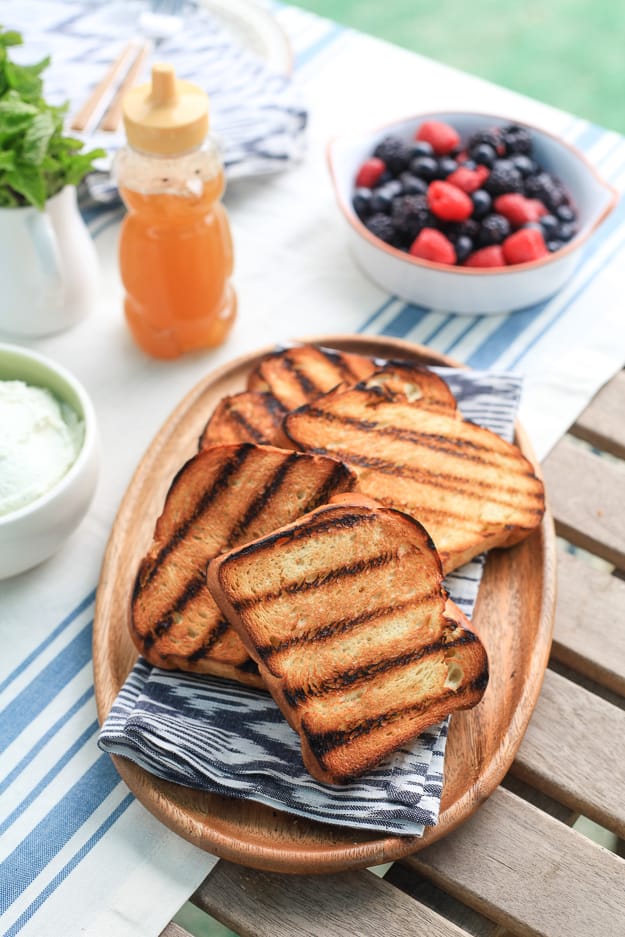 Yes, grills are generally associated with meat. I will admit there is no better sound than the sizzle of meat hitting a hot grill, but a grill can do so much more. I love grilled fruits served over ice cream, and it's easy to toast up brioche or pound cake on the grill. This simple dessert comes together in no time. It's great when feeding a large crowd and leaves your guest with quite the impression.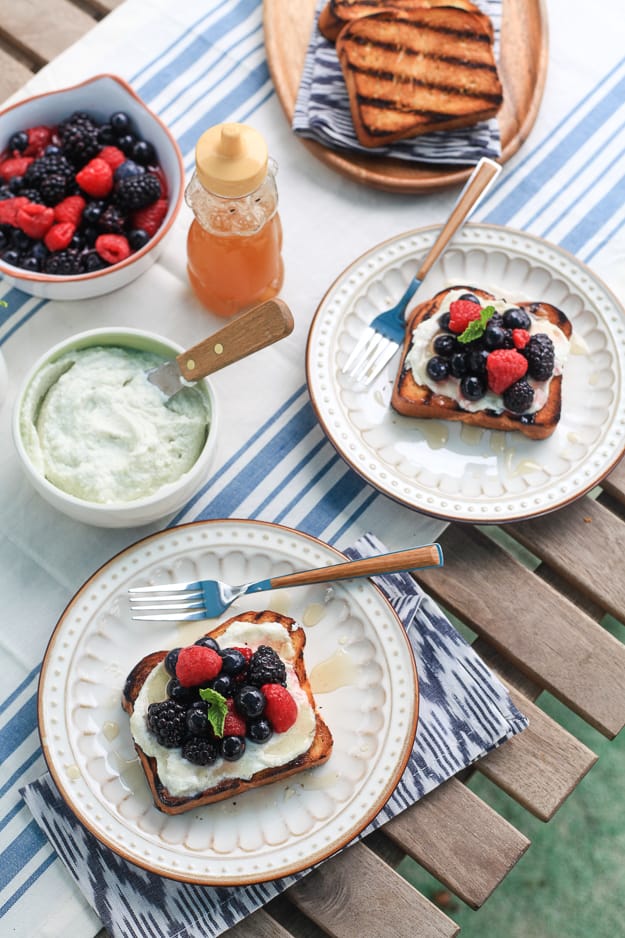 Labor Day is the unofficial end of summer. Right now is a great time to make this dessert while the berries in the stores are still sweet. But, if you can't find berries you can also use peaches, nectarines or segmented citrus.  If you can't find brioche (Sprout's Market usually carries some), you can also use challah or pound cake.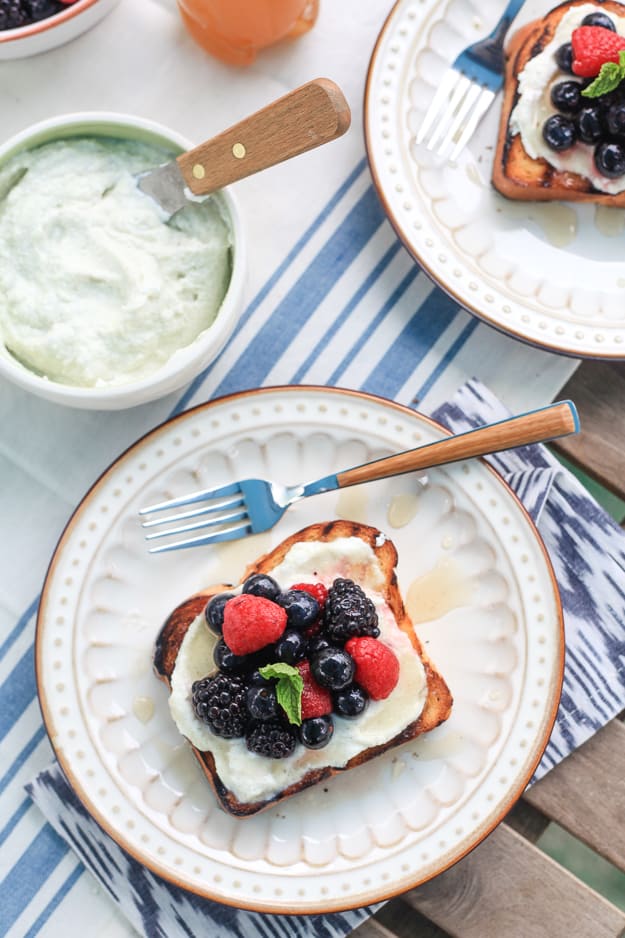 I love the simplicity of this dessert. Sometimes the simplest ingredients make the best dishes. It's a perfect finish off a heavy meal.
Grilled Brioche with Mixed Berry and Vanilla Ricotta
A simple dessert of grilled brioche with whipped vanilla ricotta and sweet berries soaked in orange liquor.
Ingredients
6 slices brioche bread (can also use challah or pound cake)


Berries


2 pints blueberries
2 pints blackberries
2 pints raspberries
¼ cup sugar
1 tablespoon orange liquor (Grand Mariner or Cointreau)
½ teaspoon ginger powder


Vanilla Ricotta


1 15 oz container whole milk ricotta
1 vanilla bean, or 1 teaspoon pure vanilla extract


Garnish


honey
mint leaves
Instructions
Rinse berries in a colander. In a large container with airtight lid combine berries, sugar, orange liquor and ginger powder. Gently toss until well combined, cover and place in the refrigerator.


Scoop out ricotta cheese into a bowl or food processor. Reserve the ricotta cheese container. Using a small sharp paring knife cut the vanilla bean in half lengthwise. Using the back of the tip of the knife scrape the inside of the vanilla bean halves to remove the caviar. Add the vanilla bean caviar to the ricotta cheese. Process or beat with a hand mixer until smooth. Place vanilla bean ricotta back into the container, cover and refrigerate.


Heat grill to medium-high heat. Place brioche on the grill until light toasted and has grill marks, about 10 - 15 seconds.


Spread ricotta cheese on grilled brioche slices. Divide berries evenly among brioche slices, drizzle with honey and garnish with mint leaves.
Notes
If you cannot find brioche, you can use challah bread or pound cake. Pound cake will take a little longer to toast because of the moisture.
0