Jibarito (Plantain and Steak Sandwich) | In the past, I have expressed my intense love for plantains. They are amazing as chips, twice fried, mash, or layered like a lasagna. But, imagine a steak sandwich with fried plantains as bread! Lucky you, you don't have to imagine it because I got the recipe for you!
When I lived in Florida there was a little Puerto Rican restaurant with jibarito (he-ba-ri-to) sandwiches on the menu. It was a real treat and one of OB's and I favorites. A jibarito sandwich is a steak sandwich with two large tostones used as bread. Jibaro refers to the people of Puerto Rico that lived in the heart of the island. They were the backbone of agriculture in Puerto Rico, working sugar cane, plantain, and coffee fields.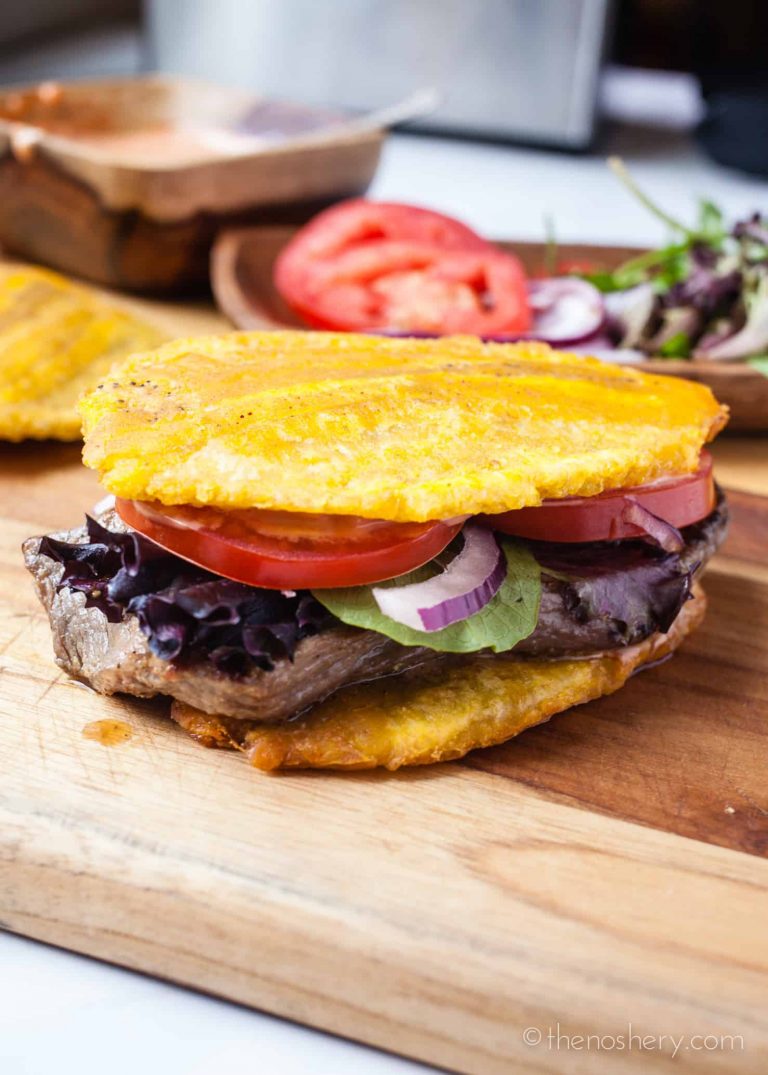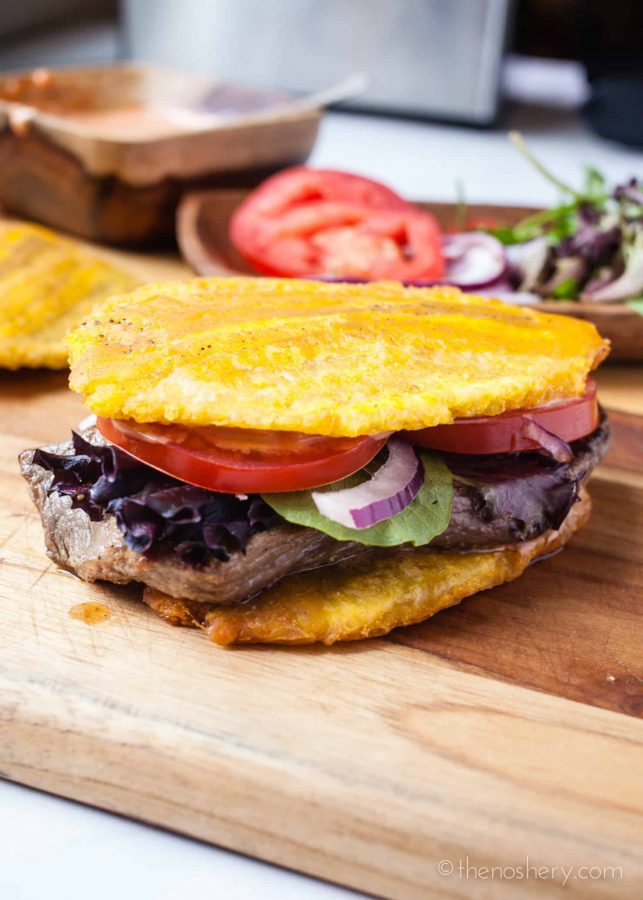 While at the grocery store this weekend I picked up a few plantains. Initially, I planned to make some tostones but then I was suddenly hit with the memories of awesome jibarito sandwich is and I had to have one. You, know what it's like to suddenly be hit with a craving that must be satisfied. This is how I felt in the grocery store's produce section on Sunday.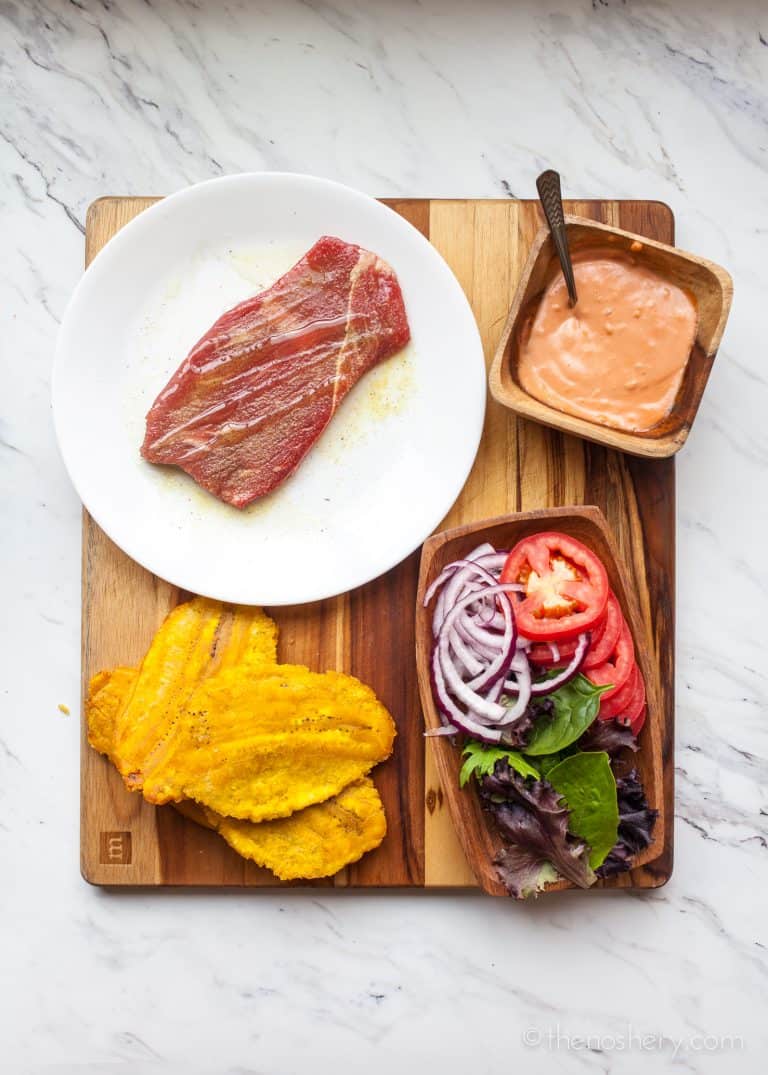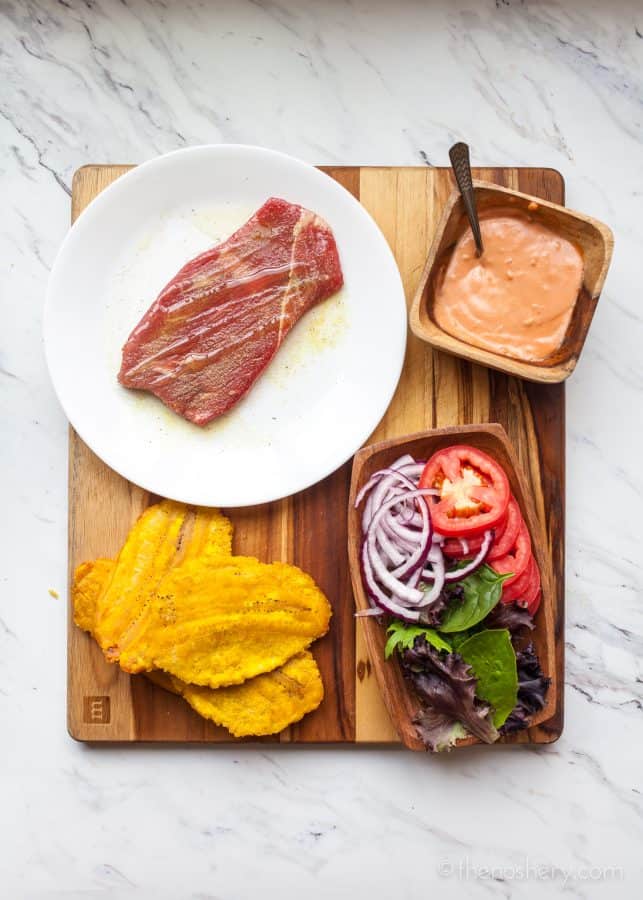 How to Slice Plantains for Jibarito Sandwich
The trick to this sandwich is making the "bread" thin and crispy. Watch the video below to see how I slice the plantain. I have tried slicing it in several different ways and I find this makes the best thin crispy "bread". If the plantains are too think the "bread" end up think and dry. And, bonus! This is a gluten free sandwich!
I am sure there will be questions about baking instead of frying the plantains. I have not tried baking them and cannot speak to how it will turn out. I don't see why it won't work, however, I cannot say that the plantains won't be dry. If you do attempt to bake the plantains please leave a comment below for others. I can say that fried is awesome. But, when isn't fried awesome?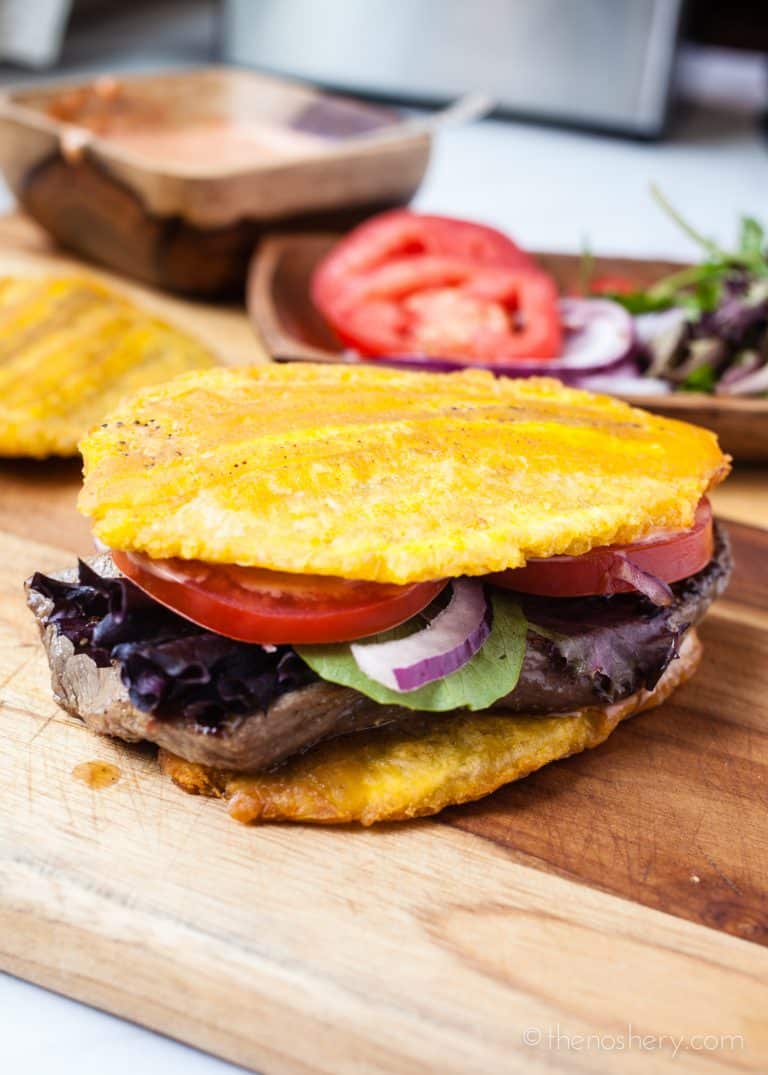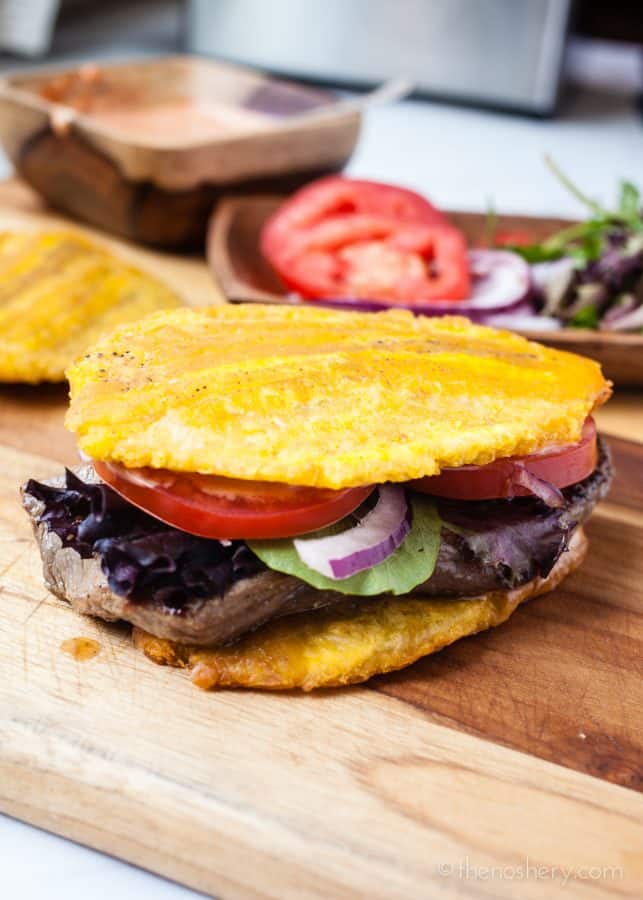 Are you looking for more Puerto Rican recipes? I recommend a pot of arroz con gandules (rice and pigeon peas). If you're not in the mood for rice, which is just crazy talk, maybe try some arepas de coco (coconut fry bread) or one of my favorite Puerto Rican desserts is tembleque (coconut pudding). Check out my full collection of Puerto Rican recipes!
Yield: 2
Jibarito (Plantain and Steak Sandwich)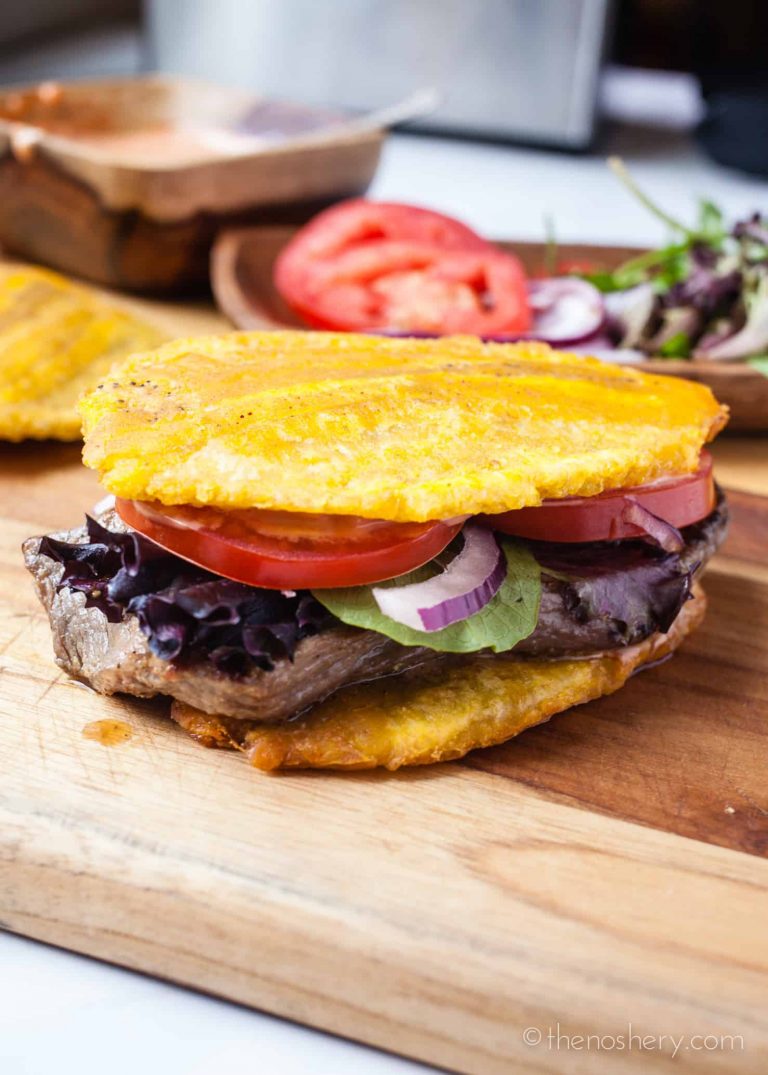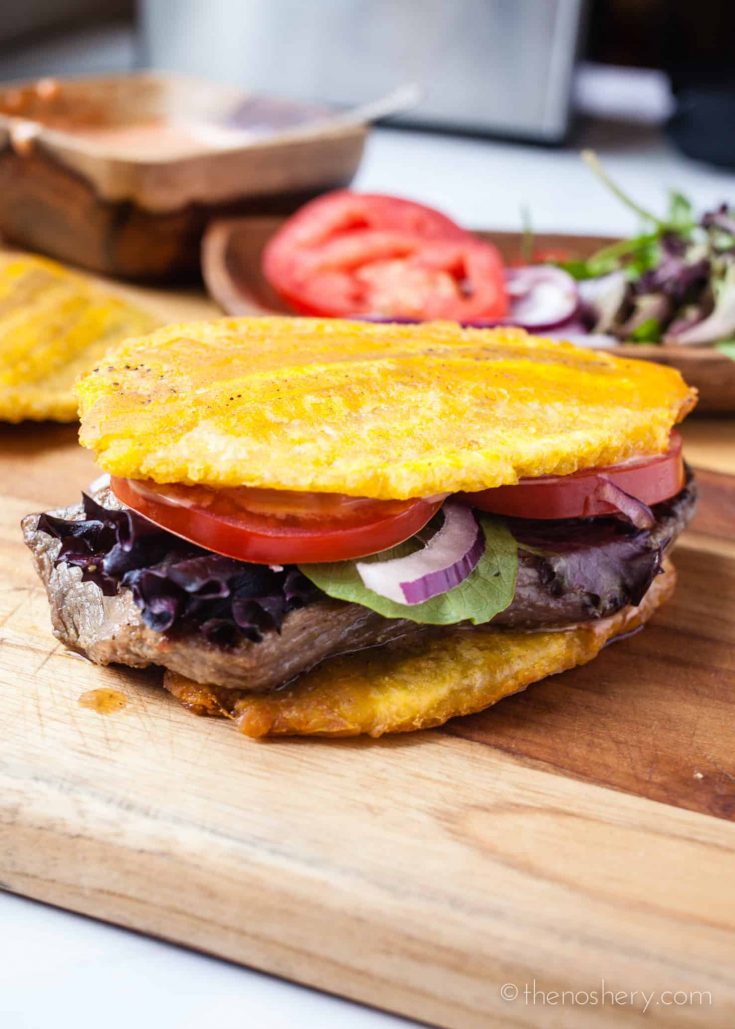 The incredible plantain strikes again! Delicious and tender steak sandwich made with crispy fried plantains as bread. Satisfying and even gluten-free.
Ingredients
2 4 oz hanger steaks
2 teaspoons adobo
3 tablespoon ketchup
2 tablespoon mayonnaise
1/2 teaspoon garlic powder
1 green plantain, peeled
vegetable oil
lettuce
tomato
onions
Instructions
Pat steaks dry with a paper towel. Drizzle with olive oil and sprinkle with adobo on both sides of the steaks, cover with plastic wrap and set aside.
In a small bowl combine ketchup, mayonnaise and garlic powder. Mix until well combined, taste and add more garlic powder if desired, set aside.
Pour enough vegetable oil to cover the plantains in a heavy bottom pot or countertop deep fryer. Heat oil to 350 degrees. Cut the peeled plantain in half. Cut the plantain halves lengthwise. Carefully drop the plantain slices in the hot oil.
Fry the plantains in batches until tender and just golden, 2 to 3 minutes each side. Transfer to a paper towel-lined plate to drain.
Using a plate or small cutting board, press the plantain slices between parchment paper. Return the pressed plantains to the oil and fry until golden and crisp, about 3 minutes. Transfer to a paper towel-lined plate to drain then season with salt.
Heat a skillet over medium-high heat. Place the steaks in the skillet, careful not to crowd the pan. Cook the steaks for 3 to 4 minutes each side, or until the internal temperature reaches 135 degrees. Set aside on a plate to rest for 5 minutes.
Spread sauce on the plantain slices. Top one-two slices with steaks, tomatoes, onions, lettuce, and remaining plantain slices.
Recommended Products
As an Amazon Associate and member of other affiliate programs, I earn from qualifying purchases.
Nutrition Information:
Yield:
2
Serving Size:
1
Amount Per Serving:
Calories:

612
Total Fat:

30g
Saturated Fat:

6g
Trans Fat:

1g
Unsaturated Fat:

20g
Cholesterol:

109mg
Sodium:

390mg
Carbohydrates:

53g
Fiber:

5g
Sugar:

26g
Protein:

38g