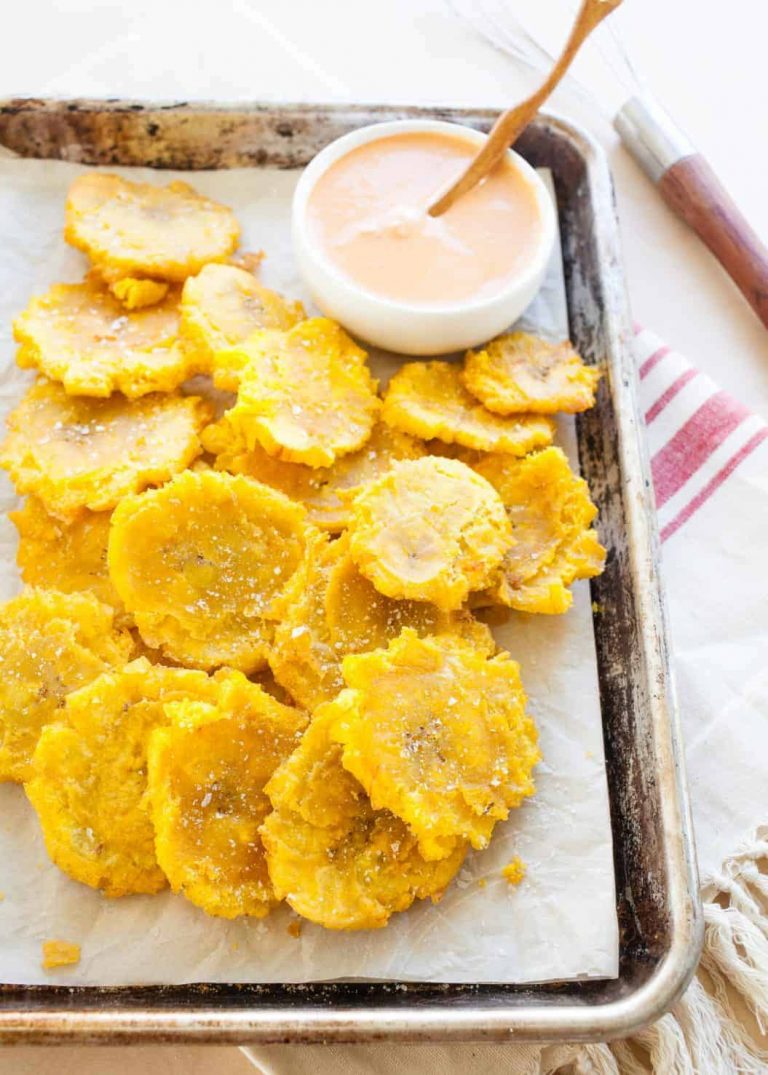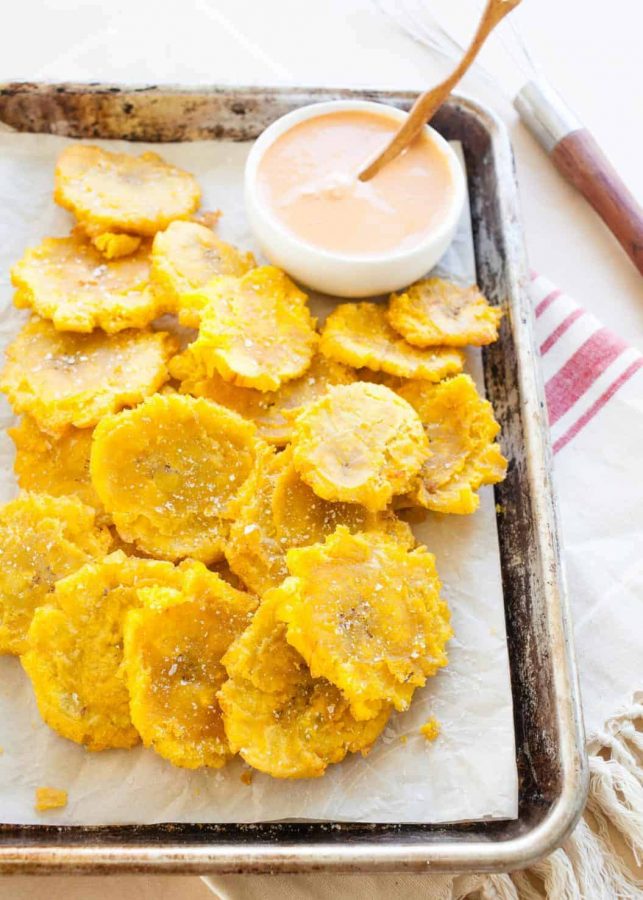 This is a quick and easy post of one of my favorite side items. Plantains are an awesome vegetable because there are countless different ways to prepare a plantain, fried, boiled or mashed they are always delicious. One of the most common ways of making a green plantain is to make Tostones. As a kid, I loved these things. I would probably eat more of them than I would my actual meal.
The name for tostones comes from the word "tostado" which means toasted. They are incredibly easy to make, and I have yet to serve them to a person who doesn't enjoy them. I like to cut mine at a 1 inch diagonal, so they come out thin and crispy. If you cut them too thick, they can be dry. One crucial thing is that you cannot skip the first fry. Green plantains are very hard and they have to be par-cooked to be able to mash them. If you try to mash before the first fry, you are going to hurt yourself and end up with a mess.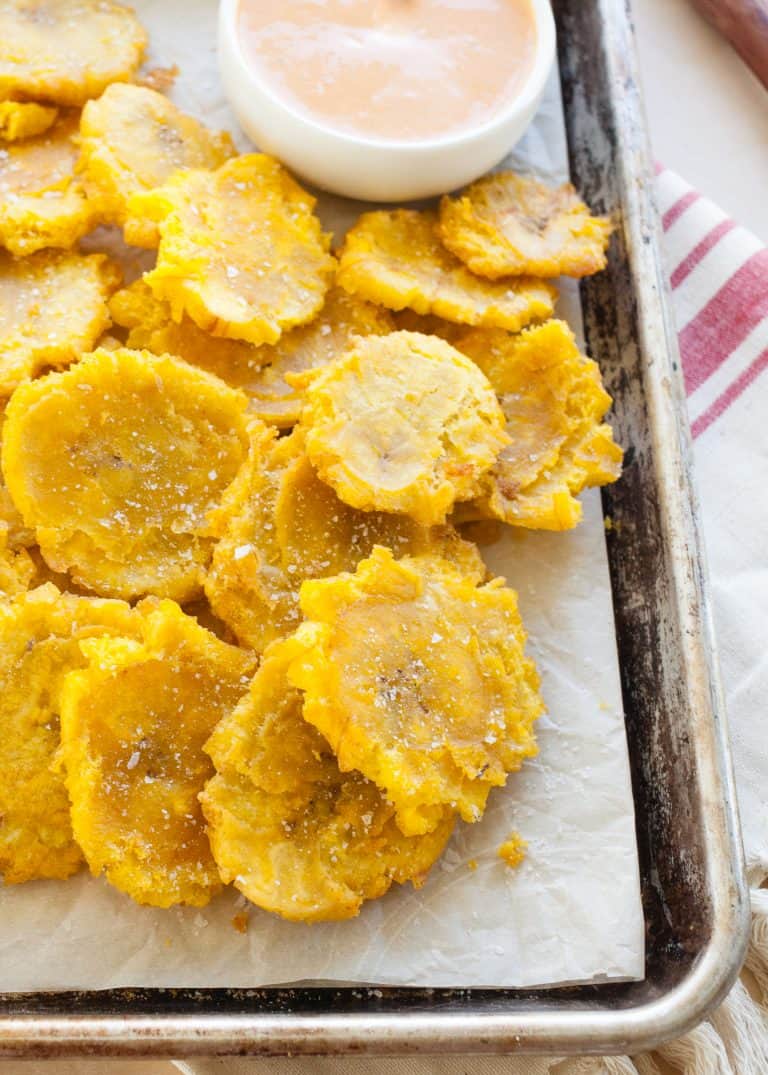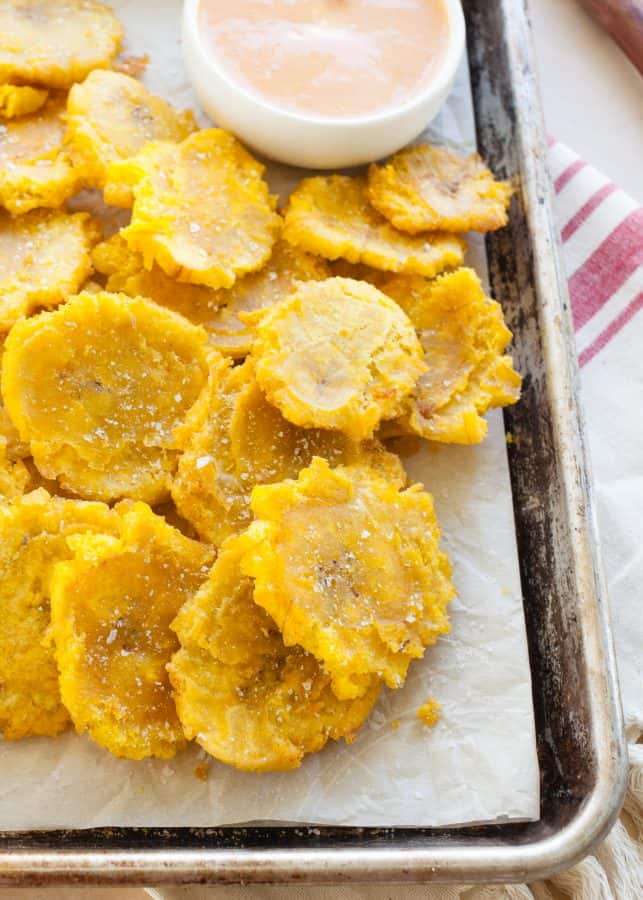 I like mine with a side of mayoketchup. It's a mixture of mayo and ketchup with a little garlic and salt. Some like their tostones with a side of ketchup or a simple sprinkle of salt. It's up to you.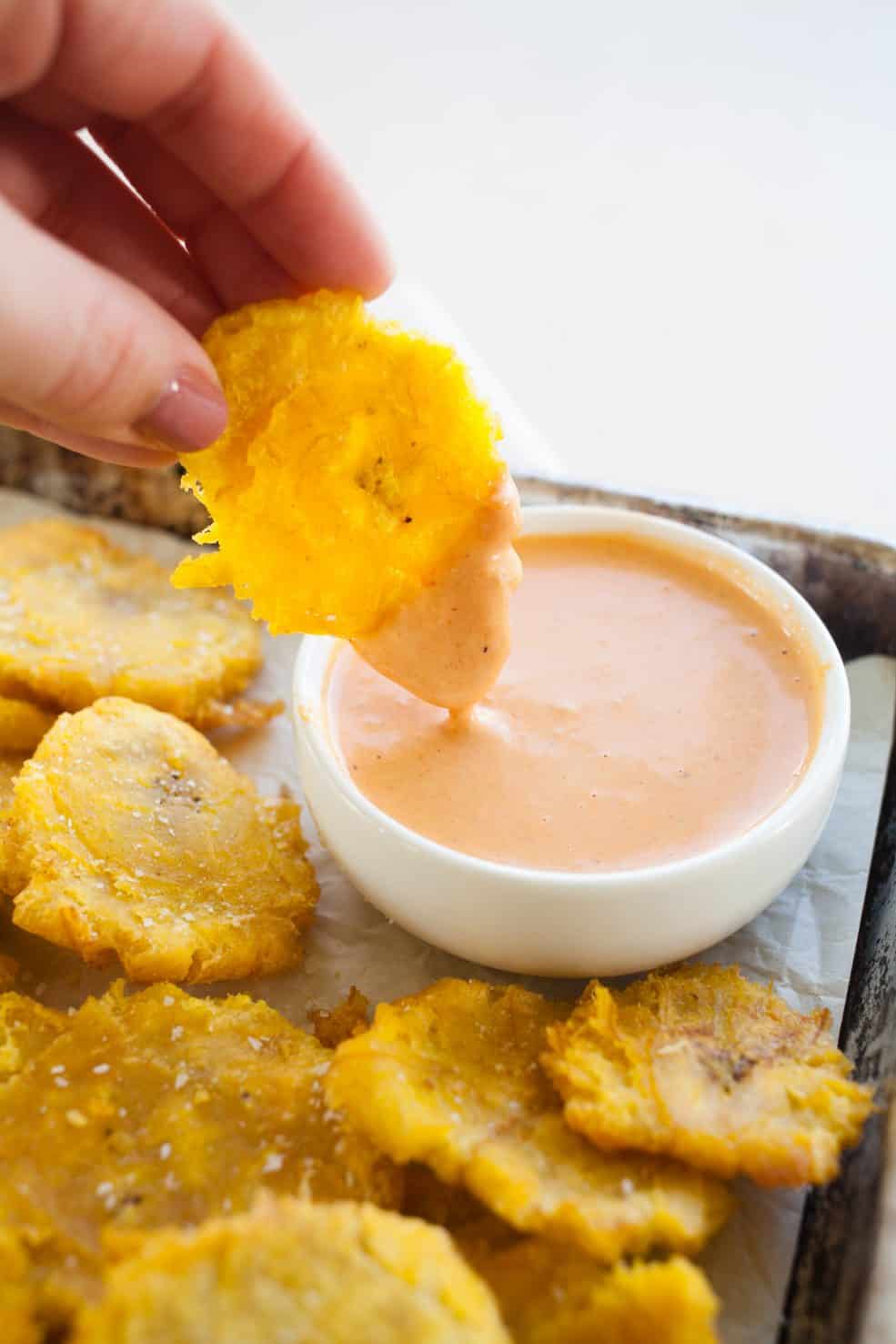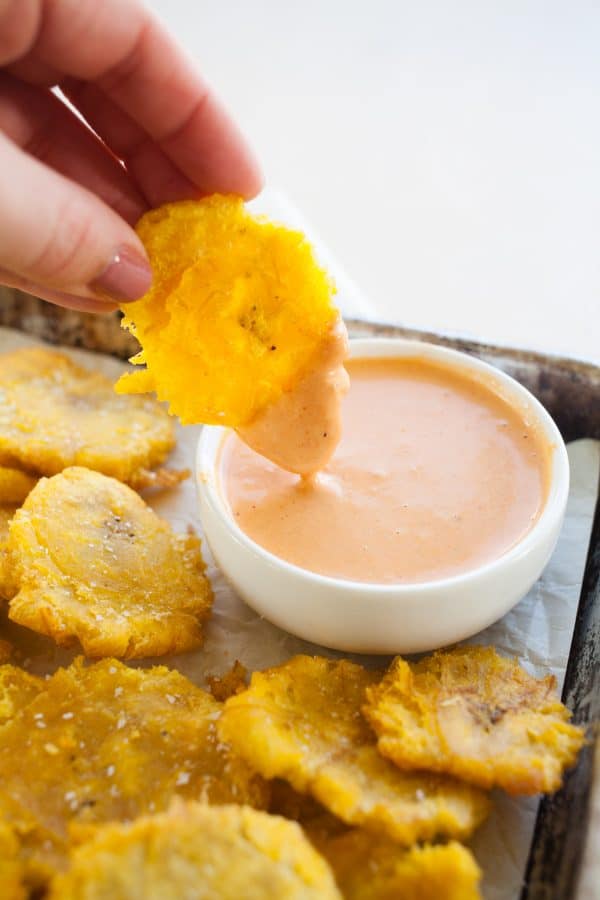 Trust me they will be all gone in just a few minutes. I have to hurry before Obed comes and steals them. He is hovering behind me….back off homes!
Yield: 20 - 30 tostones
Tostones (Fried Plantains)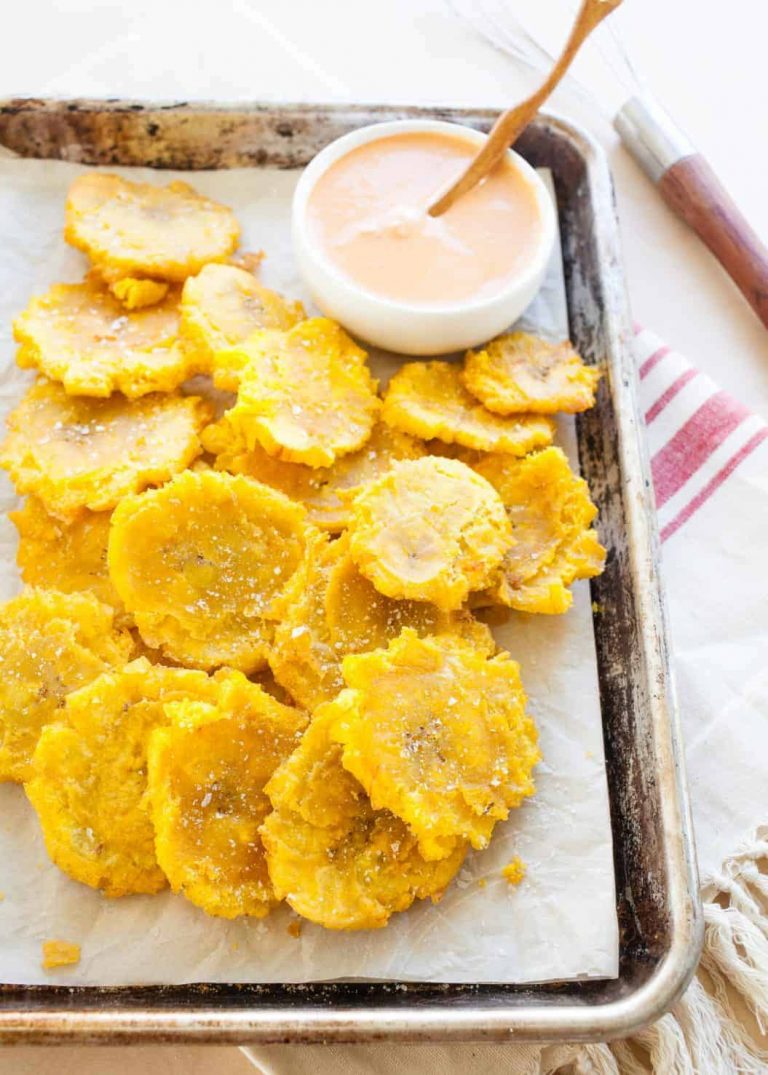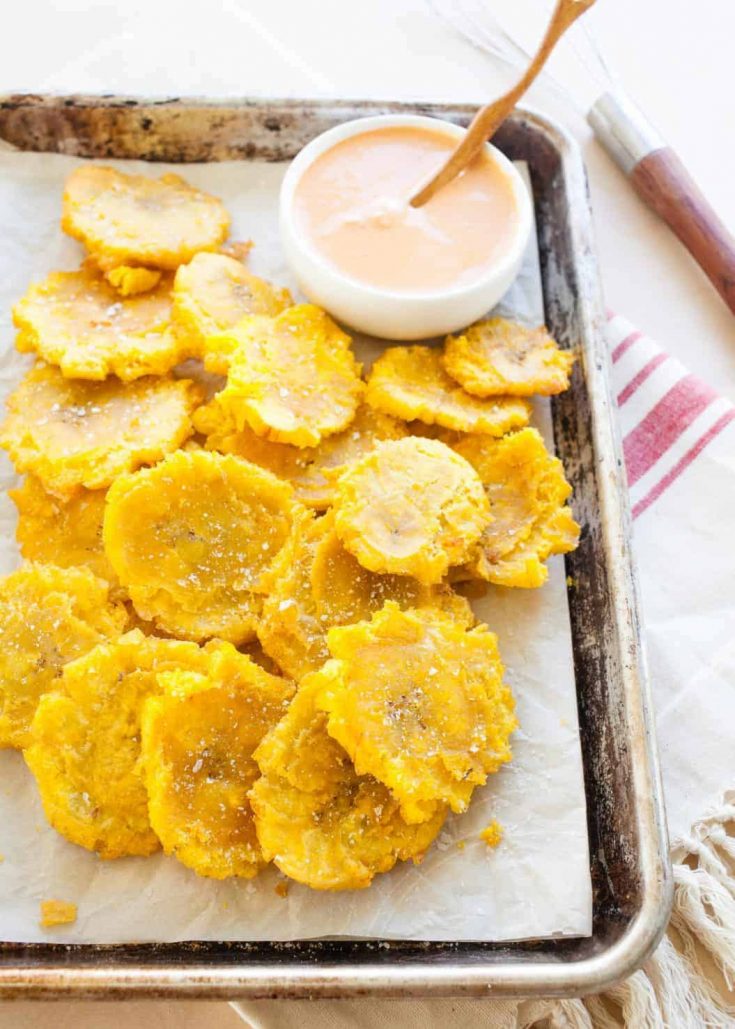 Ingredients
3 green plantains
2 cups water
2 cloves garlic
2 teaspoons salt
vegetable oil for frying
Instructions
Heat a 12-inch skillet over medium-high heat with 1-1/2 inch of vegetable oil until hot enough that the oil sizzles when a plantain is added. Line a plate with paper towels and set aside.
Cut plantains diagonally into 1-inch slices, about 10 slices each. Fry the plantains in batches until tender and just golden, 2 to 3 minutes each side. Transfer to a paper towel-lined plate to drain.
Using a tostonera, press the plantain slices. If you don't have have a tostonera, place a plantain slice between two sheets of parchment paper and using the back of a wooden spoon press the plantain.
In a small bowl, combine water, garlic and salt. Dip the pressed plantains in the salted water and drop back into the hot oil. Be careful as the oil will splatter. Fry plantains until golden and crisp, about 3 minutes. Transfer to a plate to drain then season with salt.