Arepas de coco | You know those foods that instantly make you nostalgic with one bite? Whenever I go home to Puerto Rico, my family and I spend a day traveling around the island and stopping at roadside kiosks to enjoy some fritura and a cold drink.
During my last visit home, we traveled along the coast and stopped at a small kiosk serving fried treats and fresh seafood salad. The best surprise was the discovery that they were also serving hot from the pan arepas de coco, one of my favorite treats, topped with fresh seafood salad.

But I got to thinking: why should I only get to enjoy one of my favorite street foods when I go home? If I had to hop a plane to have these every time I had a craving for one, that would be a sad, sad existence.
So today I decided to make this Puerto Rican arepas recipe at home and share it with you all–bringing a delicious piece of the island to you, wherever your kitchen happens to be.
What are arepas?
An arepa is a fry bread, crispy on the outside and fluffy on the inside. The way the arepa bread is prepared makes for a light, airy middle, wrapped in a satisfying, golden brown crunch.
Different cultures have their own variations. And like many things, everyone insists their arepas are the best arepas!
Puerto Rican Arepa vs. Venezuelan Arepa & Colombian Arepa
If you are familiar with Mexican, Venezuelan, and Colombian arepas, you will notice that Puerto Rican arepas are different. First of all, the ones found throughout South America are corn meal based, made with harina precocida (also called harina PAN).
The cakes are then shaped by hand like a patty and pan-fried. I would describe them like a thin corn cake that is pan-fried.
But Puerto Rican arepas, also called "domplines" in the Dominican Republic and southern parts of Puerto Rico, are flour-based. The arepa dough is then rolled thin and deep fried.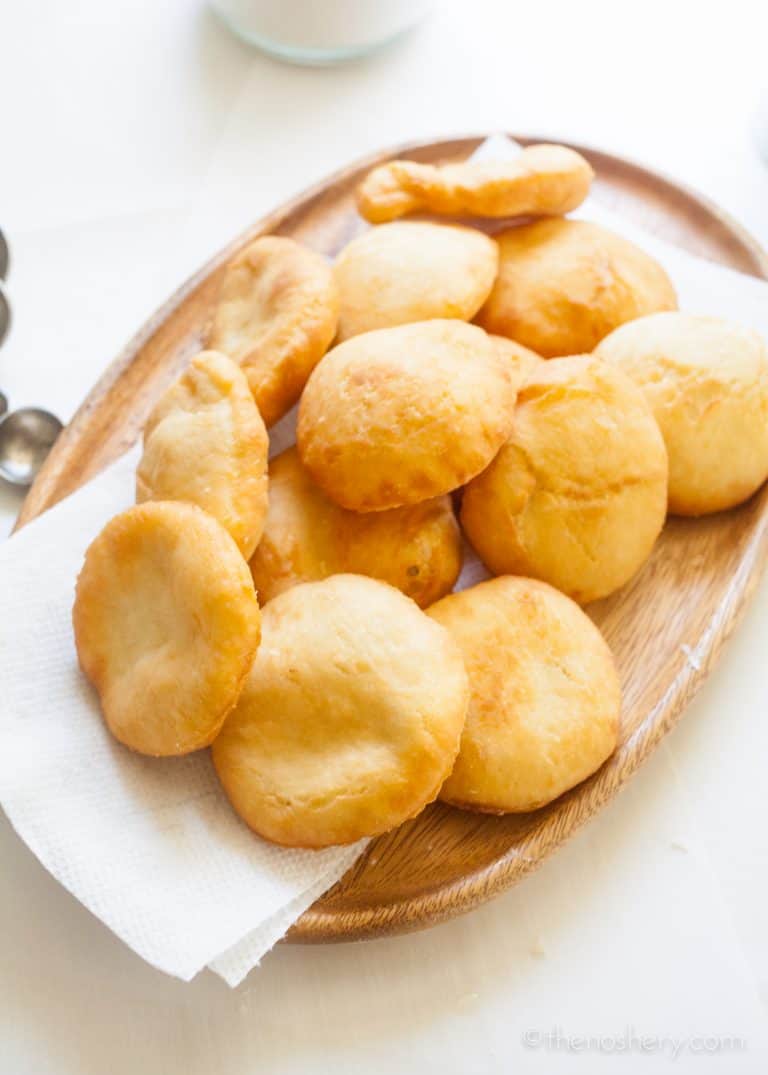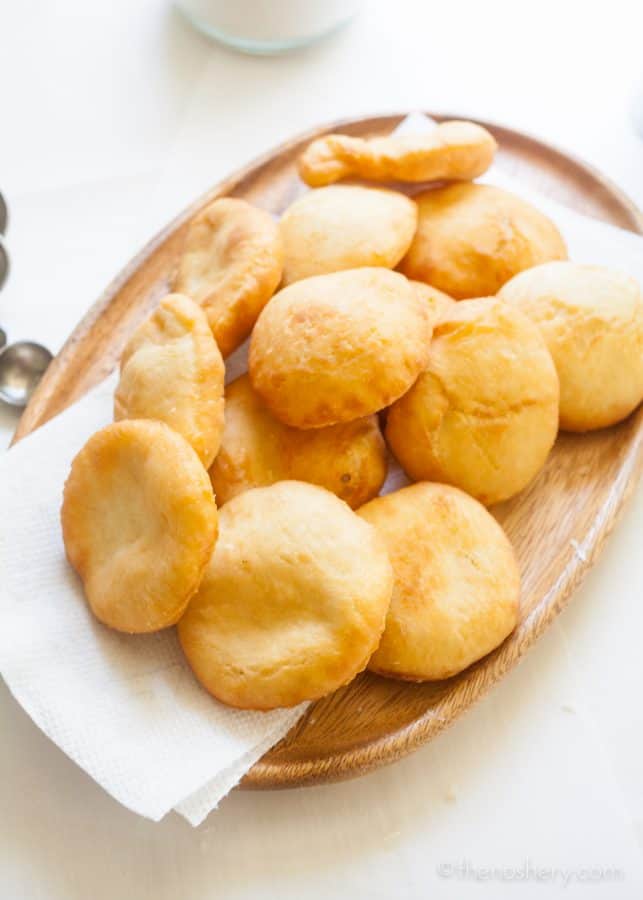 What is the Difference Between Pupusas, Navajo Fry Bread, and Arepas?
Some might get arepas confused with pupusas, but there are some key differences. Pupusas are larger and flatter than arepas. And they're also made with masa harina, which creates a different texture.
Arepas have also been compared to Navajo fry bread but are fluffier where Navajo fry bread is very crispy and sturdy enough that it's often used for tacos.
But they're all delicious vessels for some tasty ingredients.
What Are Arepas Made Of?
2 cups all-purpose flour
1 tsp baking powder
1 cup sugar
1/4 tsp salt
1 cup (not the entire can) canned coconut milk

Notes for Arepas de Coco
Just like when making the perfect pita bread, the key to getting arepas to puff up and create that wonderful air pocket is to roll the arepa mix thin. Trust me on this.
If you don't like coconut, we can still be friends. And you can use regular milk.
Make sure to only use 1 cup of canned coconut milk and not the entire can.
For the perfect fried arepa, make sure the oil is hot before adding the arepa mix. To be sure it is up to temperature, add a small scrap of dough to the oil. It should quickly puff and begin to brown.
You CANNOT substitute nut or coconut flours in the arepa flour. These behave very differently and are much denser than all-purpose flour. So they will not work with the recipe as written.
As with any fried food, these are best eaten right after cooking the arepas. It helps maintain the taste and texture. However, they can be stored in an airtight container and enjoyed for up to a week. They will not be as crispy, but they will still be tasty.
This is a soft dough that may be tacky at first. Be sure to lightly dust the dough and the work surface to keep it from sticking.
How to Serve Arepas
One more time for those in the back, I absolutely LOVE arepas de coco. They are wonderful enjoyed on their own, but you can also stuff them with cheese and sweet plantain, picadillo (meat filling), black beans, ham and cheese, or whatever strikes your fancy. You do you.
But my personal favorite is seafood salad. That tangy, citrusy goodness takes arepas to the next level. If you want to make this at home, this Ensalada de Pulpo (Octopus Salad) from Delish D'lites looks divine!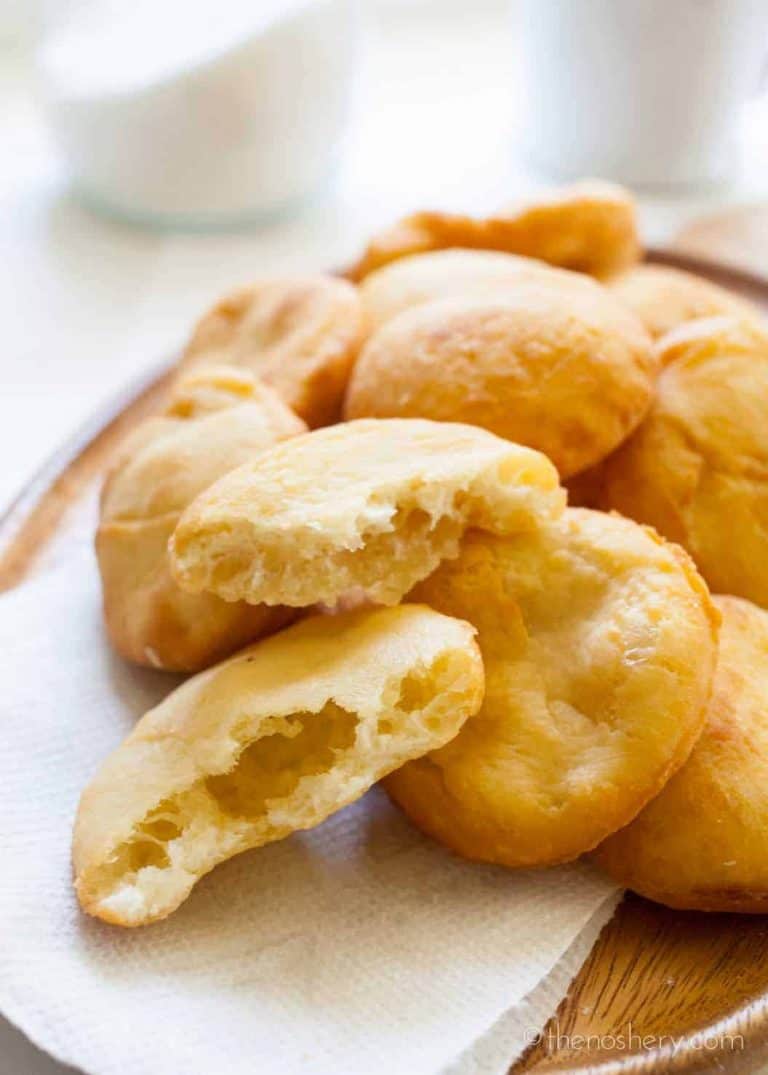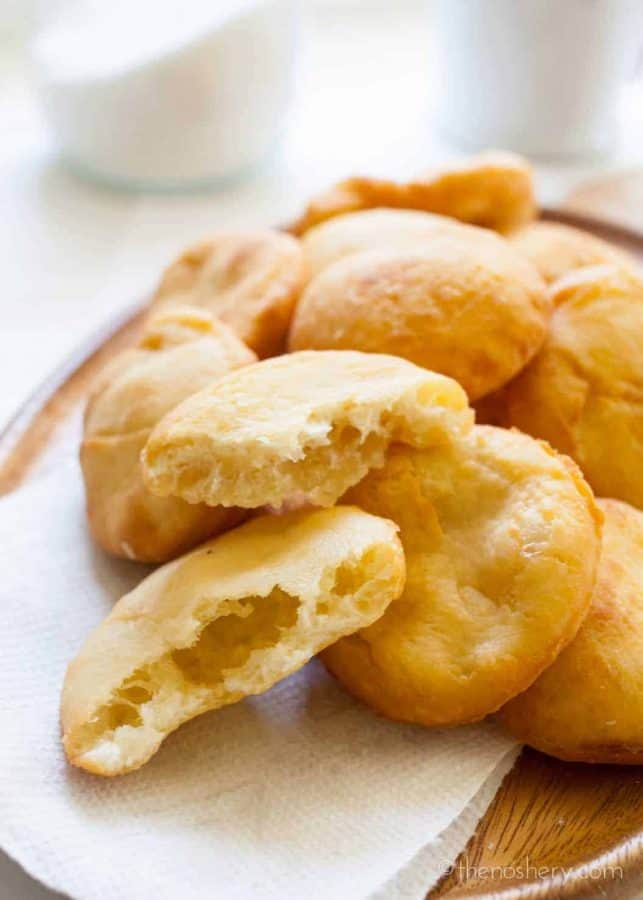 There is something magical about fry bread. How can something be so light, airy, and crispy at the same time? Plus that touch of coconut? My dream treat.
While fry bread may not be friendly to the waistline, you can't deny that fried foods are comforting and delicious. In Puerto Rico, street food is synonymous with fried food and I'll always make a detour for one of my favorite treats.
You may not find arepas de coco at every roadside kiosk, but they will probably have other amazing treats like pastelillos, bacalaitos, and alcapurrias. And now you can make them at home!
But you have been warned–all of these are incredibly addictive.
more bread love
try my other Puerto Rican recipes
Yield: 24
Arepas de Coco (Puerto Rican Coconut Fry Bread)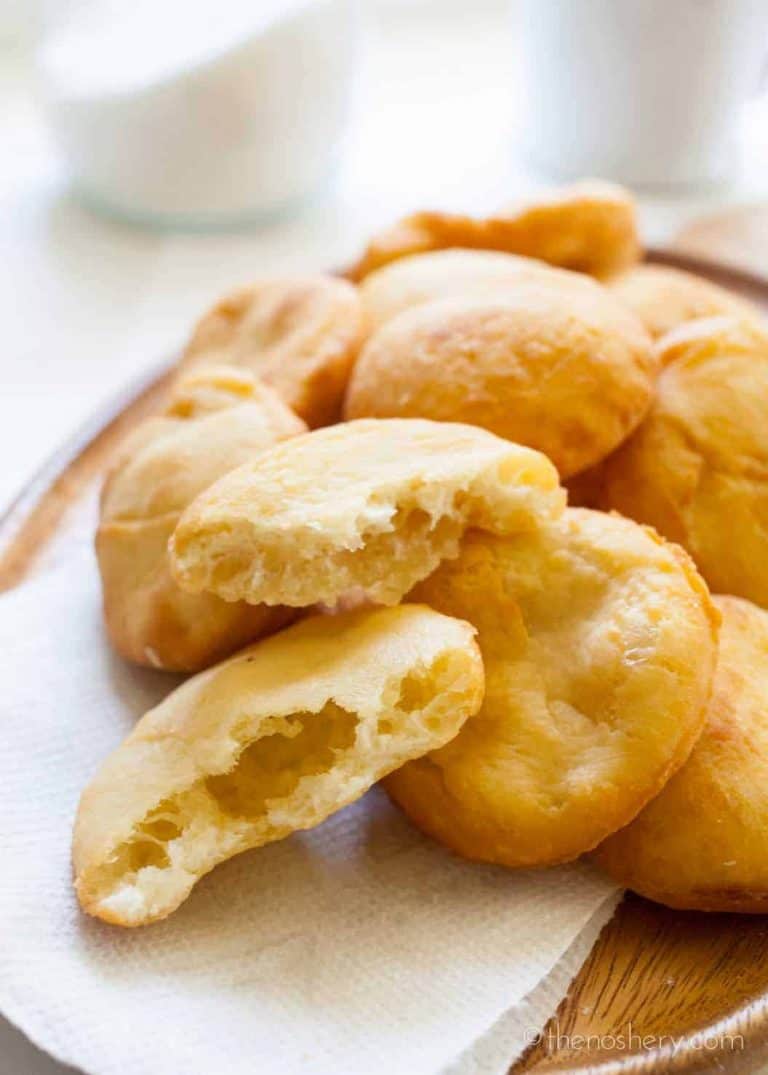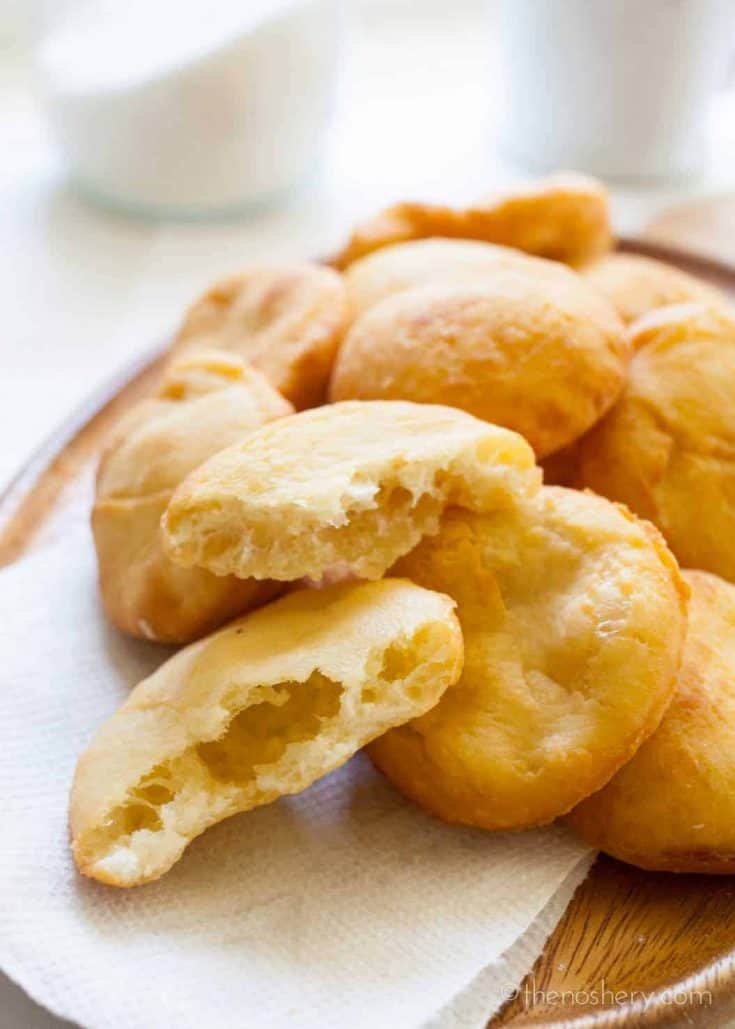 Arepas de coco is one of my favorite street foods in Puerto Rico. Puerto Rican arepas are fry bread that is light on the inside and crisp on the outside.
Ingredients
2 cups all-purpose flour
1 tsp baking powder
1 cup sugar
1/4 tsp salt
1 cup canned coconut milk (DO NOT use the entire can of coconut milk. Just 1 cup)
Instructions
Combine flour, baking powder, sugar, and salt in a medium bowl. Wisk until well combined and add coconut milk. Mix until just combined. Flour your hands and work surface. Then knead dough until completely combined and tacky. Place in a bowl, cover with kitchen towel and let rest for 30 minutes.
Divide the dough in half. On a floured work surface roll one-half about 1/8 inch thin. Using a glass or biscuit cutter cut rounds in the dough and repeat with remaining dough.
Heat oil in a large skillet over medium-high heat. Test oil with a scrap of dough. It should puff and float. Once the oil is hot you can then carefully add dough rounds to the oil. Fry until dough puffs and then turn the rounds. Continue to fry until golden brown.
Transfer to a plate lined with paper towels to drain and cool. Serve warm and crisp.
Notes
If you have an allergy to coconut you can use whole milk in place of coconut milk.
Neither coconut flour or almond flour can be used as a substitute for all-purpose flour. They are both very dense flours and will not work for this recipe.
Recommended Products
As an Amazon Associate and member of other affiliate programs, I earn from qualifying purchases.
Nutrition Information:
Yield:
24
Serving Size:
1
Amount Per Serving:
Calories:

89
Total Fat:

2g
Saturated Fat:

2g
Trans Fat:

0g
Unsaturated Fat:

0g
Cholesterol:

0mg
Sodium:

46mg
Carbohydrates:

17g
Fiber:

0g
Sugar:

8g
Protein:

1g