Flan de Calabaza (Pumpkin Flan) | Nothing screams fall more than pumpkin and pumpkin spice! I know for some pumpkin spice can trigger a sigh or an eye roll but some of us love pumpkin spice. I love it and I'm not sorry.
Fall is the start of harvest festivals and pre-holiday cheer. And, if you're from a Latin home you know this is the start of flan season. Every party or family get together will have flan on the table.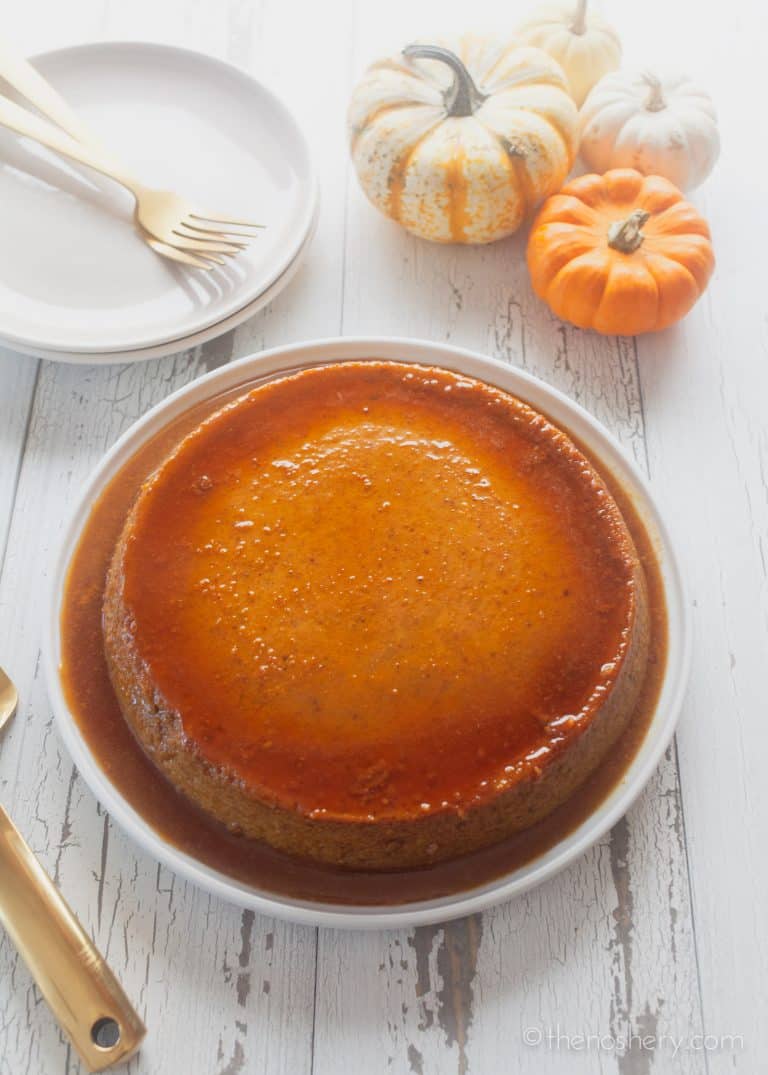 Flan is the bomb; heck flan is magic! There are many different kinds of flan. Cheese, coconut, vanilla, rum, coffee, chocolate–you think of it, it's probably been done. I gravitate toward cheese or coconut.
But, since we are talking fall I made flan de calabaza. If you have never had flan before let me give you a quick lesson.  There are a lot of things that make a flan delicious.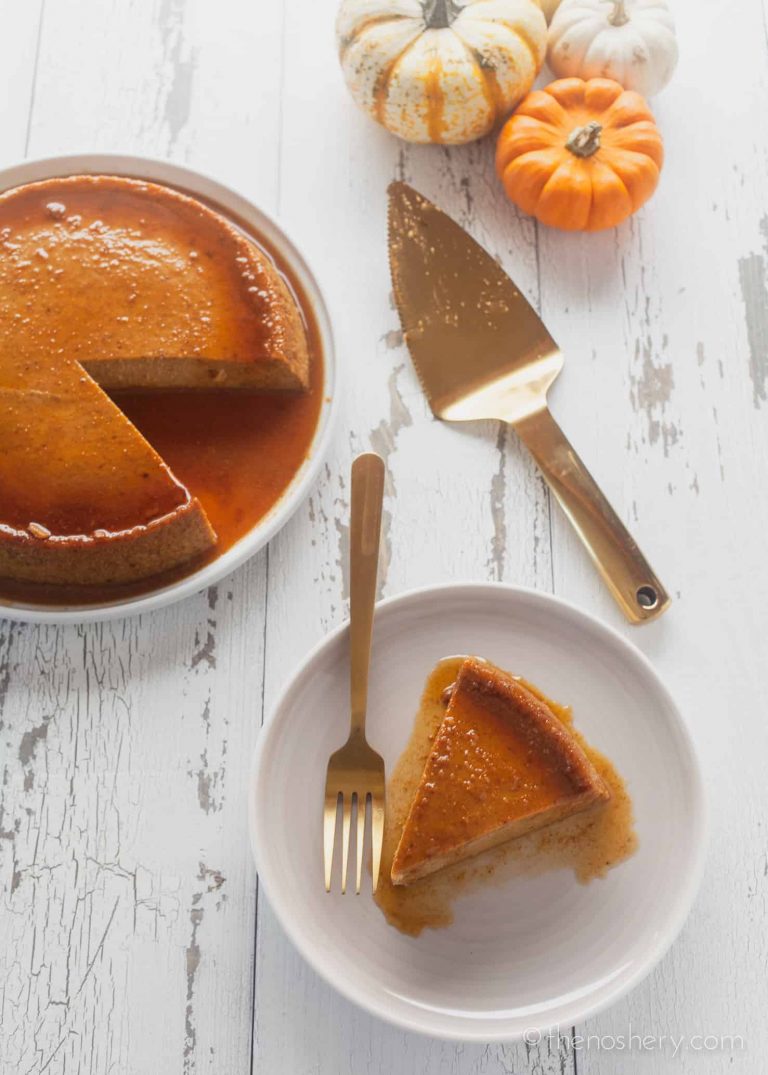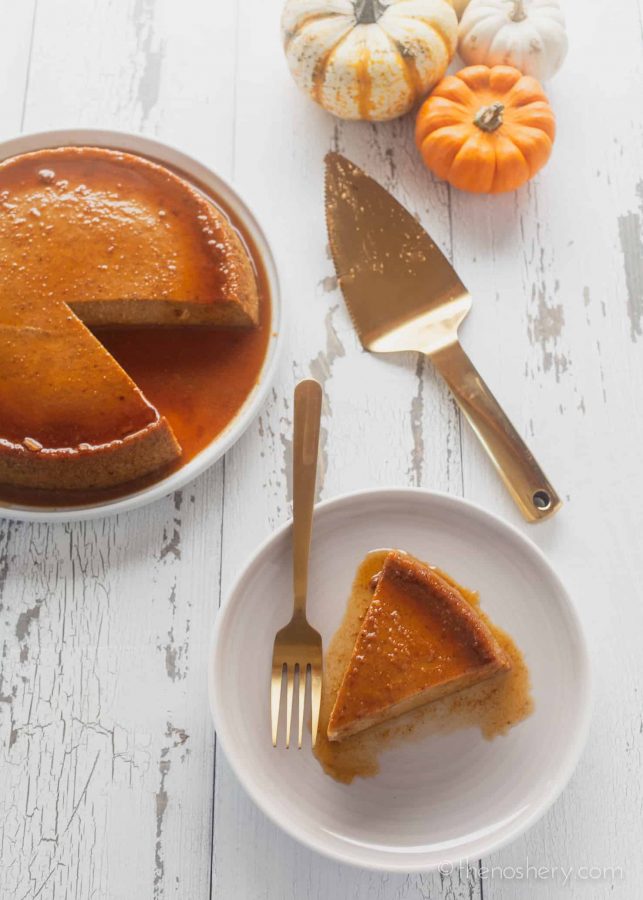 Pumpkin Flan Recipe Ingredients
sugar
pumpkin puree
eggs
evaporated milk
sweetened condensed milk
vanilla extract
pumpkin spice
The creamy texture, the caramel, and for some of us it reminds us of home.  Many things can make a flan delicious but, there are just as many things that can make it bad.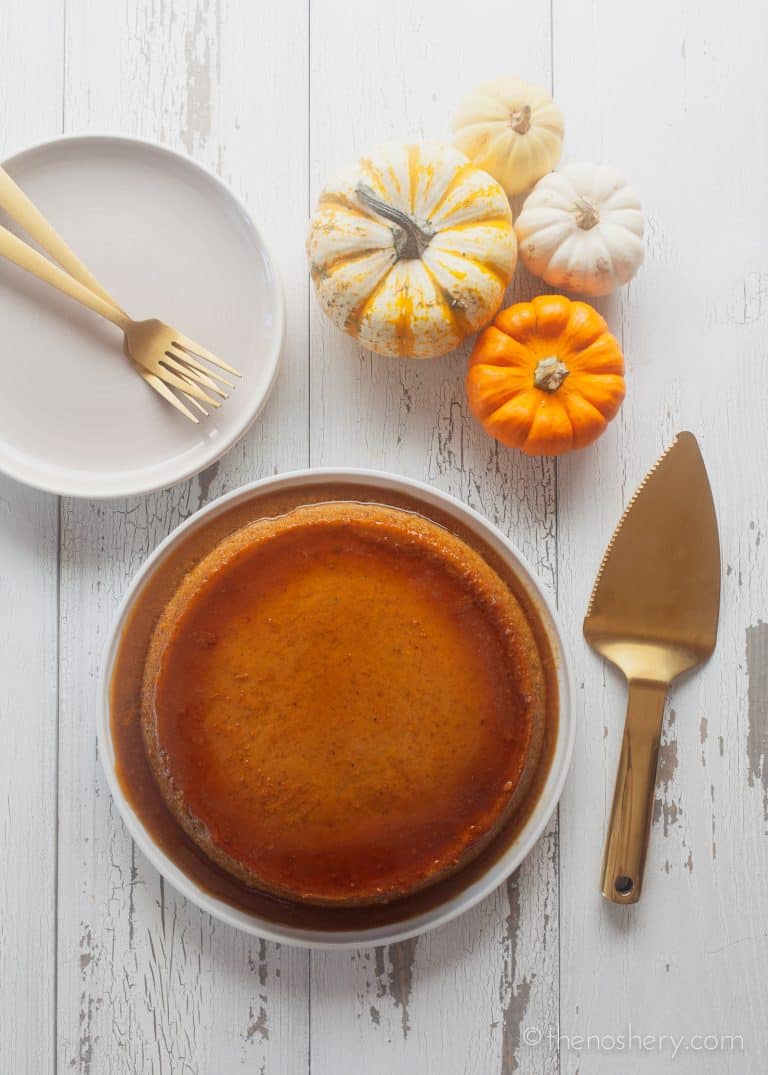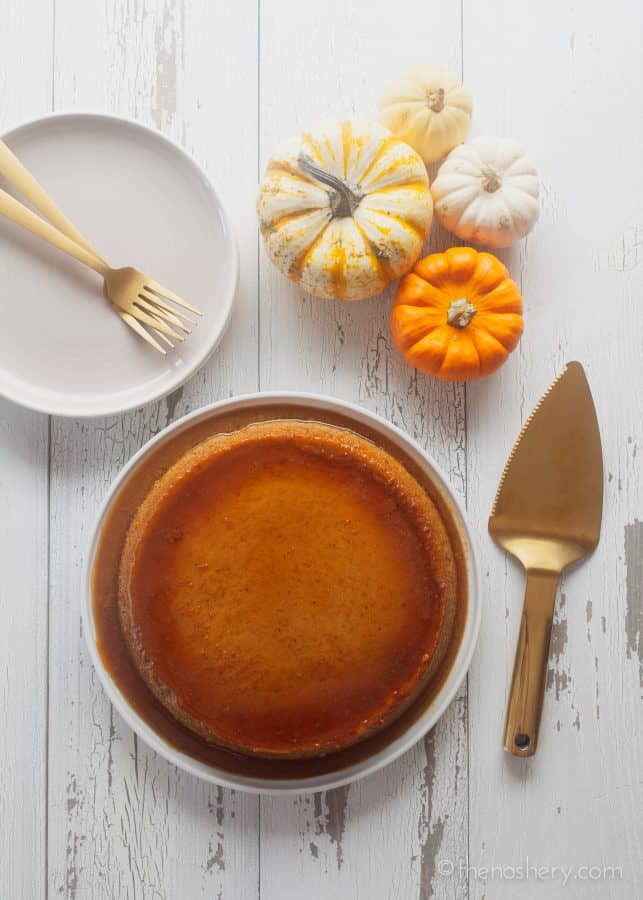 Tips for Flan de Calabaza
What to Avoid – Strong eggy flavor (So bad!), Cheese flan with a lumpy cheese layer, Burnt caramel, Grainy texture or air pockets, and Skin. Skin is bad.
Strong eggy flavor – I find that any flan using more than six eggs is going to be bad. I find that the magic egg number is five. If you see a recipe that calls for more than six eggs in one flan run in the opposite direction.
Burt caramel – WATCH YOUR CARAMEL! The moment you walk away from the stove I promise you it will over brown and burn. Also, you may be tempted to turn up the heat and hurry the process. DON'T DO IT! Be patient it will melt and it will be the perfect golden brown.
Crystallized Caramel – Over stirring or working sugar while melting will cause it to crystallize. When melting the sugar keep stirring to a minimum. I like to periodically swirl the pot as the sugar melts, working the melted sugar on the outside and sugar out to the sides. I then keep any whisking to the very end.
Grainy texture or air pocket – This can happen from over whisking your batter. Whisking will incorporate air into your batter. I find it is better to use a paddle instead of a whisk. Also, cooking at too high a temperature can cause the custard to curdle and result in graininess.  Cook your flan low and slow and DO NOT forget to cook it in a water bath.
Skin –Skin happens from overcooking. As soon as you see your flan has set and stopped jiggling, pull it and let it cool.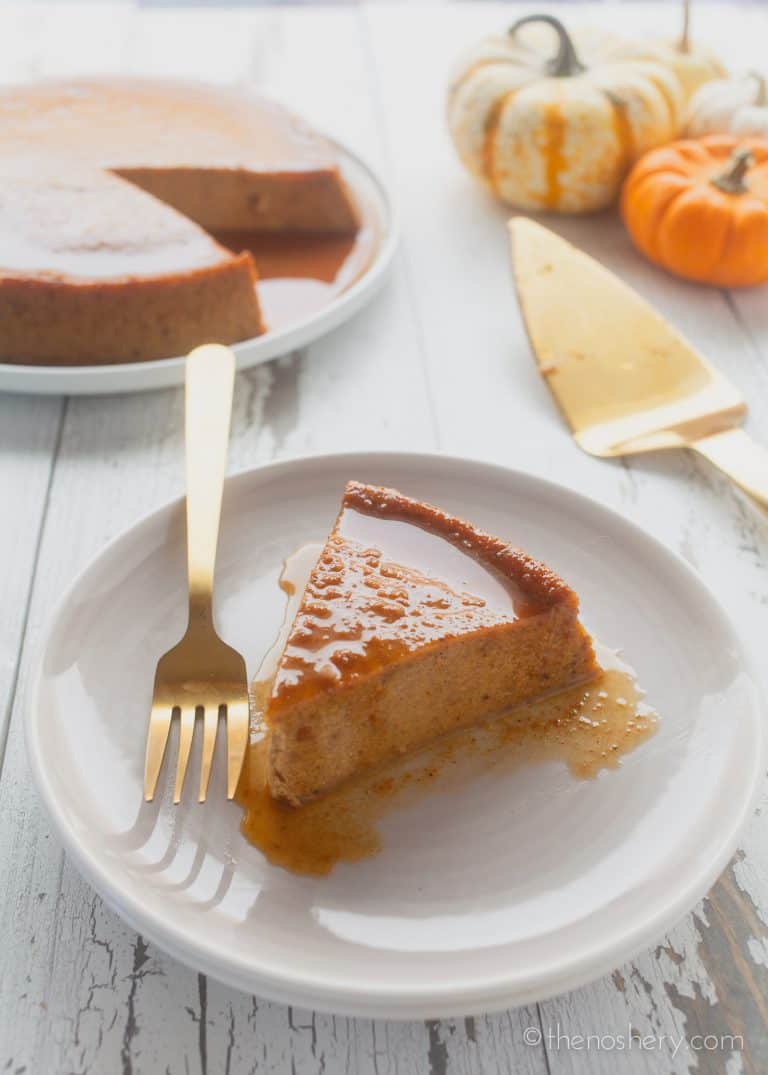 Flan de calabaza is a great addition to your Thanksgiving dessert table, and it can be made days ahead of time.
Also, I have found that it satisfies pumpkin pie lovers and non-lovers. It's the perfect crowd-pleaser. It has the creamy texture of a firm custard and the familiar, comforting taste of pumpkin pie! Mmmmm!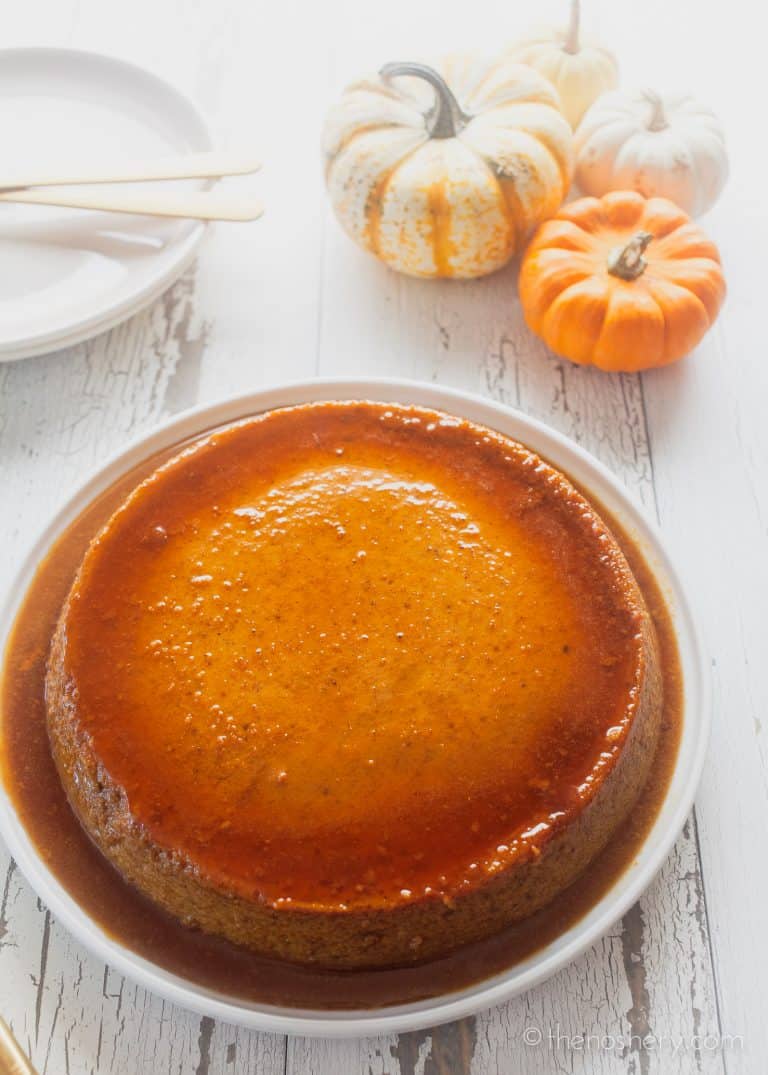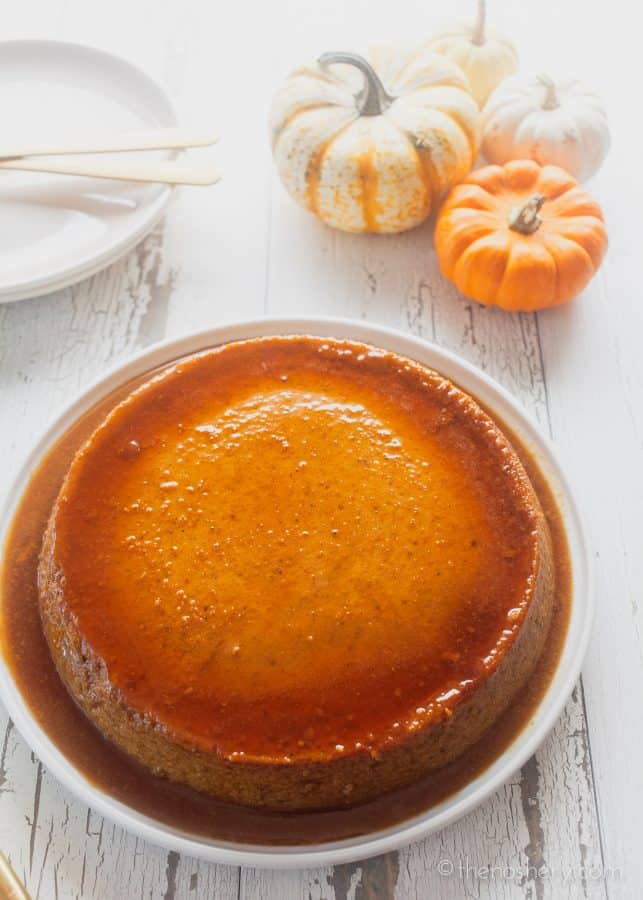 More Puerto Rican Recipes You'll Love!
Include some more Puerto Rican desserts! Try some of these traditional recipes:
As always you can find tons of delicious PR dishes in my Puerto Rican recipe collection.
Yield: 1 flan / 16 mini flans
Flan de Calabaza (Pumpkin Flan)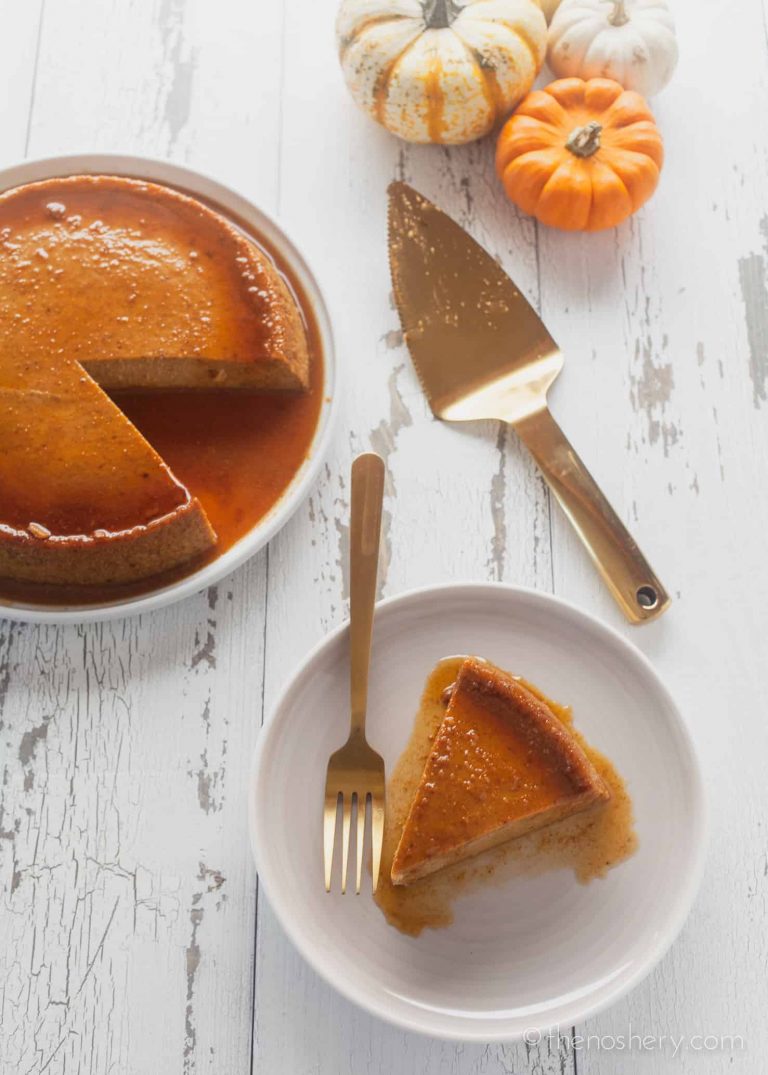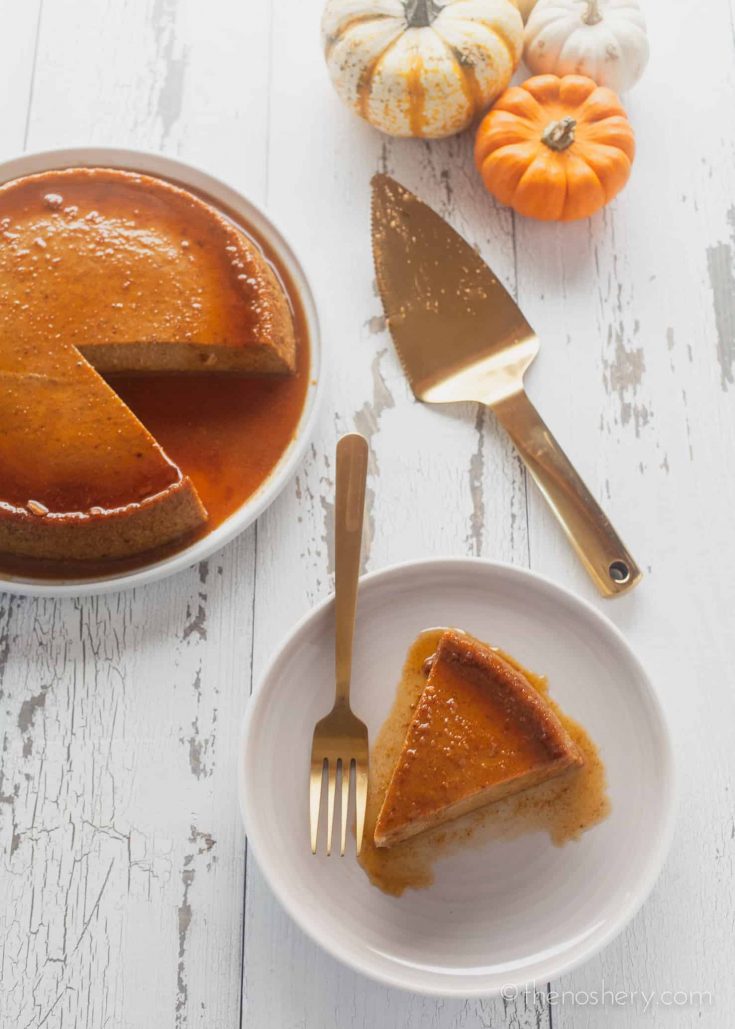 Pumpkin pie step aside. Everthing that you love about flan, pumpkin, and pumpkin spice are combined to make this amazing dessert.
Inactive Time
1 hour
39 minutes
Ingredients
1/2 cup sugar
1 15 oz can pumpkin puree
5 eggs
1 12 oz can evaporated milk
1 14 oz can sweetened condensed milk
1 tablespoon vanilla extract
1 tablespoon pumpkin spice
Instructions
Preheat oven to 350
Heat the sugar carefully in a heavy saucepan until it caramelizes. Pour the caramel into a round 8-inch pan; set aside.
Beat the eggs lightly in a large bowl. Add the remaining ingredients and mix well. Pour the flan mixture into the caramelized saucepan.
Place flan into a large roasting pan in the oven and pour water into the roasting pan outside of the cake pan until the water covers the flan half way. Bake for 1 hour or until set.
Let flan cool on kitchen counter. Once cool to the touch refrigerate overnight to completely cool in pan.
Run a knife along the edge of the pan and carefully invert onto a large rimmed platter.
Notes
If you want to make individual flans use 2 cupcake pans. Pour caramel followed by flan mixture evenly in 14 molds. Bake in water bath at 350 for 45 mins - 1 hour, or until flans set.
Recommended Products
As an Amazon Associate and member of other affiliate programs, I earn from qualifying purchases.
One More Thing!
Rebecca and I launched the My Plate is Always Full Podcast! Just two friends and former chefs talking obsessively about food. You can go and subscribe now!
New episodes released every Wednesday!
In the meantime follow us on Instagram @my.plate.is.always.full  or visit our website!