Pastelillos de Carne (Puerto Rico Meat Turnovers) | When I was in college I road several pisicorre  or pisa y corre (passenger van buses) to get from my home in the country to my school in the city.
It was a long voyage to get to and from school. The goal was to get a van that had cloth seats and air conditioning. But, more often it had leather seats and no air conditioning.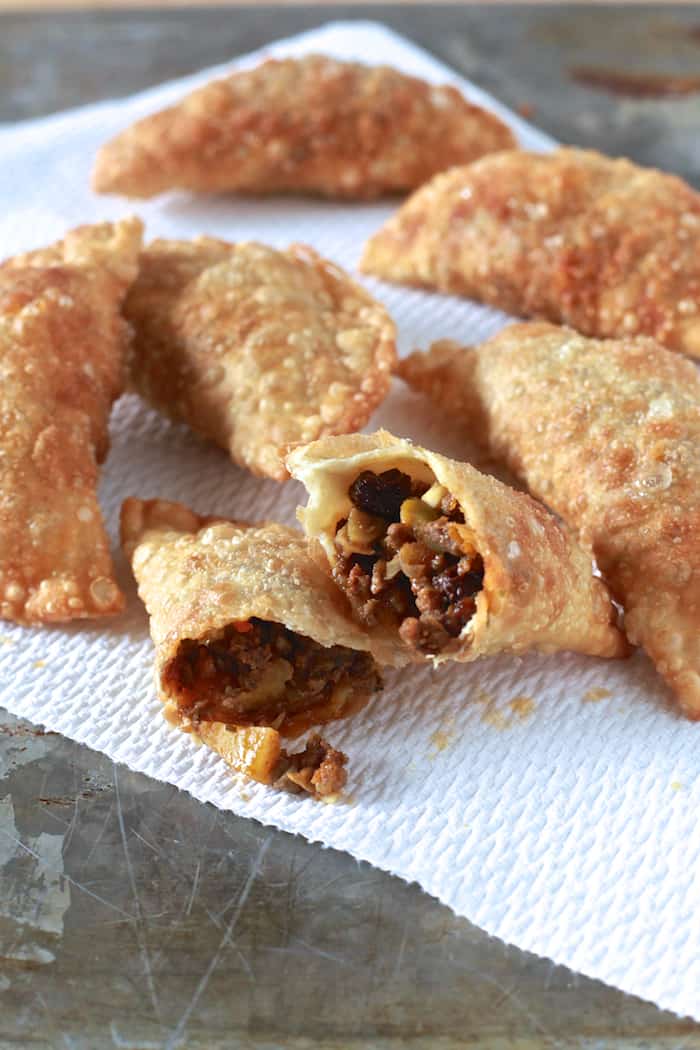 Right next to the bus terminal was a kiosk that sold pastelillos and cold malta. Every day, on my way back home I would buy myself one of each to eat on the walk home. Pastelillos and malta sustained me during most of the years in high school and college.
Pastelillos vs Empanadas
You may be looking at these little treats and think, OH! Empanadas! But they are not empanadas, they are pastelillos (pas-te-lee-joes). 
In Puerto Rico what you may call empanadas we call empanadillas because of empanadas references something that is breaded and fried, think chicken fried steak.
So, what is the difference between empanadillas and pastelillos? 
Pastelillos are small turnovers made with a thin dough, similar to a pasta dough that is crimped at the edges and fried.
Empanadillas are a large turnover with a thicker dough with rolled edges. The dough has a similar texture to pie dough.
Today I am going to show you how to make pastelillos with a homemade pastelillo dough recipe. If making homemade dough sounds intimidating don't worry you can use frozen.
I like to make my own down because I find it therapeutic but, if I am in a pinch for time I use Goya discos, which can be found in the freezer section of many Latin groceries.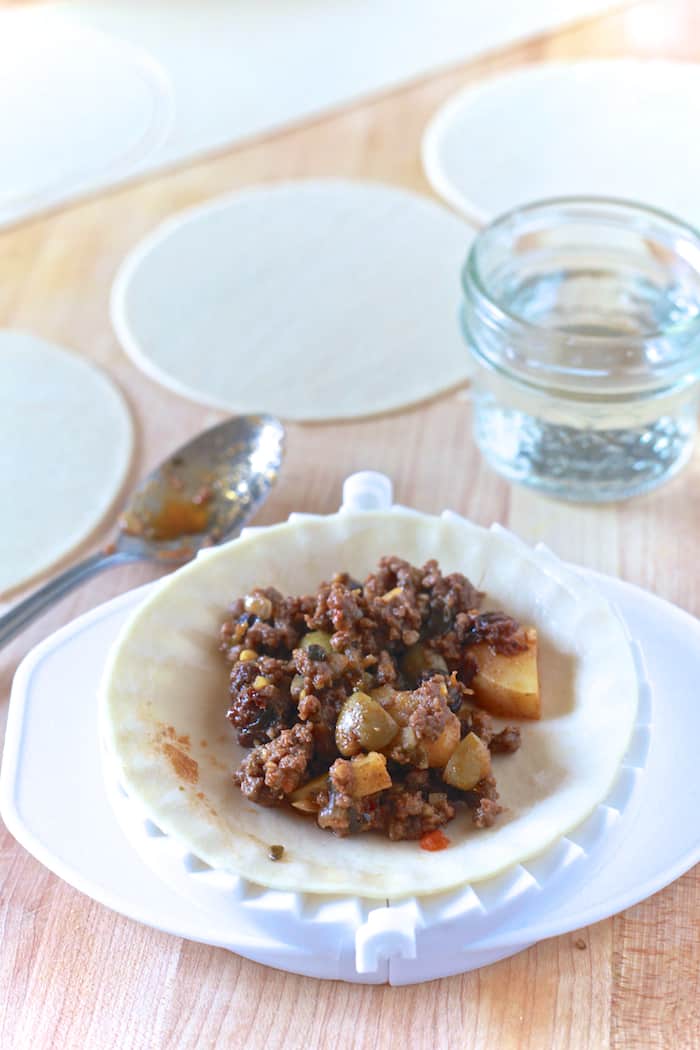 Homemade Pastelillo Dough Recipe Ingredients
flour
baking powder
kosher salt
vegetable shortening
egg
water
The pastelillo dough recipe is similar to a pasta dough. To roll the dough I use a KitchenAid pasta rolling dough attachment. It works perfectly!
If the idea of making dough is a little too daunting, you can use Goya discos found in the specialty or Latin food freezer section. But I encourage you to try to make homemade at least once. pastelillo dugh recipe
Most pastelillos you find at roadside kiosks are filled with a simple meat filling, but the benefit of making them at home is you can fill them with all kinds of goodies.
This filling is made of ground beef, potatoes, olives, raisins, and a savory sauce. It's very filling and satisfying. pastelillo dough recipe
How to Store Homemade Pastelillo Dough
Once the dough is rolled and cut into discs line a sheet pan with parchment paper and lay the dough discs in a single layer.
Then lay another sheet of parchment over the dough discs and lay another single layer.
Continue stacking in single layers divided by parchment until done. Then place in the freezer.
Once frozen gently separate the discs and transfer to a resealable bag. I use this technique so I don't end up with a block of discs and I can easily use the individual discs.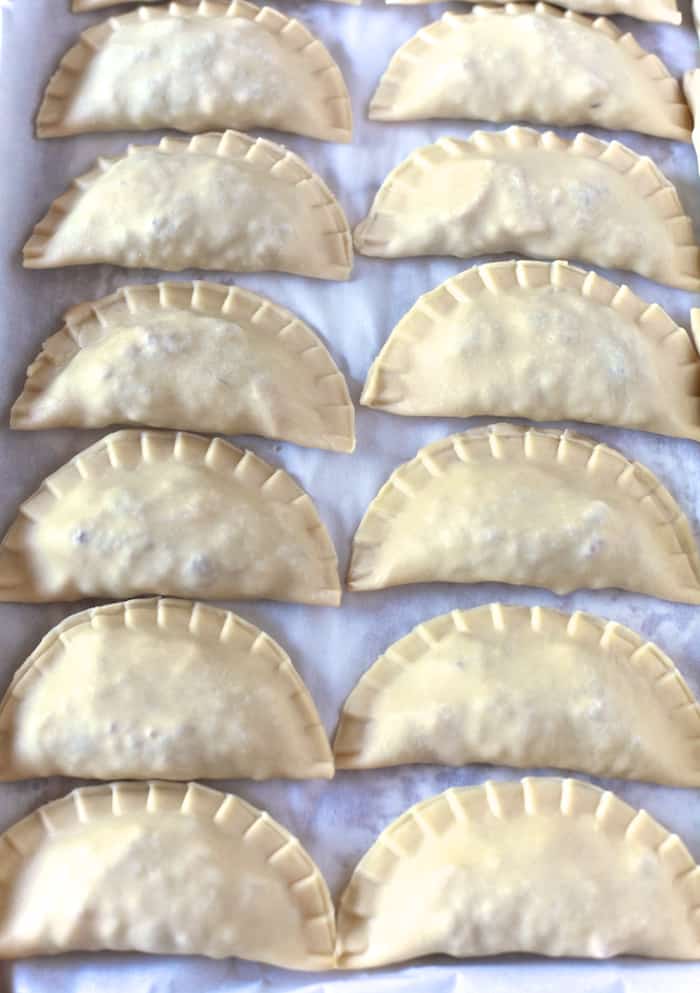 How to Fry Pastelillos
Let's talk frying for a minute. I'll be honest; Puerto Ricans want to fry all the foods, but frying can be a pain.
Then I got my hands on a Waring Deep Fryer and now frying is a snap, which is dangerous… very dangerous! Fry all the foods!!
Having a countertop deep fryer makes all the difference! I love this fryer because it self-regulates the heat, has a built-in timer and is big enough to fry generous batches without having to overcrowd the basket.
If you don't have a deep fryer, you can also use a dutch oven or large skillet. If you choose to use a skillet pick a skillet with a heavy bottom that evenly distributes heat.
Nonstick skillets are great because they are easy to clean out and don't form that sticky oil buildup. My favorite kind of skillet to use for frying is a cast iron skillet
.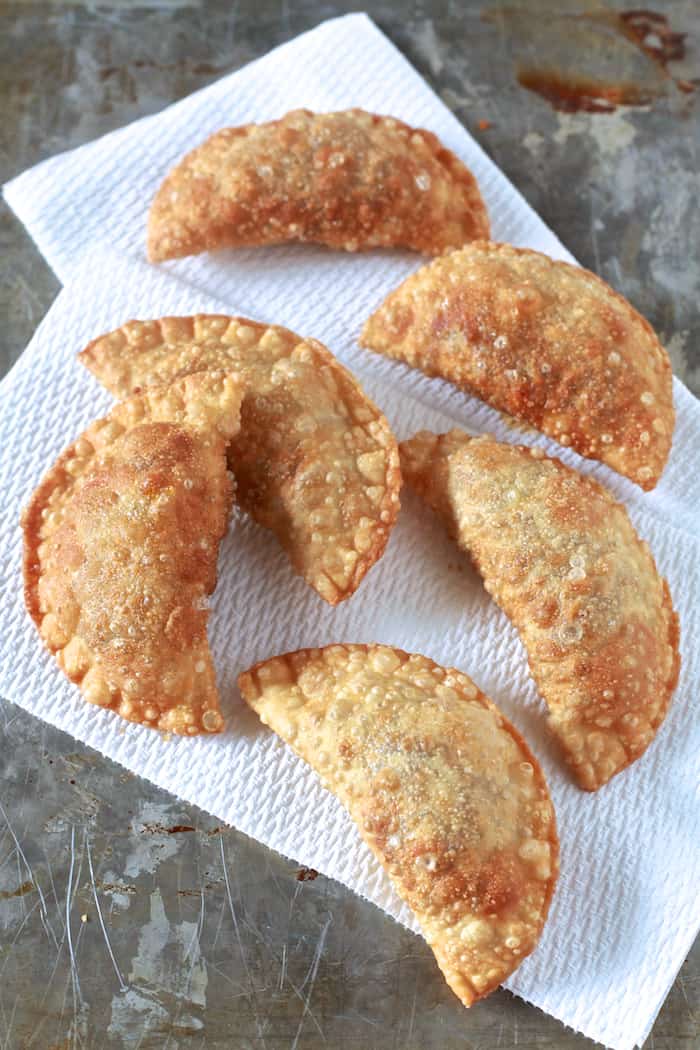 Pastelillos can be filled with all kinds of wonderful and delicious foods. The most popular ones found in schools are pizza that is just cheese and tomato sauce.
If you are traveling along the coast of Puerto Rico, you'll find crab filled pastelillos, and they can even make a wonderful dessert when filled with guava and cream cheese.  Looking for more Puerto Rican treats? Try these arepas de coco or tostones.
Explore more Puerto Rican flavors by visiting my entire collection of puerto rican recipes.
more savory turnover recipes
Yield: 12 - 18
Pastelillos de Carne (Puerto Rican Meat Turnovers)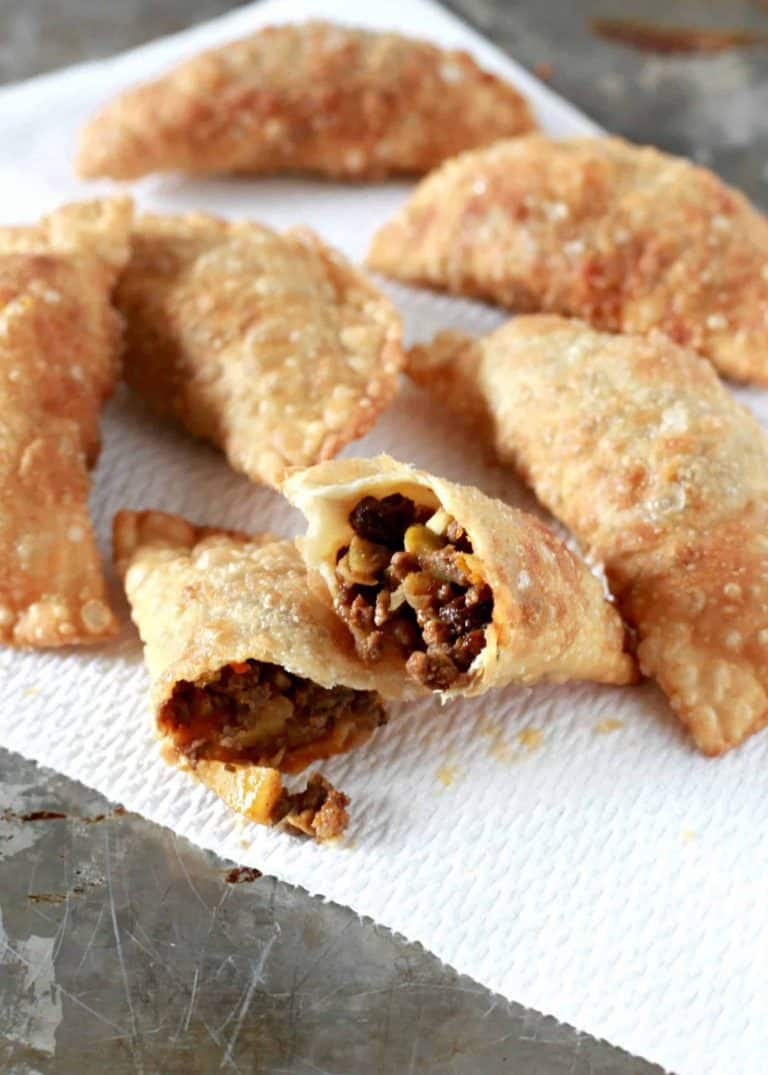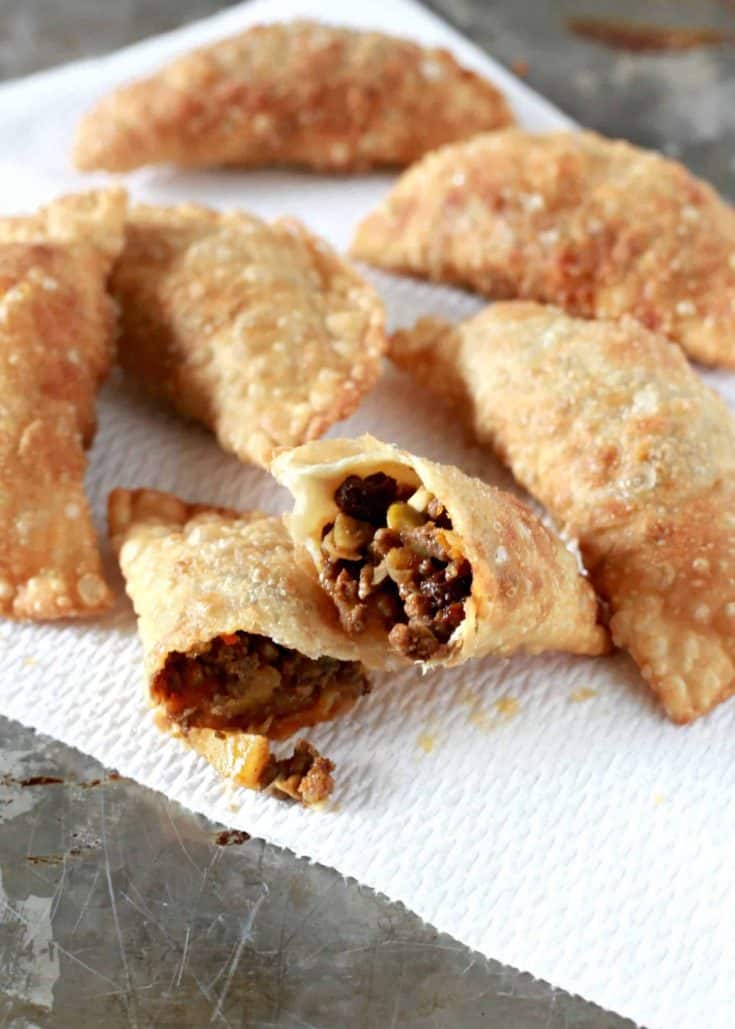 Pastelillos de carne are a Puerto Rican street food staple. This recipe is made with a homemade dough and flavor-packed beef filling.
Total Time
2 hours
5 minutes
Ingredients
Dough
3 1/2 cups of flour
2 teaspoons of baking powder
2 1/2 tsp of salt
1/4 cup vegetable shortening
1 egg, slightly beaten
3/4 cup of water
vegetable oil for frying
Instructions
Dough
Sift flour, baking powder and salt into a large bowl.
Add flour and shortening in a large bowl. Using a pastry cutter or fork cut the shortening into the flour. Add the egg and mix using a fork.
Add the water a little at a time, mixing with a fork. When done mixing the dough will be brittle or in pieces.
Dust a work surface with flour, turn the dough out on the work surface. Press the dough together into a rough ball. Knead the dough using your palm, as if you were washing clothes on an old washboard.
Knead until the dough is soft and smooth. Form into a ball, cover with a plastic wrap and let it rest for 30 minutes.
Line a sheet pan with parchment paper. Roll dough out into a rope about 15 inches long. (I roll, pull and squeeze) Once rolled out cut off disks about ¾ of an inch thick. Dust your rolling pin and workspace and roll out into a 1/8 thin circle.
If you have a pasta roller, you can use it to roll out the dough rounds. Lay dough rounds on a prepared sheet pan and cover with a clean kitchen towel. If you need to layer, the rounds place a piece of parchment between the layers.
Assemble
Take a round of dough and place 1 spoonful of picadillo or filling of choice in the center. Be careful not to get any food along the edges or it will not seal properly.
Using the tip of your fingers wet the edges of the dough with water. Fold over to make a half-moon. Pinch the dough together using your fingers, then go over it, pressing it with the teeth of a fork. Return to sheet pan and cover. Repeat with remaining rounds and filling.
Line a large plate with paper towels. Heat 1 1/2 inches of oil to 350 degrees in a large deep skillet. Working in batches, carefully place turnovers into the oil.
They should almost immediately begin to puff and float, cook on each side about 2 minutes, or until golden brown and crispy.
Transfer to a plate to drain and let cool.
Recommended Products
As an Amazon Associate and member of other affiliate programs, I earn from qualifying purchases.
Nutrition Information:
Yield:
18
Serving Size:
1
Amount Per Serving:
Calories:

239
Total Fat:

10g
Saturated Fat:

3g
Trans Fat:

0g
Unsaturated Fat:

6g
Cholesterol:

28mg
Sodium:

402mg
Carbohydrates:

28g
Fiber:

2g
Sugar:

4g
Protein:

9g
One More Thing!
Rebecca and I launched the My Plate is Always Full Podcast! Just two friends and former chefs talking obsessively about food. You can go and subscribe now!
New episodes released every Wednesday!
In the meantime follow us on Instagram @my.plate.is.always.full  or visit our website!